Please note this post contains affiliate links.
A Cherry Blueberry Mojito is just the red, white, and blue cocktail you need to bust out to celebrate July 4th this year! Featuring an easy homemade cherry simple syrup and fresh blueberries, this minty fresh drink will quench your thirst and get everyone into the mood to celebrate. It's a fantastic drink to take advantage of those ripe cherries and blueberries!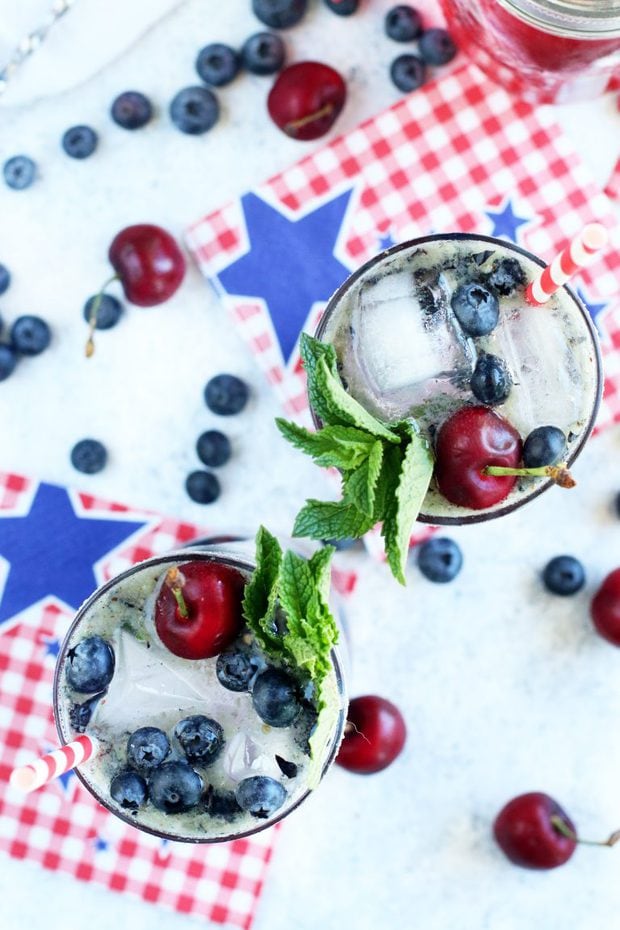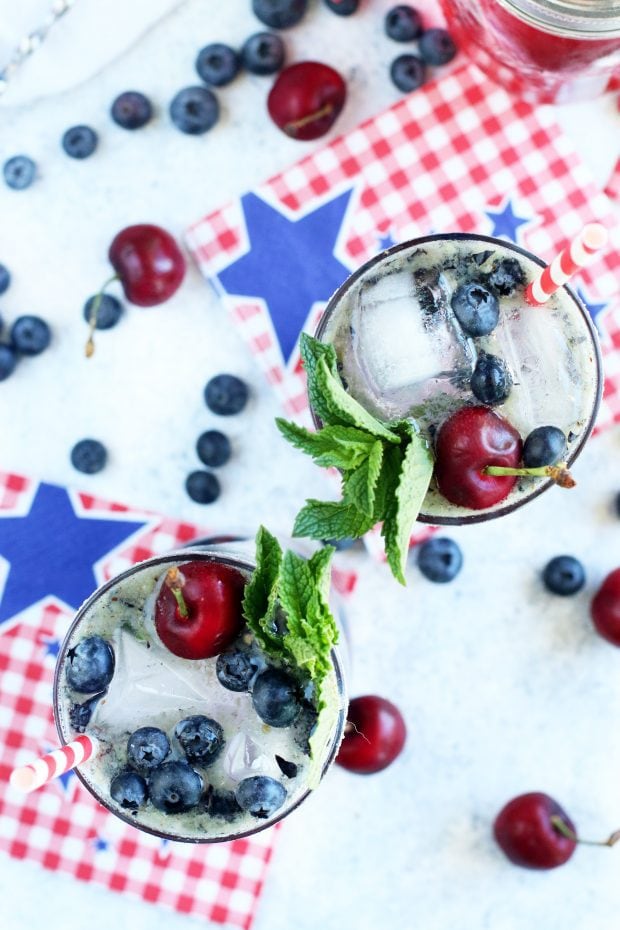 It's about that time of year…
The sun is out in full force, the grills are firing up, and the red, white and blue recipes are about to pour all. over. us.
Now I am normally not one to go to the red, white, and blue themed recipes, but this year, I got inspired when I tried this cherry blueberry cocktail while I was out and about in Denver.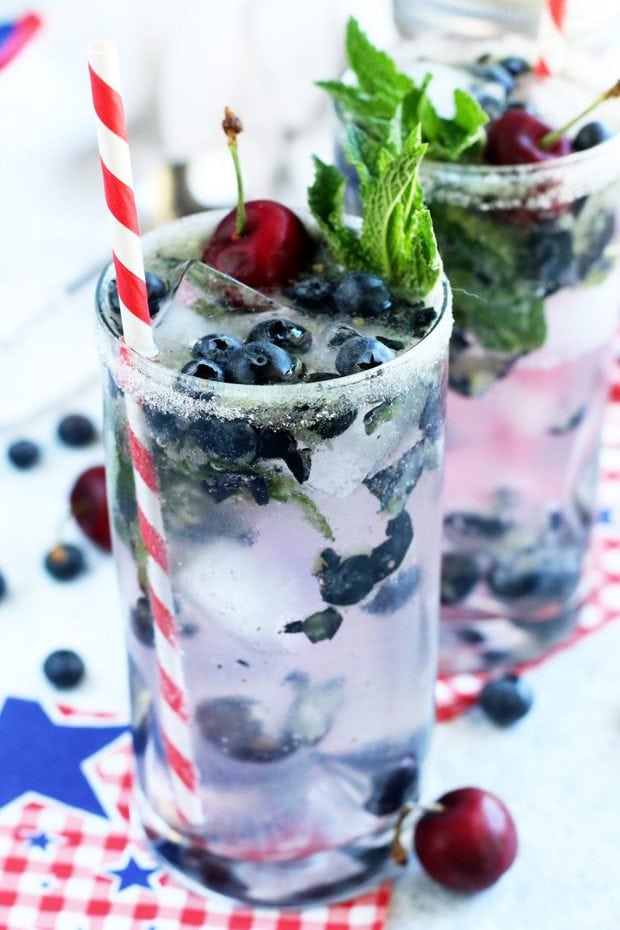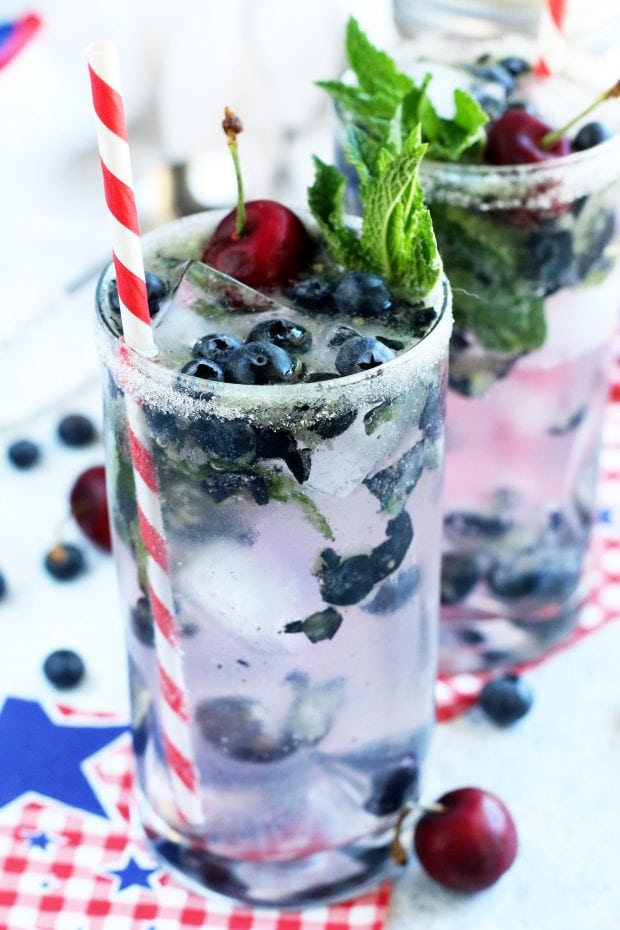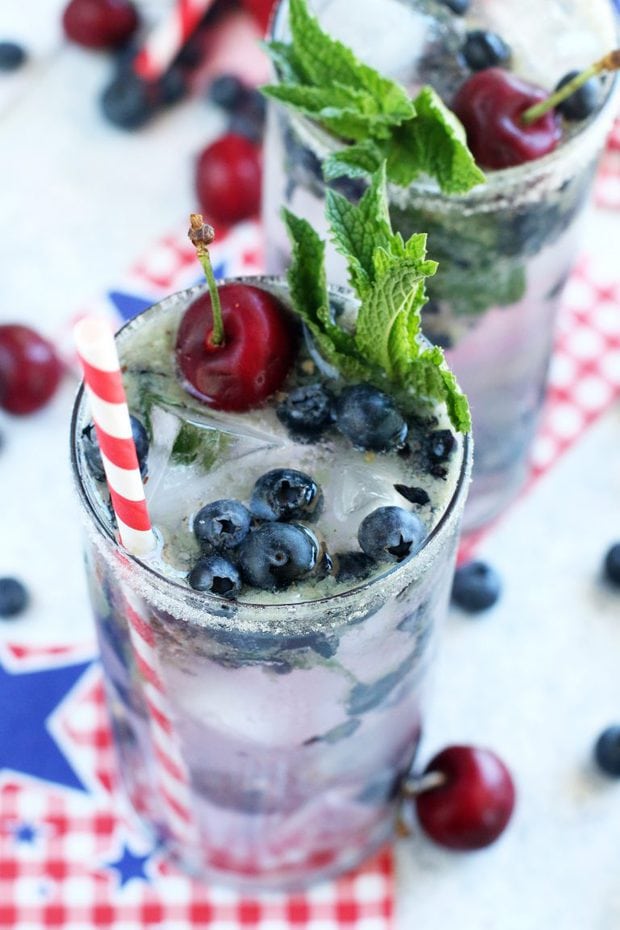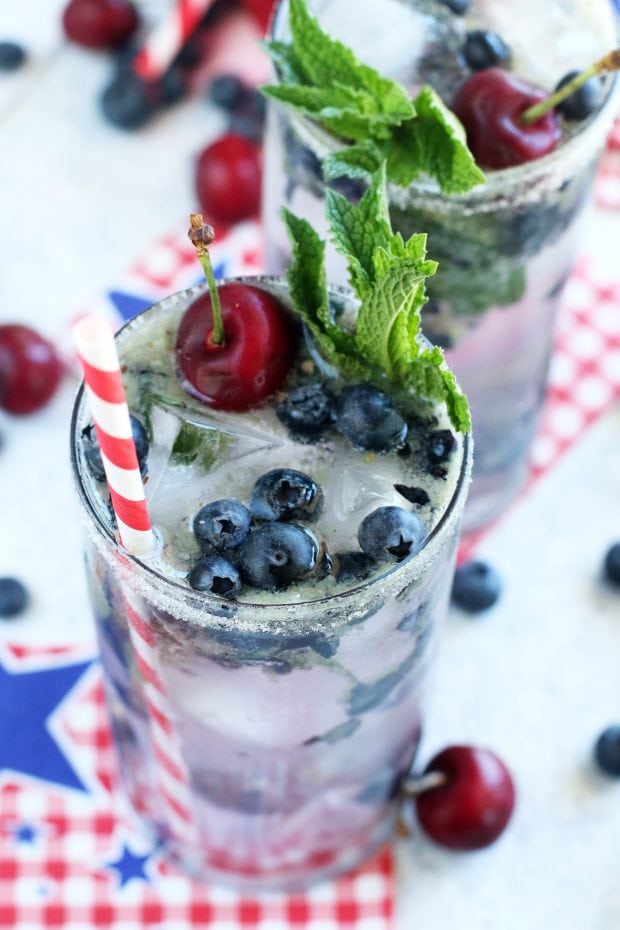 I'd never tried to combine cherries and blueberries, but once this combo hit my lips, I was sold.
I am addicted to fresh berries normally, but cherries are a serious weakness when summer rolls around.
Surprisingly cherries and blueberries are a match made in heaven. The fruity flavors, the tartness, and so much more make the flavor combo incredible.
So there's the red and the blue… Now it's about the white.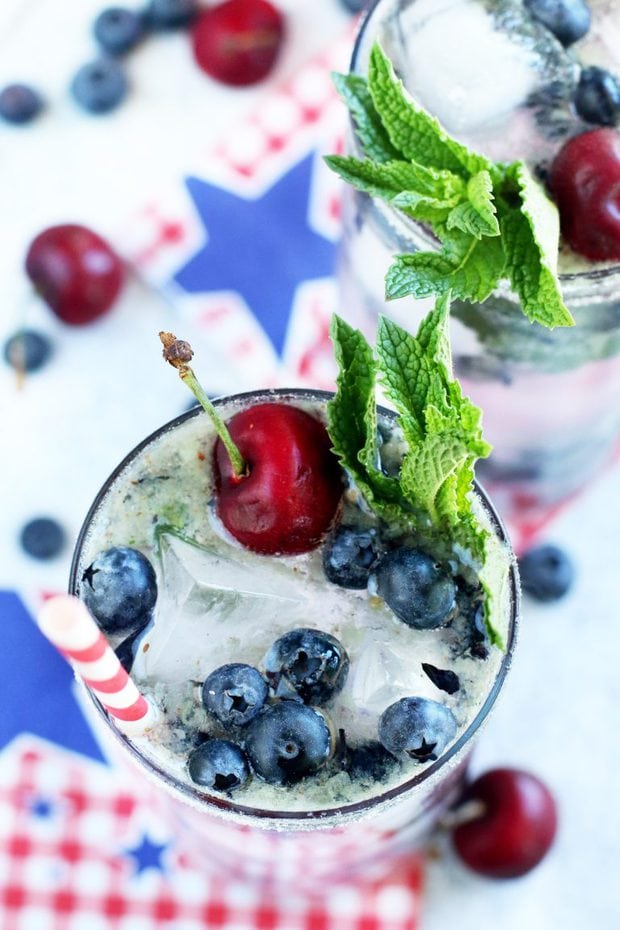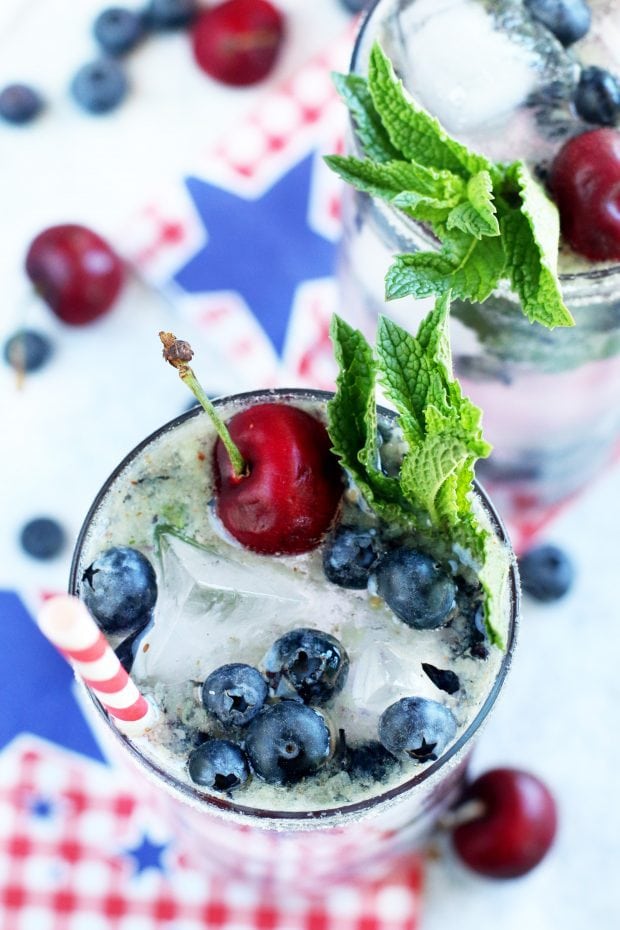 And for me, that's a mojito.
Of all the clear drinks that I imbibe in, a refreshing mojito is totally it. I remember the first one that I had when I turned 21. That summer was FULL of the fresh cocktail and I developed a whole new appreciation for mint. It was the first time I learned that ingredients could be muddled, which totally blew my mind.
The mint, the light rum and the bubbly soda water is just the combination that gives the ultimate refreshment to beat the heat.
Both cherries and blueberries are a perfectly accompaniment to the minty freshness of this cocktail!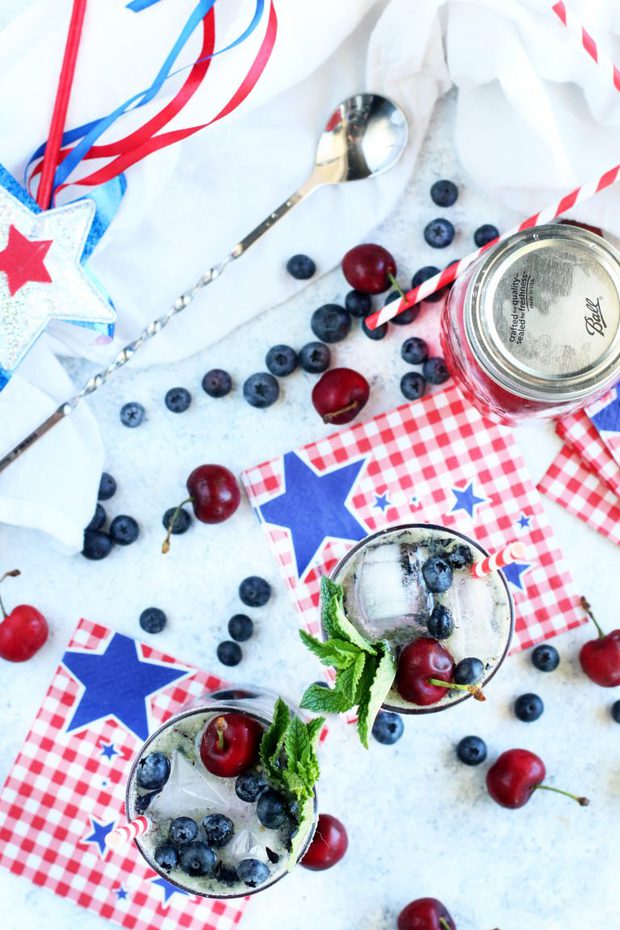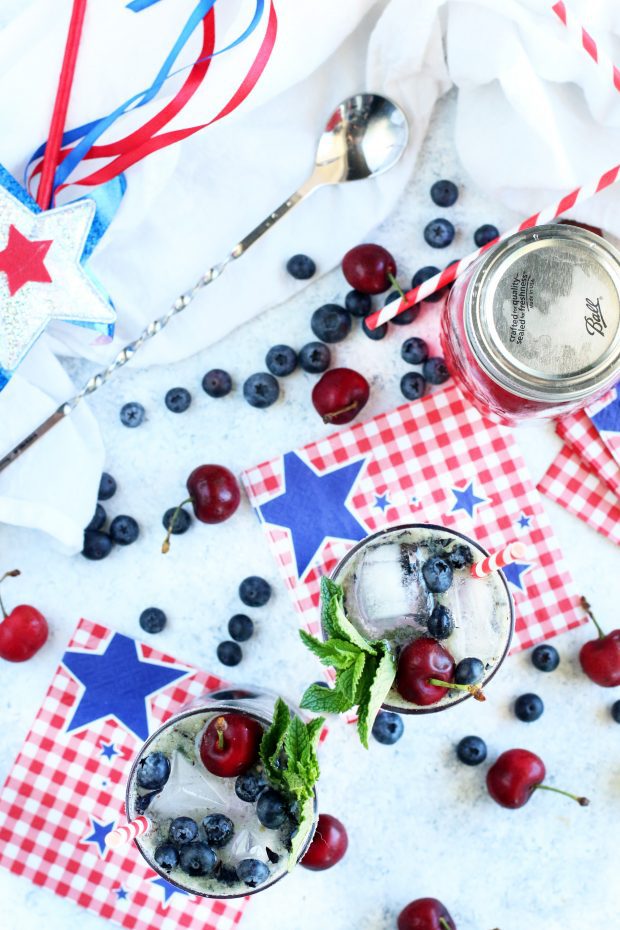 I made an easy peasy homemade cherry simple syrup to go into the mojito in lieu of traditional sugar. Then you simply muddle the blueberries with the mint and make the mojito the traditional way!
It's a simple, fresh drink that everyone will flip out over and constantly ask for second helpings of!
Time to get in the spirit of the red, white, and blue my friends!!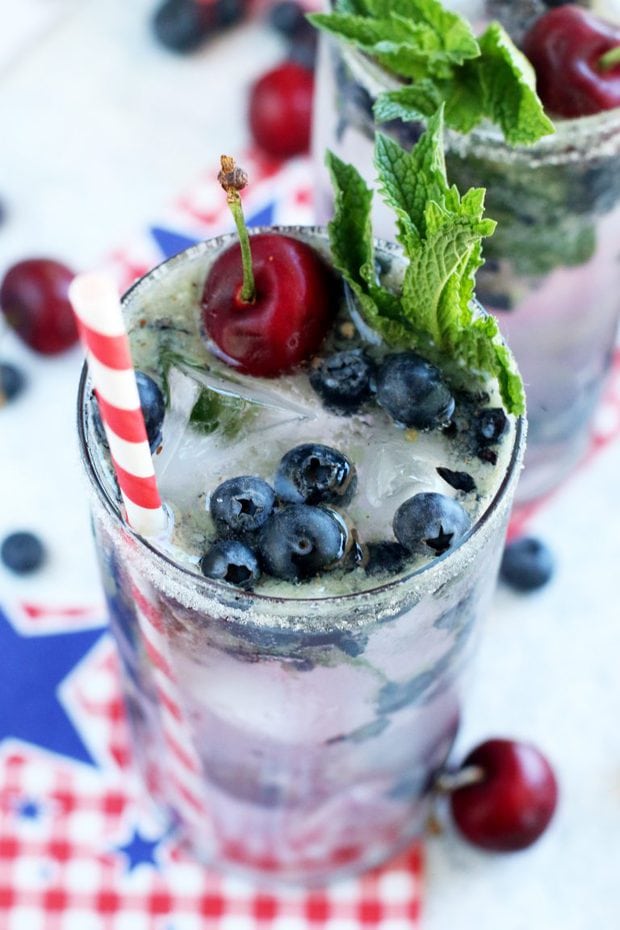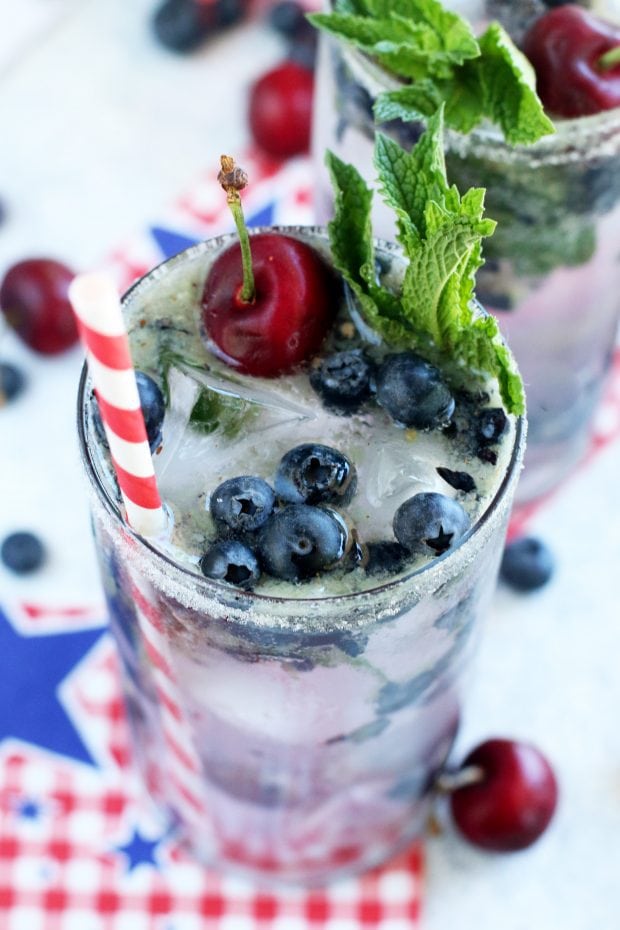 This Recipe's Must Haves
This cocktail is super simple and it's one that I love to make for all my summer gatherings, not just the patriotic themed ones! You will need a Boston cocktail shaker and a muddler to get the flavor out of the mint and fruit for the cocktail.
You will also need a saucepan to make the simple syrup for this cocktail! Be sure that you have one with a lid, because you need to cover and steep the cocktail.
To get the look, check out these red and white striped straws
. I love serving the cocktail in whatever highball cocktails I have in the cupboard. Of course you can buy fancy ones, but this cocktail is so pretty you don't need a fancy glass to make it look gorgeous!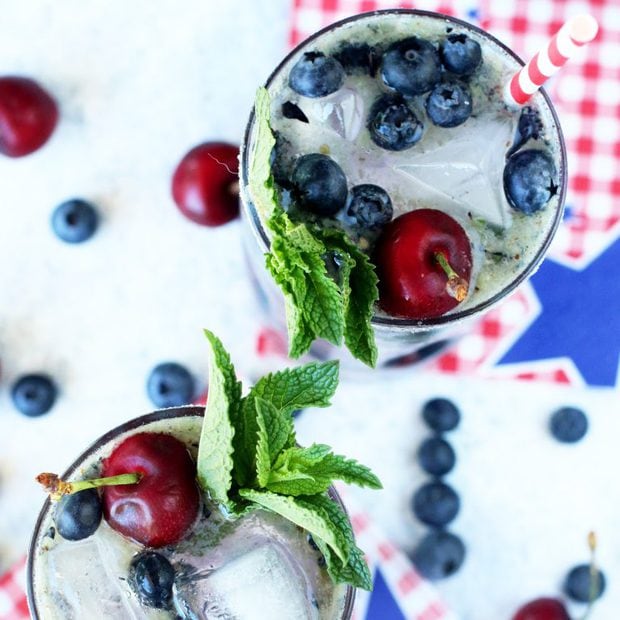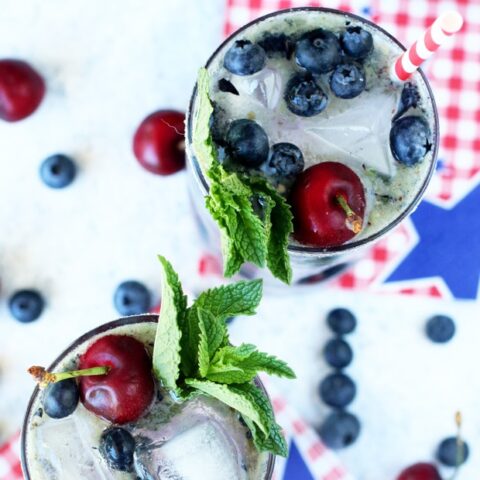 Cherry Blueberry Mojito
Additional Time:
30 minutes
A Cherry Blueberry Mojito is just the red, white, and blue cocktail you need to bust out to celebrate July 4th this year!
Ingredients
Homemade Cherry Simple Syrup
1/2 cup sugar
1/2 cup water
1 cup cherries, pitted and halved
Mojitos
2/3 cup fresh blueberries
6 fresh mint leaves
4 oz white rum
Juice from 1 lime
Club soda
Ice cubes
Garnish: fresh blueberries, fresh cherries, mint leaves
Instructions
In a small saucepan, bring ingredients for the homemade cherry simple syrup to a boil over high heat. Stir to dissolve sugar and remove from heat. Cover and let steep 30 minutes. Drain out cherries and save simple syrup.
Chill simple syrup completely before assembling cocktails.
Divide blueberries and mint leaves between two cocktail glasses. Use the muddler to gently crush the mint leaves.
Stir in 2 ounces of rum into each glass, as well as half the lime juice.
Fill each glass with ice.
Top with club soda and garnish as desired with fresh blueberries, fresh cherries and mint leaves.
Serve immediately.
Recommended Products
As an Amazon Associate and member of other affiliate programs, I earn from qualifying purchases.