Avocado Eggrolls with BBQ Chicken are a quick and easy snack that satisfies all your afternoon cravings. It's crispy on the outside, and full of the BBQ spicy chicken and avocado on the inside. Not to mention the creamy dreamy avocado crema it comes with… *swoon*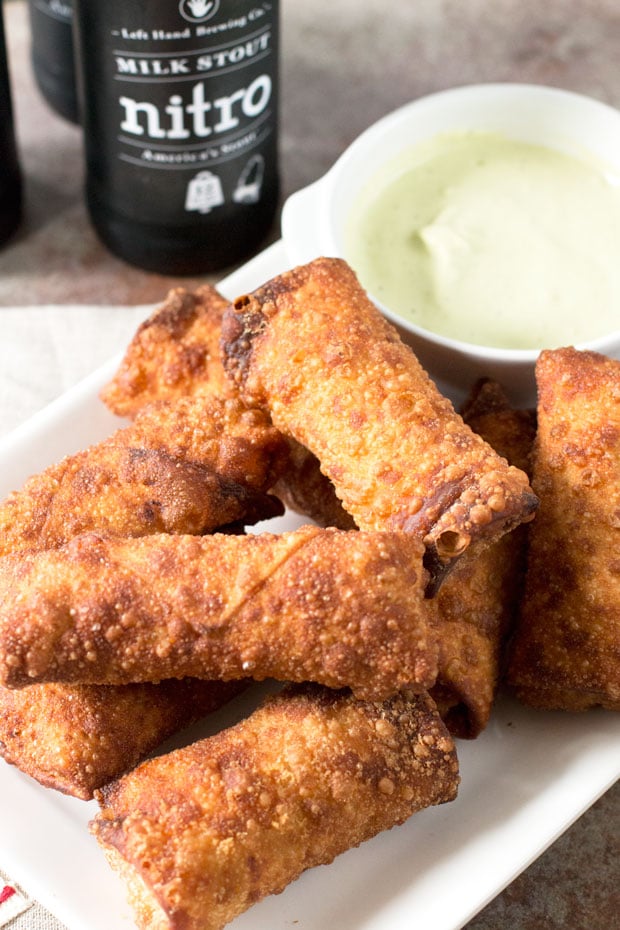 I've become the queen of snacks in my circle recently. I keep making egg rolls, loaded nachos, taquitos, and anything else I can think of to nibble on during those lazy afternoons.
When the sun comes out and the temps rise, there tends to be a lot of day drinking in my world. You really have to have snacks like these around to make sure you get a good base layer going on. If you think about it, me wrapping up BBQ chicken and avocado and putting it all in a hot fryer is really saving lives.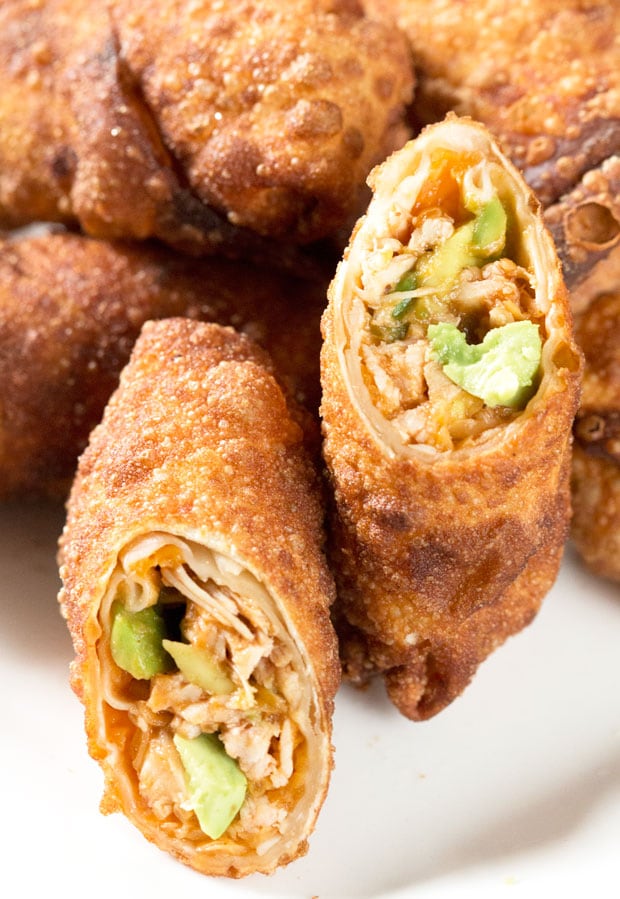 Ok, a little overdramatic I know, but these BBQ chicken avocado egg rolls are a little life changing. Usually I'll stick with a BBQ chicken and avocado sandwich, but it tends to be pretty one-note when it comes to texture. I crave that crispy crunch with every bite.
So I wrapped it all up in an egg roll, fried it and dunked it in some creamy avocado crema for good measure. It's the ideal savory snack to have at the ready for snacking, or even as a tasty appetizer for your next backyard BBQ.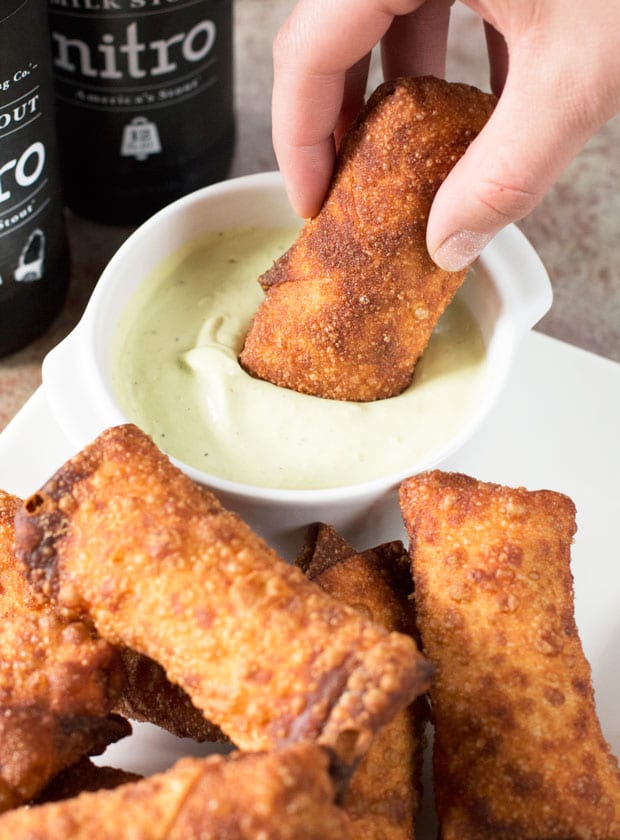 The best part is, if not all of them get eaten (though I'm not quite sure why that would happen…), you can freeze them! Just bake them up for about 5 minutes in the oven at 350 degrees and boom, it's like they are fresh from the fryer all over again. That's what I call a win-win kind of recipe, am I right?
This is the part where you start pinning this for all your tailgating adventures this fall and winter, btw.
Happy dunking, friends!
Avocado Eggrolls with BBQ Chicken
Yield:
Makes 14 egg rolls
It's crispy on the outside, and full of the BBQ spicy chicken and avocado on the inside. Not to mention the creamy dreamy avocado crema it comes with… *swoon*
Ingredients
Avocado Crema
1 Avocado
1/2 cup Sour Cream
1/3 cup Milk
1/2 teaspoon Garlic Powder
1/4 teaspoon Ground Cayenne Pepper
1/2 teaspoon Salt
1/4 teaspoon Black Pepper
Egg rolls
2 cups Cooked Shredded Chicken
1/2 cup Barbecue Sauce, Such as Sweet Baby Ray's Sweet & Spicy
1/2 cup Shredded Cheddar Cheese
1 teaspoon Buffalo Wing Sauce
1 Avocado, Chopped
1/4 cup Cold Water
1 tablespoon Cornstarch
14 Egg Roll Wrappers
Oil, For frying
Instructions
In the bowl of a blender or food processor, puree the avocado, sour cream, milk, garlic powder, cayenne, salt, and pepper for the avocado crema. Set in the refrigerator until ready to serve.
In a large bowl, stir together shredded chicken, BBQ sauce, cheddar cheese, and hot sauce. Gently fold in avocado.
In a small bowl, whisk together water and cornstarch. Set aside.
To wrap your egg rolls, start with a clean, flat surface. Lay one wrapper so one of the corners is facing you (like a diamond). Dip your fingers in the cornstarch water and spread on each edge of the egg roll wrapper.
In the corner closest to you, spoon 1 1/2 to 2 tablespoons of the BBQ chicken and avocado filling into the center. Lift the bottom corner up and begin to roll away from you, making sure you tuck the corner under as you roll. Once you are halfway up the wrapper, fold in the left side and then the right side towards the center.
Continue rolling away from you until only the final corner is ready to roll. Dip your fingers in the cornstarch and water mixture you made earlier and brush it over the final corner. Finish the roll, brush a little more of the cornstarch mixture along the seam, and place seam-side down. Make sure you roll the egg rolls tightly. If they are too loose, they will fall apart when you fry them.
To fry the egg rolls, fill a pot with 4-5 inches of cooking oil. Heat the oil to 350 degrees. Gently add the egg rolls to the hot oil, frying no more than 3 or 4 at a time, turning occasionally. Fry until the egg rolls are golden brown on all sides, approximately 2 minutes. Place on paper towels to drain and cool.
Serve immediately with avocado crema.
Recommended Products
As an Amazon Associate and member of other affiliate programs, I earn from qualifying purchases.