Fried Mozzarella Prosciutto Pizza is the over-the-top pizza I can't resist shoving in my face, piled high with prosciutto, basil and tomatoes. Fried mozzarella is so much better than regular mozzarella… Trust me.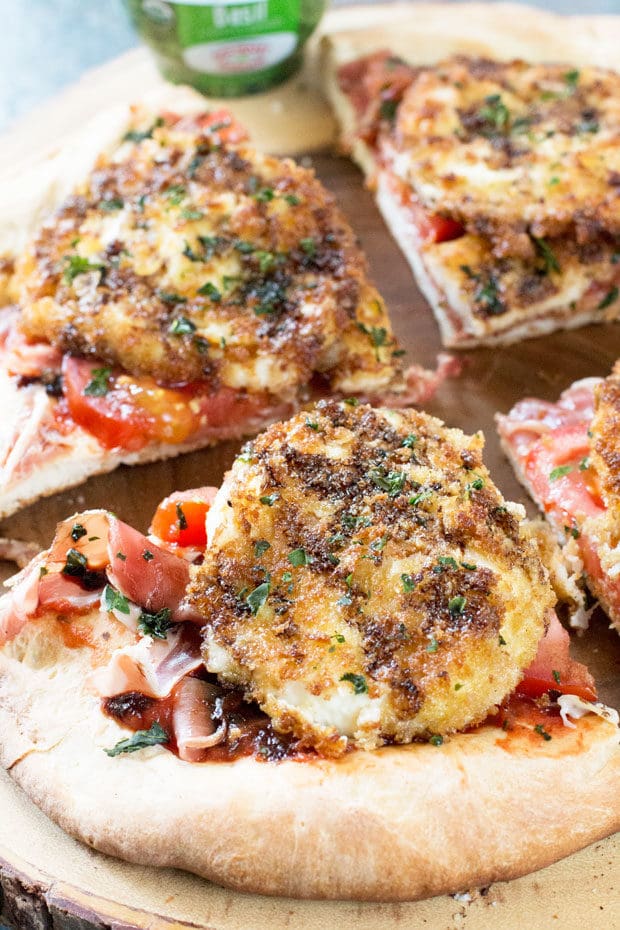 Oh yea… I totally went there. I piled prosciutto and tomato on a pizza crust and topped it all off with crispy, golden brown fried mozzarella.
Lately I've been in a bit of an 'over-the-top' everything mood – I don't know if it's coming off the high of three back-to-back weeks of pure insanity or just being so burned out I don't even care anymore.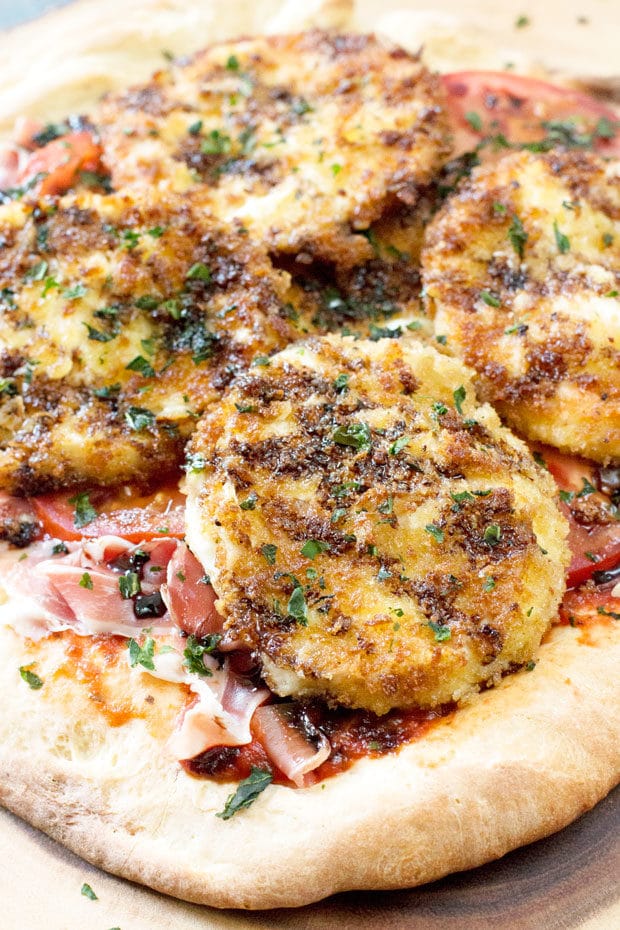 All I know is that fried mozzarella on top of a pizza piled high with prosciutto and tomato is what I've been craving lately. The salty prosciutto pairs perfectly with the acidic tomato and the rich fried mozzarella. Top it all off with a slightly sweet balsamic reduction and chopped basil – BOOM.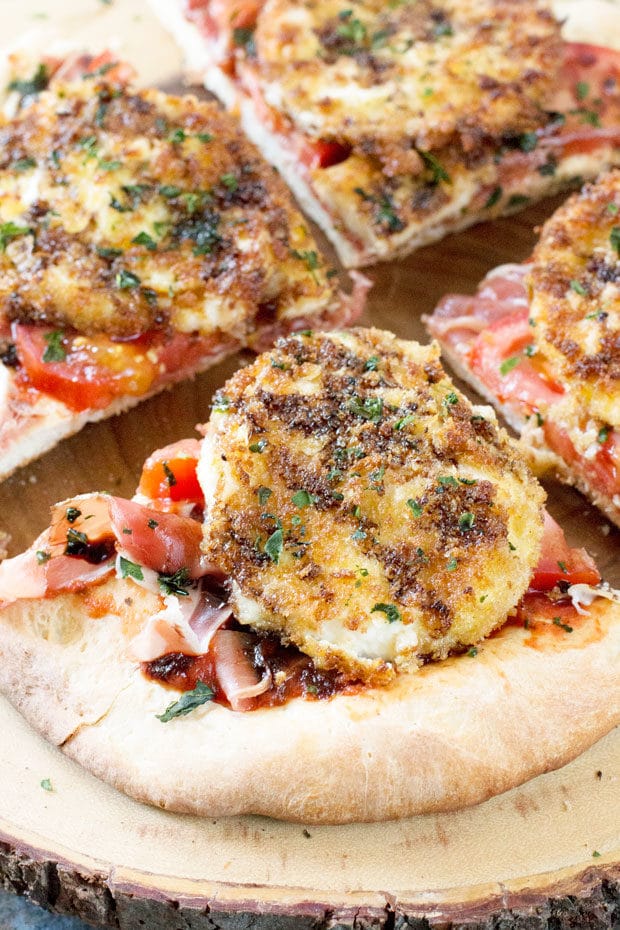 Yea, that was the sound of your taste buds exploding if you didn't pick up on that. I'm just sayin'…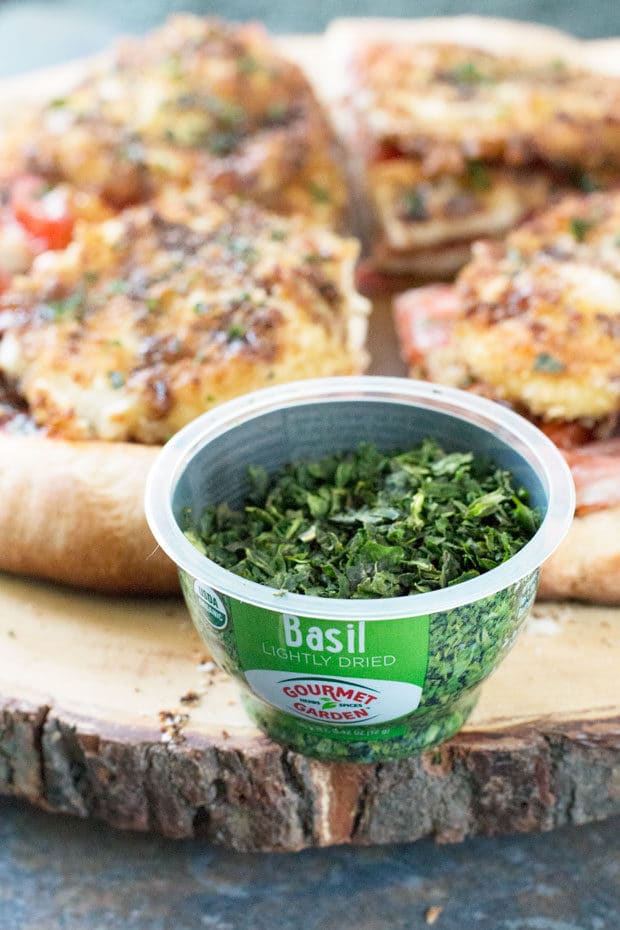 I know I've been giving you some fun recipes with the Gourmet Garden pastes recently, but I couldn't neglect to mention their lightly dried herbs this month. I know lightly dried might freak some people out and you might not think it's fresh, but I swear it tastes unbelievably fresh.
So much so that I've officially moved over from purchasing the fresh packaged leaves to solely using Gourmet Garden. They are chopped just the way you need them to be for any cooking you are doing, and they stay fresh longer than fresh herbs, but without losing any of the fresh flavor.
A fresh sprinkle on top of this pizza, or any pizza you end up making, really takes it to the next level of herbaceous deliciousness.
And don't we all need a little bit more of that in our lives?
Disclosure: I received free product from Gourmet Garden and was compensated for my time as part of this post. As always, all opinions and recipe are my own. Thanks for supporting the brands that support Cake 'n Knife!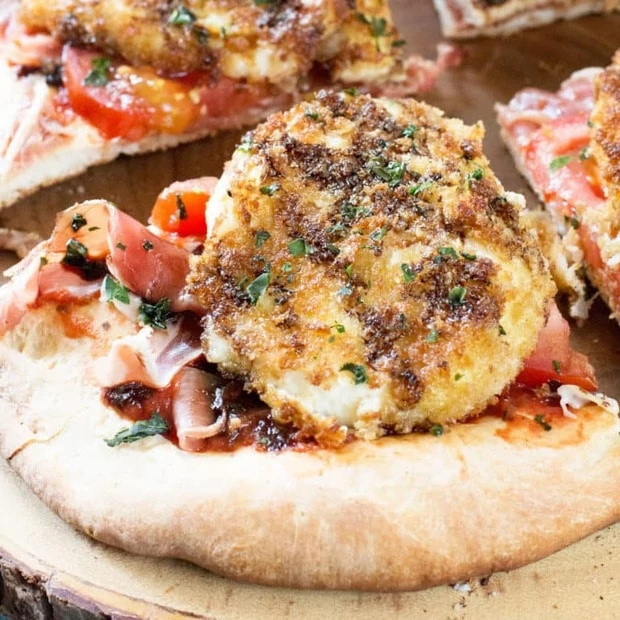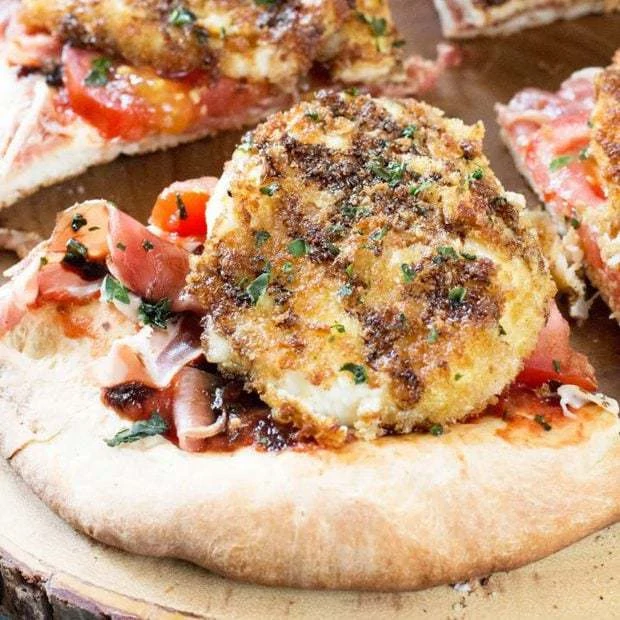 Fried Mozzarella Prosciutto Pizza
Fried mozzarella on top of layers of prosciutto, tomato and topped with chopped basil and a sweet balsamic reduction.
Ingredients
1 lb pizza dough
1 8 oz mozzarella ball, cut into 3/4" thick slices
1/4 cup olive oil
1/2 cup flour
2 eggs
1/8 cup milk
1/2 cup panko breadcrumbs
1/8 cup + 2 heaping Tbsp Gourmet Garden chopped basil
Salt & pepper
2/3 cup your favorite tomato sauce, warmed
1/3 cup cup balsamic vinegar
1 1/2 Tbsp brown sugar
4 to 5 slices prosciutto, torn into thirds lengthwise
1 tomato, cut into 1/2" thick slices
Instructions
Preheat oven to 425 degrees. Grease a baking sheet or heat up a pizza stone in the oven.
On a clean flat surface, roll out pizza dough into a 12-inch circle. Cook the dough for 10 to 12 minutes, or until golden brown and cooked through.
While the pizza dough is cook, warm tomato sauce in a small saucepan over the stove on low.
In a separate small saucepan, reduce balsamic vinegar over medium heat. Once thick enough to coat the back of a metal spoon, remove from heat and stir in brown sugar and 1/4 tsp black pepper.
Add flour to one bowl, beat eggs and milk together in a separate bowl, and stir together panko breadcrumbs with 1/8 cup chopped Gourmet Gardens basil in a third bowl.
Heat olive oil in a medium skillet over medium-high heat. Dip mozzarella slices in flour, then beaten egg, and finally coat in panko breadcrumbs. Fry the slices in small batches of 2 to 3 slices at a time in the hot oil for approximately 30 seconds to 1 minute per side, until brown and crisp on the outside. Remove to a paper towel-lined plate to drain.
Remove the pizza dough from the over and top with warmed tomato sauce. Add a thick layer of the prosciutto on top of the sauce, followed by the sliced tomato.
Finally top with the fried mozzarella slices, Gourmet Garden chopped basil and balsamic reduction.