Chicken Caesar Sandwich is my version of the classic salad, made infinitely better by the addition of much more crunchy bread. The real hero in the sandwich is an out-of-this-world caesar spread that's gonna blow your mind.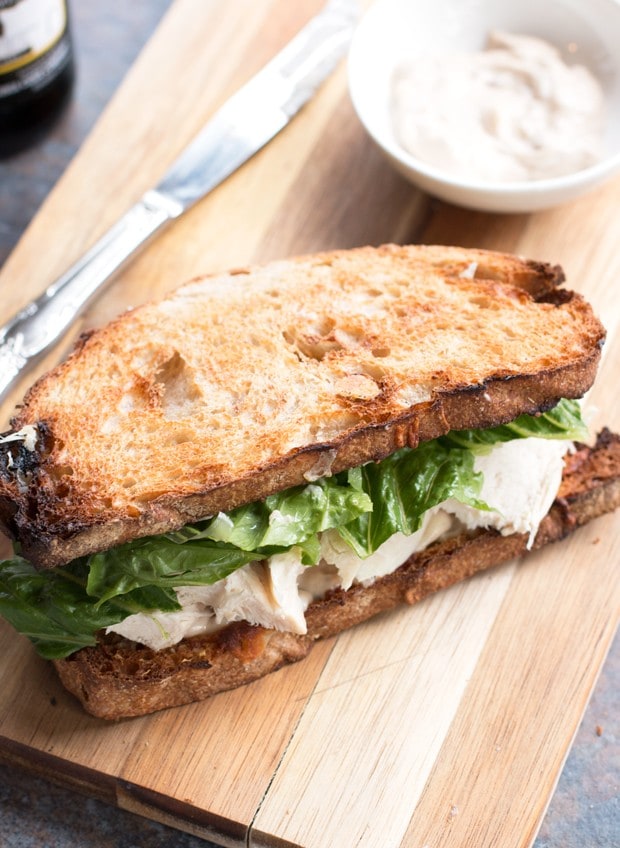 It's the night before Halloween… Normally I would be panicking and rushing out to 20 different stores throughout the day, scrambling to pull together a costume because I just decided I actually want to go out tomorrow night. I've been trying this whole new "being an adult" thing lately, and this is one where I actually succeeded this year! There is no panic. There is no mad rush to the store and there is no wondering how I'm going to find white shoes to match my white stockings. I have my costume. I have a plan. I am prepared. This is the first Halloween that's happened. EVER.
See? Sometimes I can be an adult.
Sometimes…
Another thing I'm not wondering about is what I'm going to be eating for dinner before I head out for the night. I've got that covered and it's staring at you right now.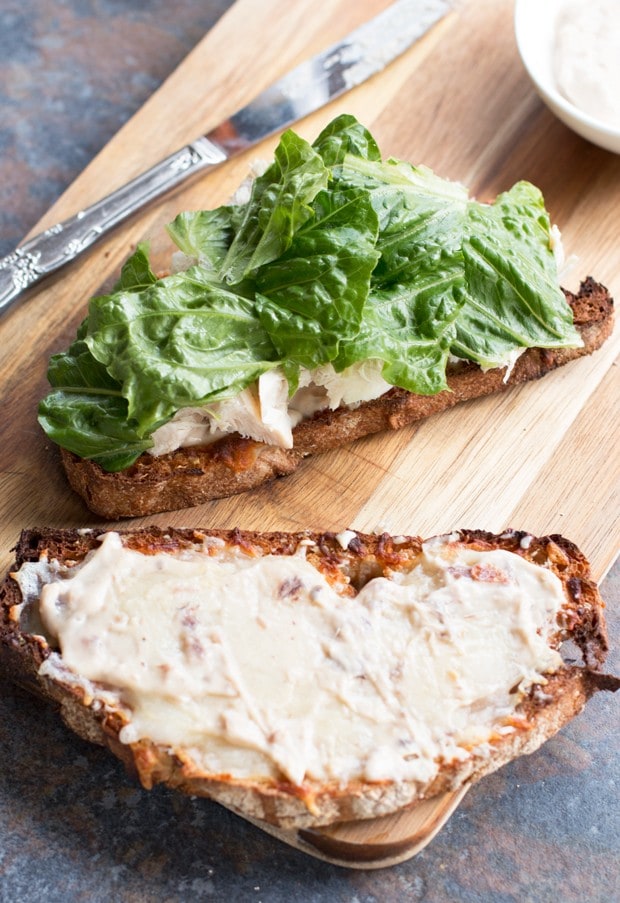 This gorgeous chicken caesar sandwich is a direct response to people telling me I should embrace and love salad. Yes, some salads are downright amazing and I'll totally go for one if it's made right. However, force me to eat some greens with barely any dressing and no other veggies in it? Well, I'd rather eat cardboard to be quite honest. I need stuff in my salads. Tons of it. Textures, colors, flavors, I want a freakin' smorgasbord.
Since I can't replicate these kinds of salads at home without considerable effort, I did the next best thing. I turned a caesar salad into a ridiculously good sandwich.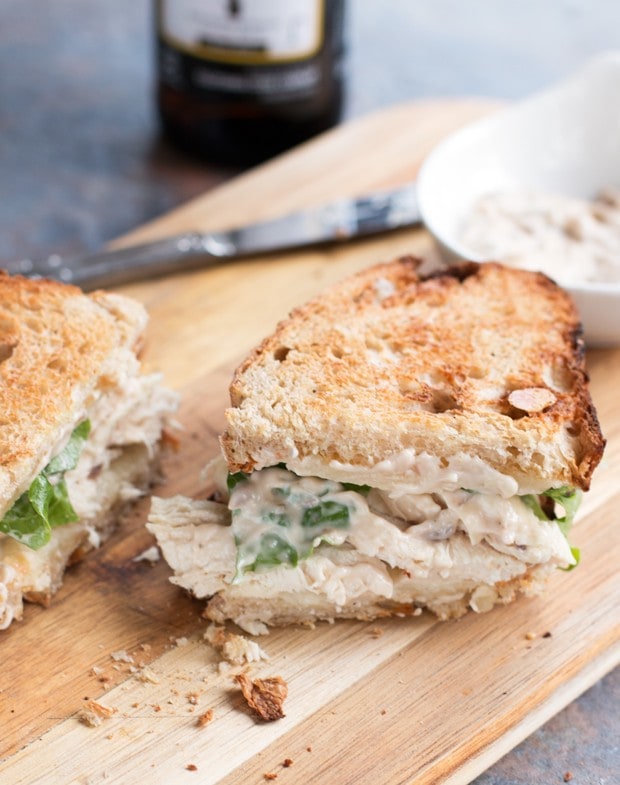 The creamy caesar spread is what really sends me over the edge with this sandwich. It's got just the right balance of the classic caesar dressing flavors in a much richer and creamy sauce. You'll be spooning on more and more until it's all gone (and it goes fast!).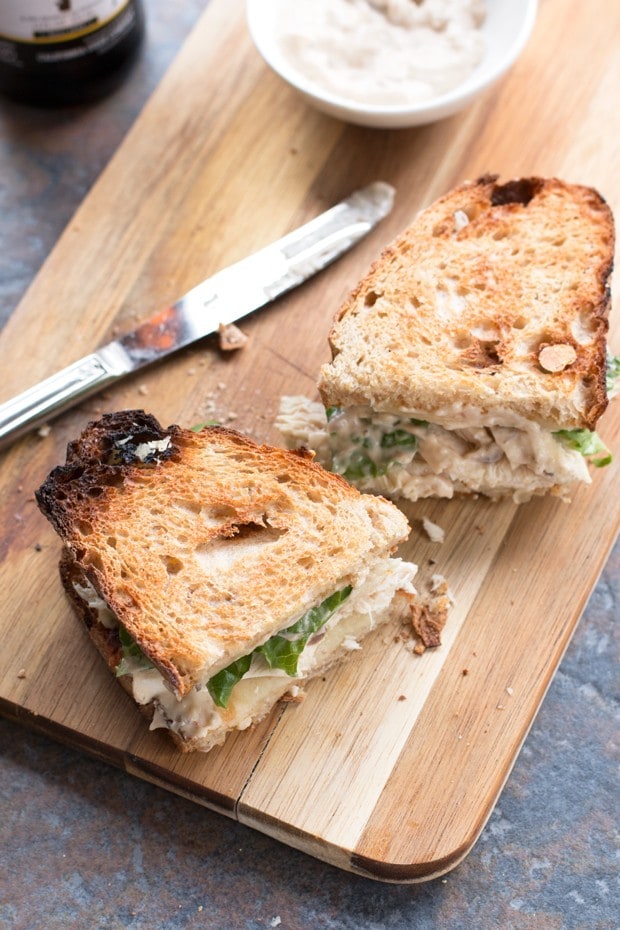 So ditch the salad and go for the sandwich! It's the perfect light and healthy dinner to dig into before a night filled with all the candy, chocolate and cocktails you plan to partake in.
This is how adults do Halloween, folks.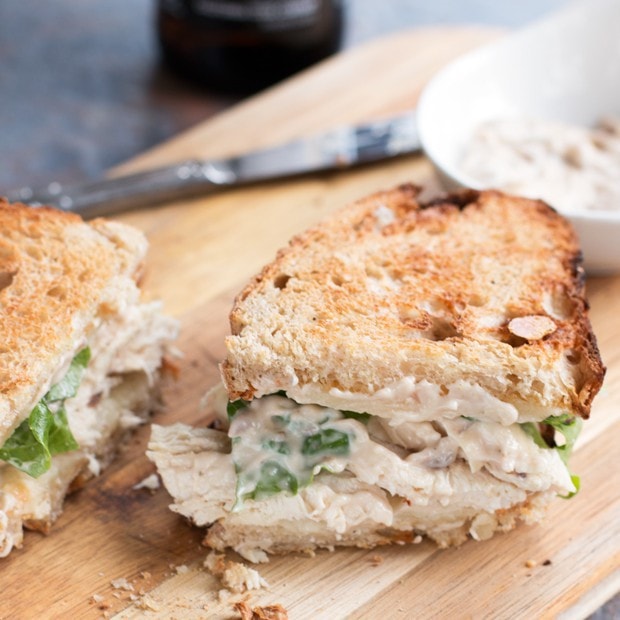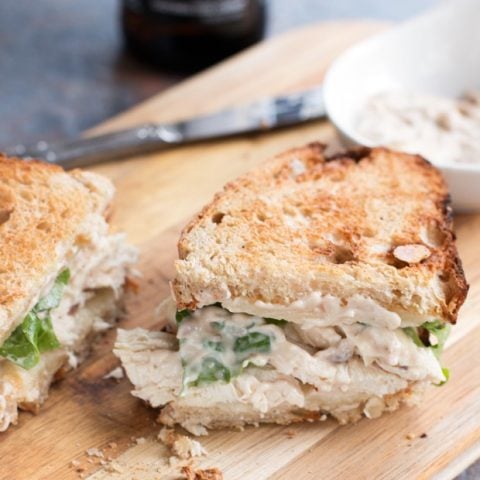 Chicken Caesar Sandwich
The real hero in the sandwich is an out-of-this-world caesar spread that's gonna blow your mind.
Ingredients
1 large skinless, boneless chicken breast, cooked and sliced into thin strips
Romaine lettuce, roughly chopped
1/4 cup Parmesan cheese, shredded
1/4 cup mozzarella cheese, shredded
4 thick slices of rustic bread, toasted
Caesar Spread
2 garlic cloves, diced
3 anchovy fillets, finely chopped
1/2 Tbsp lemon juice
1/2 tsp Worcestershire sauce
1/2 tsp Dijon mustard
1/4 cup mayonnaise
Pinch of salt and pepper
Instructions
In a small bowl, combine the ingredients for the Caesar spread, stirring them together with a spoon. If you don't want little chunks of anchovies in the spread, you can mash them in with the back of a fork.
Turn the broiler on to high. Add the four slices of toasted bread to a baking sheet. Top the bread with the Parmesan and mozzarella cheese, dividing evenly between the four slices. Melt the cheese under the broiler, watching it carefully until the cheese is bubbling, approximately 30 seconds to 1 minute.
Remove the bread from the oven and build your sandwiches. Spread some of the Caesar spread on each slice of bread. Add sliced chicken to the bottom slices, followed by a layer of chopped romaine lettuce. Top with the remaining slices of bread. Serve immediately with any leftover caesar spread.