Please note this post contains affiliate links.
As we head into 2023, I am reminiscing over my favorites recipes of 2022. This is an annual post that I love to do, not only to pick out my favorites, but perhaps to highlight a few that you might have missed this year.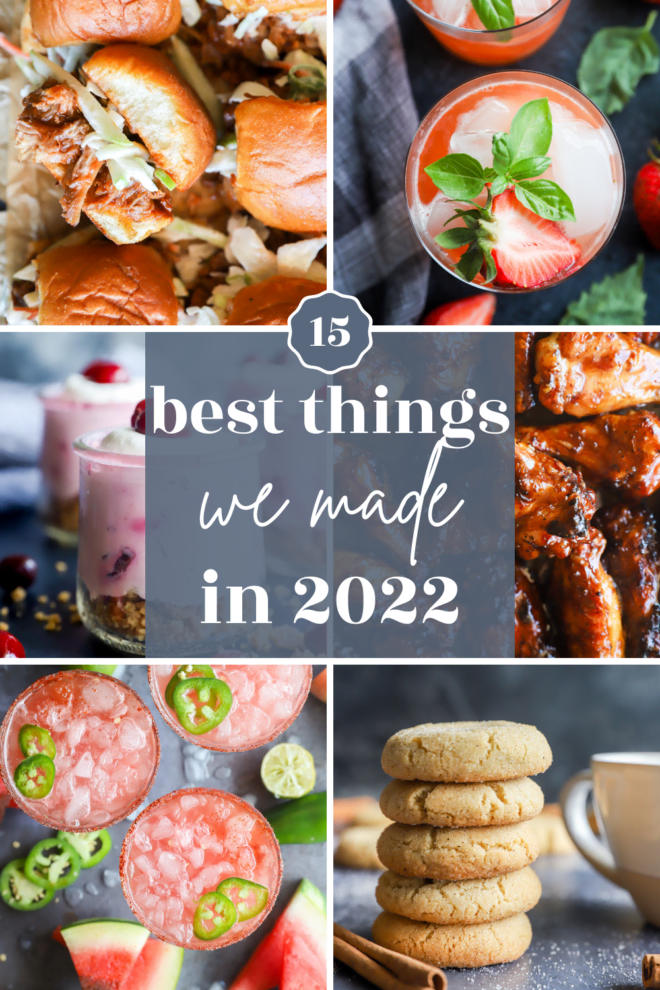 I have been looking back through my past "Best Things I Made" posts, and it's so funny to see what I picked year after year. There were a couple of years that got missed, but it's been a tradition that I cherish. It's hard to believe that 2023 is starting in TWO DAYS.
We are currently settling into the new house after more than a year of waiting, and I can't wait to show you behind-the-scenes over on my socials (Instagram and TikTok mainly!). Primarily I am excited to have my office and enjoy all the natural light that will stream in through the windows.
I never really set resolutions, because I'm one of those people who is constantly setting goals for myself throughout the year. Instead, I like to pick a word for each year. For 2021, the word was "intentional." For 2022, I've decided my word will be….
cultivate
One definition of cultivate is to "apply oneself to improving or developing." Since this coming year I should be able to find more time to work, I want to focus on cultivating my business, my own personal growth, and also focus on cultivating an environment of creativity and independence for Babycakes.
what's your word of the year?
Be sure to tell me in the comments below!
my top must-haves from 2022
Now I didn't add a lot to my kitchen in 2022 (if anything, I got rid of a ton of stuff when we purged while packing!), but there are some highlights that I have to call out. You deserve each and every one of these in 2023!
Instant Pot Duo Crisp Ultimate Lid – the newest Instant Pot, and hands down my favorite so far! No more messing with multiple lids, this all-in-one appliance pressure cooks and air fries. It's been my favorite appliance to use, especially in the AirBnB as we were working with a tiny kitchen.
salt and pepper grinder set – getting one with multiple settings is key here! I love coarse ground salt and pepper primarily, but it's really convenient to have ones that can be set to fine as well for seasoning recipes.
whisk wiper – the easiest way to clean a whisk!
lodge cast iron skillet – I've had mine for years and am adding another to the collection because I use it so often.
Gatsby cocktail glasses – these are just the prettiest glasses… So elegant and so simple.
silicone egg cups – a must-have for anyone who loves poached eggs! It's the easiest way to cook them in a pressure cooker.
just one more thing…
If you're looking for my full recipe index, you can click on Recipes in the menu, or right here.
Finally, if you make any of these recipes from 2022 (or if you've already made them), please be sure to give that recipe a rating or leave a comment! I love to hear when you all make recipes, and I do take the time to respond to every single comment. Feel free to drop questions below too, if you have them!
Oh and be sure to tag me on Instagram if you make the recipe! I love being able to see these recipes come to life in your homes – it's my favorite thing to look through those photos. It really means the world to me!
Check out the Best Things I Made in 2021 for more recipe inspiration as well!