Please note this post contains affiliate links.
Red Velvet Brownies topped with champagne cream cheese frosting are a decadent way to celebrate! The rich red velvet flavor in these fudgy brownies is incredibly addictive. Anyone who loves red velvet will love these! Makes 9 large brownies.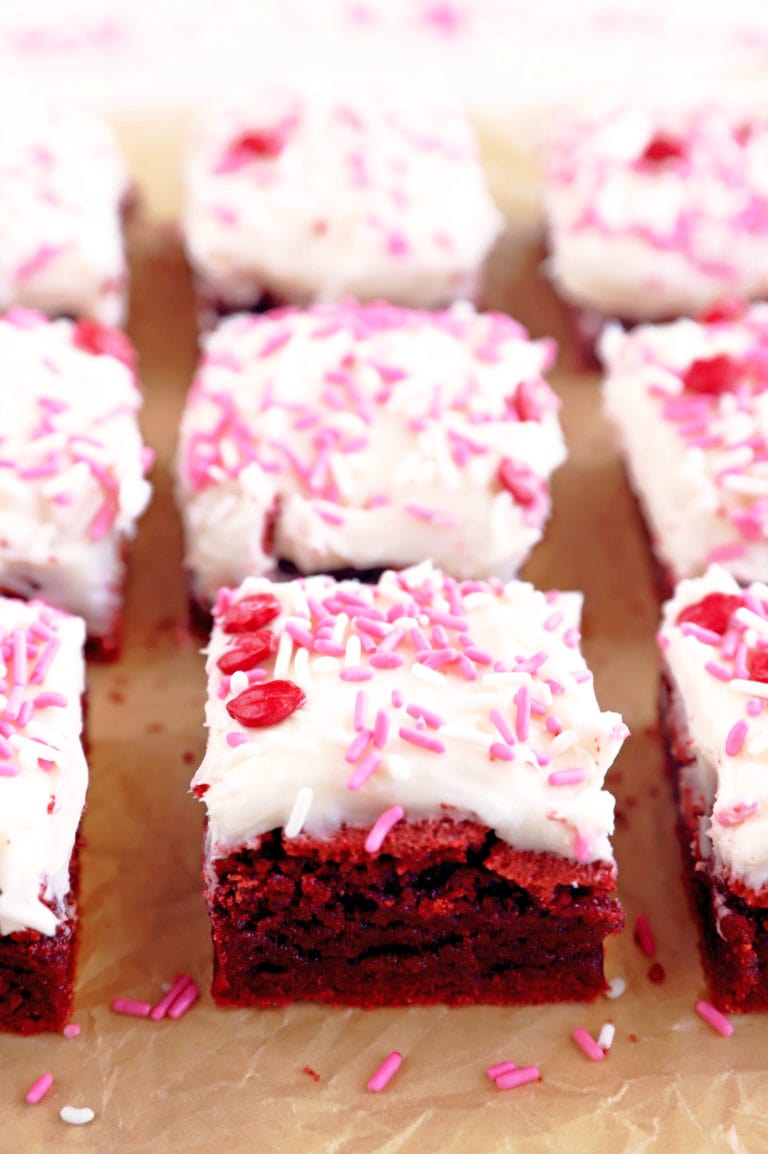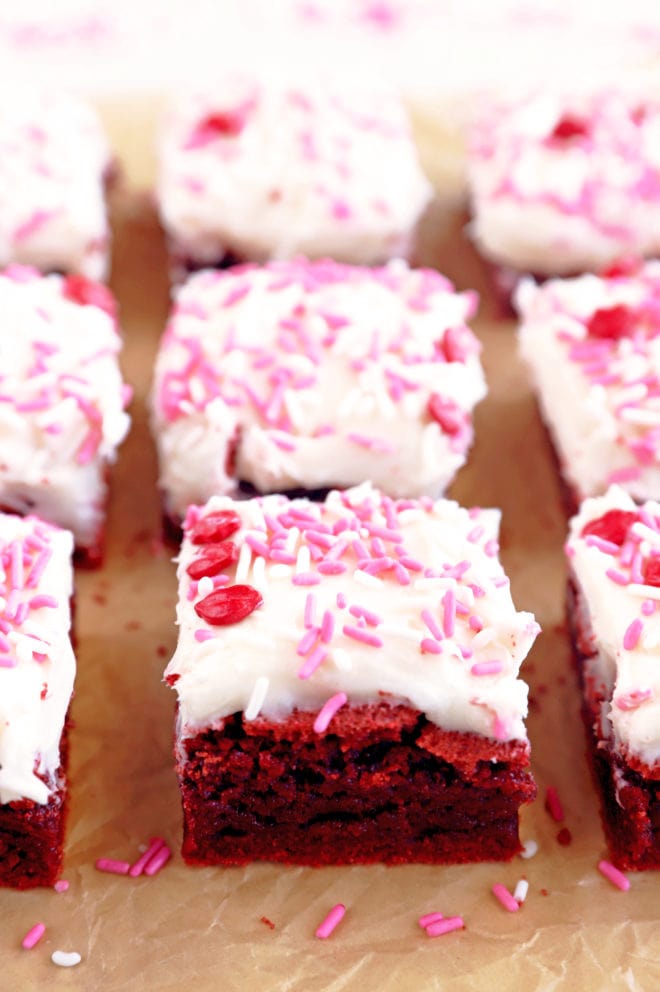 about these red velvet brownies
Who doesn't love red velvet? Whether it's cake or ice cream or these delightful brownies, I am all about it. And so is The Man.
Which was actually my inspiration for these brownies!
I know, you must be shocked that I show someone how much I love them through food 😉
Though I don't make a ton of brownies, I am a big fan. I remember there were these brownies my mom would buy at the grocery store and I would go through them SO fast I don't know if she even got to eat more than two. Even though I have some additional restraint nowadays, when it comes to these brownies it's really tough to…
I couldn't believe how wonderfully these turned out! They are moist, denver, and chewy, while also being delightfully easy to make. Not to mention, I use actual melted chocolate instead of cocoa powder because it's AWESOME.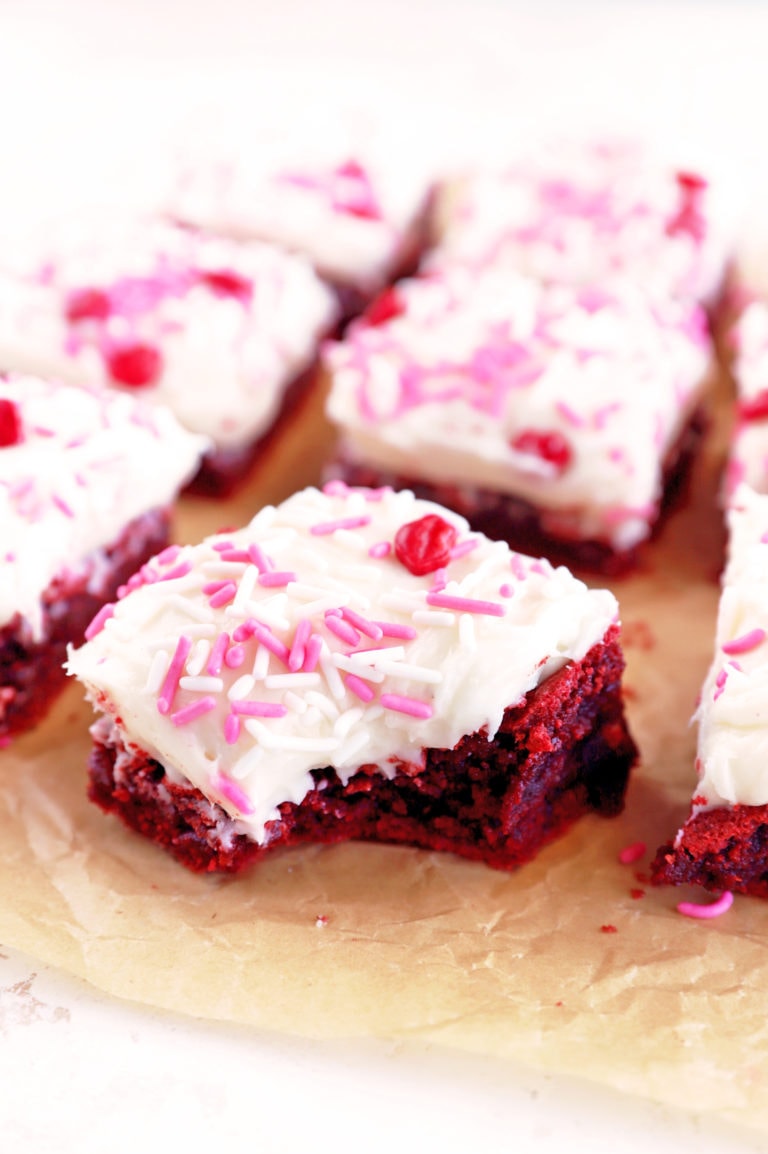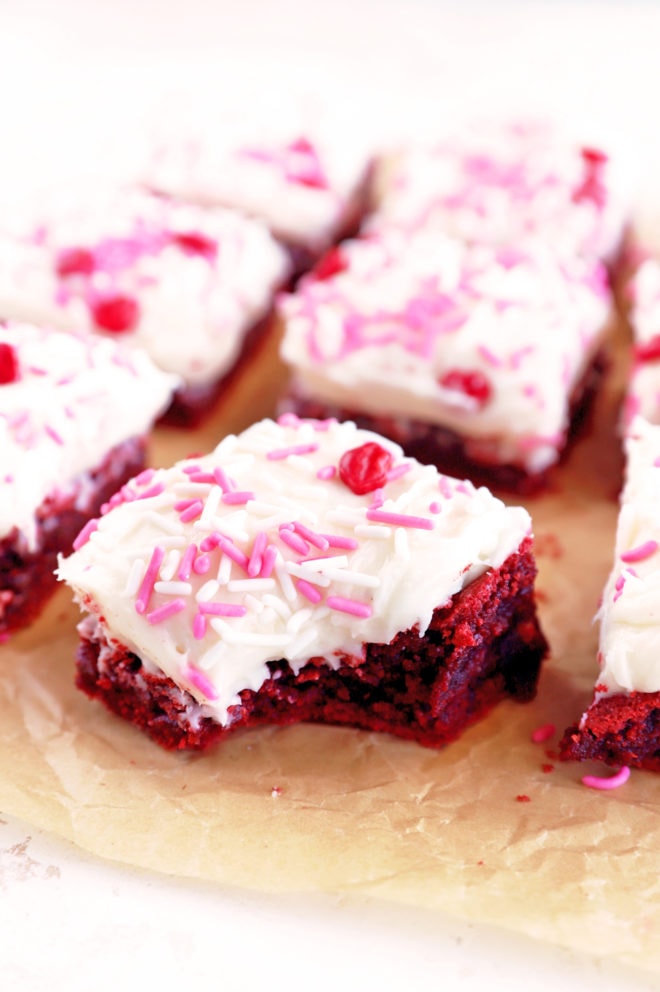 ingredients
bittersweet chocolate – I use a classic bittersweet chocolate baking bar for this recipe instead of cocoa powder. I think the flavor is better and it helps with the texture of the brownies!
red food coloring – what would red velvet be without the red? Any kind of red food coloring will work. I stick with the liquid because you can buy exactly what you need in a 1 ounce bottle.
butter – unsalted butter is key here and make sure to soften it to room temperature. If you don't have enough time to soften it, just throw it in the microwave for about 10 seconds.
vanilla extract – always reach for the pure vanilla extract!
eggs – make sure that your eggs are truly large size as this will impact the ratio of the brownies.
flour – simple all-purpose flour is all you need to use here, nothing fancy!
sugar – all you need is granulated white sugar for this recipe.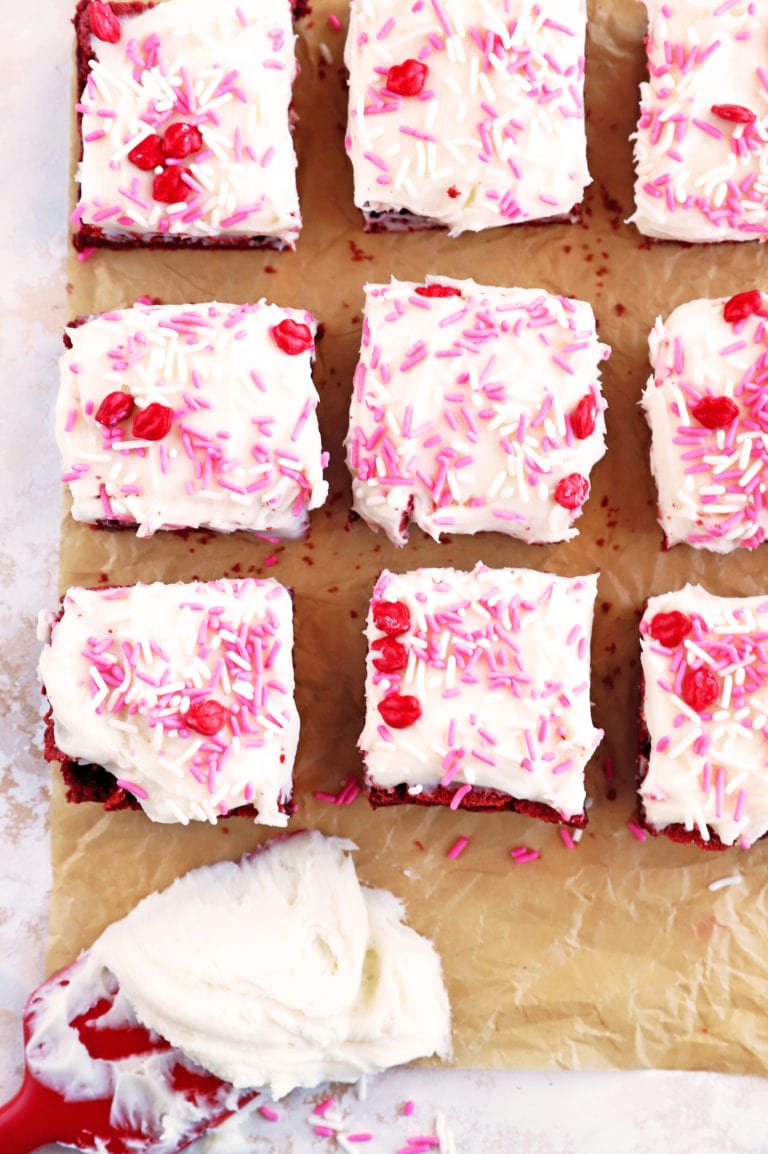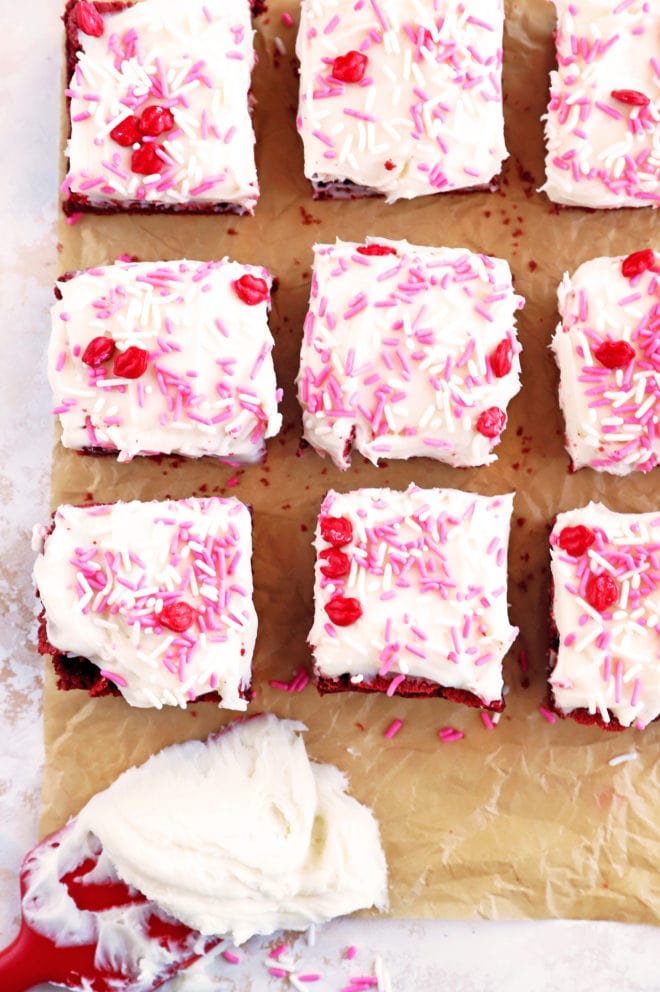 this recipe's must haves
To make the batter, you'll need a large bowl from your set of metal mixing bowls, as well as a whisk and a wooden spoon or spatula.
I bake mine in a simple square baking dish.
You might also want a cooling rack to rest the brownies on after frosting them.
Other tasty brownie recipes to try: Chocolate Covered Strawberry Brownies | Espresso Brownie Cups | Whiskey Skillet Brownie | Double Chocolate Peanut Butter Bars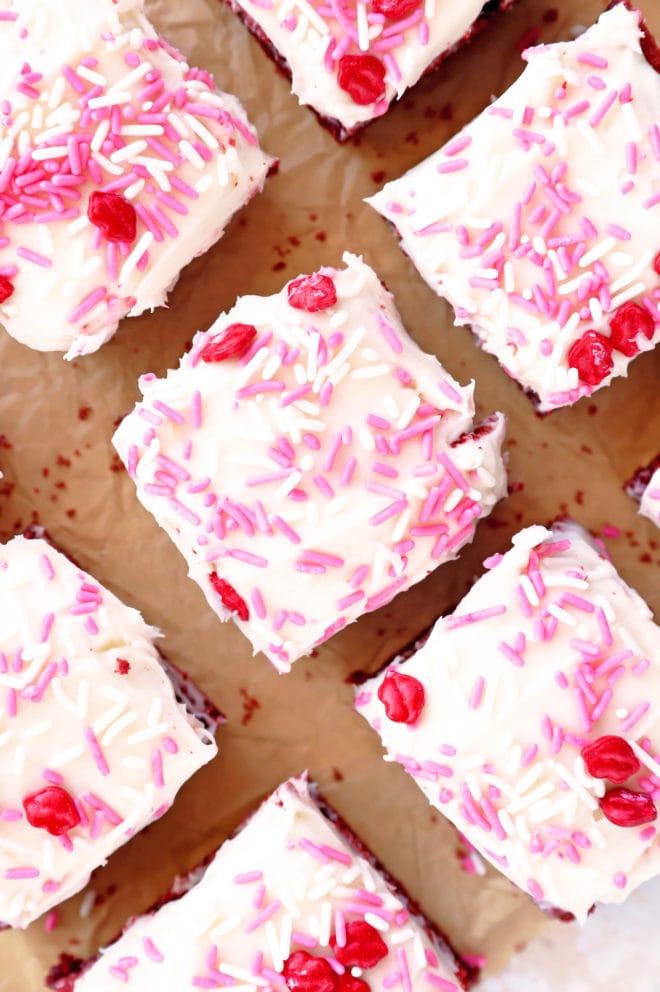 here's how to make red velvet brownies
make batter
To make the batter, start by melting the chocolate. I do this in a microwave-safe bowl with the butter in the microwave. Just heat in 30 second intervals, stirring in between each, until melted and smooth.
Add the melted chocolate and butter to a large bowl, then whisk in sugar and eggs until blended.
Add flour, red food coloring, baking powder, and vanilla. Stir until well-combined.
bake
Before pouring the batter, prep a 9×9-inch pan by lining it with a piece of parchment paper long enough to hang over the sides by at least 2 inches. This will create a sling so you can easily remove the brownies from the pan! Lightly grease the parchment with cooking spray.
Pour the batter in and bake for 40 to 44 minutes, until a toothpick inserted in the center comes out clean with small crumbs. Cool completely, then remove from the pan and set aside.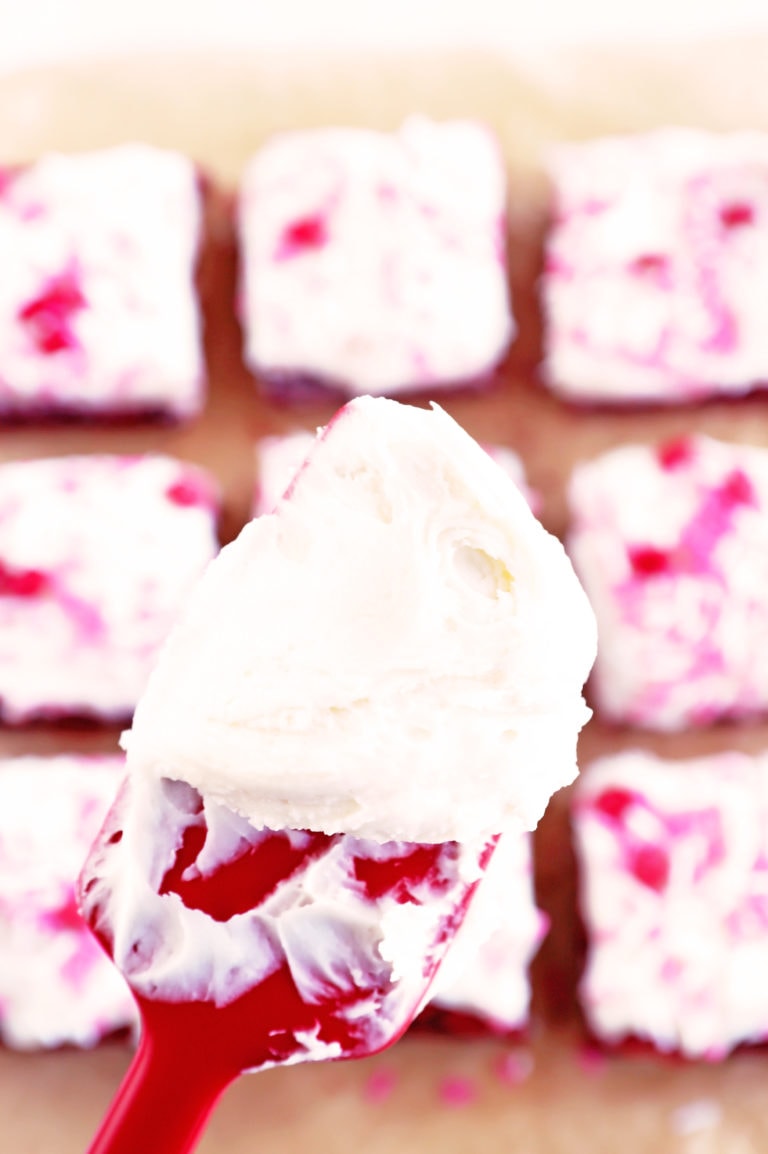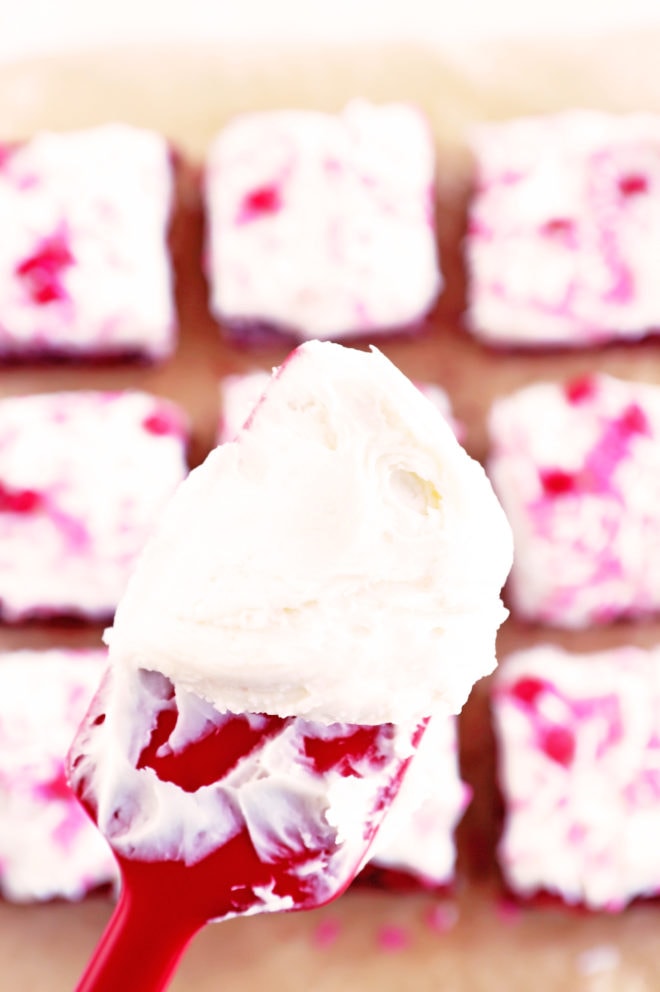 cool and frost
Cool completely in the pan, then remove from the pan and frost as desired (I like to use champagne cream cheese frosting but you can also opt to not frost them if you prefer! Or just use store-bought if you are in a pinch!).
Need more inspiration for dessert? Check out my desserts recipe page!
my brownies are dry, what did I do wrong?
When brownies come out dry, it is usually because of the bake time. If you have over-baked your brownies, they will come out dry. The less time you cook them, the fudgier they will be. Keep an eye on your brownies closer to the end of cook time and continue to check their consistency from 20 minutes on. Every oven is different and some ovens run hotter than others!
what's the best way to cut brownies?
I like to warm the blade under hot water and then wipe it clean after every cut. It also helps to chill the brownies in the fridge after frosting them so they are a little cooler.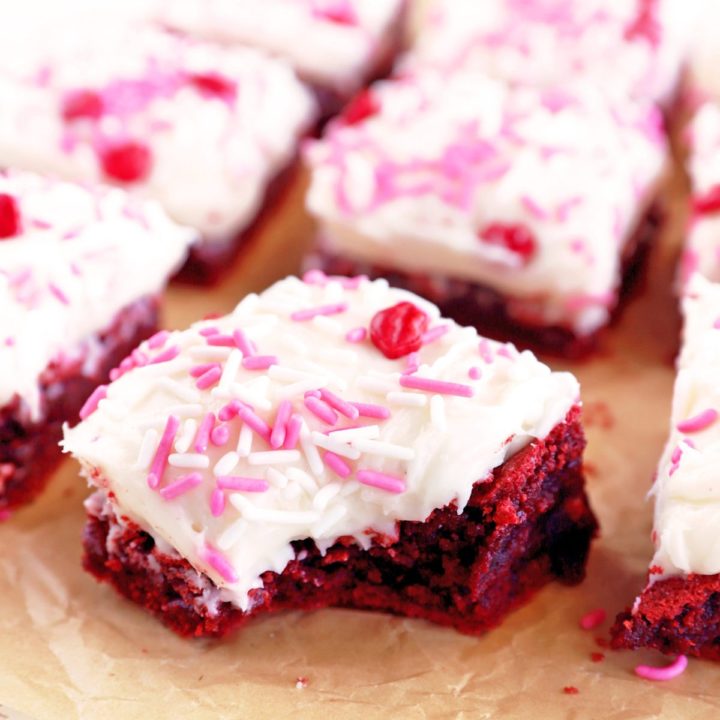 Red Velvet Brownies
Yield:
Makes 9 large brownies
Chewy, moist red velvet brownies are the best way to show someone you love them!
Ingredients
1 4-oz. bittersweet chocolate baking bar, chopped
3/4 cup unsalted butter
2 cups sugar
4 large eggs
1 1/2 cups all-purpose flour
1 1-oz. bottle red liquid food coloring
1 1/2 tsp baking powder
1 1/2 tsp vanilla extract
Instructions
Preheat oven to 350˚F. Line a 9x9-inch baking pan with parchment paper. The paper should hang over the sides about 2 inches on each side to make a sling. Lightly grease with cooking spray.
Add chocolate and butter to a microwave-safe bowl. Melt in the microwave in 30-second intervals, stirring in between each, until smooth and melted.
Whisk in sugar and eggs until blended. Add flour, red food coloring, baking powder, and vanilla. Stir together until fully incorporated.
Pour into the prepared baking pan. Bake for 40 to 44 minutes. A toothpick inserted into the center should come out clean with moist crumbs when done. Cool completely.
Remove from the pan and frost once the brownies are completely cooled. Cut as desired.
Recommended Products
As an Amazon Associate and member of other affiliate programs, I earn from qualifying purchases.