Please note this post contains affiliate links.
Instant Pot Poached Eggs are the easiest way to make poached eggs and they come out perfectly every single time! You get a perfectly runny yolk in mere minutes, make the breakfast luxury totally attainable. Serves 4.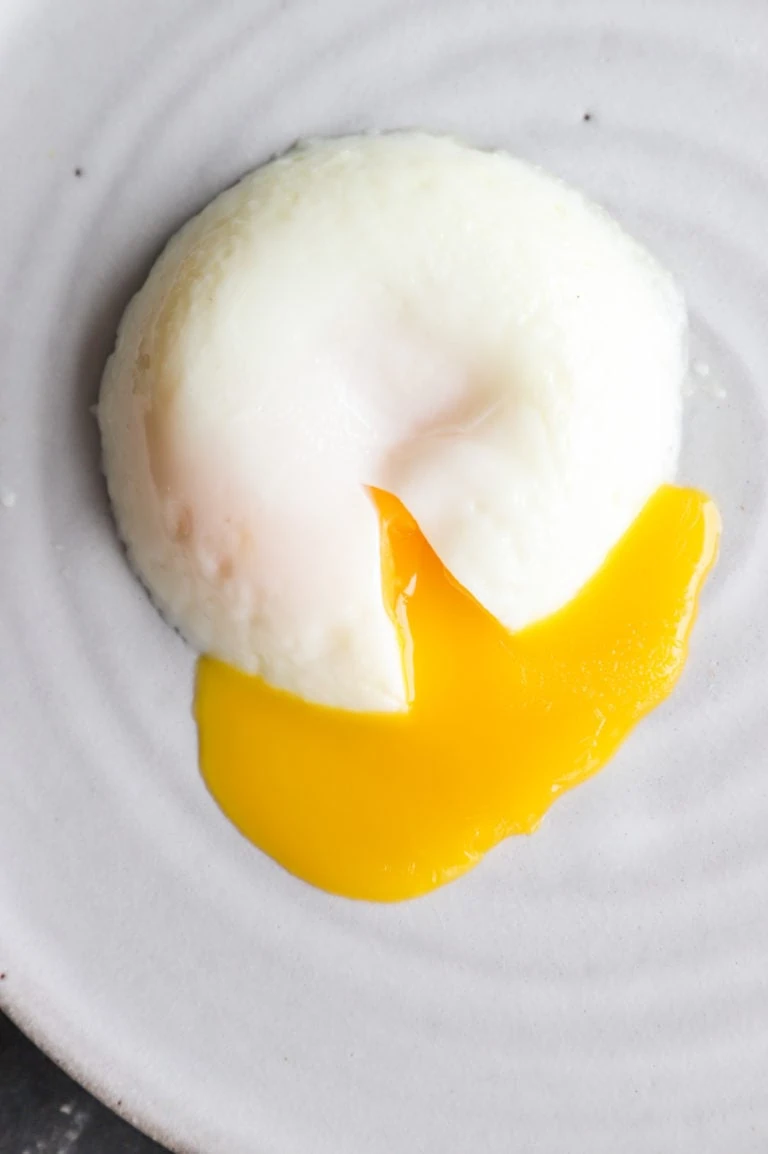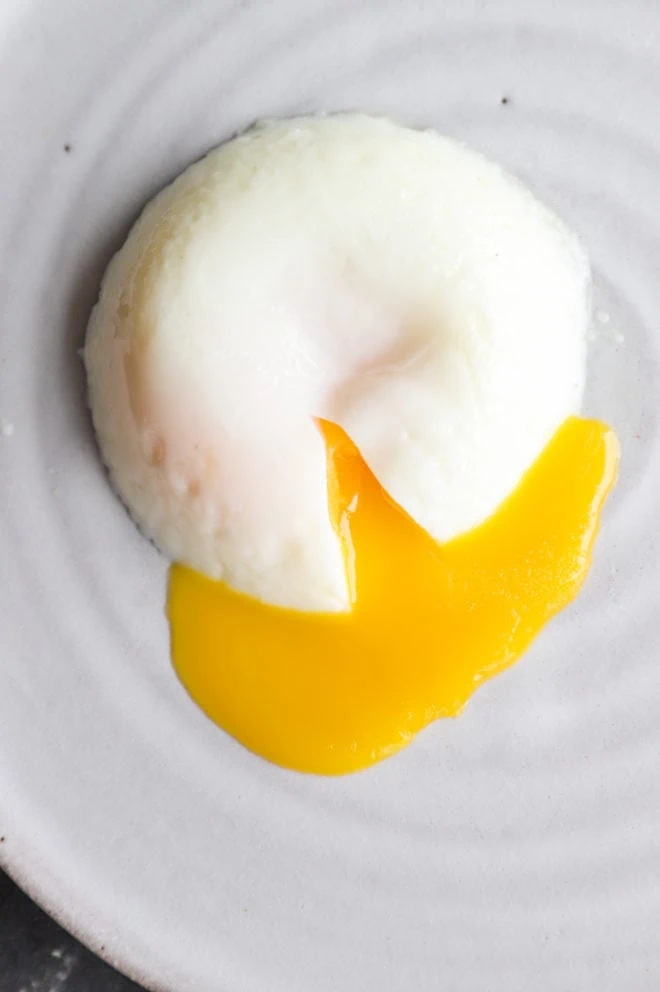 about these instant pot poached eggs
So I did a breakfast challenge over on social for 30 days a couple of months ago, and it was kinda life-changing.
I spent 30 days making sure I made breakfast in the morning – some mornings were just granola and milk, others included poached eggs that I made in the Instant Pot.
It all started with me seeing someone mention how they make their poached eggs in the Instant Pot for eggs benedict, but I was reallllly craving one on top of avocado toast. I made it and, after a little trial and error, I figured out the PERFECT recipe for success.
There's something about a poached egg that just elevates any dish! You can make them in bulk for your favorite brunch. It's especially handy when you are hosting a gathering!
To be honest, making poached eggs on the stovetop is kind of a pain. All the trial and error issues are taken out of the picture when you use an electric pressure cooker to make perfectly poached eggs.
My pro tip? Be sure to test one egg at 2 minutes in the Instant Pot to see the results. Some people don't like their eggs as runny (but I sure do!), so you may need to add 1 to 2 minutes. Once you have the minute time nailed down for your preference, you can cook as many as you can fit in the Instant Pot insert at one time without changing the cook time. If it works for one egg, it will work for more!
As an end result, you will end up with perfect poached eggs every time.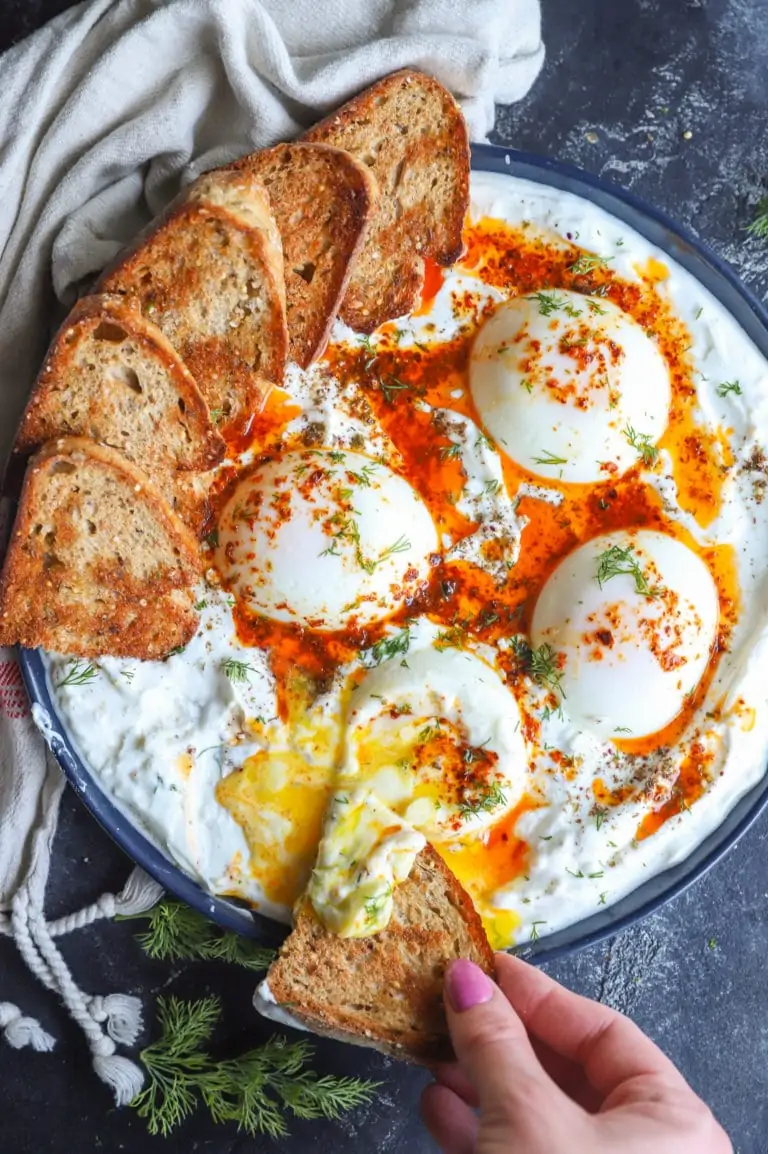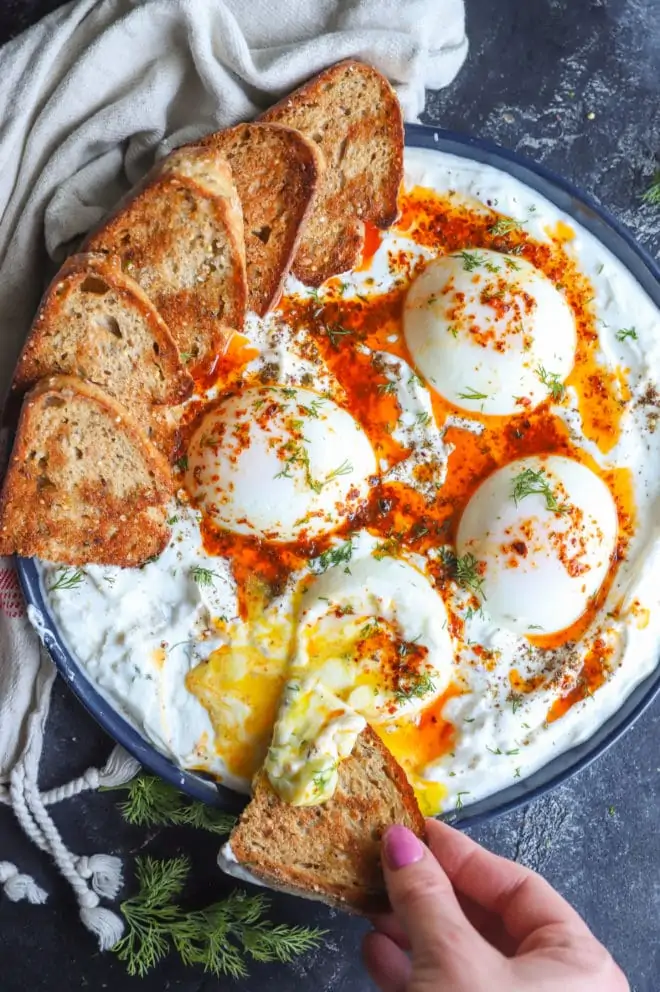 ingredients
eggs – eggs are the star of the show here! I like to use large eggs.
cooking spray – you can use any brand here, but cooking spray is best for greasing the cups so the eggs don't stick. I've tried olive oil and butter, but neither work as well as cooking spray.
water – regular water, no need to filter it or anything. It's just going in the bottom of the Instant Pot!
this recipe's must haves
I really like the Instant Pot Duo or Instant Pot Pro – both work great and are super reliable. I've had mine for years now and it still works perfectly! The best appliance in my kitchen, for sure.
For cooking the eggs, I highly recommend picking up a set of these silicone egg cups. These silicone cups are easy to use and store, make the best shaped eggs, and these poaching cups hold up really well to stand the test of time.
Of course, you can also use glass custard cups or small ramekins if you prefer, but the shape of the eggs will be a little weird in the end.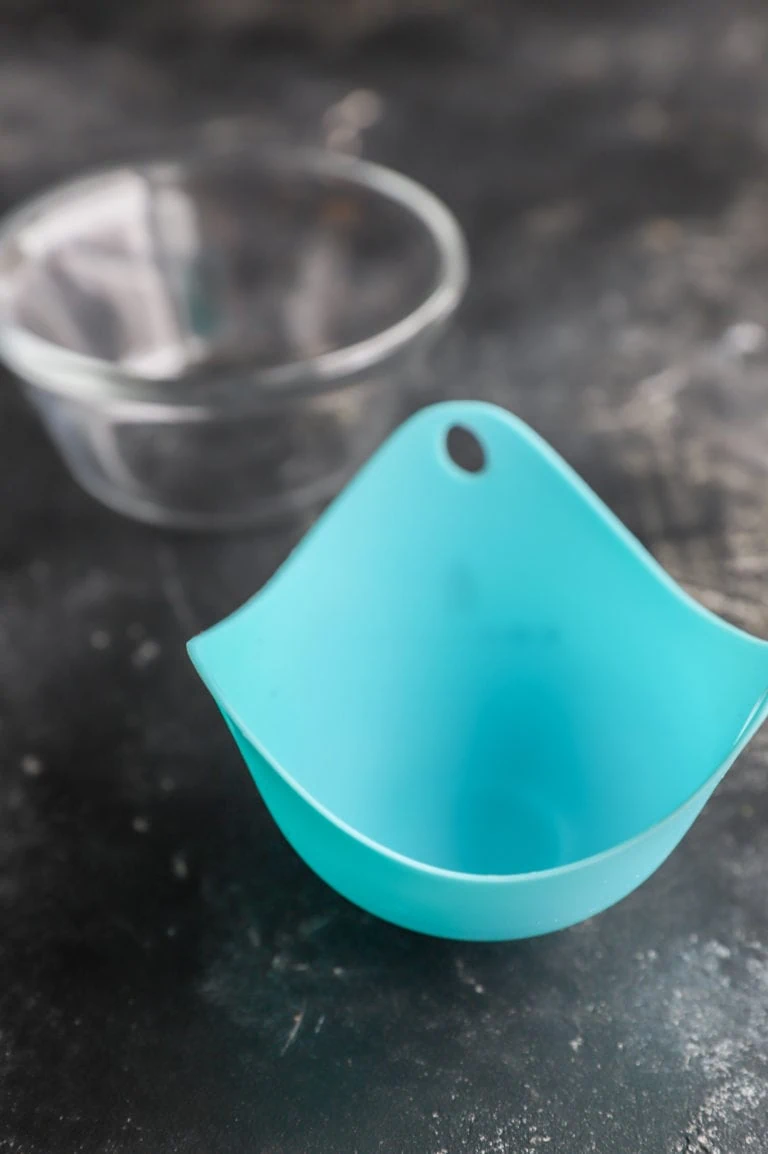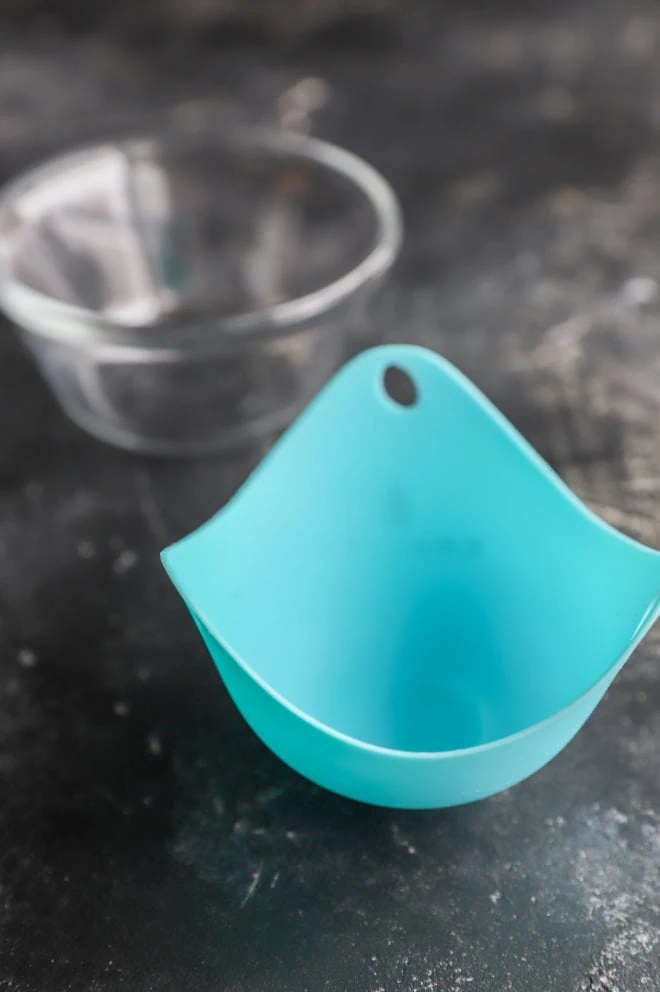 here's how to make instant pot poached eggs
prep cups
To prep the cups for the eggs, lightly spray them with nonstick cooking spray.
Add one cup of water to the base of your Instant Pot or electric pressure cooker, then place the cooking rack inside.
Add the cups to the rack and crack one egg in each cup.
cook
Cook on high pressure for 2 to 4 minutes total time, depending on how well you like yours cooked. For me 2 to 3 minutes is perfect because I want the yolk to be perfectly runny.
If you prefer yours a little more jammy, then cook them for 4 minutes. At 5 minutes, there is no runny yolk at all.
Be sure to quick release at the end of cooking – if you let them sit longer in the Instant Pot they will continue to cook and you will no longer have poached eggs!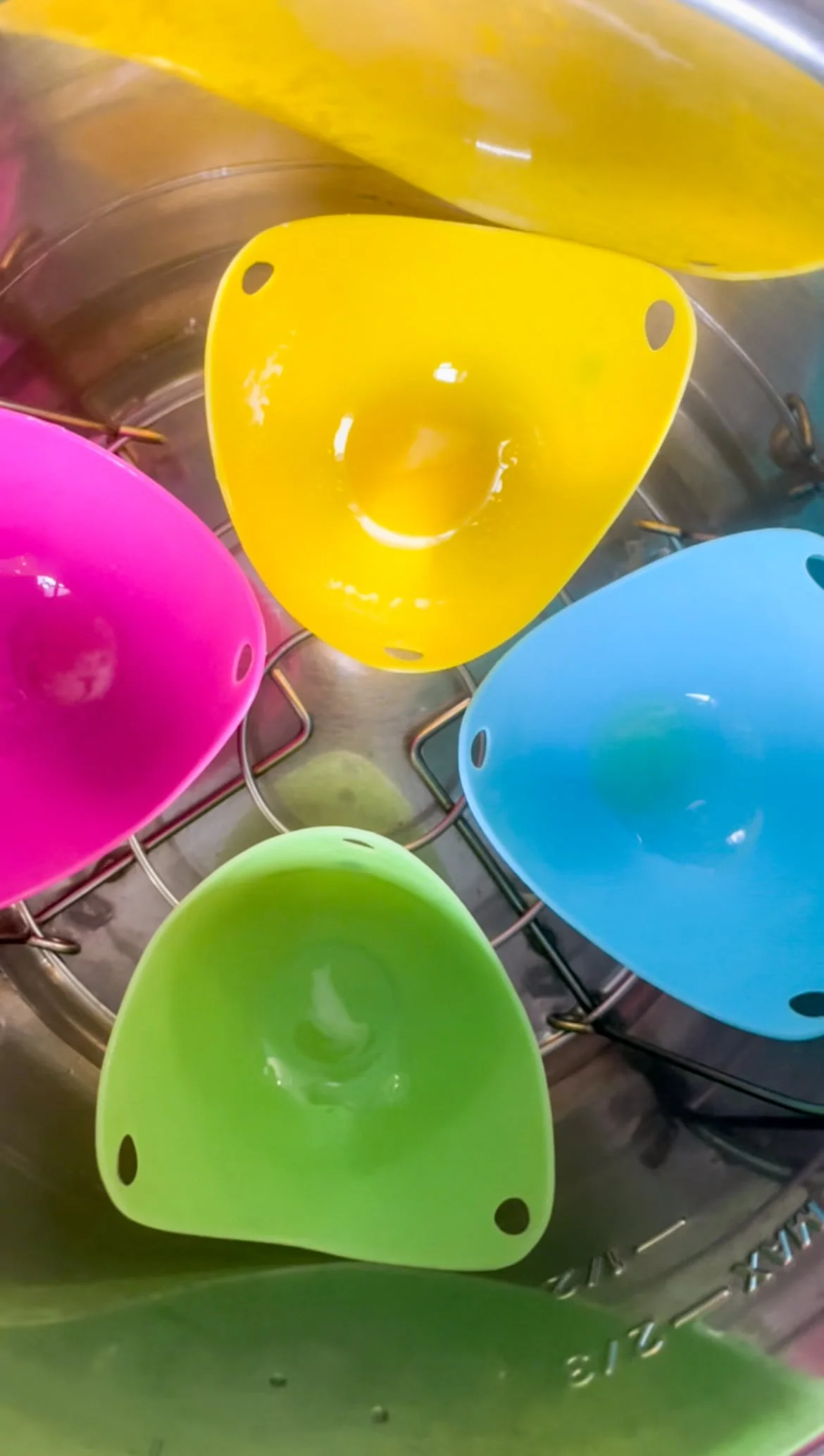 tips for success
use cooking spray. cooking spray works the best instead of melted butter or olive oil. You could try using melted coconut oil, but I haven't tested that before.
cook one egg or four eggs. the cooking time remains the same whether you are cooking one egg or filling the Instant Pot with however many you can fit.
release pressure immediately. It's important to release the pressure immediately once the timer has gone off. If you don't the eggs will keep on cooking and the yolks will get harder.
Other tasty egg recipes to explore: Cheesy Ham Avocado Egg In a Hole | Mexican Bacon Egg & Biscuit Bake | Ratatouille Hummus Toast with Soft Scrambled Eggs | BLAT Eggs Benedict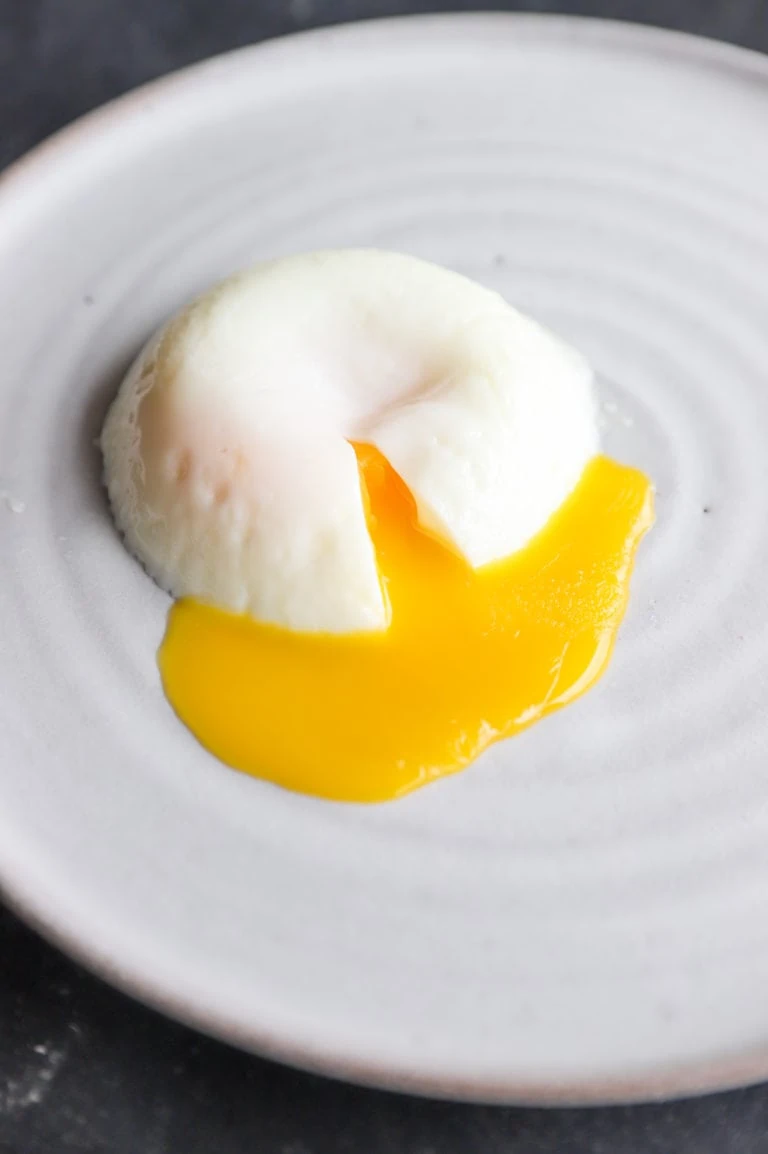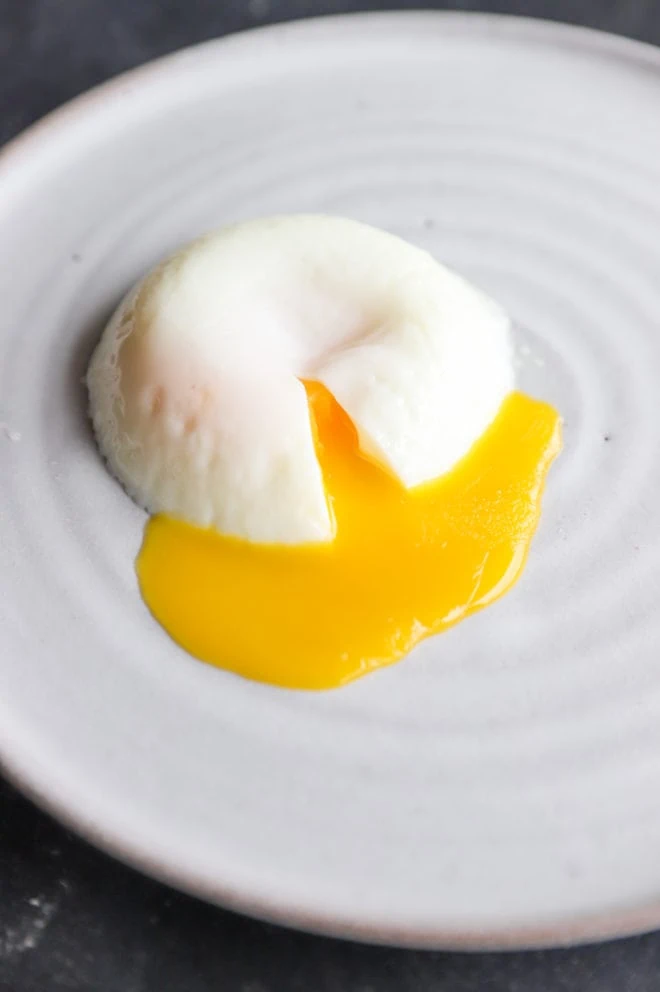 can I make instant pot poached eggs ahead of time?
You might think it's impossible to prep poached eggs ahead of time, but it isn't! Get out a bowl of iced water. Once your eggs are done poaching, remove them from the cups and place them gently in the water. They will keep for up to two days!
When you are ready to reheat them, bring a saucepan of water to a boil. Remove from heat and lower the chilled eggs into the pan for about 30 to 60 seconds until warmed through. Be sure not to overcrowd the pan! If you are working in batches, bring the water back to a boil between the batches if it cools off too much.
If you are planning to make the eggs ahead of time I recommend cutting the cooking time to 2 minutes to ensure the yolks won't harden after reheating.
Need some more inspiration for breakfast? Check out my breakfast recipes page.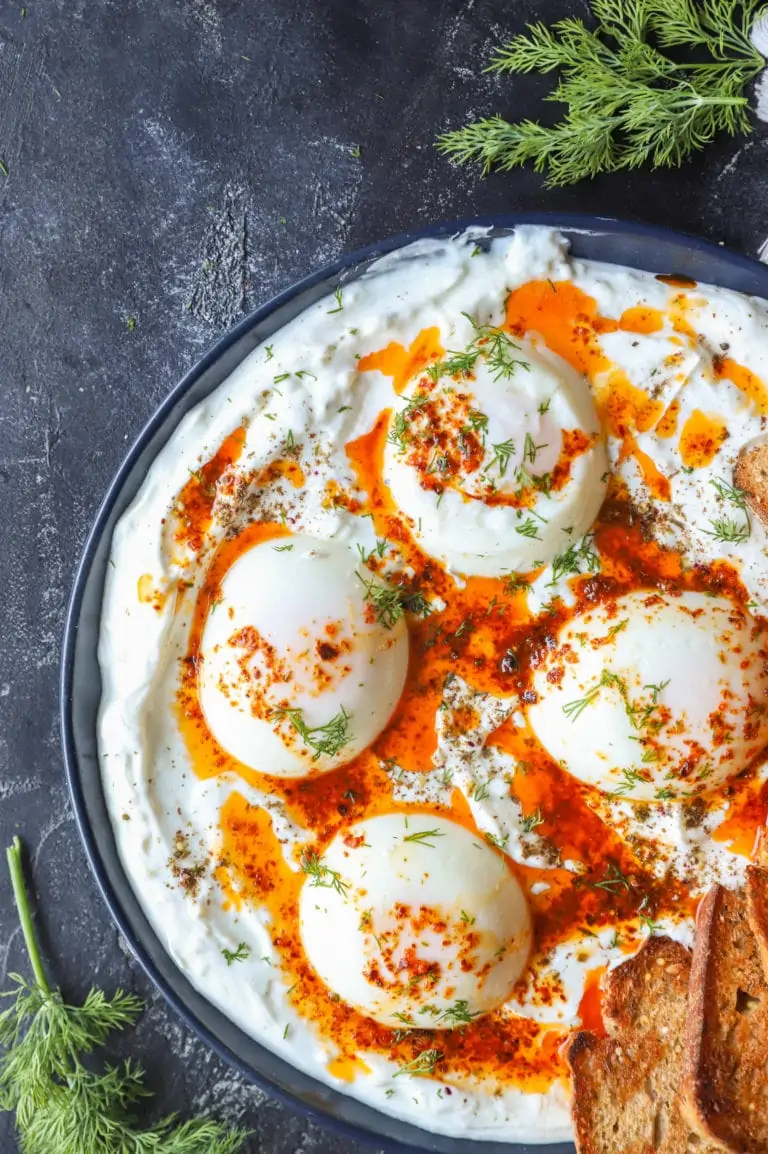 how to serve instant pot poached eggs
I love poached eggs served simply on a slice of toast spread with avocado and topped with some red pepper flakes! If you are looking for some recipe ideas, of course you know I've got you covered.
BLAT Eggs Benedict is topped with bacon, lettuce, avocado, and tomato under than perfectly poached egg!
Looking for a fresher benedict? This California-Style Eggs Benedict is fantastic with an avocado hollandaise!
You can even swap a sunny-side up egg with a poached egg on these breakfast tostadas!
Use them as the eggs for these cheesy bbq breakfast sliders.
Make a breakfast sandwich using honey butter biscuits or gluten free bagels! Load them up with bacon, cheese, and whatever other toppings you like.
If you need a tasty baked item to serve alongside these eggs, blackberry oatmeal muffins are easy and healthy! For a sweet treat, these delightful air fryer biscuit doughnuts are simple and dusted with cinnamon sugar.
Finally, if you make this Instant Pot poached eggs recipe, please be sure to give this recipe a rating or leave a comment! I love to hear when you all make recipes, and I do take the time to respond to every single comment. Feel free to drop questions below too, if you have them!
Oh and be sure to tag me on Instagram if you make the recipe! I love being able to see these recipes come to life in your homes – it's my favorite thing to look through those photos. It really means the world to me!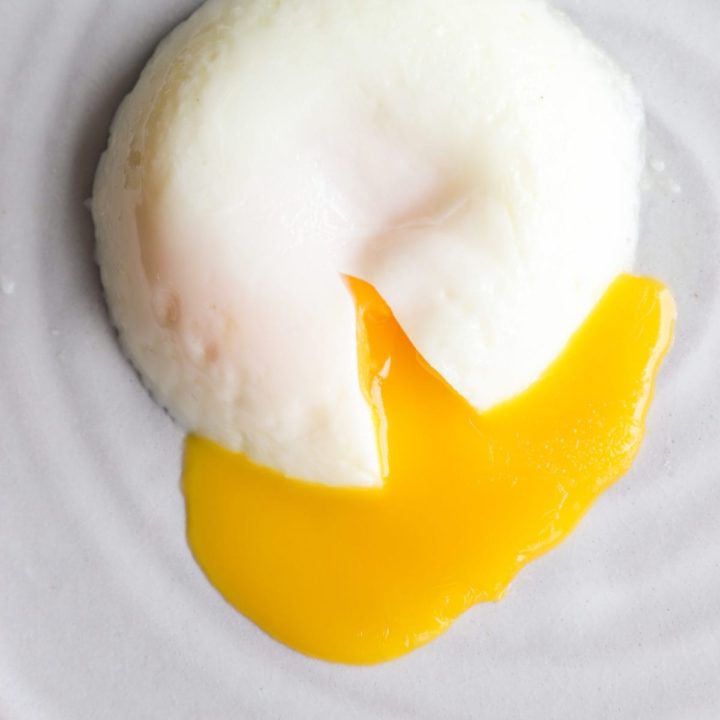 Instant Pot Poached Eggs
Perfectly poached eggs just got insanely easy.
Ingredients
Cooking spray
1 cup water
4 eggs
Instructions
Grease four silicone egg cups or ramekins with cooking spray.
Pour water into the insert of the Instant Pot. Place the cooking rack inside.
Add the greased cups on top of the rack. Crack one egg into each greased cup.
Close the lid and seal. Cook on High pressure for 2 to 4 minutes. At 2 minutes, you will have a completely runny yolk. At 3 minutes, the yolk will be slightly jammy on the edge and the yolk will still be runny. At 4 minutes, the yolk will be slightly runny but more jammy in the middle.
Manually release pressure once cooking is done. Gently remove eggs from cups (they should just slide out*) and serve.
Notes
*if the eggs don't slide out, gently run a butter knife around the edge of the cups to loosen them. They should easily come out after that. If not, you did not use enough cooking spray to grease the cups.
Recommended Products
As an Amazon Associate and member of other affiliate programs, I earn from qualifying purchases.