Please note this post contains affiliate links.
Greek Gyro Lamb Tacos are a fantastic way to use up any leftover lamb! The fresh, homemade tzatziki and cucumber tomato salsa is refreshing and an ideal pairing for the hearty meat. You can even use chicken or beef in place of lamb, if you prefer. Serves 4.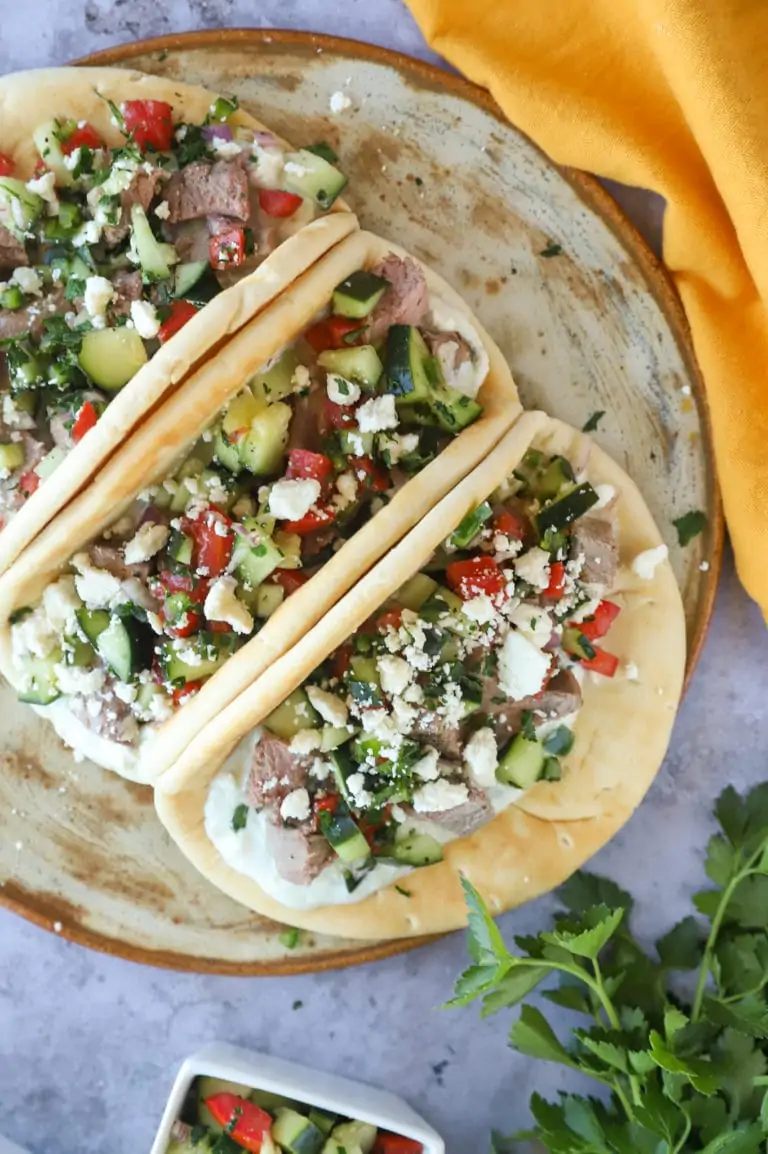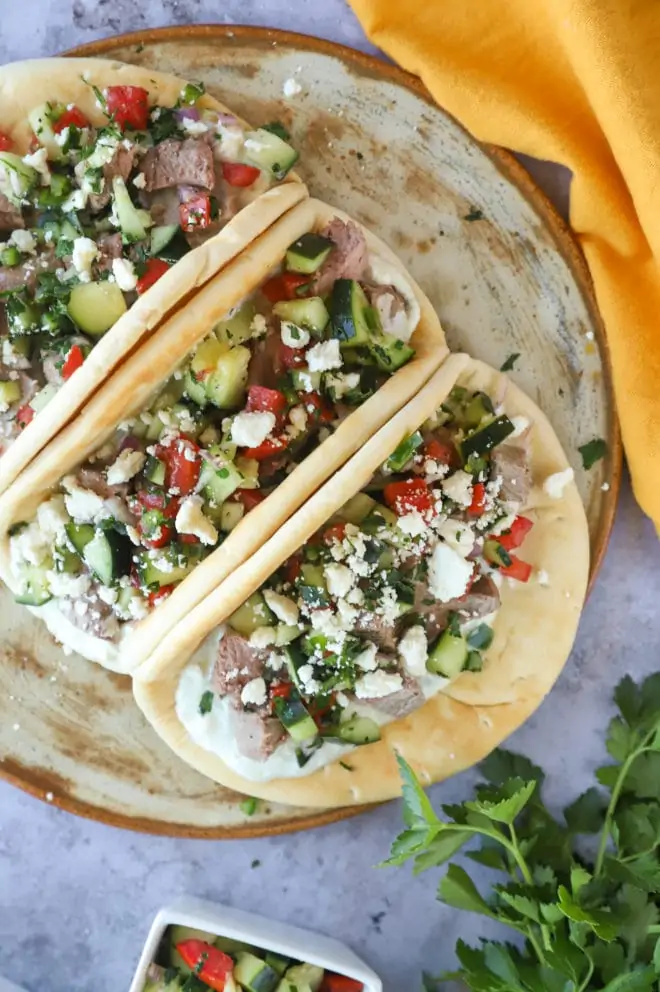 Easter is this weekend and if you've got lamb on the menu, I've got the best way to use up any leftover lamb you end up with on Monday!
We tend to have leftovers when it comes to lamb in our house. While the Man enjoys it for a meal, he tends to be over it and doesn't want to eat leftovers the next day.
So I wanted to think of a creative way to enjoy those leftovers for a couple of days and I landed on these Greek gyro lamb tacos!
You can make rack of lamb or leg of lamb, it really doesn't matter. Whatever you have will match beautifully with this recipe!
The meaty lamb has a tasty flavor when paired with a refreshing homemade tzatziki and a punchy vibrant cucumber tomato salsa. When you wrap all that in a warm pita, you are going to be addicted in no time.
I love to make this for dinner, but you can also make the elements and store them separately to eat for lunch over a few days!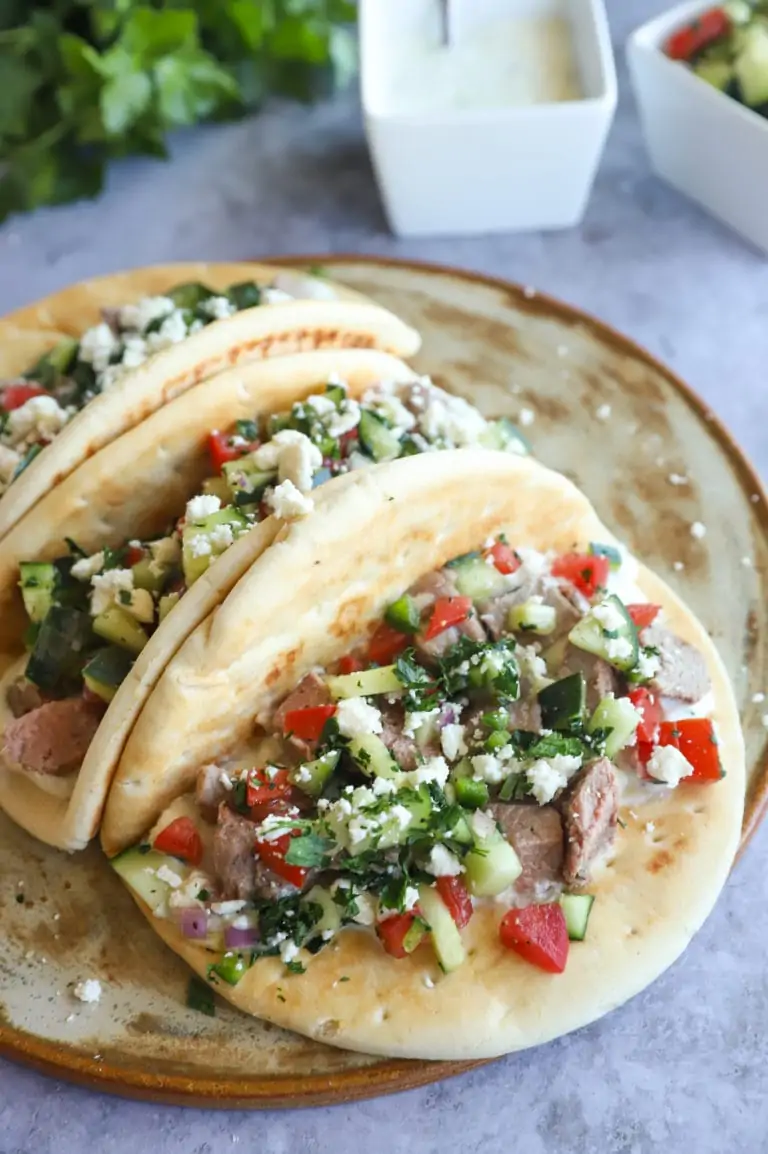 ingredients
leftover lamb – you can use whatever leftover lamb you have, whether it's from the racks or a leg. I chop it into bite-sized pieces for this particular recipe.
cucumber – you will need one regular cucumber for the salsa and an English cucumber for the tzatziki sauce.
tomato – I use two roma tomatoes for this recipe, but you can use one large red tomato if that's what you have on hand.
red onion – the red onion gives a nice bite to the salsa!
jalapeño – before you start, be sure to halve them and scoop out the seeds (I'll explain how in a minute). Be sure to wash your hands well afterwards and don't touch your eyes until you do so!
garlic – minced garlic is my go-to for recipes like this since you only need a couple of cloves.
Greek yogurt – I recommend using whole-milk plain greek yogurt because it gives better flavor that skim.
lime juice – fresh lime juice is best, in my opinion!
feta cheese – buy the feta cheese crumbles to save yourself a step of crumbling it yourself.
fresh herbs – you will need fresh parsley and fresh mint for the salsa and the sauce.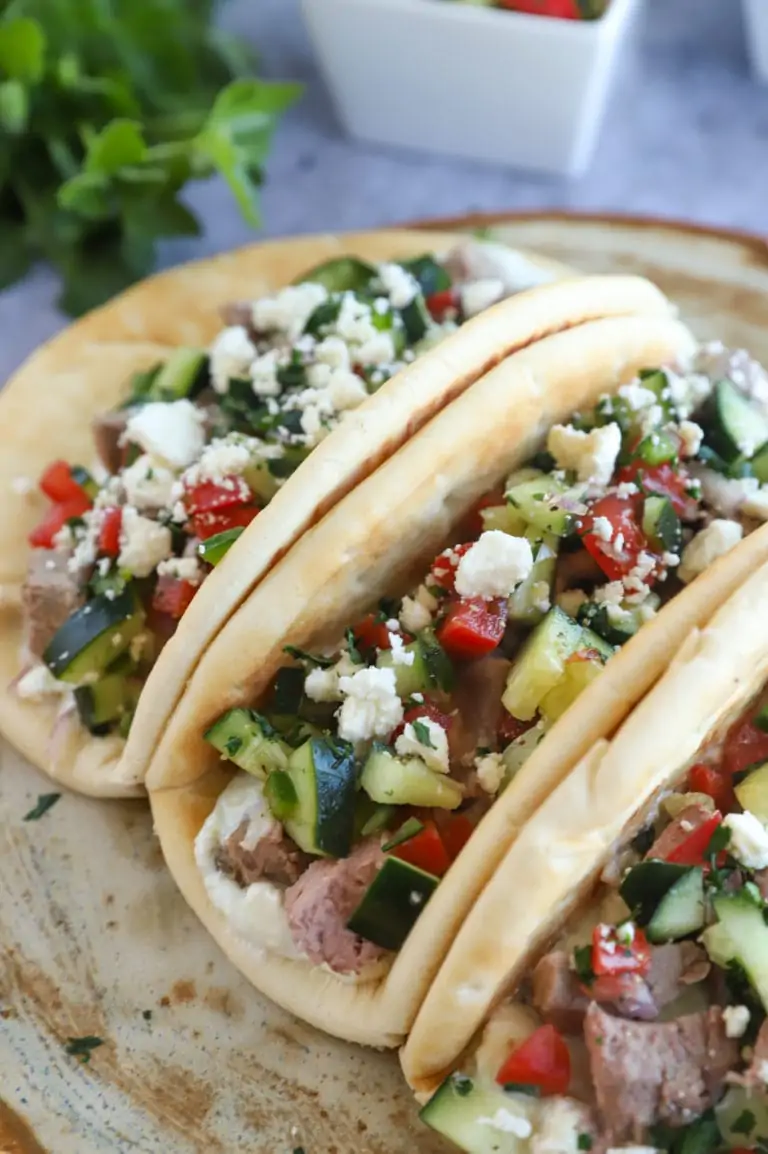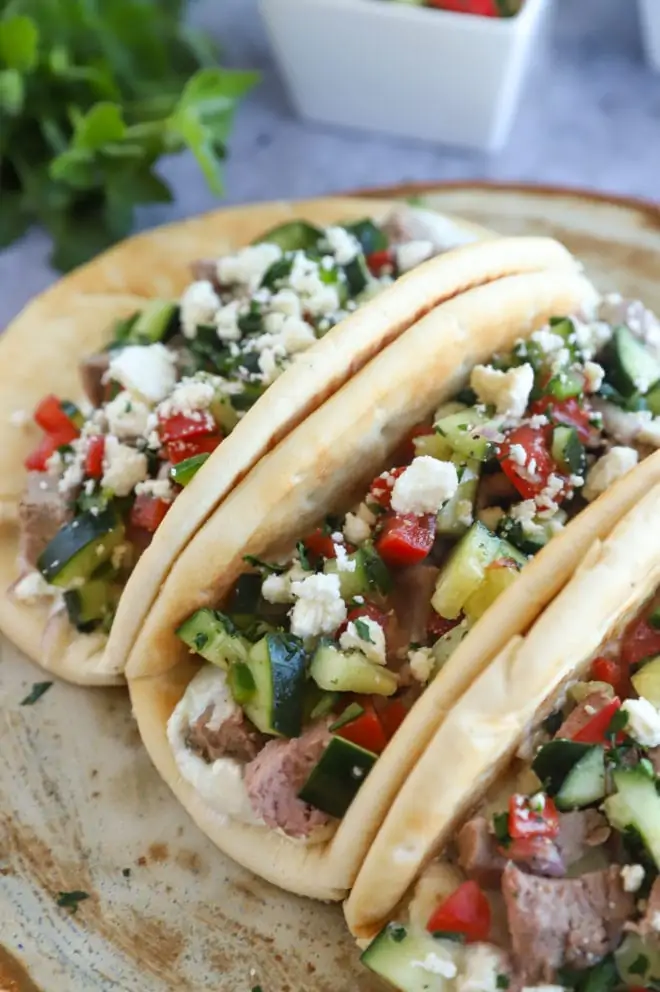 this recipe's must haves
You'll need a few tools for this recipe. I highly recommend a good chef's knife and cutting board since you will be doing a good amount of chopping vegetables and herbs.
To make the salsa and the sauce, you will need a couple of bowls from a metal mixing bowls set. You will also need a whisk for the sauce and a grater to grate the English cucumber.
Finally, I warm the pita in a Lodge cast iron skillet! You can also use a griddle pan if that's what you have handy.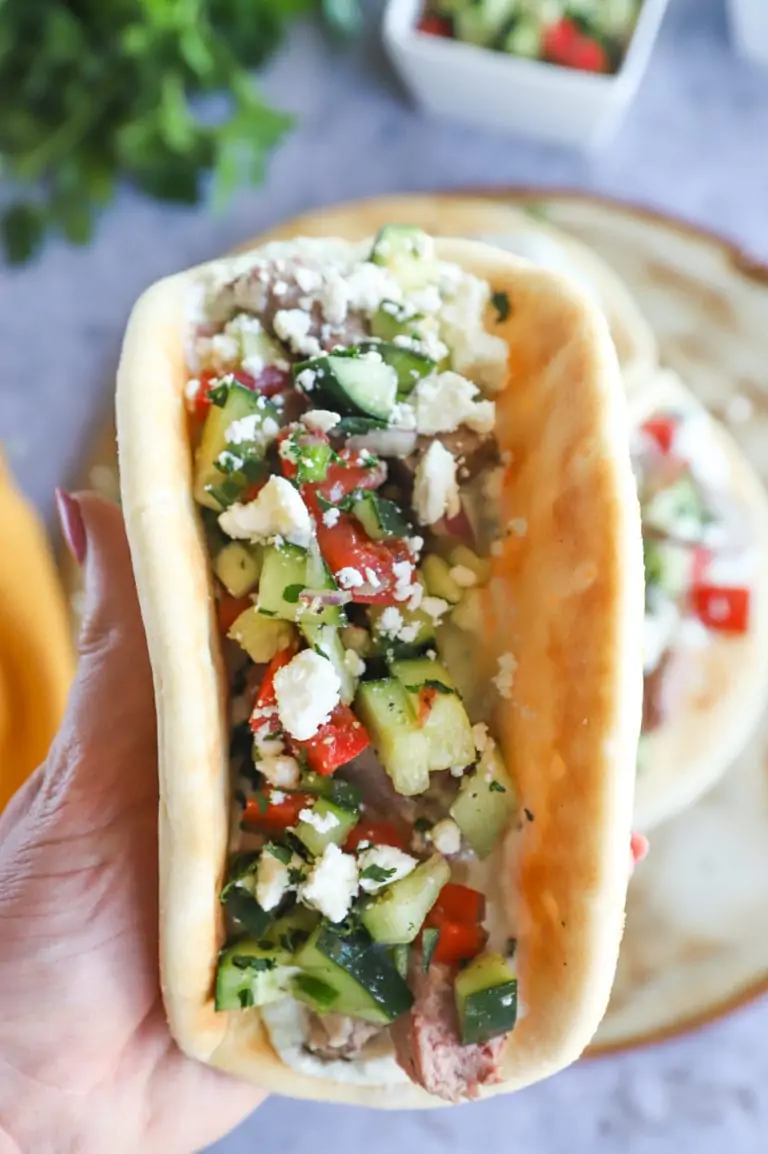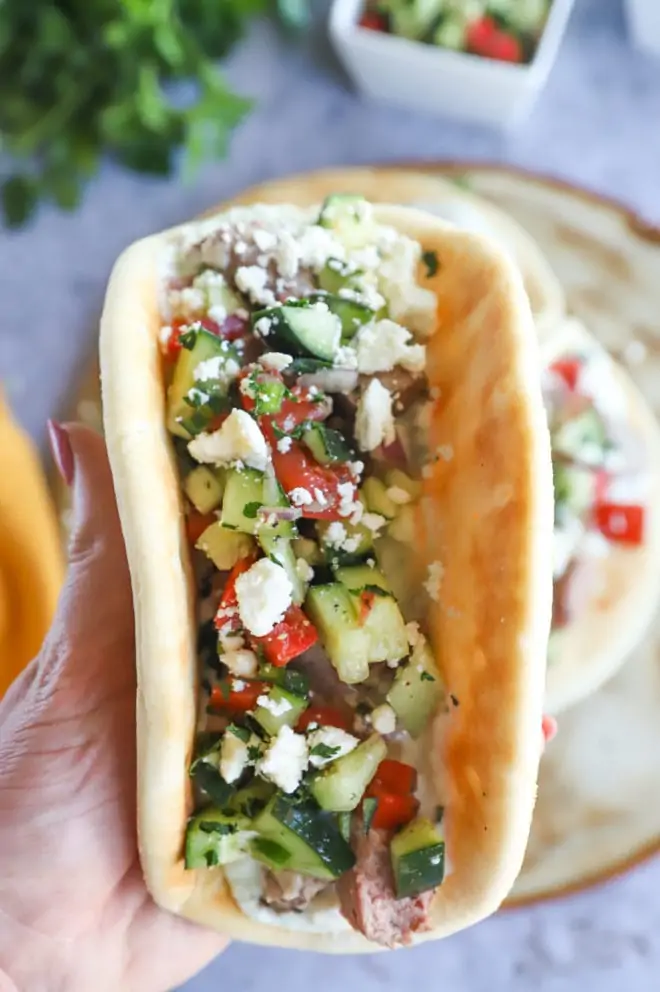 here's how to make greek gyro lamb tacos
make salsa
For the salsa, simply stir together the cucumber, tomato, red onion, jalapeño, lime juice, parsley, salt and pepper. Set it aside in the refrigerator until ready to assemble.
make sauce
Grate the English cucumber into a bowl. There's no need to remove the moisture that lands in the bowl as you grate – it helps loosen the sauce.
Add in salt, greek yogurt, feta cheese, garlic, and mint. Stir until the sauce is smooth and well-combined.
warm pita
Heat a cast iron skillet or griddle over medium heat. Once warm, add pita and warm it for about 20 to 30 seconds per side until softened. You can also warm them in the microwave for about 30 seconds, wrapped in a damp paper towel.
assemble
Spread a layer of tzatziki sauce in the center of the pitas – I use about 2 Tablespoons total. Top with warmed leftover lamb, a couple spoonfuls of salsa, and top with a sprinkle of feta and fresh parsley. Serve immediately!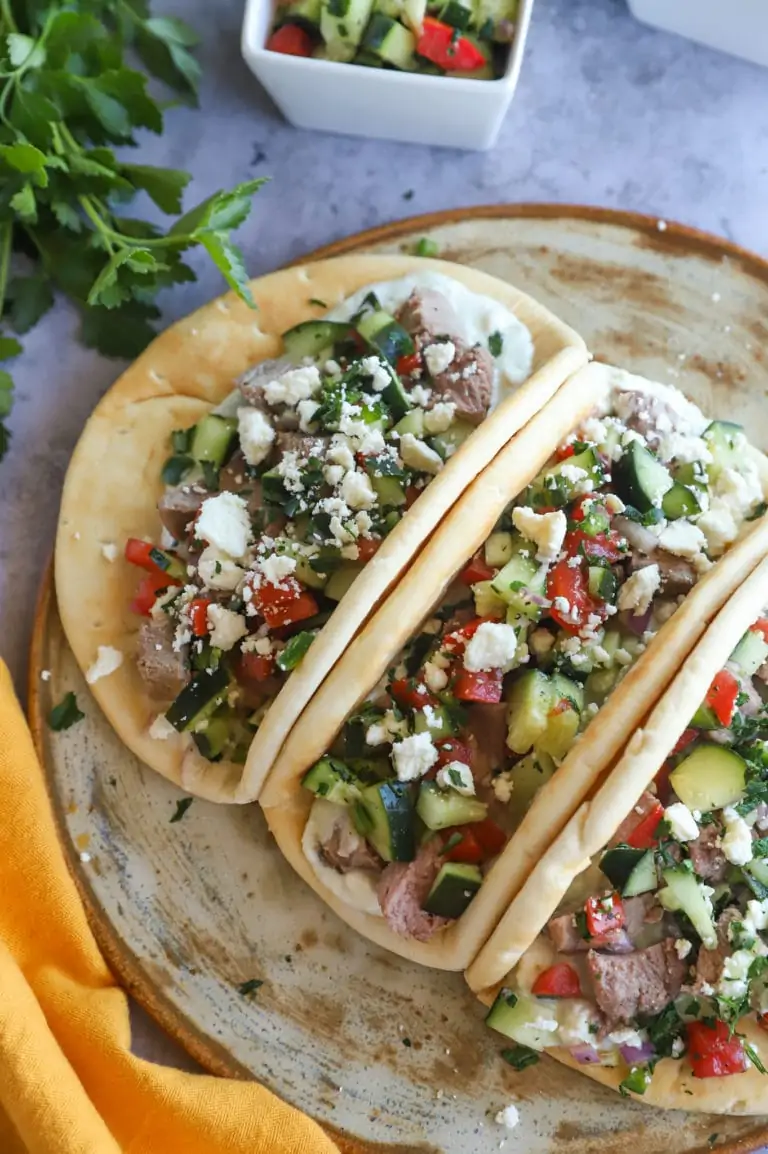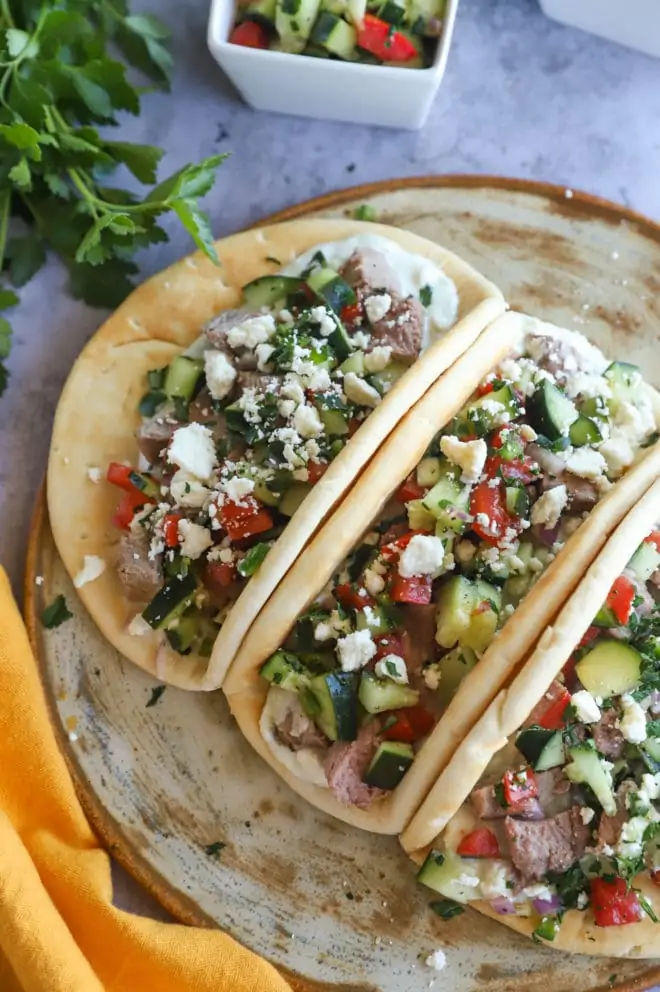 tips for success
you can use beef. If you have leftover ground beef or steak instead of lamb, you can definitely use that instead! Since lamb can be expensive, when you don't have that leftover, beef can be a better option. You can even opt for leftover chopped chicken!
use fresh herbs. Fresh herbs are a must for this recipe in my book. The fresh herb flavor is SO much better than dried, as dried is more concentrated and doesn't taste as light and refreshing.
Other tasty taco recipes to explore: Grilled Blackberry Steak Tacos | Sheet Pan Chipotle Pineapple Chicken Tacos | Charred Chicken Caesar Tacos | Guacamole Tacos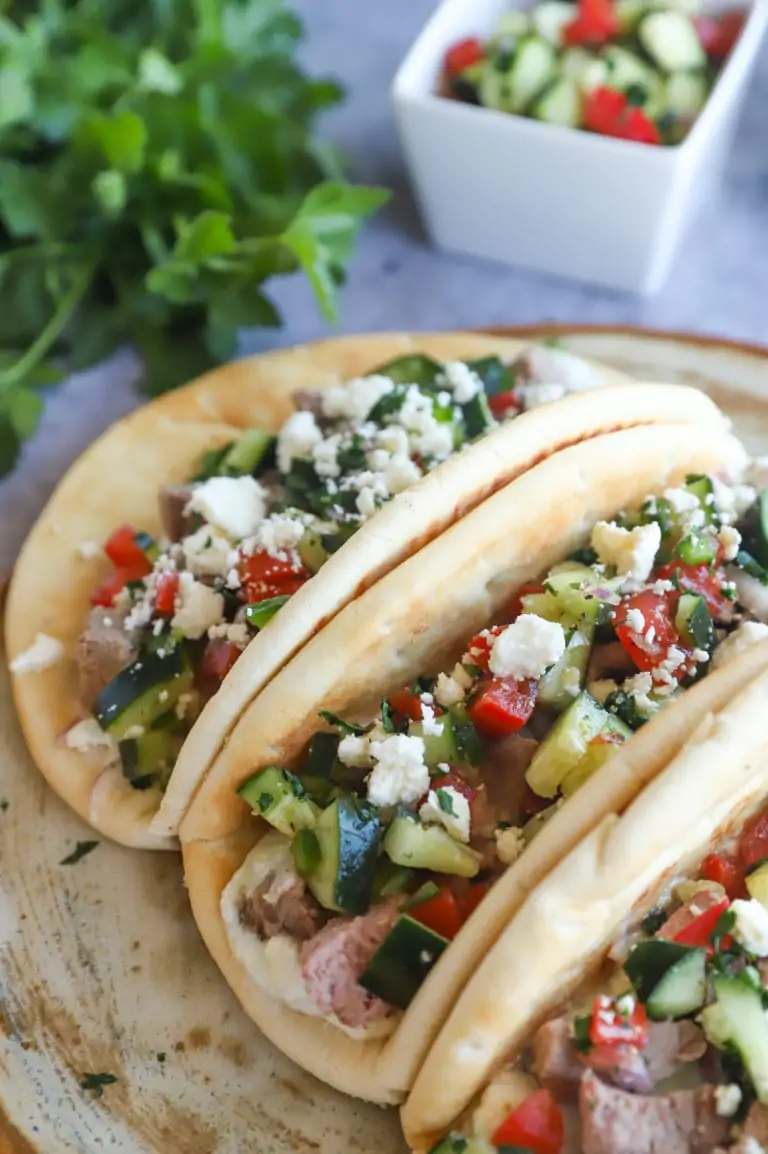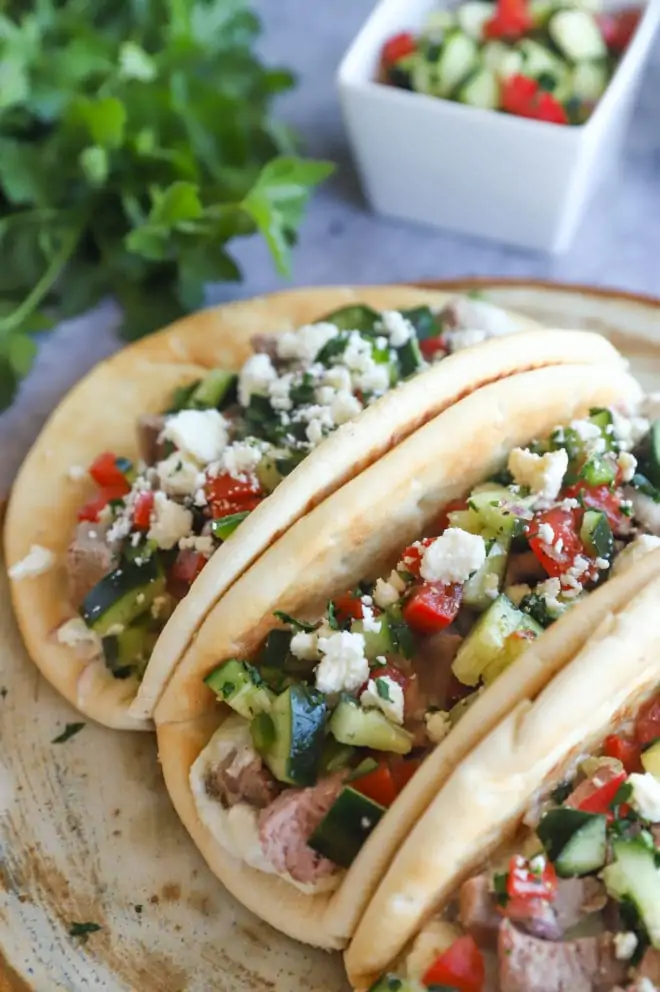 what is a gyro taco?
This is a combination of everything you love about a gyro, with a little twist. Instead of sliced vegetables, I like to make a cucumber tomato salsa with some jalapeño and red onion! It's basically a gyro with a taco twist.
can I make this ahead of time?
You can definitely make the elements of these tacos ahead of time. The lamb is already cooked, so you can make the salsa and sauce, storing them separately in airtight containers in the refrigerator for up to 3 to 4 days. Then all you need to do is warm the lamb and pita before completing assembly!
Need some more inspiration for dinner? Check out my dinner recipes page!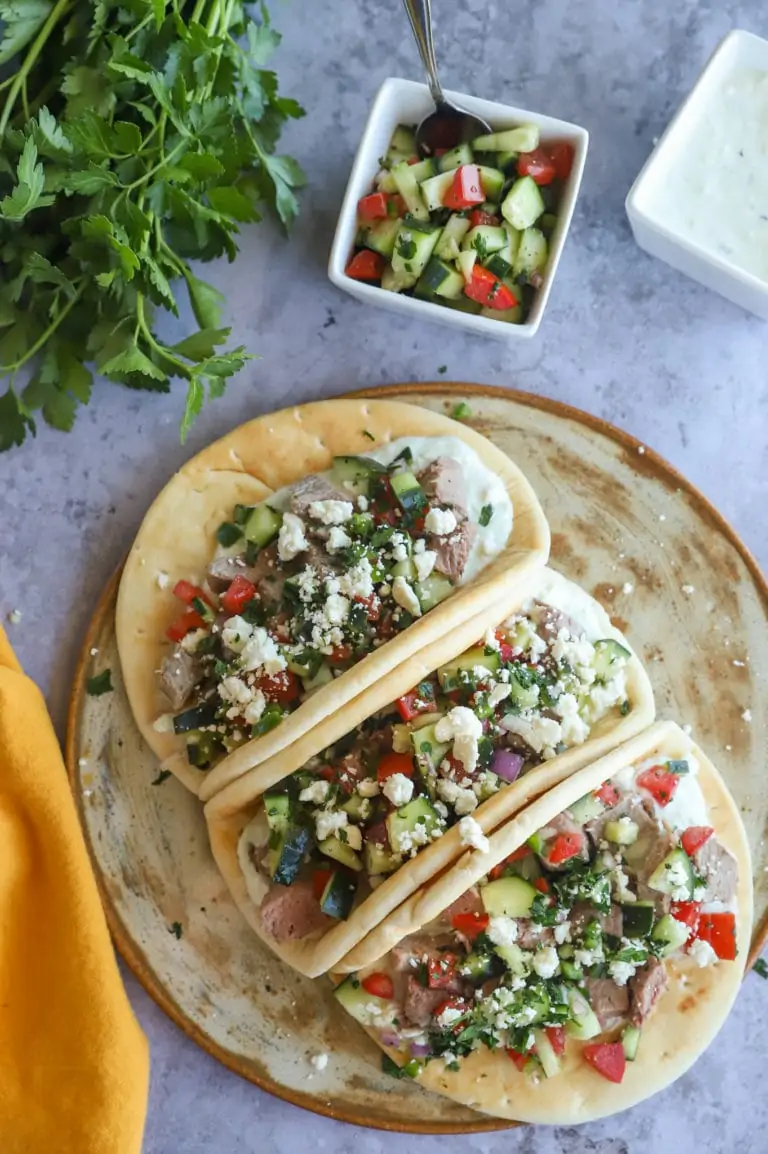 how to serve greek gyro lamb tacos
These tacos are usually my go-to for an easy meal or a meal prep lunch, but you can serve them as a main for a dinner party too!
Love the flavors here? Try these greek beef pitas!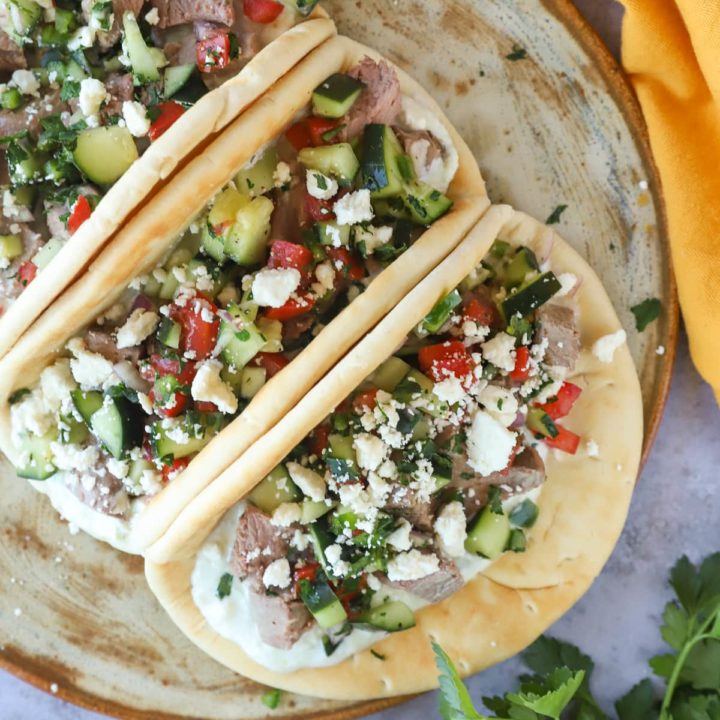 Greek Gyro Lamb Tacos
Refreshing cucumber tomato salsa and cooling tzatziki sauce turn leftover lamb into something oh-so tasty!
Ingredients
tacos
cucumber tomato salsa
1 cucumber, chopped (about 1 to 1 1/2 cups)
2 Roma tomatoes, chopped (about 1/2 cup to 2/3 cup)
1/4 red onion, chopped (about 1/4 cup)
1 jalapeño, seeded and chopped
1 tsp lime juice
1 Tbsp chopped fresh parsley
Salt and pepper
tzatziki
1 English cucumber, peeled
Pinch of salt
1 cup whole-milk Greek yogurt
1/2 cup crumbled feta cheese
2 cloves garlic, minced
2 Tbsp minced fresh mint
Optional garnish: additional feta crumbles, freshly chopped parsley
Instructions
In a medium bowl, stir together all ingredients for the cucumber tomato salsa. Set aside in the refrigerator until ready to use.
Grate the English cucumber into a small bowl for the tzatziki sauce. Stir in remaining ingredients for the sauce until well-combined and smooth.
Warm the pita in a cast iron skillet or griddle pan over medium heat for about 10 to 20 seconds per side until softened.
Warm the leftover lamb in the microwave.
To assemble, spread about 1 to 2 Tbsp in the center of each pita. Divide the lamb evenly between the pitas. Top with cucumber tomato salsa, feta crumbles, and fresh parsley.
Recommended Products
As an Amazon Associate and member of other affiliate programs, I earn from qualifying purchases.