Roasted Butternut Squash Soup with Bacon Croutons
Roasted Butternut Squash Soup with Bacon Croutons is the surefire way to kill it at Thanksgiving this year. The creamy soup paired with crunchy bacon fat croutons make this the ultimate way to celebrate fall with friends and family.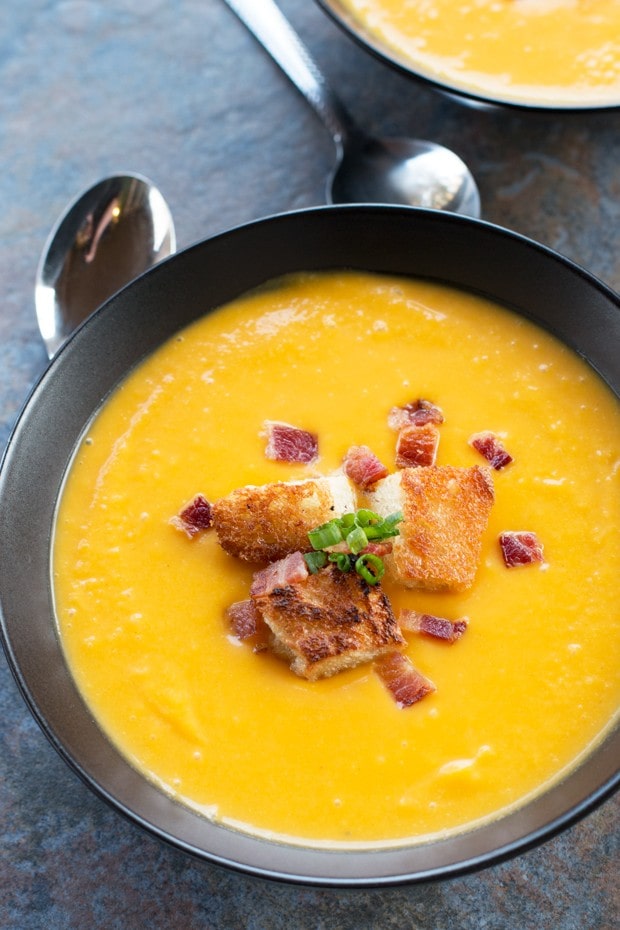 I think I just found a soup I could live off of for the rest of my life… and be happy about it. It could mostly be because there's bacon. And croutons soaked in bacon grease. But that's besides the point.
Thanksgiving is coming up FAST. Which means my absolute favorite time of the year is following right behind it…
It's a little weird to be thinking about the holidays because my life has taken such a dramatic turn this year. The thing that has kept me from completely losing my mind with a never-ending holiday must-do list is thinking about the food.
I have SO many ideas this year and I'll never get to all of them.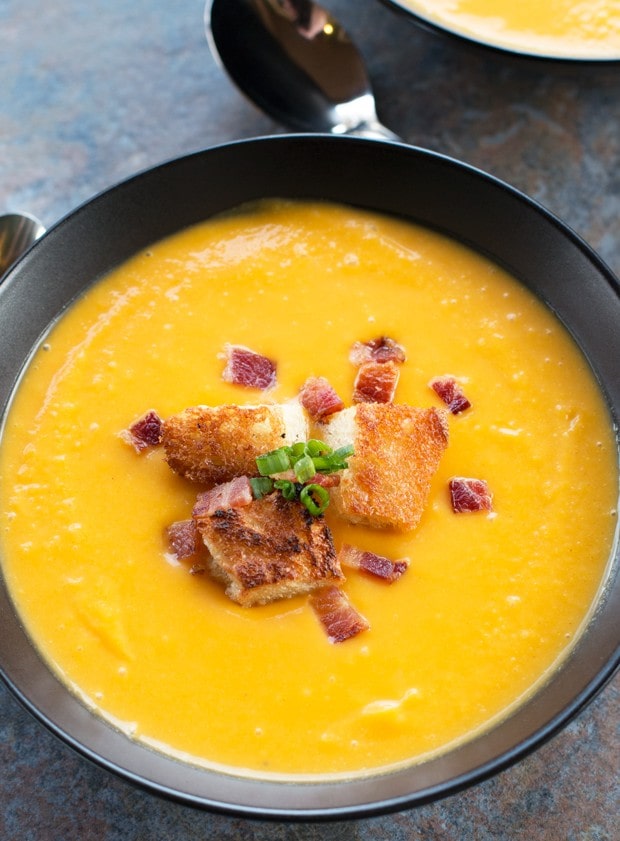 This roasted butternut squash soup was at the very top of my list so it's the first one gracing the blog! I love butternut squash. Usually by now I make it over to my favorite Italian place for their butternut squash soup, but time continues to get the best of me and I just haven't had the chance.
I dare say this soup was a much better fix for me this year.
Seriously, can we take a moment to talk about the bacon croutons though? Because they are fantastic. The six in these pictures were the only ones that survived before I actually had everything ready to take pictures.
I might just start whipping up those croutons for a snack every now and then…
I say every now and then, but who are we kidding?
It'll be a daily thing as long as there is bread and bacon in my house.
This Recipe's Must Haves
Pin this Roasted Butternut Squash Soup with Bacon Croutons recipe for later!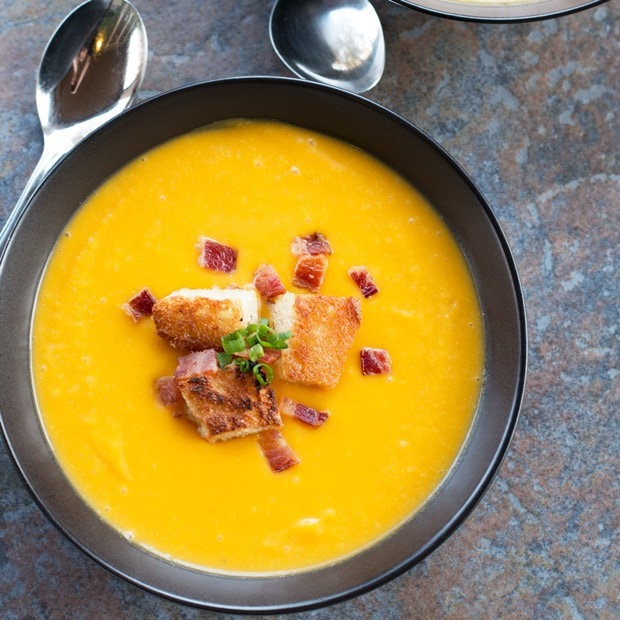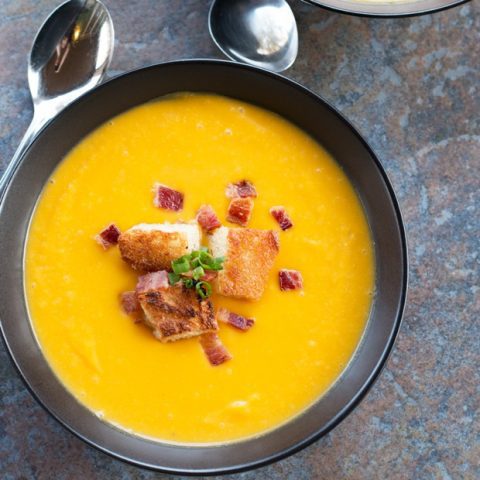 Roasted Butternut Squash Soup with Bacon Croutons
Yield: Serves 4
Prep Time: 10 minutes
Cook Time: 1 hour 5 minutes
Total Time: 1 hour 15 minutes
The roasted butternut squash is the star of this soup, paired with perfectly toasted croutons which were given a nice dose of bacon fat.
Ingredients
Soup
1 large butternut squash, cut in half and seeded
2 Tbsp butter
2 Tbsp heavy cream
1 tsp olive oil
1/2 yellow onion, chopped
3 garlic cloves, diced
1 tsp dried thyme
¾ cup chicken stock
½ cup coconut milk
Salt & pepper
Chopped green onions for garnish
Bacon Croutons
5 slices of bacon
2 thick slices French bread, crust removed and cut into 1 to 1½" cubes
Instructions
Preheat oven to 400 degrees. Place squash cut sides up on a rimmed baking sheet. Add 1 Tbsp of butter to each squash half and season with salt and pepper. Roast for 30-35 minutes, or until fork tender (if you have a thicker squash it may take a little longer). Scoop the squash out into a large bowl.
Add the roasted squash to a blender or, working in batches, to the bowl of a food processor. Puree until smooth and set aside.
Heat olive oil in a small sauté pan over medium-high heat. When hot, add the onion and garlic. Sauté until the onion is soft and tender, approximately 3 to 4 minutes. Remove from heat and add to the bowl of the blender or food processor with the butternut squash puree. Add in the dried thyme, chicken stock and coconut milk. Puree until the soup is smooth. Season with salt and pepper to taste. Keep warm.
Increase oven temperature to 425 degrees. Line a rimmed baking sheet with aluminum foil and add a cooking rack that will fit within it. Add the bacon slices to the cooking rack and bake until crispy, approximately 15 to 20 minutes. Remove bacon from oven and set bacon slices aside for garnish.
Dip the pieces of French bread in the bacon grease and place on a clean baking sheet. Toast under the broiler for approximately 1 to 1 ½ minutes, turning halfway through and removing when golden brown.
Serve the soup with bacon croutons, chopped bacon and green onion.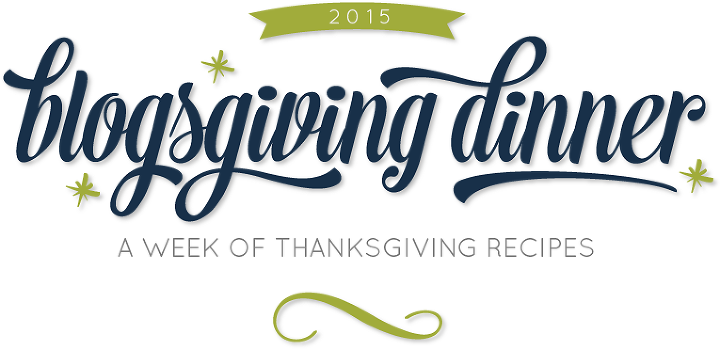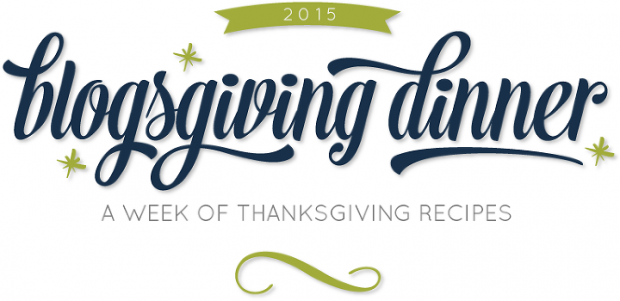 I am SUPER excited to announce that this week is the second annual Blogsgiving Dinner to celebrate the best food holiday there is…. Thanksgiving! Susannah from Feast + West and I are hosting the part again with more than 60 blogs sharing recipes all week long. Whoa, right? Biggest potluck ever, now I can finally check that off the l' bucket list!
Each blogger is bringing one or more dishes to the party, so be sure to stop by and check out what everyone has to offer! There's a little something for everyone's Thanksgiving meal. We'll be posting to social media with the hashtag #blogsgivingdinner, but you can peruse the entire menu in Part 1 and Part 2 of our recipe round-ups.
P.S. If you're a blogger that wants to join the fun next year, let me know! Everyone's welcome at the Blogsgiving table. 🙂