Please note this post contains affiliate links.
Roasted Butternut Squash Soup with Bacon Croutons is the surefire way to get everyone to the table on a chilly night. The creamy soup paired with crunchy bacon fat croutons make this the ultimate way to celebrate fall with friends and family. Serves 4.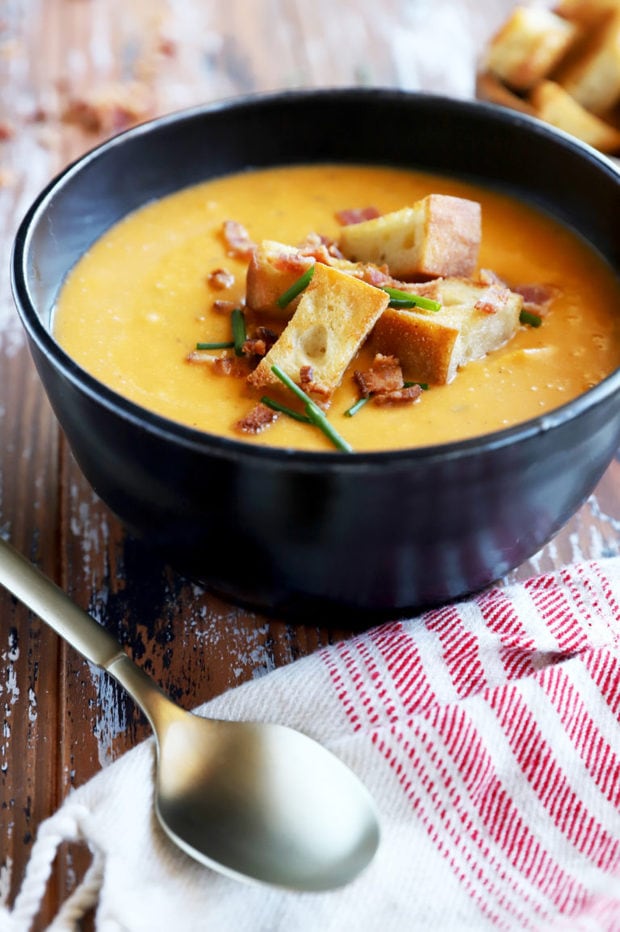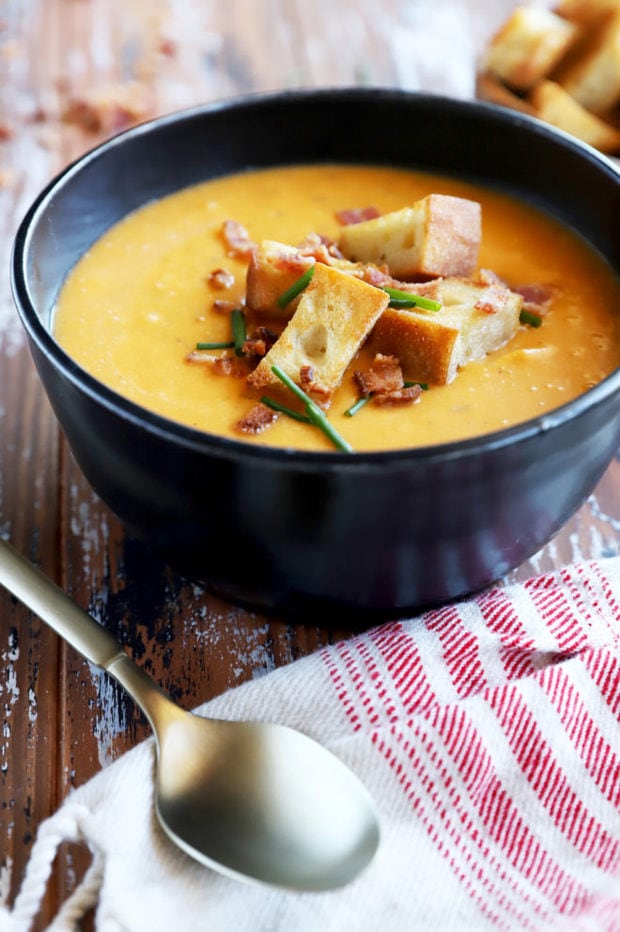 about this creamy butternut squash soup
I think I just found a soup I could live off of for the rest of my life… and be happy about it. It could mostly be because there's bacon. And croutons soaked in bacon grease. But that's besides the point.
I feel like fall came up FAST this year, so now I feel like I need to be planning a Thanksgiving menu already… Which means my absolute favorite time of the year is following right behind it… Why do the last three months of the year fly by so fast?!
I have SO many ideas for recipes this year and I'll never get to all of them. But rest assured that there is a lot of festive goodness coming your way, from Halloween straight through the New Year!
Let's focus on THIS soup though…
This roasted butternut squash soup was at the very top of my list so it's the first one gracing the blog! I love butternut squash. Usually by now I make it over to my favorite Italian place for their butternut squash soup, but time continues to get the best of me and I just haven't had the chance.
I dare say this soup was a much better fix for me this year.
Seriously, can we take a moment to talk about the bacon croutons though? Because they are fantastic. The six in these pictures were the only ones that survived before I actually had everything ready to take pictures.
I might just start whipping up those croutons for a snack every now and then…
I say every now and then, but who are we kidding?
It'll be a daily thing as long as there is bread and bacon in my house.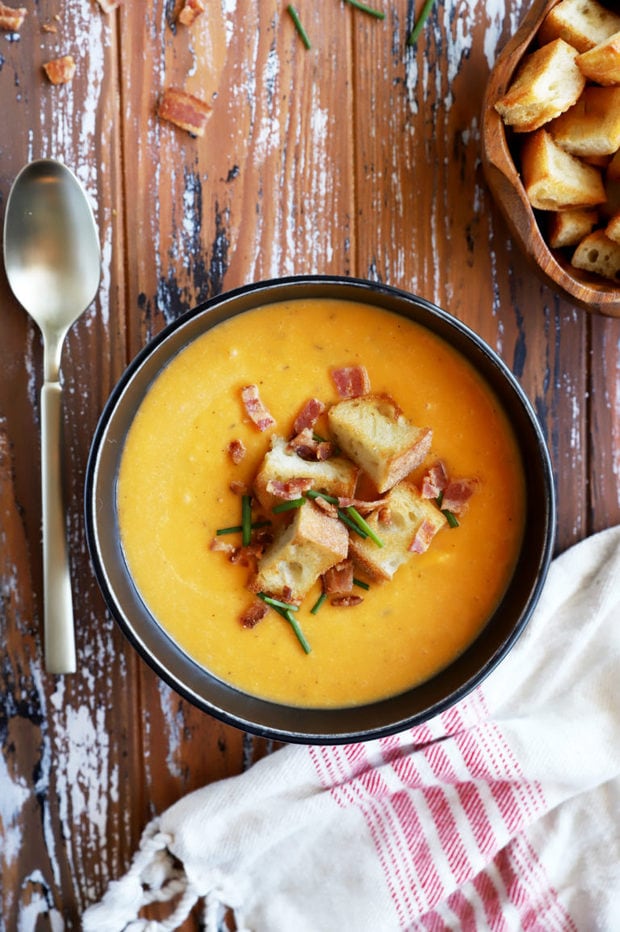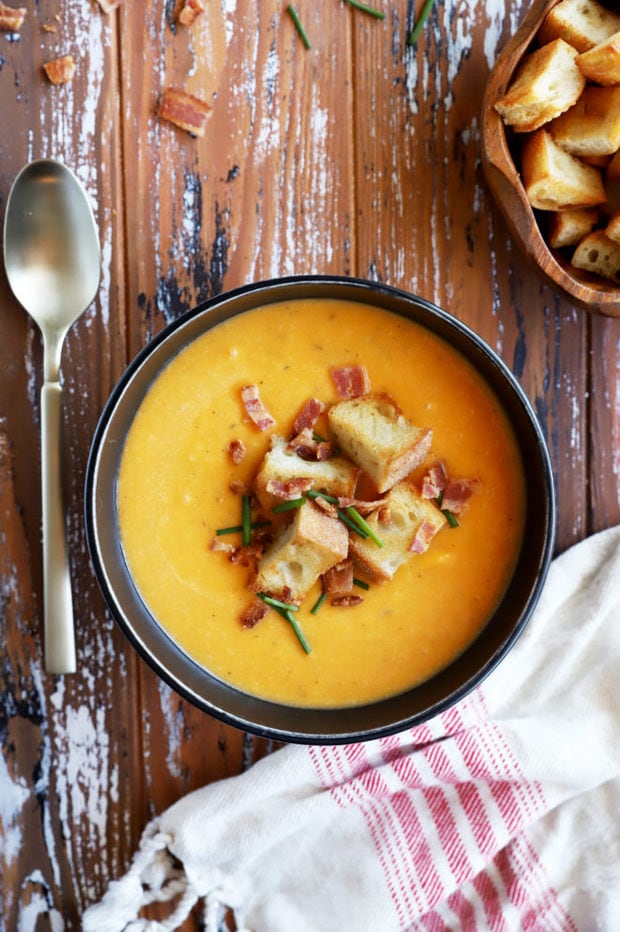 Note: this is an updated version of the original published on November 10, 2015.
ingredients
bacon. Get the thick-cut bacon for the best results! I love the bigger chunky bacon when I'm adding it on top of the soup, plus the thicker bacon is fattier which is ideal for your croutons.
crusty bread. I like to use French baguette for croutons, but you can also use another type of crusty bread like sourdough.
butternut squash. You will need one large butternut squash for this recipe. Be sure to cut it in half and remove the seeds before proceeding with the recipe!
butter. I use unsalted butter, but you could also use salted butter in this recipe.
heavy cream. Heavy cream is ideal for getting this recipe a hint of creaminess.
onion. You will need half of a yellow onion to add flavor to this soup.
garlic. Garlic is a must for EVERYTHING, so I have a jar of minced garlic living in my fridge at all times. No smelly hands, no peeling garlic. The best shortcut to pay for, in my opinion.
spices. You will need dried thyme, kosher salt, and freshly ground black pepper for this recipe.
stock. I use chicken stock for this soup because that's the flavor I prefer. However, if you are hoping to turn this into a vegetarian dish, you can use vegetable stock and skip the bacon on top and the bacon fat croutons.
coconut milk. The really creamy element in this soup is coconut milk. I prefer it to heavy cream in this amount as it's lighter and brings a really lovely flavor to enhance the butternut squash taste.
chives. Fresh chives are optional for garnish on top!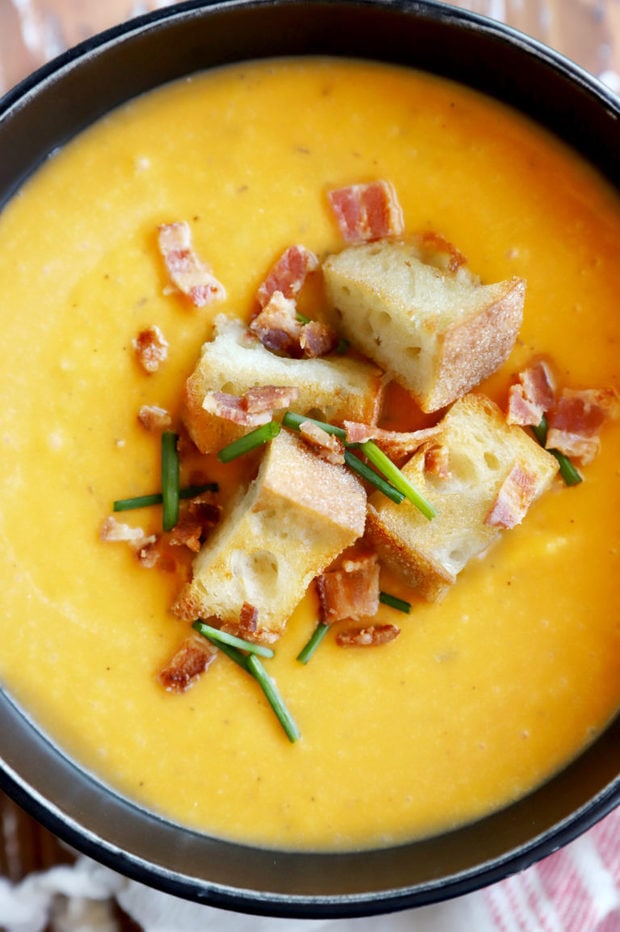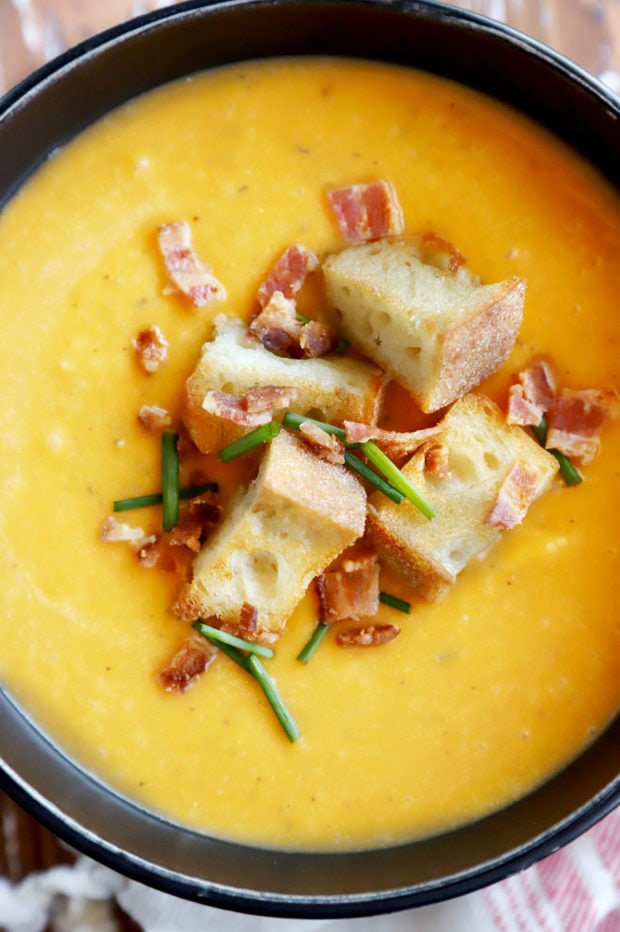 this recipe's must-haves
I have a few handy tools I recommend using for this particular recipe. Though the recipe is straightforward overall, there are a few steps to it and these tools will make your life a whole lot easier.
To prep ingredients, you will need a large cutting board and a good chef's knife. The sharper the better to get through that butternut squash!
I love to use a large baking sheet (make sure it's rimmed for the bacon!) and a silicone baking mat. I actually have a few of these mats on hand so that I can just switch those out and use the same pan for all the baking steps.
You'll also need a nonstick skillet to cook the onion and garlic.
Finally, the make the soup, use a large food processor or high-powered blender, like a Vitamix.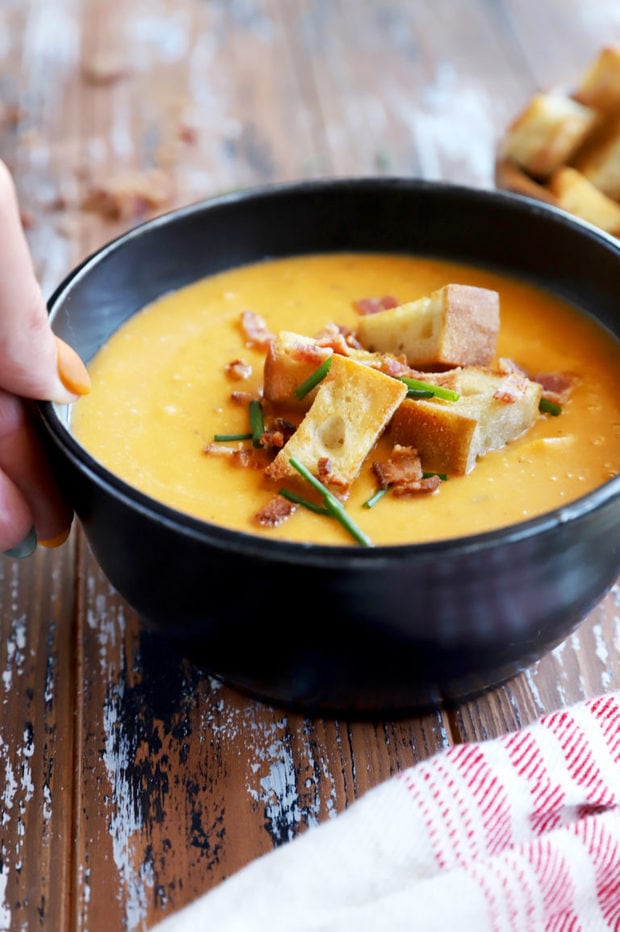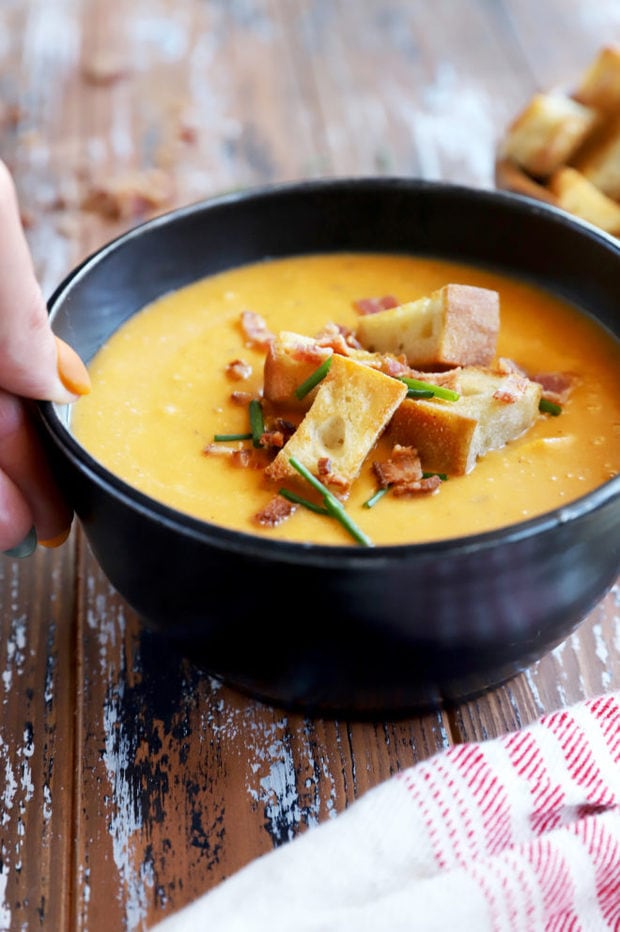 here's how to make roasted butternut squash soup!
Roast Squash
Place the squash cut sides up on a lined baking sheet and add 1 Tbsp of butter to each squash half. Season the entire thing with salt and pepper.
Roast for 30 to 40 minutes, until the squash is fork tender. Cooking time will vary depending on the size of your squash!
Scoop the squash out of the skin and into a large food processor or blender. Puree until smooth and set aside.
Note: if your blender or food processor is on the smaller size, be sure to work in batches with the squash as needed so you don't overfill your appliance.
Make Croutons
While the squash is roasting, you can also cook the bacon for the bacon fat croutons. Line a rimmed baking sheet with aluminum foil and add bacon in an even layer. Cook until the bacon is crispy, about 15 to 20 minutes depending on the thickness of your bacon. Remove the bacon from the baking sheet and chop it. Then set aside.
Dip the pieces of French bread in the bacon grease on all sides. Place on a clean lined baking sheet and toast under the broiler once the squash is done, about 1 to 1 1/2 minutes, turning halfway through, until golden brown. Set aside until ready to serve.
Cook Onion & Garlic
In a medium saucepan or pot over medium heat, cook the onion and garlic over medium-high heat until the onion is tender. This will take about 3 to 4 minutes. Remove from heat.
Make Soup
Add to the puree, along with dried thyme, chicken or vegetable stock, and coconut milk. Puree with an immersion blender until the soup is smooth. Taste and season with salt and pepper to taste. Keep warm.
Other yummy butternut squash recipes: Butternut Squash Goat Cheese Fettuccine Bake | Butternut Squash Empanadas | Curried Roasted Butternut Squash Soup | Roasted Butternut Squash Black Bean Tacos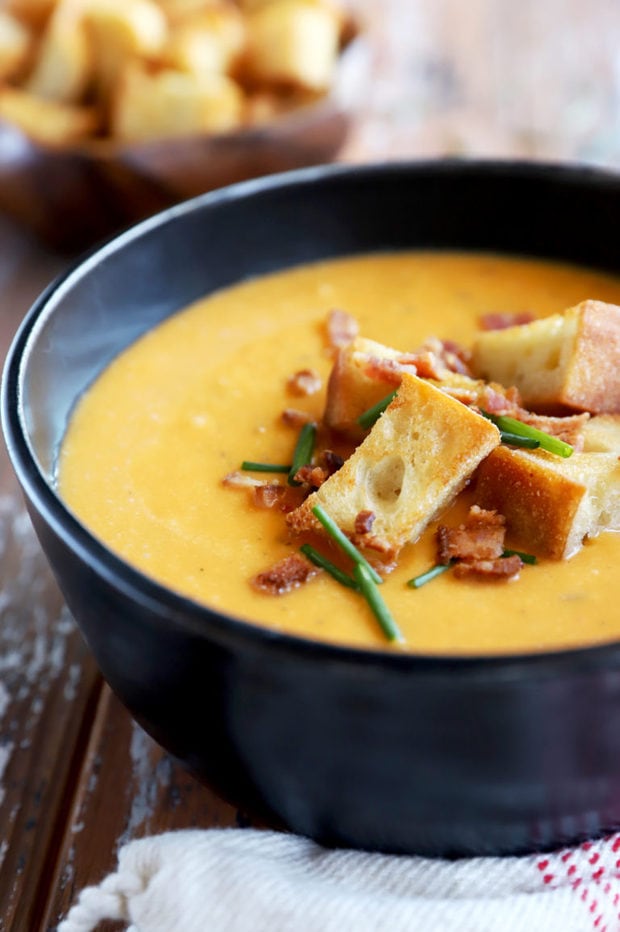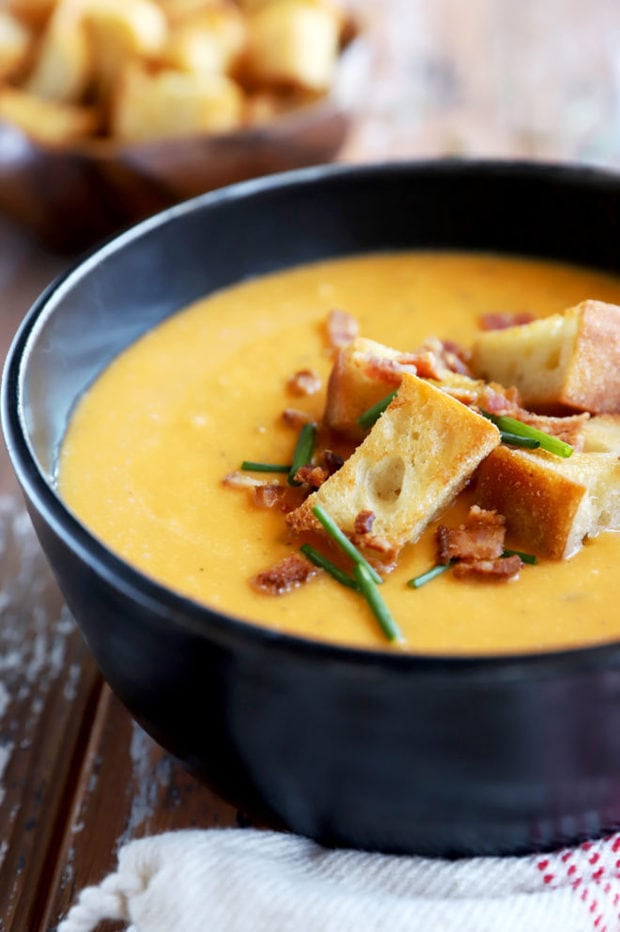 tips for success
make it for meal prep. While this is usually my go-to for an opener for a fall dinner party, this easy butternut squash soup also doubles as incredible meal prep for lunches! Simply place it in airtight containers and freeze until ready to thaw and use. It only lasts a couple of days in the refrigerator, so I recommend freezing it for meal prep to last longer.
roast squash ahead of time. Making this for a party or gathering? Roast the butternut squash ahead of time! Let it cool to room temperature then store in an airtight container in the refrigerator for up to one day.
give it some heat. Do you like spicy soups? Add a pinch (about 1/4 tsp) of cayenne pepper to the soup! Taste once stirred in, then add more in 1/4 teaspoon increments until desired heat level is achieved.
Need some more inspiration for more soups? Check out my soup recipes page!
can I make this vegetarian?
You certainly can! Simply skip the bacon and either use store-bought croutons or toast the croutons after tossing them in olive oil. You can also swap the broth for vegetable stock or vegetable broth.
If you would like to make this vegan, swap out the butter and heavy cream for high-quality olive oil. The result will be lighter with a little more herby freshness from the oil.
do you need to peel butternut squash?
Personally, I hate trying to peel butternut squash. So, I simply roast it until the flesh of the squash comes away easily from the skin. No peeling required!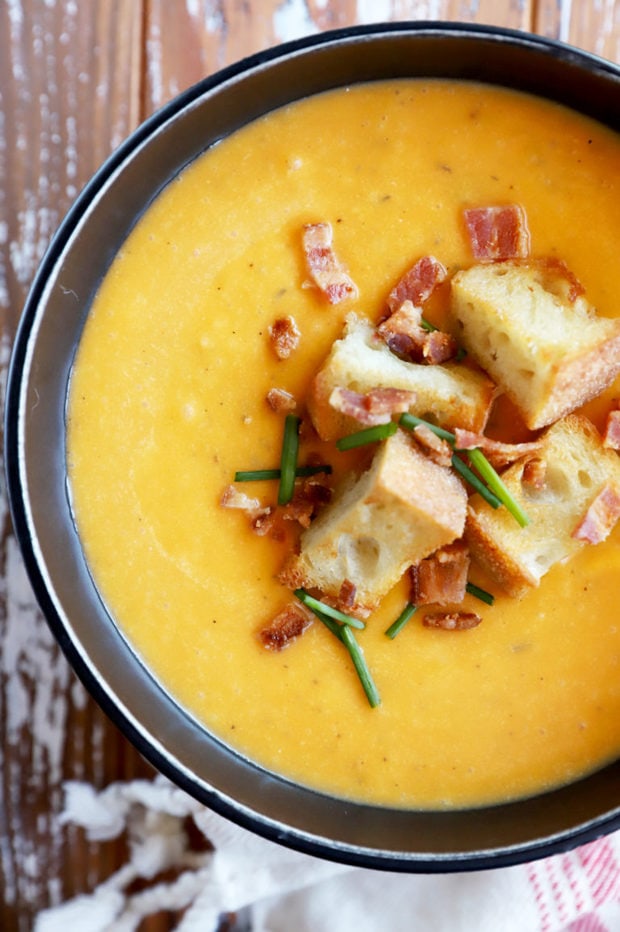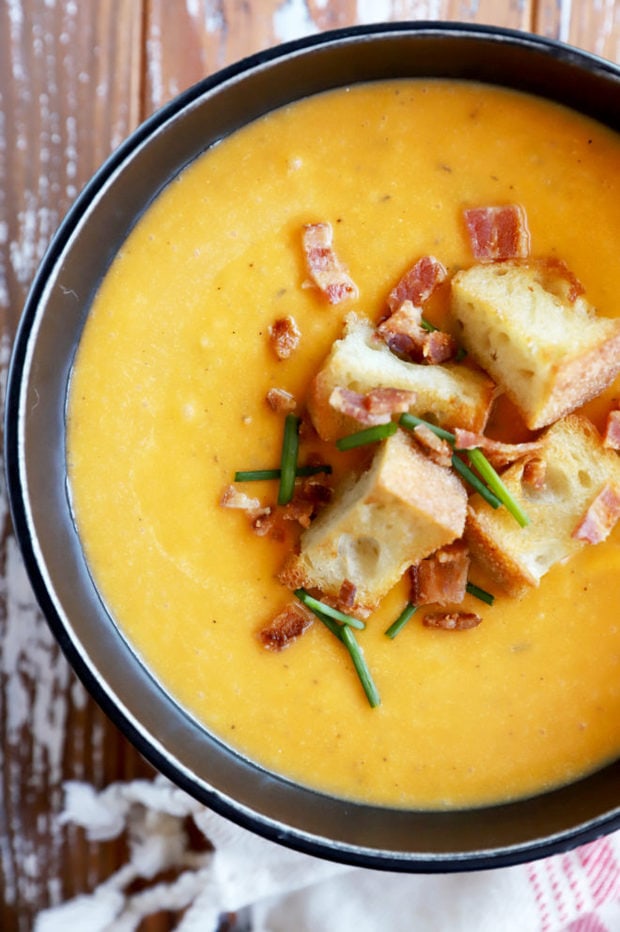 what to serve with creamy butternut squash soup
When I think of this squash soup recipe, I always think of fall and the accompanying flavors that go with the season's produce. Of course, this could easily be a meal itself, whether for lunch or dinner. You could serve it alongside a fresh salad and call it good!
If you want to serve this as the opener for a fall meal, here are some dishes that I feel pair nicely with the soup as a starter:
how to store and reheat
Store. Let leftover soup cool down to room temperature before storing in airtight containers in the fridge. They will last for about 2 to 3 days.
Freeze. To make your leftovers last longer (or to prep this for meals), freeze individual portions in airtight containers for up to 3 months.
Reheat. To reheat from the fridge, pour soup into a saucepan and reheat on the stovetop over medium-low heat. For frozen portions, thaw in the refrigerator overnight. Reheat on the stovetop or in the microwave until warmed through. If the mixture is too thick after reheating with either method, you can add a splash of chicken stock or coconut milk to loosen it up.
Finally, if you make this roasted creamy butternut squash soup recipe, please be sure to give this recipe a rating or leave a comment! I love to hear when you all make recipes, and I do take the time to respond to every single comment. Feel free to drop questions below too, if you have them!
Oh and be sure to tag me on Instagram if you make the recipe! I love being able to see these recipes come to life in your homes – it's my favorite thing to look through those photos. It really means the world to me!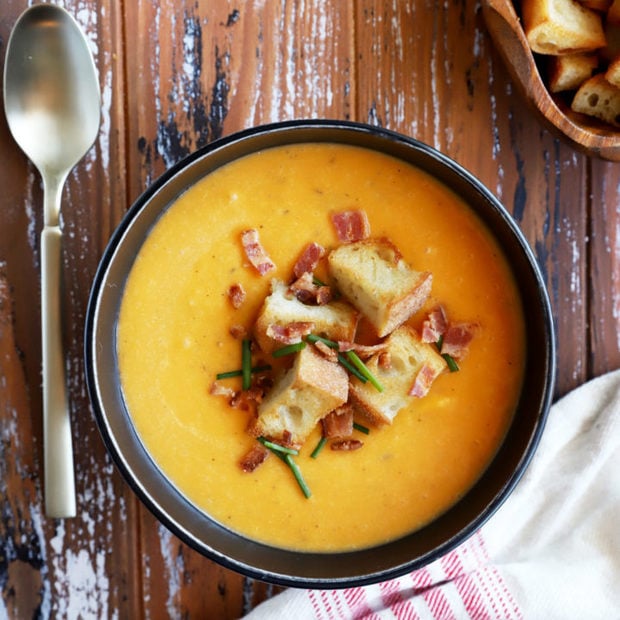 Roasted Butternut Squash Soup with Bacon Croutons
Cook Time:
1 hour
5 minutes
Total Time:
1 hour
15 minutes
The roasted butternut squash is the star of this soup, paired with perfectly toasted croutons which were given a nice dose of bacon fat.
Ingredients
Bacon Croutons
5 slices of bacon
2 thick slices French bread, crust removed and cut into 1 to 1½" cubes
Soup
1 large butternut squash, cut in half and seeded
2 Tbsp butter
2 Tbsp heavy cream
1 tsp olive oil
1/2 yellow onion, chopped
3 garlic cloves, diced
1 tsp dried thyme
3/4 cup chicken stock
1/2 cup coconut milk
Salt & pepper, to taste
Chopped chives for garnish
Instructions
Preheat oven to 400˚F. Place squash cut sides up on a rimmed baking sheet. Add 1 Tbsp of butter to each squash half and season with salt and pepper. Roast for 30-35 minutes, or until fork tender (if you have a thicker squash it may take a little longer).
In the same oven, on a lower rack, bake the bacon. Line a rimmed baking sheet with aluminum foil. Add the bacon slices to the pan and bake until crispy, approximately 15 to 20 minutes, depending on the thickness of your bacon. Remove bacon from oven and roughly chop. Set bacon aside for garnish. Set aside bacon fat in a small bowl.
When the squash is cooked through, scoop the flesh out of the skin and add the roasted squash to a blender or to the bowl of a food processor. Depeding on the size of your appliance, you may need to work in batches. Puree until smooth and set aside.
Heat olive oil in a small sauté pan over medium-high heat. When hot, add the onion and garlic. Sauté until the onion is soft and tender, approximately 3 to 4 minutes. Remove from heat and add to the bowl of the blender or food processor with the butternut squash puree. Add in the dried thyme, chicken stock and coconut milk. Puree until the soup is smooth. Season with salt and pepper to taste. Keep warm.
Get out that bacon fat again! If it has solidified, simply melt it in the microwave again. Dip the pieces of French bread in the bacon grease and place on a clean baking sheet. Toast under the broiler for approximately 1 to 1 ½ minutes, turning halfway through and removing when golden brown.
Serve the soup with bacon croutons, chopped bacon and chives.
Recommended Products
As an Amazon Associate and member of other affiliate programs, I earn from qualifying purchases.