Greek beef pitas pack all the flavor of a gyro, with a must simpler twist! With grass-fed ground beef, this recipe comes together in just 25 minutes. Serves 4.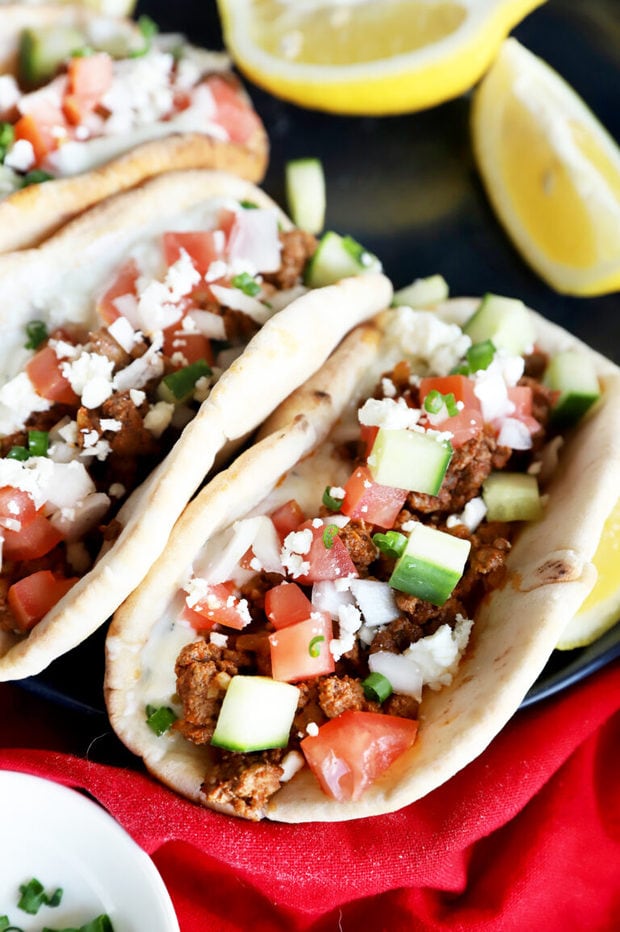 Disclosure: This post has been sponsored by Sprouts. As always, all opinions are my own.
So, times are a little bit weird, eh?
For a gal like me, cooking every day isn't really that big of a deal because that's normal daily life for a food blogger. However, I know that a lot of you out there are struggling!
Thinking up new ideas for dinner can be daunting, especially when things can be limited at the stores. That's why I wanted to come up with a recipe that will use ground beef in a whole new way!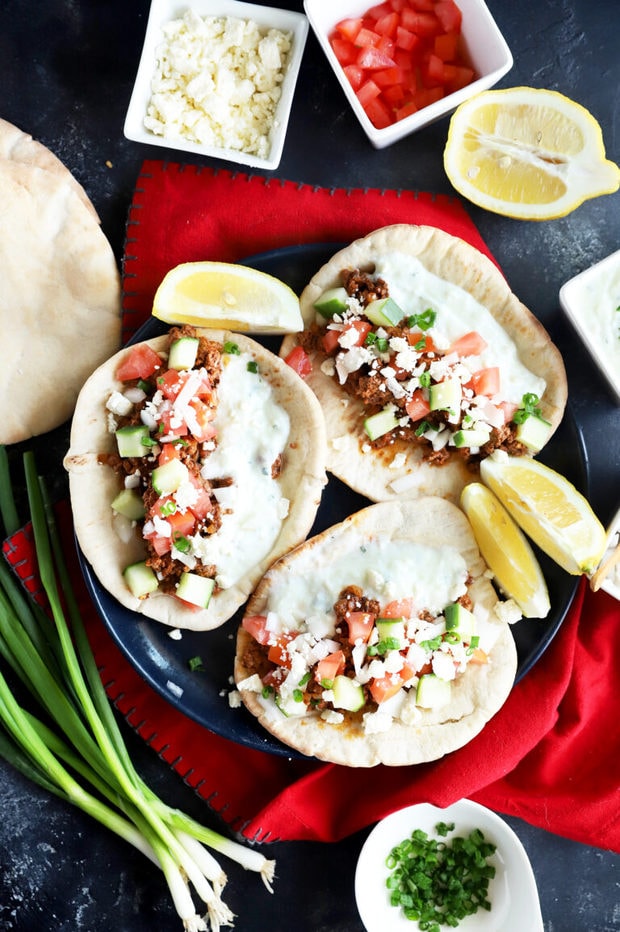 Speaking of ground beef, let's talk about that in a little more detail.
I am a big advocate of shopping at Sprouts Farmers Market, not only because of their selection, but also because of the quality of their ingredients.
That said, I tend to skip the other types of ground beef and head straight for the Sprouts 100% grass-fed beef. My biggest reason for this is the flavor and price. It's affordable and satisfying, extremely fresh and oh-so juicy. This is why it's so perfect for this particular recipe! The juiciness of that beef really enhances the flavor of the pitas, locking in those spices and giving a savoriness that is a natural pairing for the bright and fresh tzatziki sauce.
The other reason I reach for grass-fed is because it's minimally processed so you know there are no growth hormones or antibiotics involved, ever. Not to mention it's pasture-raised in the U.S. and always fresh, never frozen!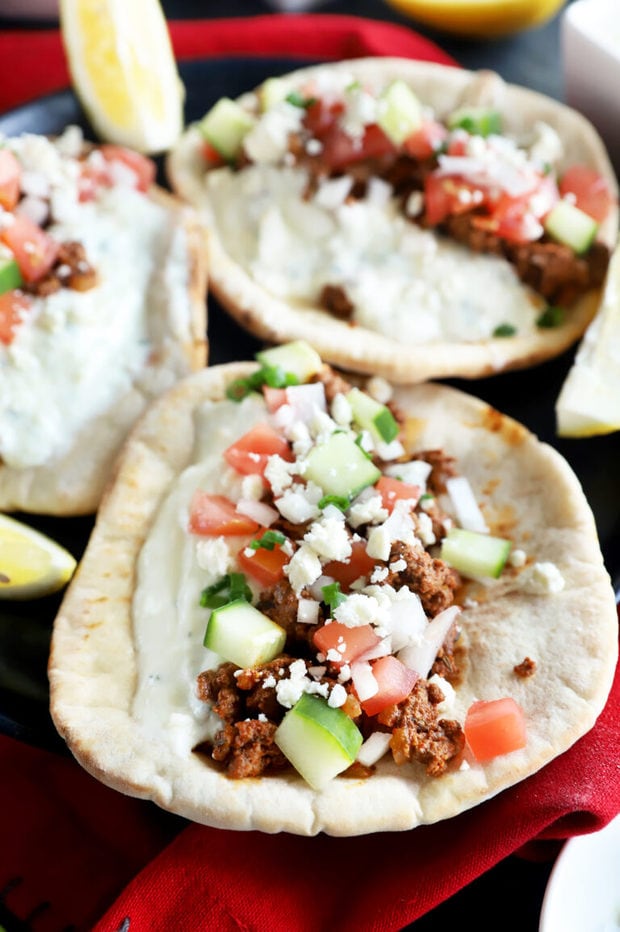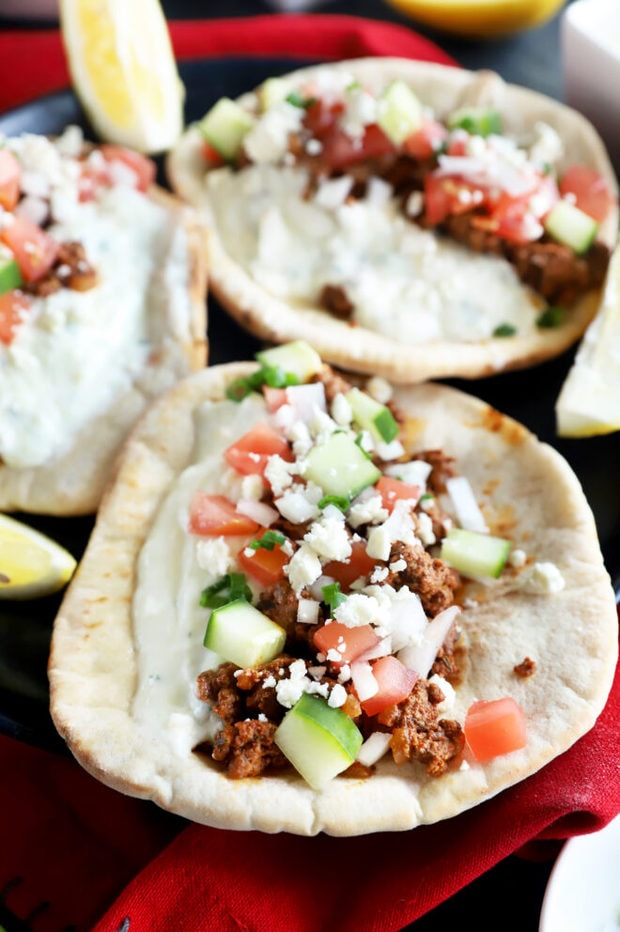 Now, I know that we are in a bit of a crazy time right now.
Ground beef just so happens to be an affordable option to reach for, and it makes getting the flavors of a gyro even easier.
Just how easy? Well this recipe comes together in just 25 minutes. INSANE, right? Just because it comes together so quickly doesn't mean that it is lacking in flavor. The beef has a bunch of spices that you already have in your pantry, and the fresh flavor of the vegetables is a killer partner to the beef.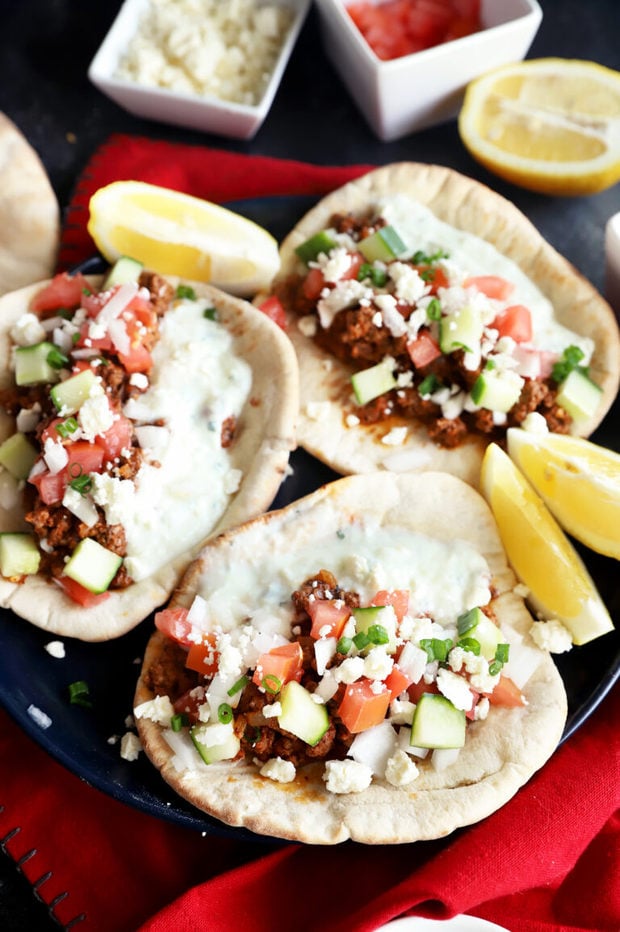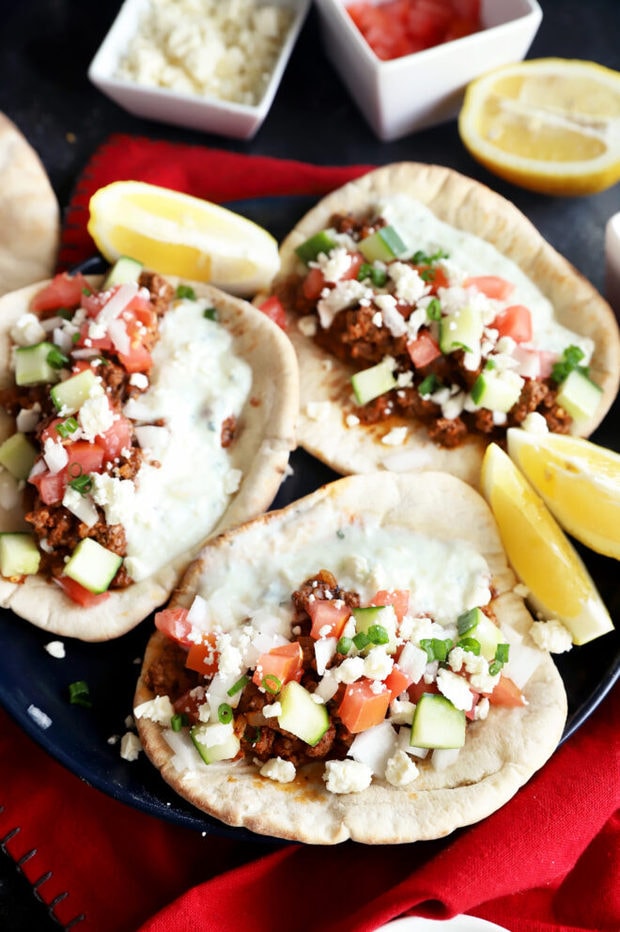 This Recipe's Must-Haves
Thankfully, this recipe is super simple so there isn't a lot of equipment to worry about! You'll need a large skillet to cook up the Greek-style ground beef.
All you'll need after that is a set of mixing bowls and a whisk to pull together the simple sauce.
Don't forget to have your chef's knife and cutting board handy to chop up all the veggies for the topping!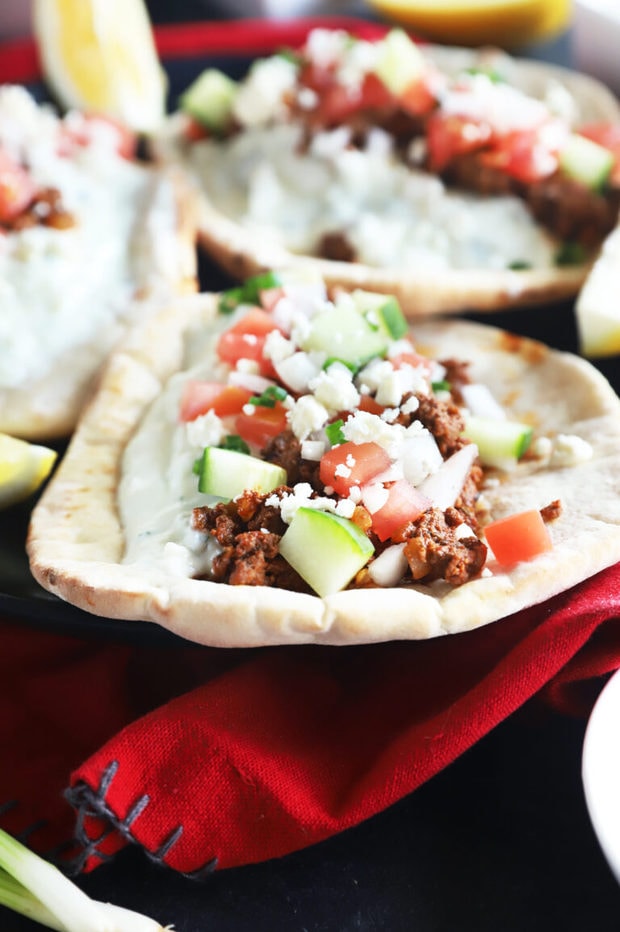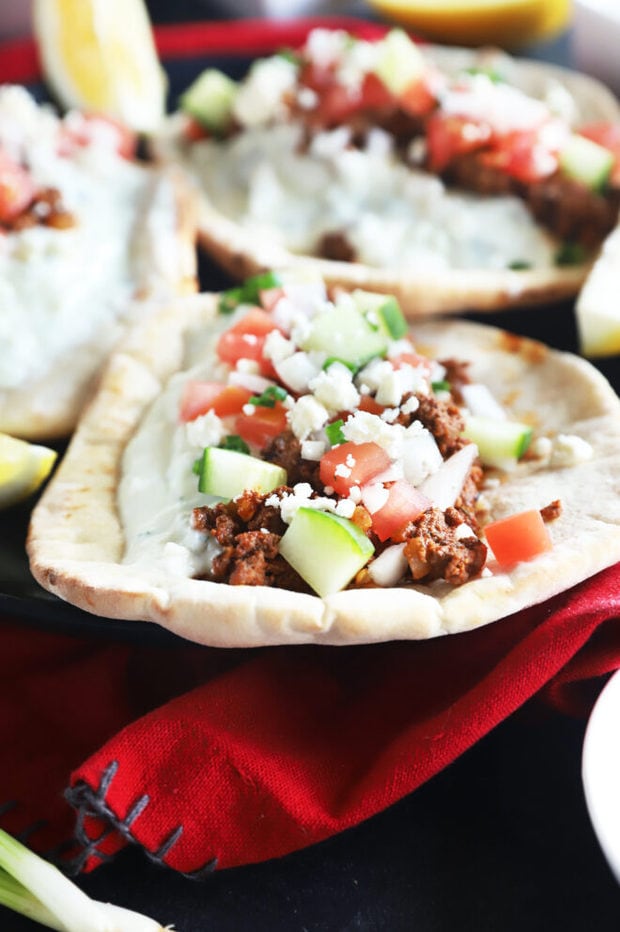 Let's make Greek beef pitas!
Make Greek-style beef
To make the beef, you'll start by cooking down the onion and the garlic. Then add in the juicy grass-fed beef, cooking until it is completely cooked through.
Next, add in the spices, tomato paste, and water. Cook it for a handful of additional minutes until everything is flavorful and even more tasty!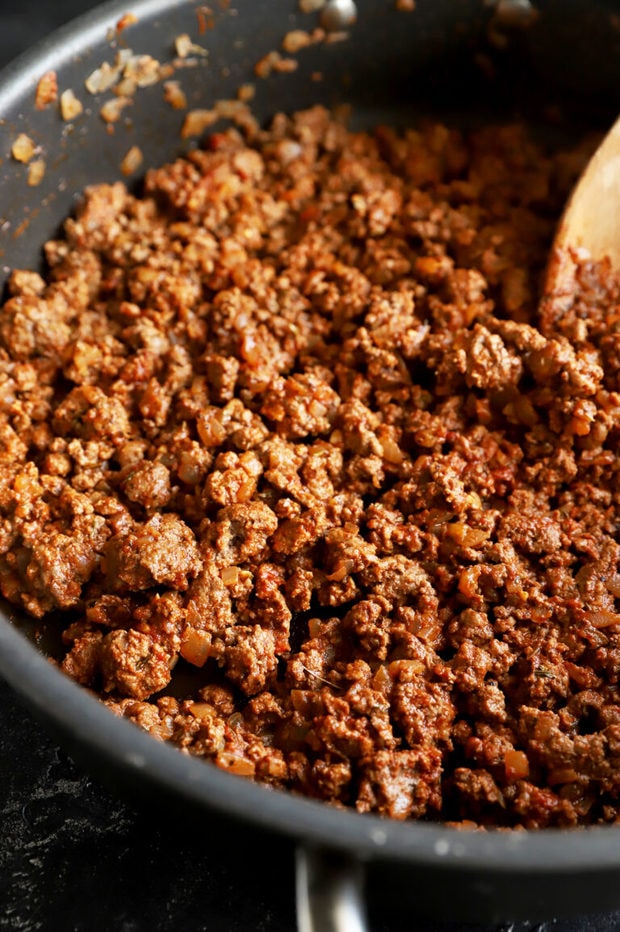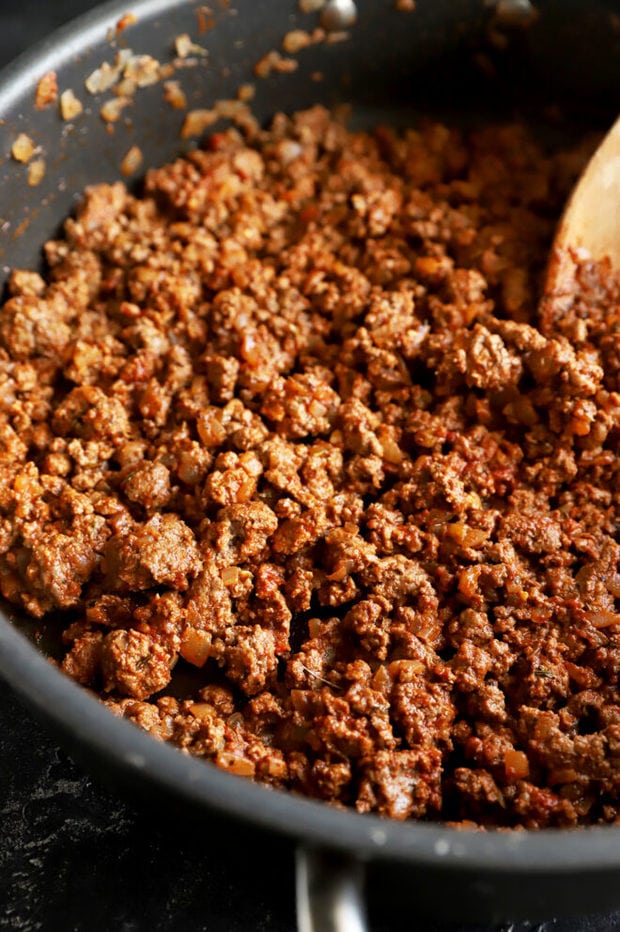 Make Tzatziki sauce
All you have to do to make the sauce is stir all the ingredients together! That's it!
Pro tip: when you grate the cucumber for the sauce, you can also use a food processor with the grater attachment to make things go faster! Of course a food processor has many more pieces to clean so… I'll leave that decision up to you.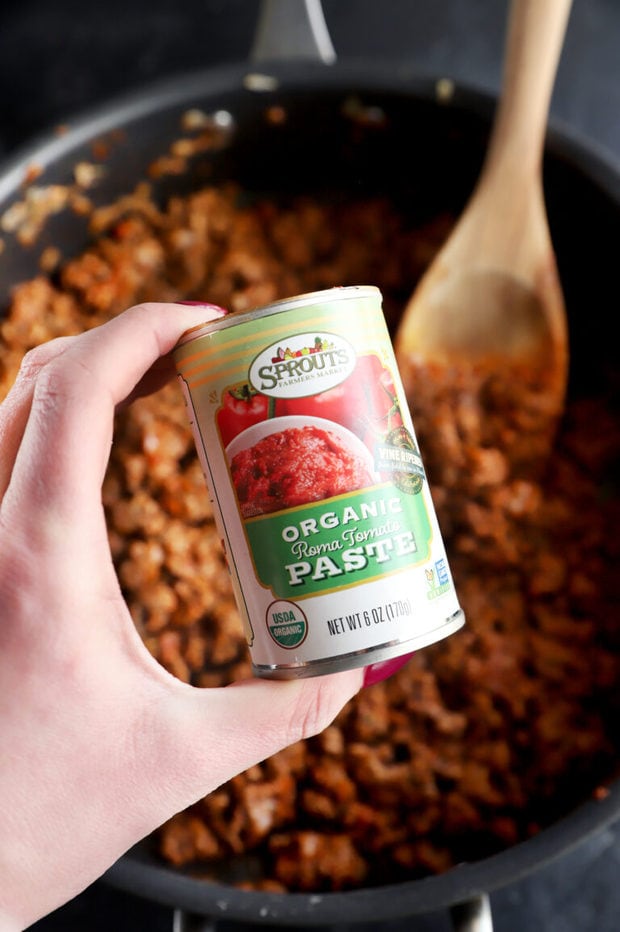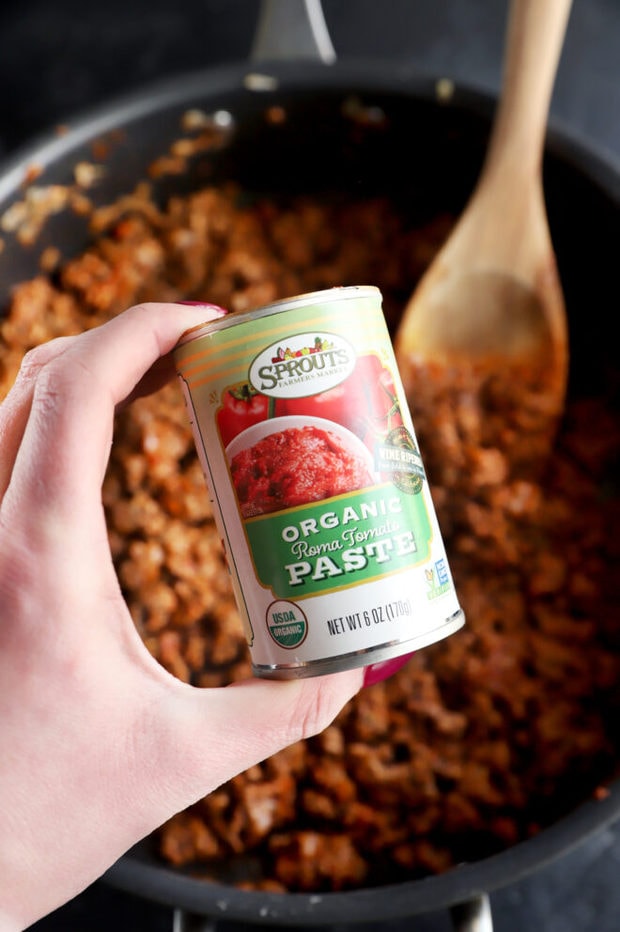 Assemble
I like to warm my pitas slightly in the microwave for about 30 to 45 seconds before assembling. This makes store-bought pita more pliable and easier to assemble and eat!
Top the pitas with ground beef, dividing evenly between the pitas. Top with all your favorite toppings, including the bright tzatziki sauce! Finally, serve it with some lemon wedges. You won't believe what a simple squeeze of lemon will do to brighten things up.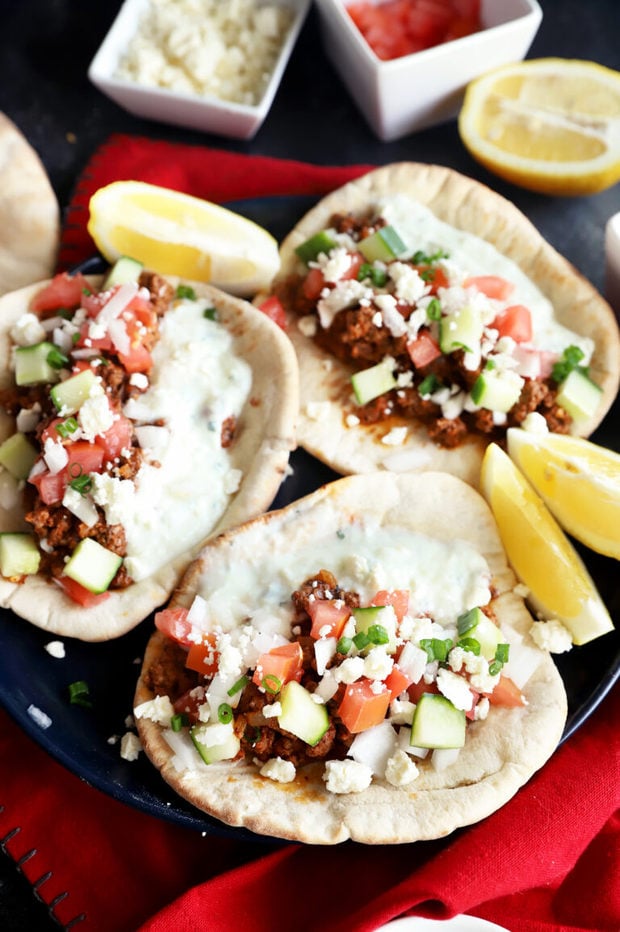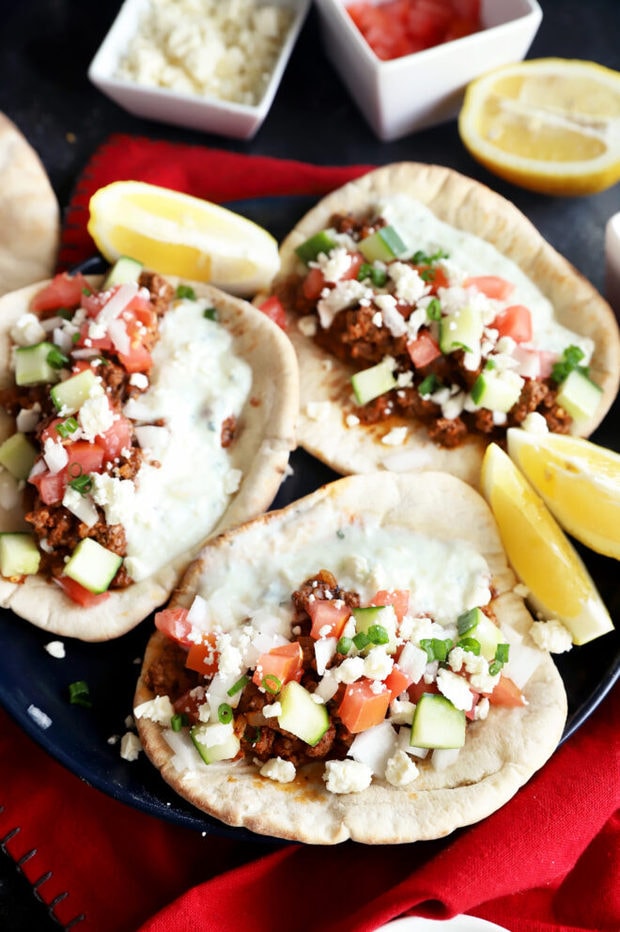 Can I use canned or frozen vegetables?
At the time of this posting, things are not always in stock at the store. I have had amazing luck with produce and meat at my local Sprouts Farmers Market, but of course this can't be guaranteed.
If you have stocked up on canned tomatoes or you chopped up and froze some onion, you can certainly use those in this recipe! The only thing you can't substitute is the cucumber as it doesn't freeze so well.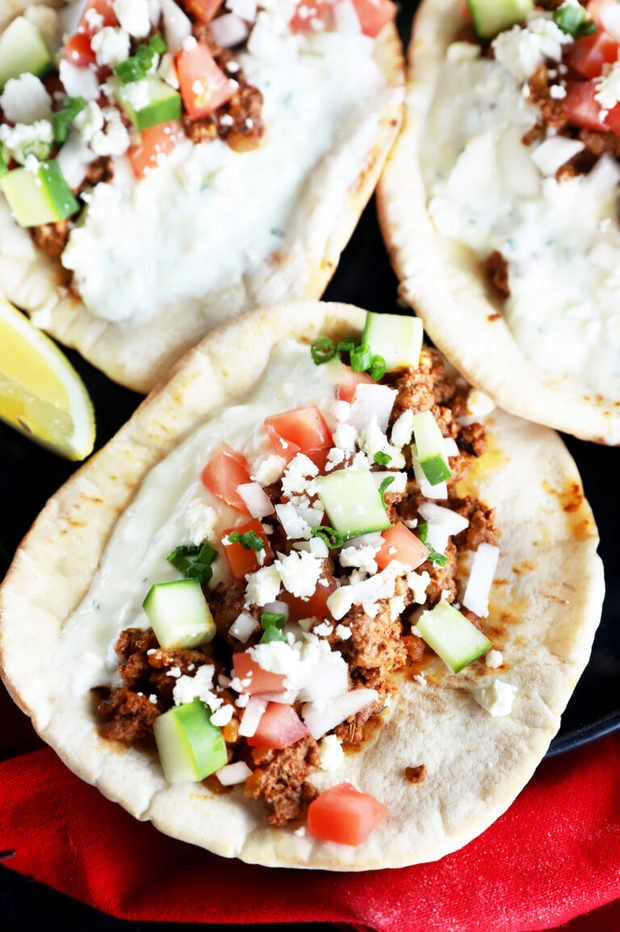 Do I have to make the tzatziki sauce from scratch?
You certainly don't if you can't access the ingredients to make it! Another option is buying it pre-made. I can't guarantee the flavor of those store bought options, and obviously the homemade version is going to be better. However, in a pinch, I totally get it!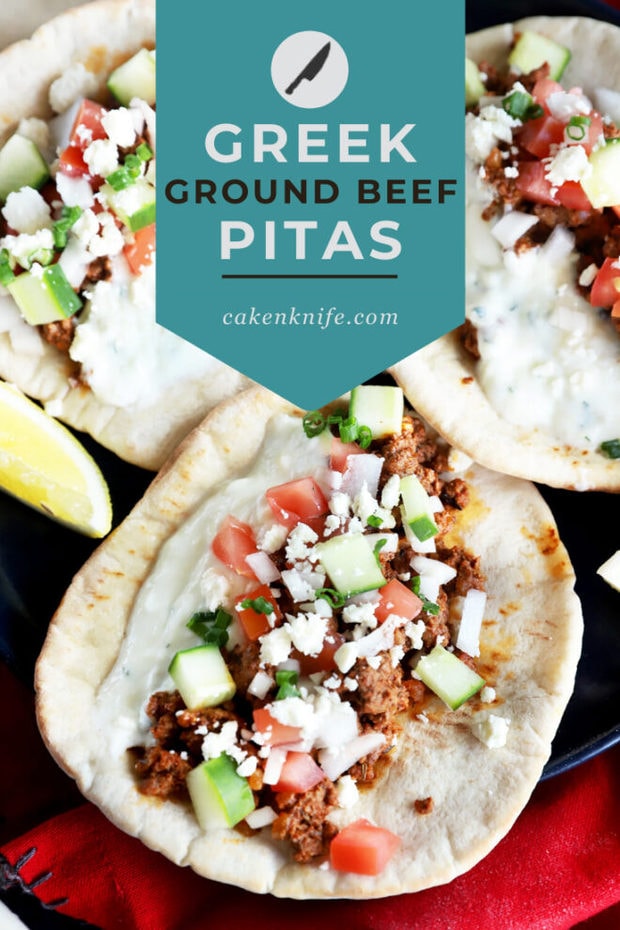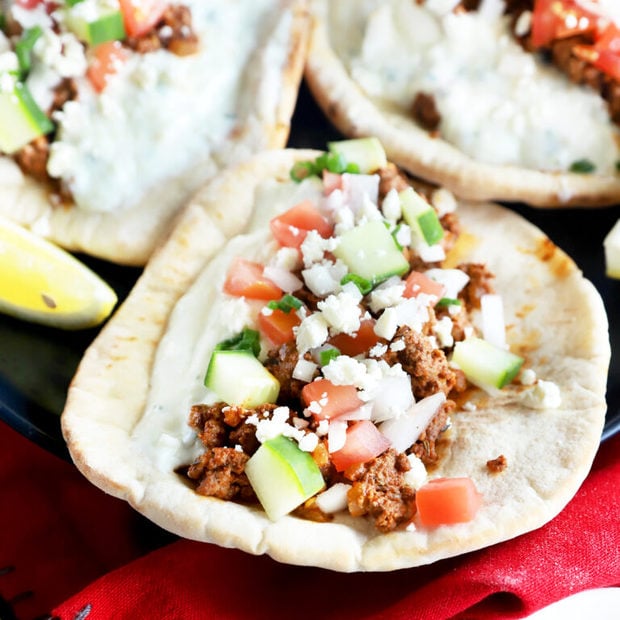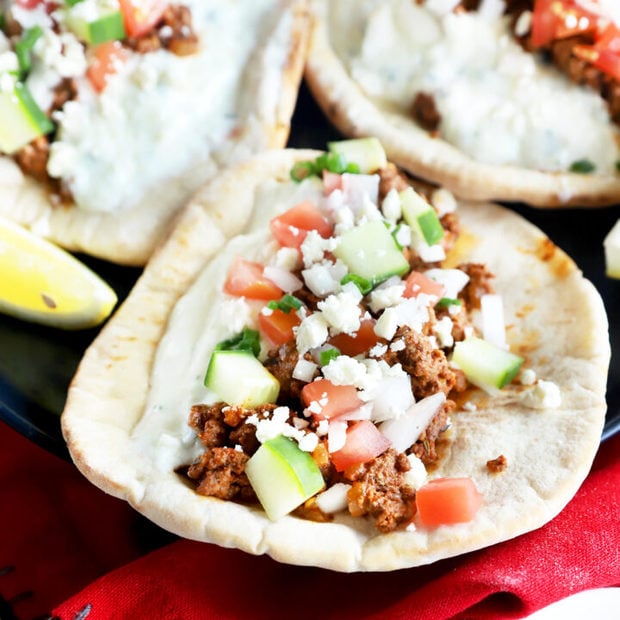 Greek Beef Pitas
Flavorful beef pitas with all the classic gyro toppings!
Ingredients
Beef
1 Tbsp olive oil
1 white onion, minced
3 cloves garlic, minced
1 lb ground beef
1 Tbsp paprika
2 tsp dried thyme
1 tsp cumin
1 tsp ground coriander
1/2 tsp cayenne pepper
1/2 tsp salt
1/2 tsp black pepper
1 Tbsp tomato paste
1/4 cup water
Pitas
1 large tomato, chopped
1 onion, chopped
1 cucumber, chopped
4 green onions, thinly sliced
1/2 cup feta cheese
4 pita bread
Lemon wedges
Sauce
16 ounces plain yogurt
1 medium cucumber, peeled, seeded, and grated
1/2 tsp salt
4 cloves garlic, finely minced
1 Tbsp olive oil
2 tsp red wine vinegar
5 to 6 mint leaves, finely minced
Instructions
Heat olive oil in a large skillet over medium-high heat. Once hot, add onion and cook until softened, stirring occasionally, about 2 to 3 minutes. Stir in garlic, cooking for another 30 seconds to 1 minute, until fragrant.
Add in Sprouts grass-fed beef. Cook until completely cooked through, about 5 minutes, breaking up bigger chunks with a wooden spoon.
Drain any excess fat. Stir in spices, tomato paste, and water. Reduce heat to medium-low.
Cook for another 5 minutes, stirring occasionally.
While the meat is cooking, stir together ingredients for the sauce. Set aside.
Pile beef up on pita breads, topping with tomato, onion, cucumber, green onion, feta, and sauce. Serve immediately with lemon wedges.
Recommended Products
As an Amazon Associate and member of other affiliate programs, I earn from qualifying purchases.