Irish Corned Beef Nacho Bites are the bite-sized Irish/Mexican mash up that everyone will scramble to devour. Meaty corned beef tops cheesy potato coins along with all the loaded nacho toppings you know and love. These bites make a great appetizer or snack for whatever you have planned this St. Patrick's Day!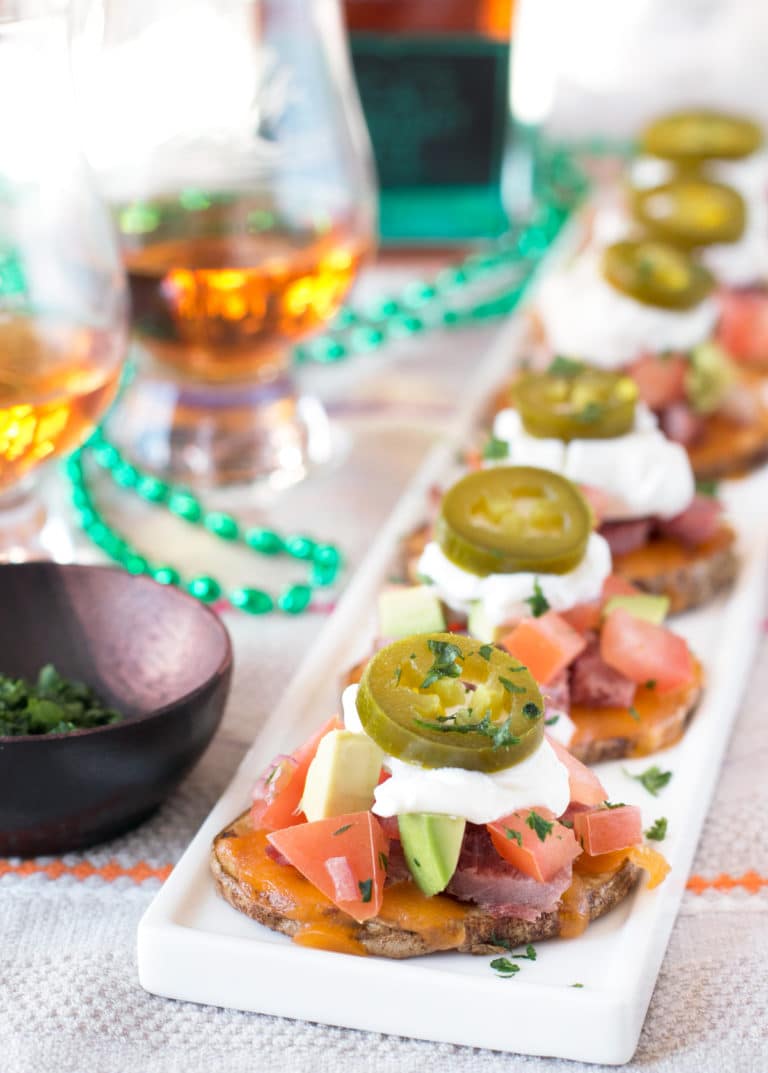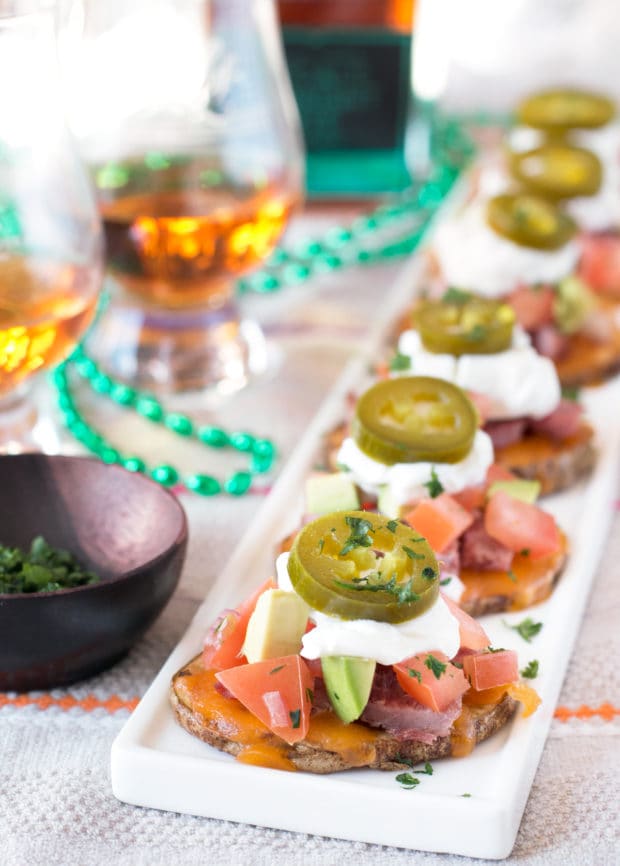 St. Patrick's Day is exactly one week from today and I am kind of (really OMG totally) excited about it! Now that I am actually studying up on my whiskey and beer every night, I feel like I'm actually going to get real enjoyment out of the holiday (instead of just a hazy hangover the next morning).
No, I won't be hitting the bars until 2am, watching people getting hammered on green beer this year. Instead I'll be celebrating all of my favorite Irish things – well, food and drink things at least. Because DUH, it's me.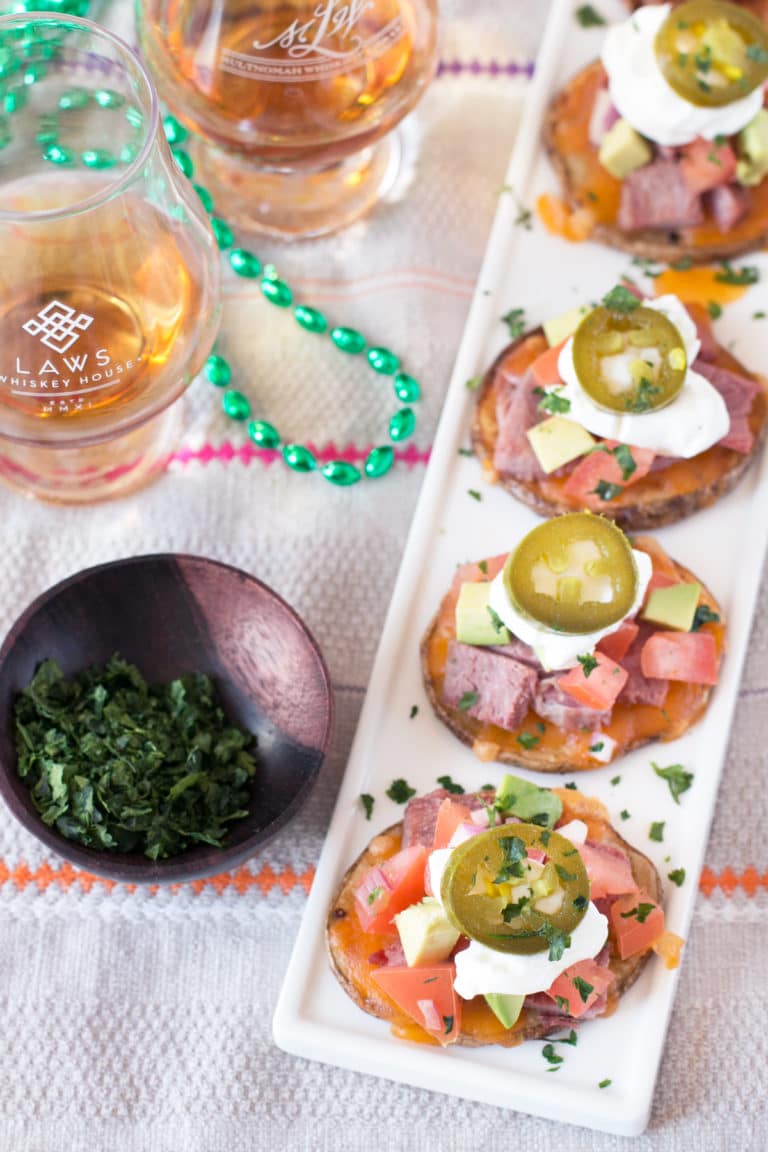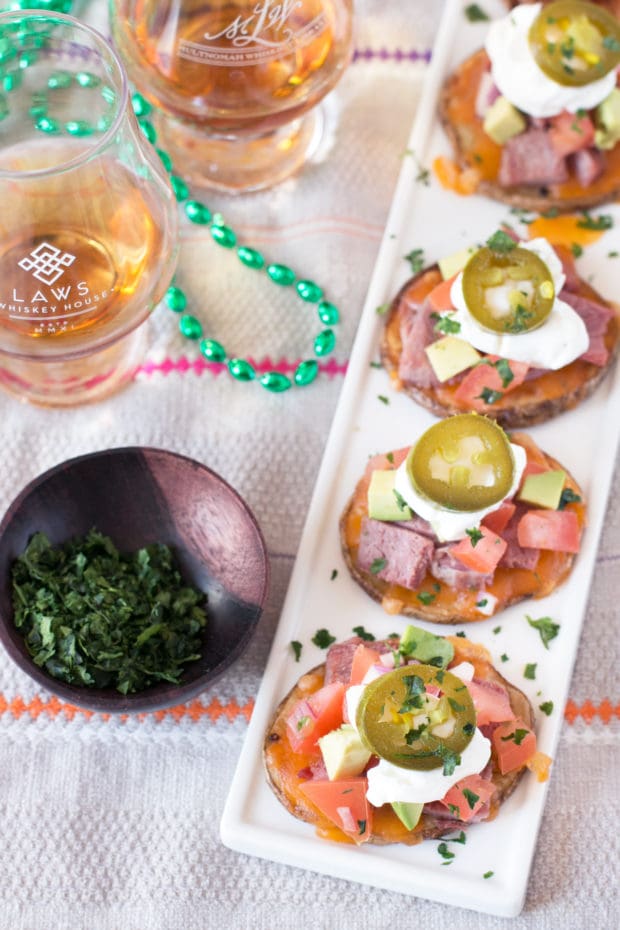 Whiskey, beer, corned beef, cabbage, and Guinness stew are all on my menu this year, but the real star is going to be these oh-so tasty bites of corned beef and potato goodness.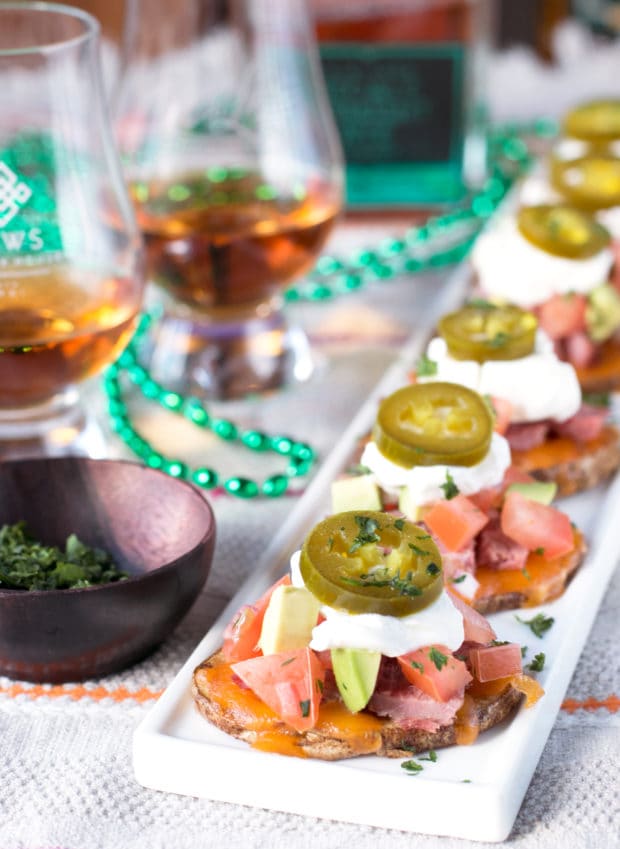 Even as I am sitting at my desk, writing this post out, I am literally stopping myself from jumping up and down with excitement about this recipe.
This mash up appetizer is everything I want out of a mash up.
You all know just how much I love my Mexican food, not to mention my nachos. So these little bites of loaded nacho-ness take that love to the next level with the Irish addition of delicious corned beef. Surprisingly enough, corned beef goes beautifully with the loaded nacho flavors you know so well. The meat has a savory briny bite that, in my honest opinion, is much better than plain ol' ground beef. A LOT better.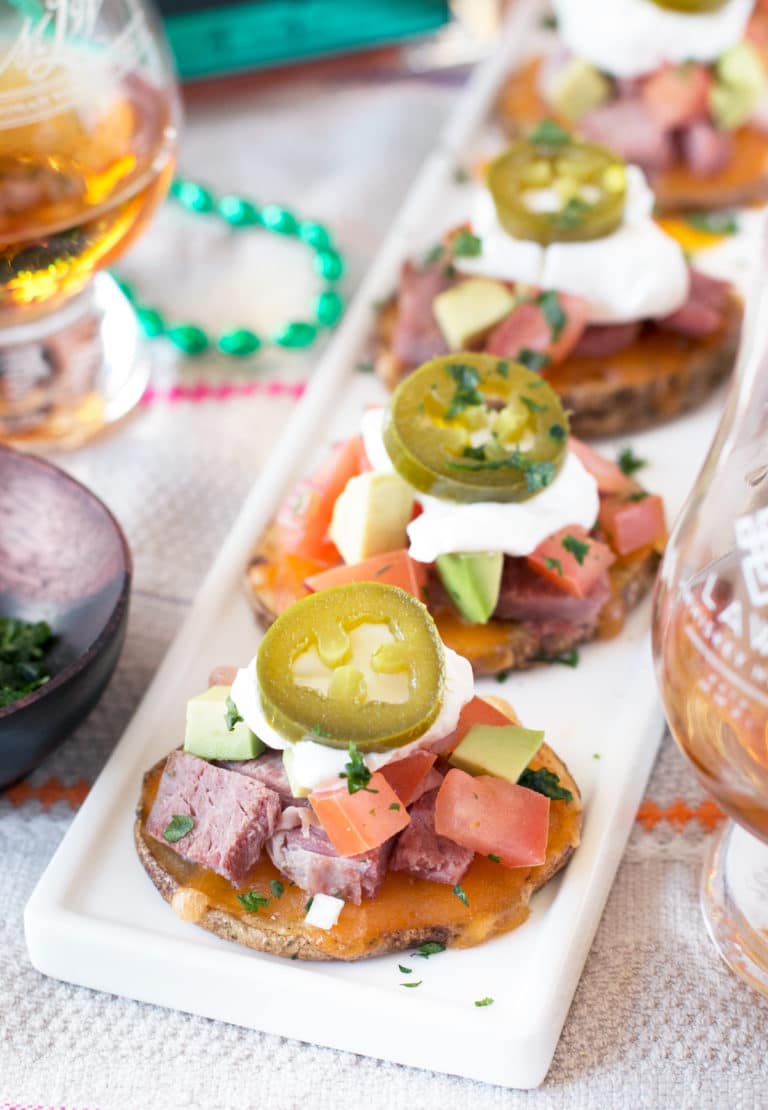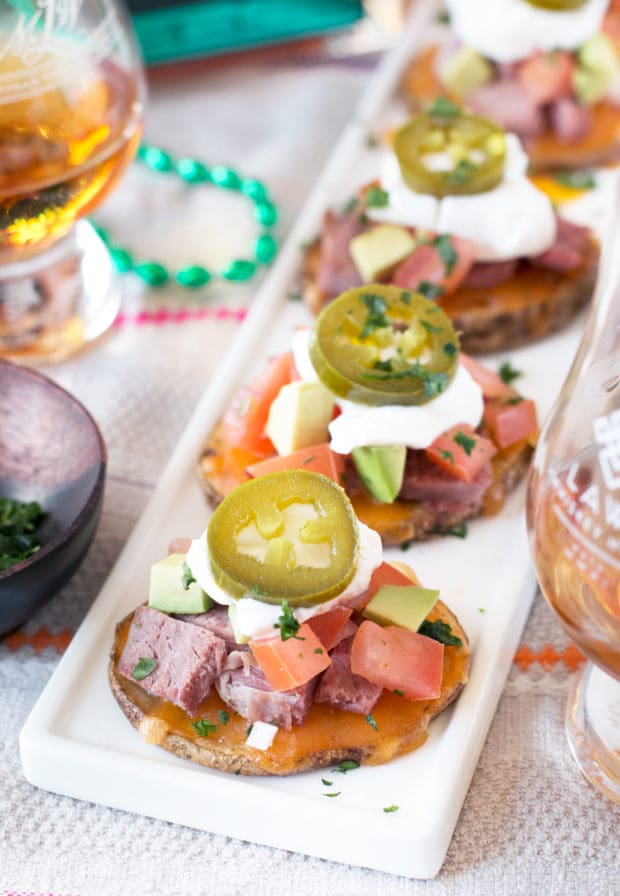 If you can't tell, I happen to be a BIG fan of corned beef, but I rarely get to indulge in it. I suppose I am always just saving it for March just like I do with egg nog or pumpkin pie around the winter holidays…
Isn't it funny how we do that? We actively don't eat things we love until a special time of year. We humans really are weird at times, aren't we?
It holds a special little place in my heart to know that I will get to dive into as much corned beef as I want when St. Patrick's Day is around the corner!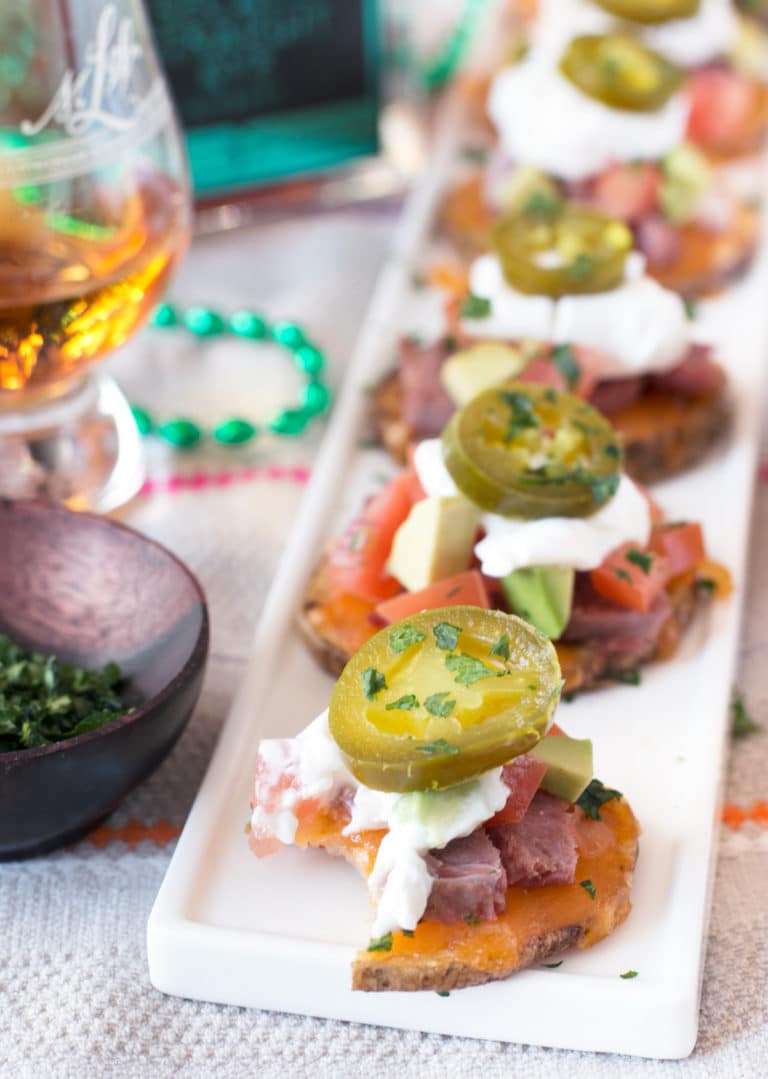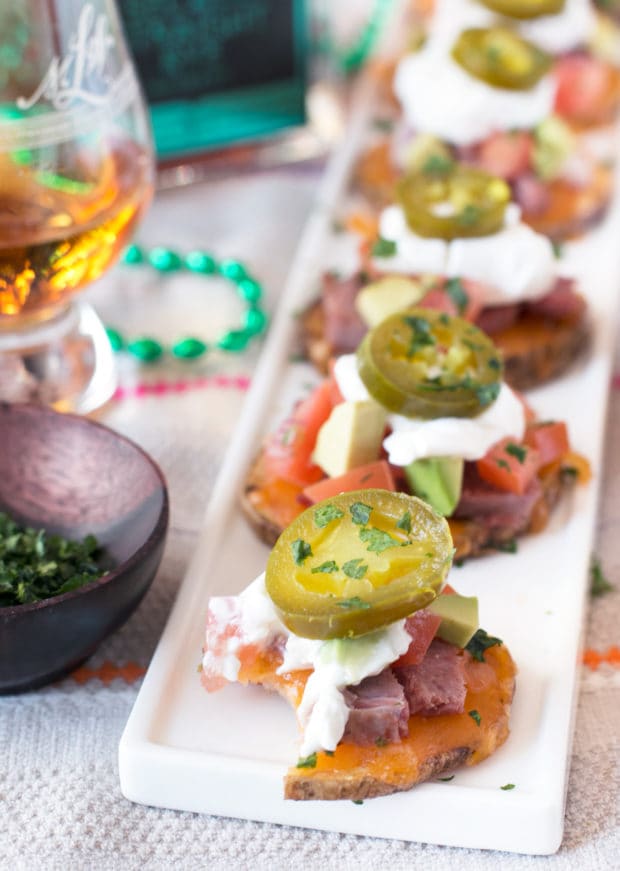 Call me a traditionalist, I guess?
So as you start to fill up on beer (just please God, not the green beer…. ok?) and whiskey this weekend and into next week, make sure you have a big ol' platter of these Irish corned beef nacho bites on hand. Everyone will be gobbling them up in seconds!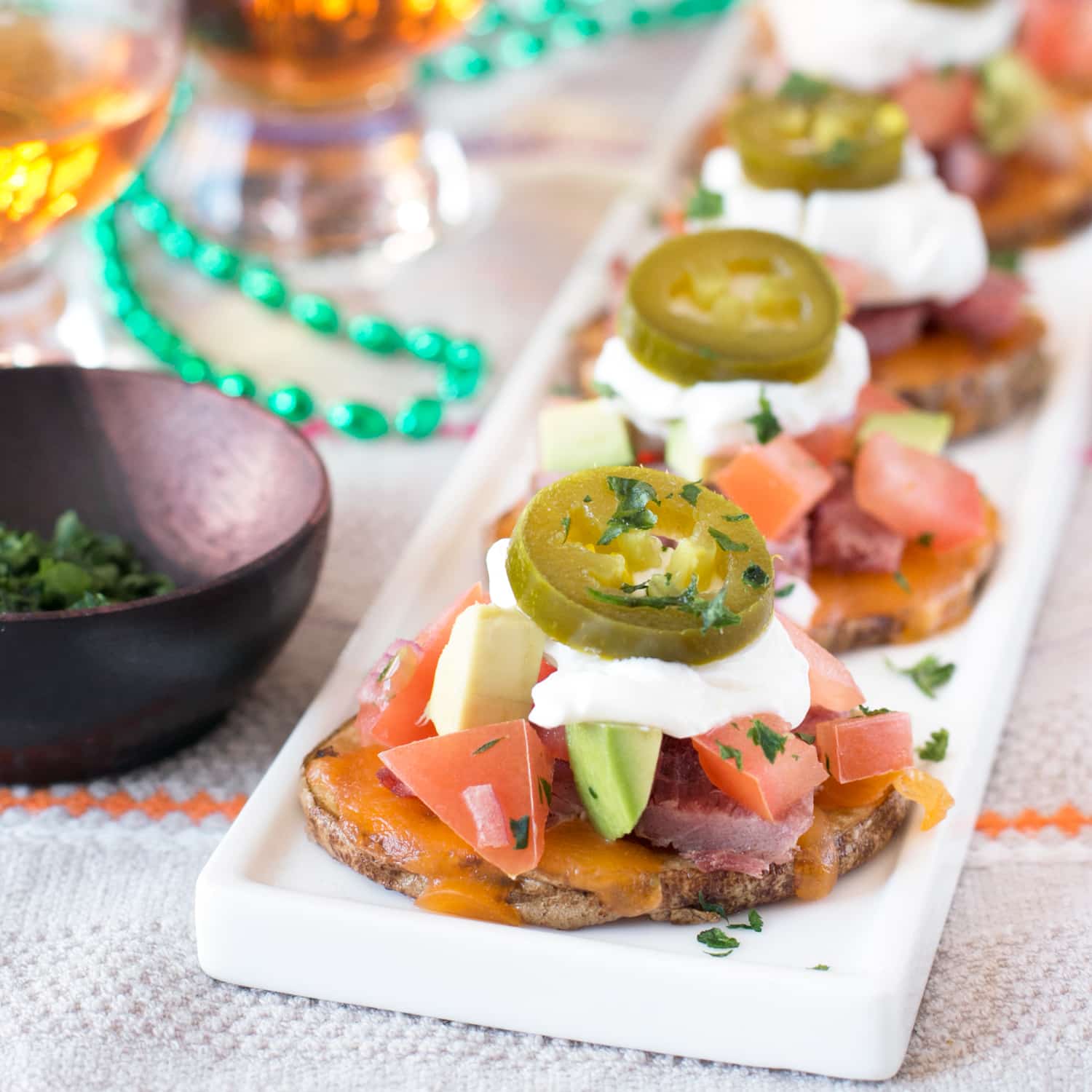 Irish Corned Beef Nacho Bites
Corned beef gives these loaded potato nacho bites an Irish meaty twist!
Ingredients
2 large russet potatoes, cut into 1/4-inch thick coins
2 Tbsp olive oil
1/2 tsp salt
1/2 tsp pepper
1/2 lb corned beef, chopped
1 1/2 cups shredded sharp cheddar cheese
1/2 cup pickled jalapeños
1/4 cup sour cream
1/4 cup chopped green onion
1 large avocado, chopped
Pico De Gallo
1 tomato, seeded and chopped
1/2 red onion, diced
2 Tbsp chopped cilantro + more for garnish
1/4 tsp salt
1/4 tsp pepper
Instructions
Preheat oven to 425 degrees. Line a large rimmed baking sheet with parchment paper.
In a large bowl, toss potatoes with oil, salt and pepper. Place potatoes in an even layer on the lined baking sheet.
Bake for 20 minutes. Flip and bake another 15 to 20 minutes or until golden brown.
Top each potato coin with 1 to 2 tsp cheese and 1 tsp chopped corned beef. Broil for 1 to 2 minutes until cheese is melted.
In a small bowl, stir together ingredients for the pico de gallo.
Top with avocado, pico de gallo, jalapeño and a dollop of sour cream.
Sprinkle with green onion and cilantro.
Pin this Irish Corned Beef Nacho Bites recipe for later!