Please note this post contains affiliate links.
Garlic Butter Oven Roasted Carrots and Potatoes are the side dish that goes with anything you can think of! The rich and creamy gold potatoes with bright, flavorful carrots are a classic combination. All you need are a few ingredients from your pantry! Serves 4.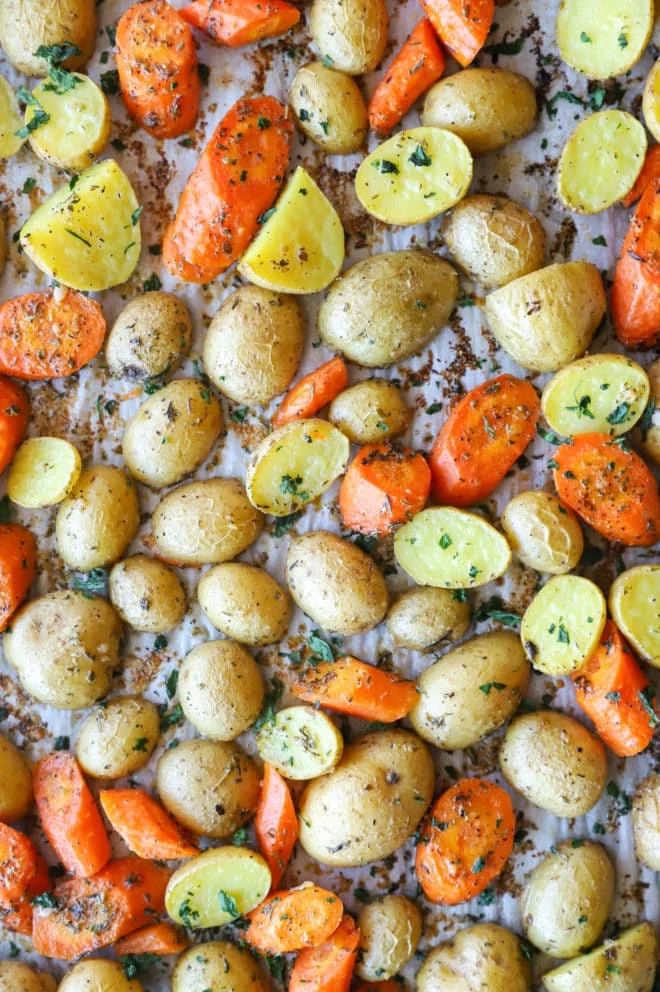 Am I the only one who seems to have a bag of potatoes or carrots in the pantry?
They are both food staples that last for a long time and happen to go with practically everything you can think of!
When I was trying to decide what dish I wanted to make with carrots, I realized that I didn't have nearly enough vegetable side dishes on my site! I think my side dish game is a little light because I tend to go straight towards the main event.
I mean, we tend to kind of overlook the sides sometimes don't we? I'll usually just fall back on rice, but with Babycakes needing a balanced diet of vegetables and fruits, I'm actually thinking a little more about what I'm making for dinner each night!
Funny how it took parenthood to get me into gear like this…
So oven roasted carrots and baby potatoes it is! With plenty of butter and garlic, of course.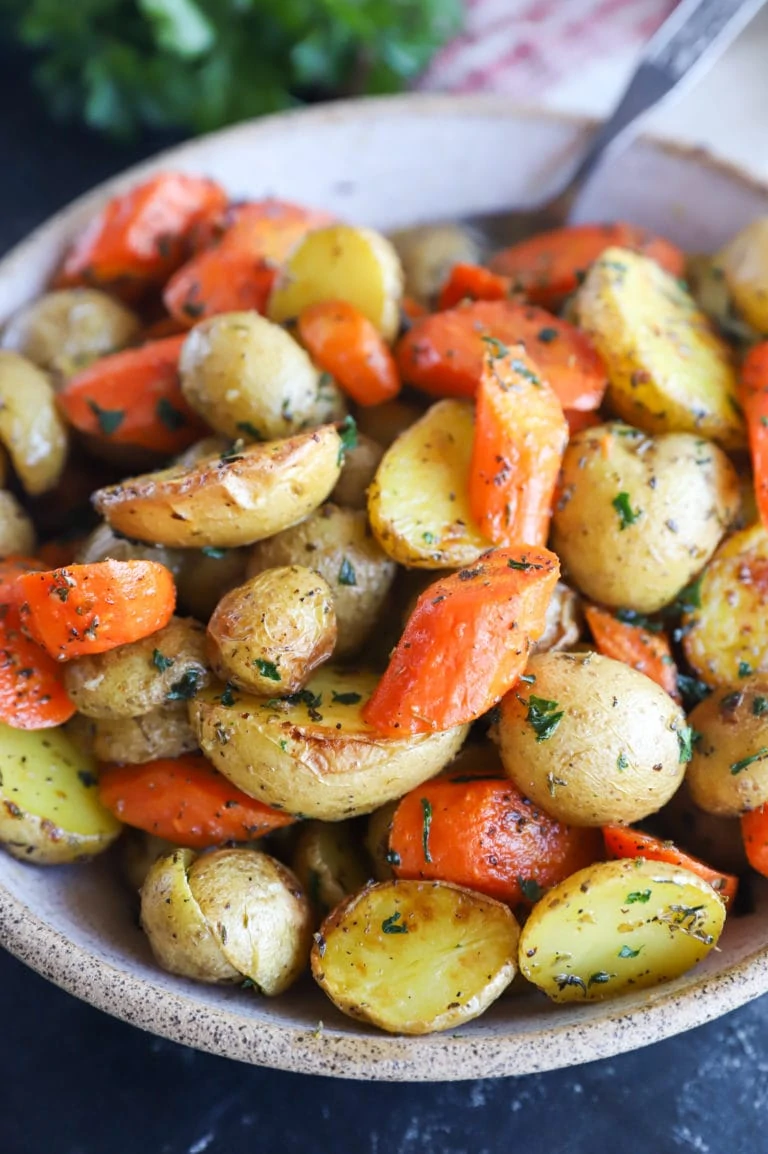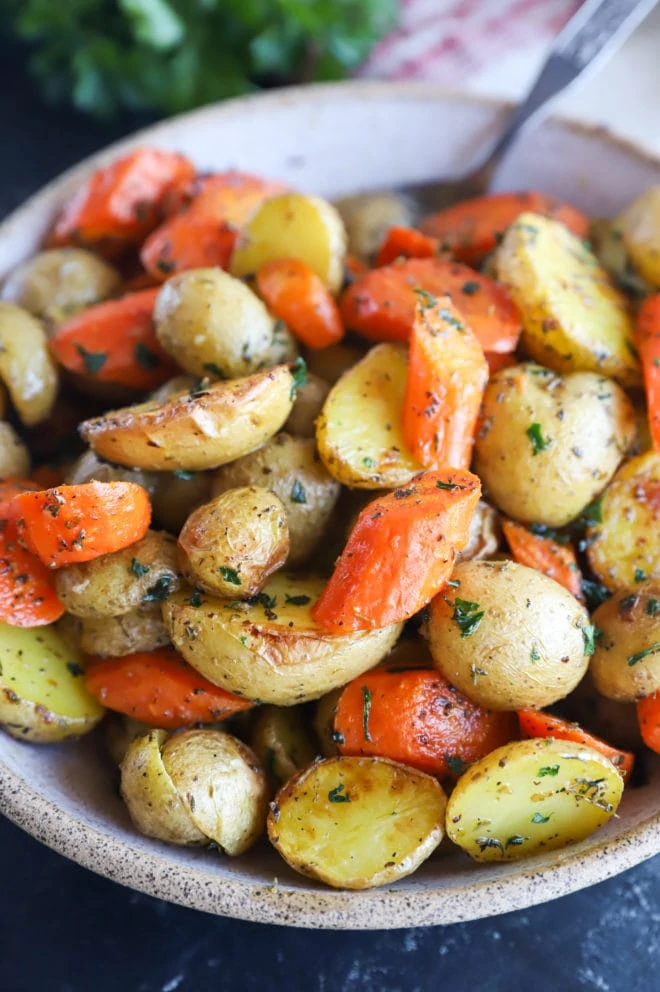 ingredients
carrots – use larger carrots so that they cook in the same amount of time as the potatoes! See my seasonal tip at the bottom of this post for more details on how to select your carrots.
potatoes – I love using small yukon gold potatoes for this recipe because they cook in a shorter amount of time and are super creamy.
garlic – my biggest time saver? Pre-minced garlic. I buy it and keep it in the fridge – it's a MUST!
butter – you will want to use unsalted butter and not the salted butter for this recipe. If all you have is salted butter, simply omit the salt added to the recipe.
seasoning – this recipe just needs a few simple spices – dried oregano, dried thyme, salt, and pepper.
this recipe's must haves
There are only three things you need to make this recipe – a wooden spoon, one of these large metal mixing bowls, and a half sheet baking sheet (make sure that it is rimmed!).
You'll also need measuring spoons and cups, but that's it! We are keeping it simple here people.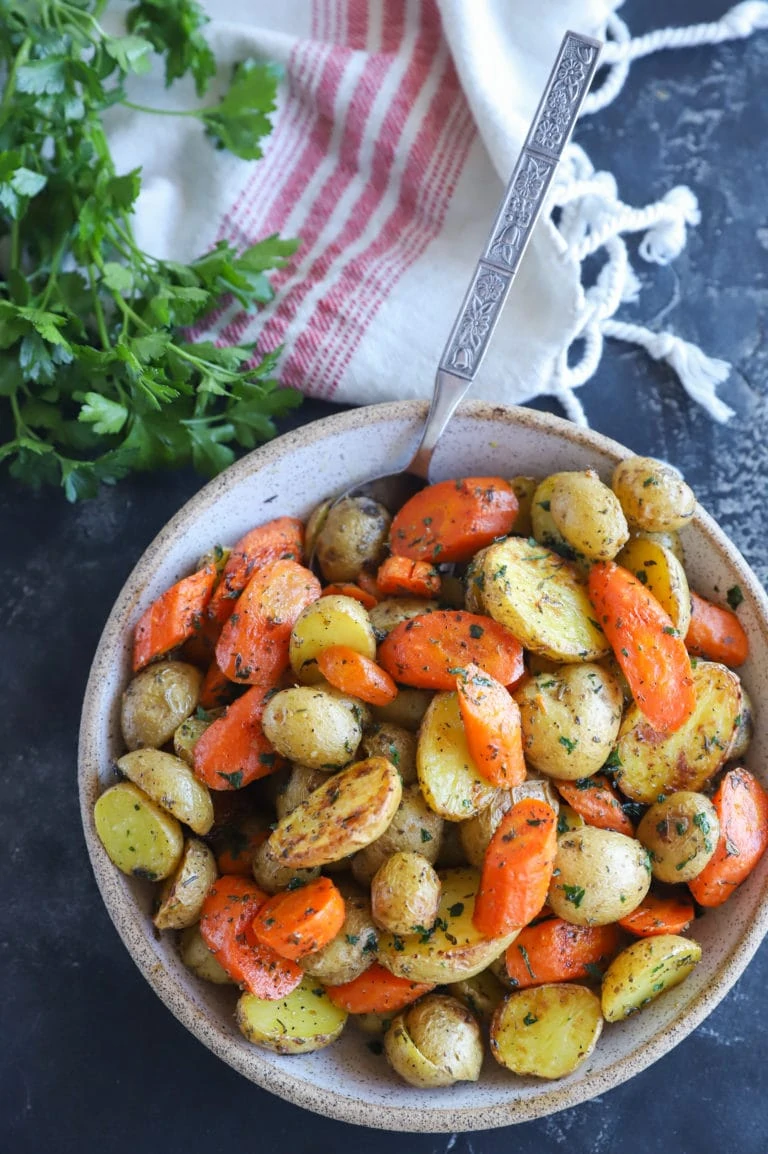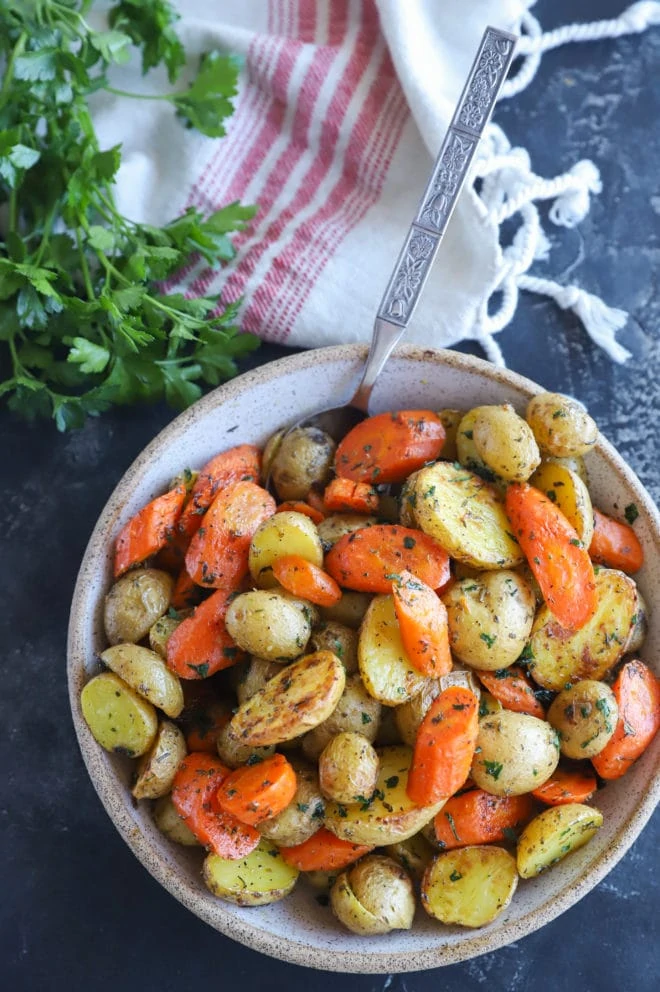 here's how to make oven roasted carrots and potatoes
prep vegetables
Cut potatoes in half after washing them. Peel and slice the carrots into thick slices. I like to cut mine on the diagonal, both for the look and better cooking.
Add the vegetables to a large bowl along with butter, minced garlic, and seasoning. Toss until the vegetables are coated evenly in the butter and spices.
roast
Spread out the veggies on a prepared baking sheet (a rimmed one lined with parchment paper) so they are in an even layer.
Roast for 30 to 40 minutes at 400˚F until they are fork tender! Garnish with some fresh parsley and serve with your favorite main.
Pro Tip! Place potatoes cut side down and don't stir them while they roast. They will be nice and brown and a bit crispy this way!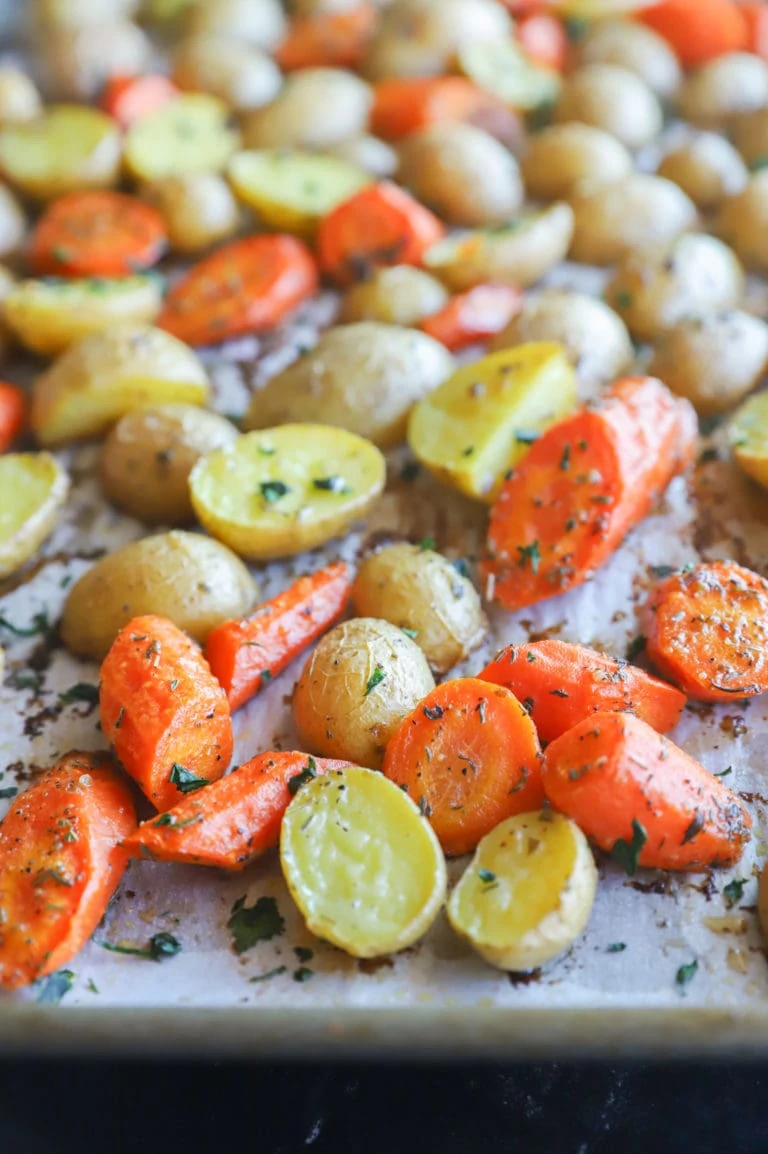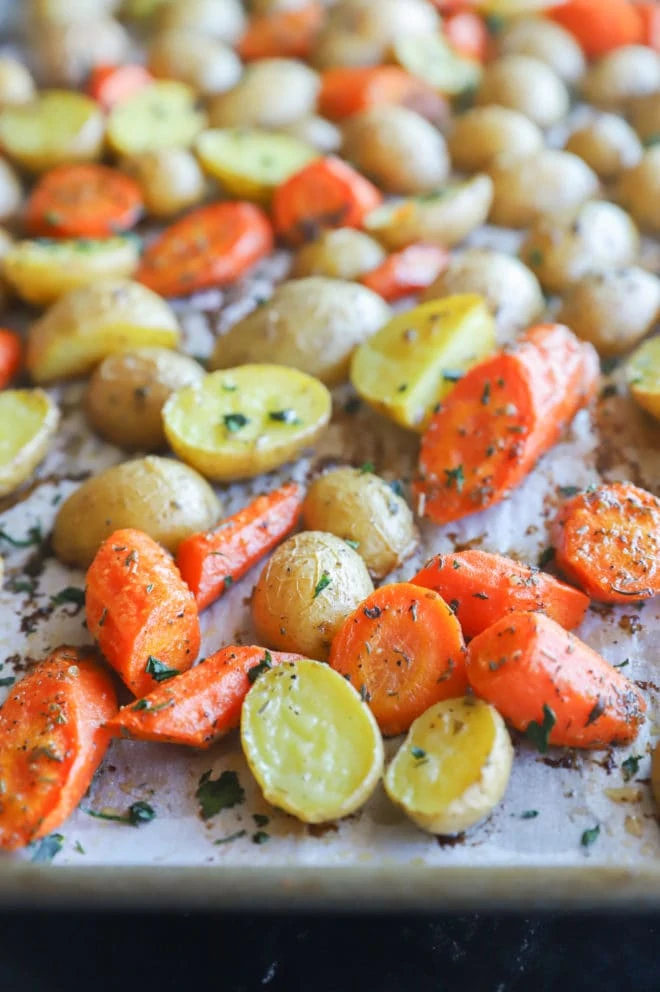 tips for success
Choose the right vegetables. I personally like whole large carrots cut into slices for this recipe. They have the best flavor for sure. You can also use baby carrots though, if that's what you have on hand. Reach for the small gold potatoes instead of red or russet. They will cook at the same time as the carrots and they are just so creamy!
Swap out the spices. I use a combo of dried oregano and dried thyme for this recipe, but you can also use fresh herbs instead. Alternatively, swap out the oregano and thyme for other herbs in your pantry like rosemary or basil.
Other vegetable recipes to explore: Crispy Brussels Sprouts | Instant Pot Mashed Potatoes | Spicy-Sweet Roasted Broccolini | Spicy Garlic Cilantro Fries
Do I have to boil the potatoes first?
Nope! Since we are using smaller, soft gold potatoes, there's no need to boil them first. The skin on these potatoes is thin enough so the potatoes cook through and get all that buttery goodness into them without that extra step.
What is the best temperature for roasting vegetables?
The ideal temperature is 400˚F for roasting most vegetables. The high temperature gives you the best results!
Need some more inspiration for side dishes? Check out my side dishes recipe page!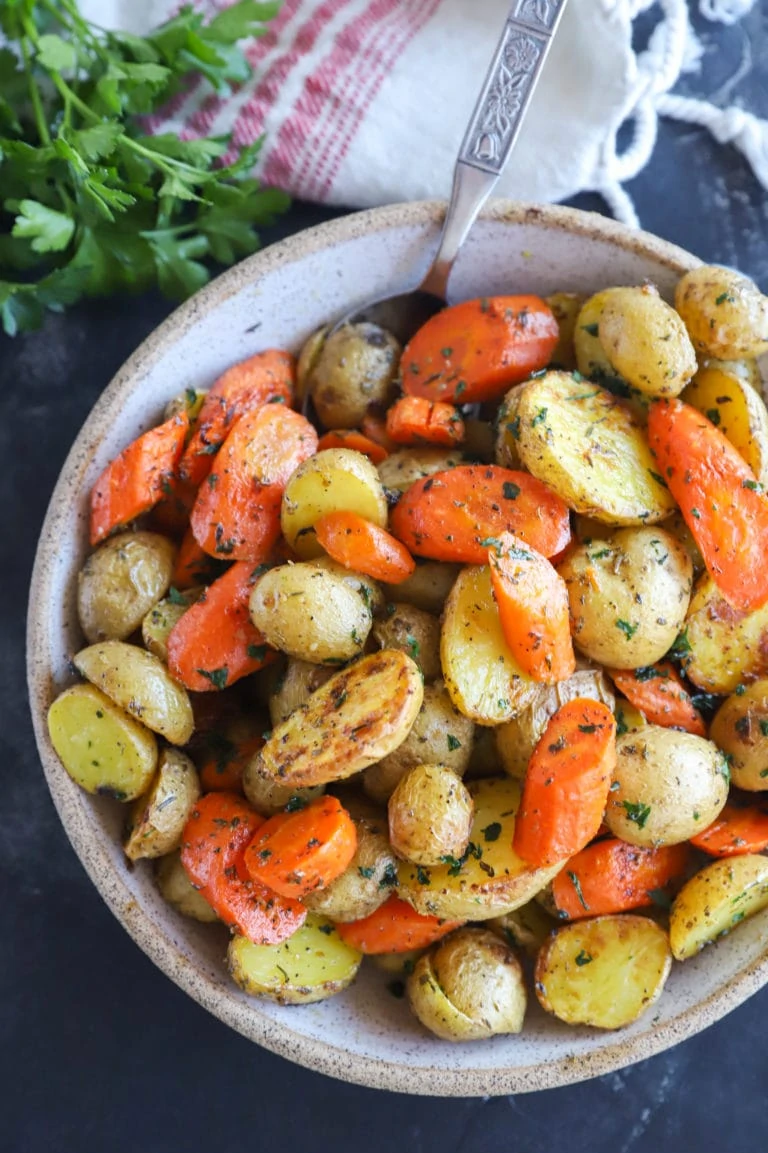 what to serve with oven roasted carrots and potatoes
Roasted carrots and potatoes seem to go with practically everything, am I right? You can serve them up on a weeknight for an easy side dish, or you can make them for a special occasion like Thanksgiving or Christmas! Need some inspiration for your meal? Here are some mains to consider pairing with these roasted vegetables:
A classic roasted chicken with white wine and fresh herbs is a year-round favorite for us.
Baked in foil, you can whip up this easy baked lemon garlic salmon (or even throw it on the grill if you want!).
Speaking of the grill, consider this chipotle lime flank steak for the classic meat and potatoes combo. For something a little lighter, this grilled avocado caprese chicken is a personal favorite of mine!
If you love a smoker like I do, then you have to try this smoked prime rib. This is an ideal pairing for the holidays!
how to store and reheat
Cool the vegetables and store in an airtight container in the refrigerator for up to 4 days. Reheat in the microwave or in the oven on a lined sheet pan for at 350˚F until warmed through.
If you want more potatoes, try these parmesan lemon herb roasted potatoes the next time you need a side!
seasonal tip
Be sure to reach from the larger carrots for this recipe. Don't choose ones that are super thin because they will cook too fast alongside the potatoes! Firm, large carrots will stand up to the roasting temperature so you don't have to pull them before the potatoes are finished.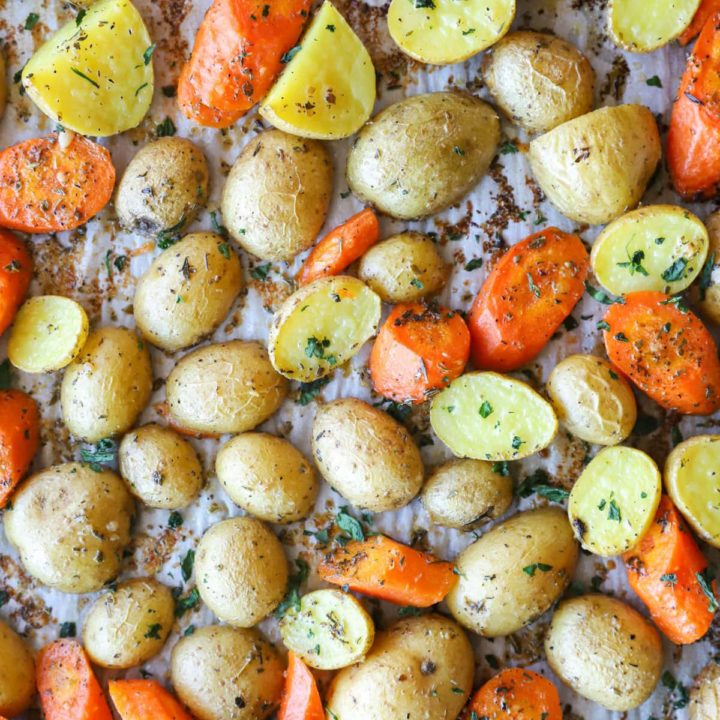 Garlic Butter Oven Roasted Carrots and Potatoes
Simple and straightforward, this roasted vegetable side dish goes with any main!
Ingredients
1 1/2 lbs yukon gold potatoes, halved
4 large carrots peeled, sliced diagonally
1/3 cup unsalted butter, melted
1 Tbsp minced garlic
1 tsp dried oregano
1 tsp salt
1/2 tsp dried thyme
1/4 tsp black pepper
Garnish: freshly chopped parsley
Instructions
Preheat the oven to 400˚F. Line a rimmed baking sheet with parchment paper.
Place potatoes and carrots in a large bowl. Add butter, garlic, oregano, salt, thyme, and pepper. Gently toss to coat the vegetables.
Spread the vegetables in a single layer on the prepared baking sheet.
Bake for 30 to 40 minutes, until fork tender. Remove from the oven and add to serving bowl or platter. Garnish with parsley. Serve warm.
Recommended Products
As an Amazon Associate and member of other affiliate programs, I earn from qualifying purchases.