Avocado Fennel Salad is a wonderful way to start off any of your upcoming holiday meals. All throughout the holidays, this salad is a refreshing and bright starter that everyone will love.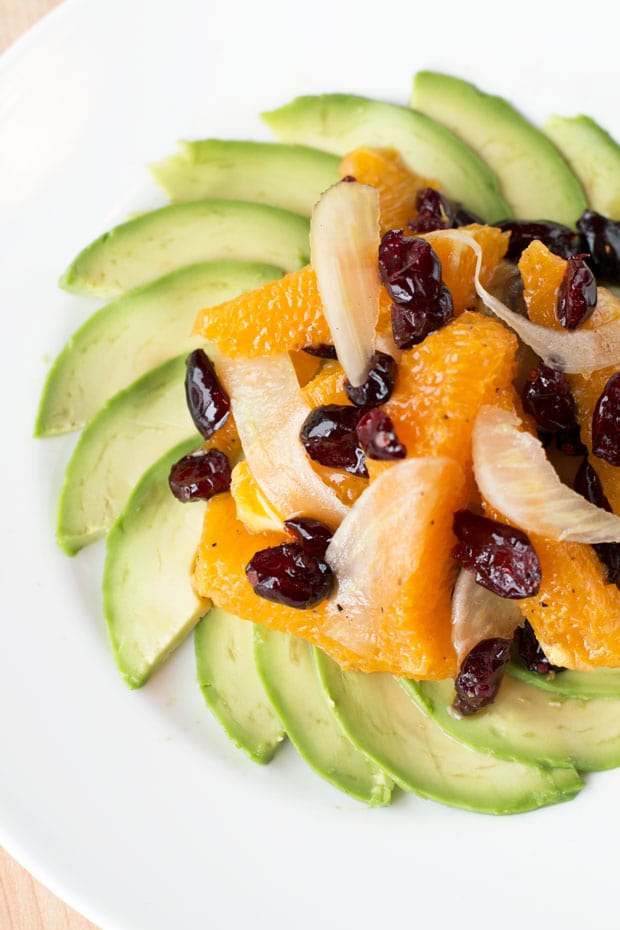 I so rarely am one to be in love with the whole salad thing. I usually opt out of getting a salad, even when it's free with a meal, because I am not a big fan of lettuce. Or kale. I think spinach is generally the only leafy green I'll actively seek out. I'm sure this isn't too much of a shocker considering how few salads I've created in the past (read: TWO salads total).
However, salads don't have to have all those leafy greens, now do they? I prefer to get my green in through different means… Avocado!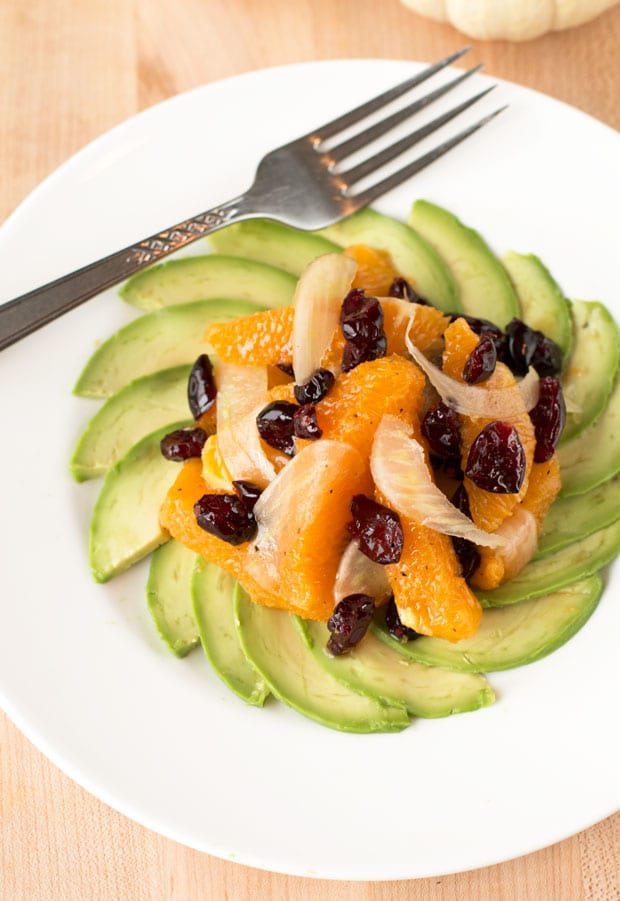 Big surprise right? The avocado fanatic wants to find more ways to incorporate avocado into her diet… Crazy!
I have been trying to find just the right salad to kick off my upcoming holidays meals. I wanted something that wouldn't be too crazy filling, but would also be creamy, tangy, a little fruity and downright addictive. Something to shake things up before diving into the classic staples we all see throughout December.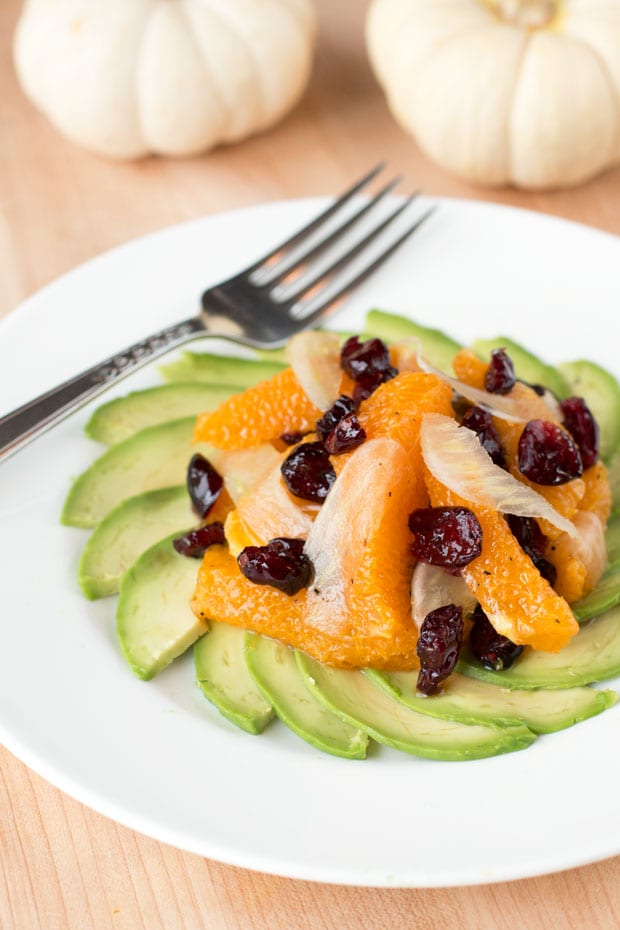 The pairing of orange, fennel and dried cranberries with the avocado is a match made in heaven. The creaminess of the avocado with the orange, fennel and dried cranberries dressed with a quick balsamic vinaigrette balances in such a glorious way. It has all the flavors you could want in a salad, except a little bit more depth with the fattiness of the avocado.
It doesn't matter what you are serving up after this avocado fennel salad, this refreshing seasonal salad goes with practically anything you can think up.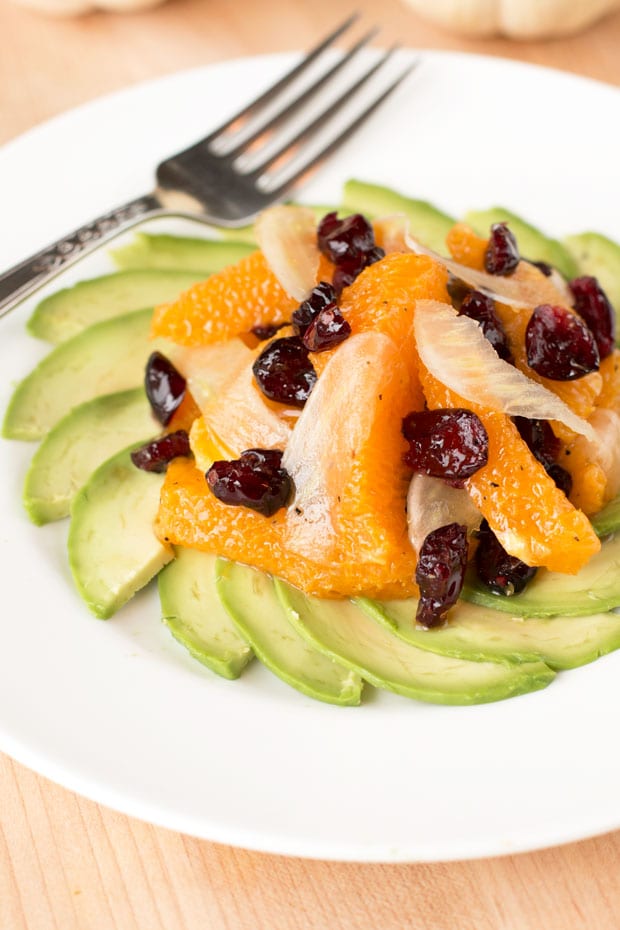 Or just make it for lunch and dig in!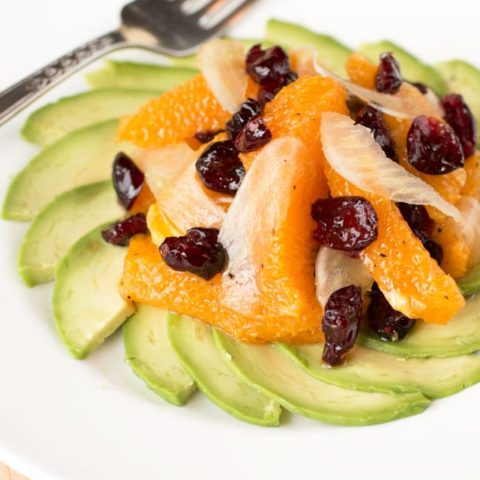 Avocado Fennel Salad
Avocado Fennel Salad is a wonderful way to start off any of your upcoming winter meals.
Ingredients
2 Avocados, Pitted and peeled
1 tablespoon Balsamic Vinegar
2 tablespoons Olive Oil
1 teaspoon Lemon Juice
1/4 teaspoon Salt
1/2 teaspoon Black Pepper
1/2 cup Shaved Fennel
1 Orange, Cut into supremes
1/2 cup Dried Cranberries
Instructions
In a small bowl, whisk together balsamic vinegar, olive oil, lemon juice, salt and pepper.
Toss fennel, oranges and dried cranberries in the vinaigrette. Arrange over the sliced avocado or avocado cut into cubes. Serve chilled.
Recommended Products
As an Amazon Associate and member of other affiliate programs, I earn from qualifying purchases.