3-Ingredient Dark Chocolate Peppermint Mousse is one of the most decadent desserts to make this holiday season, and one of the simplest to master. The smooth, rich mousse with a touch of peppermint will spread holiday cheer from ear to ear!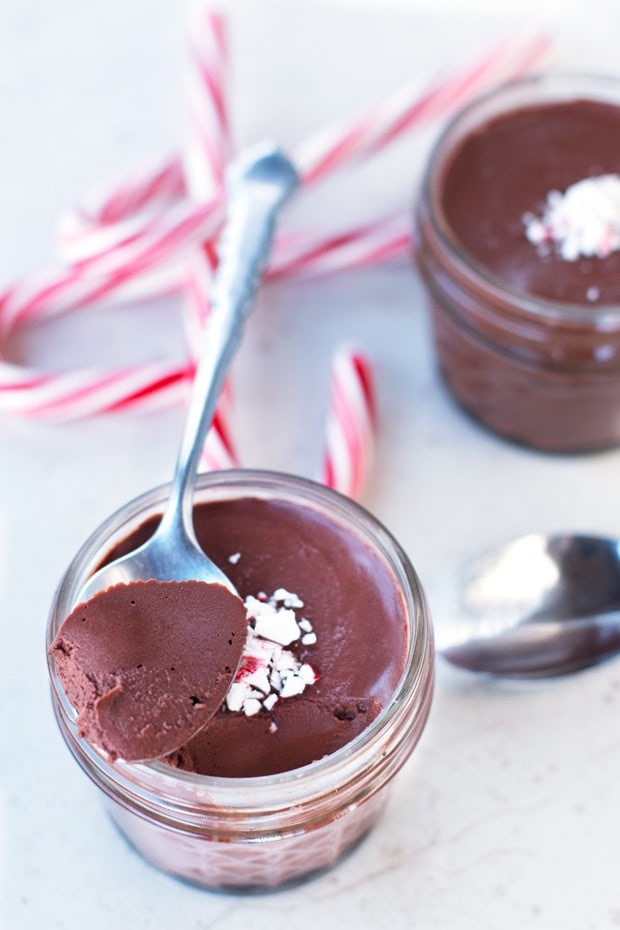 Oh dark chocolate, my ultimate weakness and best friend… We meet again.
You guys, this mousse. It's like Christmas crack in a tiny jar.
All you want to do when you eat it is snuggle up under a blanket next to the Christmas tree, blast Christmas music and sink into a giddy land where elves and reindeer are everywhere.
This is exactly how I get into the holiday spirit nowadays. I mean, if chocolate can't do it, not much else can…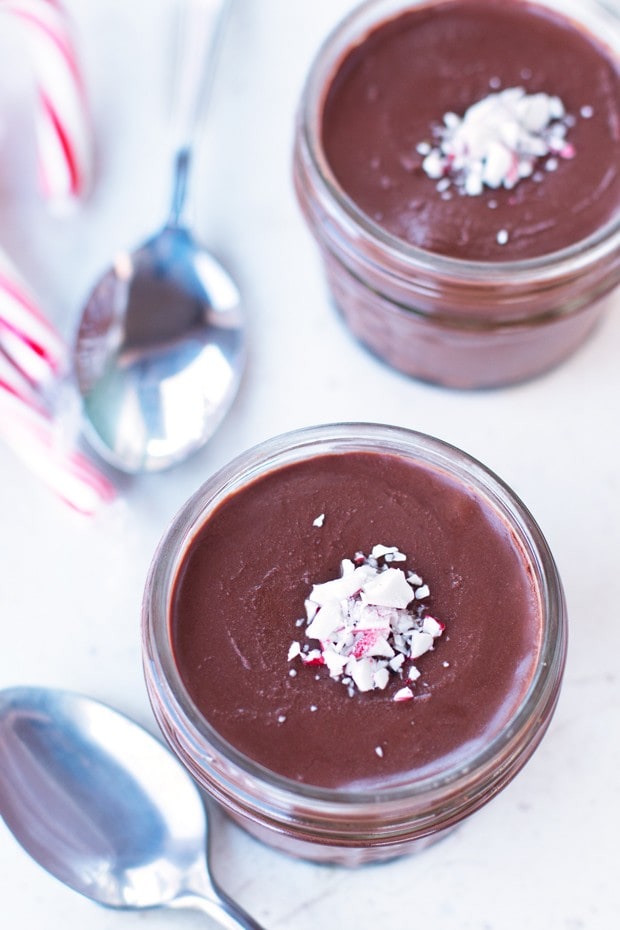 When I think fancy dinner party, my head always jumps to chocolate mousse for dessert. It's sad that no one makes it anymore, but I'm guessing they probably don't know about this cinch of a recipe!
The simplicity of this recipe is almost ridiculous. Only three ingredients and in about 5 minutes you have a rich, silky mousse that tastes like it's straight out of a fine dining restaurant.
No one will believe how easy this recipe is.
Really I should be hoarding this to myself so none of my family and friends know just how simple it is to make when I inevitably serve it at my next dinner party…
Alas, such is the life of a food blogger. I'll take this one for the team just so YOU can keep it a secret and become a rock star.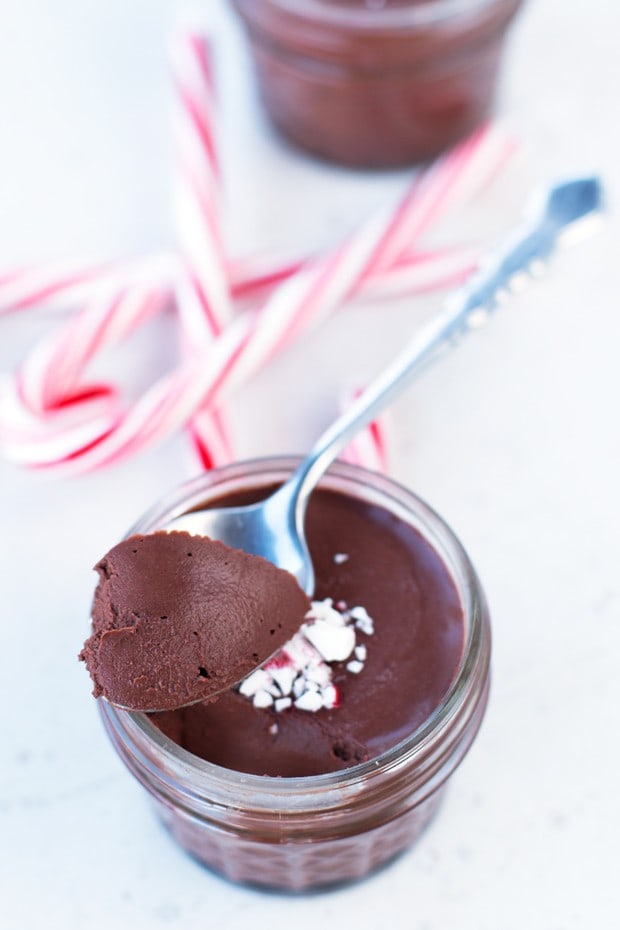 It's silky, it's smooth, it's rich. Everything you could ever want from the perfect chocolate mousse.
Just look at that gorgeousness… GAH.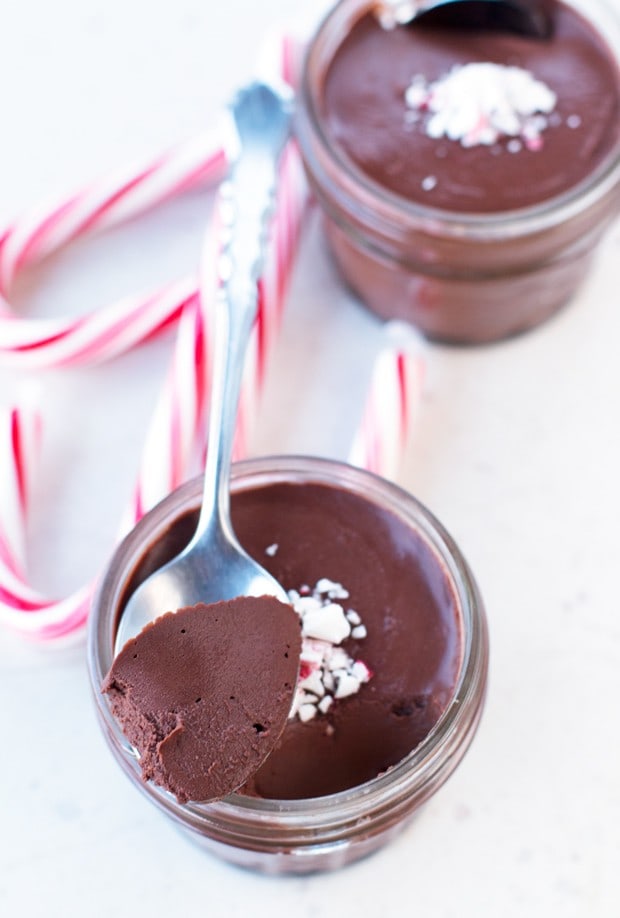 Excuse me while I whip up another batch just for lil' ol' me… Yea, I'm not sharing. #sorrynotsorry
Fun Idea: Make these as little take home gifts for cocktail parties or for dinner parties so your friends can keep it going even after the party is over!
This Recipe's Must Haves
Pin this 3-Ingredient Dark Chocolate Peppermint Mousse recipe for later!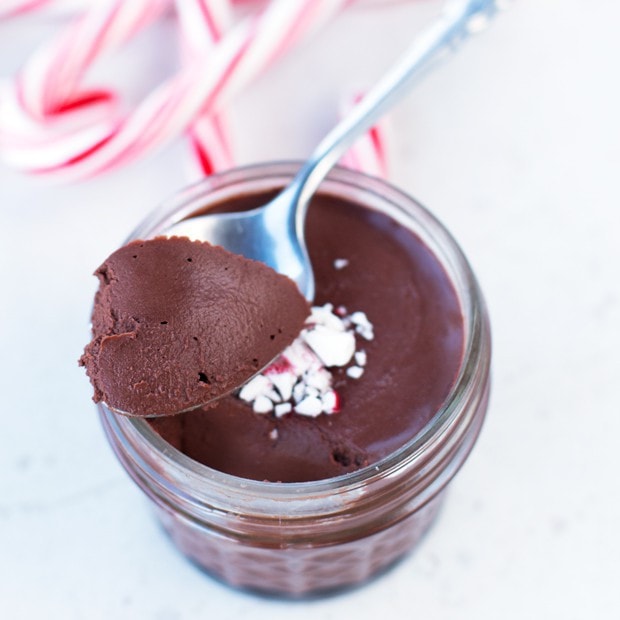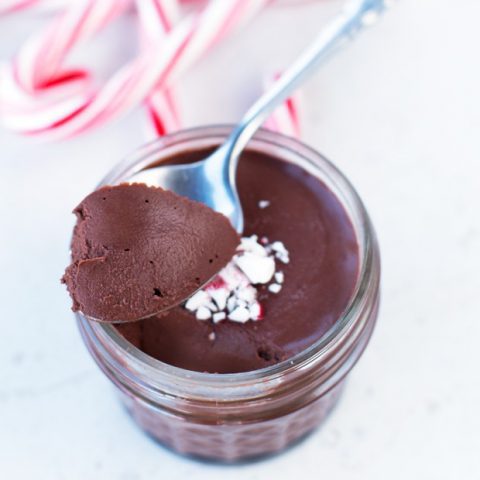 3-Ingredient Dark Chocolate Peppermint Mousse
The simplest holiday dessert bursting with rich dark chocolate and fresh peppermint flavor!
Ingredients
1 1/8 cups water
10 oz high quality dark chocolate
1/3 tsp peppermint extract
Instructions
Fill a large bowl with ice water. Place a medium bowl that fits just into the large bowl into the ice water bath. Set aside.
In a medium saucepan over medium heat, melt the dark chocolate, peppermint extract and water, stirring occasionally until melted completely.
Pour the melted chocolate mixture into the medium bowl resting in the ice bath. Whisk the chocolate mixture until it becomes thick, taking care not to over mix as it'll become too stiff and grainy. You'll feel the resistance as soon as it becomes thick; stop there.
Transfer the mousse into 4 small bowls. Serve immediately or chill in the refrigerator until ready to serve.