Please note this post contains affiliate links.
A Short Rib Mexican Skillet Pie is my kind of comfort food combination. Flavorful chipotle short ribs are made in the electric pressure cooker, then use in a layered skillet of ooey gooey spicy perfection. It's rich, bold, and downright warming!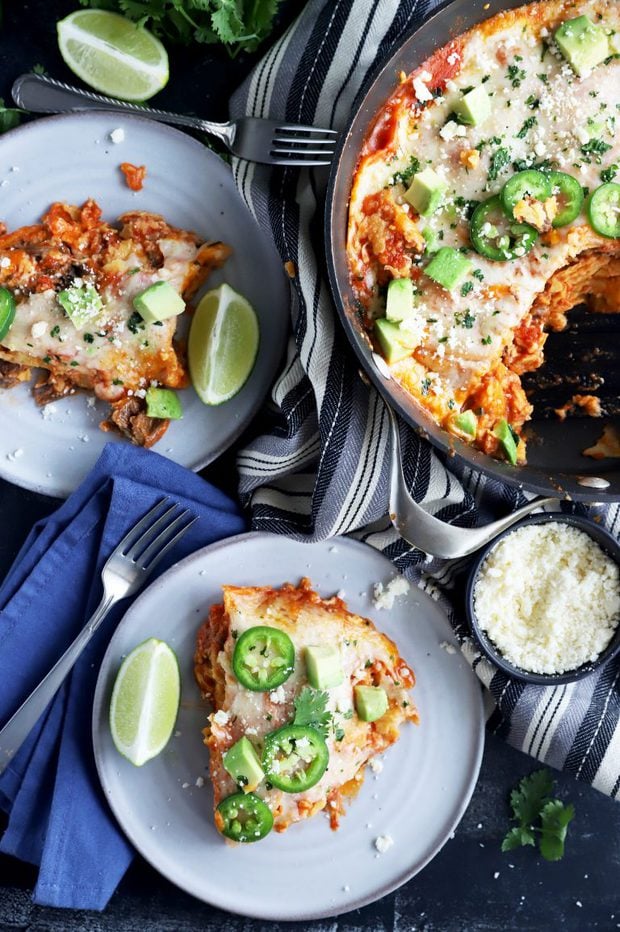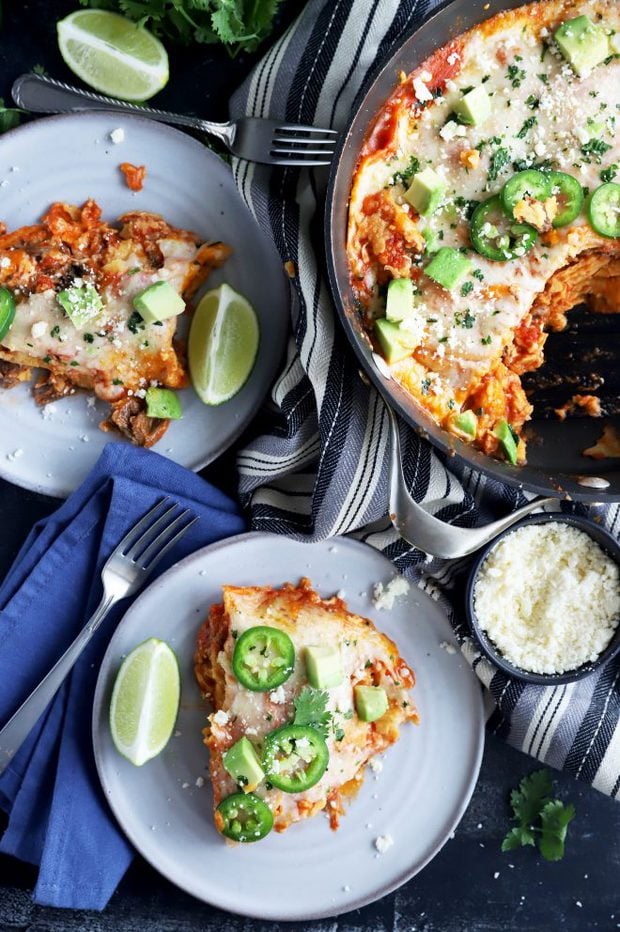 I LOVE cooking with short ribs. While you can occasionally find me braising them, I usually like to enjoy them straight out of the Instant Pot (or whatever electric pressure cooker you happen to have).
To me, they are the ideal food to serve in the winter because of how hearty and flavorful they are. They also lend themselves to so many of my favorite flavors, chipotle in particular as you'll see in this recipe.
This skillet pie is one that you will want to make over and over again. The blend of homemade short ribs, a flavorful spicy sauce, and cheese, all piled between layers of tortillas… It's simple irresistible!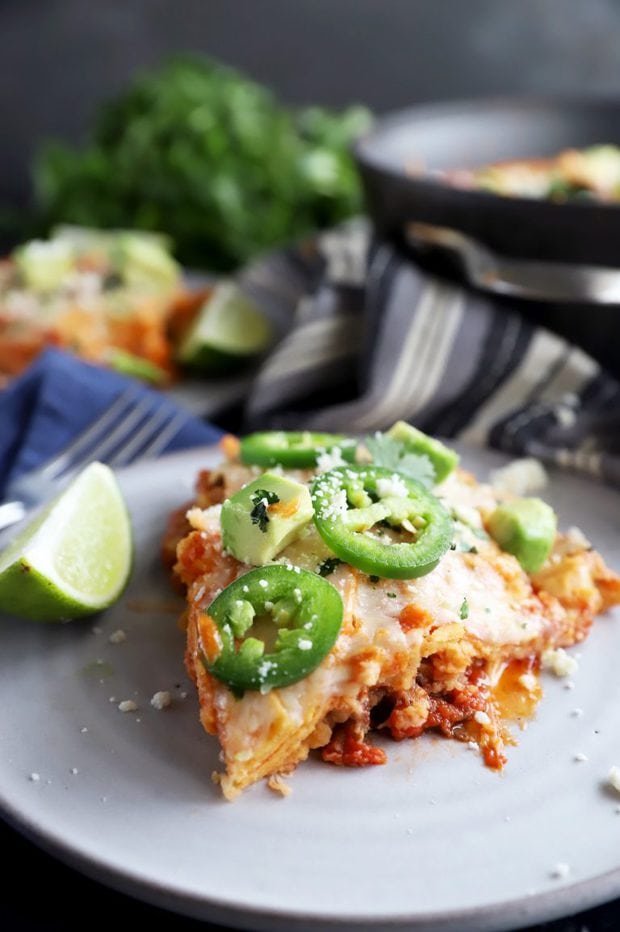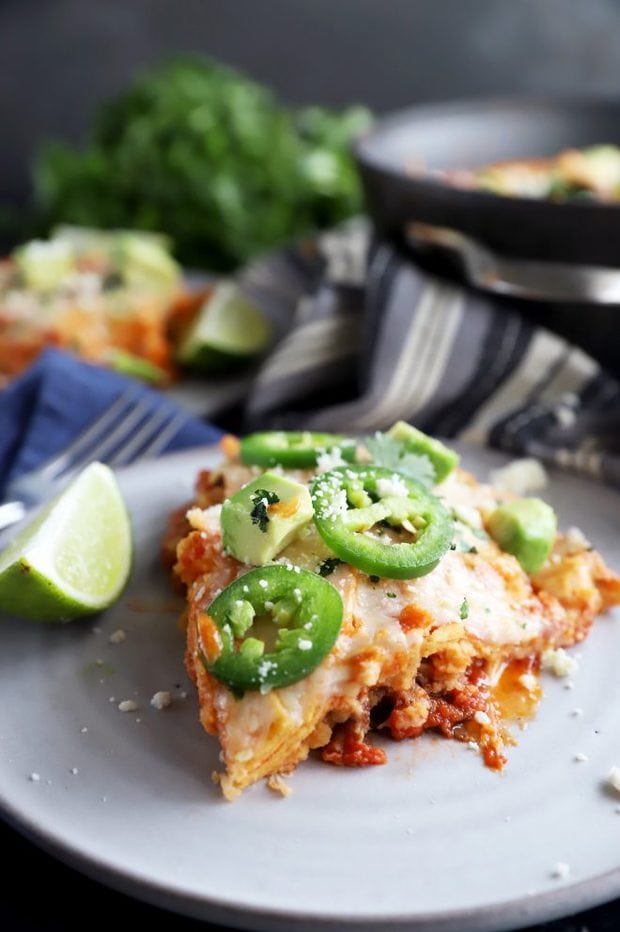 You can even make the short ribs ahead of time, so it's easier to make in the middle of the week. I like to make the short ribs to day before, then put together the pie for dinner on a busy weeknight.
Though this is one of my more complicated recipes, the steps you take to make the homemade short ribs and homemade sauce really make a difference in the final product.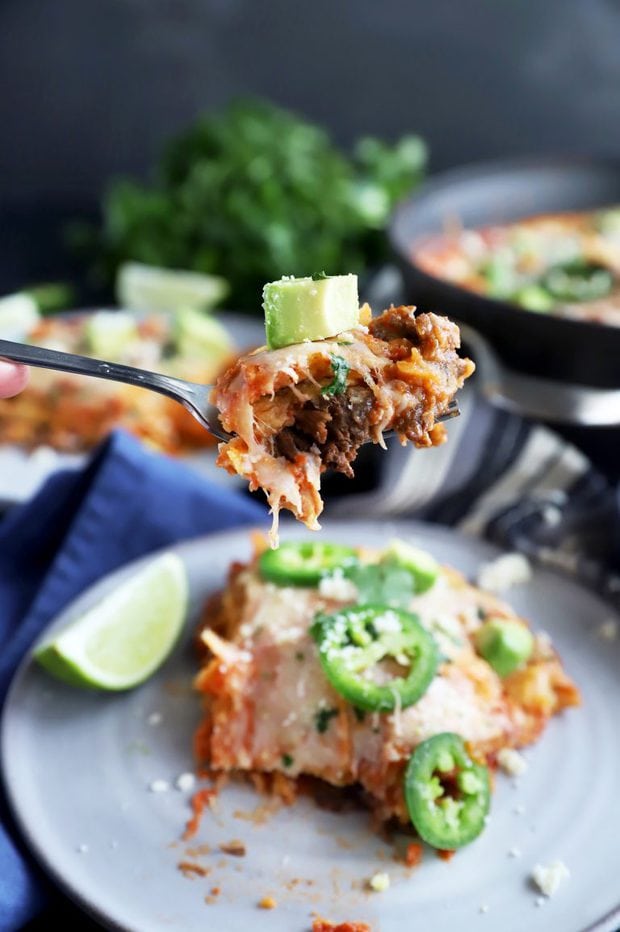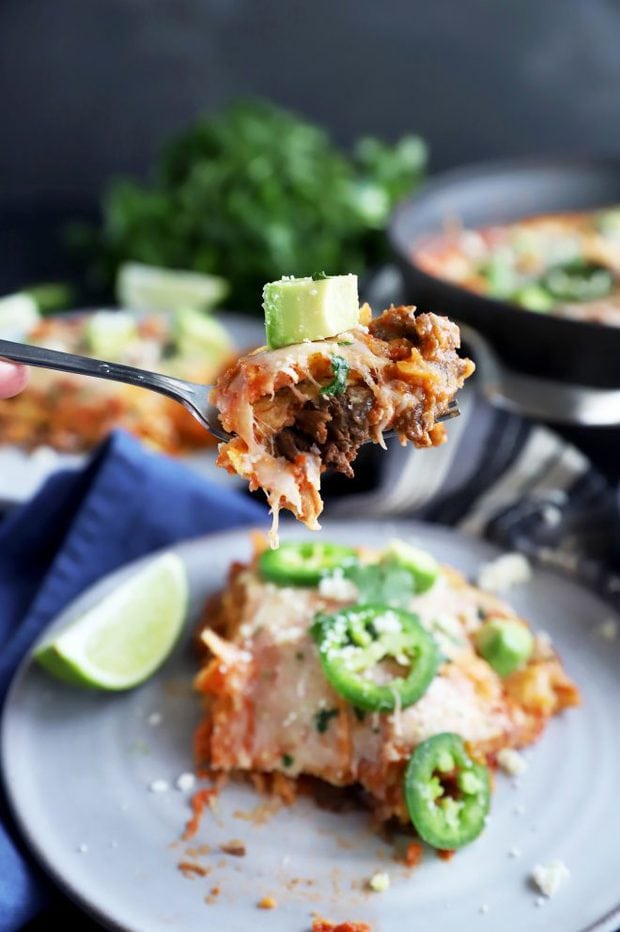 I also like to throw some slices on jalapeno on top. You know, because things can never be too hot, right?
Pro tip: if you REALLY love spice, be sure to taste the sauce first before using it. Then, if you want more heat, stir in cayenne pepper 1/4 teaspoon at a time. I personally like to add more for the Man and I, but we like a heavy hand of spice. The recipe as is lands around a medium to mild on the heat scale.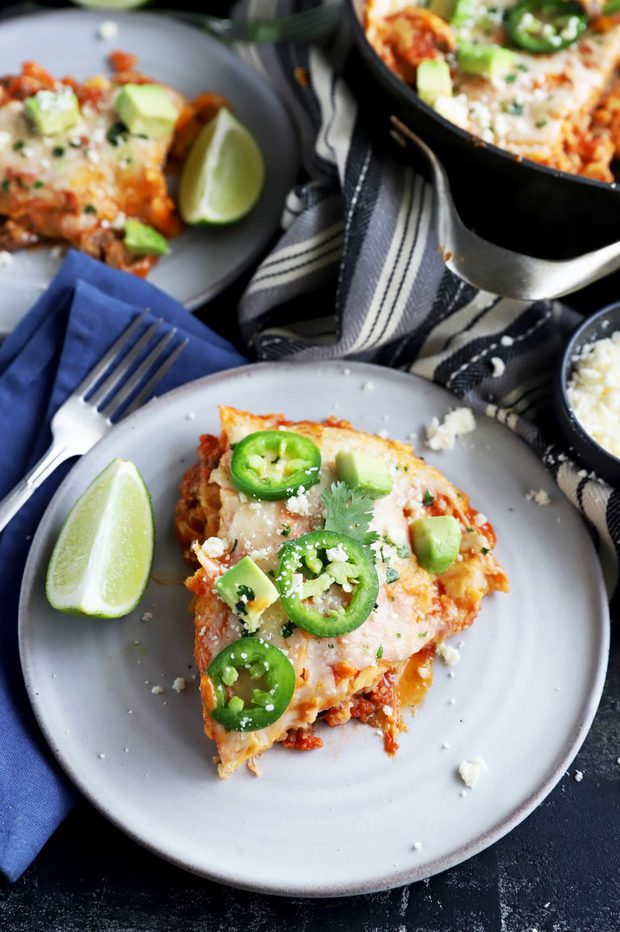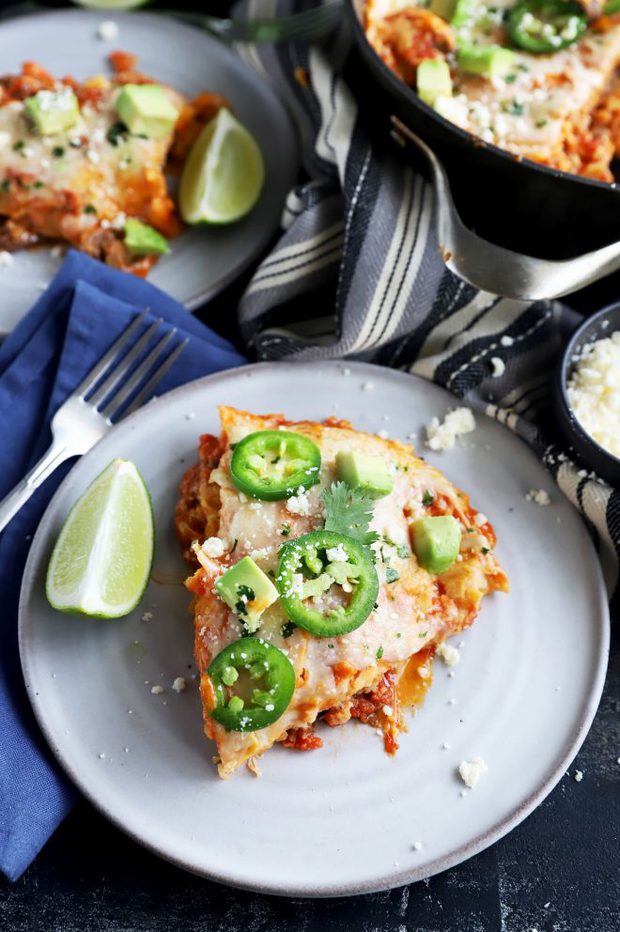 This Recipe's Must-Haves
To prep all the ingredients for this recipe, make sure you have a chef's knife and cutting board handy!
The short ribs come together quick and painlessly in an electric pressure cooker. My personal favorite to use is the Instant Pot Ultra (trust me, I have tested all the models!).
For the remainder of cooking, you will need a nonstick skillet and a Lodge cast iron skillet. The nonstick skillet is for cooking up the flavorful onions for the sauce. The cast iron skillet is what you will need to bake the entire pie up in!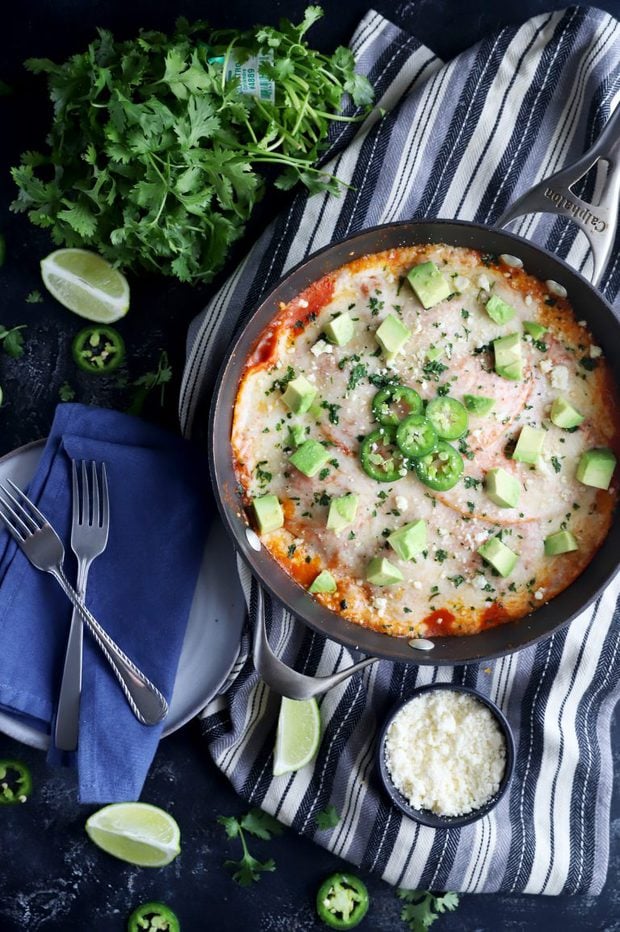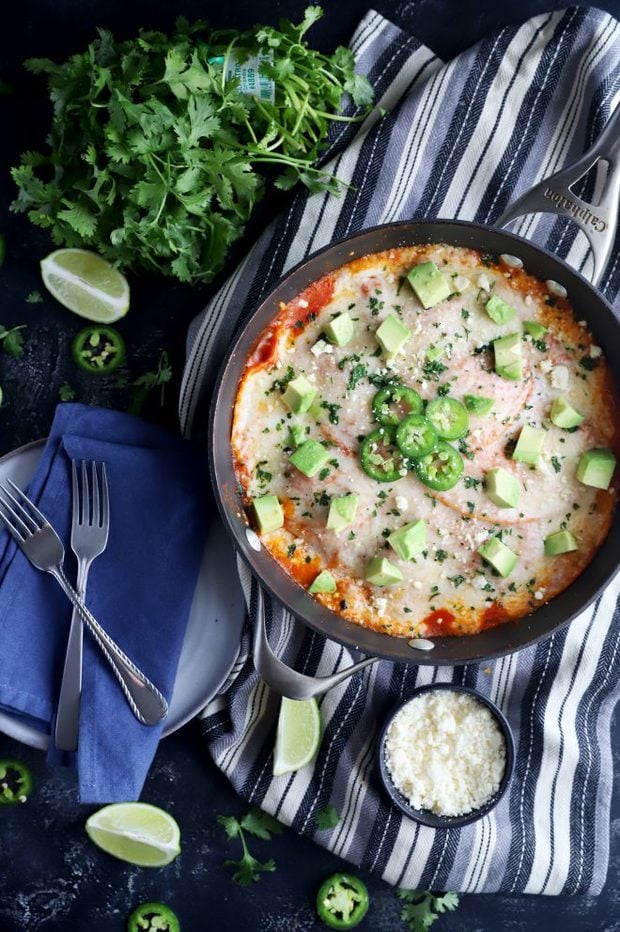 How To Make Skillet Pie
Cook Short Ribs
Cooking the short ribs in an electric pressure cooker like an Instant Pot is my favorite way to cook shorts ribs to be fork tender in a minimal amount of time. The short ribs get browned on all sides, then the vegetables are cooked down. Everything gets added back to the insert and then cooked for 50 minutes on High manual pressure.
The short ribs should be tender enough to shred with a couple of forks, making it the best meaty filling for the skillet pie.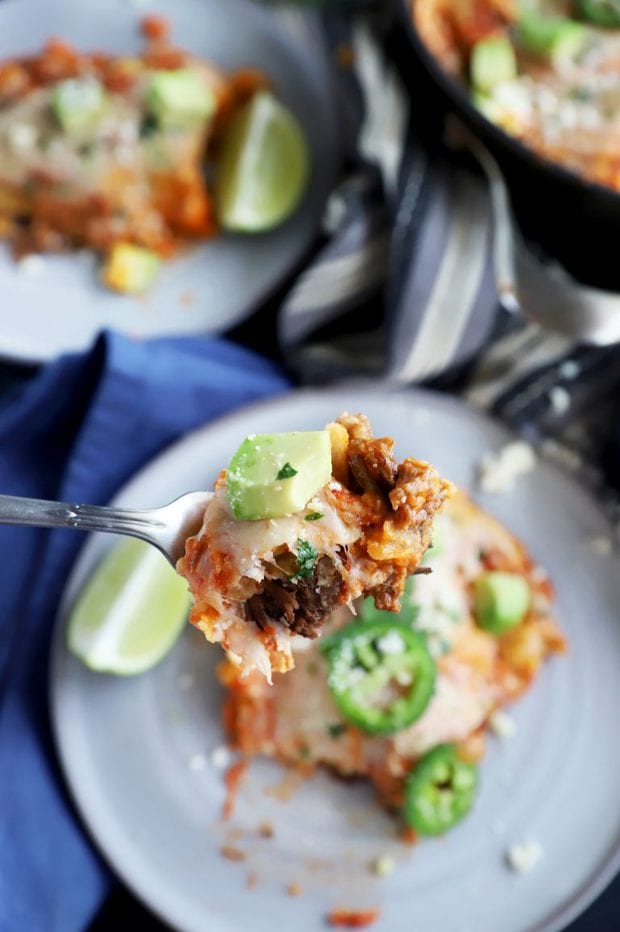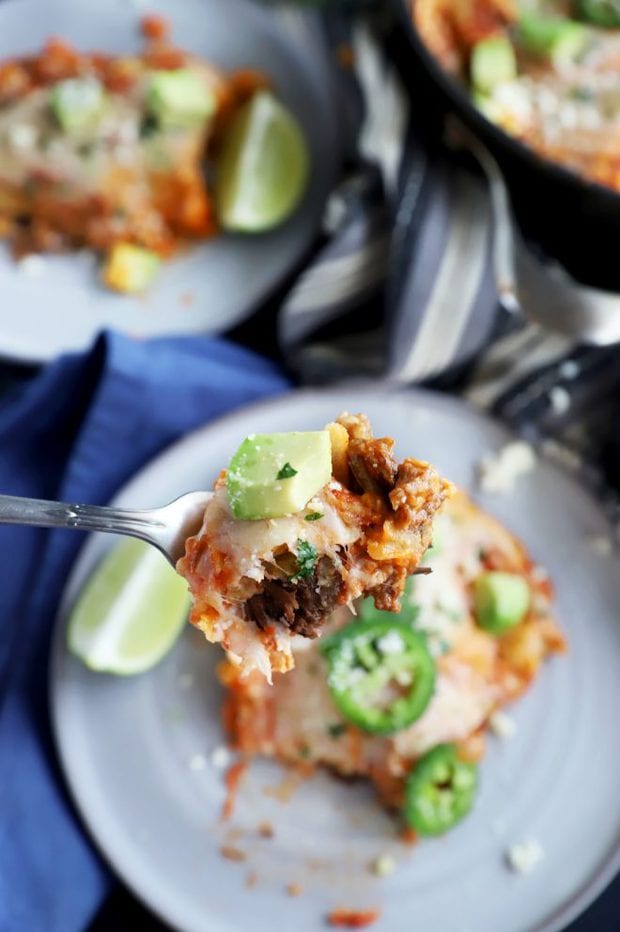 Make Sauce
The sauce is one of the key elements to the recipe, just like the short ribs! The sauce is filled with onion, spices, chicken broth, and tomatoes. It's rich, savory, and full of bold flavor. All you have to do is cook it up over the stove and then puree it until it's nice and smooth.
Assemble
To assemble, we layer all the things! Tortillas get a quick dip in the sauce, then a layer is added to the bottom of a skillet (cast iron is my preference, but it can be any ovenproof skillet that's 9-inches in diameter). These are topped with short ribs, cheese, and sauce.
The layers are repeated, then finished off with a final layer of tortillas, sauce, and cheese.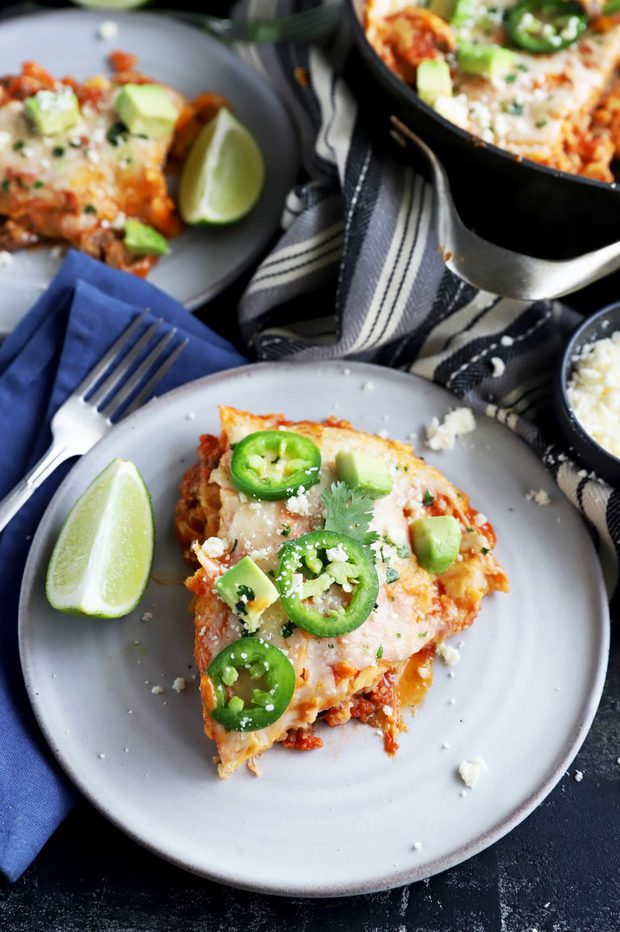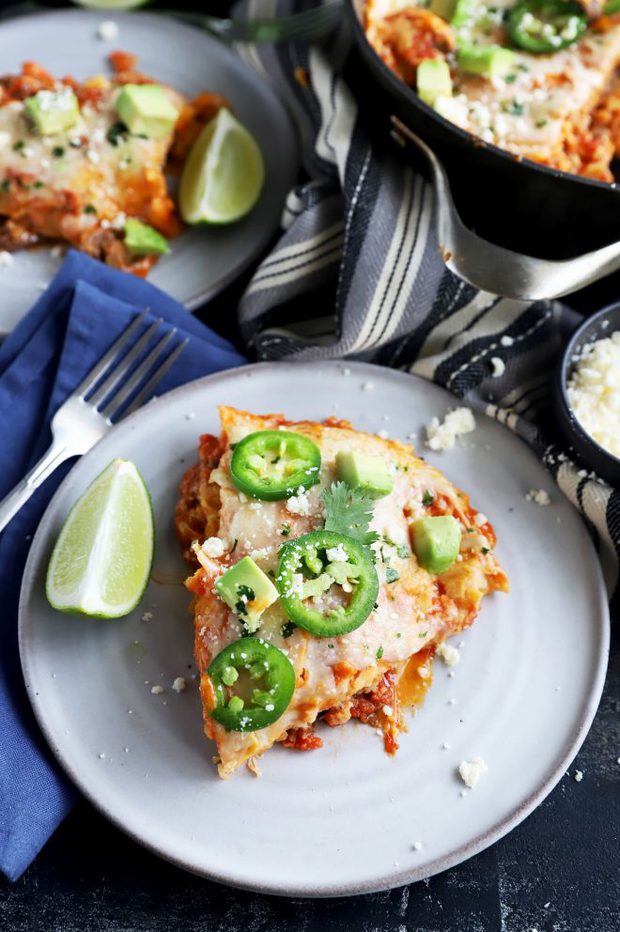 Bake
After that, it's time to bake. The whole thing gets gooey and cheesy, so it's warm and comforting straight out of the oven.
Top it all off with cilantro, crumbled cheese, and chopped avocado before serving!