Please note this post contains affiliate links.
Chocolate Peppermint Pots de Creme are my new favorite holiday indulgence. Creamy, rich and full of chocolatey peppermint flavor, these little jars of deliciousness will have everyone in the holiday mood!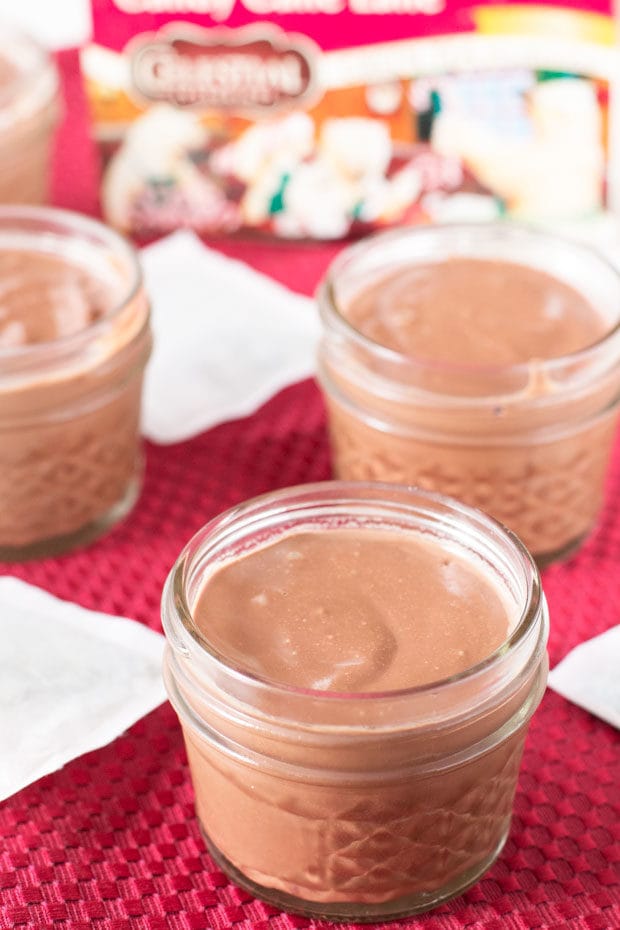 I am literally going insane waiting for the day after Thanksgiving…
I try all November long to resist the urge to fall into Christmas mode. I try to resist the call of Christmas music, the twinkle of lights and the temptation to decorate the entire house in everything Christmas.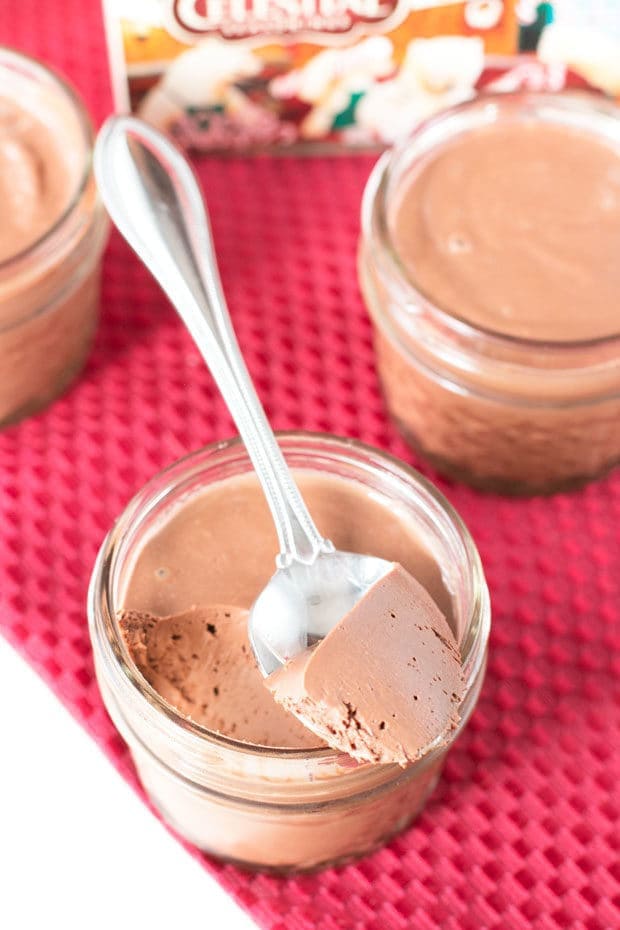 It's always been a tradition for me to wait until after Thanksgiving to start the Christmas obsession. On Black Friday, you will not find me searching deals in stores and trying to shop shop shop until I drop.
Instead you will find me in my pajamas, eating leftovers, listening to Christmas music, setting up the tree and enjoying my first sip of eggnog for the season.
This year though, I couldn't resist the urge to get into the Christmas spirit until after Thanksgiving. It's just too darn tough to put it off! So instead I am indulging a little early in the holiday magic with the magic of tea.
Celestial Seasonings tea to be specific.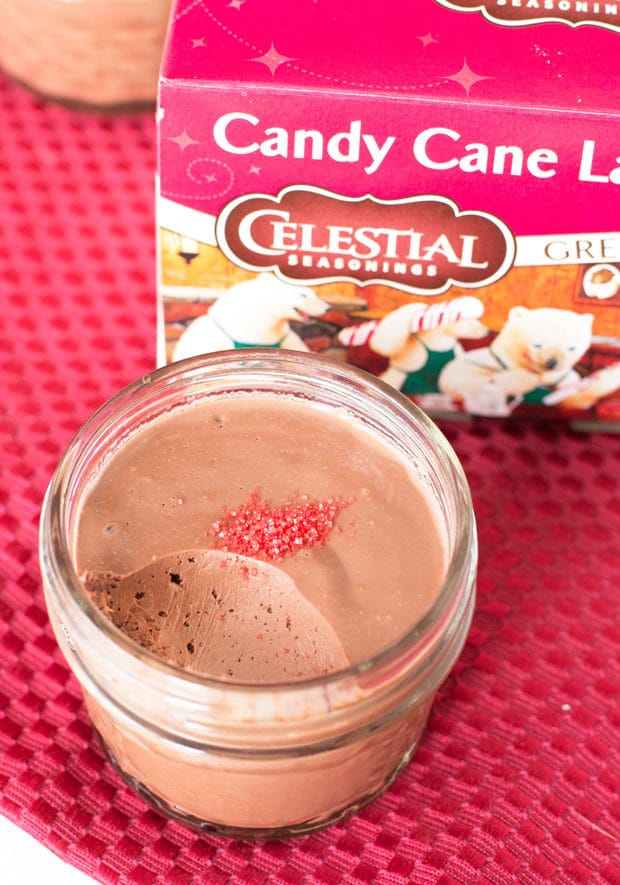 Do you know how easy and how AMAZING putting tea in desserts is? Especially custard-based desserts like these chocolate peppermint pots de creme.
Peppermint tea is one of my holiday must-have's that I tend to stretch throughout winter, because why the heck not.
Celestial Seasonings has this Candy Cane Lane peppermint tea that tastes like a warm peppermint stick melted into a hot mug of goodness. I steep the tea bags in the custard base for this dessert and it seriously pushes the flavor over the top.
Nothing else will have you saying "Tis the season" like this dessert will.
You get even more style points if you serve it up in these cute little mason jars. Plus it makes them portable so you can bring them along to your next holiday get together to really knock the socks off of everyone you know!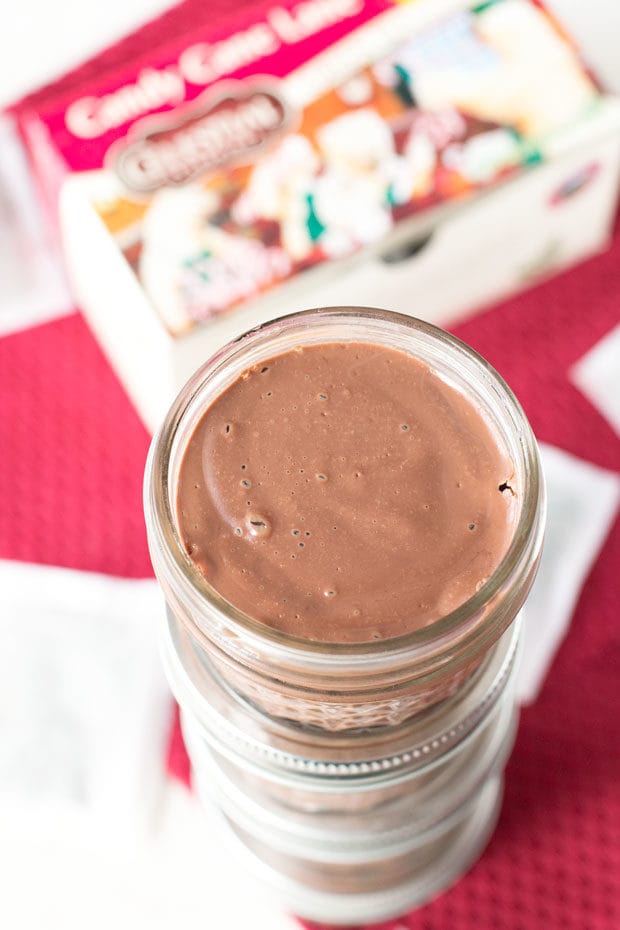 Disclosure: I received free product and compensation from Celestial Seasonings as part of this post. As always, all opinions and recipe are my own. Thanks for supporting the brands that support Cake 'n Knife!
This Recipe's Must Haves
Pin this Chocolate Peppermint Pots de Creme recipe for later!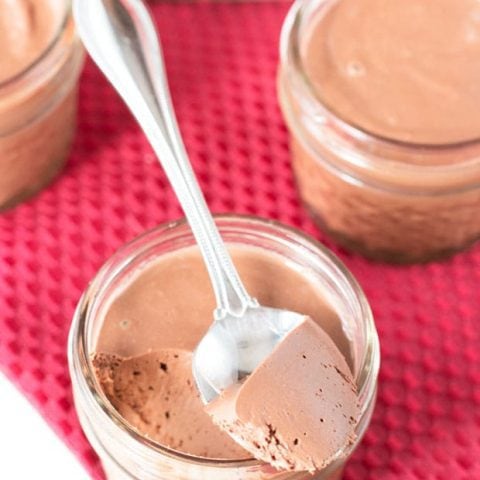 Chocolate Peppermint Pots de Creme
Total Time:
2 hours
10 minutes
The classic chocolate and peppermint combination is perfect for the holidays!
Ingredients
1 1/2 cups whole milk
1 cup heavy cream
6 large egg yolks
6 Tbsp granulated sugar
1/4 tsp salt
6 Celestial Seasonings Candy Cane Lane tea bags
10 oz high-quality semi-sweet chocolate, chopped
Instructions
In a medium saucepan, combine milk, heavy cream, egg yolks, granulated sugar and salt. Whisk to combine and add tea bags. Cook over medium heat, stirring constantly, until the mixture is thick enough to coat the back of a spoon.
Add chocolate to a blender.
Remove tea bags from the milk mixture and pour the hot liquid over the chocolate in the blender. Blend until smooth.
Divide the chocolate mixture between 6 servings cups (you can use ramekins or mini mason jars here). Refrigerate for two hours before serving.