Please note this post contains affiliate links.
This Raspberry Chocolate Croissant French Toast Bake is how I bring a little bit of Parisian pastry into my weekly breakfast routine. Using croissants makes for a flakier French toast casserole, and the pops of fruit and chocolate send it over the top! You can make it the same day or let it chill overnight, then bake tomorrow morning.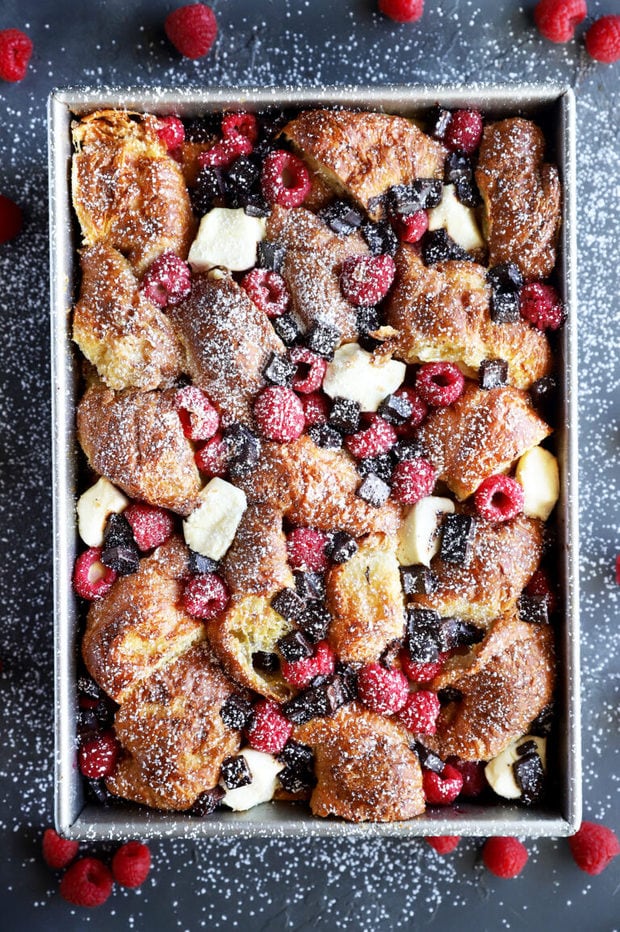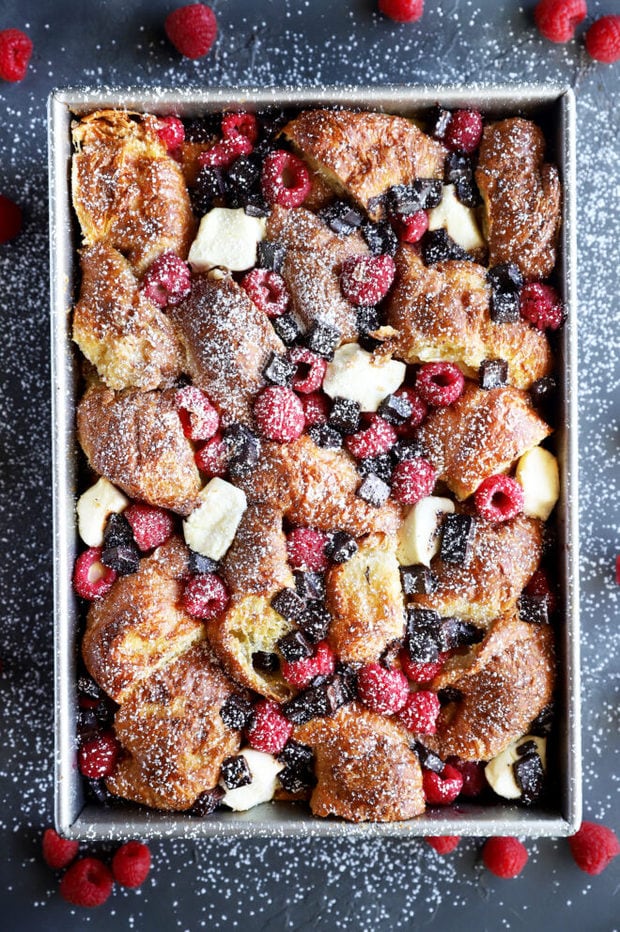 Want to really treat the family to a killer weekend brunch for Valentine's Day? Or maybe you just want to make a tasty casserole to eat all weekend long with your special someone?
This raspberry chocolate croissant French toast bake is eve-ry-THANG.
It's got tasty fruity berries. There's a hit of dark chocolate goodness. The flaky pastry is to die for.
Oh and did I mention it all comes together in just 10 minutes?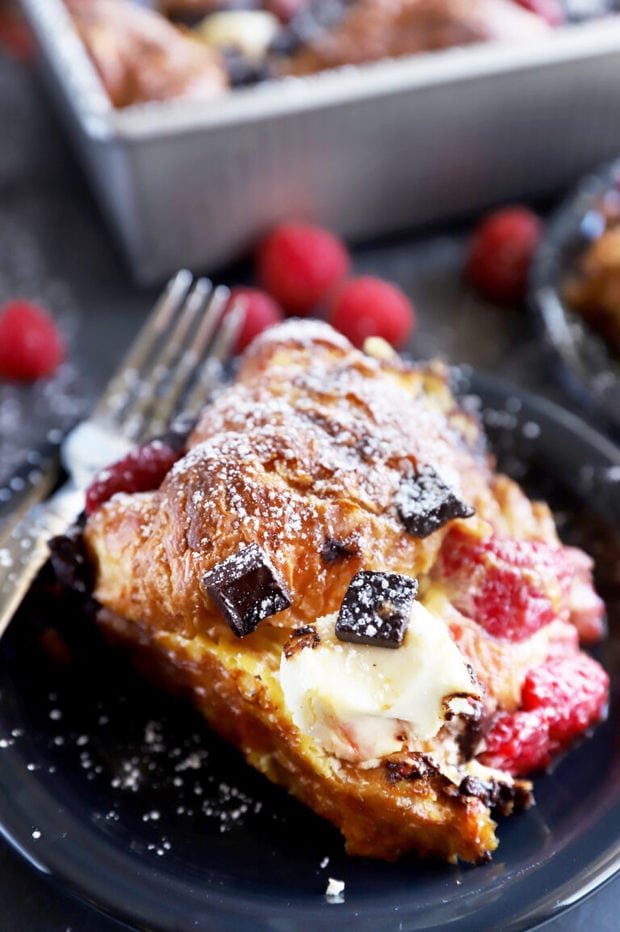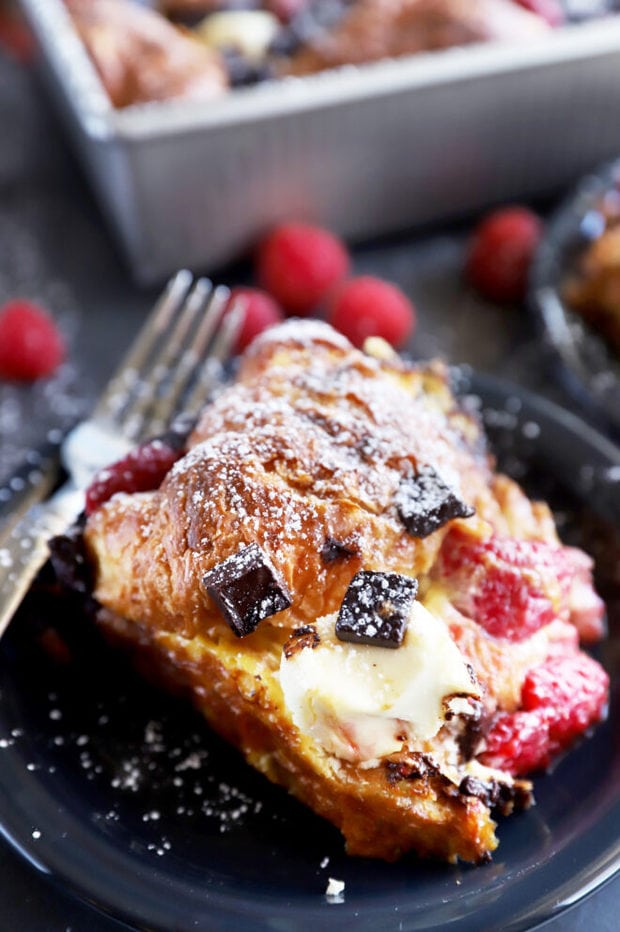 This recipe is actually inspired by a recipe that I made for my bestie's birthday weekend last year. The recipe I made was a little bit different, but everyone LOVED it so I had to make it into my own version, you know?
The flaky pastry is just the BEST for French toast. I already LOVE croissants, so I'll find any excuse to use them. But something about them in French toast… it's just so much more FRENCH. HA!
It's perfect for Valentine's Day weekend, because you can continue your special night straight into the weekend with this. The recipe is so stinking easy to make! In just 10 minutes it's ready to chill, then bake.
Who doesn't want to wake up to warm croissants with cream cheese, tart raspberries, and dark chocolate in the morning with their coffee?
If you say you don't, YOU ARE A MONSTER. 😉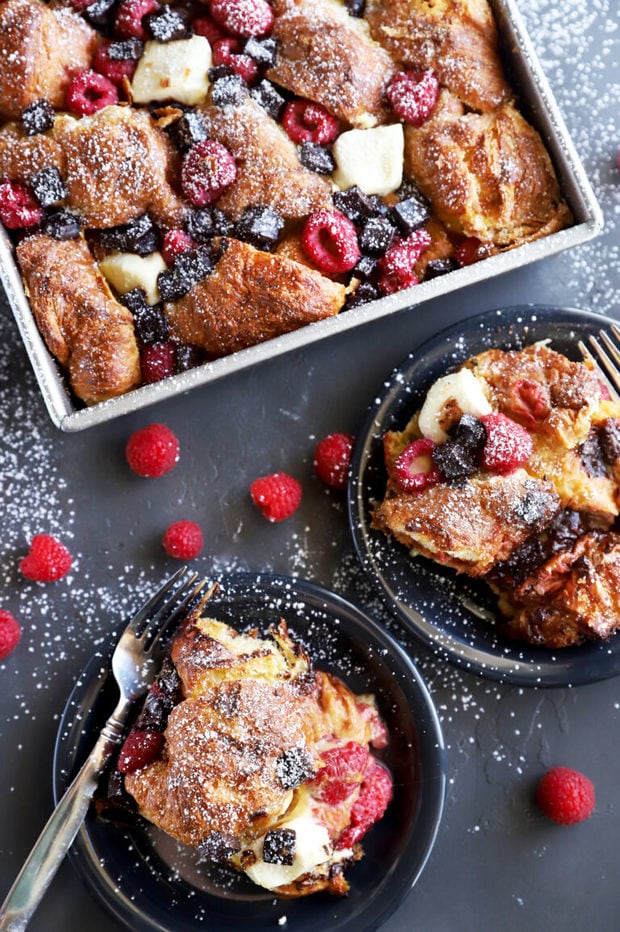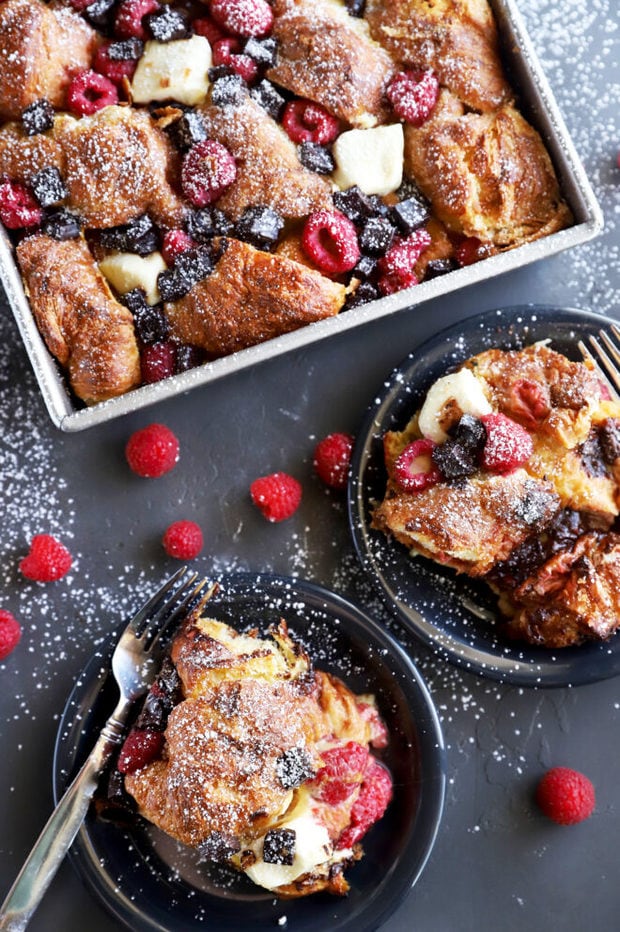 This Recipe's Must-Haves
To prep the ingredients for the recipe, you'll need a chef's knife, cutting board, whisk, and mixing bowls.
For baking, all you need is a 9-inch by 13-inch cake pan!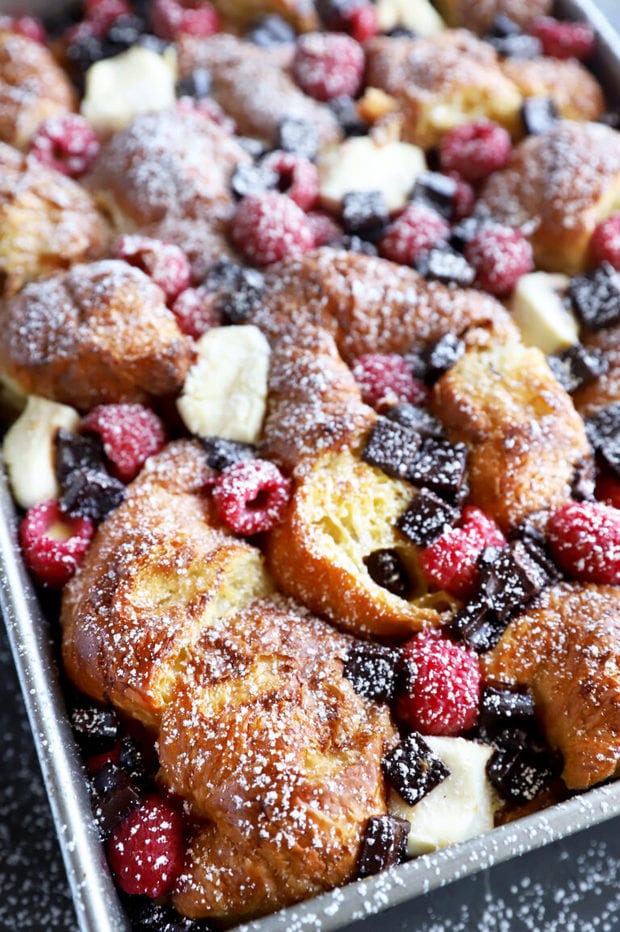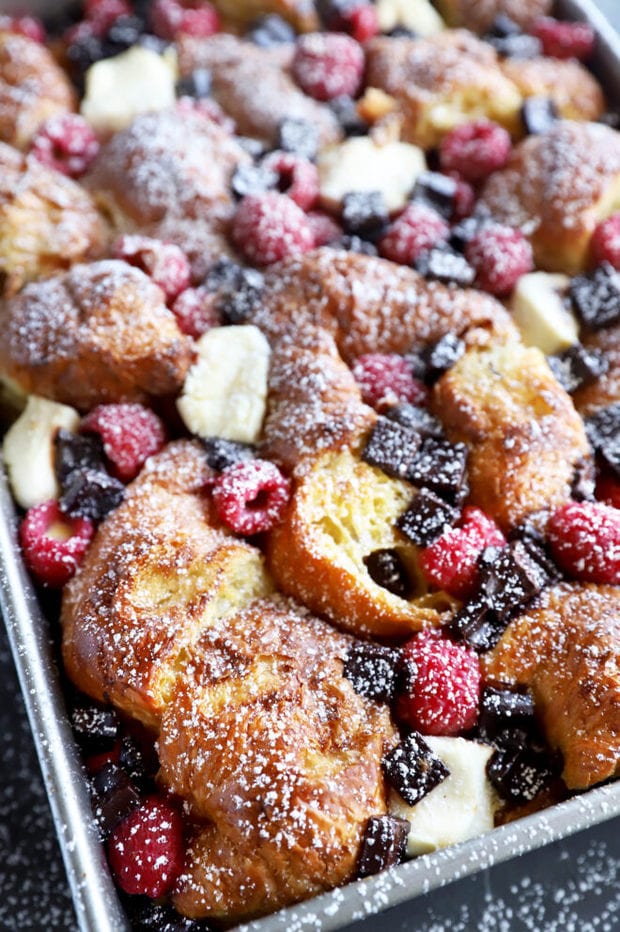 Here's How To Make Croissant French Toast Bake
Cut Up Those Croissants
All of the croissants need to be cut in half. This is the easiest way to get the bread in there and still maintain the flakiness of the croissants.
Layer, Layer, and Layer
A layer of half the croissants is topped with half the cream cheese, raspberries, and chocolate chips. This is repeated one more time so you get all the different flavors in every single bite!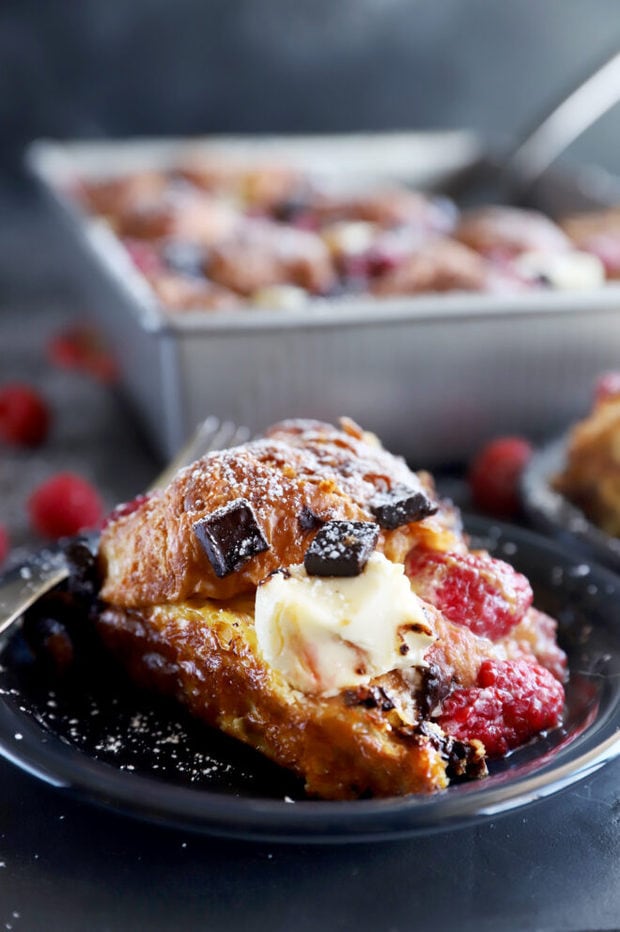 Make The Liquid Mixture
The liquid mixture that you pour over is made up from eggs, milk, vanilla, and salt. SUPER EASY. Just whisk it all together and then pour it over the assembled French toast bake.
Chill, Then BAKE
Cover the pan with aluminum foil and chill for at least two hours. You can also chill it overnight! Then it gets baked up for a little over an hour. I know it is a bit of waiting with the chilling and the bake time, but when you don't have to do anything else, you can spend that time sleeping or relaxing with your special someone.
Need inspiration for morning yumminess? Check out my breakfast/brunch recipe page for some tasty ideas.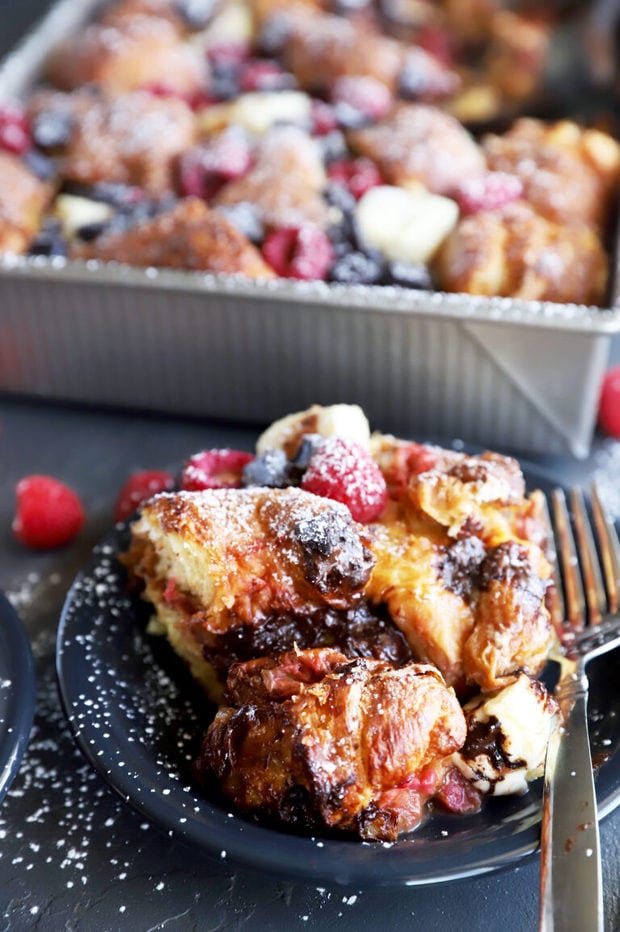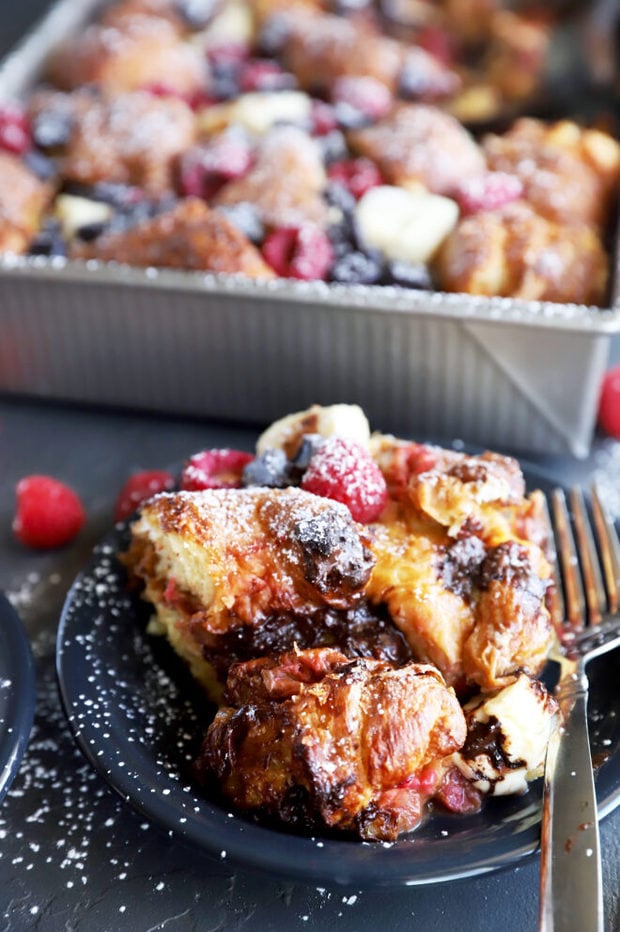 FAQs
Can I make it in advance?
Yes you can! This bake can be refrigerated overnight so you can actually make it the night before.
Can I freeze it?
This recipe can be made and then frozen for a later time if you need to. Simply bake according to the recipe, then cool completely. Once cooled wrap the ENTIRE PAN in two layers of plastic wrap and one layer of foil. Freeze for up to three months!
To reheat, thaw in the fridge overnight, remove plastic wrap and foil, cover and bake for 20 minutes until completely heated through.
Is there a way to make it dairy-free?
There sure is! To make this dairy-free, simply use dairy-free milk of your choice in place of the whole milk.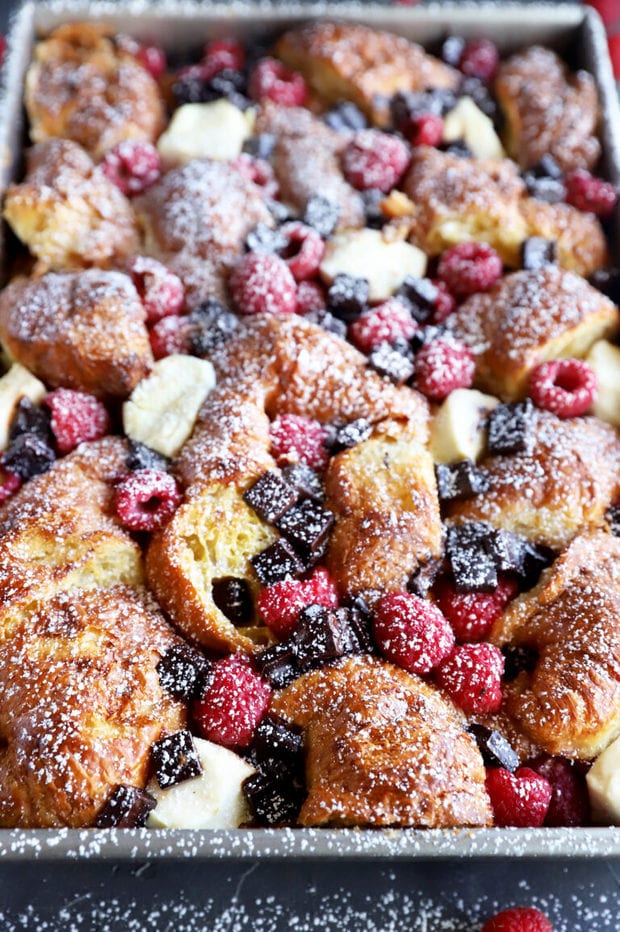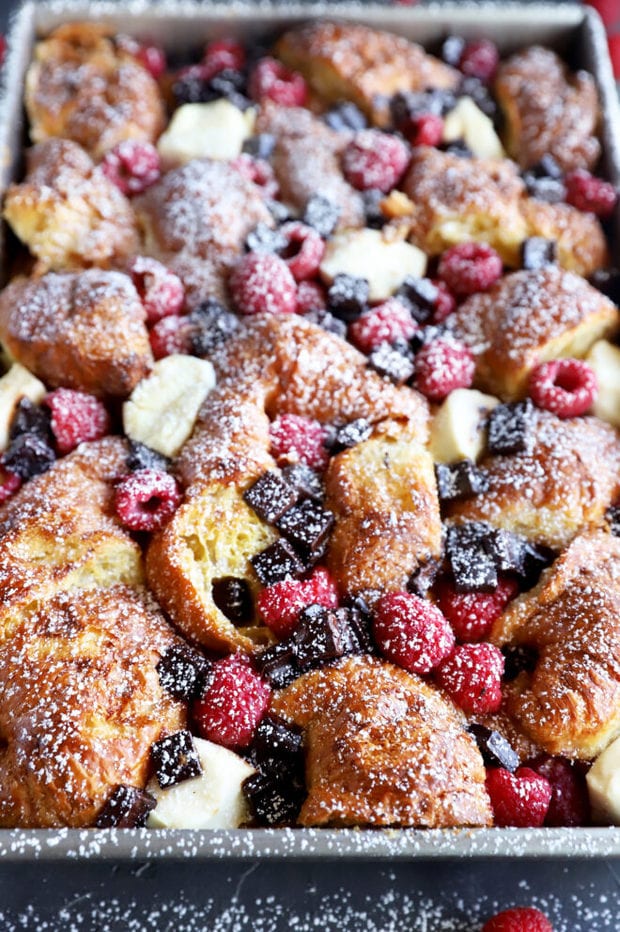 Make It Your Own!
• Want to make it extra berrylicious? You can use raspberries and blueberries, splitting them evenly. Blackberries and strawberries are also awesome! Just make sure you have the total 3 cups in berries, and if you use strawberries, be sure to chop 'em up.
• If you don't love dark chocolate, it's all good! Use milk chocolate chips or even white chocolate chips instead.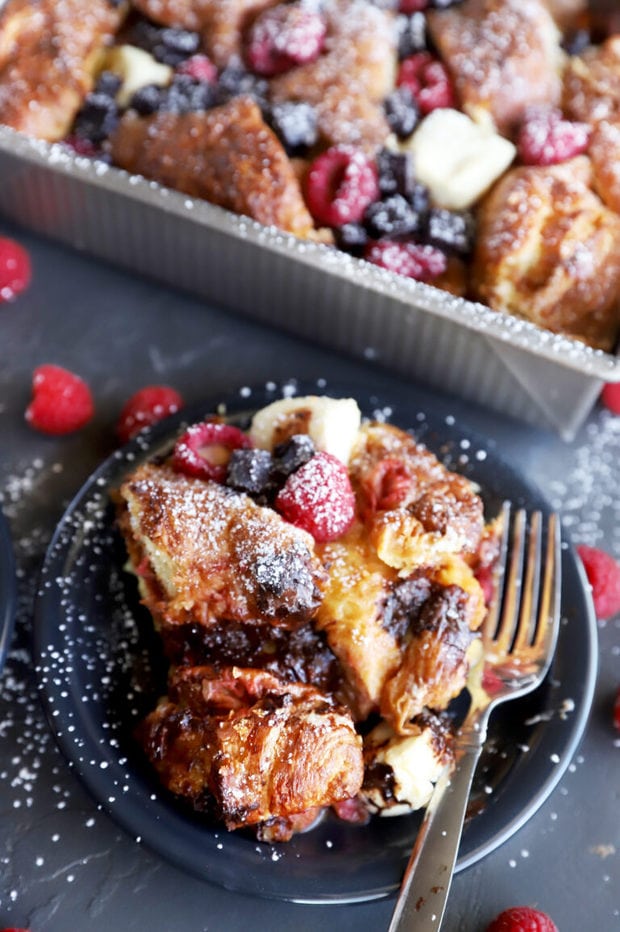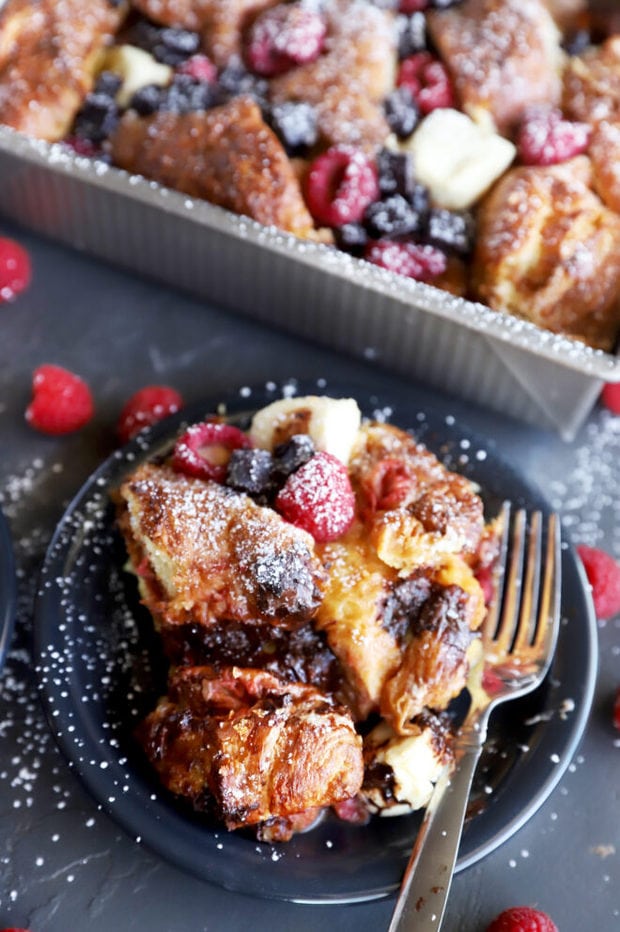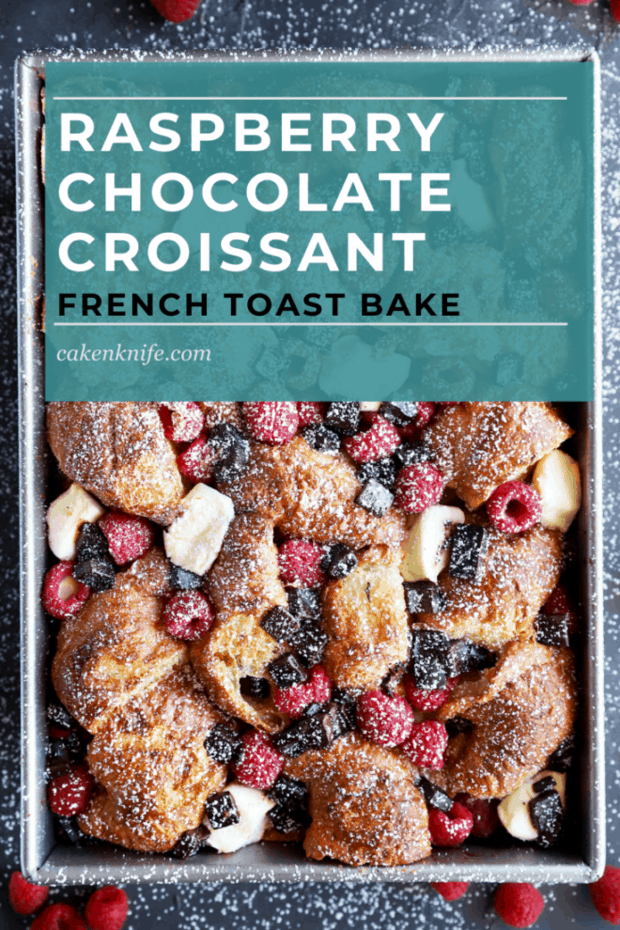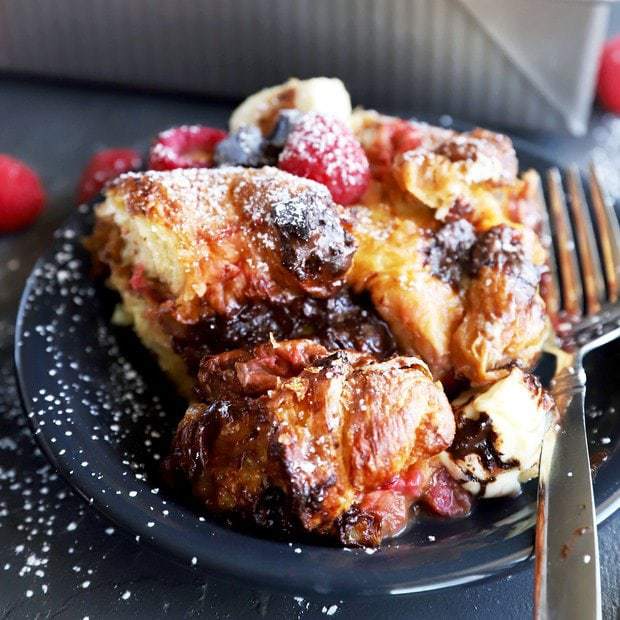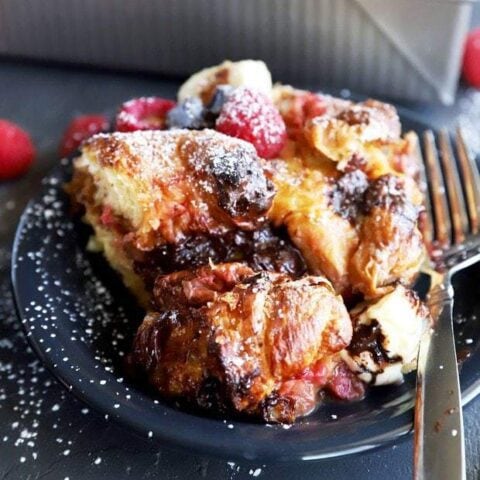 Raspberry Chocolate Croissant French Toast Bake
Cook Time:
1 hour
10 minutes
Total Time:
3 hours
20 minutes
Raspberries, chocolate, and croissants make this French toast the best there is!
Ingredients
1 1/4 pounds fresh croissants (about 15 small), cut in half
8 oz cream cheese, cubed
3 cups fresh raspberries
1 1/2 cups dark chocolate chips
12 large eggs, beaten
2 cups whole milk
1/4 cup granulated sugar
1 1/2 tsp vanilla extract
1/4 teaspoon salt
Garnish: confectioner's sugar
Instructions
Spray a 9-inch by 13-inch baking dish with nonstick spray. Add half of the croissant halves to the baking dish in an even layer. Top with half the cream cheese cubes, 1 1/2 cups raspberries, and 3/4 cup dark chocolate chips evenly. Top with remaining croissants, cream cheese, raspberries, and chocolate chips.
Add eggs, milk, sugar, vanilla extract, and salt to a large bowl. Whisk together until combined. Pour the egg mixture over the croissants evenly, making sure to cover it all. Cover with aluminum foil and refrigerate for at least 2 hours, up to overnight.
When ready to bake, remove pan from the fridge and let stand at room temperature for 30 minutes. Preheat oven to 350˚F.
Place in oven, still covered with aluminum foil, and back for 30 minutes. Remove foil and bake for another 35 to 40 minutes, until golden brown and the center is firm.
Serve immediately with confectioner's sugar on top, if desired.
Recommended Products
As an Amazon Associate and member of other affiliate programs, I earn from qualifying purchases.