Gooey Dark Chocolate Cakes with Peppermint Crunch Whipped Cream are the ultimate end to any dinner, especially during the holidays. It's rich, festive and takes less than 15 minutes! I promise it'll be the easiest part of any holiday dinner you throw this season.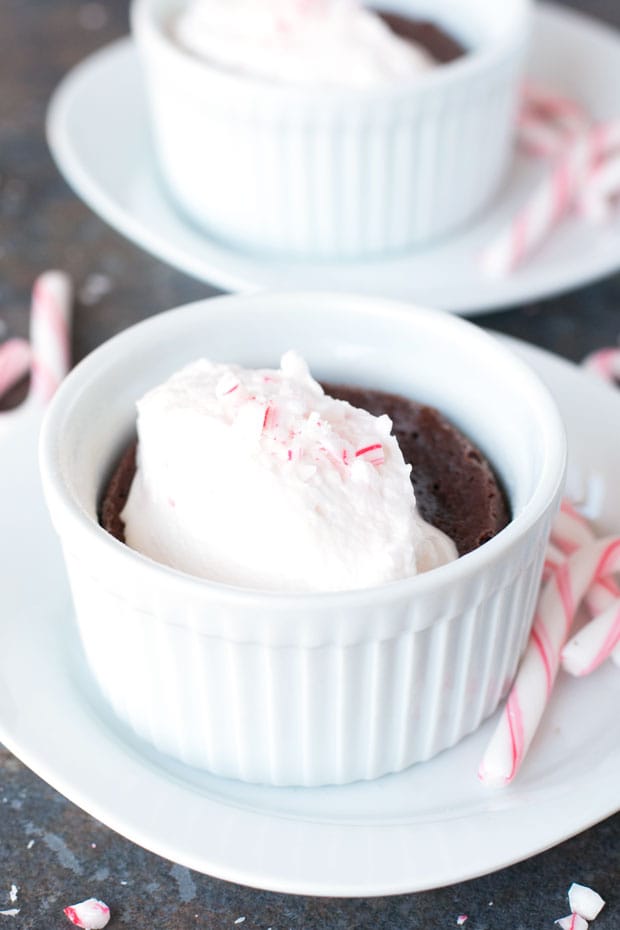 I love a little peppermint to end a holiday meal, don't you? It's just the right lively zip to leave your taste buds feeling satisfied but also wide awake and ready to party.
Rich, molten and decadent cakes like these are just begging for a pepperminty topping to help balance out all the flavors in the cake. Sometimes eating a rich chocolate cake without any break from the chocolate can be way too overwhelming (especially after a rich dinner).
The peppermint crunch whipped cream on top of these cute little cakes is just the right light break you need in every single bite.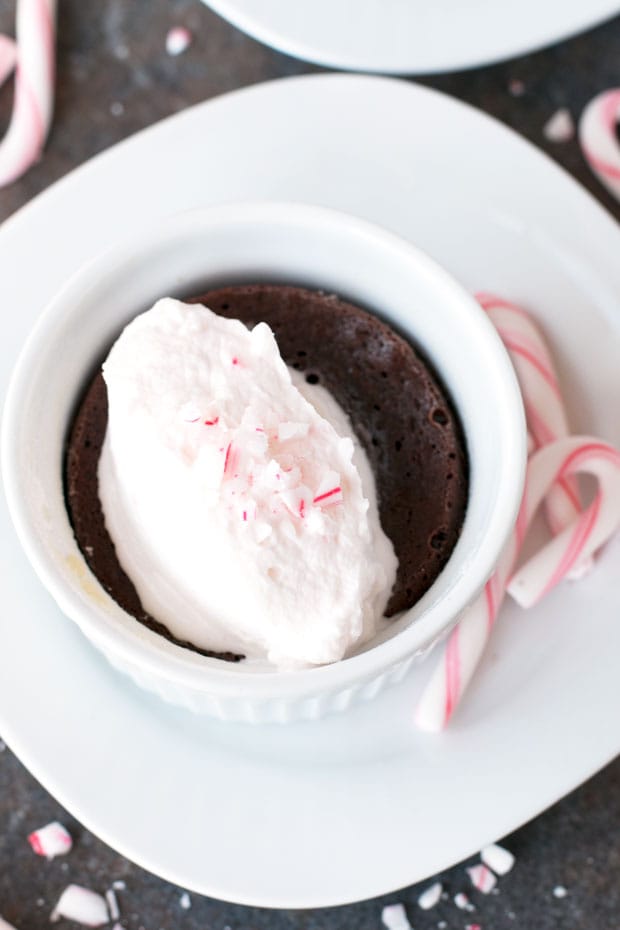 I keep counting down the days until Christmas and it feels like every day is just racing by. I can't seem to wrap my head around the fact that it's actually on Sunday…
I'm both excited and terrified at the same exact time about it, lol. I always love Christmas, but I am SO FREAKING BEHIND.
I am behind on my preparations, on my shopping, on my getting things ready for Christmas Eve dinner.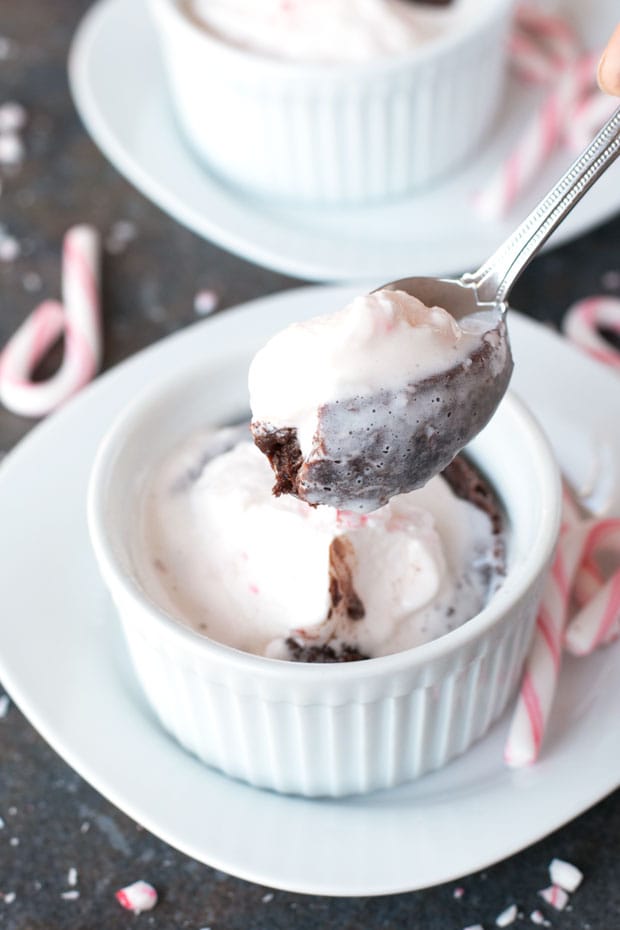 If some little elves could please hop on down here from the North Pole to help me out, I would realllllllllly appreciate it.
At least I have dessert covered for Christmas dinner this year, right? I actually served these little gems about one year ago for a wedding I catered and they went over like gangbusters.
I've been keeping the recipe a secret, but I suppose it's finally time for me to play nice and share my secrets…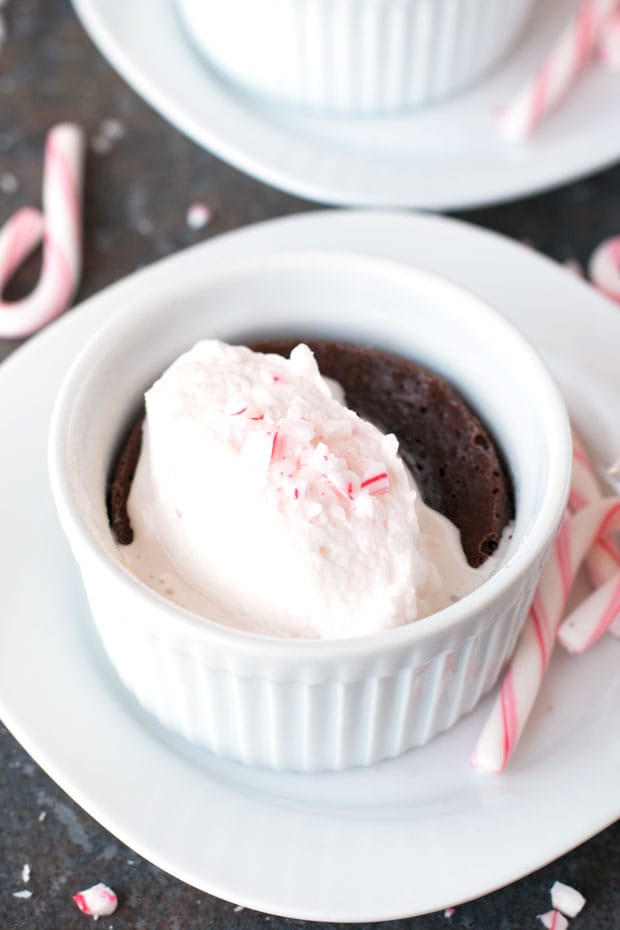 You can thank me later 😉
This Recipe's Must Haves
Pin this Gooey Dark Chocolate Cakes with Peppermint Crunch Whipped Cream for later!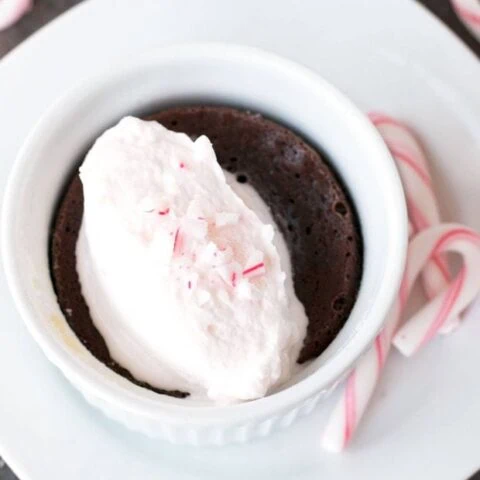 Gooey Dark Chocolate Cakes with Peppermint Crunch Whipped Cream
Gooey and warm chocolate cakes are topped with a peppermint whipped cream with a crunchy surprise!
Ingredients
Cakes
8 Tbsp (1 stick) unsalted butter + more for ramekins
5 oz dark chocolate, chopped
2 eggs
2 egg yolks
1/4 cup sugar
2 tsp flour + more for ramekins
Whipped Cream
1 tsp peppermint extract
1/2 Tbsp sugar
2 cups chilled heavy cream
1/3 cup chopped candy canes
Instructions
In the bowl of stand mixer, whip heavy cream with 1/2 Tbsp sugar and peppermint extract. Whip until stiff peaks form. Fold in candy canes. Keep cool until ready to serve.
Preheat oven to 450 degrees. Butter and lightly flour 4 ramekins.
In a double boiler, melt butter and chocolate together until smooth.
In a large bowl, beat together eggs, egg yolks and sugar until light yellow and thick, approximately 2 minutes. Beat in flour until well-combined. Stir in chocolate until combined.
Divide batter between the four ramekins. Bake for 8 minutes.
Serve with peppermint whipped cream.