A Smoky Jalapeño Margarita is just the blend of smoky, savory and spicy to elevate your margarita game to all new heights. With an easy-to-make jalapeño simple syrup and a smoked chili sea salt rim, every sip is an adventure. Trust me when I say, you won't be able to stop at just one.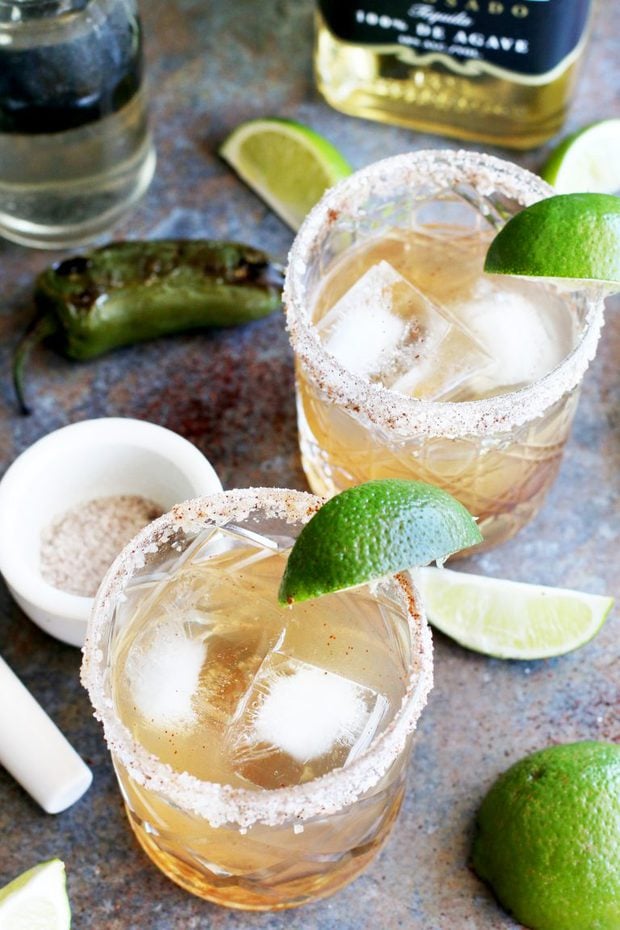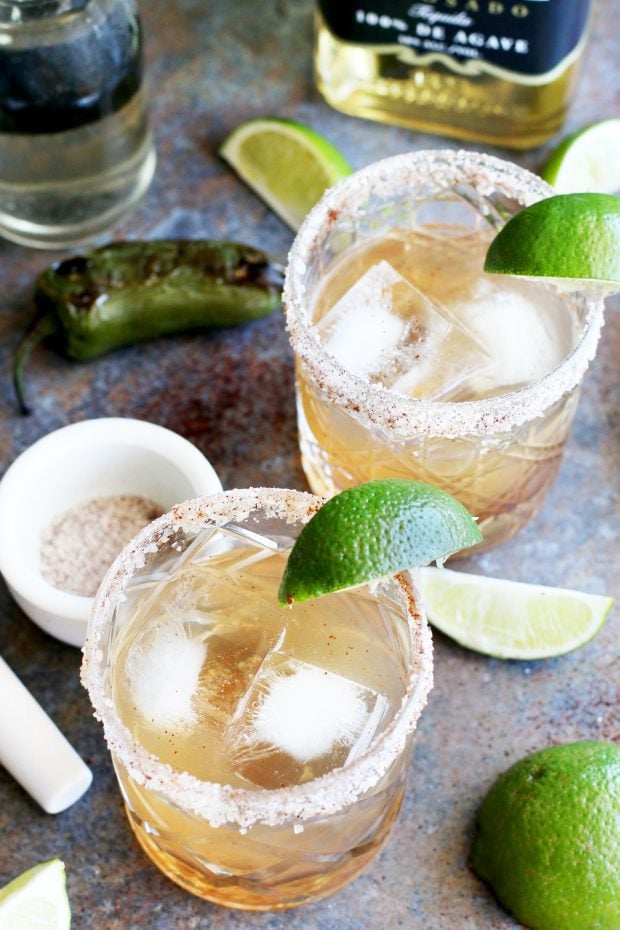 Please note that some of the links below are affiliate links. If you make a purchase through one of these links, I will receive a small commission.
I am beginning to work my way back to the dark side…
The dark side of enjoying tequila, that is.
It has taken me SO long to get to the point where I actively want to try new cocktails that incorporate tequila, primarily because of several terrible experiences throughout my life that involved tequila shots.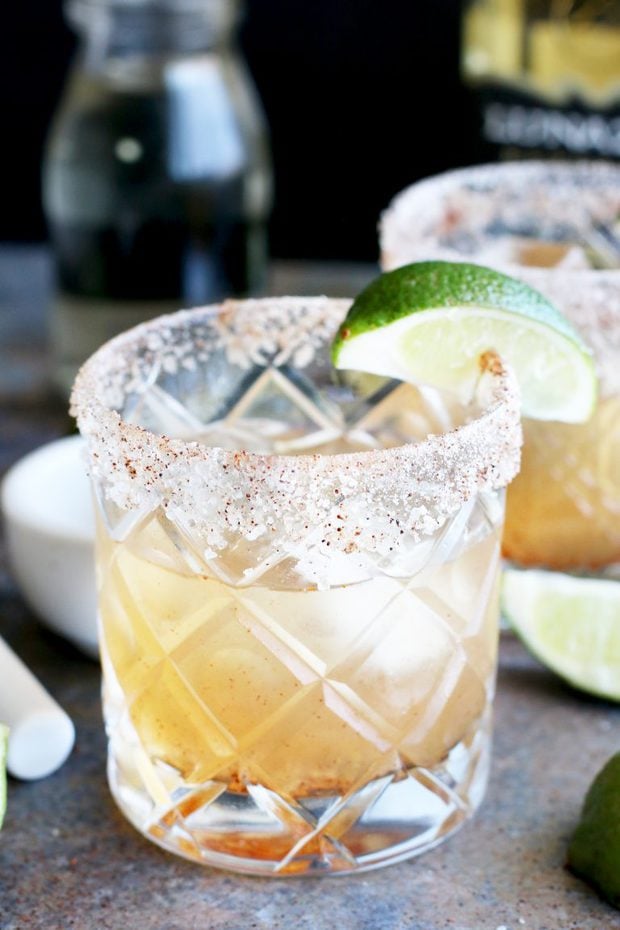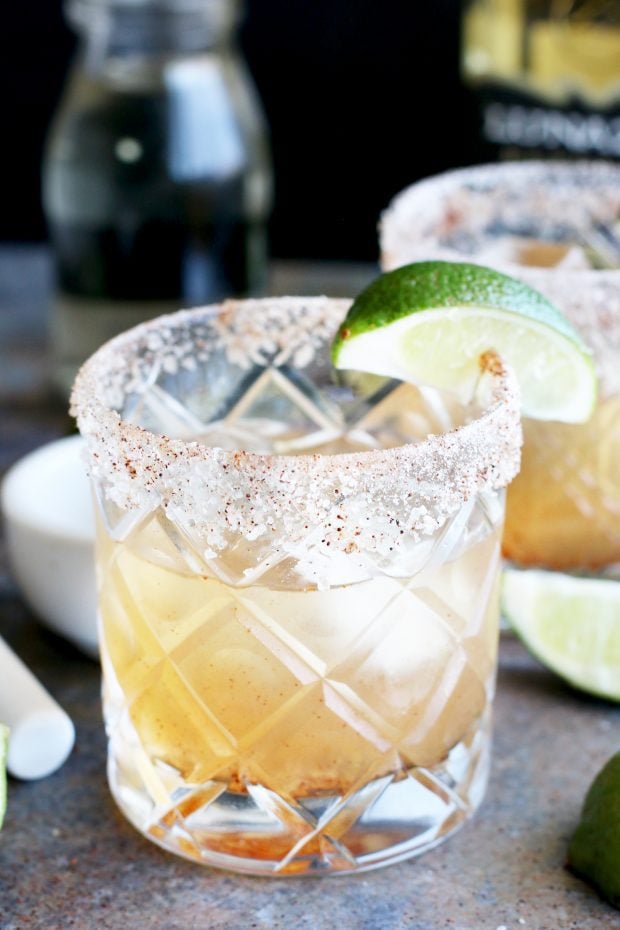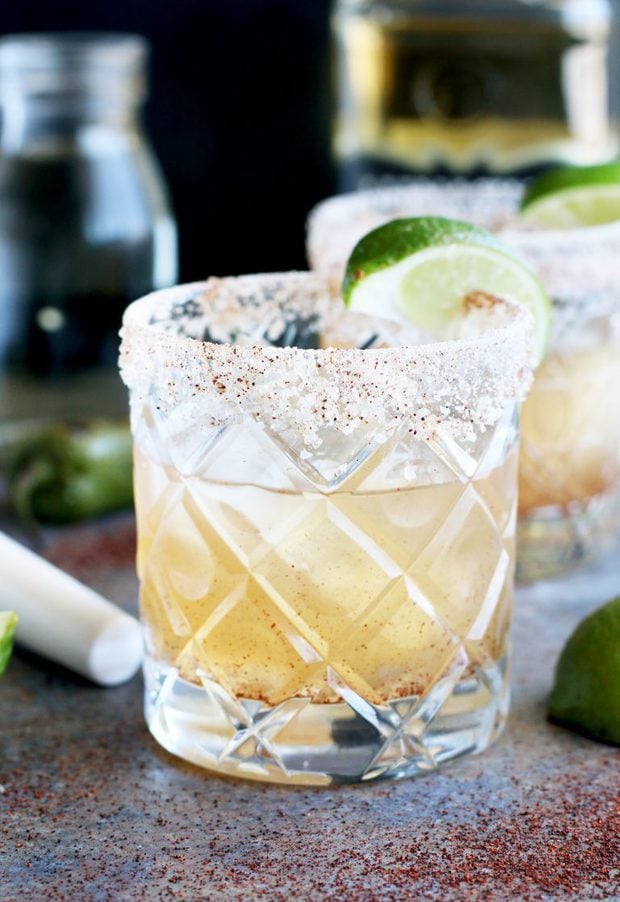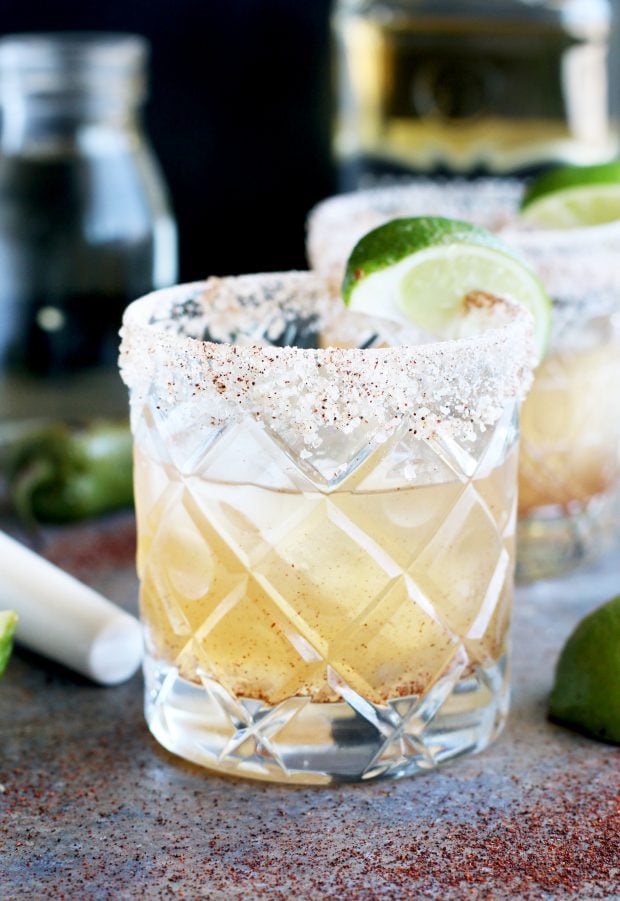 This led me to only trying tequila in margaritas, and generally those margaritas weren't amazing, so again, I ran away from tequila at top speed.
I am proud to say that recently I have put my toe back in the water of tequila-land and now.. I think I might be going back to that dark side.
Slowly. But surely.
This margarita is my newest cocktail obsession. There are so many layers of flavors in every single sip that truly make it magical.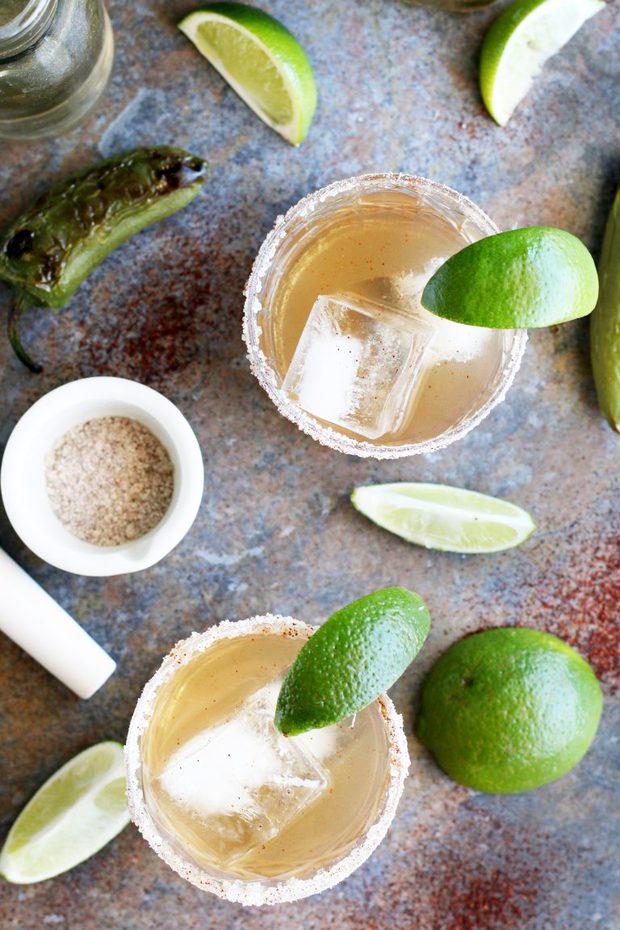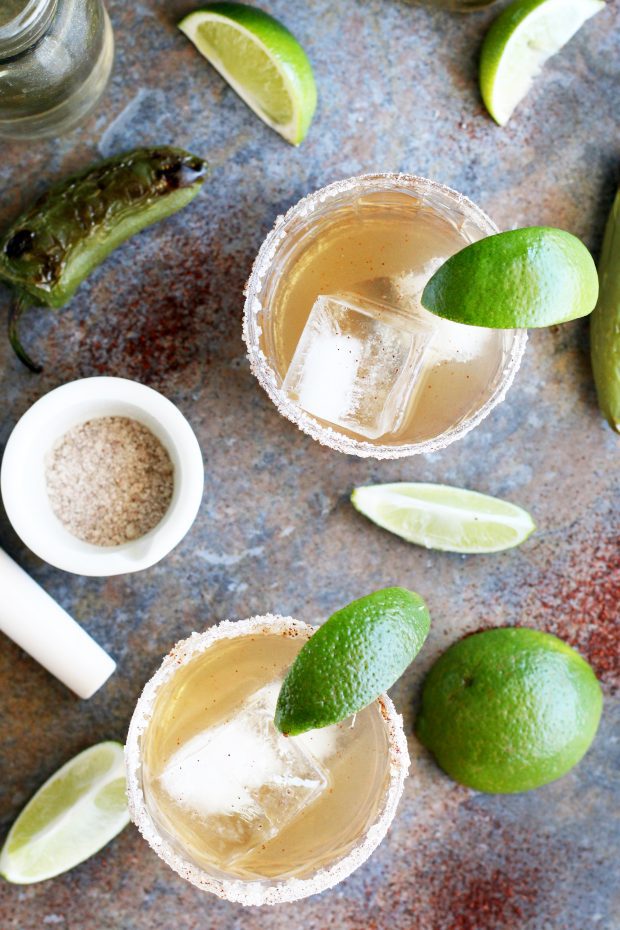 The homemade jalapeño simple syrup gives the cocktail just a slight hint of sweetness, followed by a delicious heat that'll tickle your taste buds.
When you pair this with tequila and chili powder, you get a smoky sultry kick of flavor to complete the sweet heat.
Finally, before all of this flavor even hits your lips, you get a smoky chili packed taste of the smoked chili sea salt.
It gives you just the right amount of salt and the smoky flavor is the best pairing with the spice level in this drink.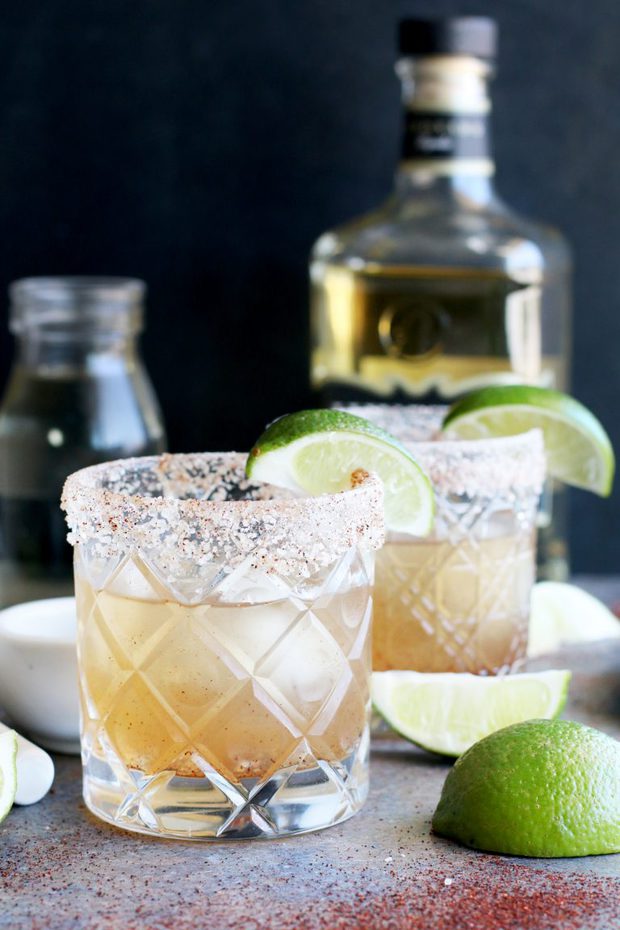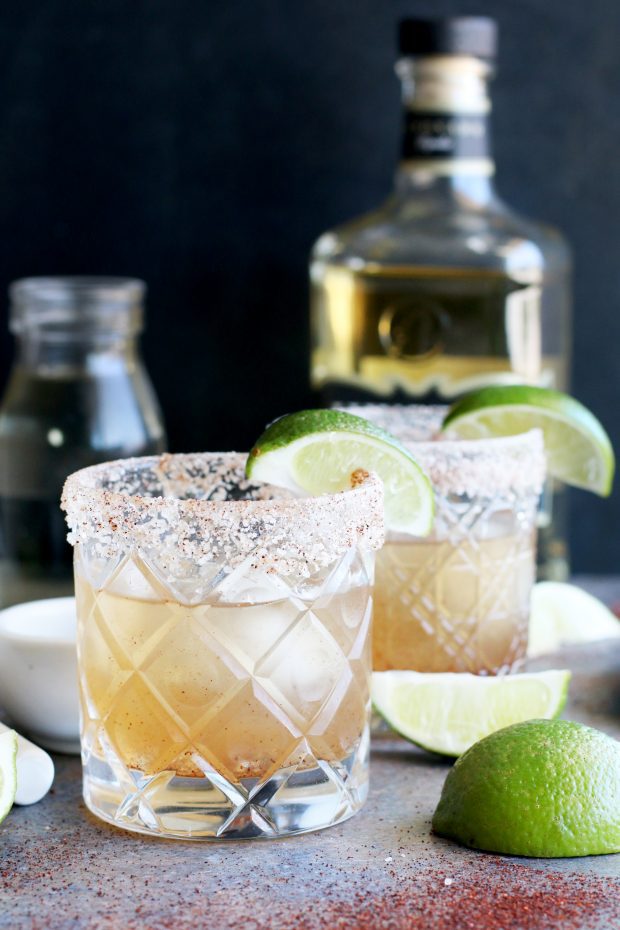 What I love about this margarita is that it appeals to everyone.
The spicy, the sweet, the smoky – you get it all and it really is perfect for whatever you may be serving for dinner.
Personally, I adore pairing this cocktail with tacos (no, not just because I'm obsessed with cocktails), because it's a simple flavor pairing and tacos aren't too heavy to overpower the cocktail itself.
Need some more inspiration for Cinco de Mayo? My lovely friends have put together some amazing recipes to indulge in as well! Variety is oh-so important after all 😉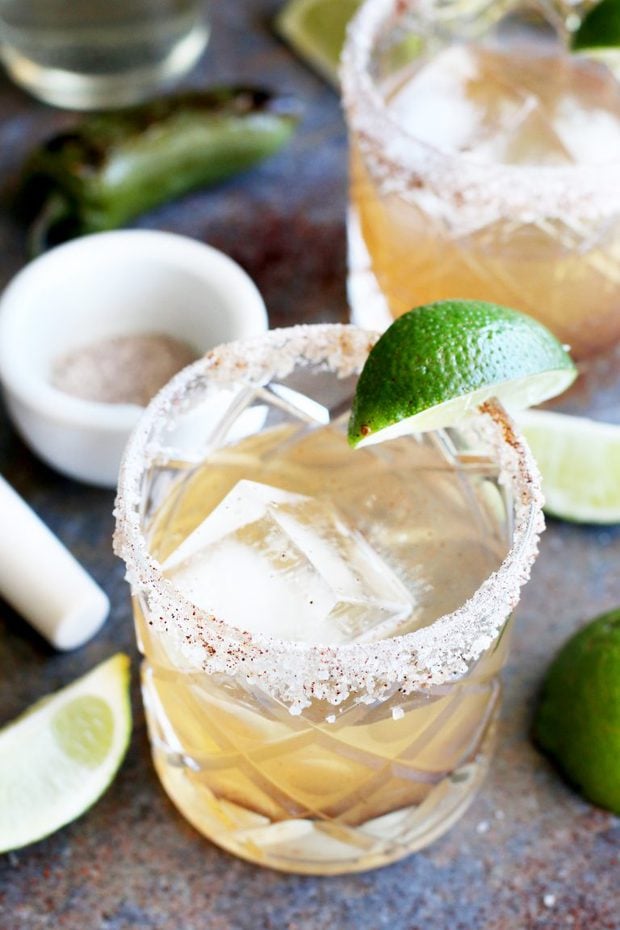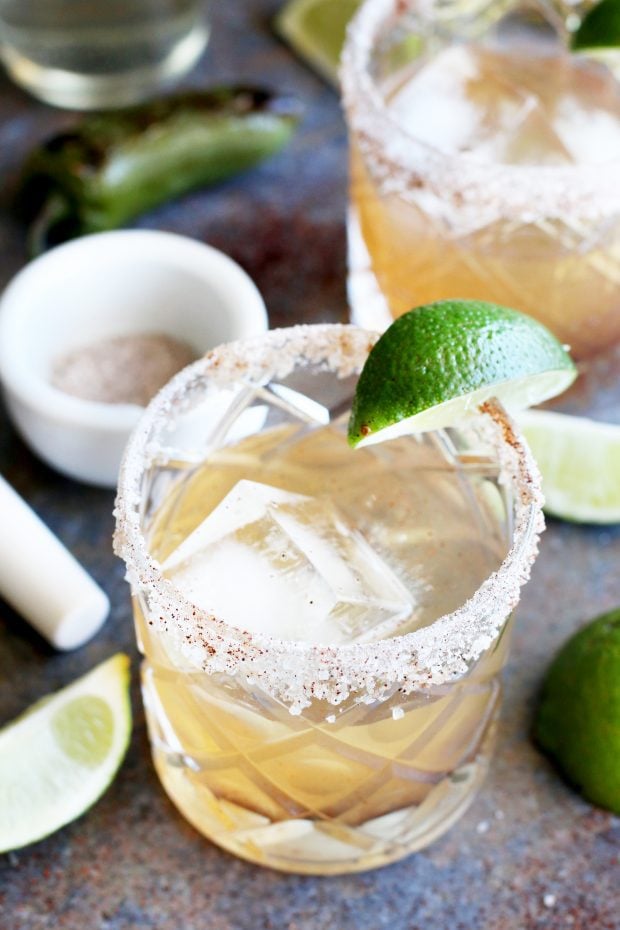 This Recipe's Must Haves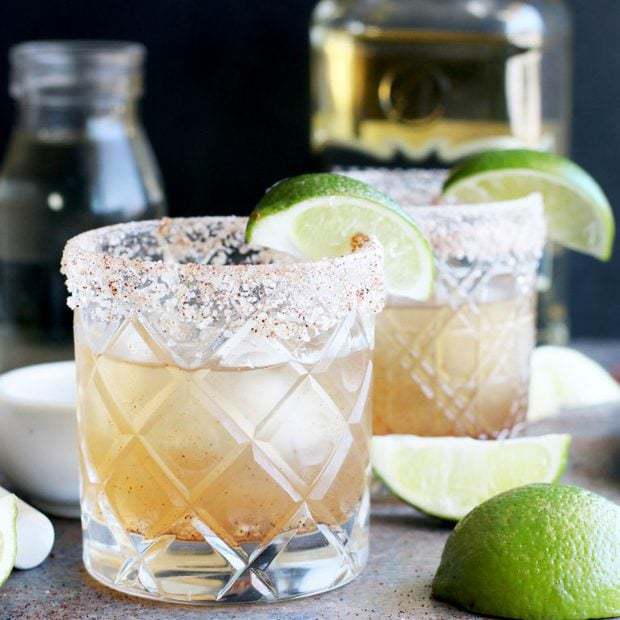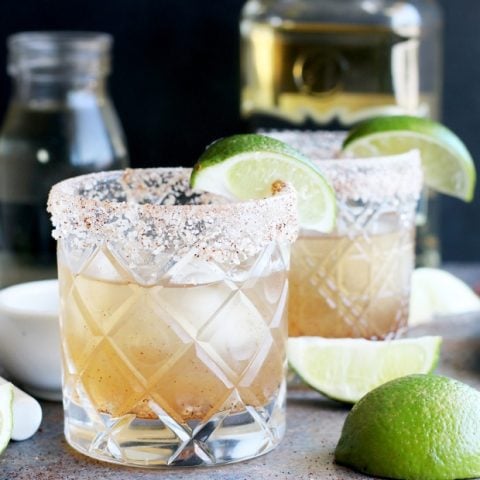 Smoky Jalapeño Margarita
Smoky and spicy, this simple yet flavorful cocktail is a fun take on margarita happy hour!
Ingredients
Jalapeño Simple Syrup
1 cup water
1 cup sugar
1 jalapeño, halved
Smoky Jalapeño Margaritas
Ice
Juice of 2 limes
2 1/2 oz Jalapeño Simple Syrup
1/3 cup gold tequila
1/4 tsp chipotle chili powder
1/2 oz orange liqueur (triple sec or Grand Marnier)
Garnish: slices of jalapeño, lime wedges
Smoked Chile Salt Rim
1 lime, quartered
1 Tbsp smoked sea salt
1/2 teaspoon chipotle chili powder
Instructions
To make the simple syrup, combine water, sugar and jalapeño in a small saucepan over medium-high heat. Remove from heat once sugar has dissolved. Let steep covered for 30 minutes. Discard jalapeño.
To make the smoked chili salt rim, whisk together salt and chili powder. Add to a shallow bowl.
Prepare two cocktail glasses by rubbing the rim with a wedge of lime. Rim the glasses with the smoked chili salt rim. Set aside.
In a shaker filled with ice, combine lime juice, Jalapeño Simple Syrup, gold tequila, chili powder, and orange liqueur for the margaritas.
Fill the two rimmed glasses with ice. Strain cocktail evenly between the two glasses.
Garnish with lime wedges and serve immediately.