Please note this post contains affiliate links.
A blended Strawberry Jalapeno Margarita is just the spicy, sweet, and tart margarita recipe that's perfect for whatever celebration you have coming up this summer! The simple and fresh ingredients make this cocktail one that's ideal for Cinco de Mayo, Taco Tuesday, or any old weeknight.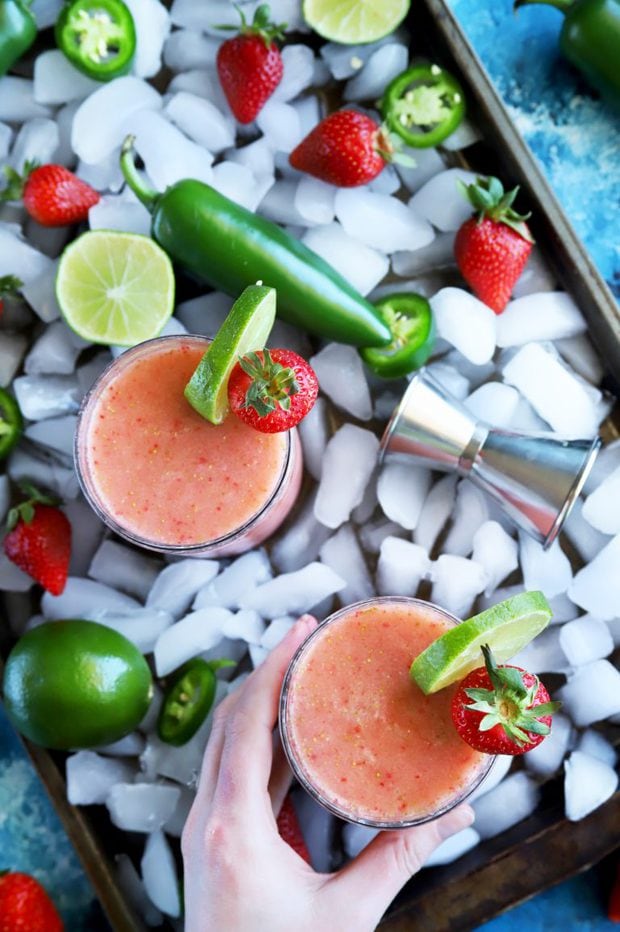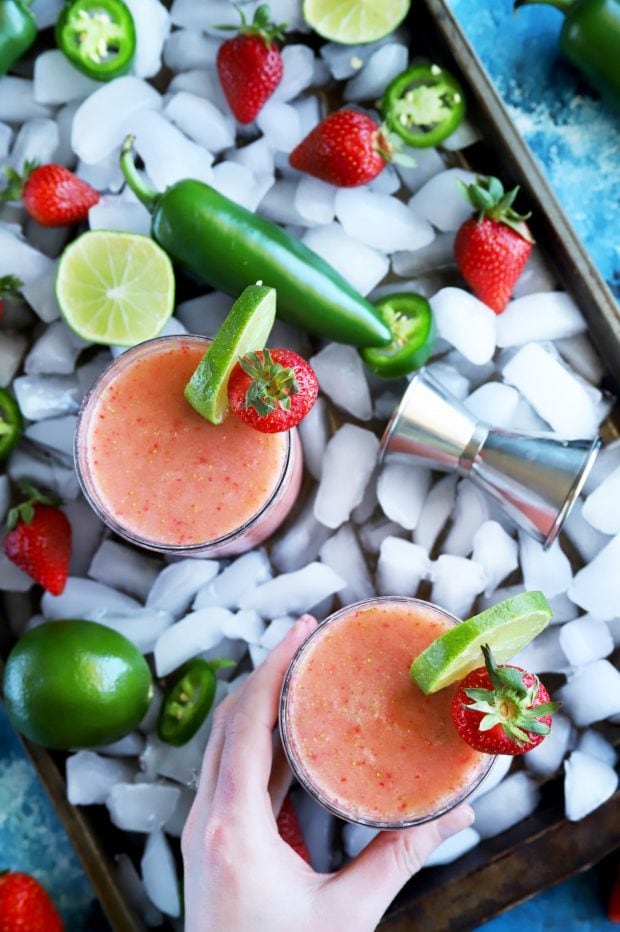 Ok, so I HAD to give you one more super fresh and flavorful cocktail before heading into the Cinco de Mayo weekend.
When it comes to fruity margarita recipes, I am usually one to avoid them. From what I've found, they are all super sweet and don't really highlight the flavor of the actual fruit enough.
Therefore, I am bringing you a blended fruity cocktail that's not only filled with fruit, but it's also filled with spice.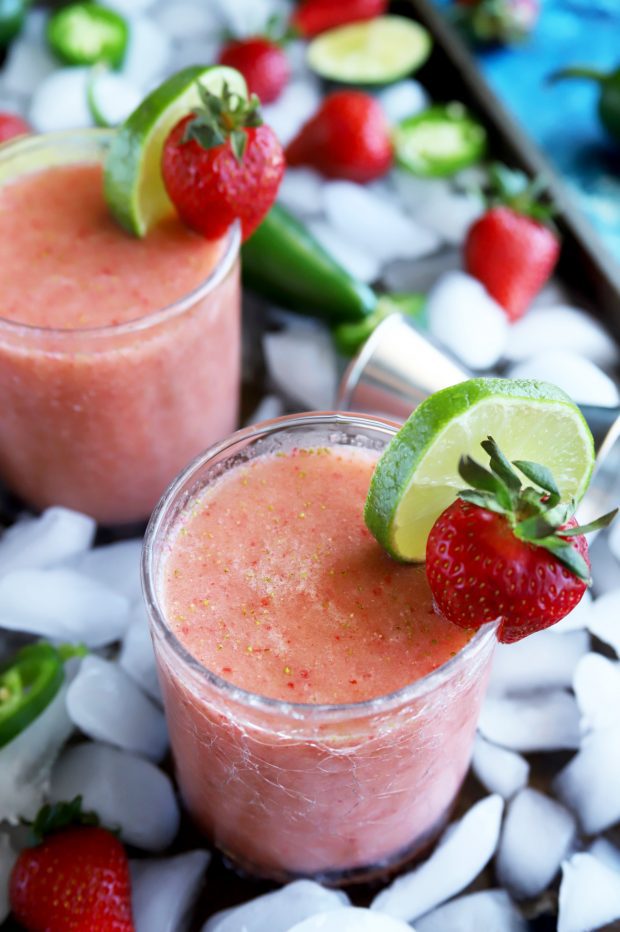 I couldn't just bust out a plain ol' strawberry margarita after all. This is me we're talking about 😉
So what you get in this glass of chilled goodness is smooth and creamy, while also hitting you with a 1-2 punch of boozy heat.
My biggest advice is to be sure to seed the jalapeño before you add it to the recipe! Unless you want the cocktail to be SUPER spicy – that's totally your call though.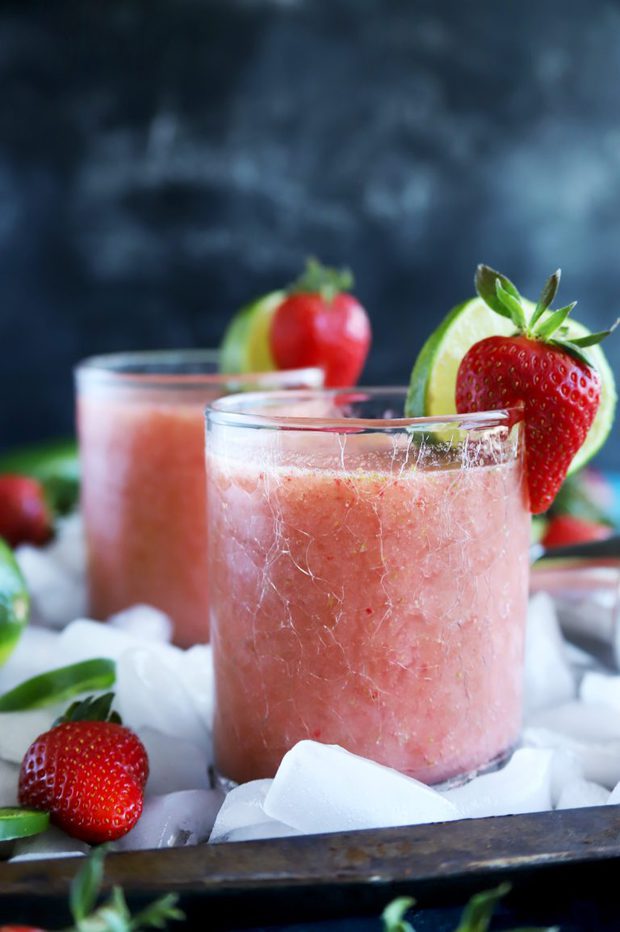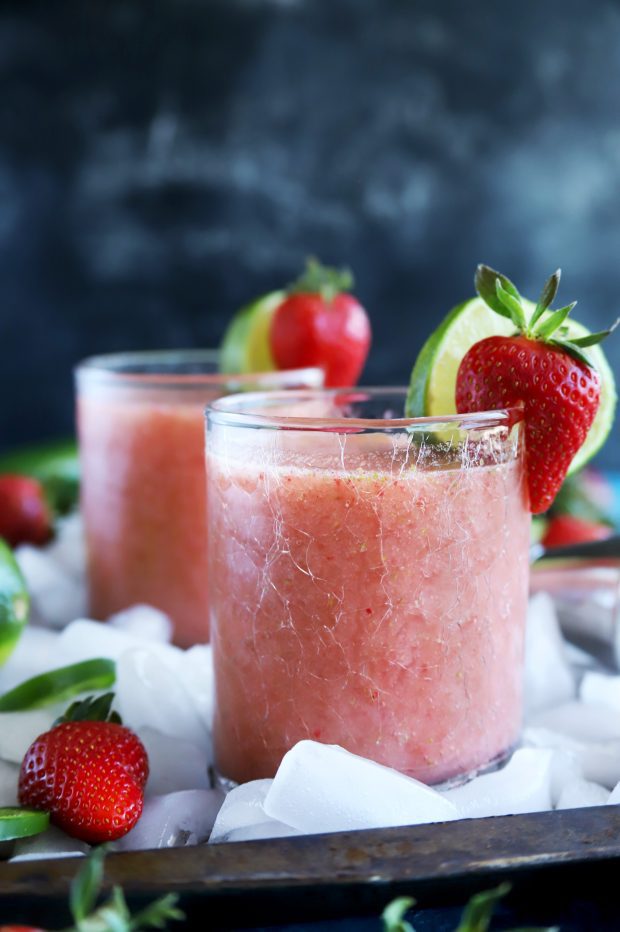 Please note that some of the links below are affiliate links. If purchases are made via these links, I will receive a small commission.
What you'll need to make Strawberry Jalapeno Margarita
To blend together this margarita with perfect ease, I highly recommend this petite and very strong Vitamix. I use this blender every single day and it has never failed me once.
When you are prepping the strawberries and jalapeno for this recipe, you'll definitely need a good chef's knife as well as a cutting board. Honestly, if you don't already have these in your house, you need to get these immediately.
Make sure you pick the ripest strawberries possible! This way you'll get the best flavor possible for the cocktail.
That's all you need!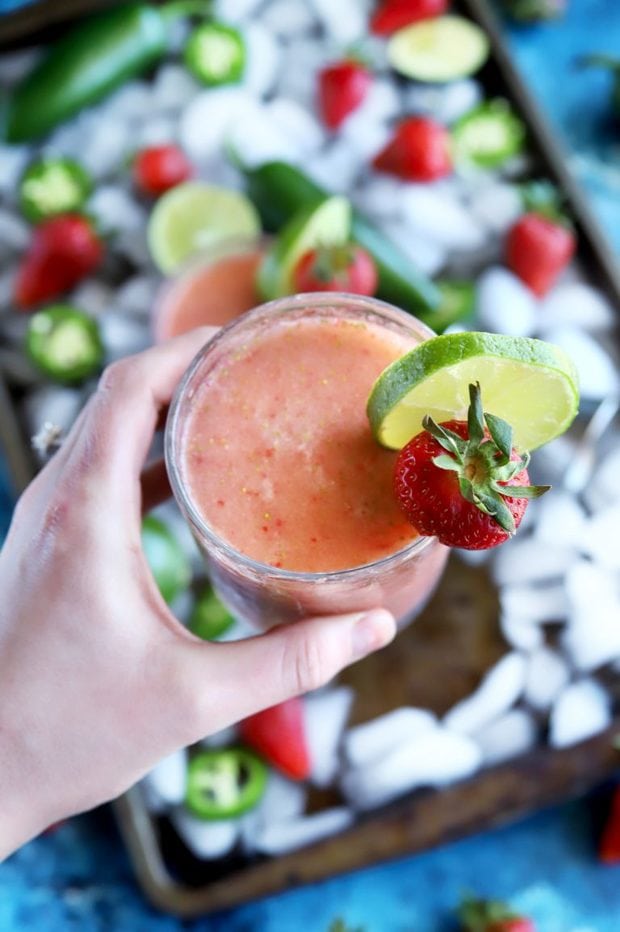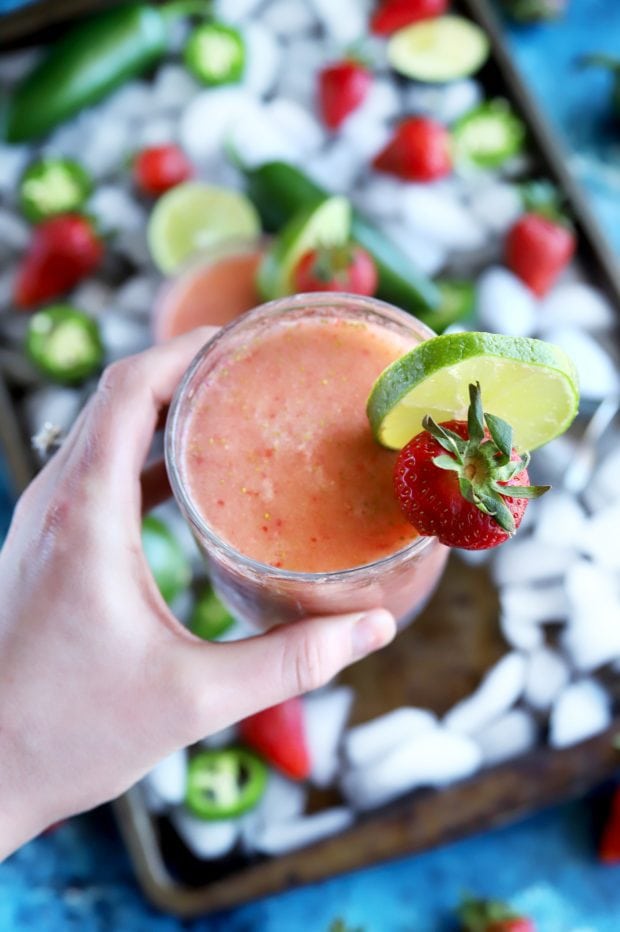 How to make Strawberry Jalapeno Margaritas
Blend it up
Literally all you have to do is throw everything together in a blender and blend it up until nice and smooth. Make sure that you blend it for at least 30 seconds or up to a minute! You want all of those fruity pieces to be fine enough that they don't catch in your teeth 😉
How simple is that?!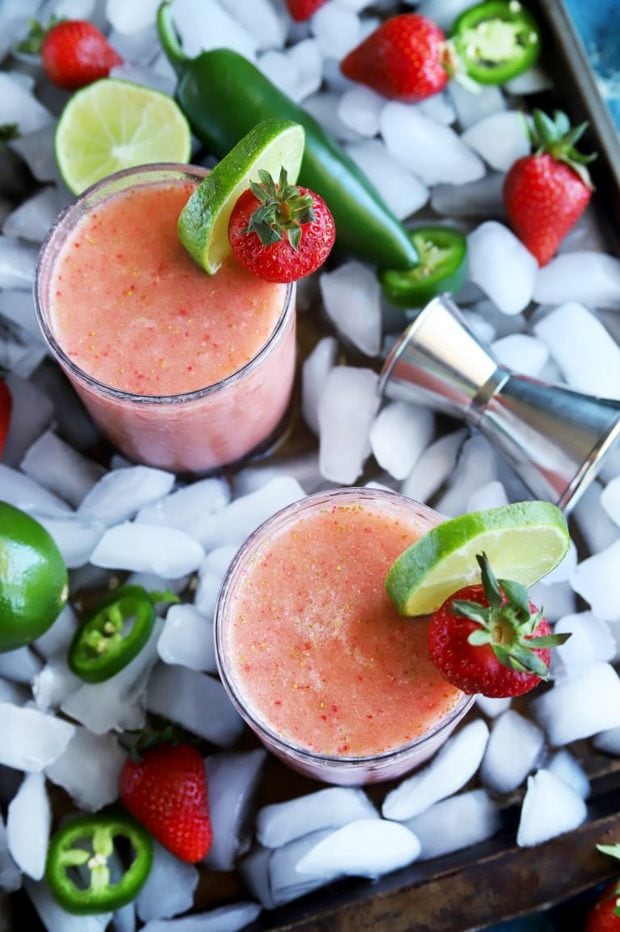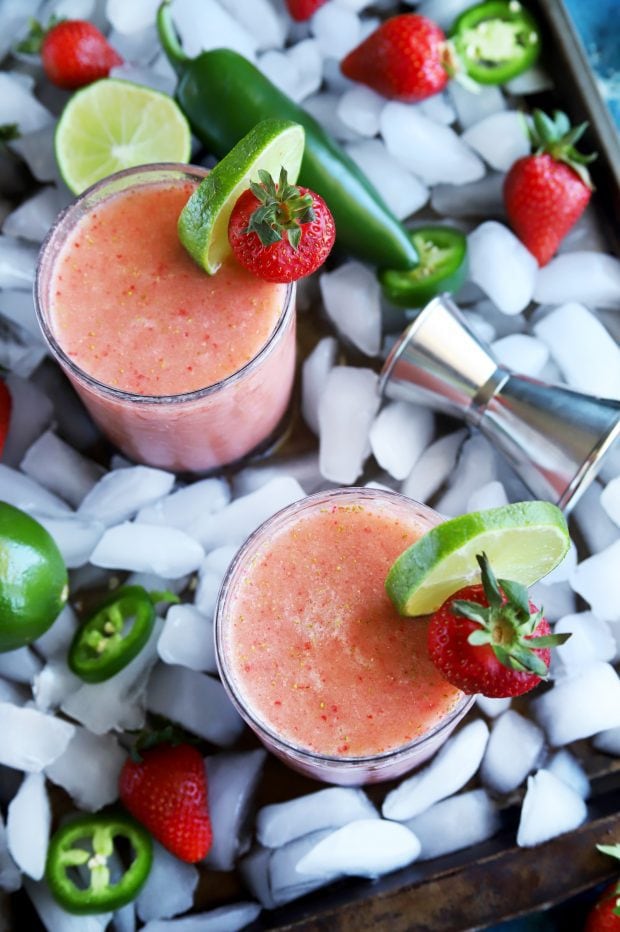 I seriously love making this cocktail because it's so. freaking. easy.
You don't have to do any fancy layering, no homemade simple syrups are required, and you can just let the blender do the work for you.
They are perfect for whipping up for a party, because it's super easy to scale the recipe up. Just multiply until you have the amount of servings you need.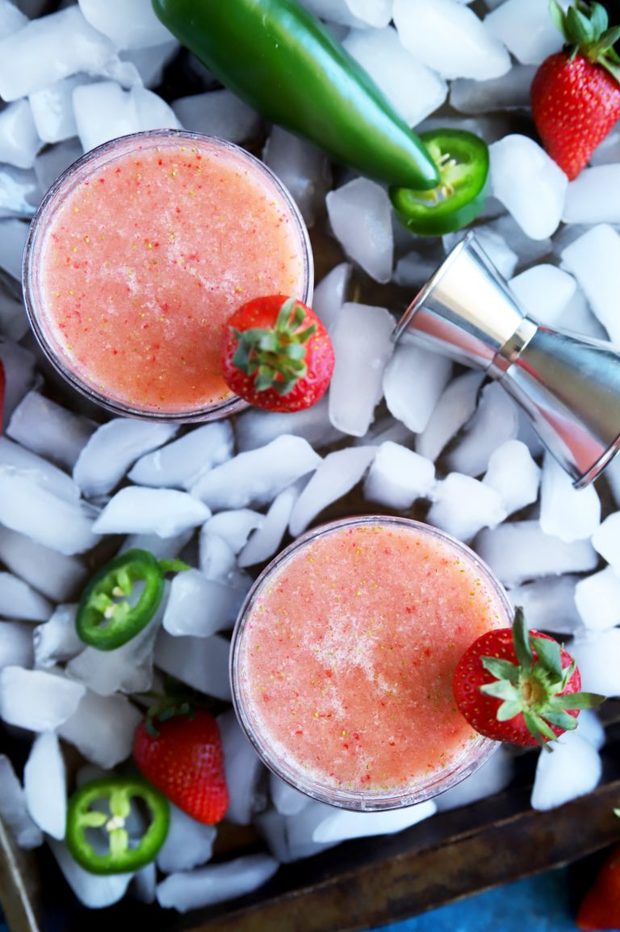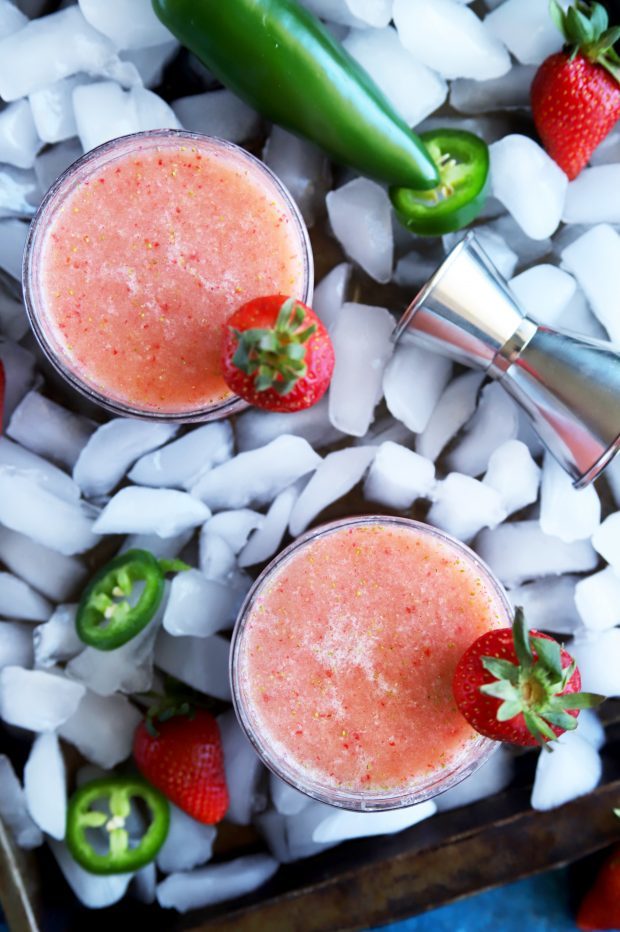 Quick tips for making this recipe
My biggest advice is to make sure you seed that jalapeno before you add it. Otherwise, you'll get a spice explosion that you might not be ready for!
Also, if you are using fresh strawberries, be sure to freeze them for about 4 hours before making the recipe. That way, you will get the ideal texture for the margaritas!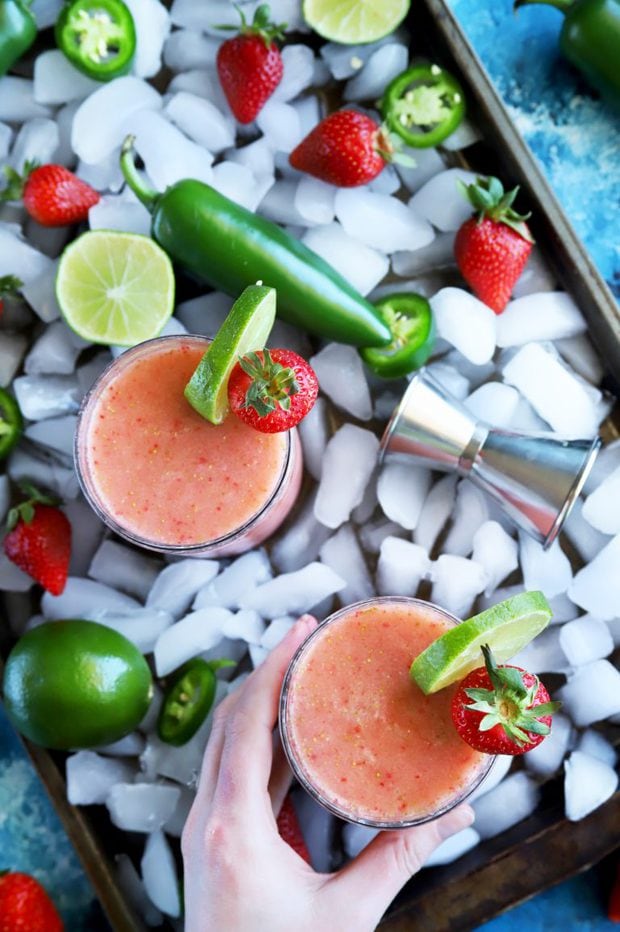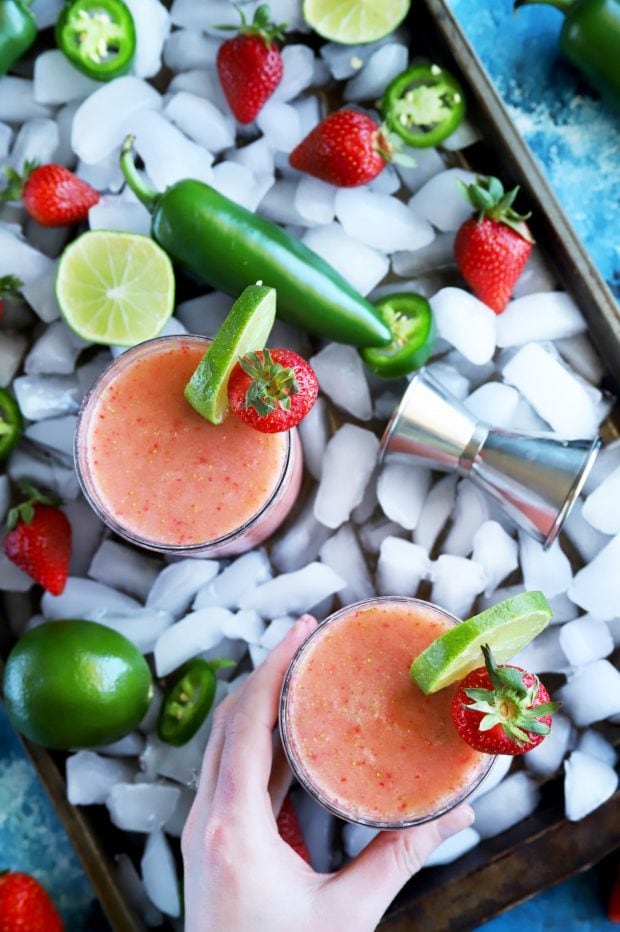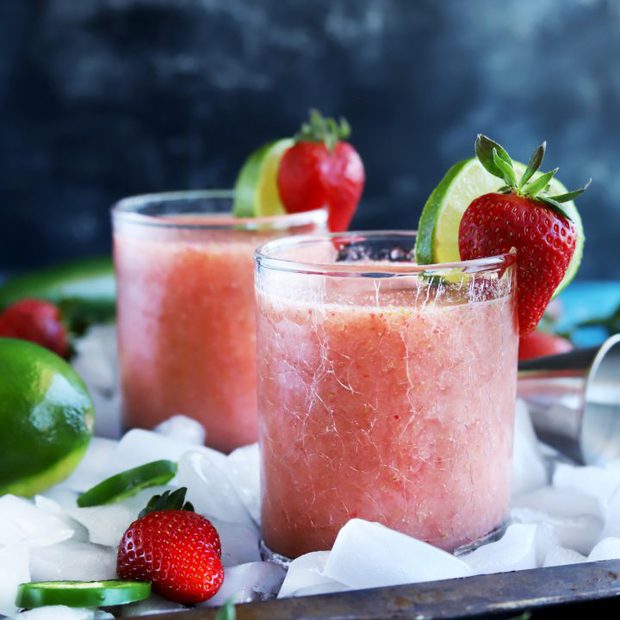 Strawberry Jalapeño Margarita
Sweet and spicy, this simple blended margarita is full of flavor while also being smooth and creamy. Cheers to a new way to enjoy happy hour!
Ingredients
1/3 cup white tequila
1/4 cup triple sec
1/4 cup fresh lime juice
1/4 cup simple syrup
2 1/2 cups frozen or fresh* strawberries
1 jalapeño, seeded and roughly chopped
Garnish: strawberries, lime wheels
Instructions
Add tequila, triple sec, lime juice, simple syrup, strawberries, and jalapeño to a blender.
Blend until combined, about 30 seconds.
Divide between two chilled cocktail glasses.
Garnish with a strawberry and a lime wheel.
Notes
*If you are using fresh strawberries, I recommend freezing them for 4 hours before making these margaritas.
Recommended Products
As an Amazon Associate and member of other affiliate programs, I earn from qualifying purchases.