Tequila Lime Pozole is a fresh and light soup with a burst of citrus and a smooth finish. With juicy chicken thighs, hominy, lime juice and a touch of tequila, this soup is fantastic for any time of year. Pair it with margaritas and savor the authentic flavor!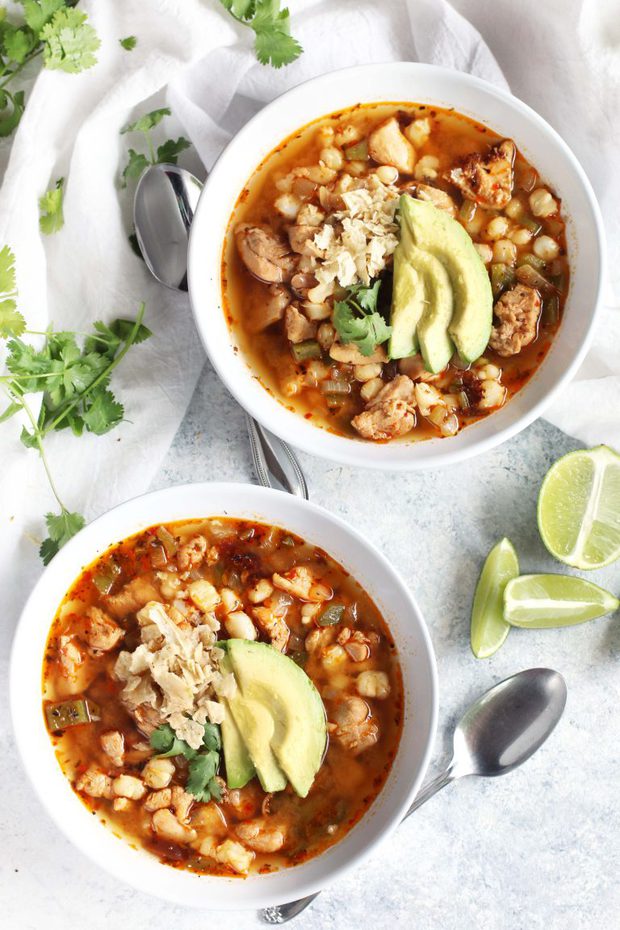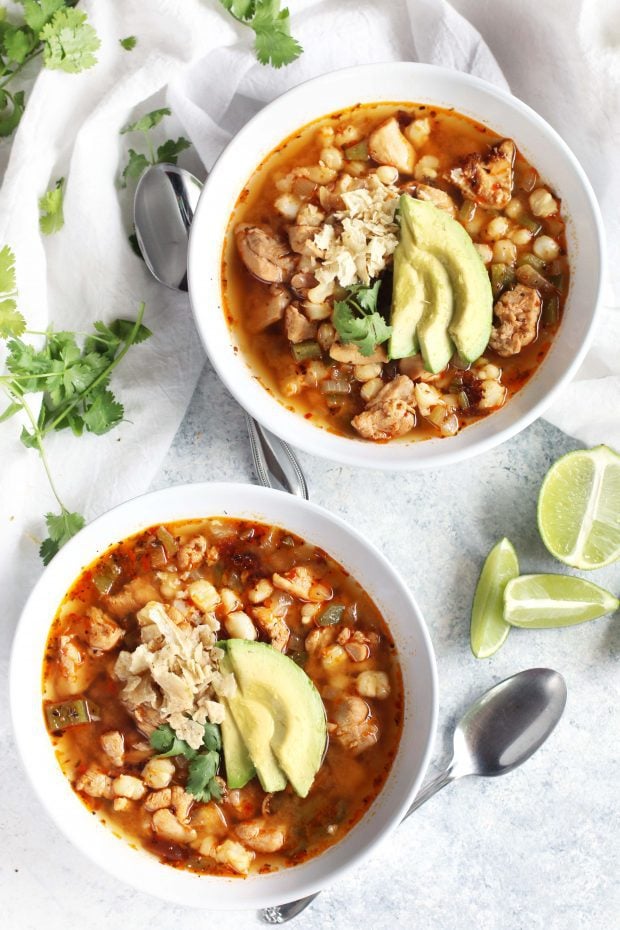 Please note that some of the links below are affiliate links. If you make a purchase through one of these links, I will receive a small commission.
I am not usually a soup person during the summer, but there's something about this particular soup that is totally crave-worthy even when the weather outside is unbelievably hot.
Pozole is a soup that I hadn't tasted until I was well into my 20's and had a friend whose mother made it religiously every Sunday, no matter what time of year it was. The moment I indulged in the first spoonful, I was hooked.
I love soups that have a ton of texture to them and pozole doesn't disappoint when it comes to this.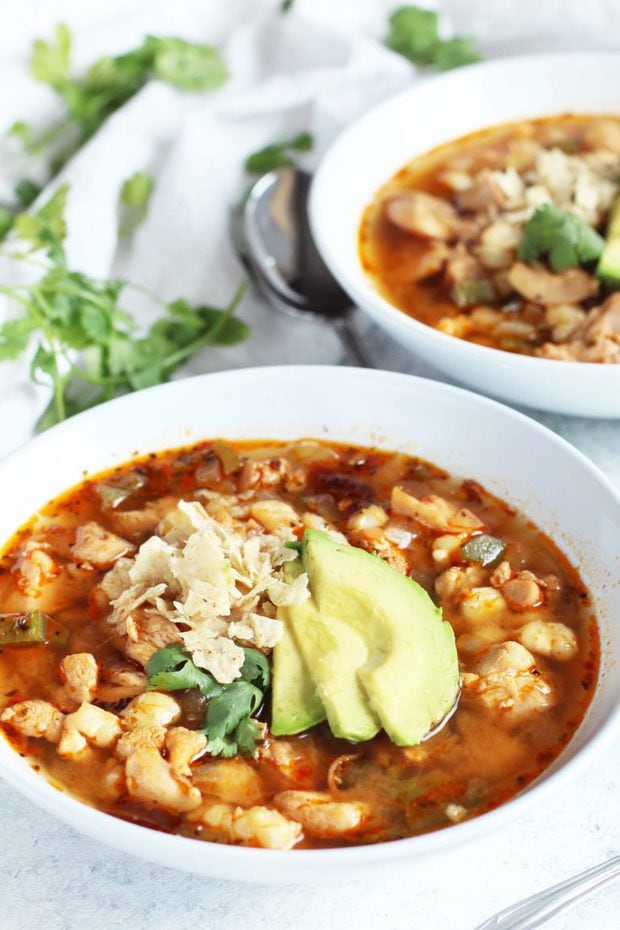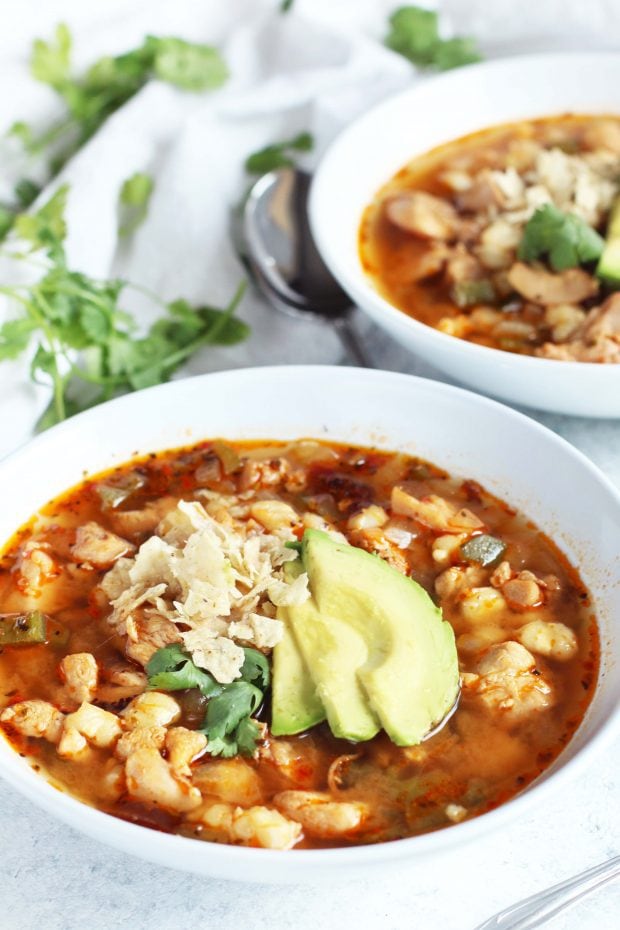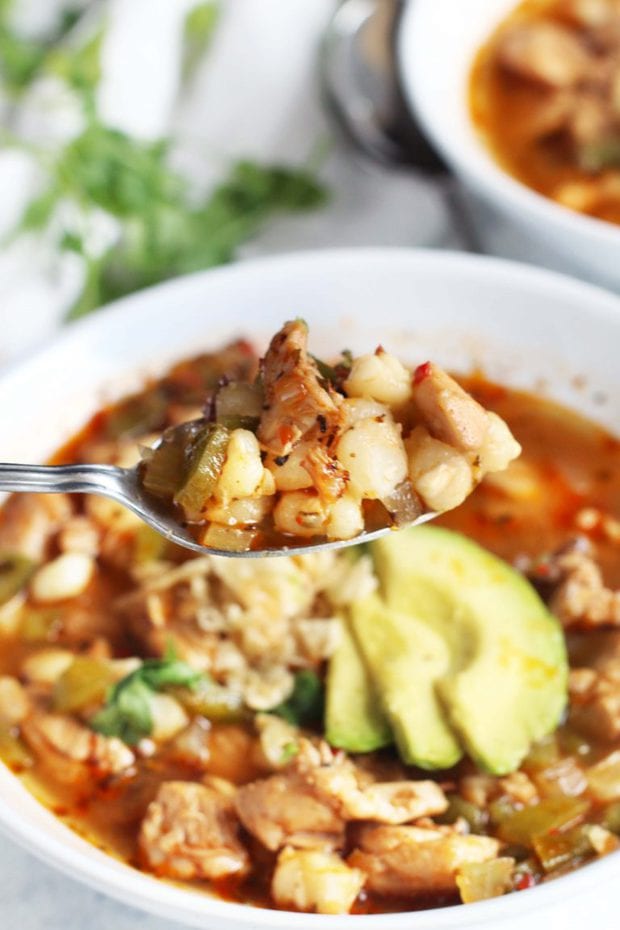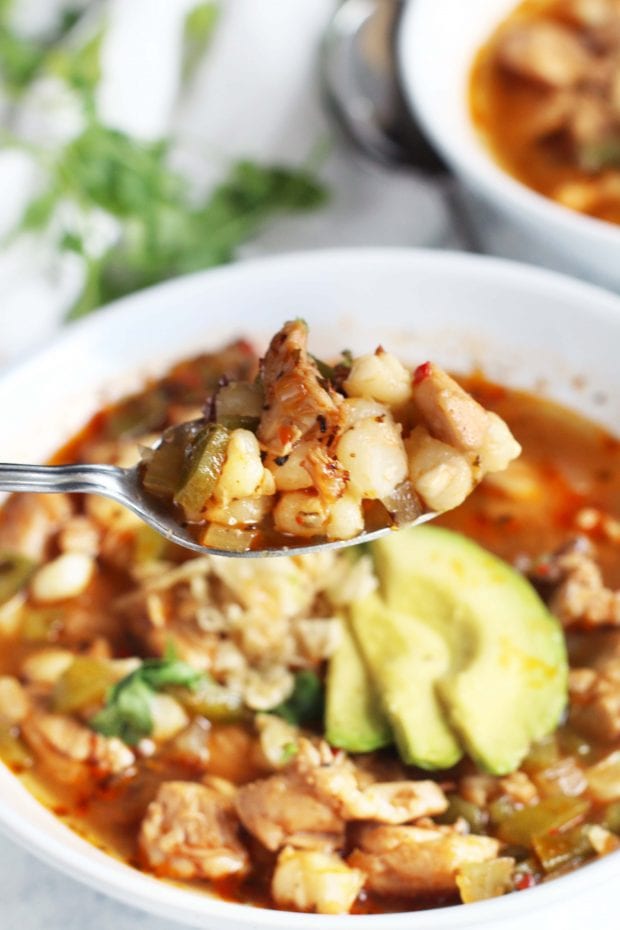 Chicken mixed with roughly chopped charred poblano peppers and hominy give the soup a plethora of flavors and textures to dance over your taste buds.
I particularly love this pozole recipe because it's not the traditional red pozole. It's layered with a lot of flavor, but the flavors are light, making the broth taste juicy with every mouthful.
You can really taste the bright acidic flavors from the lime juice, and when paired with smooth, sultry tequila, you'll see how an added depth is brought out without the soup itself being really heavy.
The one necessary topping for this soup is the avocado. Since the soup is so light, it doesn't have a creamy element… and that's where the sliced avocado comes in.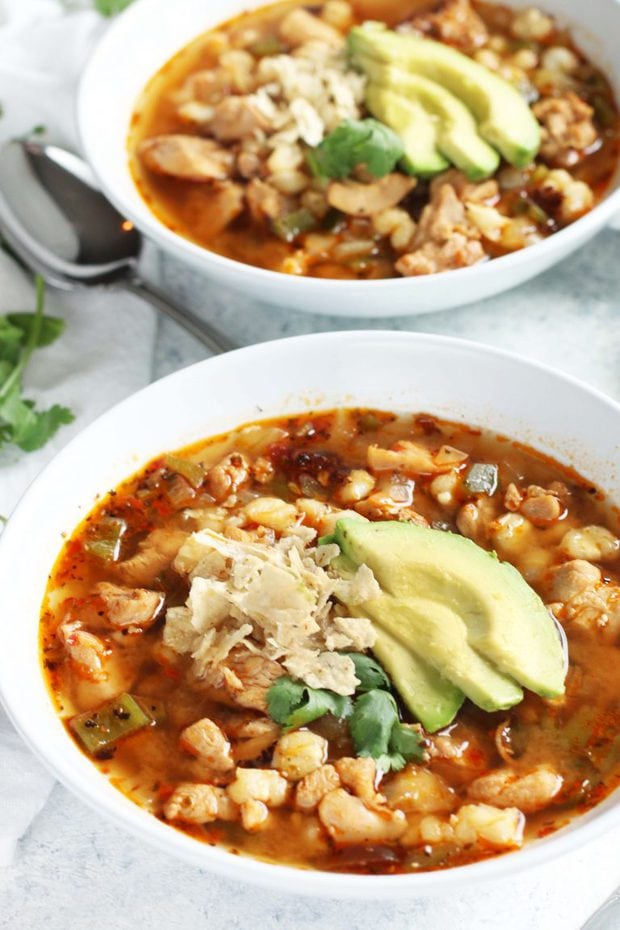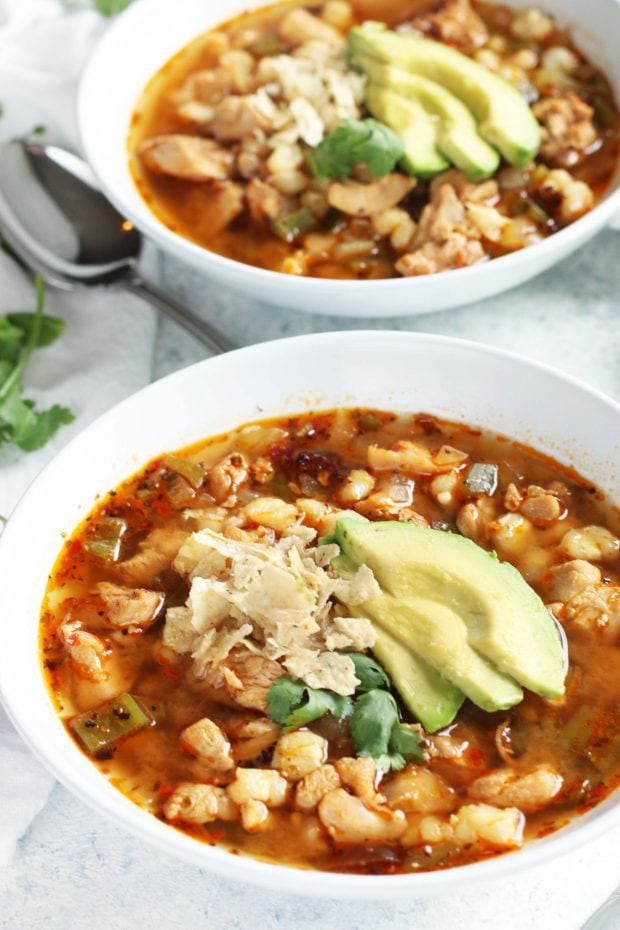 This soup has a nice kick of heat in every bite, so the avocado comes in to relieve some of that heat, as well as adding a creamy element that makes the soup even more indulgent.
Instead of heavy cream as a traditional creamy element, avocado keeps the soup light and fresh so it's not weighed down.
Pair it with tortilla chips or serve with flour tortillas to soak up every last bit of the liquid. You won't want to let a single drop go to waste, TRUST ME.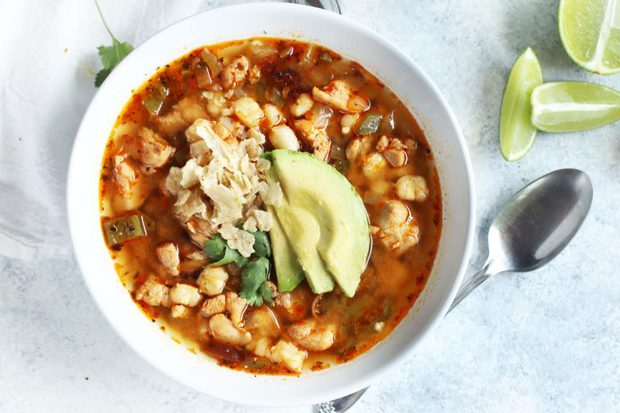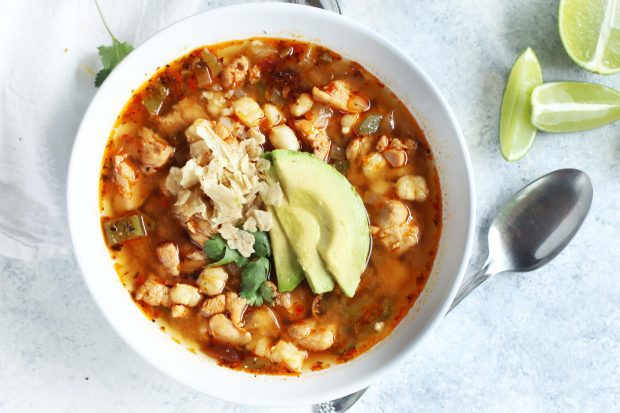 Note: if you love your soup REALLY spicy, you can add in more red pepper flakes. I would caution you to start with the indicated amount and taste after simmering for a minute with the poblano peppers.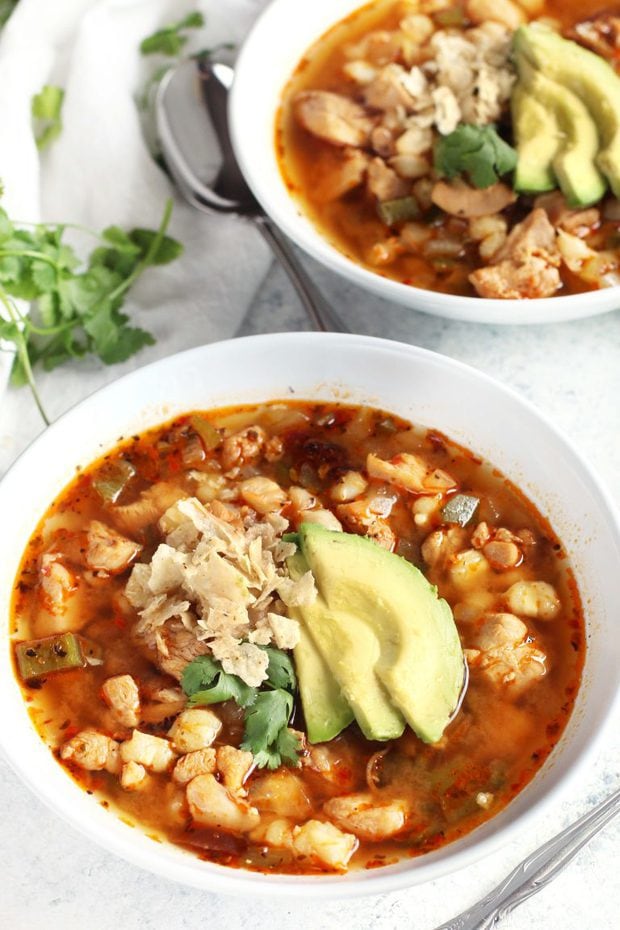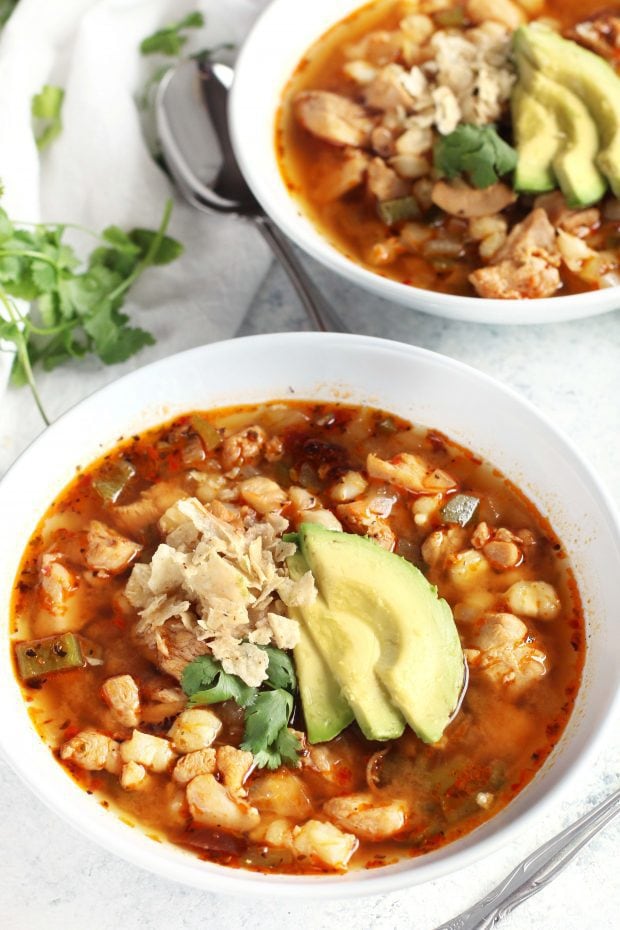 This Recipe's Must Haves