Rhubarb Pear French Toast Overnight Casserole is the easy breakfast or brunch dish that you'll want to bring out whenever you have company over. Filled with rich roasted rhubarb and pear, with a zing of lemon sugar on top, this overnight French toast casserole is pure magic in a 9×13-inch baking dish. It's ALL the brunch goals!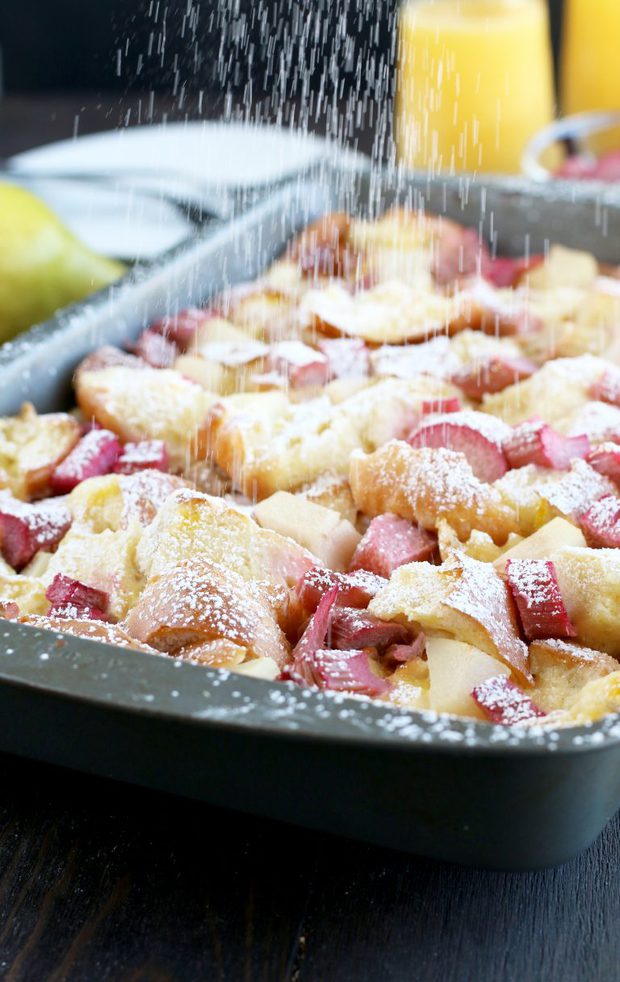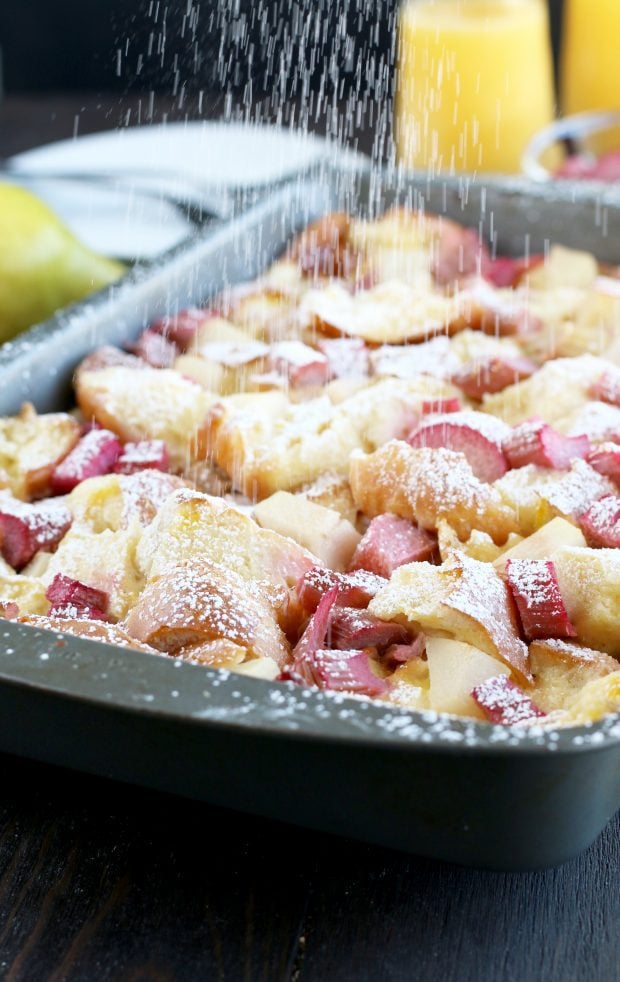 Please note that some of the links below are affiliate links. If you make a purchase through one of these links, I will receive a small commission.
Wake up and smell the delicious scent of rhubarb my friends!
That's right, rhubarb season is just starting to peek out in the stores here, and I AM SO EXCITED.
Seeing that pretty pink-red color of rhubarb pop up on the produce shelves sends joy through my heart because then I know (like I really really know) that spring is finally here.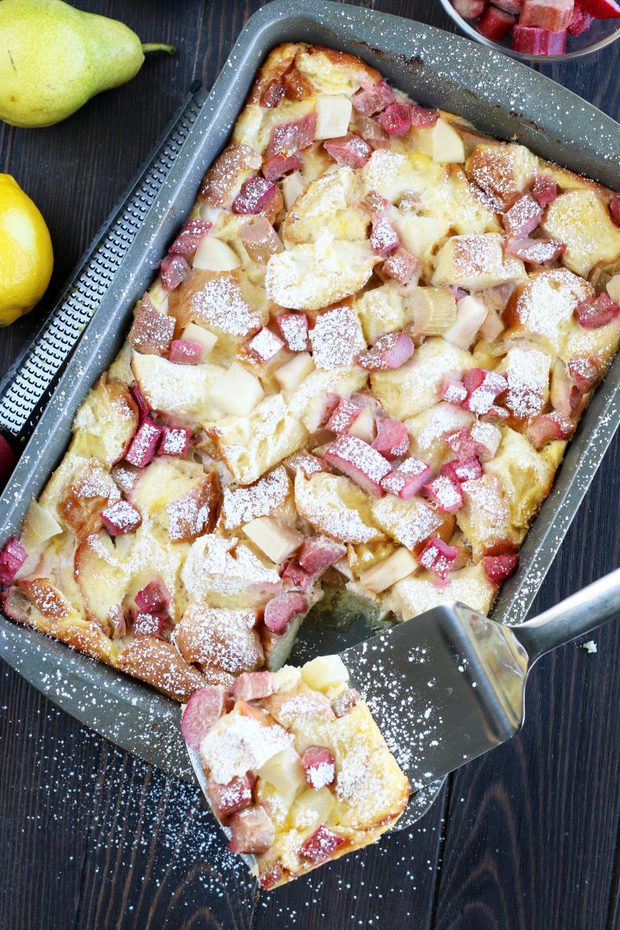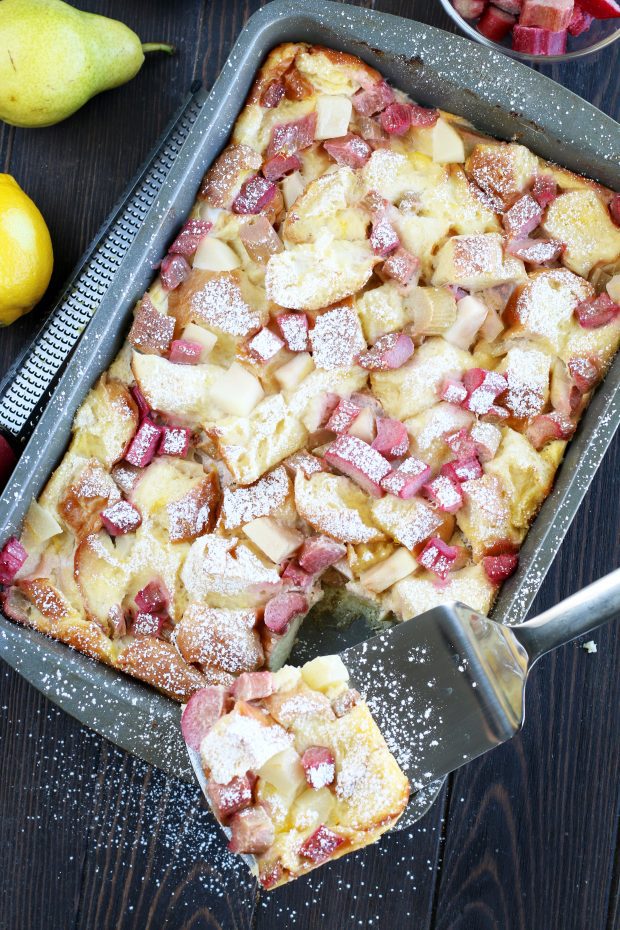 Of course in Colorado that doesn't mean much since spring means lots of rain/snow, but I can still be hopeful that the snow will run away sometime soon, can't I?
This French toast casserole is a stunning baking dish full of fruity goodness for any breakfast or brunch you have coming up.
Whether you need to feed a crowd for a spring brunch with friends, or you simply need something new to shake up your normal weekend breakfast routine, this casserole can feed a good number of people without taking too much effort on your part!
The tart and tangy rhubarb paired with the sweet pear is a delightful combination of fruit, giving you bursts of fresh flavor in every single bite.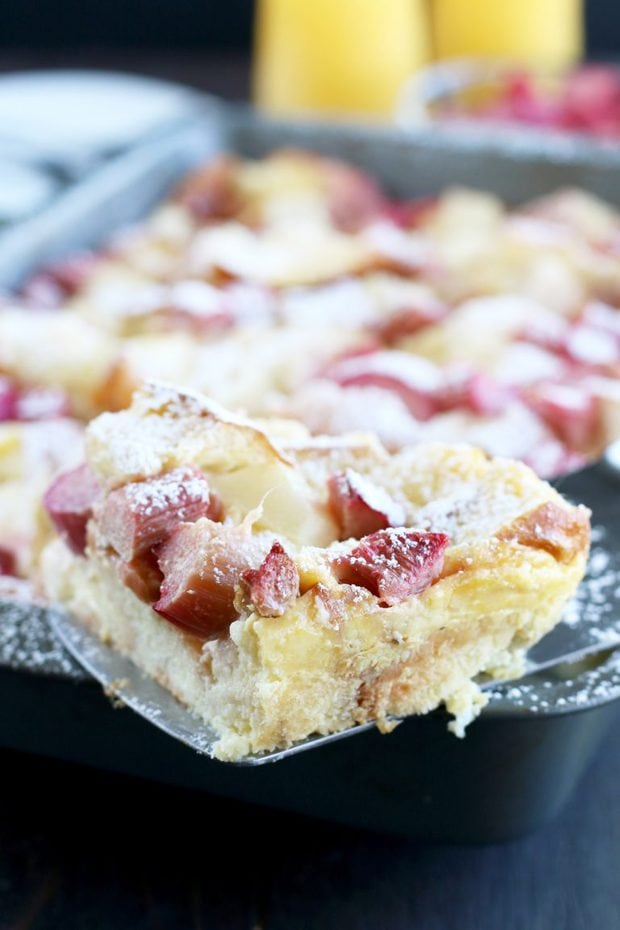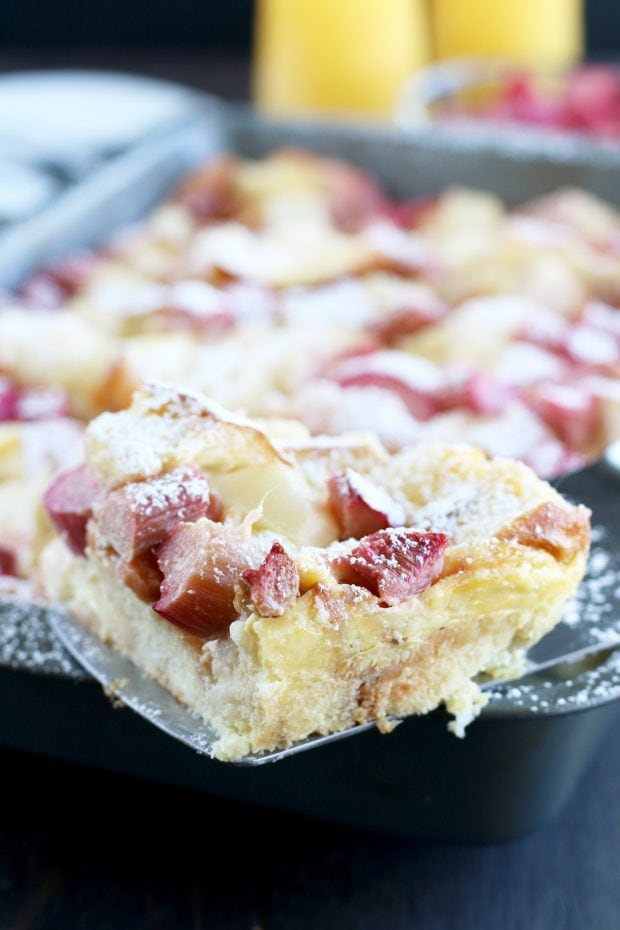 You literally throw it all together the night before and let it rest in the refrigerator overnight. All you have to do is wake up, top it with some butter and sweet tangy lemon sugar, and bake it in the oven.
How easy is THAT?!
Top it all off with some powdered sugar and serve it up alongside some mimosas and maple syrup.
That's rhubarb breakfast perfection my friends…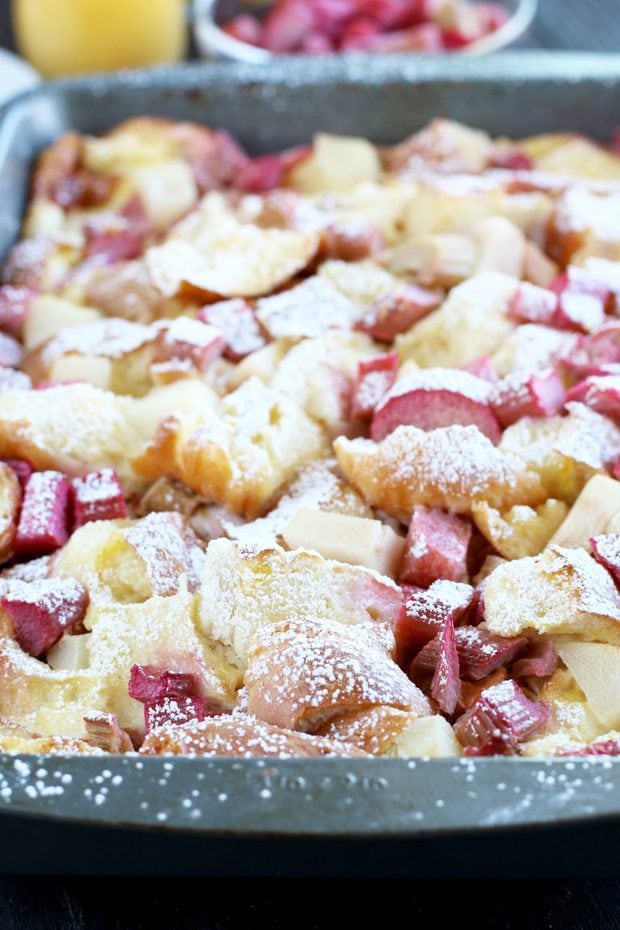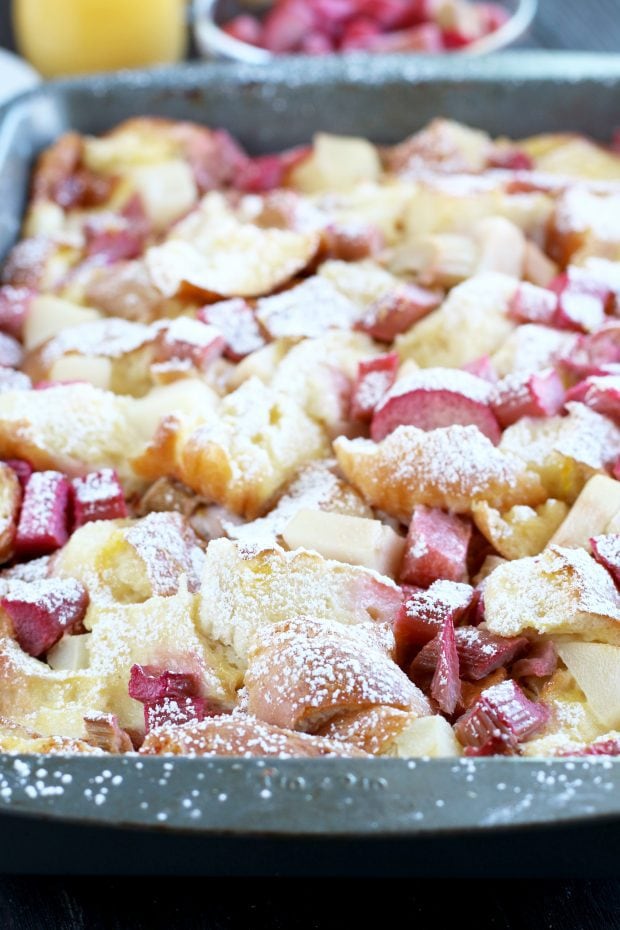 Do you need more ways to use rhubarb?? Check out my favorite rhubarb recipes below!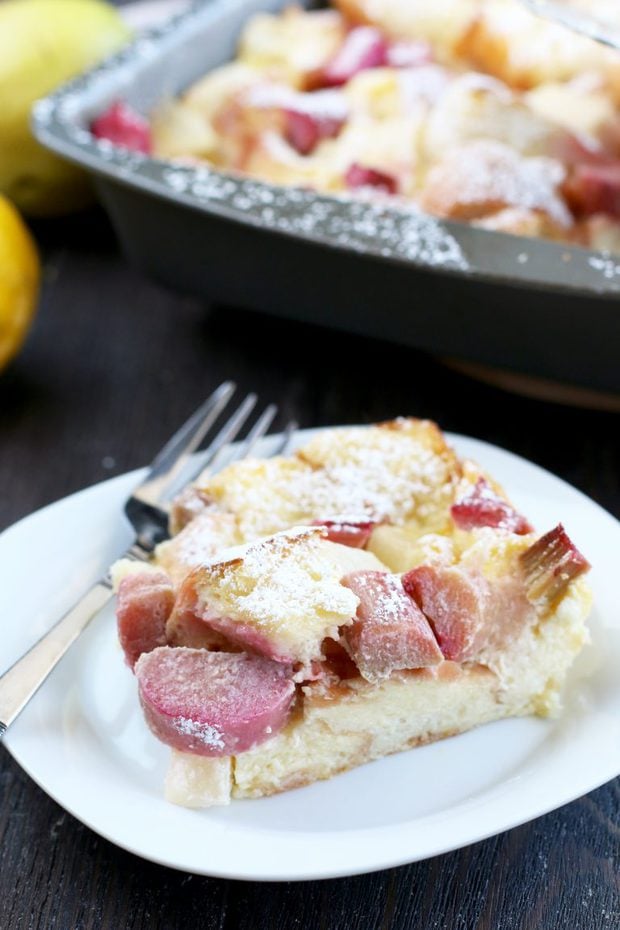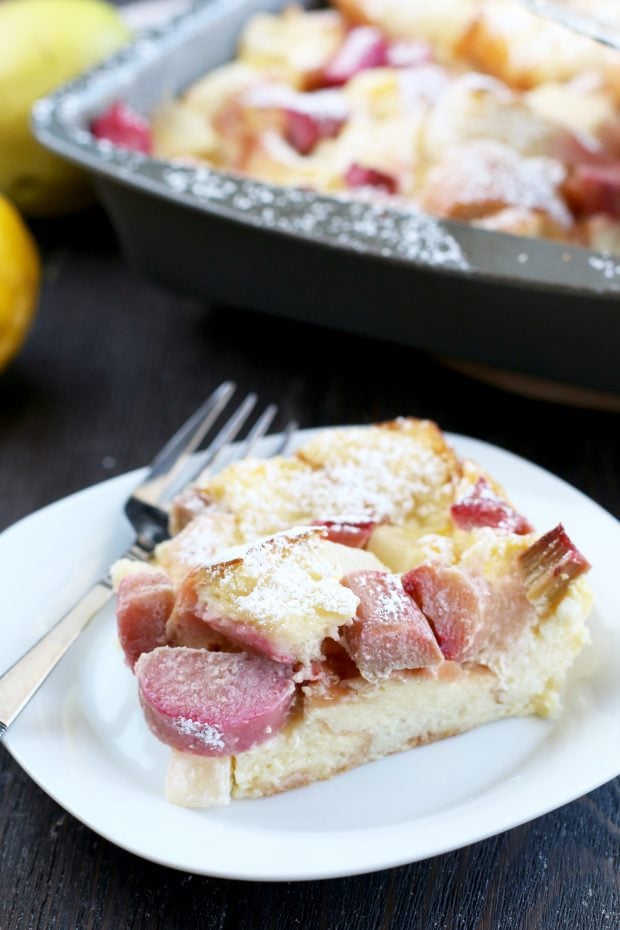 This Recipe's Must Haves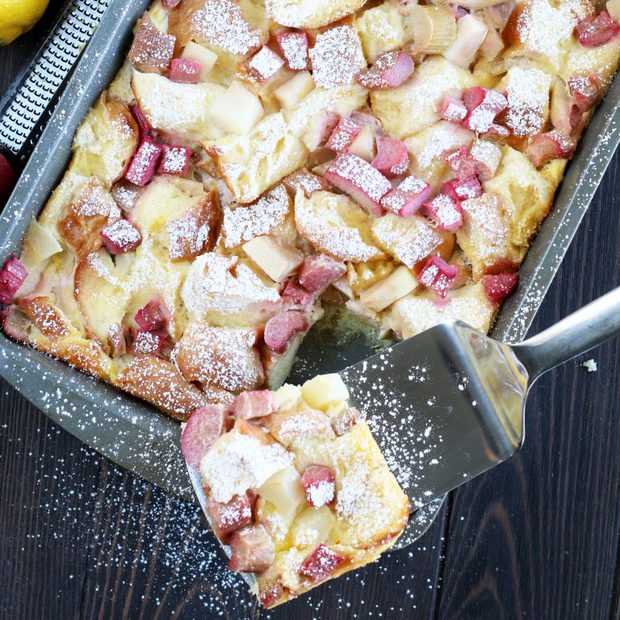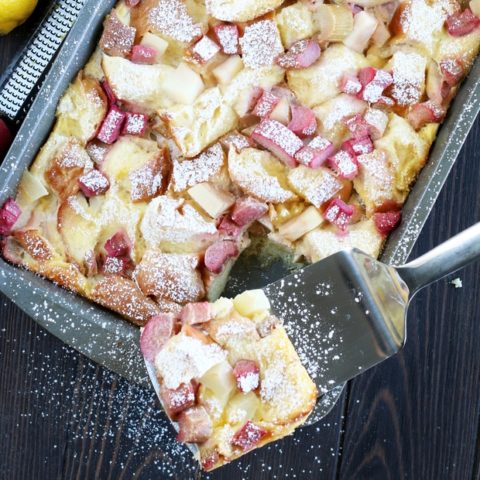 Rhubarb Pear French Toast Overnight Casserole
Prep Time:
8 hours
10 minutes
Take advantage of rhubarb being in season with this tart and tangy French toast casserole. Sprinkled with lemon zest sugar, it's the perfect start to the day!
Ingredients
French Toast Casserole
1 1/2 cups chopped rhubarb
1 loaf (1 lb) French bread, cut into 1-inch cubes
2 pears, peeled and chopped
8 eggs, lightly beaten
3 cups milk
2 Tbsp sugar
1 tsp vanilla extract
3/4 tsp salt
Topping
2 Tbsp butter
3 1/2 Tbsp sugar
2 teaspoons lemon zest
Powdered sugar
Instructions
Preheat oven to 425 degrees.
Spread chopped rhubarb on a baking sheet lined with parchment paper of a silicone mat. Bake for 15 minutes, until fork tender.
Remove from oven and set aside.
Place a layer of bread cubes in a greased 13x9-inch baking dish. Top with a layer of chopped pear and roasted rhubarb. Top with a layer of bread cubes and finish with the remaining rhubarb and pear.
In a large bowl, whisk together eggs, milk, sugar, vanilla and salt. Pour over the bread and fruit. Cover with aluminum foil and refrigerate for at least 8 hours, or overnight.
Remove from refrigerator 30 minutes before baking. When ready to bake, preheat oven to 350 degrees F.
Dot with butter. Combine sugar and lemon zest for the topping in a small bowl. Sprinkle over the top of the casserole.
Cover and bake for 45 to 50 minutes. Let stand for 5 minutes. Top with powdered sugar as desired.
Notes
Note: You can use frozen chopped rhubarb. You will just need to roast the rhubarb for approximately 5 to 10 minutes longer.