Please note this post contains affiliate links.
Red Velvet Muffins have all the classic red velvet flavor, but for breakfast! Studded with white chocolate chips, these simple fluffy muffins are the ideal treat on any morning.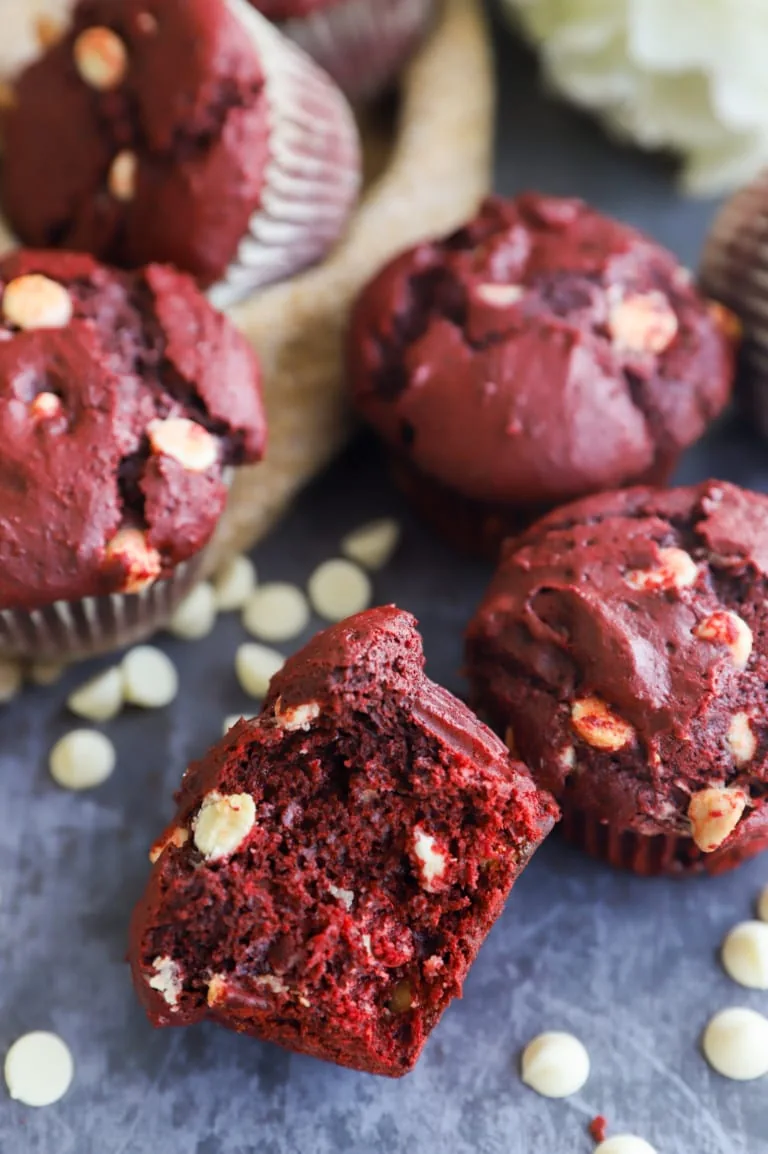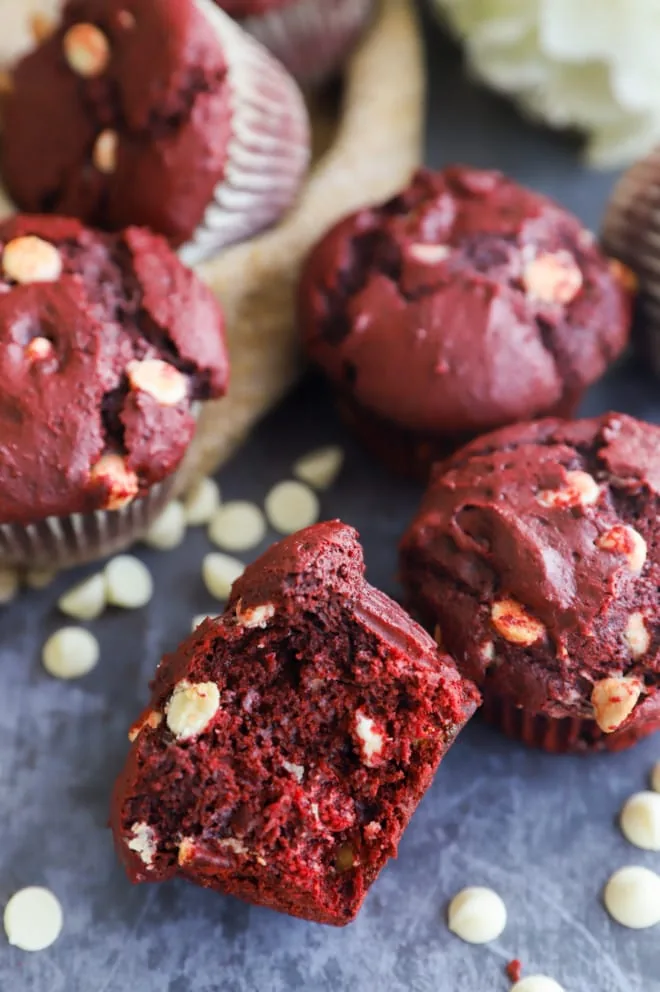 about these red velvet muffins
Red velvet is one of those treats I simply cannot resist. If it's on the menu, you can bet that I am ordering it!
I love turning the classic red velvet into a muffin, because it gives me an excuse to enjoy the treat for breakfast as well. You can serve these white chocolate studded muffins for Valentine's Day, Christmas morning, or any celebration where you need a pop of red (or just need your red velvet fix).
The inside of these muffins if so gloriously fluffy and tender, it's impossible not to fall in love with them at first bite. There is a light chocolate flavor to them, and I love the added touch of sweetness that the white chocolate brings to the party.
You won't even miss the cream cheese icing, I promise.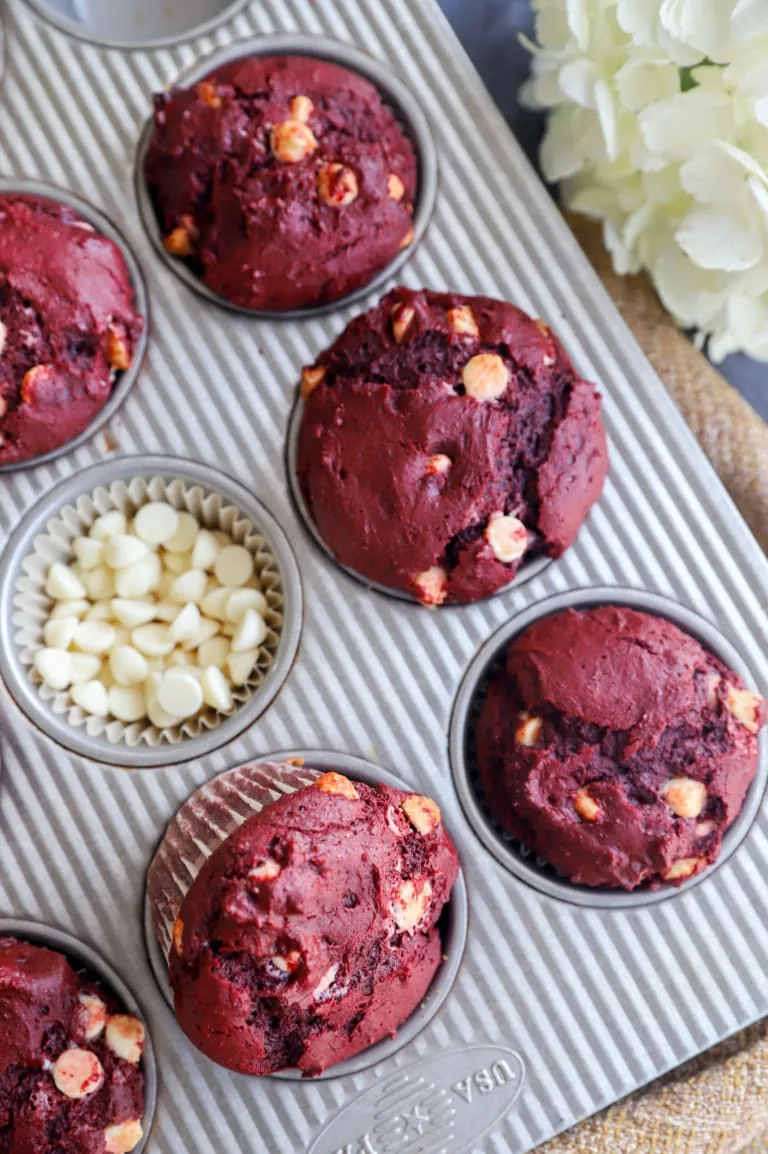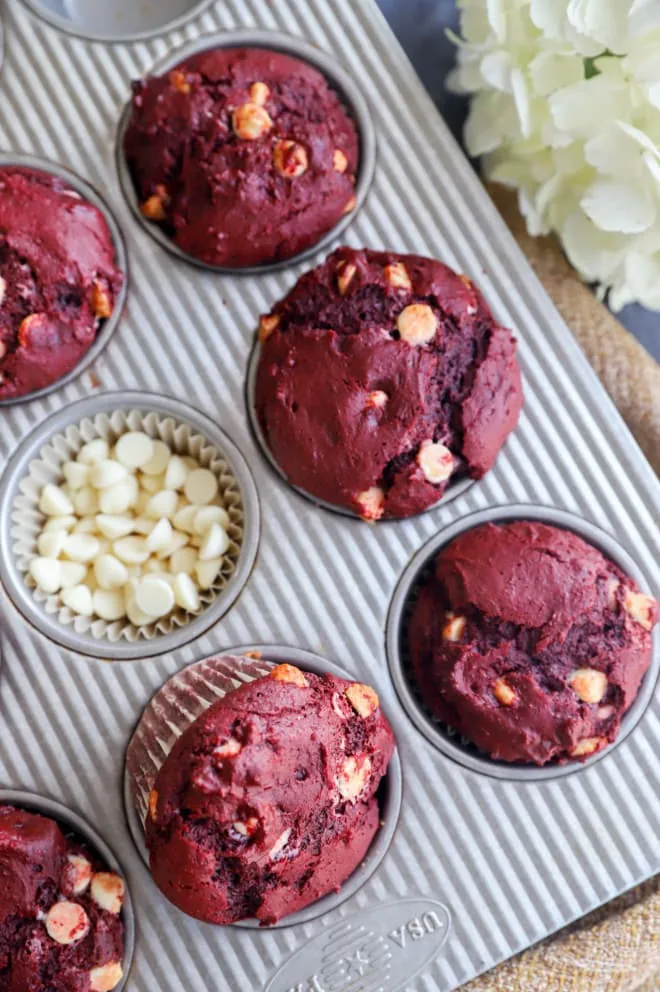 ingredients
cocoa powder. Use your favorite cocoa powder here! I love to use Dutch Process Cocoa Powder in all my recipes but natural cocoa powder works too.
flour. All-purpose flour is all you will need. You can also use a 1:1 gluten-free flour substitute.
sugar. Instead of granulated sugar, this recipe calls for light brown sugar.
leaveners. Both baking soda and baking powder are used in this recipe!
salt. Use fine kosher salt in the recipe.
buttermilk. You can use either store-bought or homemade buttermilk in this recipe. The buttermilk is what gives you the tang that you traditionally get in red velvet!
eggs. I use large eggs in this recipe.
vanilla. I always highly recommend using a high-quality vanilla extract for your recipes, including this frosting. My favorite is Nielsen Massey – their Madagascar Bourbon Pure Vanilla Extract is amazing.
red food coloring. You will need one bottle of 1oz food coloring for this recipe.
butter. Use unsalted butter. If you only have salted butter, be sure to omit the salt in the recipe or the muffins will end up tasting salty.
white chocolate chips. You can also use milk or dark chocolate chips if you prefer, or omit them altogether.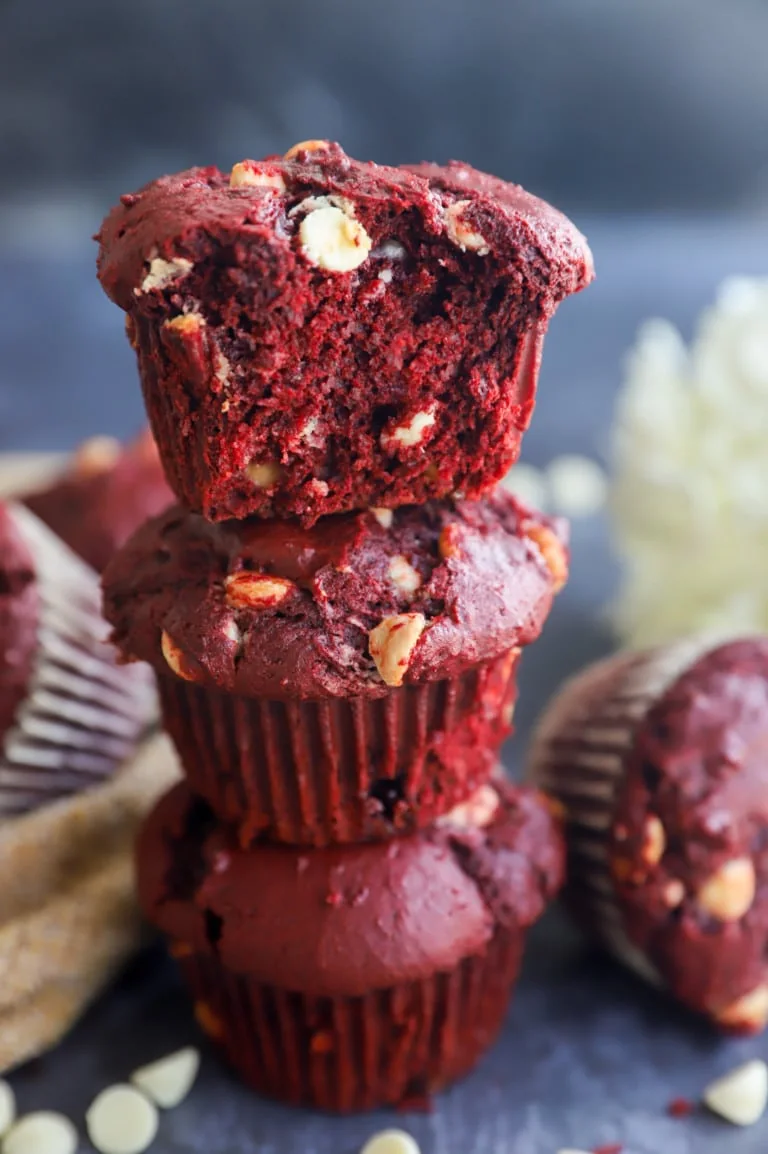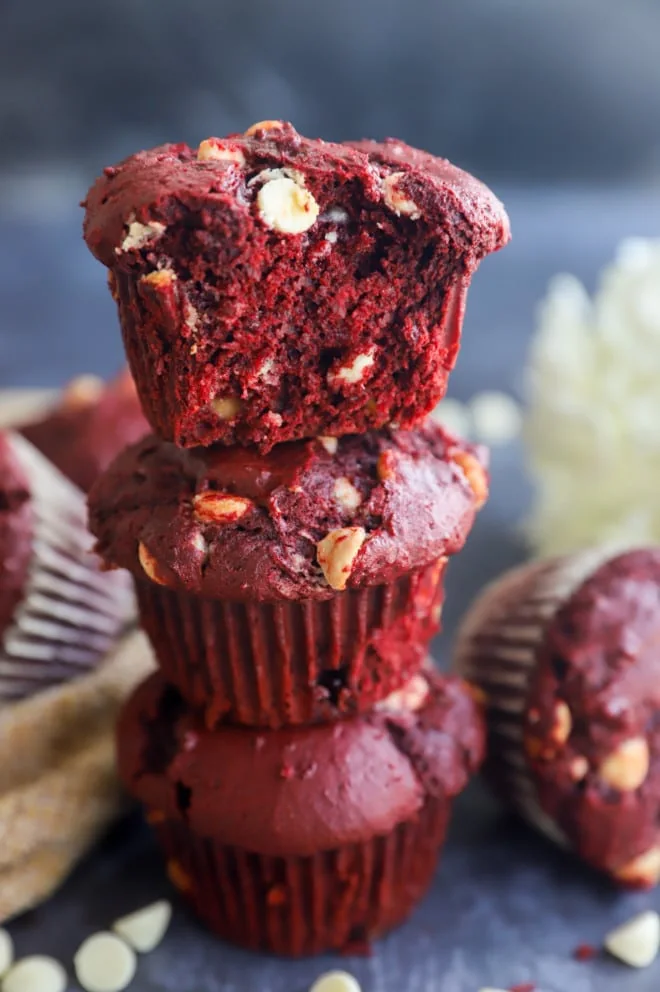 this recipe's must haves
For this recipe, you will need a whisk and a set of mixing bowls to make the batter. A spatula also comes in handy for folding in the white chocolate chips.
Measuring spoons and measuring cups are also needed to measure out all the ingredients.
I like to use a cookie dough scoop to easily fill the muffin tin with the batter.
Be sure to use parchment paper liners for your muffin tin! If you don't have any on hand, grease the muffin cups well with cooking spray.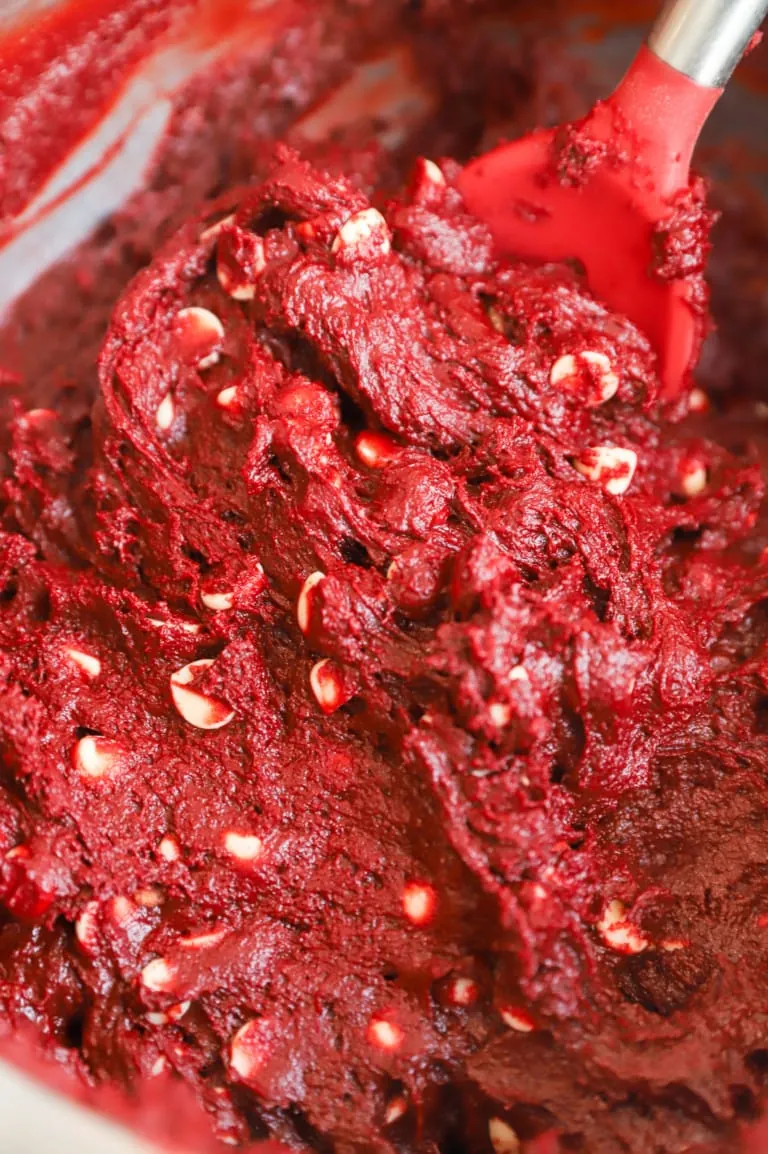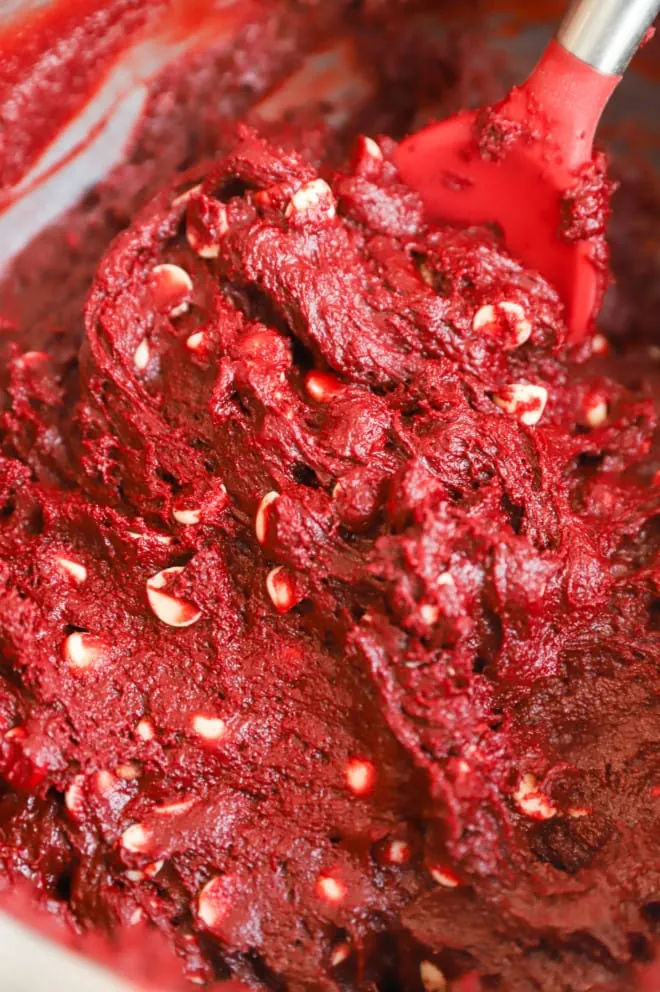 here's how to make red velvet muffins
dry ingredients
In a large bowl, whisk together cocoa powder, flour, sugar, baking powder, baking soda, and salt until combined.
Set aside.
wet ingredients
Whisk together buttermilk, eggs, vanilla, and food coloring in a medium bowl.
combine
Add wet ingredients to dry ingredients with the melted butter. Stir until the batter is just combined.
Fold in white chocolate chips until incorporated.
bake
Divide batter between the lined muffin cups. Bake for 18 to 20 minutes at 350˚F. A toothpick inserted in the center should come out clean. Cool completely before serving.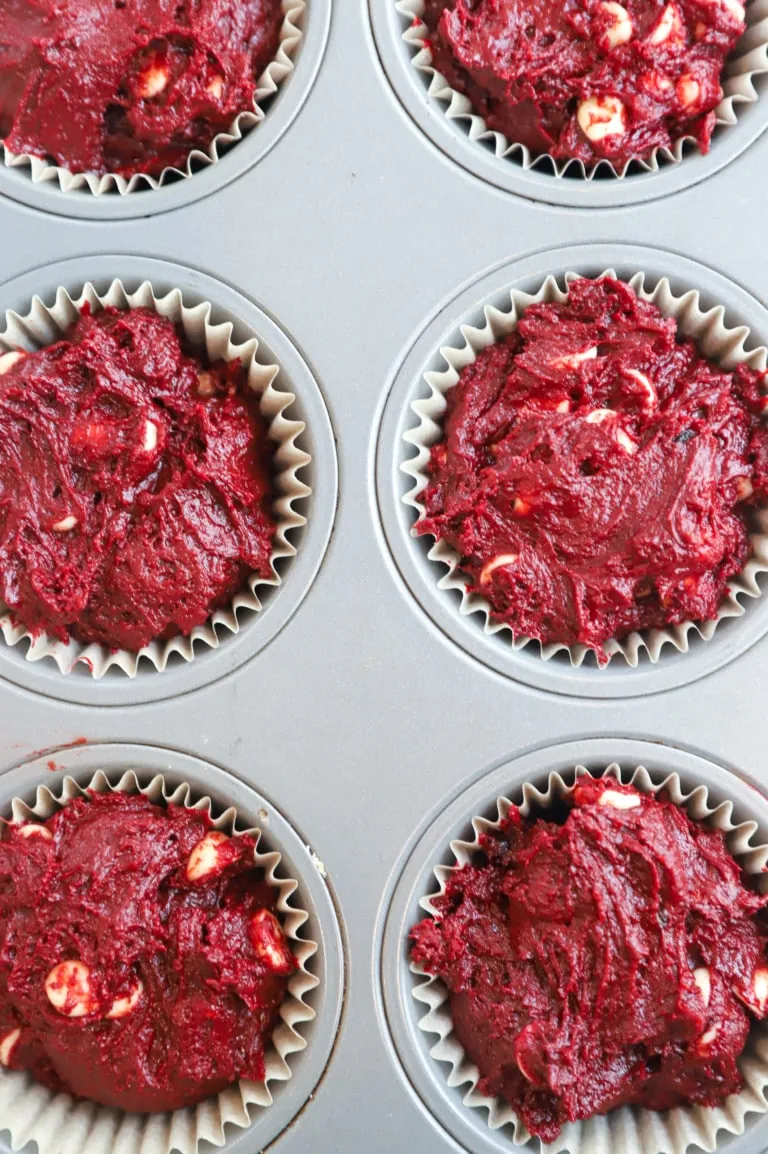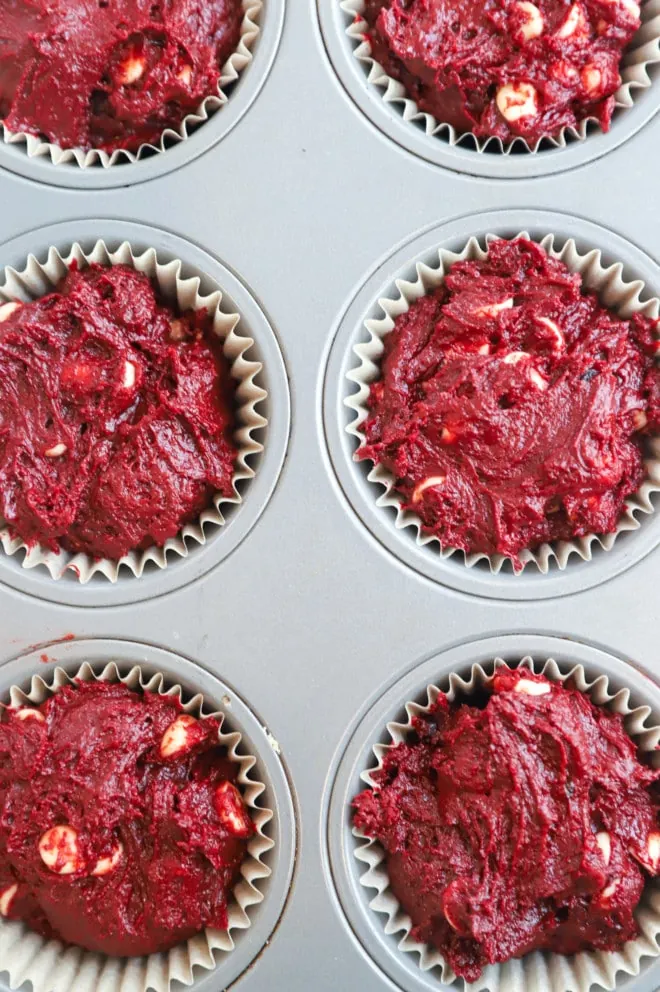 tips for success
check your baking soda and baking powder. Double check both to make sure yours aren't expired! This is one of the most common mistakes I see, and a really easy fix with a trip to the grocery store.
use parchment liners. The best liners I've used are ones made of parchment. Other paper liners tend to stick, but these peel right off!
More tasty muffin recipes to try: Pumpkin Cream Cheese Streusel Muffins | Blueberry Jalapeño Bacon Cornbread Muffins | Orange Madeleine Mini Muffins | One Bowl Banana Nutella Muffins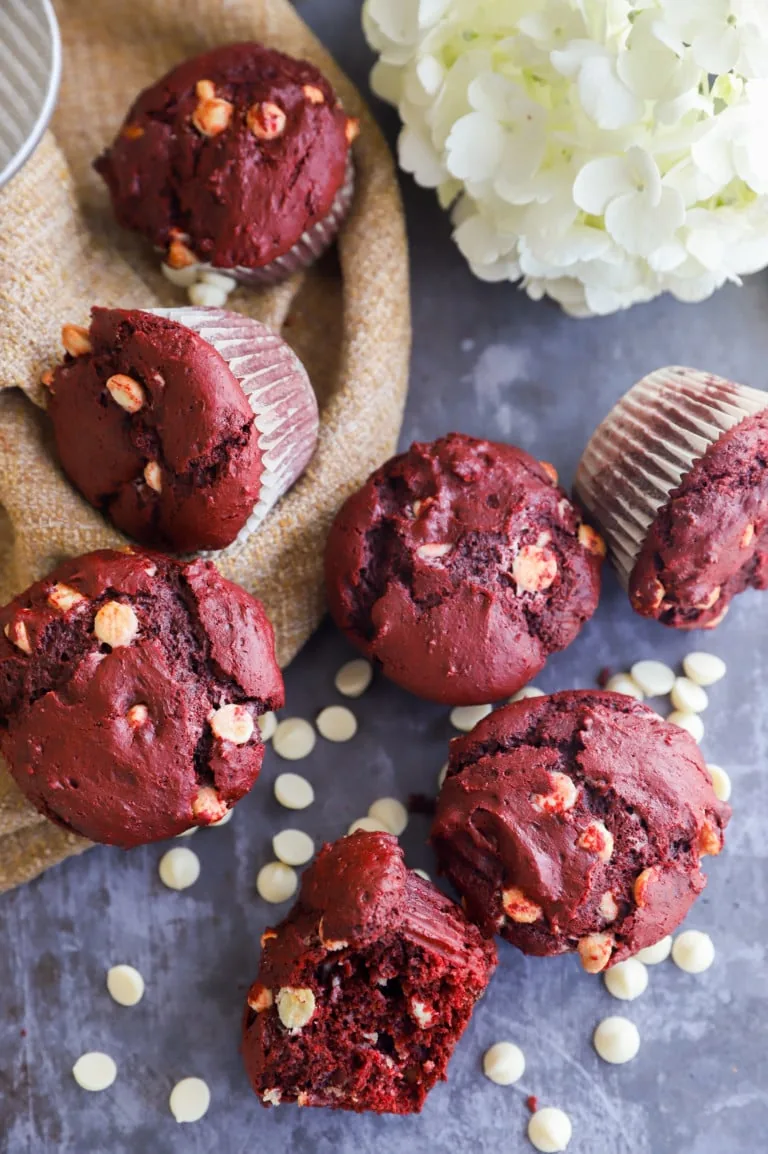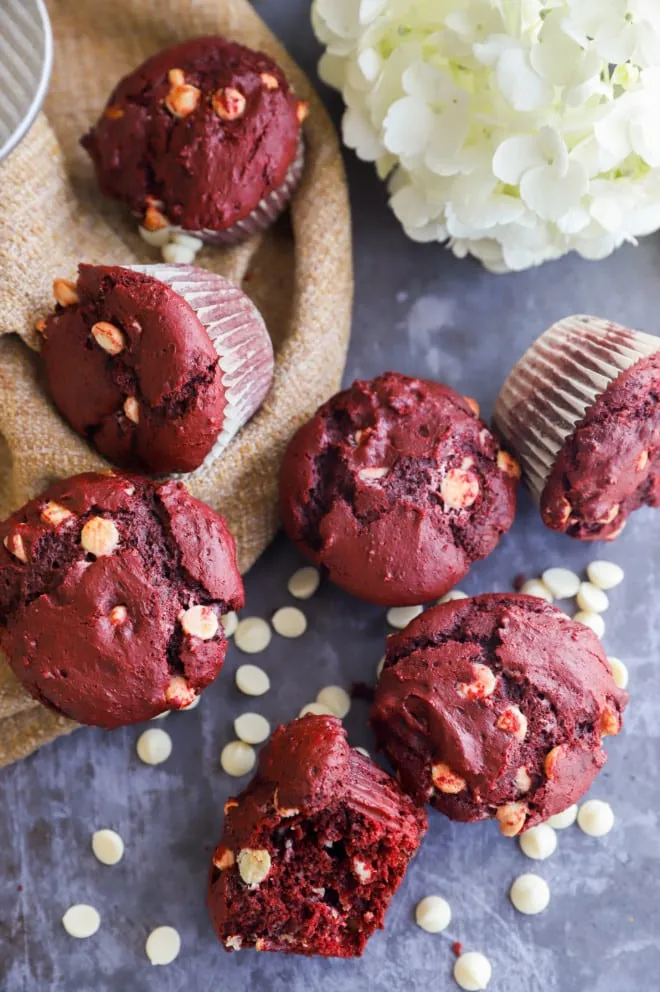 why aren't my muffins light and fluffy?
The culprit I see most often is because your baking soda and/or baking powder is expired. More often than not, it goes bad before us noticing as there is no indicator of expiration (other than impacting the texture of baked goods).
If your muffins come out with a firm and crisp exterior, that means they have been over-baked by a few minutes.
can I use a different chocolate chip?
Yes, you can! I love white chocolate with red velvet, but both dark chocolate and milk chocolate go well with these muffins too. Use your favorite in these muffins! You can also omit the chocolate chips if you don't have them handy – the muffins without chocolate are still just as tasty.
can I freeze these red velvet muffins?
These muffins are fantastic for freezing! Wrap them individually in a layer of plastic wrap and then a layer of aluminum foil to protect them in the freezer. Store them in freezer bags or an airtight container for up to three months.
Need more inspiration for breakfast? Check out my breakfast recipes page!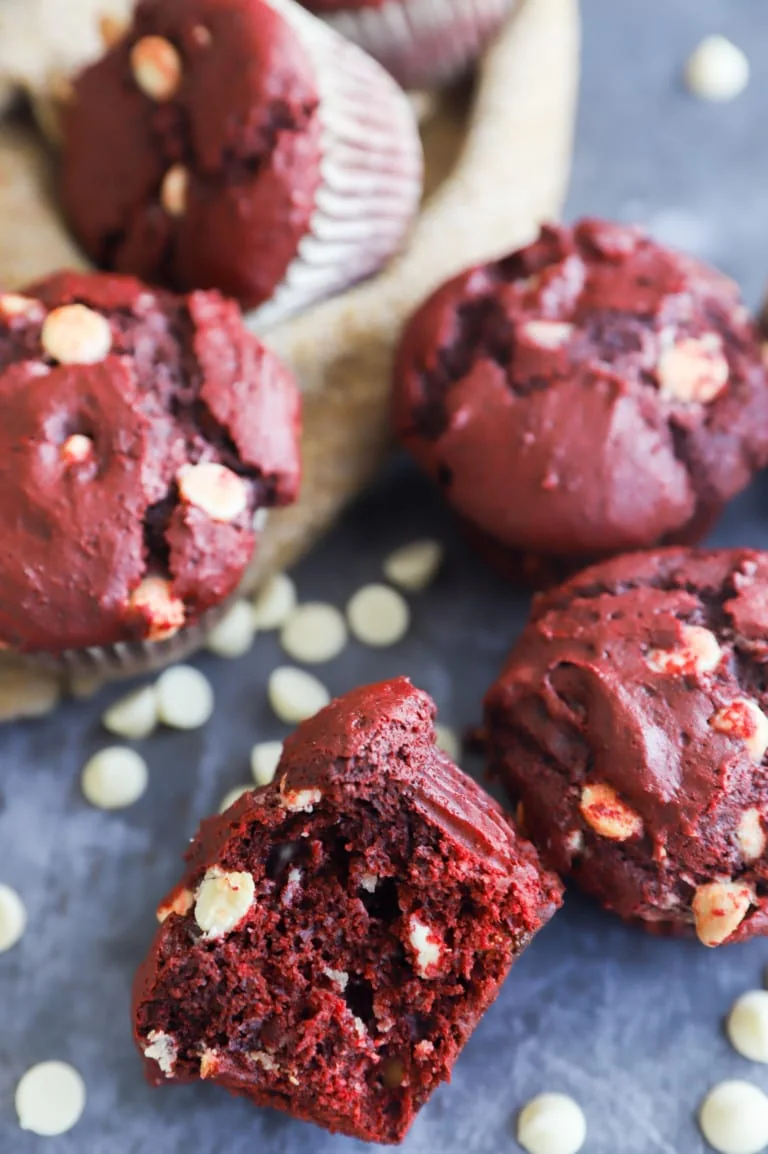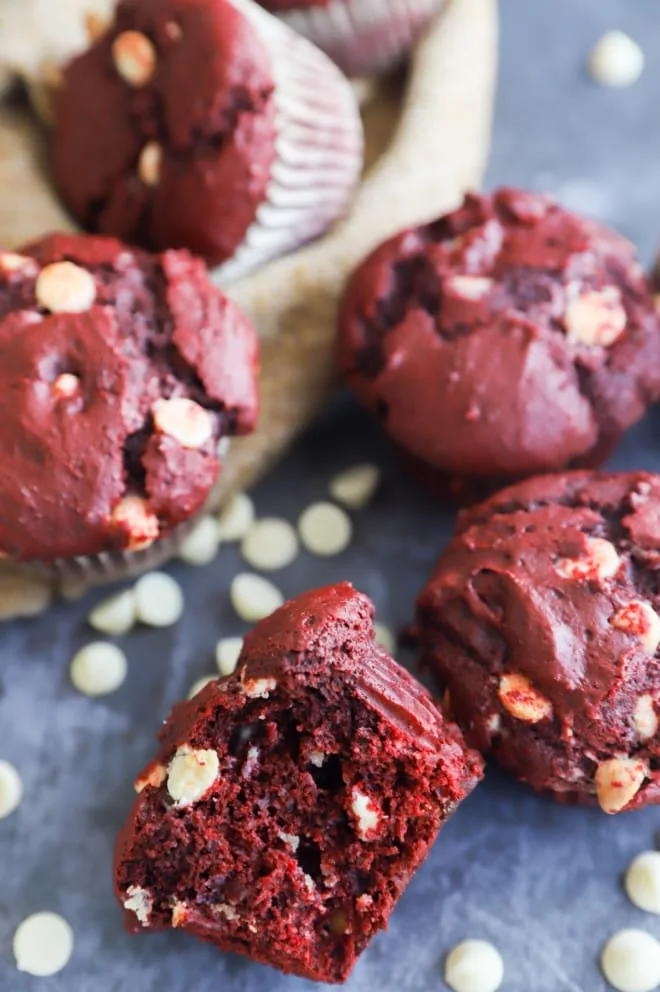 what to serve with red velvet muffins
When I am serving up red velvet muffins, it's usually alongside other traditional breakfast items like soft scrambled eggs, bacon, and fruit. If you want to make a centerpiece savory dish that will pair with the sweetness of the muffins, here are some ideas:
What would breakfast (well brunch really) be without a mimosa?! If you are serving these muffins up for a celebration, be sure to serve it up with a raspberry mimosa, cranberry mimosa, or strawberry mimosa as well.
how to store and reheat
Store. Once they have cooled down, store them in an airtight container at room temperature for up to 3 days. Storing them in the fridge will cause them to dry out, so I do not recommend doing this.
Freeze. Cool the muffins to room temperature, then store in an airtight container for up to 3 months. To properly store muffins, wrap them in a layer of plastic wrap, followed by a layer of aluminum foil.
Reheat. To reheat frozen muffins, you can either reheat them in the oven at 350˚F for 10 to 15 minutes or in the microwave for about 30 seconds until warmed through.
Finally, if you make these red velvet muffins, please be sure to give this recipe a rating or leave a comment! I love to hear when you all make recipes, and I do take the time to respond to every single comment. Feel free to drop questions below too, if you have them!
Oh and be sure to tag me on Instagram if you make the recipe! I love being able to see these recipes come to life in your homes – it's my favorite thing to look through those photos. It really means the world to me!
everyday seasonal cookbook
With seasonal produce guides, recipes, and more, this cookbook is filled with seasonal food for every occasion.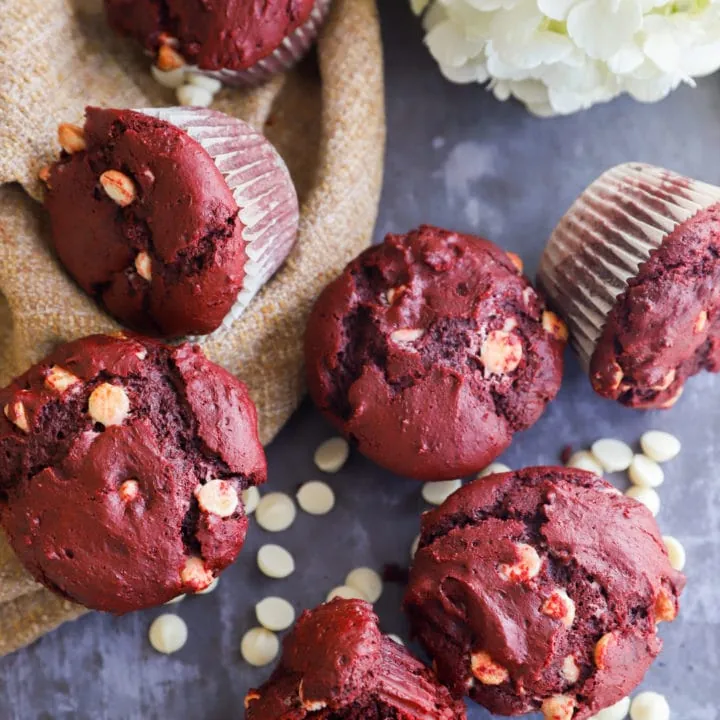 Red Velvet Muffins
Fluffy and dotted with white chocolate chips, these red velvet muffins are perfect for any celebration!
Ingredients
2/3 cup cocoa powder
2 cups all purpose flour
1 cup + 1 Tbsp light brown sugar packed
1 tsp baking powder
1 tsp baking soda
1/2 tsp salt
3/4 cup buttermilk, room temperature
2 large eggs, room temperature
1 1/2 tsp pure vanilla extract
1 1oz bottle red food coloring
1/2 cup melted unsalted butter
1 cup white chocolate chips (you can also use dark or milk)
Instructions
Preheat oven to 350˚F. Line a 12-cup muffin tin with muffin liners and set aside.
In a large bowl, whisk together cocoa powder, all-purpose flour, light brown sugar, baking powder, baking soda, and salt until combined. Set aside.
In a separate medium bowl, whisk together butermilk, eggs, vanilla, and red food coloring.
Add wet ingredients to dry ingredients with the melted butter. Stir until just combined.
Fold in chocolate chips until just incorporated.
Divide the batter evenly between the muffin cups. Bake for 18 to 20 minutes, until cooked through (a toothpick inserted in the center should come out clean).
Remove from oven and cool completely before serving.
Recommended Products
As an Amazon Associate and member of other affiliate programs, I earn from qualifying purchases.