Please note this post contains affiliate links.
Pumpkin Coffee Cake with Cream Cheese Streusel is moist, flavorful, and packed with delicious fall flavor. Topped with a layer of cheesecake topping and finished with a streusel, this spiced breakfast cake is perfect for pairing with your morning coffee. Serves 8 to 10.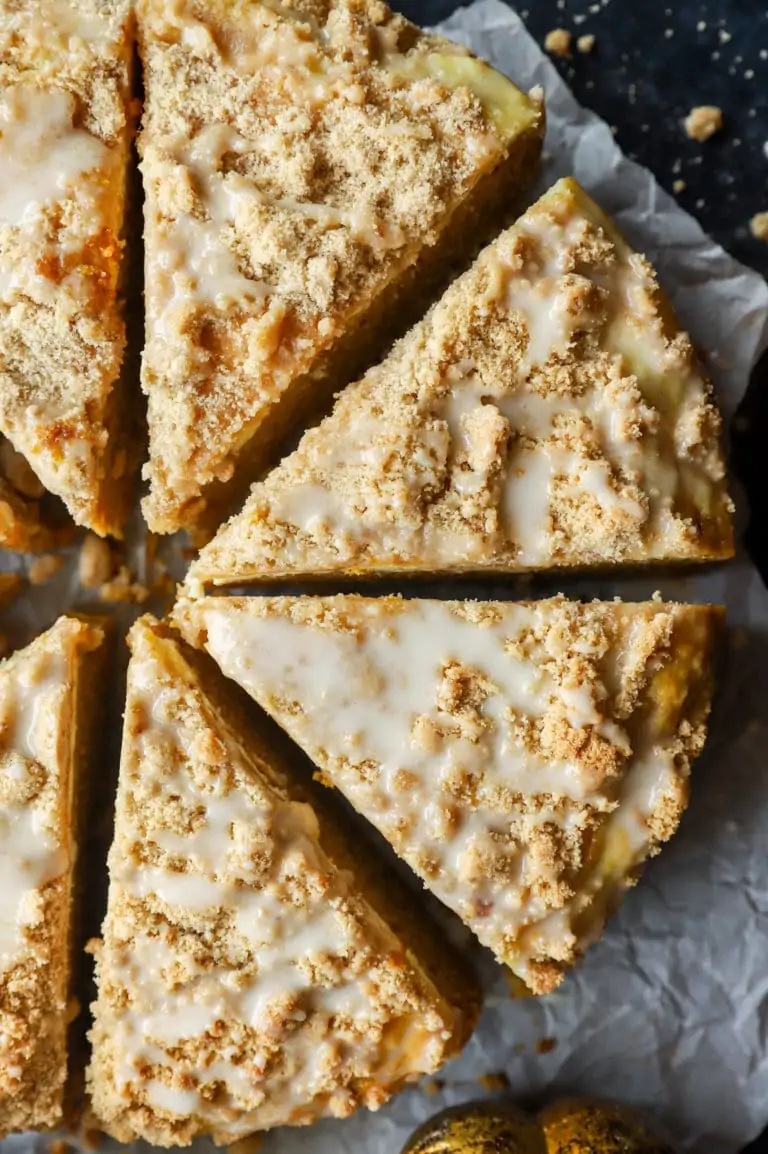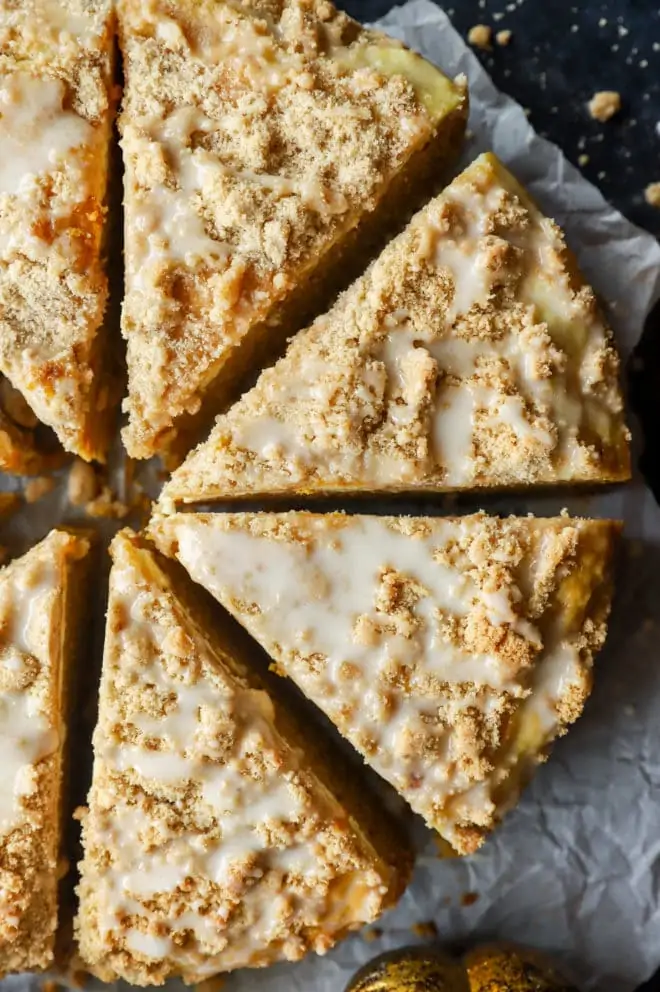 about this pumpkin coffee cake
This is the kind of cake you can eat for breakfast, brunch, an afternoon snack, or even dessert!
I love a good coffee cake, but nothing beats a pumpkin coffee cake in my book. The flavor of the pumpkin and the spices are warming and comforting, which is exactly what I'm craving once fall starts.
I took this pumpkin coffee cake to a whole new level because I added a layer of cheesecake goodness beneath the streusel topping. Initially I tried the layer in the middle, but the cheesecake got lost and I didn't like how it broke up the cake itself.
So I added it on top and holy moly, that was just what needed to happen! With a crumbly streusel on top, this is one of those treats that'll stick with you for the rest of the season.
It can be made a couple of days in advance, so be sure to pin this for breakfast ideas the day after Halloween or around Thanksgiving!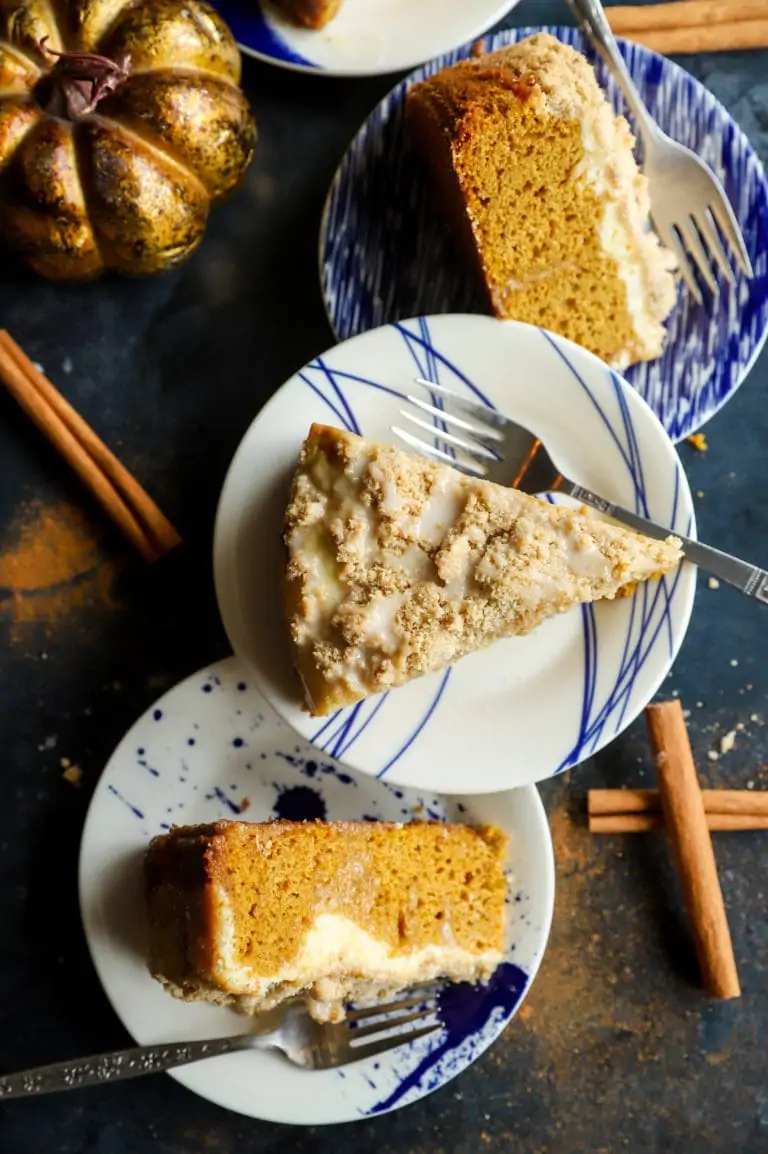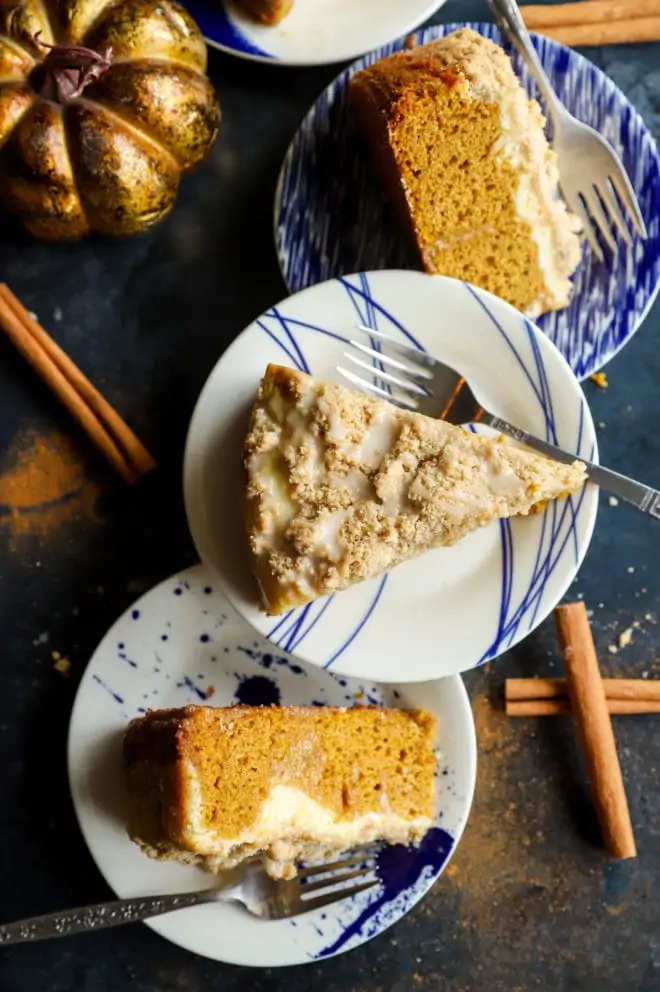 ingredients
flour – I use all-purpose flour for this recipe. You can also use a gluten-free flour that is 1:1 with all purpose flour (Bob's Red Mill makes one that I've used before and really enjoy!).
spices – for the cake and streusel, you'll need a few different spices including pumpkin pie spice and ground cinnamon. Salt is also used!
baking powder and baking soda – both baking powder and baking soda are needed for the cake!
butter – use unsalted butter since this recipe adds salt. If you use salted butter, omit the salt called for in the cake recipe.
sugar – for the various elements of this cake, you will need granulated white sugar, light brown sugar, and powdered (confectioners) sugar.
eggs – I prefer to use large eggs in my recipes!
pumpkin puree – you can use homemade or canned! If you do buy it canned, make sure that it is 100% pumpkin, and not pumpkin pie filling.
sour cream – do not use light or low-fat sour cream. You can swap sour cream for plain greek yogurt if you prefer.
vanilla – I recommend using a high-quality vanilla extract for your recipes. My favorite is Nielsen Massey – their Madagascar Bourbon Pure Vanilla Extract is amazing.
cream cheese – both full fat and low fat cream cheese work in this recipe.
milk – any kind of milk will do for the glaze! You only need a few tablespoons.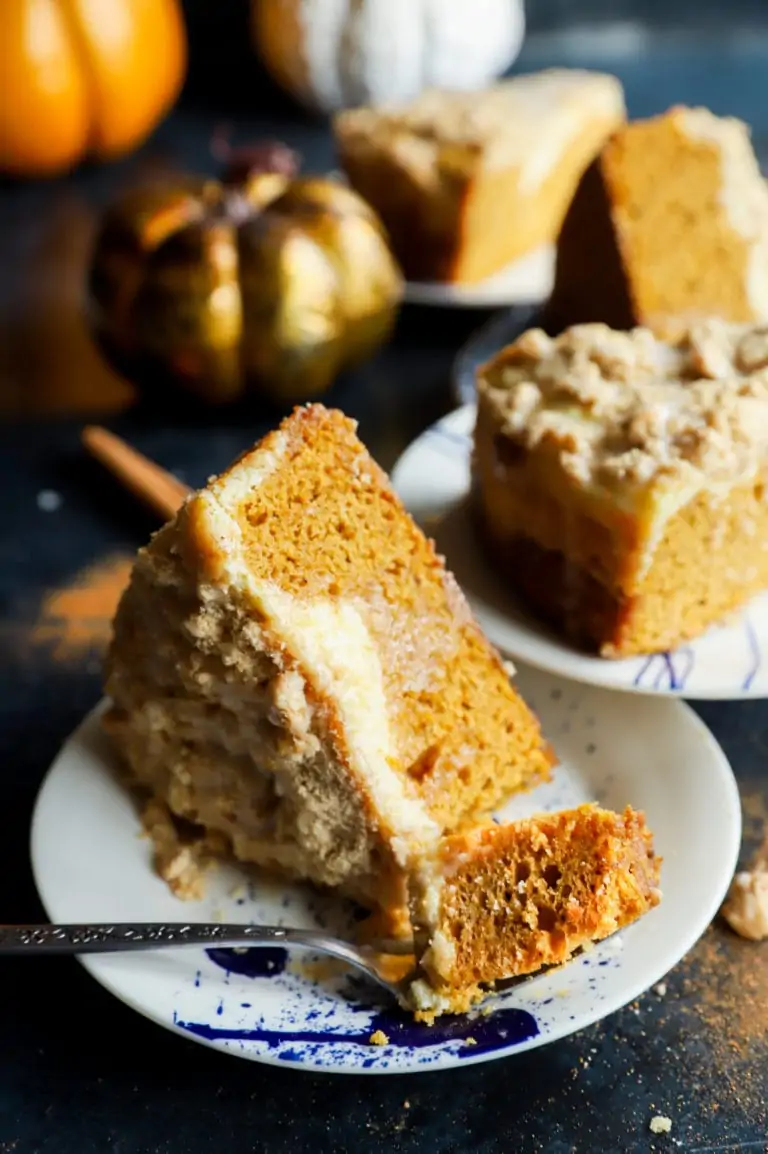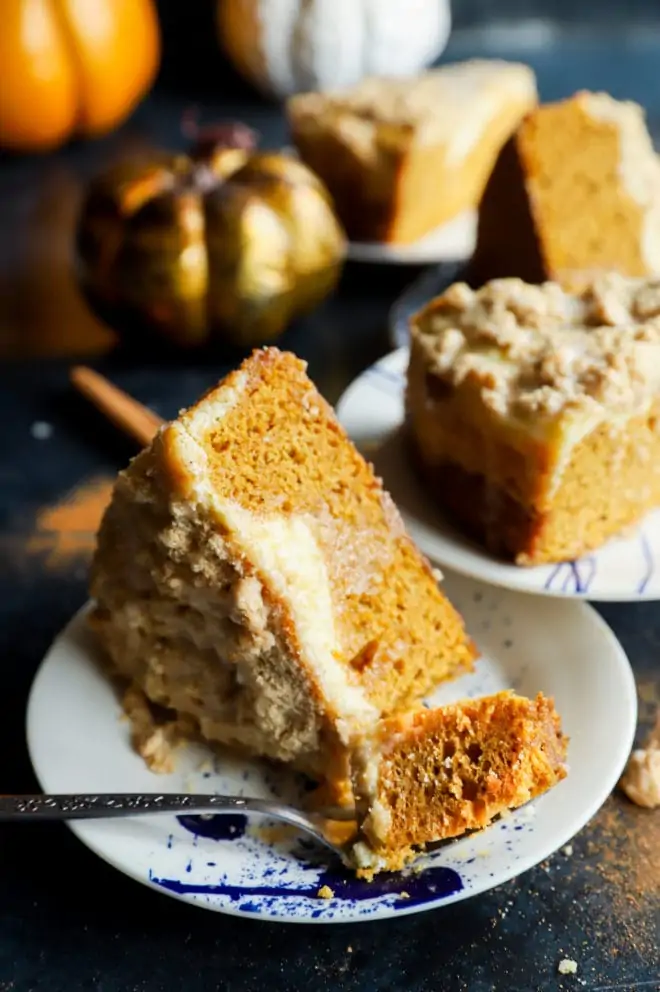 this recipe's must haves
To make this cake, you will need a stand mixer or an electric hand mixer with the largest of your metal mixing bowls.
You will also need a spatula to scrape down the sides of the bowl as you beat the batter and the cheesecake layer.
The cake is baked in a 9-inch springform pan. I have also tested it in a 10-inch springform pan and it works! It's just not quite as thick as you see in the pictures here.
Make sure you have a whisk on hand for the glaze!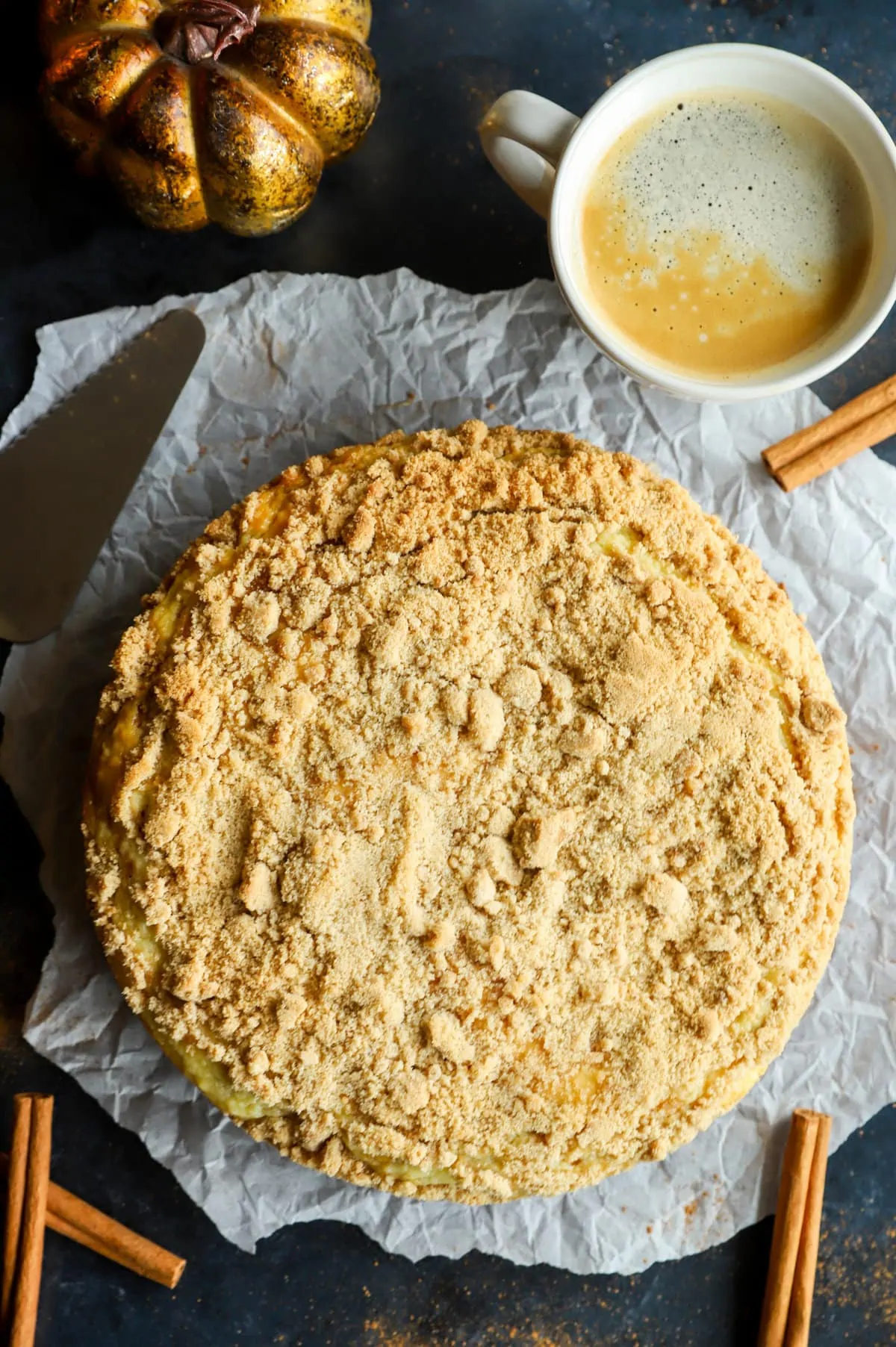 here's how to make this pumpkin coffee cake
make batter
Add butter and sugars to your stand mixer (you can also use an electric hand mixer with a large bowl!). Beat until the mixture is light and fluffy, which will take about 2 minutes on medium-high speed. Beat in the eggs, pumpkin puree, sour cream, and vanilla on low until everything is combined. Don't forget to scrape down the sides of the bowl!
Add dry ingredients, then beat until just combined. Add the batter to a greased 9-inch springform pan and set aside.
make cheesecake layer
Clean out your mixing bowl and paddle attachment. Add cream cheese and sugar, beating until smooth. Add egg and beat until incorporated, scraping down the sides as needed.
Set aside.
make streusel
In a medium bowl, combine butter, flour, sugar, and cinnamon for the streusel. Stir until it forms a crumbly mixture.
bake
Spread cream cheese mixture on top of the batter in an even layer, then sprinkle over the streusel on top.
Bake for 35 to 40 minutes at 350˚F until a toothpick inserted in the center comes out clean. Transfer from oven to a wire rack to cool to room temperature.
make glaze
While the cake is cooling, whisk together glaze ingredients until smooth.
Once cake is cooled, drizzle it on top and serve.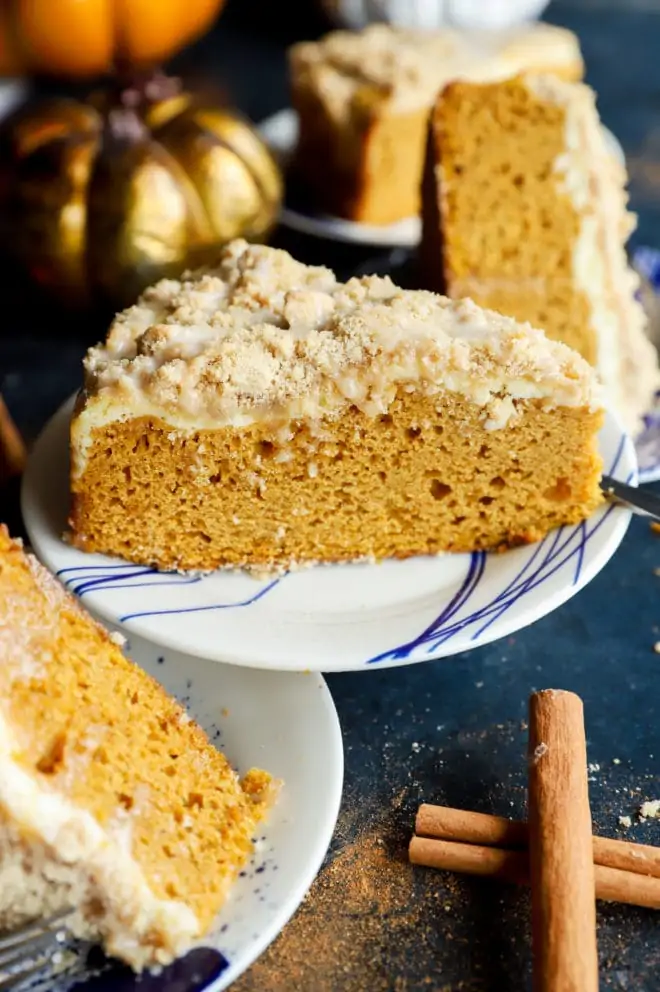 tips for success
add chopped nuts. If you love pecans or walnuts, you can add chopped nuts to either the streusel topping or throw some in the cake batter for added texture.
cool the cake before drizzling. Before you add the glaze, make sure that you let the cake cool. It's hard to wait to dig into this pumpkin coffee cake, but it's best to wait so the glaze doesn't melt.
warm up leftovers. If you want to warm up a leftover slice, simply pop it in the microwave for 20 to 30 seconds.
More sweet pumpkin recipes to try: Pumpkin Spice Cheesecake Mousse | Pumpkin Cream Cheese Streusel Muffins | Pumpkin Banana Bread | Pumpkin Spice Latte Ice Cream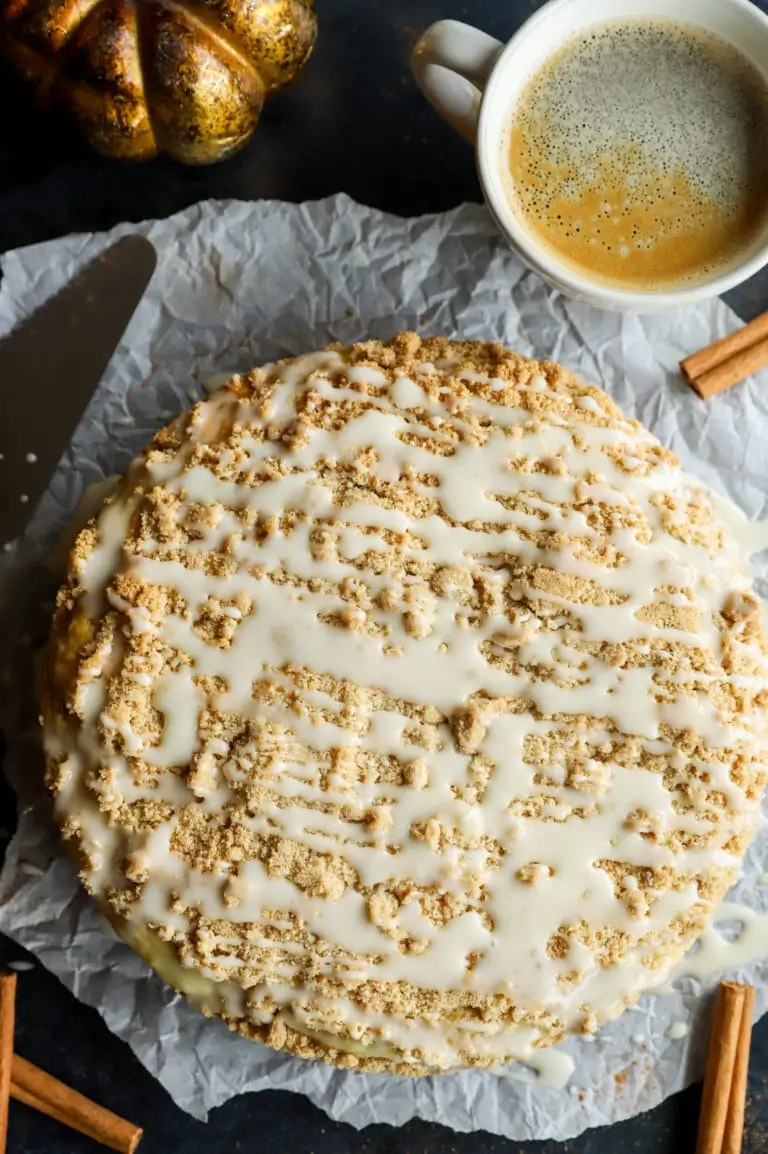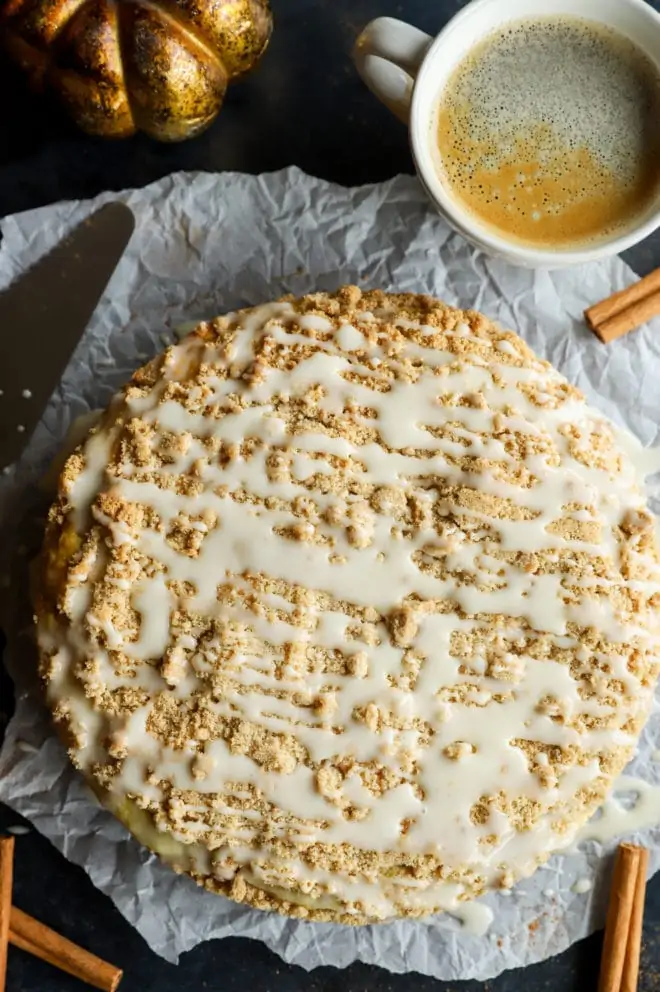 should you refrigerate pumpkin coffee cake?
Yes! Since this cake has a cream cheese topping, I recommend keeping it store in the refrigerator to keep it at its peak for 3 to 5 days.
does coffee cake actually have coffee in it?
It doesn't! Coffee cake gets its name because it's a treat that's meant to be served with coffee as a snack, breakfast, or brunch item. This cake does not have any coffee added to it and most do not.
Need some more inspiration for breakfast? Check out my breakfast recipes page!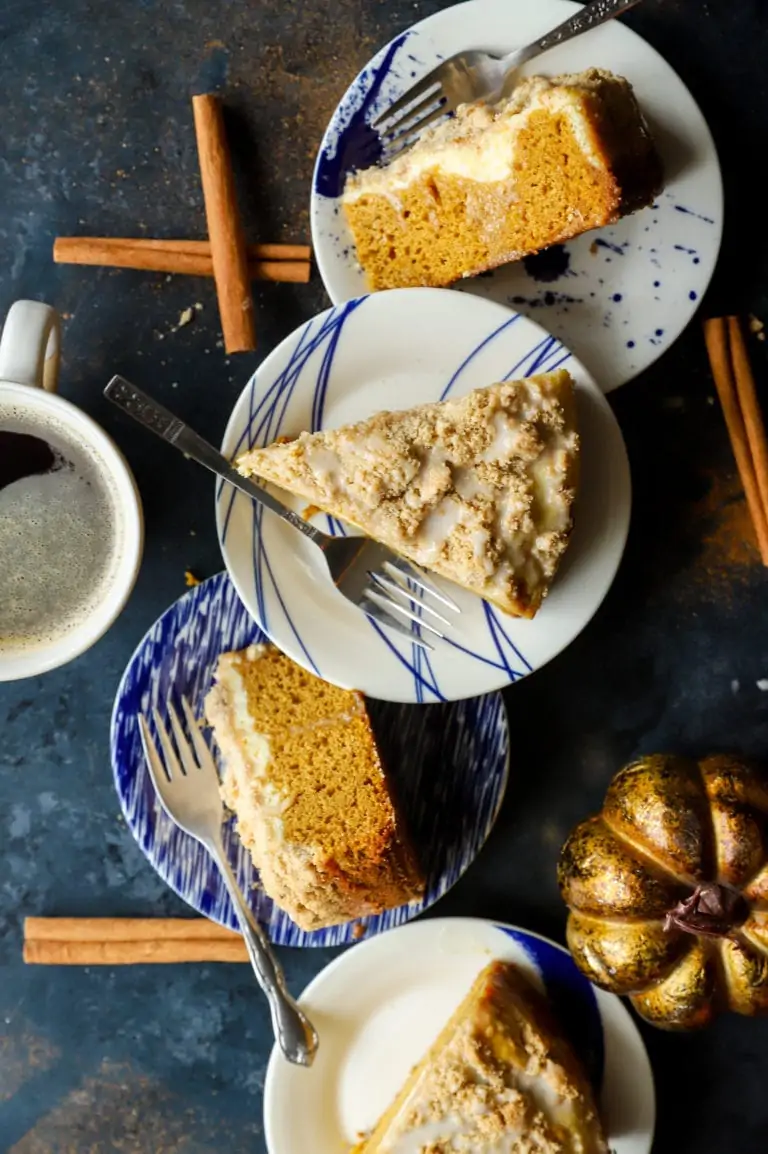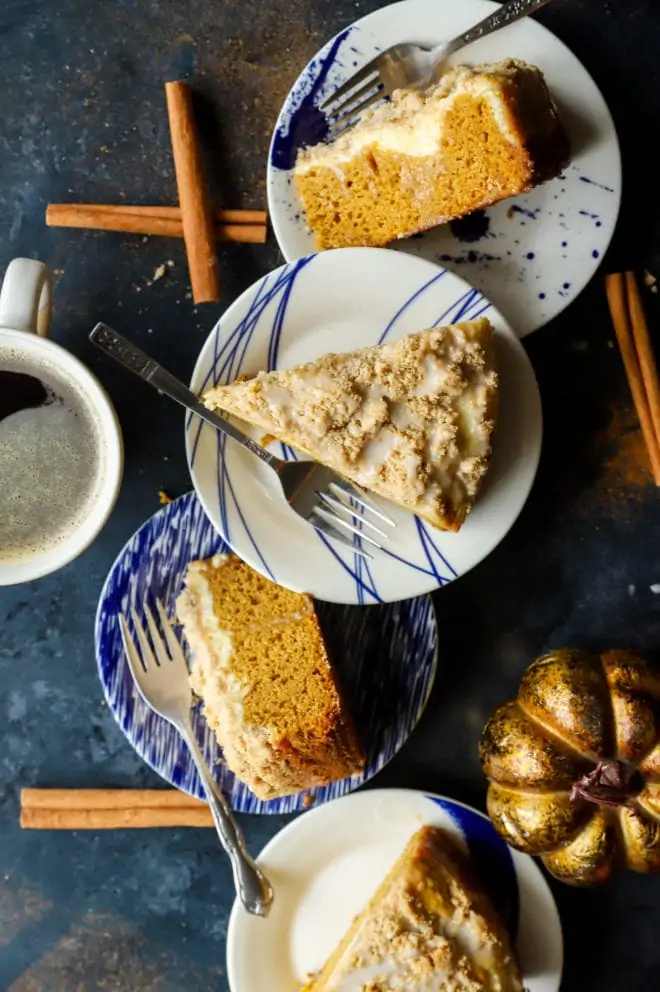 what to serve with pumpkin coffee cake
Pumpkin coffee cake should be served with…. COFFEE! Ideally you are serving it for breakfast or brunch, or perhaps for an afternoon coffee break.
If you are looking for more breakfast and brunch dishes to pair with this recipe, I recommend:
Bacon, sausages, or any other breakfast meat you love!
Eggs! Scrambled, over easy, or poached (especially made in the instant pot).
A hash skillet like this southwestern ham hash.
Your favorite coffee drink. On a cold morning I love a matcha latte or a chili caramel macchiato. For a crisp afternoon, a maple sweet cream cold brew is delightful with this cake.
If you love all things pumpkin, make sure to check out these pumpkin cheesecake cookies!
how to store
To store this coffee cake, you can either wrap it in foil or place in an airtight container once it has cooled completely. It will keep in the refrigerator for 3 to 5 days.
seasonal tip
If you are making your own homemade pumpkin puree, make sure you are using a pie or sweet pumpkin. They are small and round! Make sure the stem is well-attached, brown, and dry (this is what means it's ready to be harvested).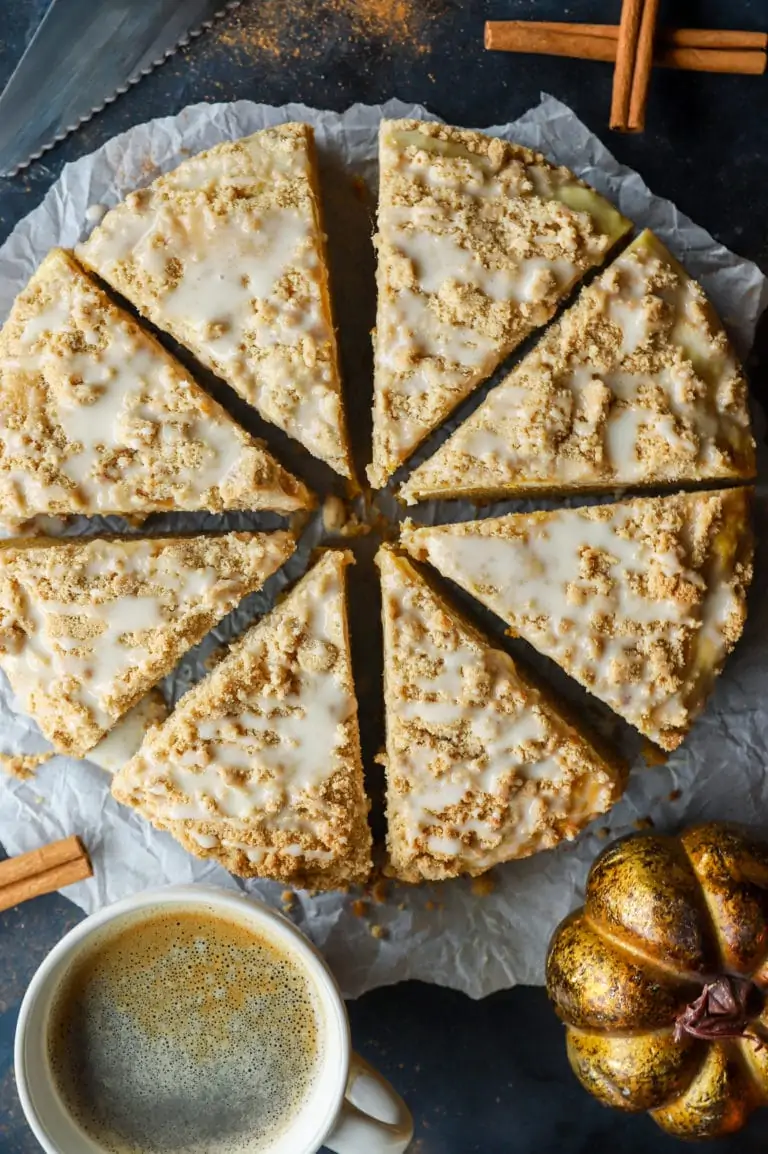 Finally, if you make this pumpkin coffee cake, please be sure to give this recipe a rating or leave a comment! I love to hear when you all make recipes, and I do take the time to respond to every single comment. Feel free to drop questions below too, if you have them!
Oh and be sure to tag me on Instagram if you make the recipe! Love being able to see these recipes come to live in your homes – it's my favorite thing to look through those photos. It really means the world to me!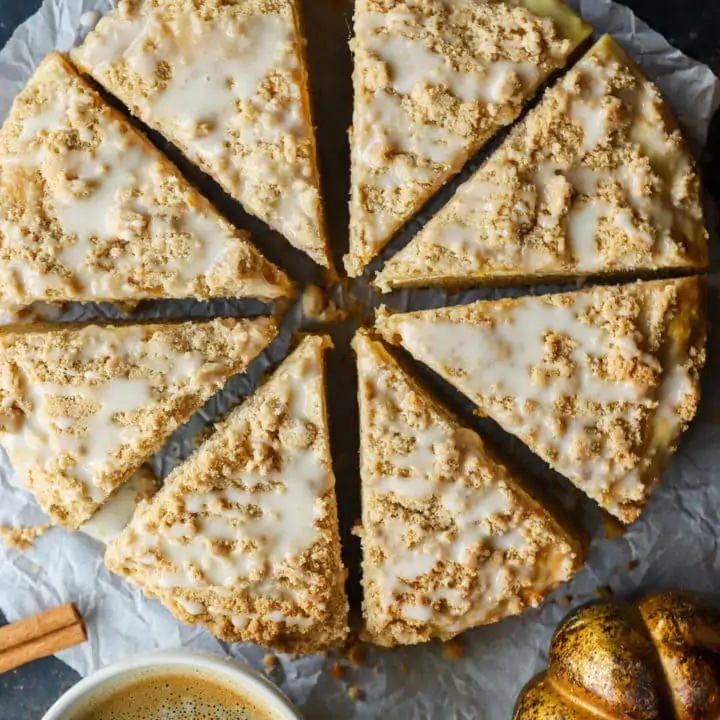 Pumpkin Coffee Cake with Cream Cheese Streusel
Total Time:
1 hour
5 minutes
Moist and fluffy, this cake is a must-make for any fall morning!
Ingredients
coffee cake
2 cups all-purpose flour
1 Tbsp pumpkin pie spice
1 tsp baking powder
1 tsp baking soda
1 tsp kosher salt
1/2 cup (1 stick) unsalted butter, room temp
1/2 cup granulated white sugar
1/2 cup packed light brown sugar
2 eggs
1 cup pumpkin purée (canned or homemade)
1/2 cup sour cream
1 1/2 tsp vanilla extract
cheesecake topping
1 (8-oz.) block cream cheese, softened
1/4 cup granulated sugar
1 large egg
streusel
1/2 cup unsalted butter, melted
1 1/4 cup all purpose flour
1 cup light brown sugar
1/2 tsp ground cinnamon
drizzle
1 cup powdered sugar
2 to 3 Tbsp milk
1 tsp vanilla extract
Instructions
Preheat oven to 350˚F. Grease a 9-inch springform pan with cooking spray. Set aside.
In a medium bowl, whisk together flour, pumpkin pie spice, baking powder, baking soda, and salt. Set aside.
To make the batter, add butter and sugars for the cake to the bowl of a stand mixer fitted with a paddle attachment. Beat until the mixture is fluffy on high speed, about 2 minutes. Beat in eggs, pumpkin puree, sour cream, and vanilla, until well-combined.
Add the dry ingredient mixture and beat until just combined. Pour the batter in the prepared pan and set aside.
To make the cheesecake topping, add cream cheese and sugar to the bowl of the stand mixer (be sure to clean it out after you finish the batter!). Beat until smooth, then add the egg, beating until incorporated. Spread the cheesecake topping on top of the batter and set aside.
To make the streusel, add melted butter, flour, sugar, and cinnamon to a small bowl. Stir until the mixture is crumbly. Sprinkle over the cake in the pan in an even layer.
Bake for 35 to 45 minutes, until a toothpick inserted in the center comes out clean. Remove from oven and place on a wire rack to cool.
While cake is cooling, whisk together drizzle ingredients.
When cake has cooled, drizzle with icing and serve.
Recommended Products
As an Amazon Associate and member of other affiliate programs, I earn from qualifying purchases.