Please note this post contains affiliate links.
A Breakfast Croissant Sandwich brings a ton of flavor to a tasty handheld way to start the day! It's packed with prosciutto, cheese, fig jam and mustard. Simple and ready in less than 20 minutes. Serves 4.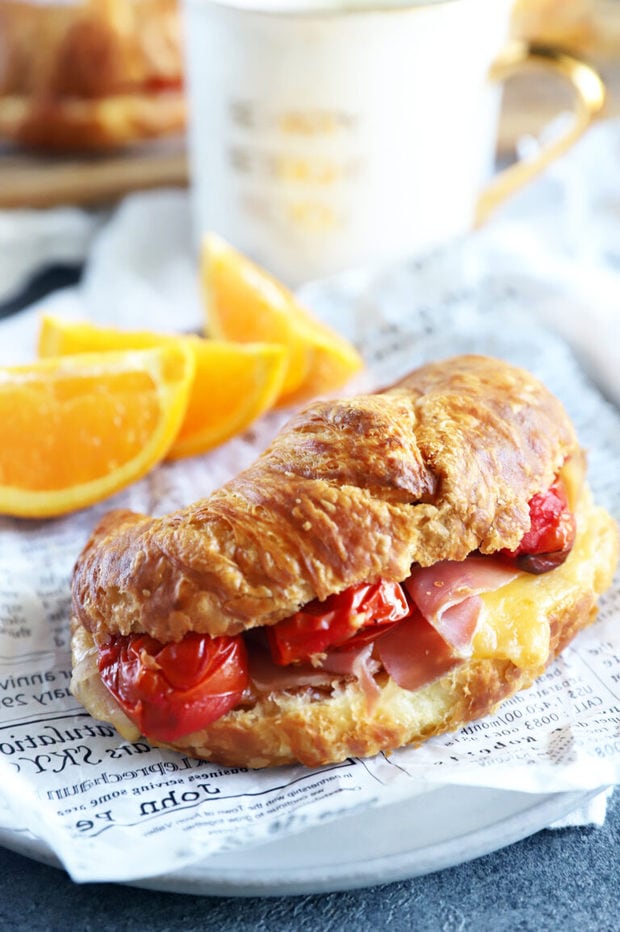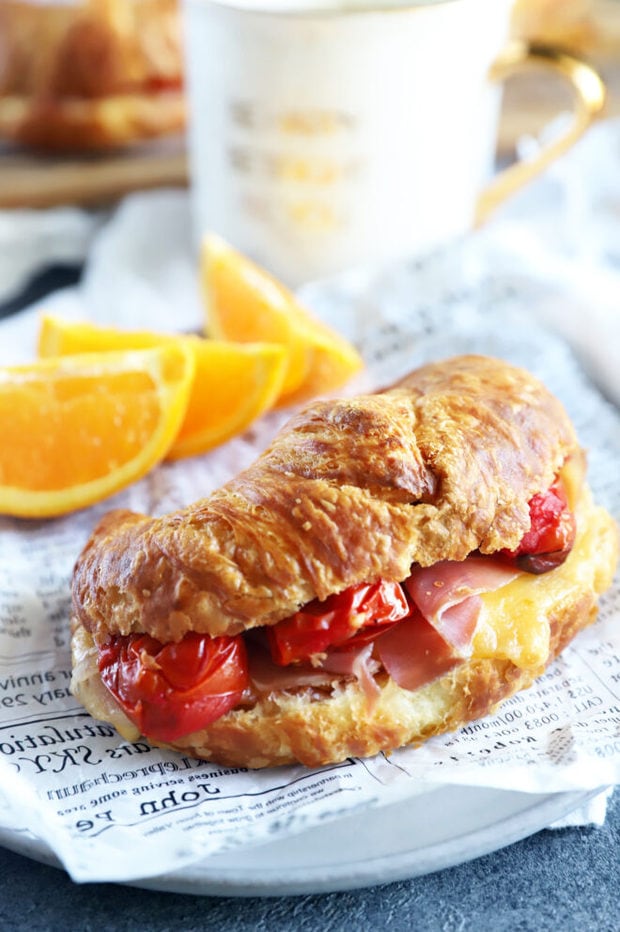 One of the things that I've been craving since I got pregnant? PROSCIUTTO.
Of course, that just so happens to be on the "no" list for pregnancy… UNLESS you heat it up.
So that's been my main mission – figuring out all the ways to heat up prosciutto to get my fix and make it taste amazing.

a Cake 'n Knife favorite:
For me, this breakfast croissant sandwich has everything I could ever want. It has the buttery croissant. There's the gooey cheese. A hit of salt from the prosciutto. Not to mention a burst of acidic punch from cherry tomatoes!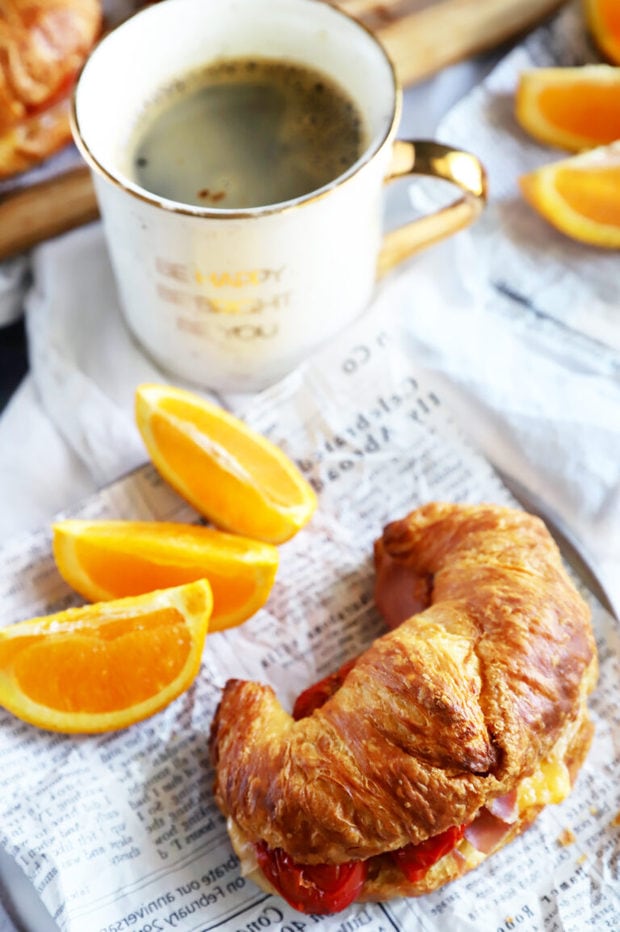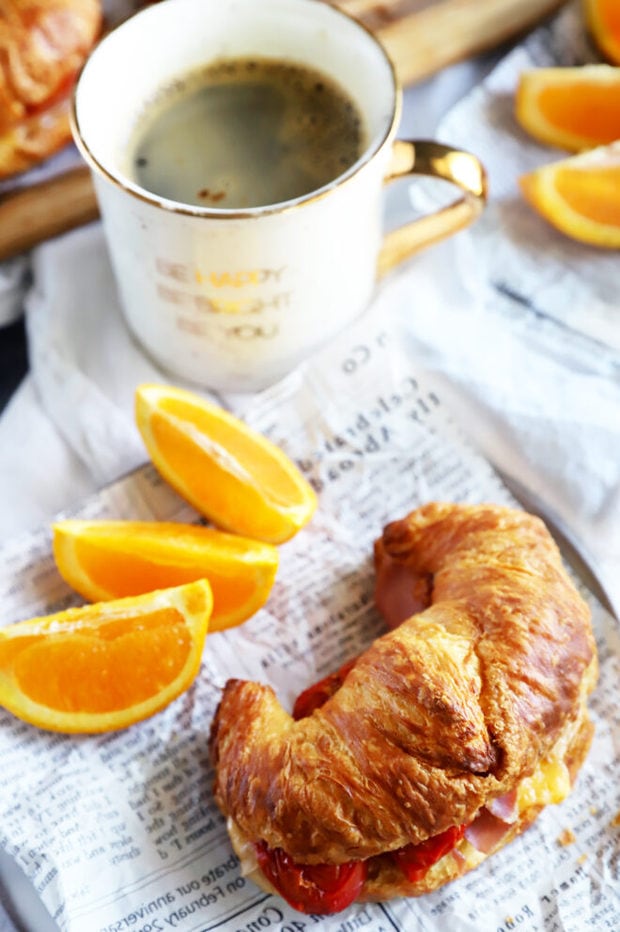 Finally, the spread of whole grain mustard and fig jam bring a sweet and tangy mix to the sandwich. Fresh out of the oven and paired with a mug of coffee, it's everything I want to start the say with.
Plus, as a pregnant lady who needs her fixes wherever the heck she can get them, I will gladly eat these every day until forever. Or until another food aversion decides to rear its ugly head.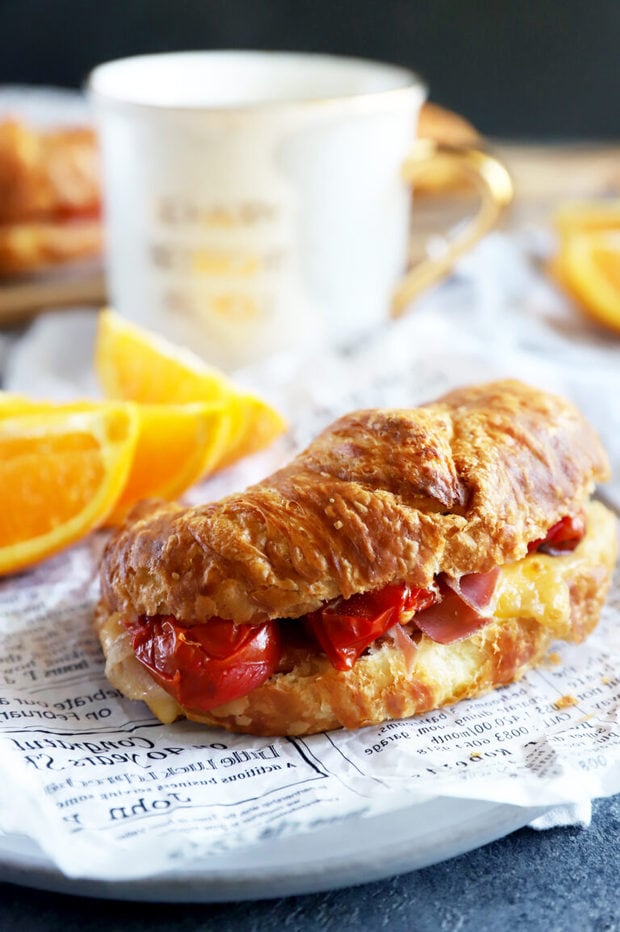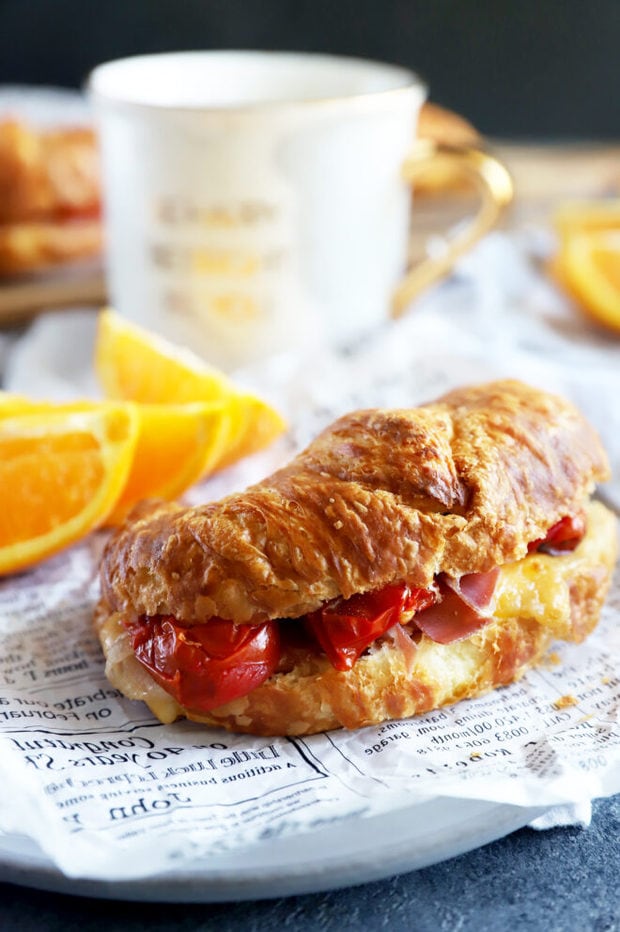 this recipe's must-haves
Since this recipe is so darn simple, you don't have to do much and you don't need a ton of tools. You will need your favorite rimmed half baking sheet pan to bake up the sandwiches.
In addition, you'll need a chef's knife or bread knife and a cutting board to assemble the sandwich. That's it!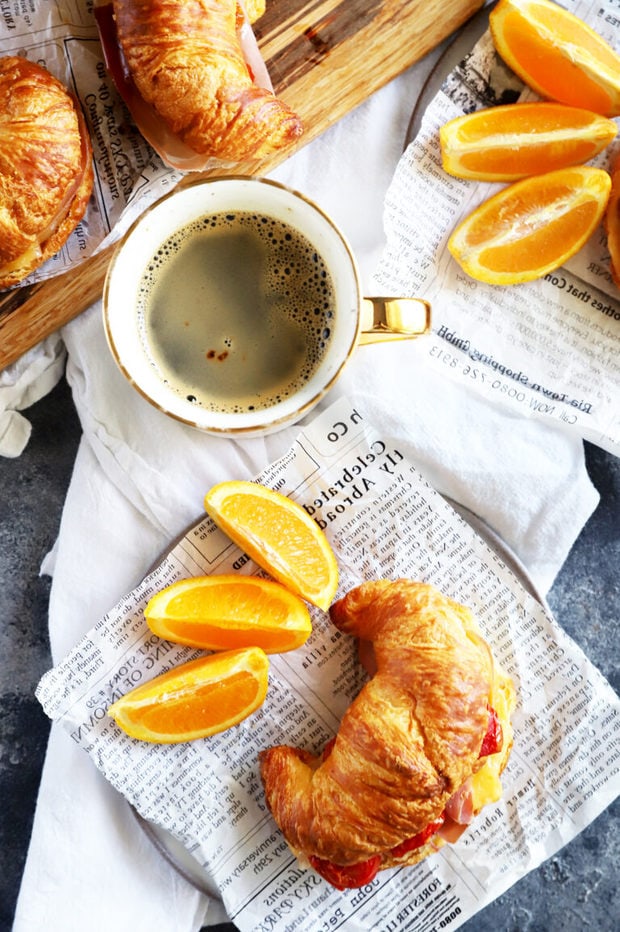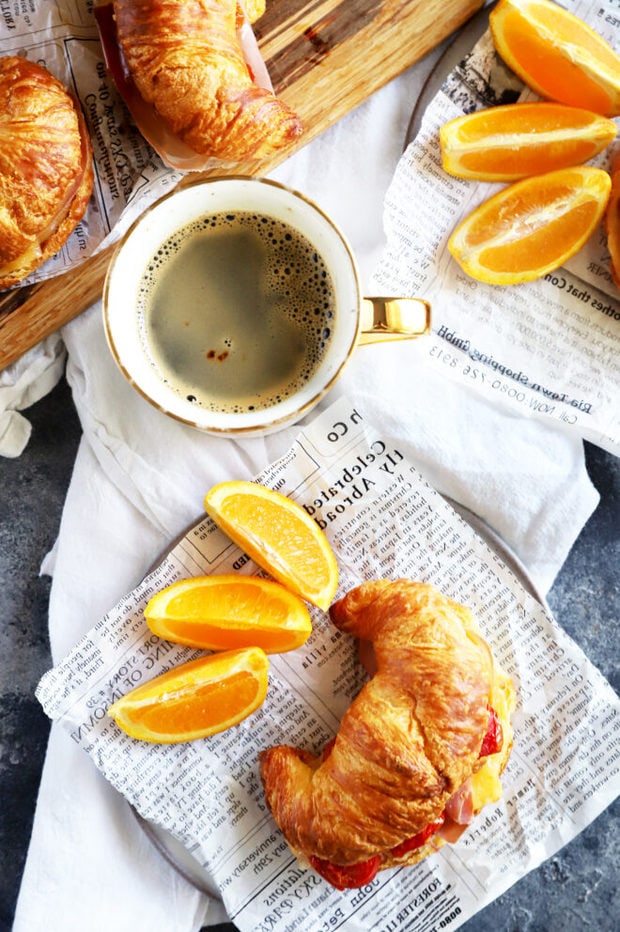 we're making a breakfast croissant sandwich!
Roast Tomatoes
Roasted cherry tomatoes are one of my favorite sandwich toppers. All you have to do is toss them on a baking sheet and bake them for about 10 minutes.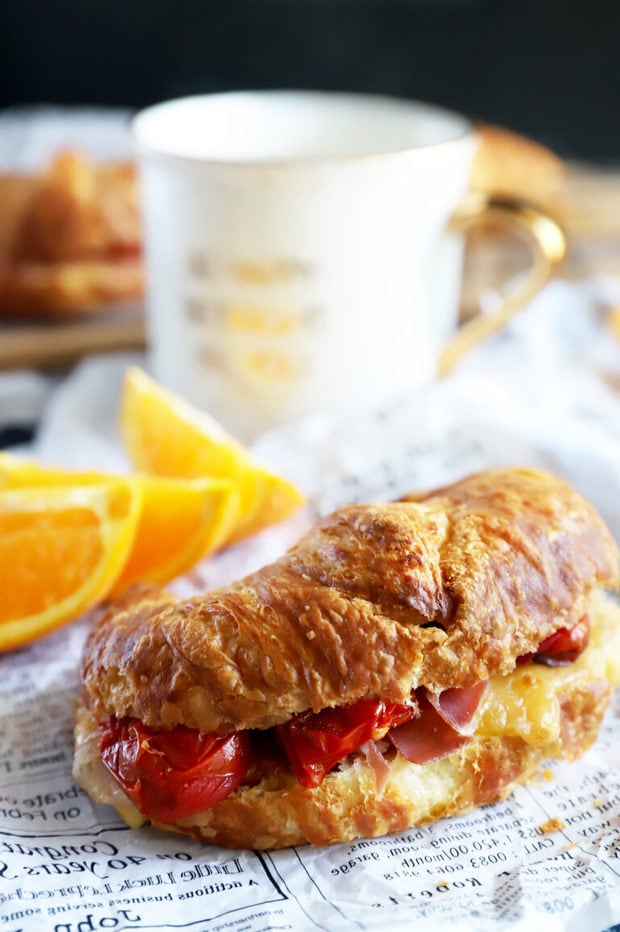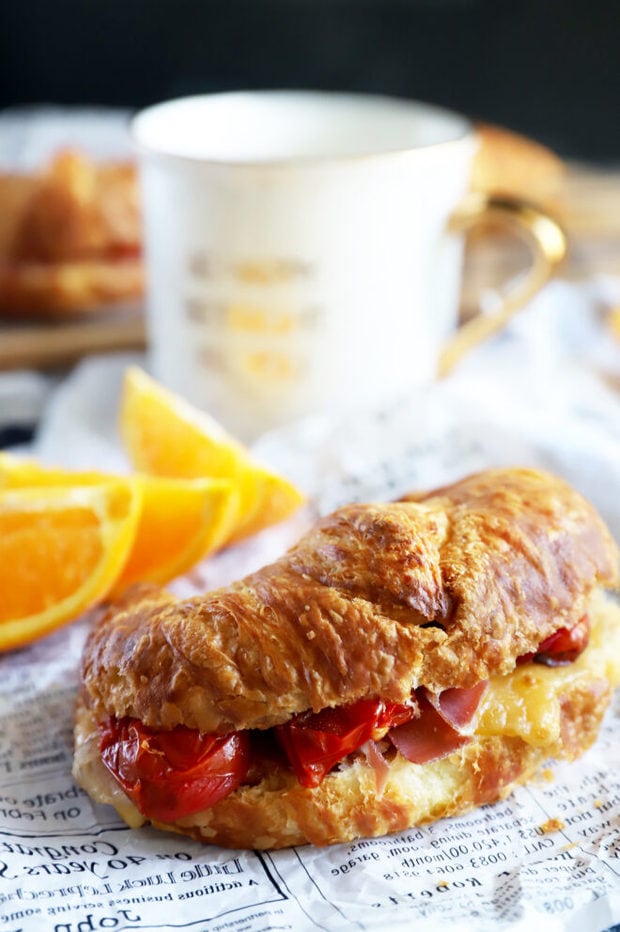 Assemble & Bake
Now it's time to assemble. Slice the croissants in half and spread the bottom half with mustard. Now pile on the cheese, prosciutto, and burst tomatoes. Finally spread the top half with jam!
Bake until the cheese is all gooey and eat immediately! You can also let them cool and wrap them up in aluminum foil. They will keep in the refrigerator for about 3 to 4 days so you can warm one up each morning for breakfast on the go!
Need some more inspiration for breakfast? Check out my breakfast recipe page!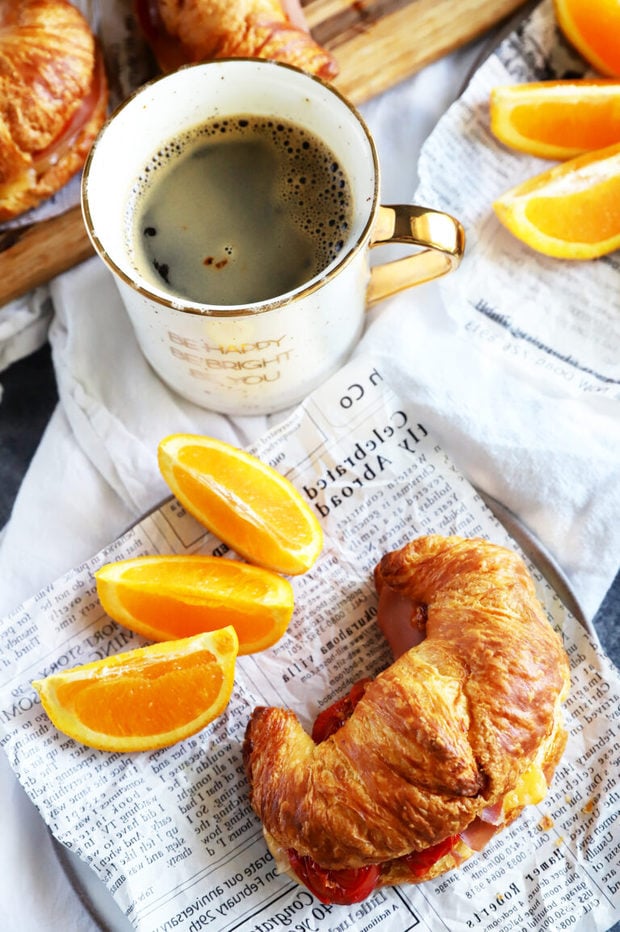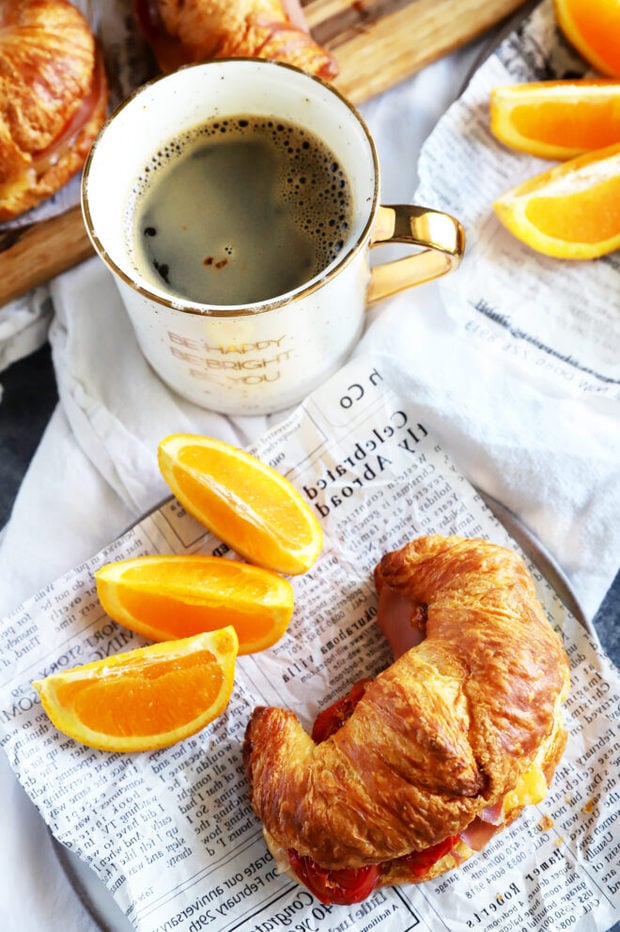 got questions?
Why is there no egg in this breakfast sandwich?
First off, eggs are on the no fly list in our house right now. I just can't. HOWEVER, you can totally upgrade the sandwich to add in an extra egg or two if you need. You can use a fried egg or even scrambled eggs in this sandwich.
Can I use another type of jam?
I love the taste of fig jam with prosciutto, but you can also substitute your favorite jam like peach, strawberry, or raspberry.
For a tasty sandwich for lunch, check out mango chicken salad served on a croissant or in lettuce wraps!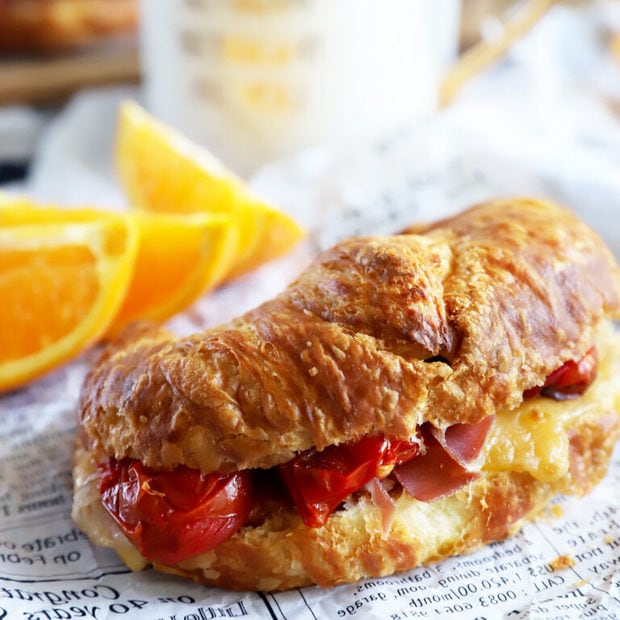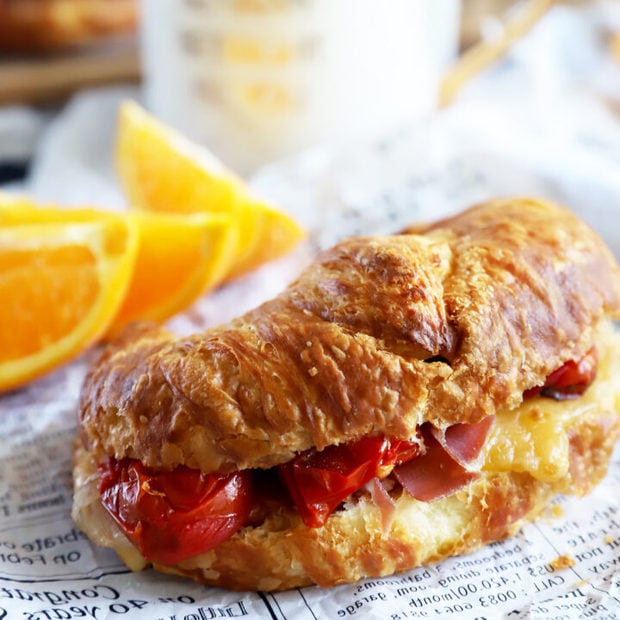 Breakfast Croissant Sandwich
The simplest sandwiches are always the best, especially fresh out of the oven!
Ingredients
1 cup cherry tomatoes
4 large croissants
4 tsp whole grain mustard
4 slices gouda cheese
4 large pieces prosciutto
4 tsp fig jam
Instructions
Preheat oven to 400˚F. Grease a rimmed baking sheet with cooking spray.
Spread cherry tomatoes in an even layer on baking sheet. Roast until tomatoes burst, about 10 minutes, shaking the pan halfway through.
Reduce temperature to 375˚F.
Slice croissants in half lengthwise. Spread the bottom with mustard. Top the bottom with a slice of cheese, then a slice of prosciutto. Top each with some burst tomatoes and spread the top half of the croissant with fig jam.
Place the sandwiches on a baking sheet and bake for 6 minutes until warmed through and cheese is melted.
Recommended Products
As an Amazon Associate and member of other affiliate programs, I earn from qualifying purchases.