A Chili Caramel Macchiato is the ultimate way to jumpstart your morning! Instead of spending money on a fancy coffee, grab your Nespresso and enjoy this flavorful macchiato in the comfort of your own home. The homemade chili vanilla syrup, almond milk and espresso come together to create a warm glass of caffeinated bliss. Good morning, sunshine!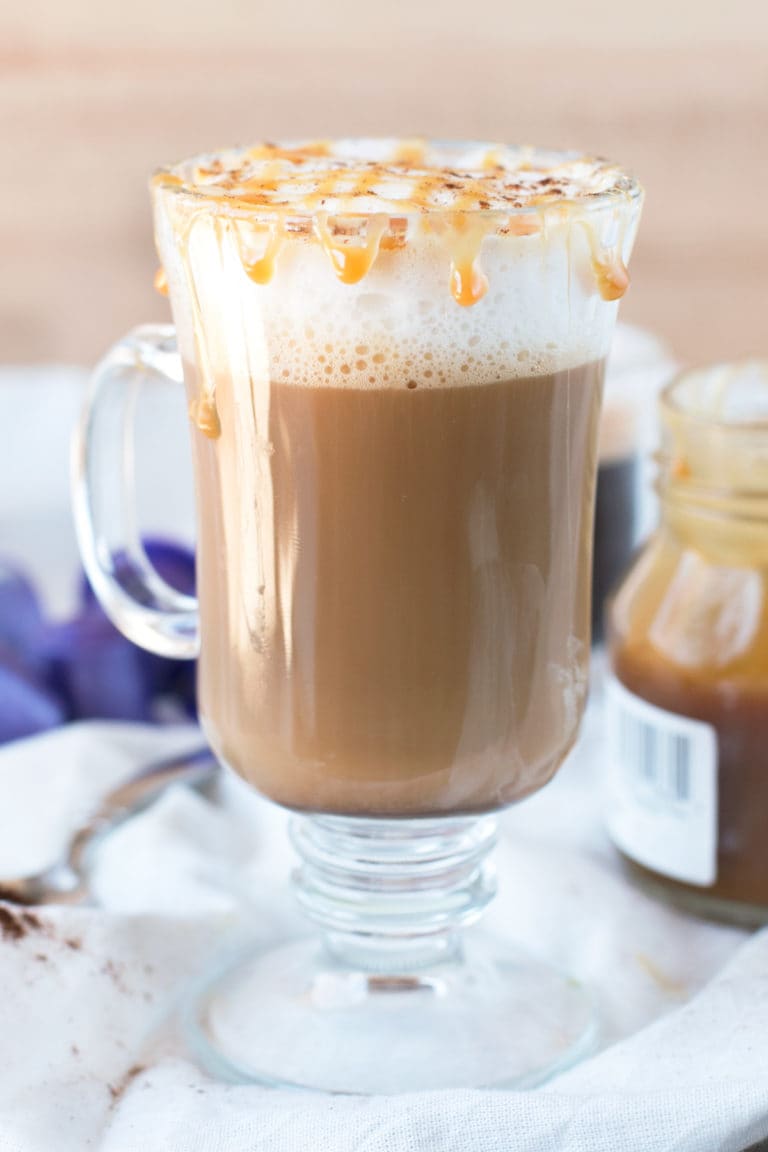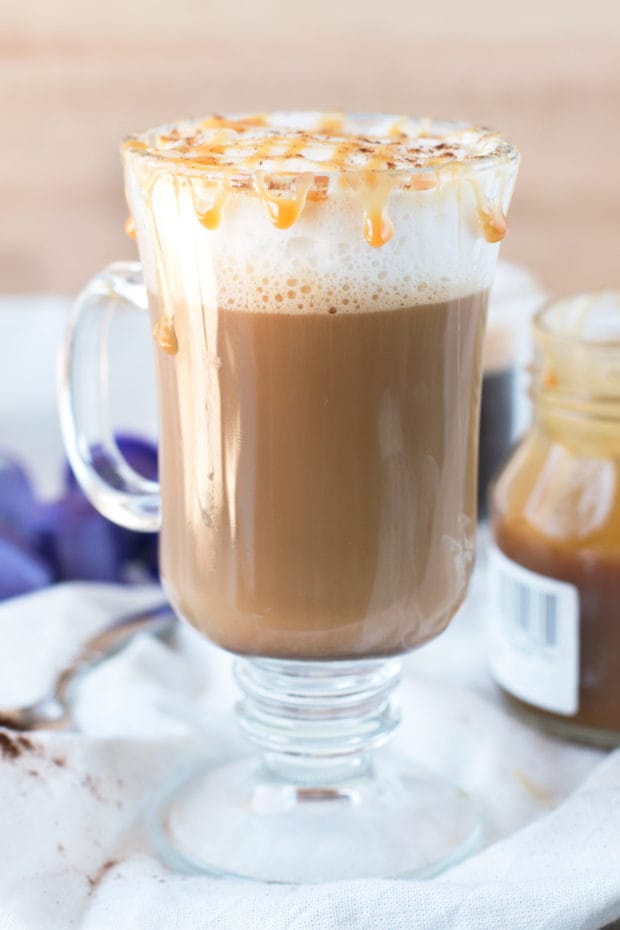 I remember the days I used to be absolutely addicted to hitting coffee shops for a fancy caramel latte or a sugar-drowned cup of something that would keep me going throughout the morning.
Once I lived in Italy for a couple of months, this addiction faded. When you are in Italy, you are pretty much forced to learn a ton about one major thing (aside from pasta and wine, of course).. and that's espresso.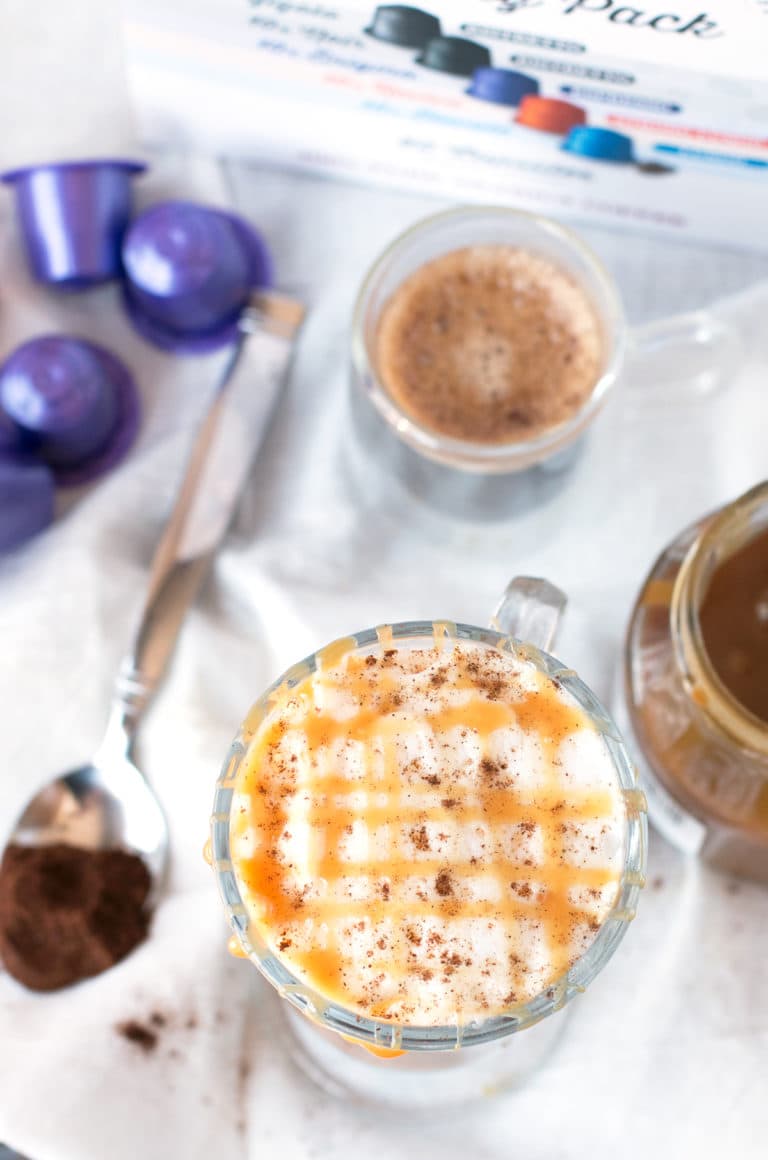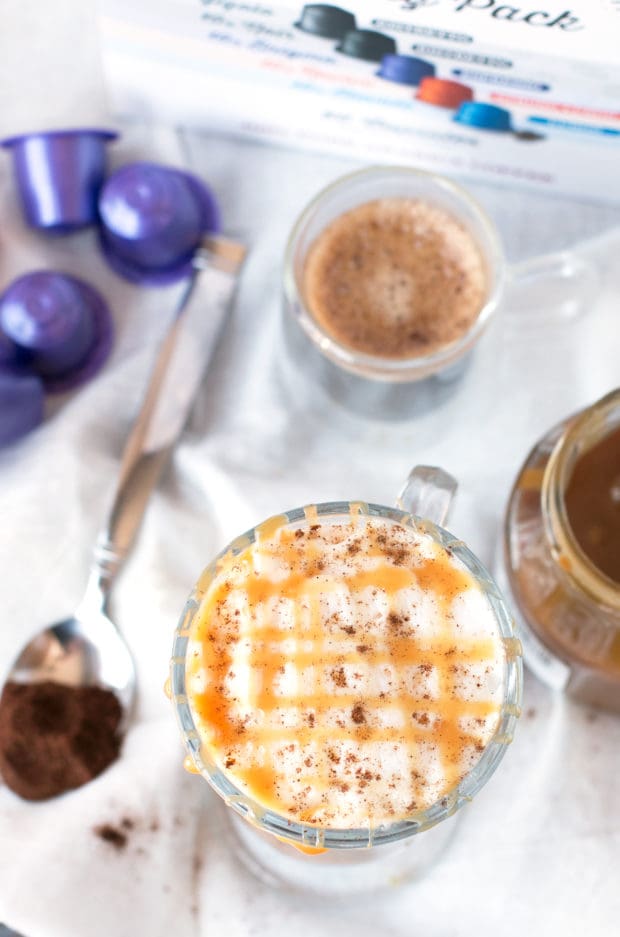 My tastes quickly changed as I became more and more accustomed to downing a shot of espresso for 1 euro at the shop around the corner from my school every morning. Considering I had to walk about 30 minutes to class every stinking day, an espresso was the smooth, full-bodied, caffeinated reward. Classes would start and I would somehow be able to stay awake during International Law every single class.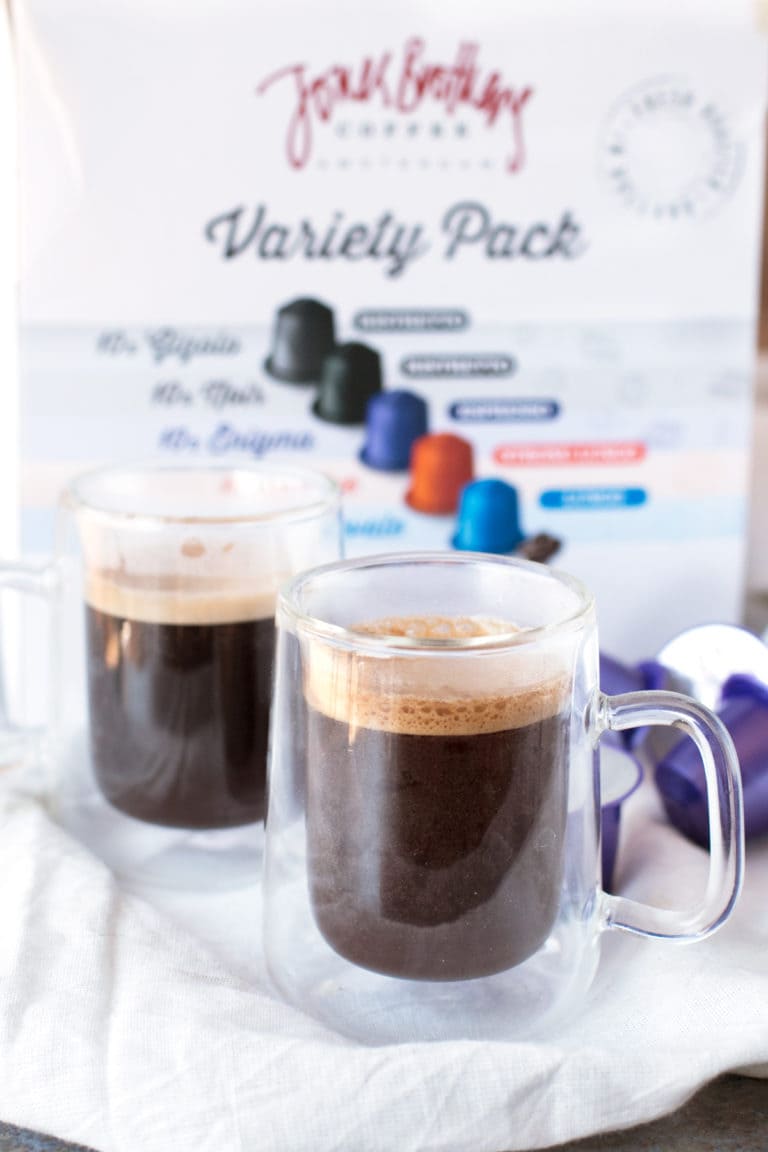 The Nespresso brought that incredible espresso back into my life in a big way last year. The high-quality espresso capsules, the quick machine, and the little steamer literally changed my life overnight. I no longer had to worry about getting out to a coffee shop for my fix! Home was where the espresso was now.
As you get used to having a Nespresso, or any kind of espresso-maker, you start to venture outside a simple espresso into the land of fancy espresso drinks.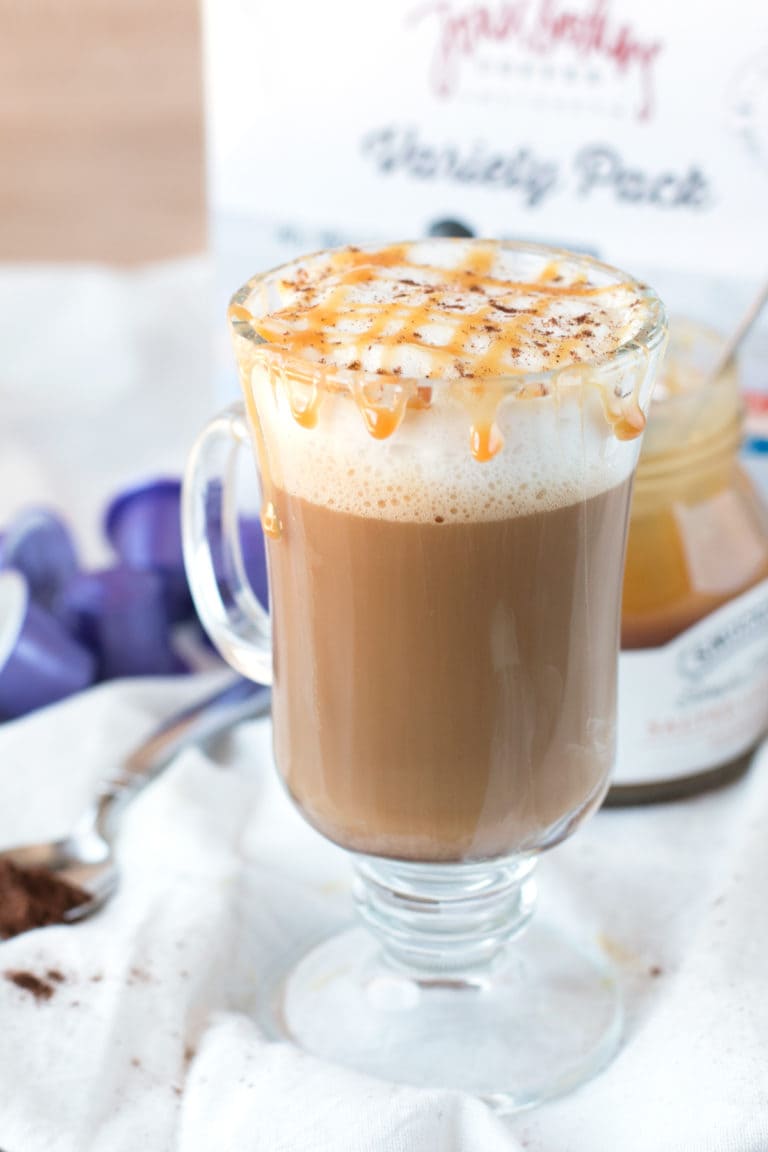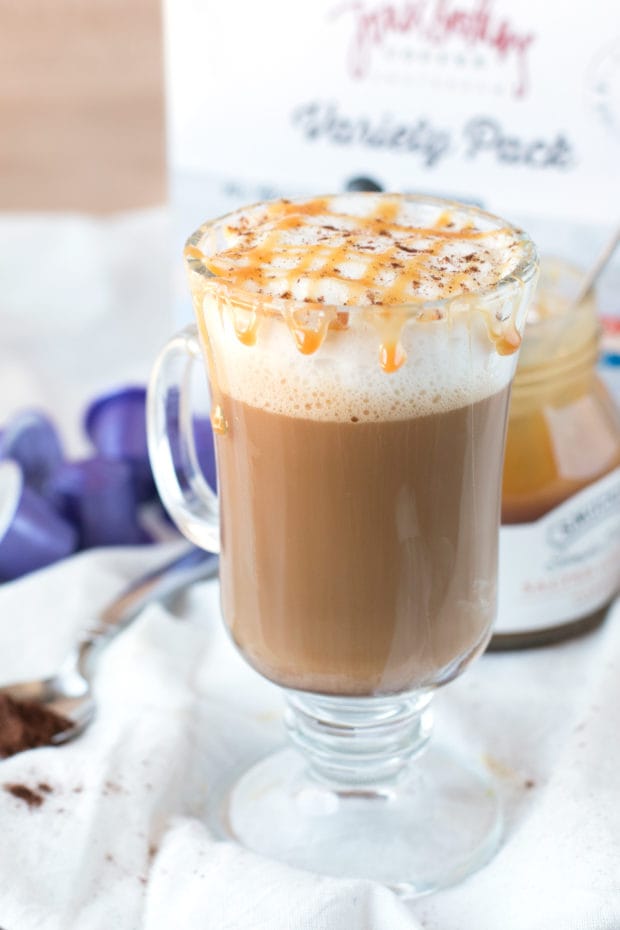 The macchiato is one of my favorites. It's a simple espresso with foam (and a little milk if you so desire), and it's a killer way to kick off the day.
Of course, my heart still yearns for those caramel macchiatos I used to be addicted to back in the day. Now the calories of that drink are not quite as appealing as they once were, so making these drinks at home has become a new favorite pastime.
This chili caramel macchiato is made with a homemade chili vanilla syrup that adds a spicy sweet kick to the traditional macchiato.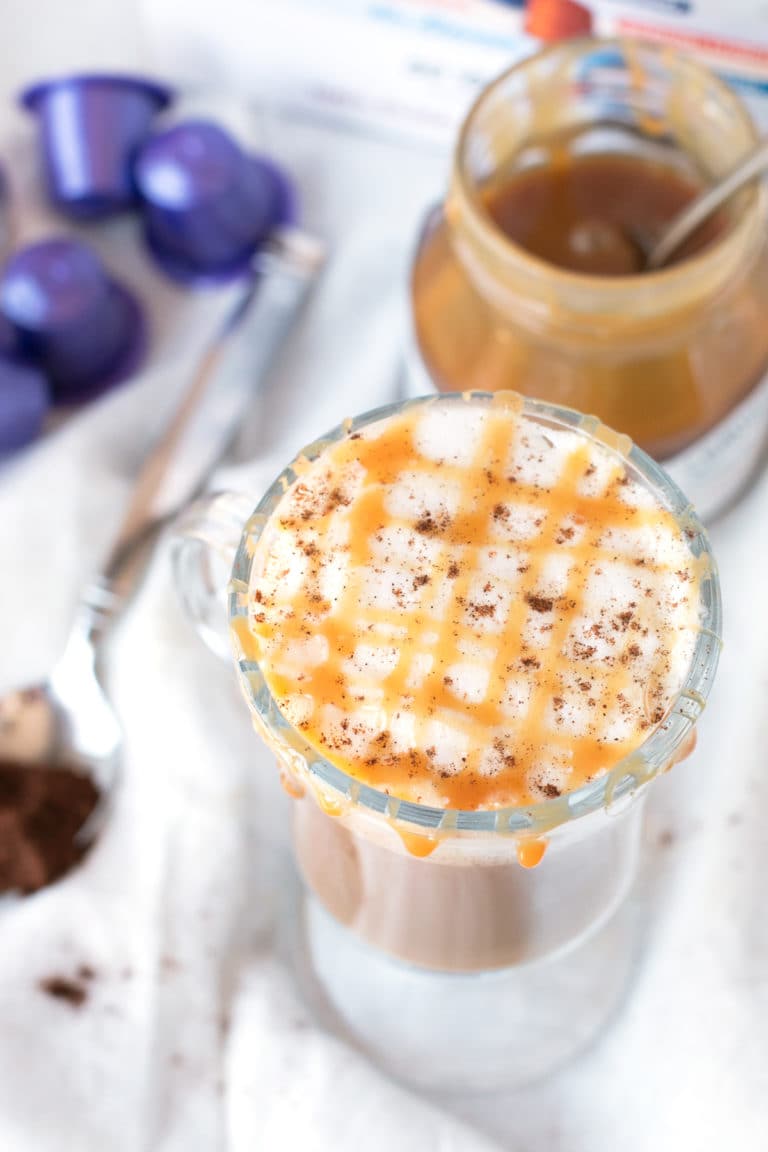 Making this macchiato with Jones Brothers Coffee Enigma Coffee Capsules is my favorite espresso capsule to use, especially for this drink. The strong, bold flavor stands up to the chili, vanilla and caramel flavors so you don't lose the coffee flavor to pure sweet and spicy flavors. It makes the macchiato rich, decadent, and smooth. The chocolatey finish is an added bonus to rounding out every sip.
Honestly I highly recommend that you try the whole Jones Brothers Coffee Capsules Variety Pack, where you get the Enigma, but also have a chance to try their other killer flavors. Then you can decide which one if your favorite (and the price is pretty dang good, I can't lie).
Your taste buds will be waking up at the same time as your brain!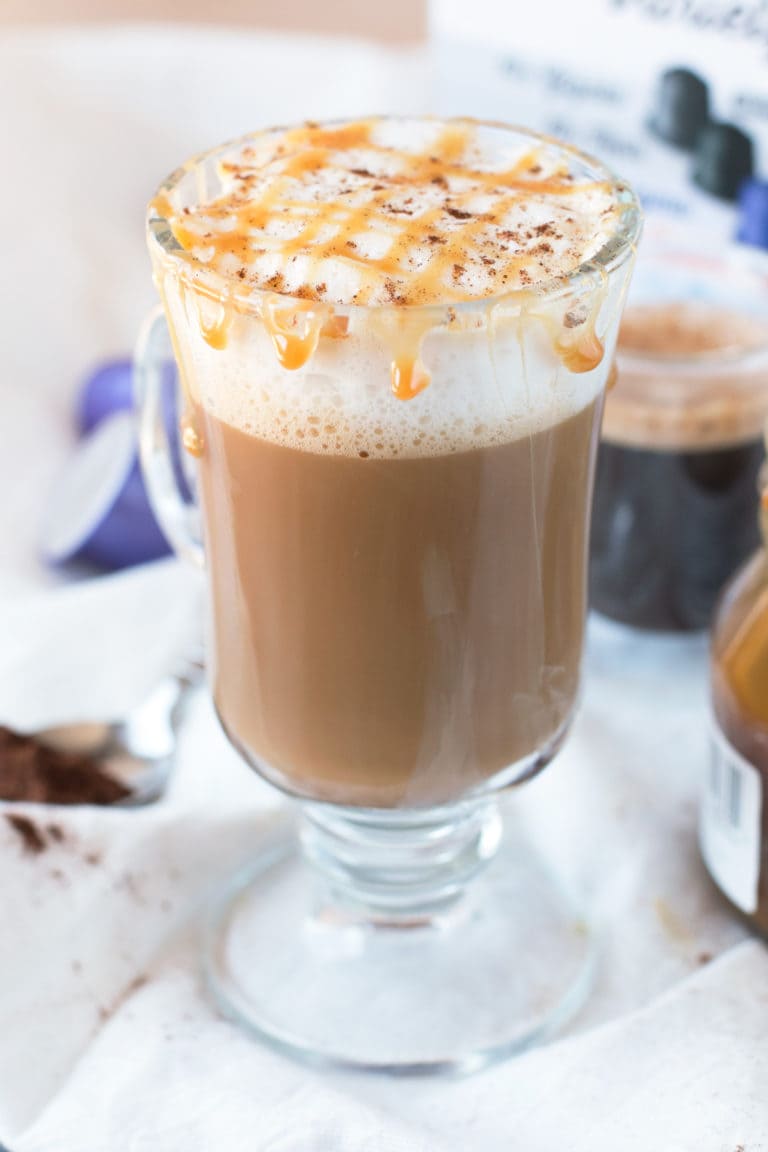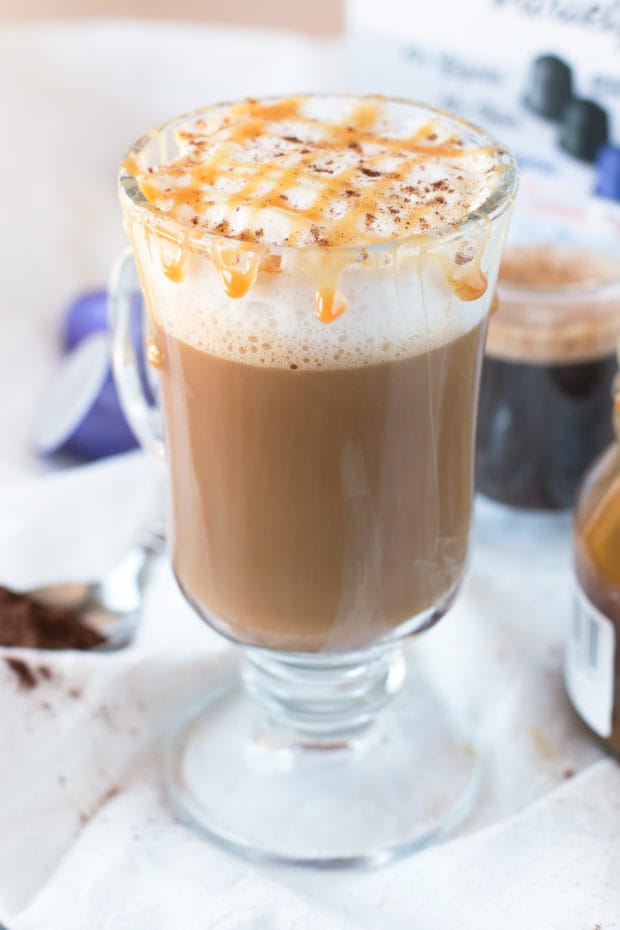 For all you true espresso lovers out there, this is an easy, delicious, complex macchiato to satiate your palate. For all you coffee lovers who haven't ventured down the straight-up espresso road yet, this is probably the best introduction to one of my favorite espressos (without the extra sugar those coffee shops throw in there!).
Disclosure: This post is sponsored by Jones Brothers Coffee! While I was compensated and given product in exchange for this post, as always, all opinions and the recipe are my own. Thanks for supporting the brands that support Cake 'n Knife!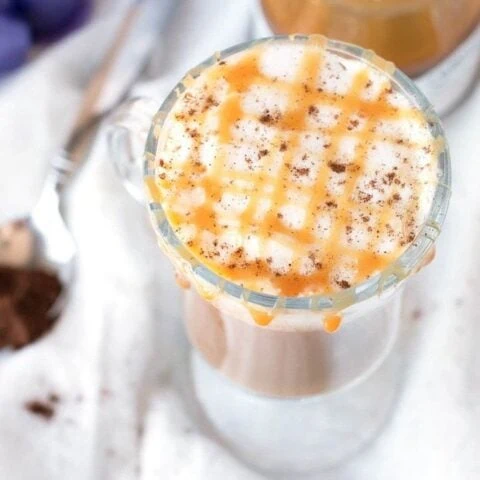 Chili Caramel Macchiato
Additional Time:
5 minutes
The homemade chili vanilla syrup in this macchiato makes it about a zillion times better than anything you'll get from any coffee shop!
Ingredients
1 Tbsp chili vanilla syrup (recipe below)
2 Jones Brothers Coffee Enigma coffee capsules
2 oz almond milk, steamed and frothy
1-2 Tbsp caramel sauce
Optional topping: chili powder
Chili Vanilla Syrup
1 cup water
3/4 cups granulated sugar
1 tsp vanilla extract
1/2 tsp chili powder
Instructions
To make the chili vanilla syrup, bring water, sugar, vanilla and chili powder to a boil over medium-high heat. Stir well as the mixture cooks until the sugar is dissolved.
Once the sugar is dissolved, remove from heat and let cool.
Using your Nespresso maker, make the two Jones Coffee Enigma coffee capsules in a standard espresso size pour.
To make the macchiato, add simple syrup to a tall coffee mug.
Pour espresso over the syrup.
Top with a pour of the almond milk - one ounce milk and the remaining ounce foam only on top. You can be more generous with the foam if you want!
Drizzle with caramel sauce and sprinkle with a dash of chili powder, if desired. Serve immediately.
Pin this Chili Caramel Macchiato recipe for later!