Please note this post contains affiliate links.
Blueberry Lemon Streusel Coffee Cake is moist, fluffy, and ideal for spring brunch! Topped with a cinnamon streusel and a lemon cream cheese glaze, this decadent breakfast cake is a surefire win for everyone. Serves 10 to 12.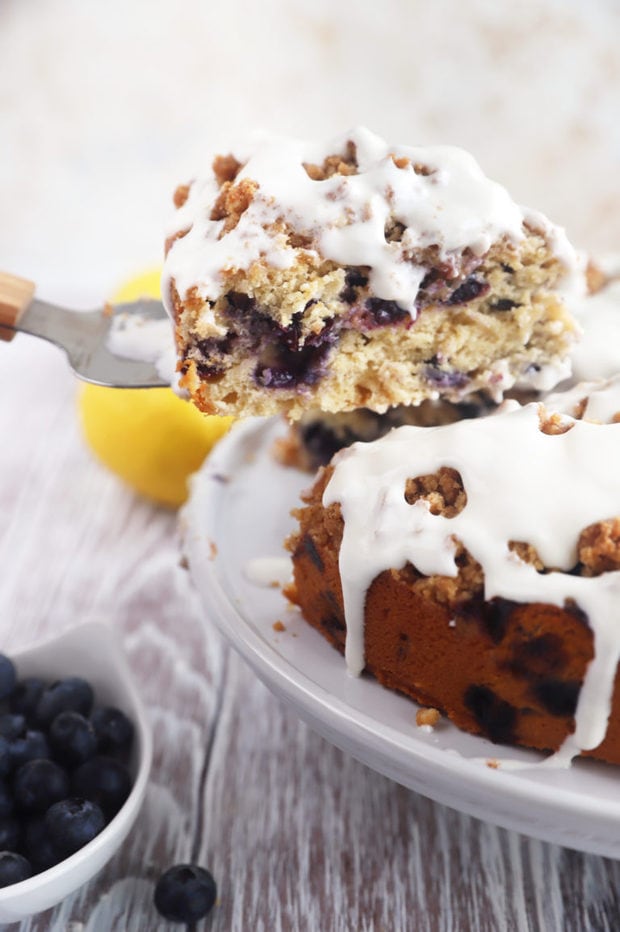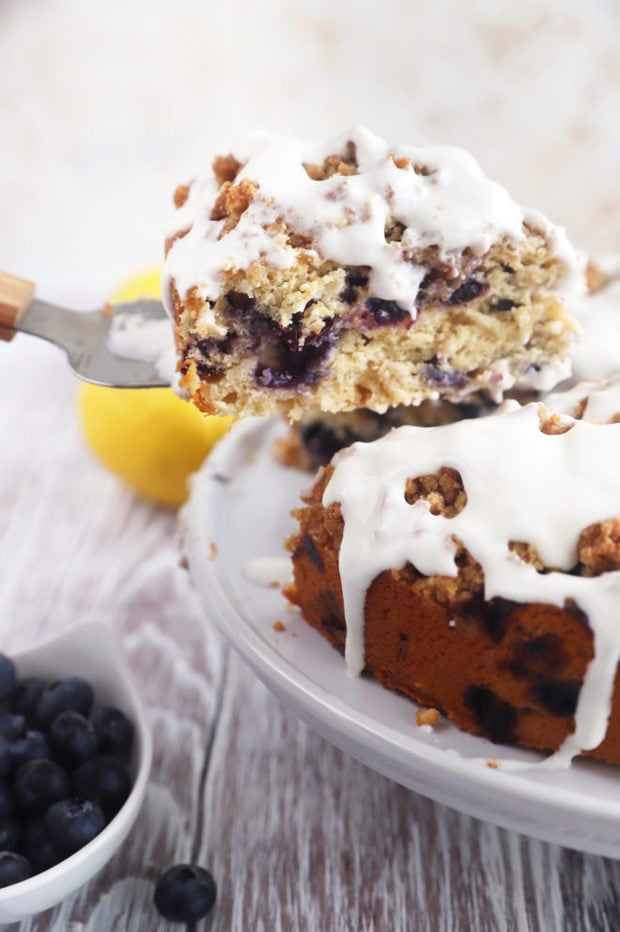 I love starting the day with something sweet.
Being one of the biggest sweet tooth's around, this can't be a big surprise. If you ever want to make me happy, give me a pastry or a piece of streusel coffee cake alongside my coffee.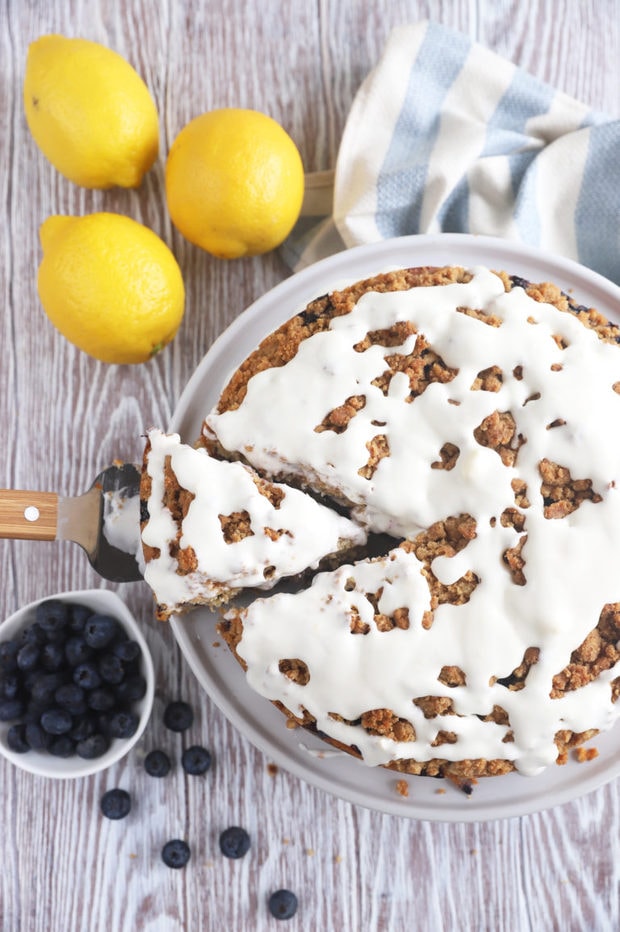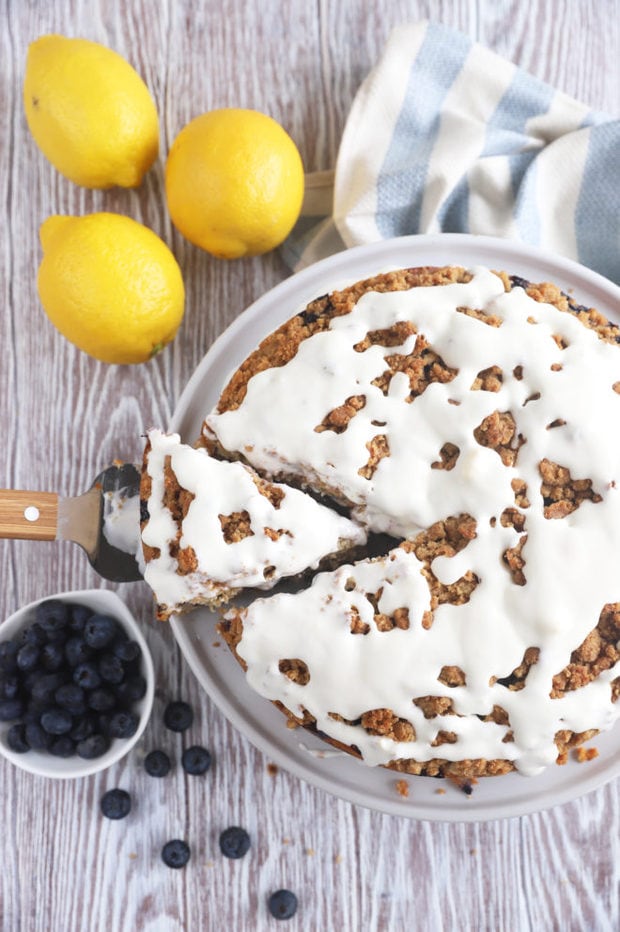 I thought of making this streusel coffee cake the other week when I was thinking about an almond butter yogurt coffee cake I made several years ago. It came up in my memories on Facebook and I realized that it had been way too long since I made a delicious coffee cake.
So I adapted that cake to become this blueberry lemon streusel coffee cake. I still use yogurt in the base of the cake because it makes the moist luscious batter ever, in my opinion. It gets nice and fluffy, while also keeping it's melt-in-your-mouth texture.
It's rich without being two sweet, making it the ultimate pairing for your morning coffee!
I highly recommend pinning this recipe for later so you can make it for Mother's Day or your upcoming spring brunch… Just sayin'.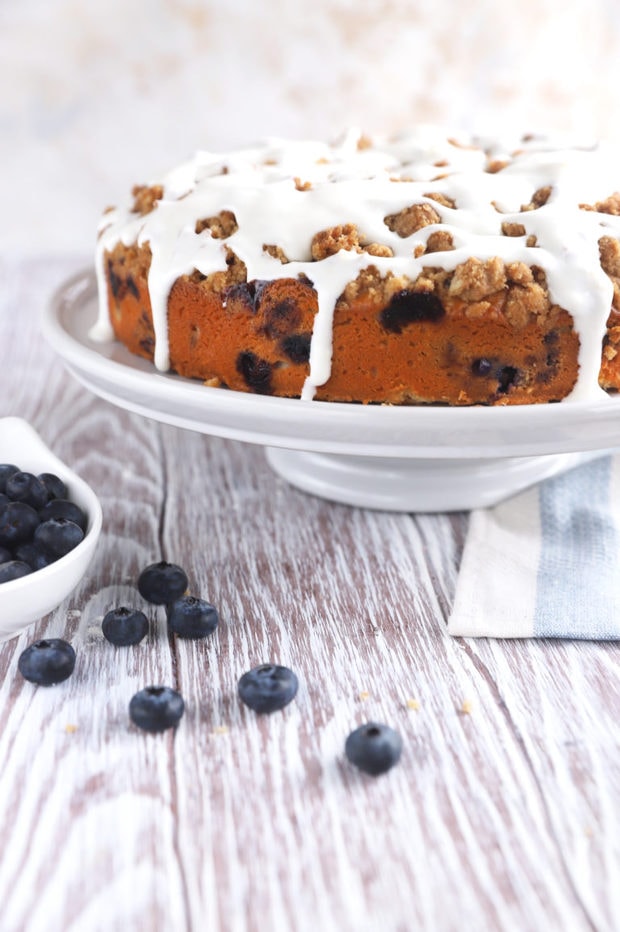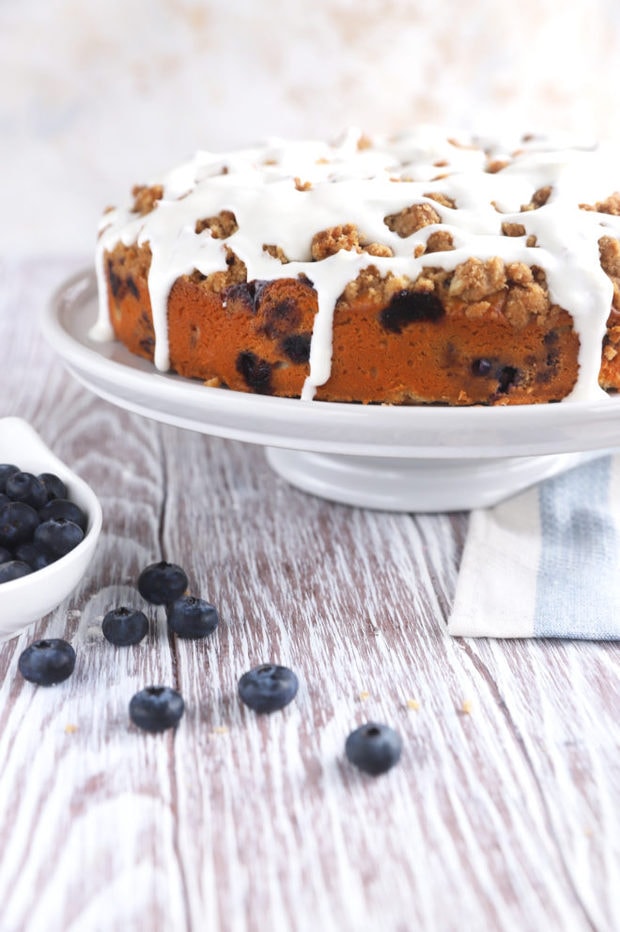 this recipe's must-haves
This cake bakes up in a 9-inch springform pan. To make the batter you will need a set of mixing bowls and your favorite whisk.
In addition, for the cream cheese drizzle, you'll need an electric hand mixer.
Don't forget the measuring spoons and measuring cups!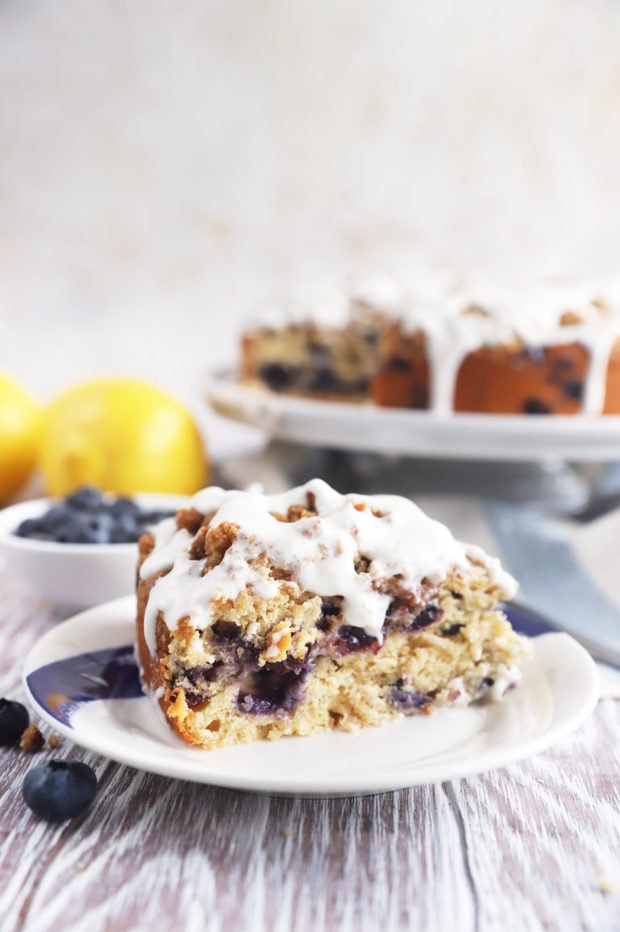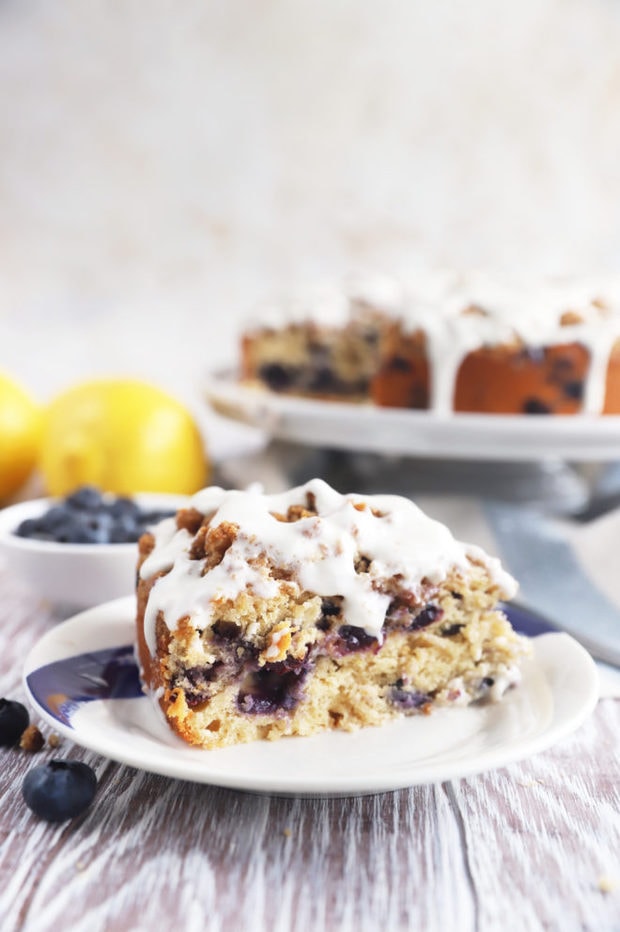 let's make delish blueberry lemon streusel coffee cake!
Make Batter
To make the batter, start by lining a springform pan with parchment paper on the bottom. Simply spray the sides with cooking spray to keep it from sticking.
Combine all the wet ingredients in a large bowl and then add in the dry ingredients. Add the batter to the pan and set it aside while you make the streusel.
Make Streusel
Stir together the streusel ingredients (you can also bring it together using your hands!) until it's nice and crumbly. Sprinkle it in an even layer over the batter.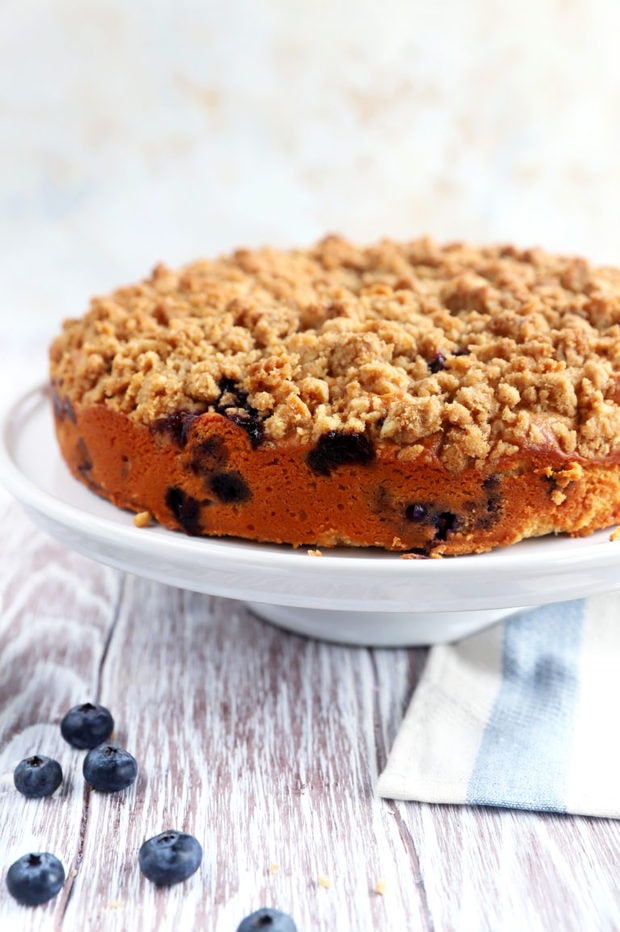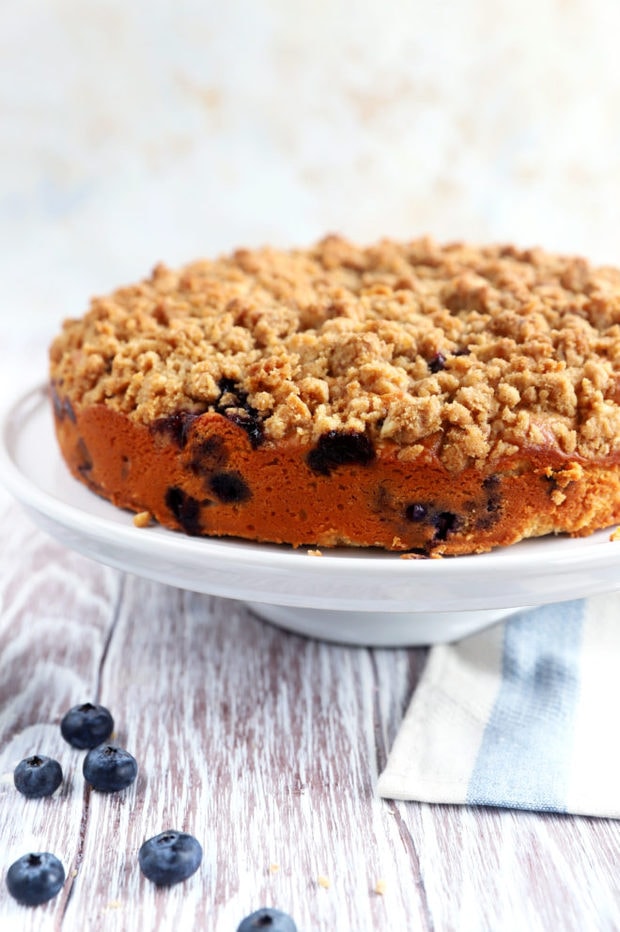 Bake
Bake at 350˚F for 1 hour to 1 hour 15 minutes. A toothpick should come out clean, or with a few moist crumbs on it, when inserted in the center once it's done.
This cake is best served at room temperature so let it cool on a wire rack for a bit.
Make Glaze
While the cake cools, beat together the cream cheese and butter for the glaze with an electric mixer. Then add in the remaining ingredients, beating until it's smooth and creamy.
If your glaze is a little dry, simply add milk 1 Tbsp at a time until you get the texture you like. Drizzle the glaze on top and serve!
Need some more inspiration for breakfast or brunch? Check out my breakfast recipes page!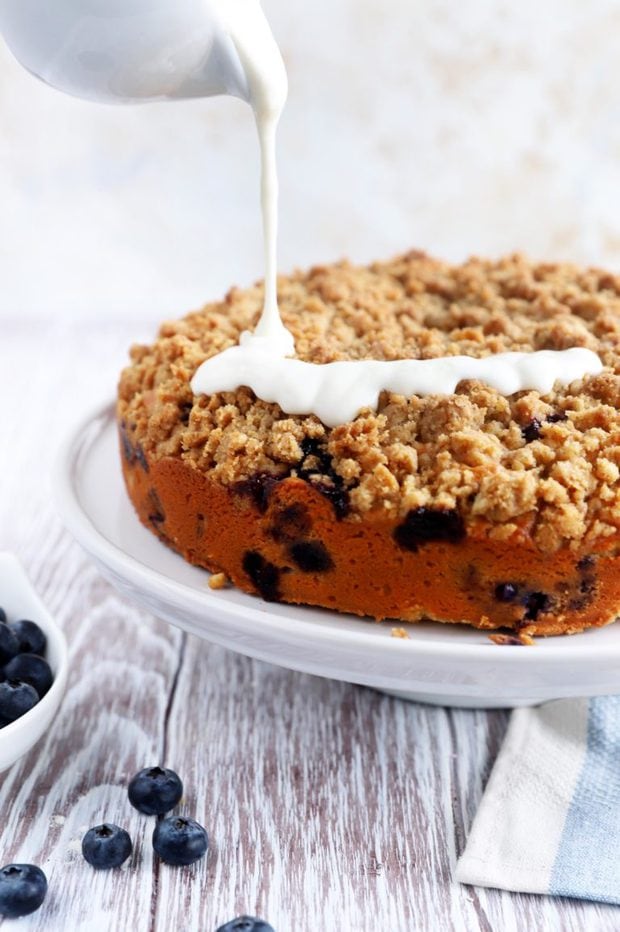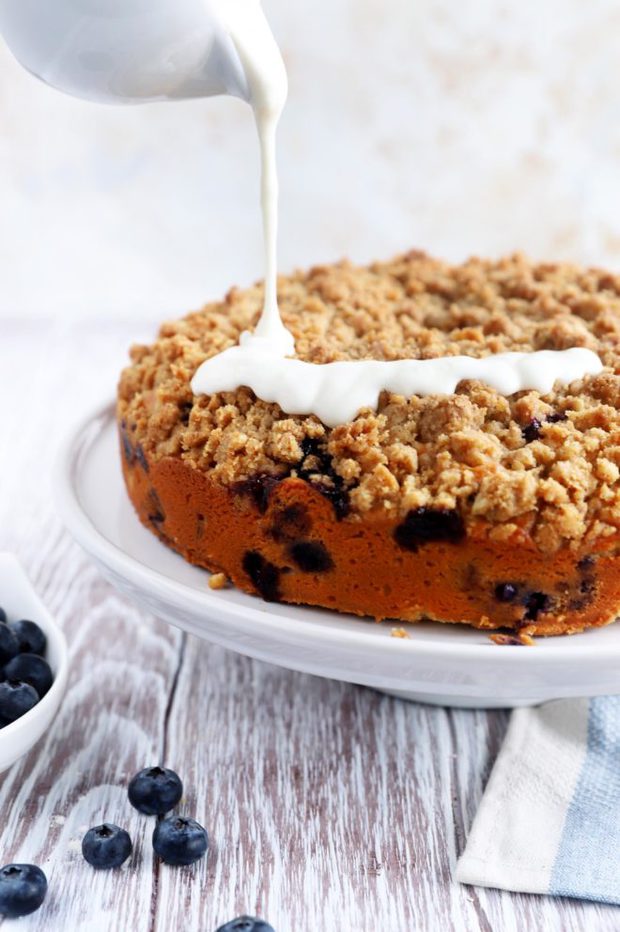 can I use frozen blueberries?
Yes you can! Simply thaw the berries first and drain them well before using them in the recipe.
is it possible to use a different type of berry?
I like to swap out blackberries or raspberries for blueberries when I am in the mood. Both are fantastic options!
can I make this streusel coffee cake ahead of time?
This cake will last at room temperature, properly stored, for about 5 days. It's an easy recipe to make ahead of time, especially for breakfast or brunch the next day.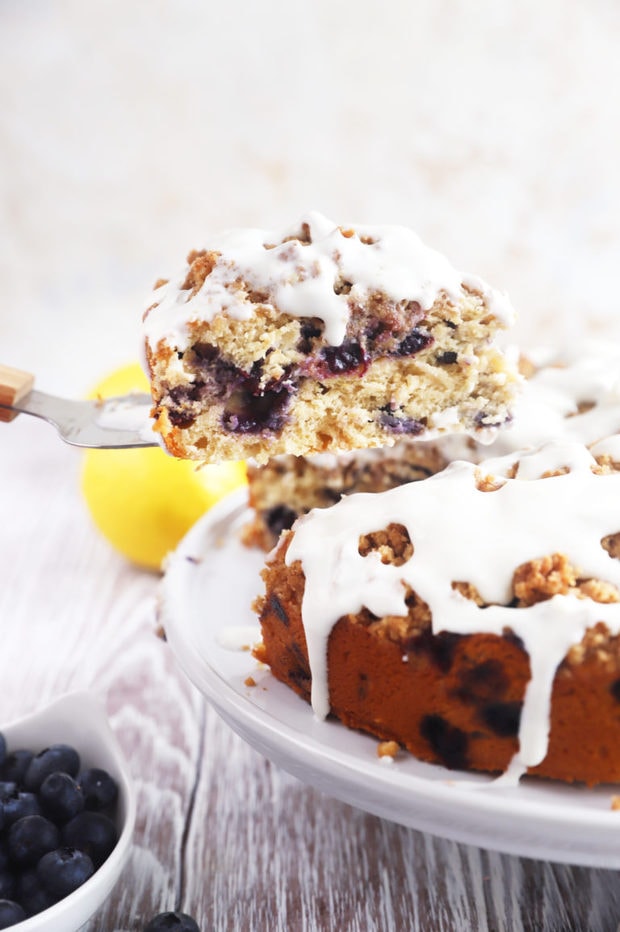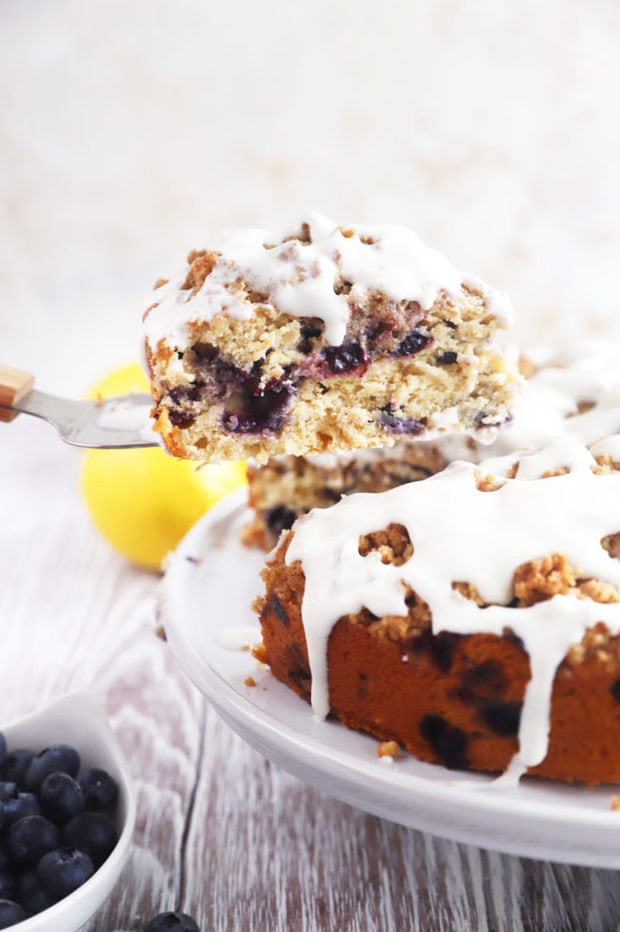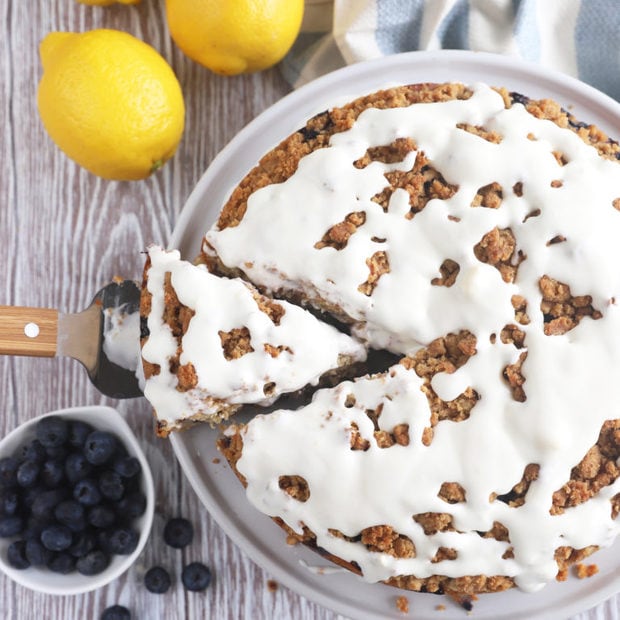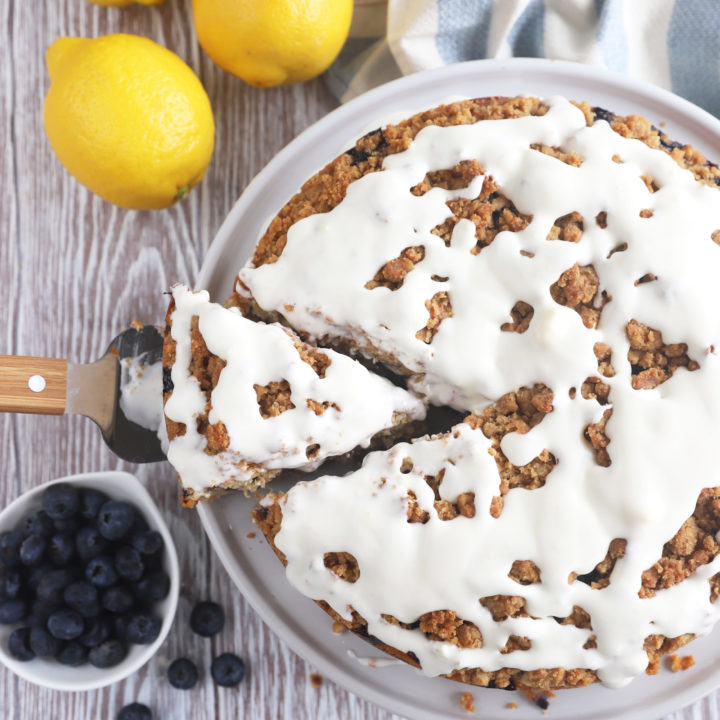 Blueberry Lemon Streusel Coffee Cake
Cook Time:
1 hour
15 minutes
Total Time:
1 hour
30 minutes
Light and airy blueberry lemon coffee cake, topped with a cinnamon streusel and lemon cream cheese glaze!
Ingredients
Cake
1/2 cup canola oil
1 cup plain Greek yogurt
1 1/2 cups light brown sugar, packed
2 eggs
1 1/2 teaspoon vanilla extract
1 Tbsp + 1 tsp lemon juice
2 tsp lemon zest (zest of one lemon)
1 teaspoon baking powder
1/2 teaspoon baking soda
1/4 teaspoon salt
2 cups + 1 Tbsp all purpose flour
2 1/2 cups fresh blueberries
Streusel
1/2 cup unsalted butter, melted
1 1/4 cup all purpose flour
1 cup light brown sugar
1/2 tsp ground cinnamon
Glaze
3 oz cream cheese, softened
2 Tbsp butter, softened
2/3 cups powdered sugar
1/4 tsp vanilla
1 tsp fresh lemon juice
1/4 cup milk
Instructions
Preheat oven to 350˚F. Line a 9-inch springform pan on the bottom with parchment paper. Lightly grease the sides with cooking spray.
Add oil, yogurt, and brown sugar to a large bowl. Whisk until smooth. Whisk in eggs, vanilla, lemon juice, and lemon zest until smooth.
Add in 2 cups flour, baking powder, baking soda, and salt, whisking until just combined.
In a small bowl, toss blueberries with 1 Tbsp flour, then gently fold into the batter.
Spread batter into prepared pan and set aside.
To make the streusel topping, add melted butter, flour, brown sugar, and cinnamon to a small bowl. Stir together until the mixture forms a crumbly texture. Sprinkle the streusel on top of the batter in the pan in an even layer.
Bake for 1 hour to 1 hour 15 minutes, until a toothpick inserted in the center comes out clean.
Cool on a wire rack to room temperature.
While the cake is cooling, in a medium bowl, use an electric mixer to beat together cream cheese and butter until smooth. Beat in sugar, vanilla, lemon juice, and milk. Drizzle over the cake and serve at room temperature.
Store in an airtight container in a cool place for up to 5 days.
Recommended Products
As an Amazon Associate and member of other affiliate programs, I earn from qualifying purchases.