Please note this post contains affiliate links.
Orange Madeleine Mini Muffins have all the flavor of madeleine cookies, without the required cookie baking pan. You can make these light and fluffy treats in your mini muffin tray. The texture is fluffy on the inside, and crispy golden on the outside, just like the classic cookie!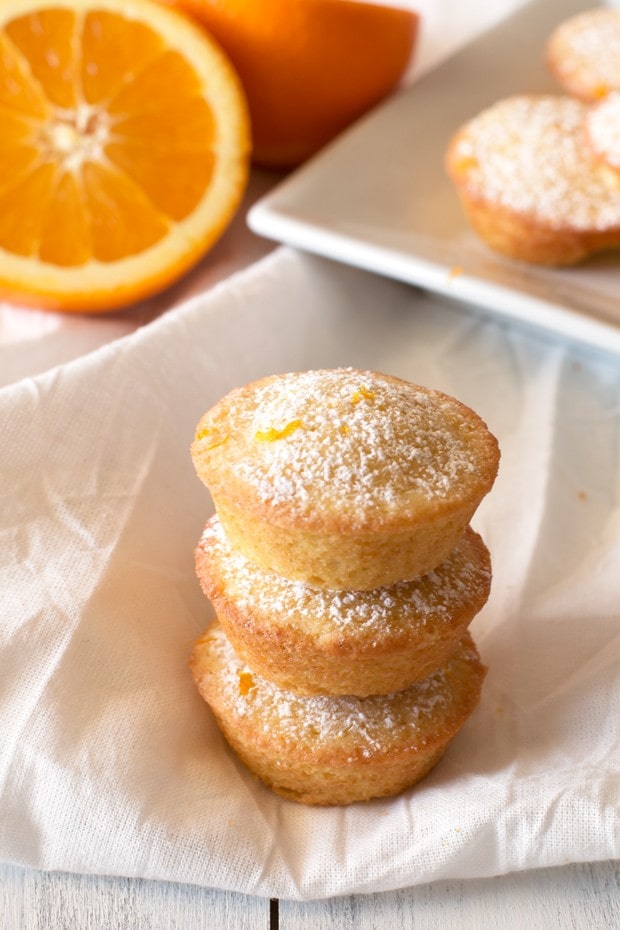 I have wanted to make madeleine cookies for SO long, but without a madeleine pan, I felt silly even trying.
When I discovered that these perfectly moist cookies could be mastered with a mini muffin pan, you better believe I was all over that!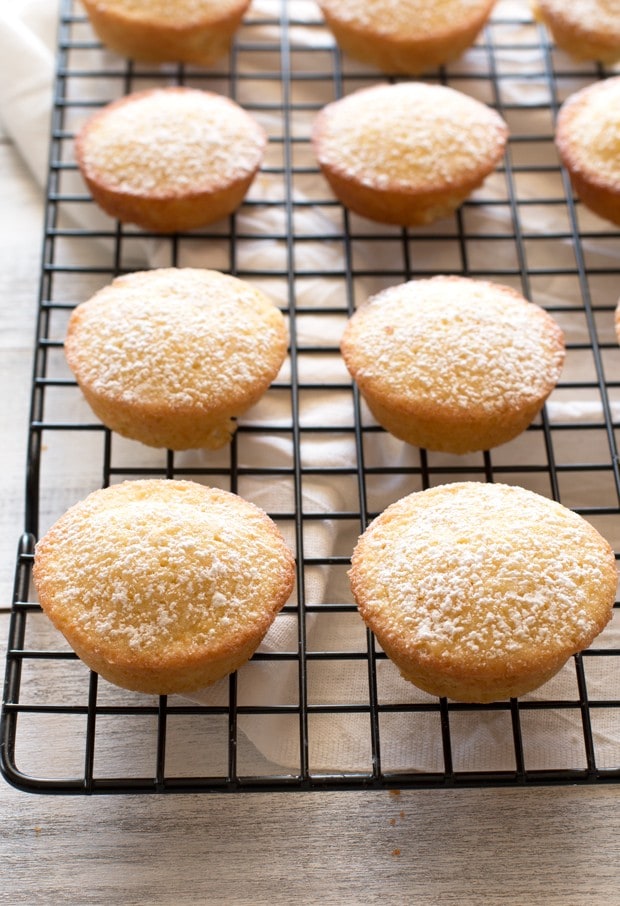 I would consider myself a morning person, primarily because I can't get back to sleep once I am up, even if that means Kya is waking me up at 7am.
However I am not a huge savory fan in the morning (unless it's Mexican/Tex Mex – see here and here).
I LOVE anything sweet, from donuts to cake, muffins to cereal – give me a sweet treat and I'll be bright-eyed and bushy-tailed before you know it.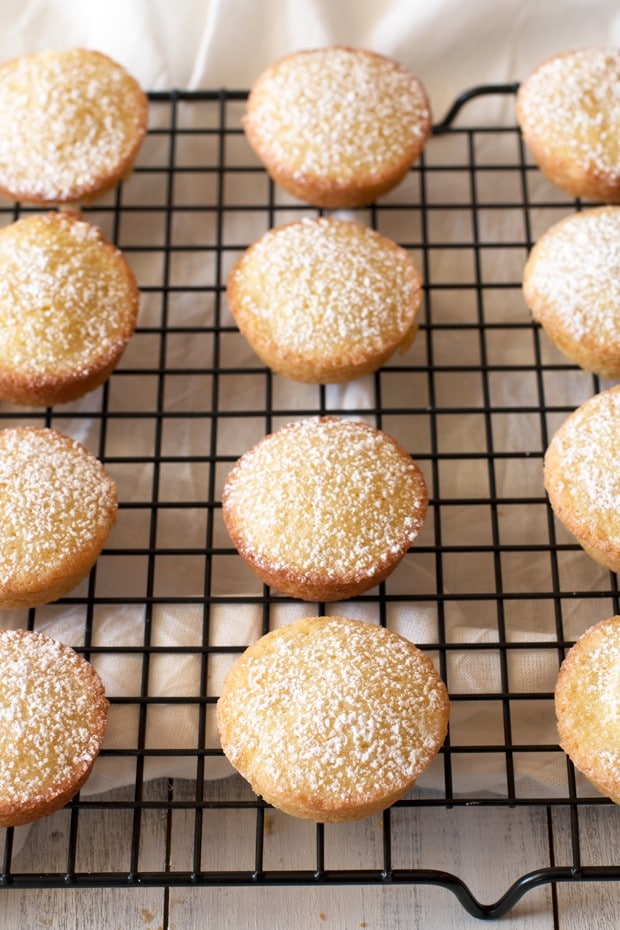 These orange madeleine mini muffins are the perfect sweet treat to wake up to, especially with a cappuccino the size of my head.
They have that moist, sponge-cake texture with a hint of orange both in flavor and scent.
My favorite part of these mini muffins are the perfectly browned edges that get just crisp enough to give you some texture in each bite.
You actually get more of that slightly crispy edge with these versus a classic madeleine, so I think I might be onto something here…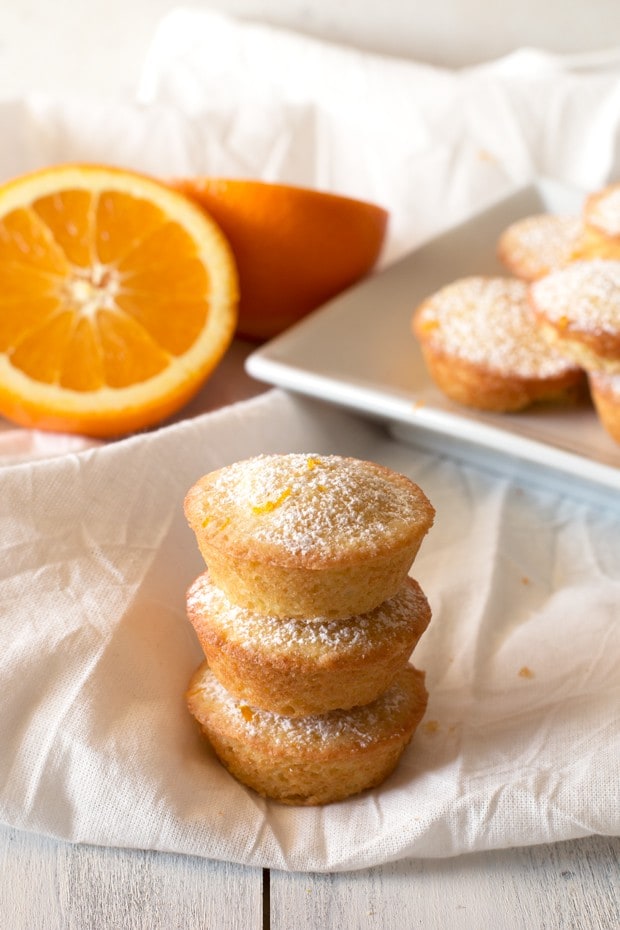 Dust them with powdered sugar and an extra sprinkle of orange zest. Everyone will be clambering over each other to their hands on one!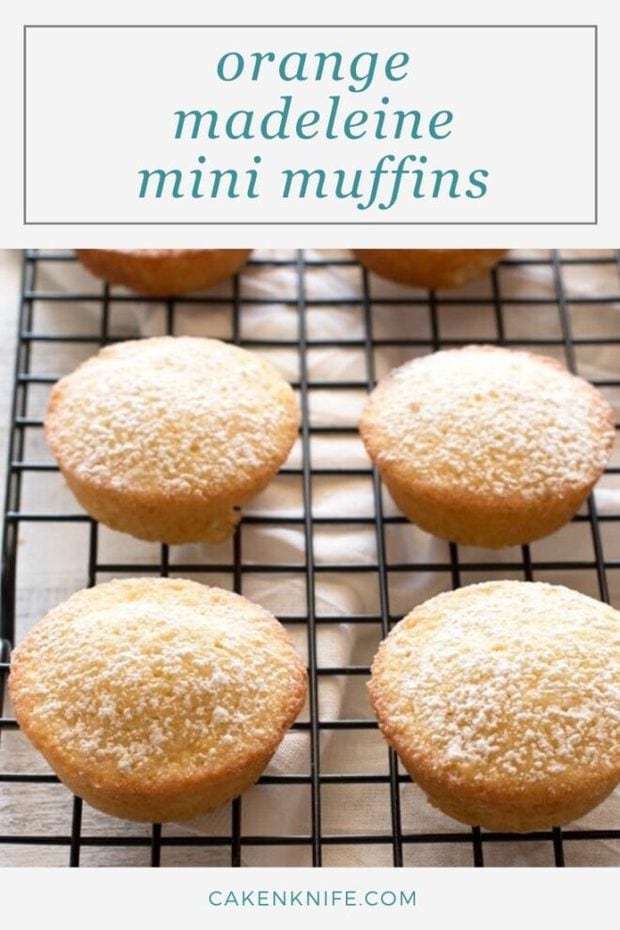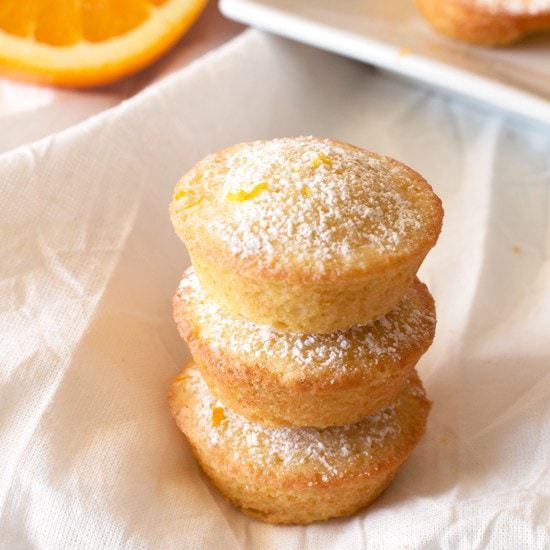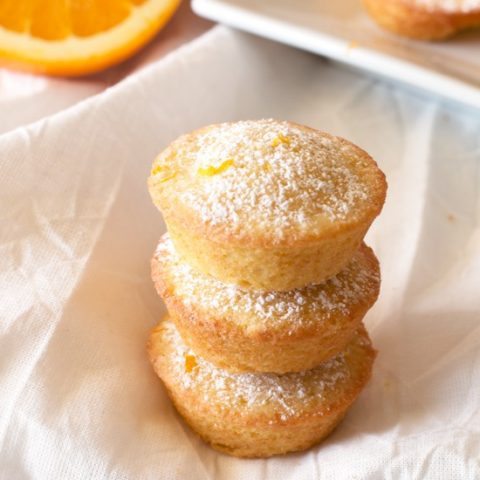 Orange Madeleine Mini Muffins
Additional Time:
5 minutes
The classic madeleine texture and flavor, with a hint of orange and in mini muffin form. Perfect for breakfast!
Ingredients
3 eggs
3/4 cup white sugar
1 tsp vanilla extract
2 tsp grand marnier
8 Tbsp unsalted butter, melted and cooled
1 cup all-purpose flour
1/4 cup cornstarch
1/2 tsp baking powder
1/4 tsp salt
1 Tbsp orange zest
Powdered sugar
Instructions
Preheat oven to 375 degrees. Thoroughly grease one 24-cup mini muffin pan or two 12-cup mini muffin pans.
In the bowl of a stand mixer fitted with the paddle attachment, beat together eggs, sugar, vanilla and grand marina on medium speed for approximately 3 minutes. Stir in melted butter until combined.
Sift together flour, cornstarch, baking powder and salt. Gradually add to the wet ingredients until combined. Stir in orange zest.
Fill each mini muffin cup approximately three-quarters full with the batter. Bake for 10 minutes, or until the edges are golden brown. Remove from oven and cool for 5 minutes. Remove muffins from the tin to finish cooling on a cooling rack. Dust with powdered sugar. Store in an airtight container for up to 2 days, but they are best served the same day.