I know what you are thinking.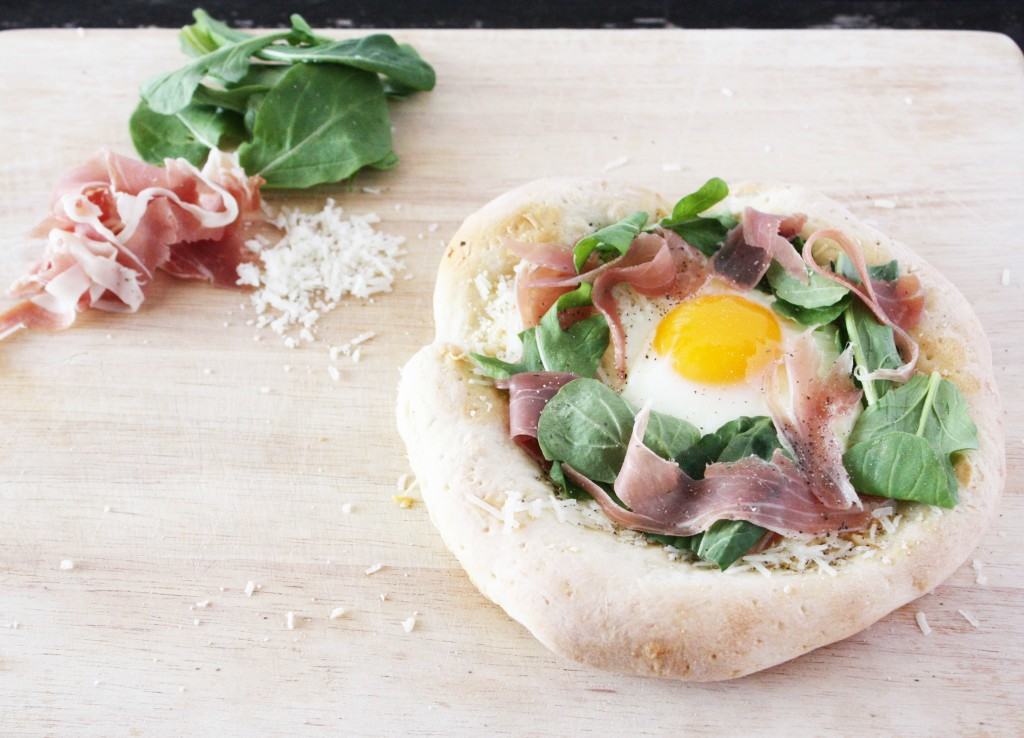 Why is there an egg on top of that pizza??
I don't know why I decided to do it. I was inspired to try it from the almighty Pinterest gods and then I just couldn't get the idea out of my head.
So here it is. And folks, I just have to say, it is AMAZING.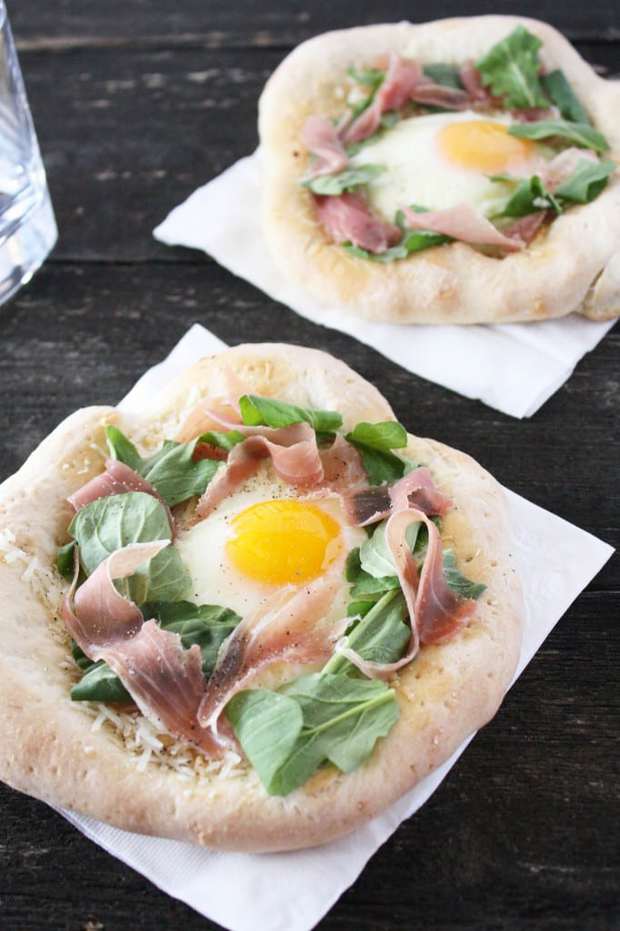 I wasn't sure what to expect but the blend of flavors in these little pizzas are insanely addictive. Especially when you get the runny yolk all mixed in there. It adds this savory depth to the pizza that leaves you feeling so satisfied.
Another thing that is insanely addictive right now is CHEESE. I am becoming somewhat of a cheese-hoarder. I have about 10 different blocks of cheese in the fridge right now. I blame those little "Under $5" cheese bins they have at our grocery store.
I mean, who can resist a little block of some crazy cheese you've never tried? This girl definitely can't.
Now I can add the leftover Pecorino from these pizzas to the ever-expanding cheese stash I have created. Soon I will be forced to dedicate an entire drawer in the fridge solely to little blocks of cheese. I can already hear my hubby sighing from the other room…
But back to these little joyful pizzas!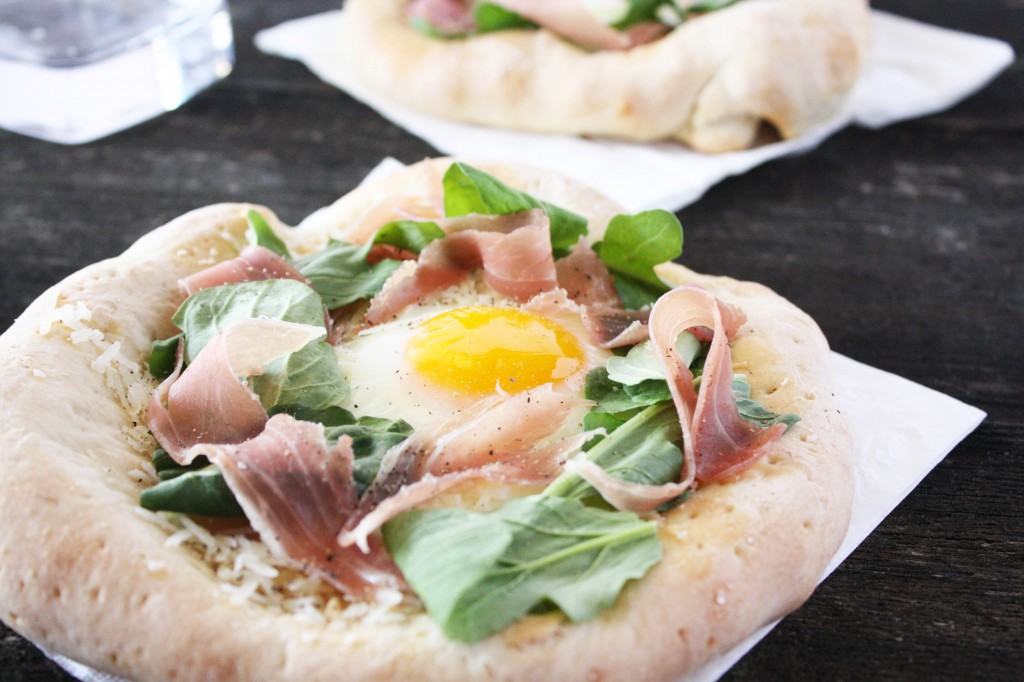 Seriously, I am begging you to try this if you have never experienced an egg-topped pizza. It is soooooooooo good.
You just gotta trust me on this one.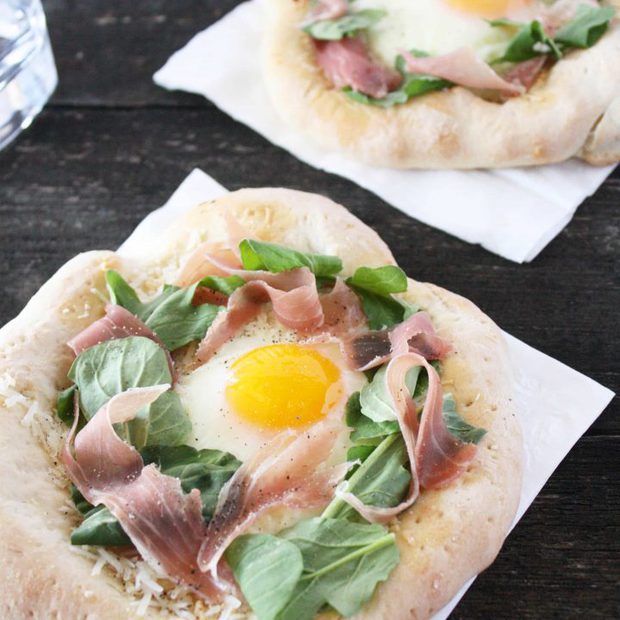 Prosciutto and Arugula Pizza with Sunny Side Up Egg
Yield:
4 individual pizzas
Total Time:
3 hours
30 minutes
Because an egg on top makes everything better.
Ingredients
Pizza Dough
3 cups all-purpose flour
1 2/3 cups water, room temperature
1 1/4 tsp salt + 1/2 Tbsp for topping
1 1/2 tsp instant or rapid-rise yeast
1 1/4 tsp sugar
2 Tbsp olive oil
Toppings
1 cup shaved Pecorino cheese + more if desired
2 cloves of garlic, minced
4 eggs
1-2 cups of arugula
3 oz prosciutto, cut into thin strips
Instructions
Using a stand mixer fitted with dough hook, mix flour, water, and table salt together on low-speed until no area of dry flour remains, 3-4 min. Turn off mixer and let dough rest for 20 min.
Sprinkle yeast and sugar over dough. Knead on low-speed until fully combined, 1-2 min. Increase mixer speed to high and knead until the dough is glossy and smooth and pulls away from the sides of the bowl, 6-10 min.
Using fingers, coat large bowl with 1 tbsp olive oil. Transfer dough to prepared bowl and pour 1 tbsp oil over the top. Flip dough over once so that it is well coated with oil. Cover bowl tightly with plastic wrap and let dough rise at room temperature until nearly tripled in volume and large bubbles have formed, 2-2 1/2 hrs.
One hour before baking, preheat oven to 450 degrees and place pizza stone on the middle rack.
Turn dough out onto prepared surface along with an oil in the bowl. Separate dough into four balls. Roll or press dough into flattened circles and create a dent in the center of each (this will help keep the egg in place). Let the dough relax for 5-10 minutes. Using dinner fork, poke surface of each ball of dough a few times and sprinkle with kosher salt. Bake in oven until slightly golden, about 5 minutes.
Remove crusts from oven. Add cheese, garlic, and crack an egg in the center of each. Return to oven and bake until crust is golden brown and the egg is cooked sunny-side up (the yolk should still be runny), approximately 10-13 minutes.
Remove from oven and top with arugula, prosciutto, and more cheese, if desired (and really, how could you not want more cheese?).