I might still be having dreams about this pizza…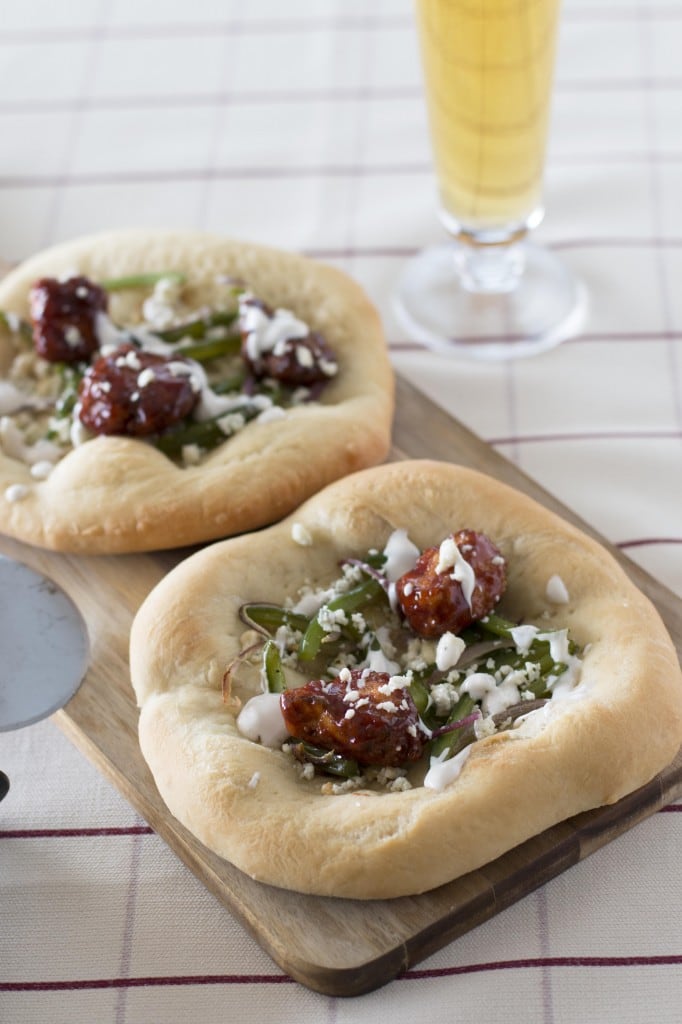 You guys, is it Spring yet? Because the recent snowstorm that blew through Denver is making me question when it is really April. Whatever happened to "April showers bring May flowers"? I refuse to accept snow falling from the sky as "showers".
In my head all I am doing is wearing neon pink and jamming out to some summer pop hit that is sure to be a new obsession of mine. On the outside I am bundled up in a heavy coat and not-so-sensible shoes, willing warmer temperatures to come my way.
Do you know what happens this SUNDAY, i.e. TOMORROW?? GAME OF THRONES. GAH. Seriously, all I want is to see Khaleesi continue to kick ass and get her kingdom back. If you have no idea what I am talking about, you have approximately 30 hours to pack in three seasons to catch up in time. DO IT.
I will be chowing down on these adorable individual BBQ, blue cheese, and ranch packed individual pizzas all weekend long. At least it's warm and cheesy and when paired with beer (or cider for us non-beer lovers… don't judge), it's pure heaven.
You see what I'm talking about right?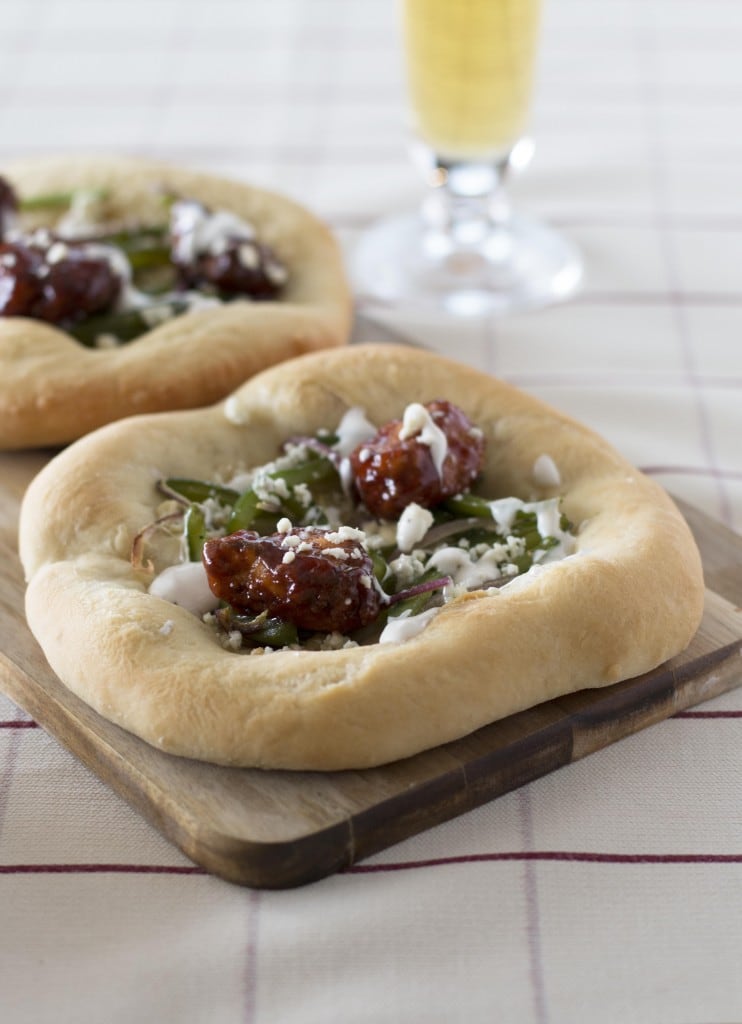 Guh-or-geous.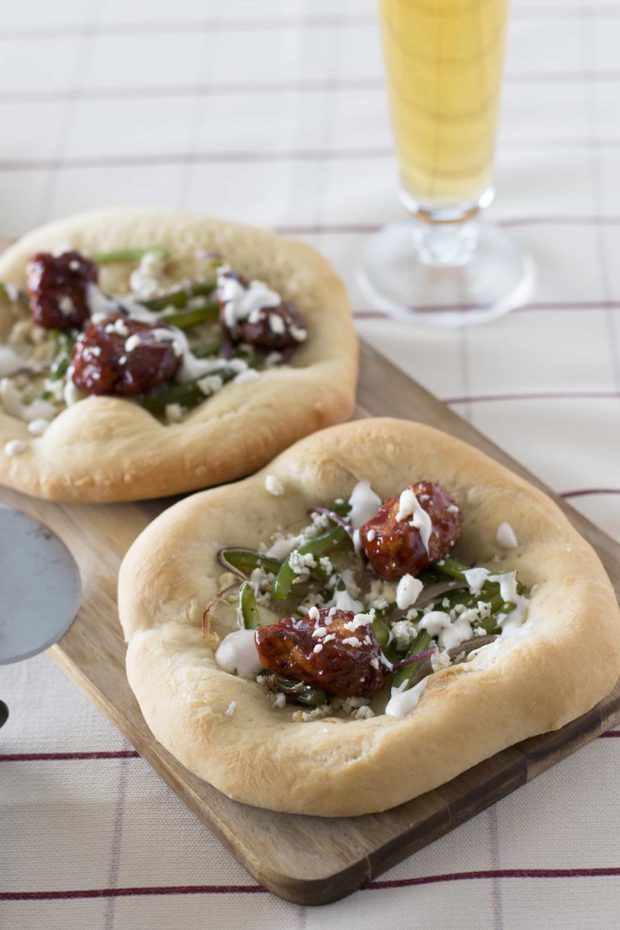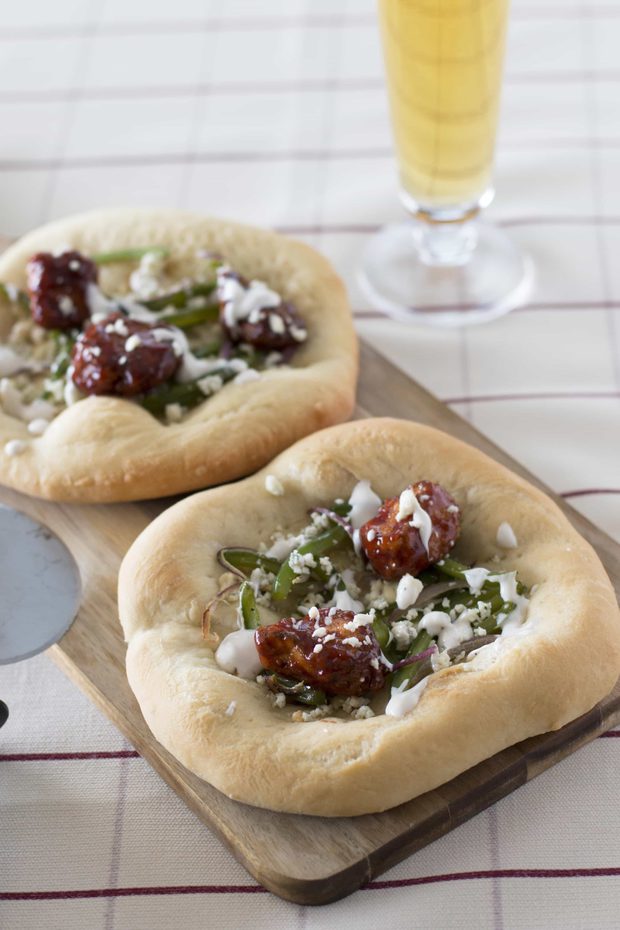 BBQ Popcorn Chicken Individual Pizzas
Yield:
4 individual pizzas
Total Time:
3 hours
50 minutes
BBQ popcorn chicken, now on your own individual pizza!
Ingredients
Dough
3 cups all-purpose flour
1⅔ cups water, room temperature
1¼ tsp table salt
1½ tsp instant or rapid-rise yeast
1¼ tsp sugar
2 tbsp olive oil
1 tbsp kosher salt
Toppings
2 skinless chicken breasts, cut into 1 inch chunks
3/4 cup buttermilk
2 tsp kosher salt
3/4 cup all-purpose flour
1 tsp baking powder
1 1/2 tsp cayenne pepper
1/2 tsp onion powder
1/2 tsp black pepper
Canola Oil for frying
1/2 cup BBQ sauce
1 red onion, cut into thin strips
1 green bell pepper, cut into thin strips
1 cup blue cheese crumbles
1/3 cup ranch dressing
1 Tbsp milk
Instructions
Using a stand mixer fitted with dough hook, mix flour, water, and table salt together on low-speed until no area of dry flour remains, 3-4 min. Turn off mixer and let dough rest for 20 min.
Sprinkle yeast and sugar over dough. Knead on low-speed until fully combined, 1-2 min. Increase mixer speed to high and knead until the dough is glossy and smooth and pulls away from the sides of the bowl, 6-10 min.
Using fingers, coat large bowl with 1 tbsp olive oil. Transfer dough to prepared bowl and pour 1 tbsp oil over the top. Flip dough over once so that it is well coated with oil. Cover bowl tightly with plastic wrap and let dough rise at room temperature until nearly tripled in volume and large bubbles have formed, 2-2½ hrs. One hour before baking, preheat oven to 450 degrees and place pizza stone on the middle rack.
While the dough is rising, add the chunks of chicken breast to a small bowl. Add buttermilk and 1 tsp of salt to the bowl and mix well with the chicken. Cover with plastic wrap and let chill in the refrigerator for at least 1 hour.
Once the dough has risen, turn dough out onto prepared surface along with an oil in the bowl. Separate dough into four balls. Roll or press dough into flattened circles and create a dent in the center of each (this will help keep the egg in place. Let the dough relax for 5-10 minutes. Using dinner fork, poke surface of each ball of dough a few times and sprinkle with kosher salt. Bake in oven until slightly golden, about 5 minutes.
Note if you are working with one pizza stone you will find that you need to bake the crusts in batches of two at a time.
While the crusts are baking, add red onion and green bell peppers to a dry sauté pan. Cook over medium heat for about 4-5 minutes until the veggies are cooked through and a little browned.
Remove crusts from oven and add the blue cheese crumbles to evenly between each crust. Bake for an additional 5 minutes. Remove from oven and keep warm on the pizza stone.
Next prepare the chicken. Combine flour, baking powder, cayenne pepper, onion powder, and pepper is a large sealable bag. Seal and shake the bag well to combine the dry ingredients. Using a slotted spoon, drain the chicken pieces over the bowl and then add to the bag with the flour mixture. Once all the chicken has been added to the bag, seal the bag and shake well until all of the chicken pieces are covered with the mixture.
In a medium heavy saucepan, heat approximately 5 inches of canola oil over medium heat until the oil reaches 350 degrees. Add the chicken pieces, frying about 5 at a time, for about 4-5 minutes until the chicken is golden brown. You may want to cut a piece open to make sure there is no pink inside or you can test the chicken with a thermometer, making sure it reaches at least 165 degrees. Drain on a pan lined with paper towels. Once all the chicken is fried, add to a small bowl with the BBQ sauce. Mix until all the chicken has a good coating of sauce.
Add the chicken evenly across the pizza crusts, and do the same with the peppers and onions. Combine the ranch dressing and milk in a small bowl. Stir to combine (this will give you a nice, loose dressing that is easier to work with). Drizzle the ranch sauce over the pizzas. Enjoy!