Pizza is a beautiful thing because you can basically throw whatever you want on it and it will turn out oh-so delicious. I have been deep in a Mexican food rut lately – I can't get enough of those latin flavors to save my life. One of my favorite things about August is that tomatillos are in season right now…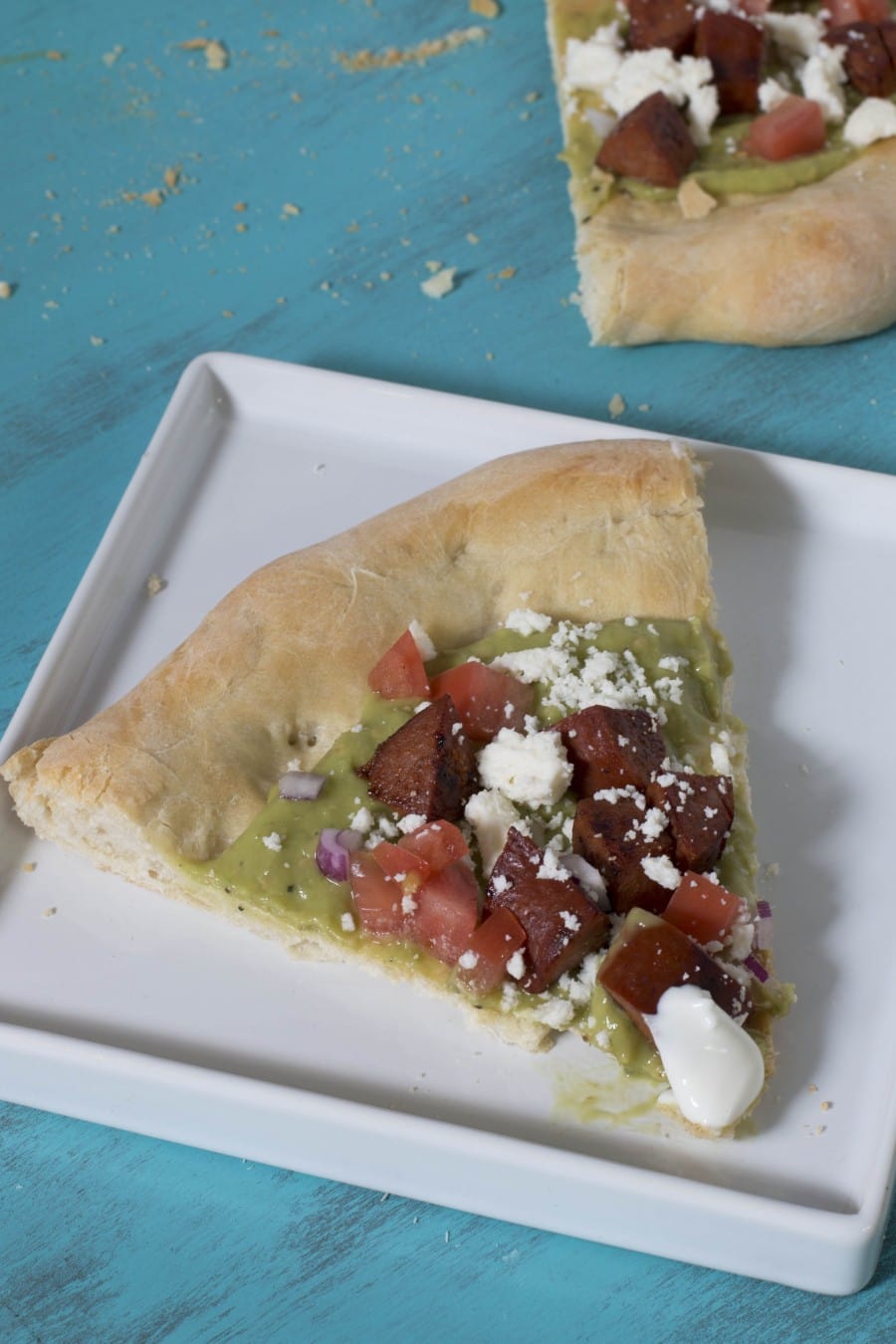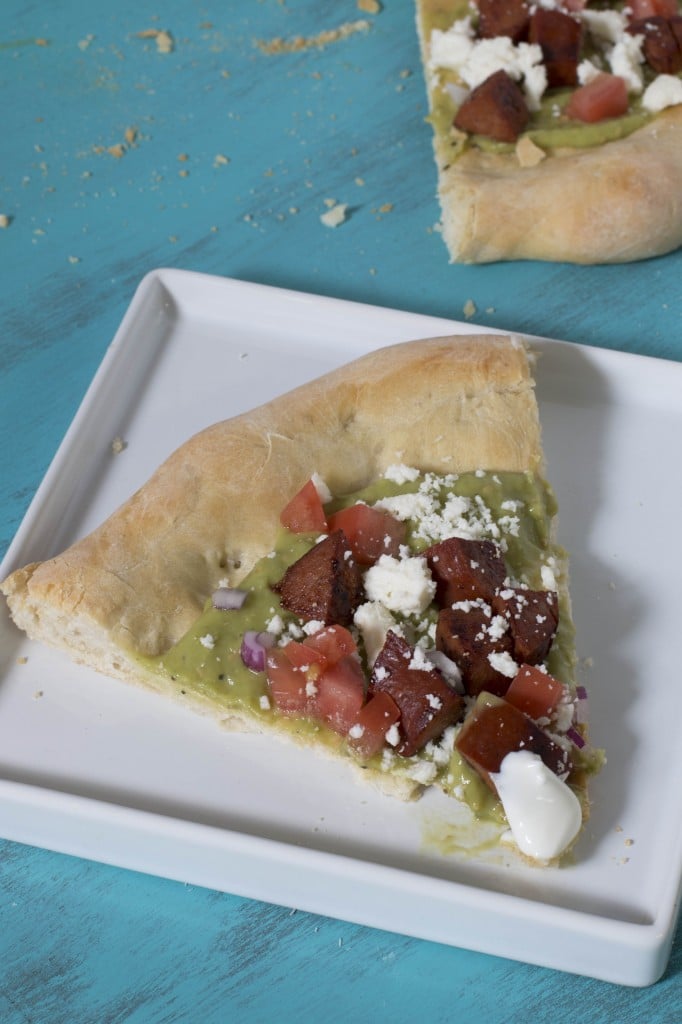 I love the tangy flavor of tomatillos, especially when they are charred. There's an extra smokey note that sneaks into the avocado-tomatillo salsa. The sauce is the perfect base for the smokey chorizo, ripe tomatoes, zippy onions, and queso fresco. Just imagine a colorful summer fiesta and that's exactly where this pizza will take your tastebuds!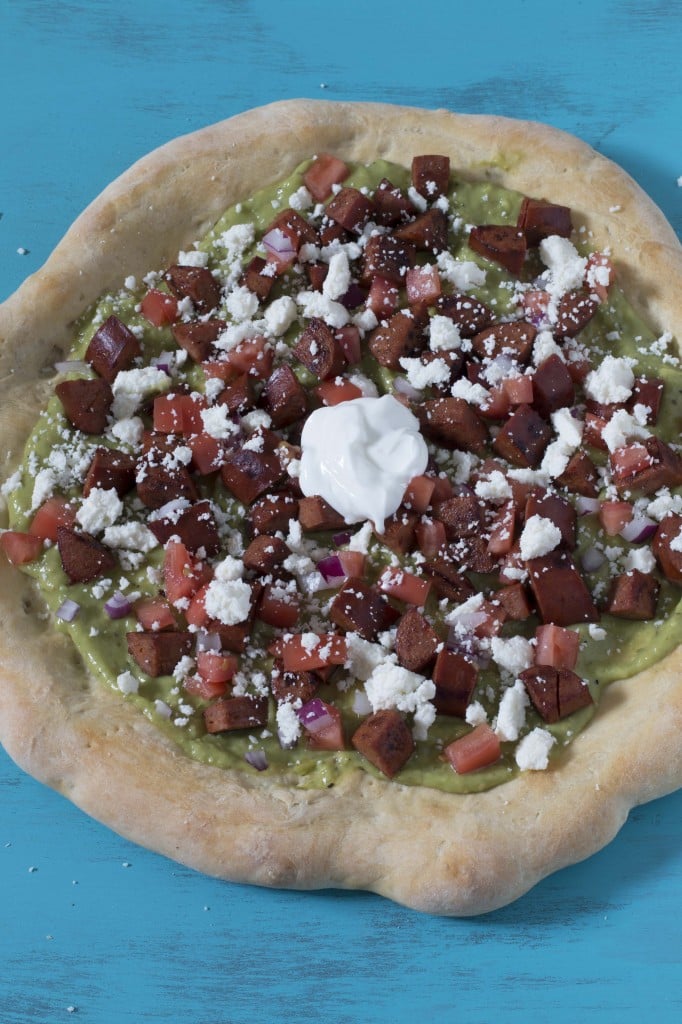 Eating beautiful and colorful food really lifts my spirits. My head is still whirling since the passing of Robin Williams. I grew up on his comedy and as I got older, he only got better. From Hook to Jumanji, from his amazing stand up comedy routines to my absolute favorite, The Birdcage, he always made me laugh out loud. Those big belly laughs that make your abs hurt and tears stream down your face. His humor brought so much happiness to this world and the world is that much dimmer without him in it. I know I shared a tribute to him earlier this week, but I have to share this one with you too. It's exactly how I want to remember him.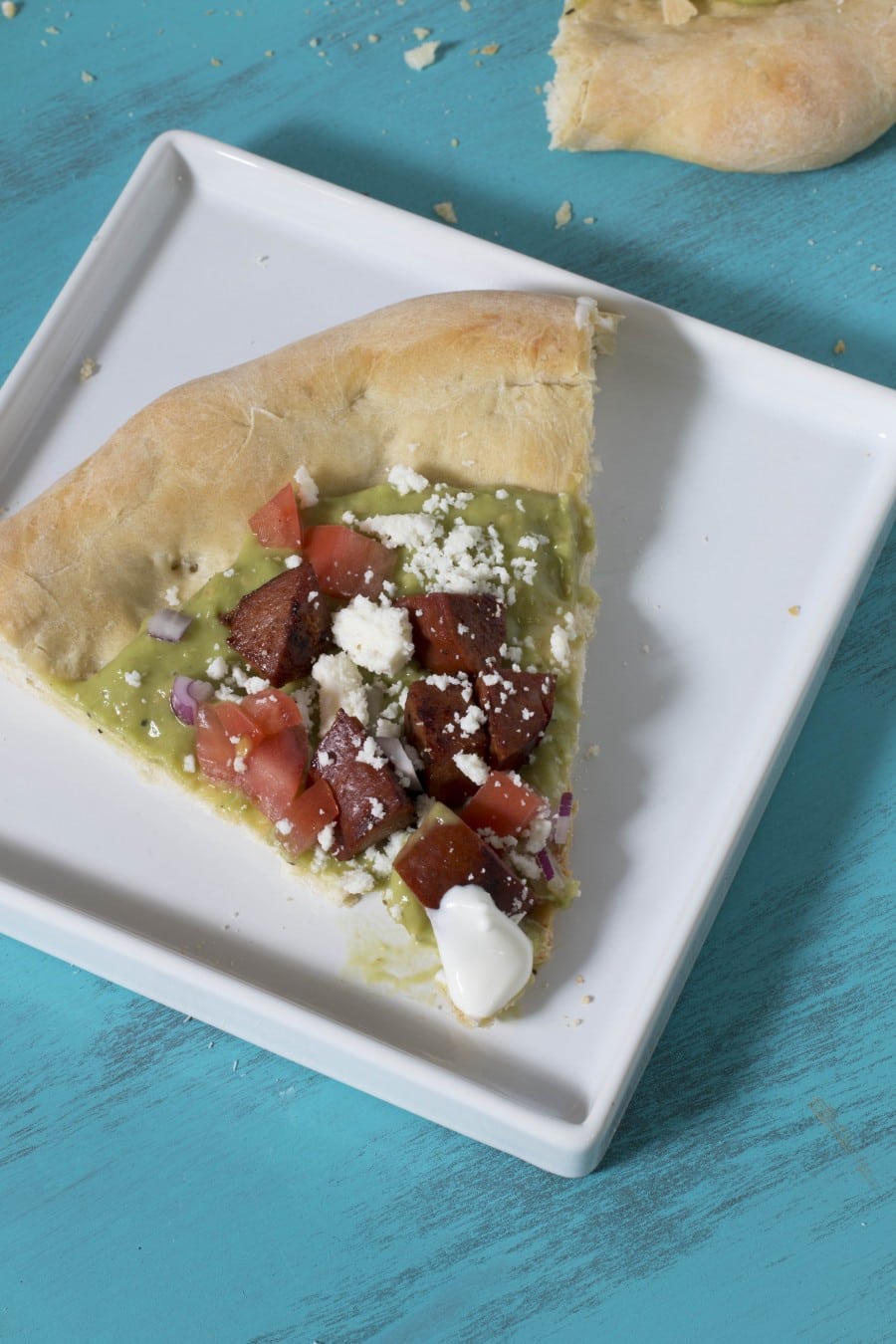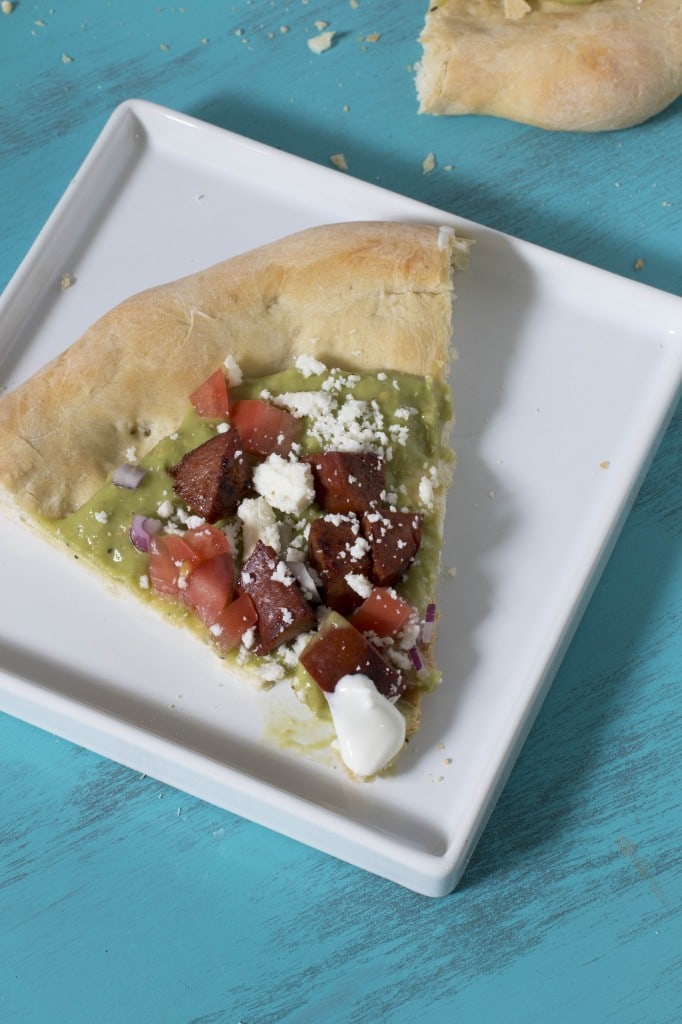 So in an effort to bring back some color to this world and to lift my own spirits, I think this pizza is the perfect solution. I am going to go devour the rest of mine as I watch Mrs. Doubtfire.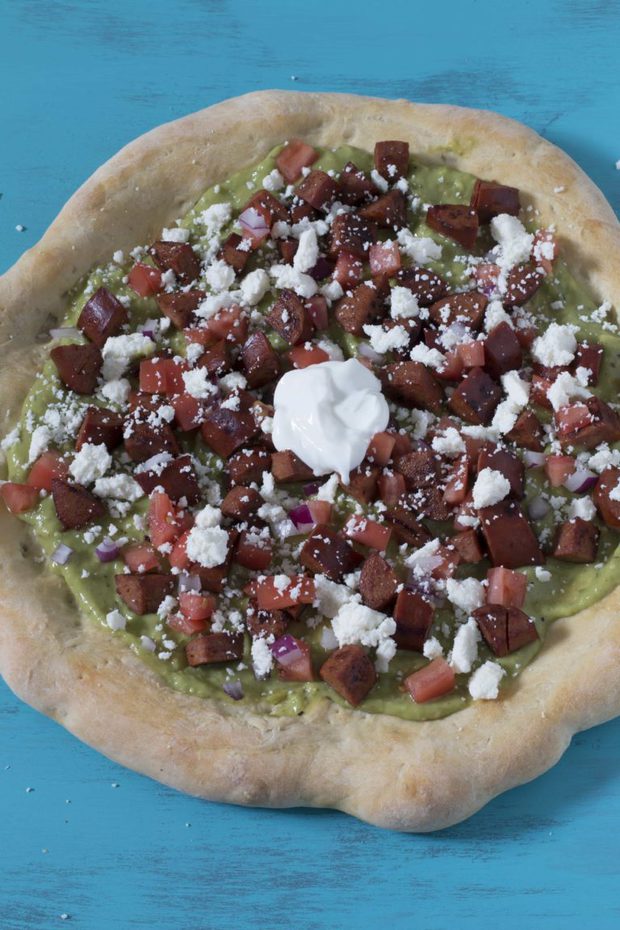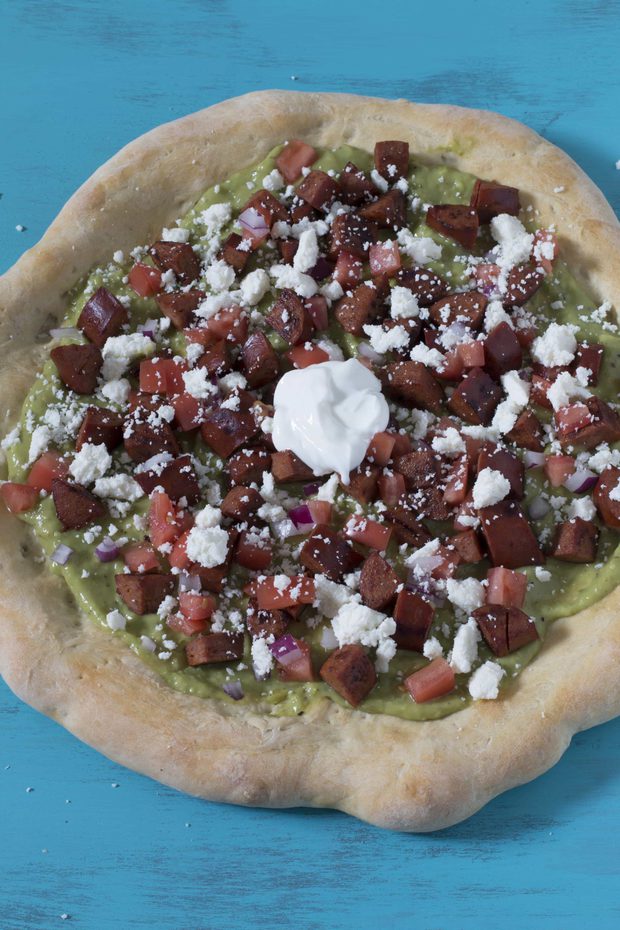 Mexican Pizza
Fresh, bright flavors top this pizza, taking you south of the border with a burst of color!
Ingredients
1 ball store-bought pizza dough
1 Tbsp olive oil
1 chorizo sausage, chopped into 1/2" pieces
1/3 cup queso fresco
1 tomato, diced
1/2 red onion, diced
3 Tbsp sour cream
Avocado-Tomatillo Salsa
⅓ lb tomatillos, husked and rinsed
1 avocado
1 small jalapeno, diced
2 cloves garlic, diced
Juice from ½ a lime
Salt and pepper
Instructions
Roast tomatillos under hot broiler for 5 minutes, turn over and roast for another 5 minutes. In a blender or food processor, whirl tomatillos, jalapeno, garlic, cilantro, and avocado until coarsely puréed. Pour into a bowl. Add lime juice and salt to taste. Set aside.
Preheat oven to 425 degrees and place a pizza stone on the middle rack.
Roll out pizza dough into a 12"-14" pizza, tucking in the edges to form a crust for the pizza. Brush the crust with olive oil. Using a fork, poke holes in the surface of the dough about 30-40 times to keep it from bubbling up too much in the oven. Carefully place the pizza crust on the pizza stone. Bake in the oven until golden brown, approximately 12 to 15 minutes. Remove from oven to serving plate.
Spread approximately 1/4 cup of the avocado tomatillo salsa on the pizza crust. Sprinkle on chorizo, tomato, red onion, and queso fresco. Add the sour cream to the center of the pizza. Cut into 8 slices and serve immediately.