Buffalo Chicken Pizza with Blue Cheese Avocado Dressing
Why go out for buffalo chicken wings and pizza when you can have both in one? Buffalo Chicken Pizza with Blue Cheese Avocado Dressing is the blockbuster mash up of two of your favorite snack foods in one. With fried buffalo chicken bites with homemade buffalo sauce and a creamy flavorful blue cheese avocado dressing, this pizza is perfect for a pizza night in or upcoming gathering.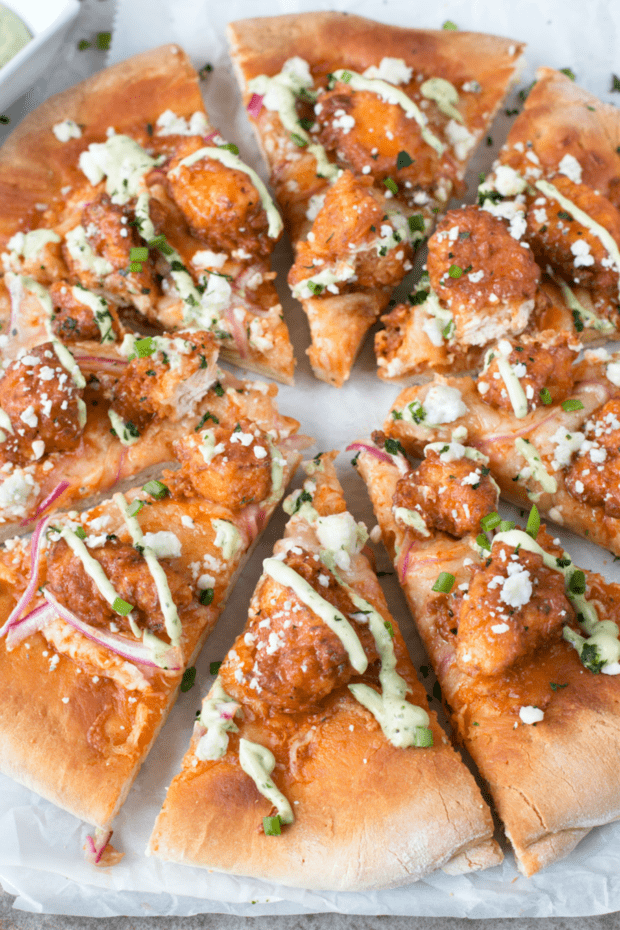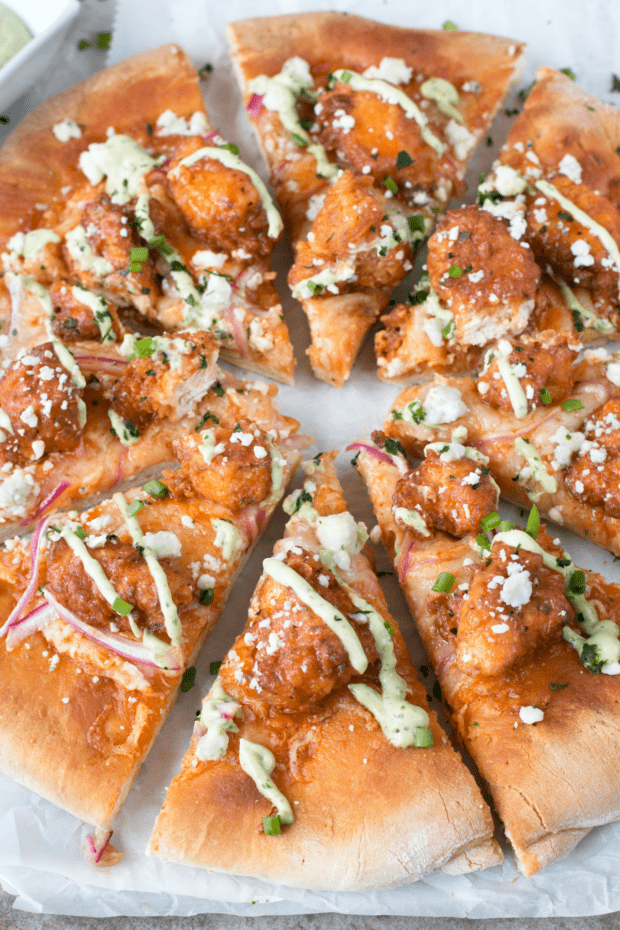 Please note that some of the links below are affiliate links. If you make a purchase through one of these links, I will receive a small commission. Thank you for supporting Cake 'n Knife!
It wasn't until I was about 20 years old that I actually chowed down on some chicken wings.
I'll pause for your gasps of shock and awe.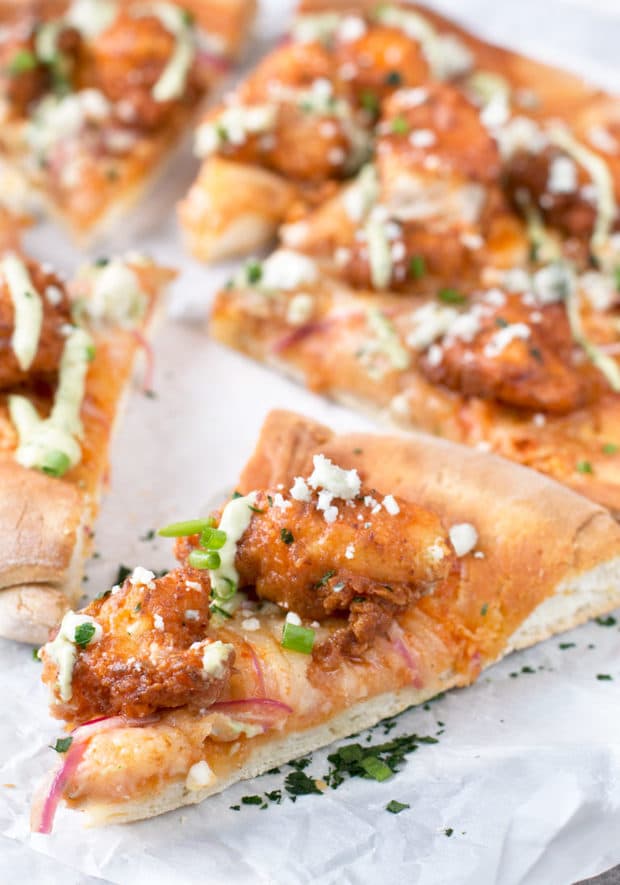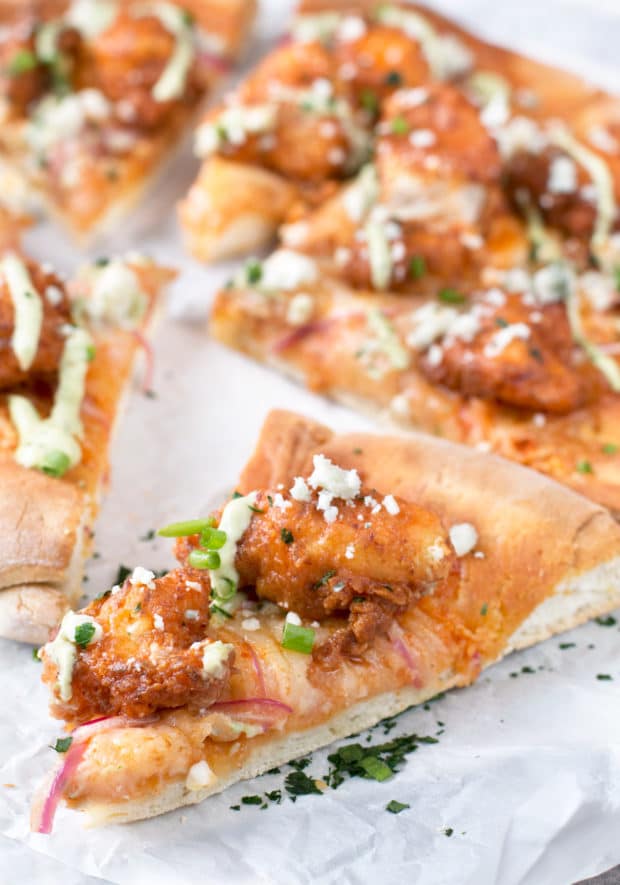 Chicken wings were never really my jam as a kid and even at age 20 I was hesitant to dive into a messy pile of chicken. At the urging of my friends, I finally tried one. 
I was shocked. The buffalo flavor of the sauce on the chicken was spicy, tangy, and oh-so bangin'. I devoured the whole basket while I sipped on a vodka tonic and attempted to destroy the boys in a game of pool.
I did win that night, by the way. Pretty sure it was the wings that gave me the winning edge I needed.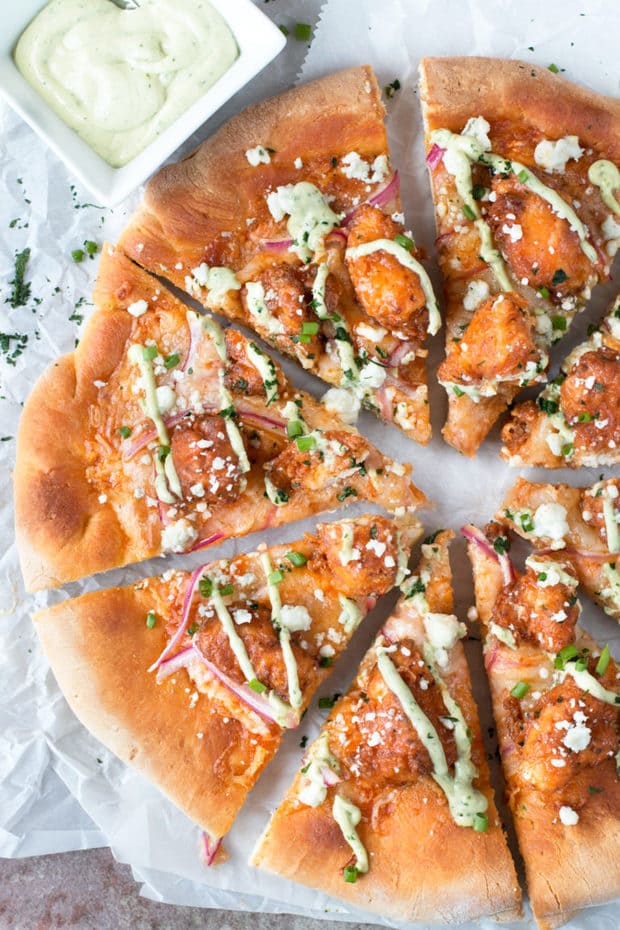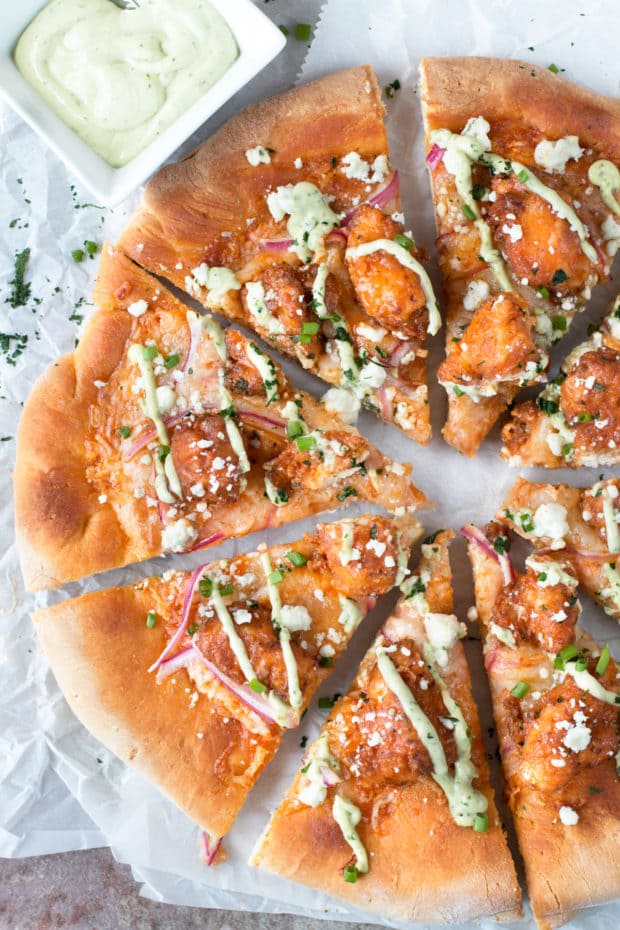 Buffalo chicken wings became a craving right up there with pizza after that moment. Honestly buffalo chicken wings and pizza nights were one of the things I looked forward to every week, with a side of pool and darts.
Instead of going out for that buffalo chicken and pizza goodness, spend a night in with your friends and family!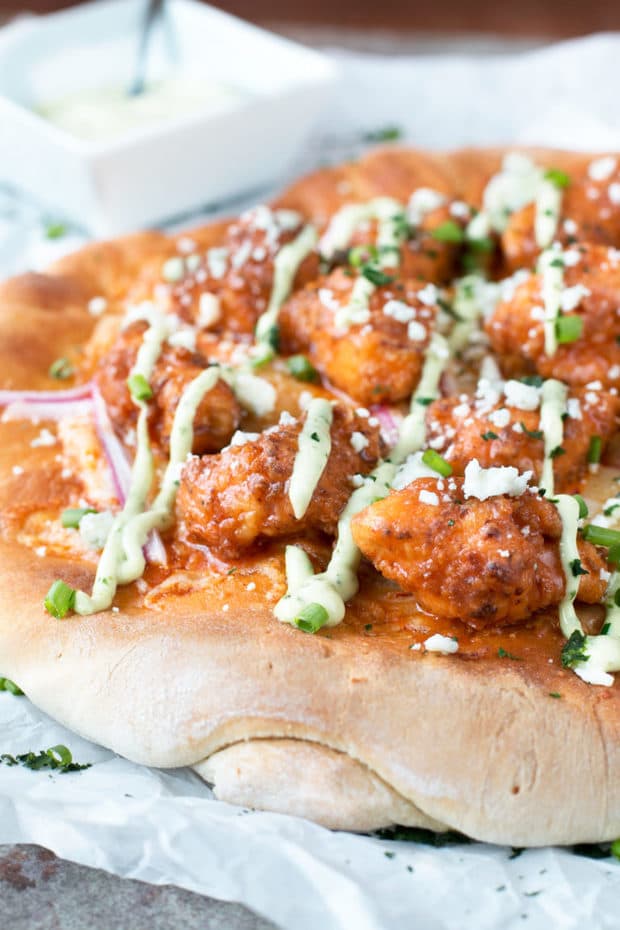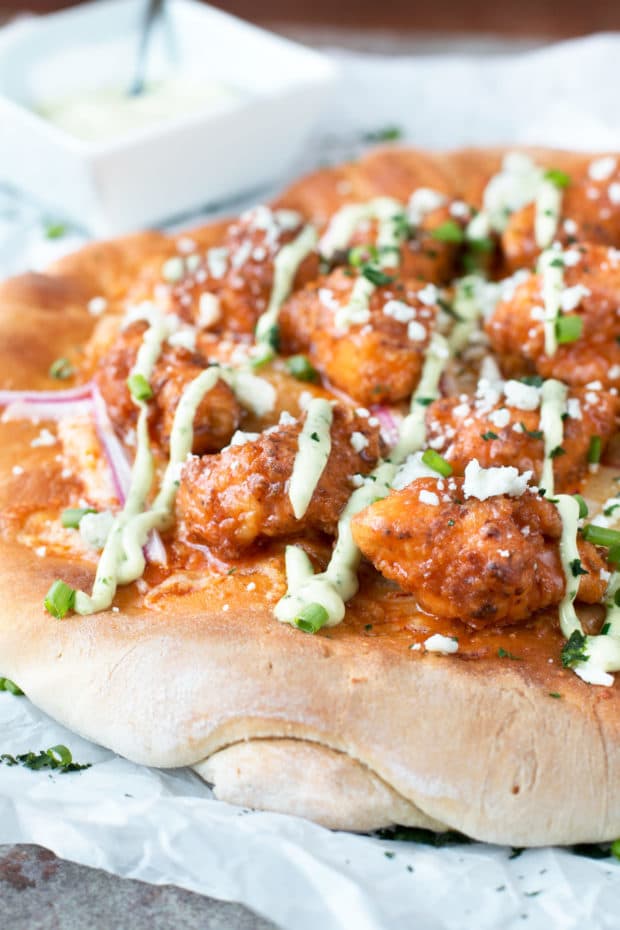 Get the best of both worlds of flavor with this killer pizza!
You get the buffalo chicken wing flavor, with an extra crunch from frying the small bites of chicken. In my mind, if you can't get the crispy wing skin on the pizza, might as well fry up those bites so you can still get the texture… am I right?
The blue cheese avocado dressing that tops it all off gives you a nice cooling element, that's creamy and even a little bit healthier (it's all about balance!) for ya. Plus the leftovers go GREAT with a salad for lunch the next day!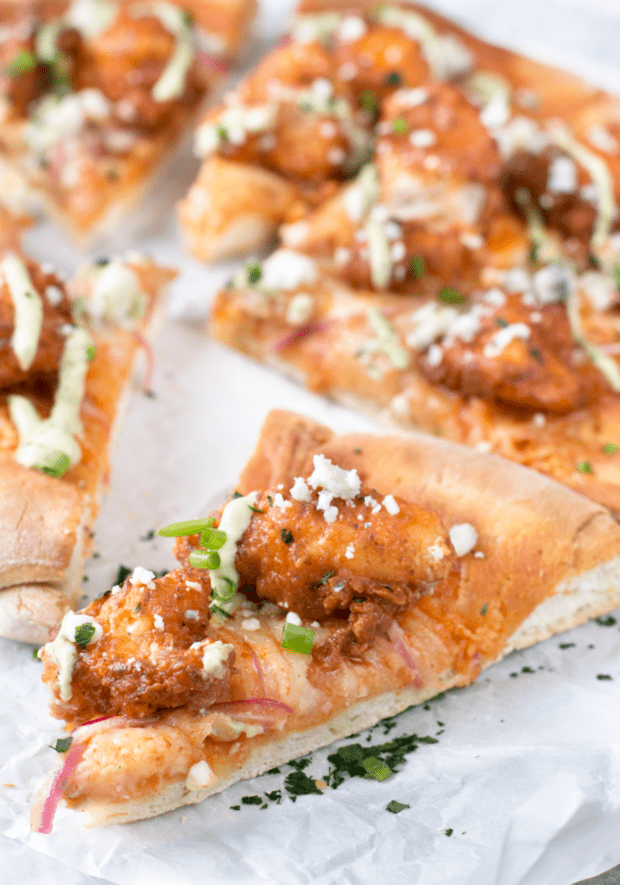 It's the best of all your favorite snack food worlds.
You're welcome. 😉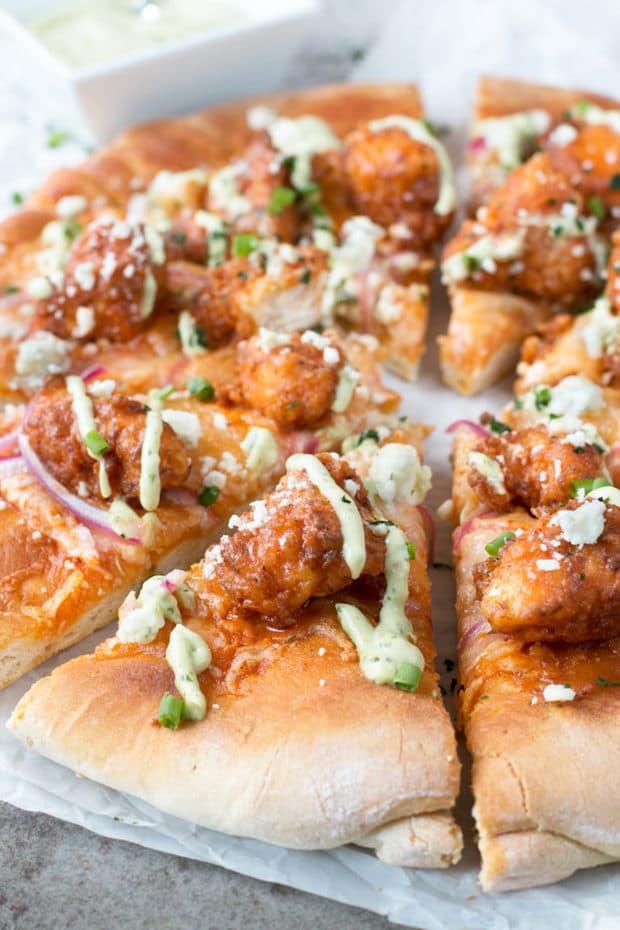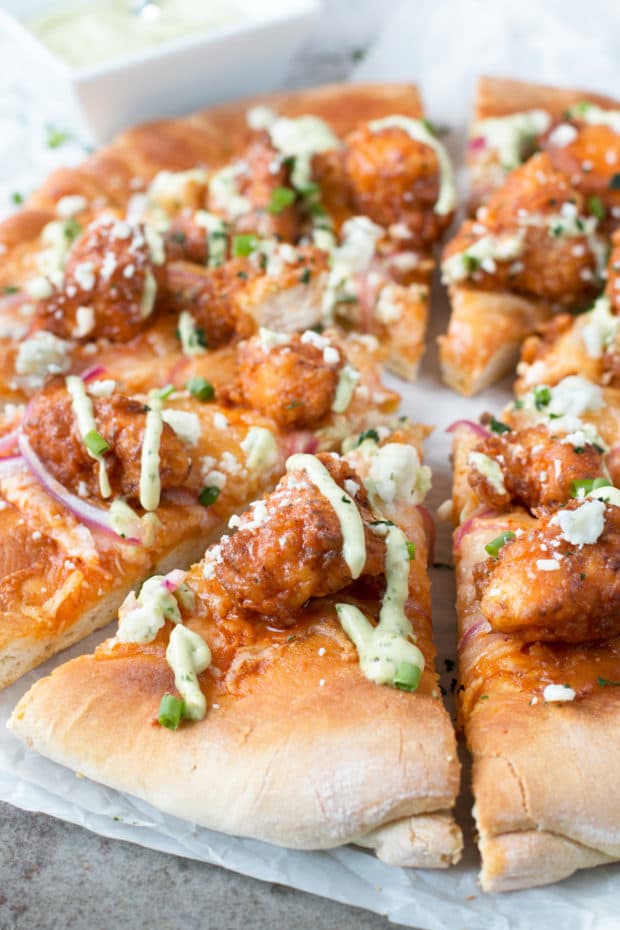 This Recipe's Must Haves
Pin this Buffalo Chicken Pizza with Blue Cheese Avocado Dressing recipe for later!