Please note this post contains affiliate links.
Why go out for buffalo chicken wings and pizza when you can have both in one? Buffalo Chicken Pizza with Blue Cheese Avocado Dressing is the blockbuster mash up of two of your favorite snack foods in one. With fried buffalo chicken bites with homemade buffalo sauce and a creamy flavorful blue cheese avocado dressing, this pizza is perfect for a pizza night in or upcoming gathering.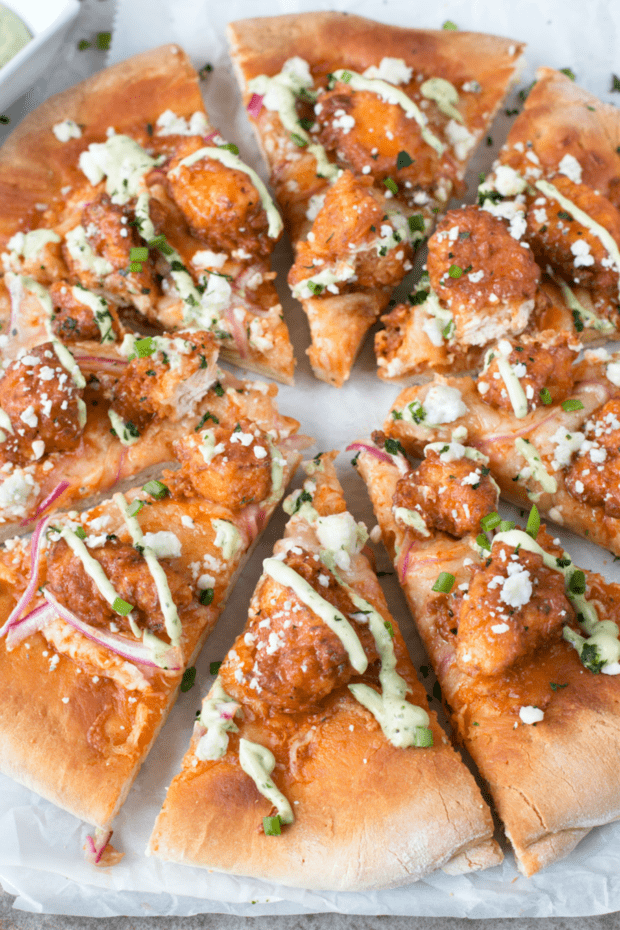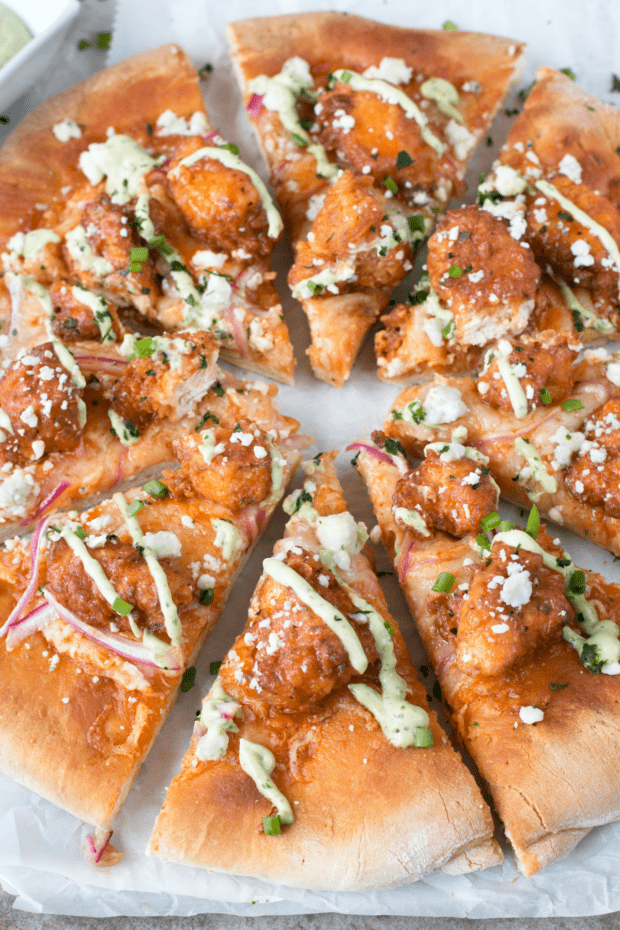 It wasn't until I was about 20 years old that I actually chowed down on some chicken wings.
I'll pause for your gasps of shock and awe.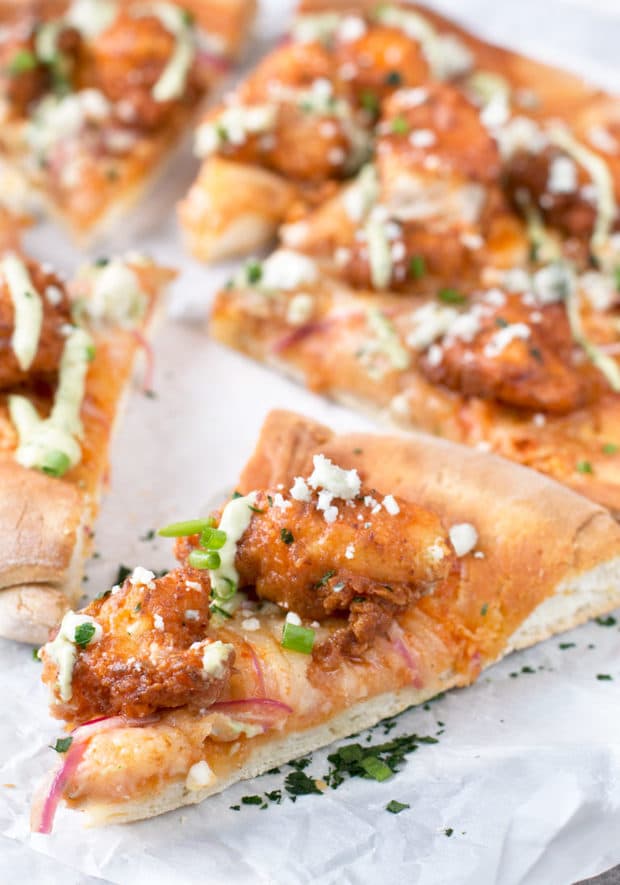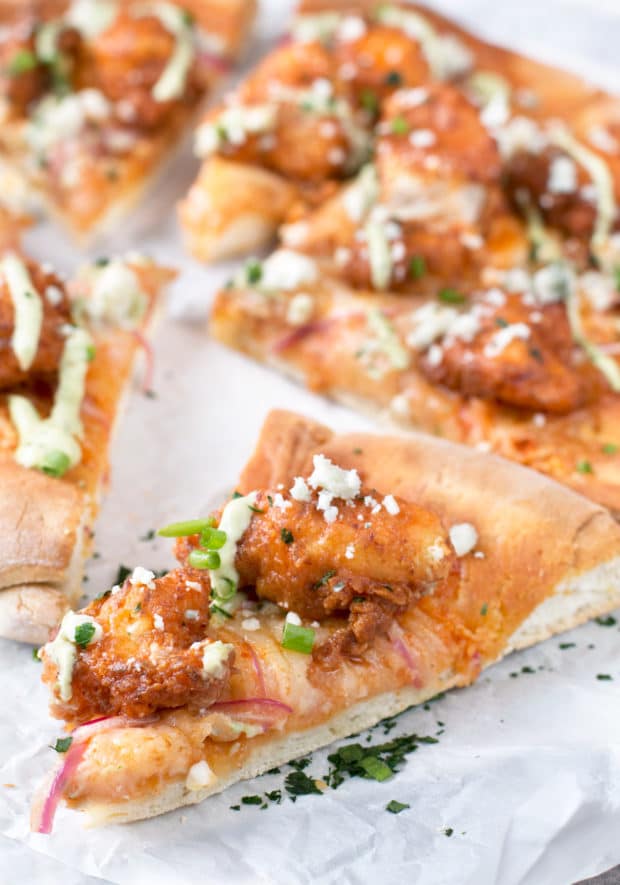 Chicken wings were never really my jam as a kid and even at age 20 I was hesitant to dive into a messy pile of chicken. At the urging of my friends, I finally tried one.
I was shocked. The buffalo flavor of the sauce on the chicken was spicy, tangy, and oh-so bangin'. I devoured the whole basket while I sipped on a vodka tonic and attempted to destroy the boys in a game of pool.
I did win that night, by the way. Pretty sure it was the wings that gave me the winning edge I needed.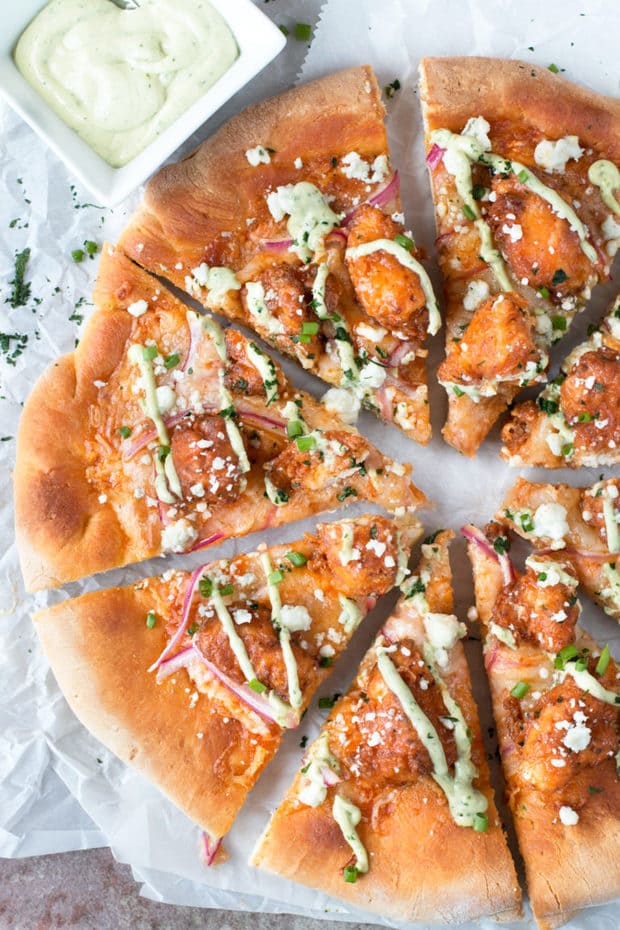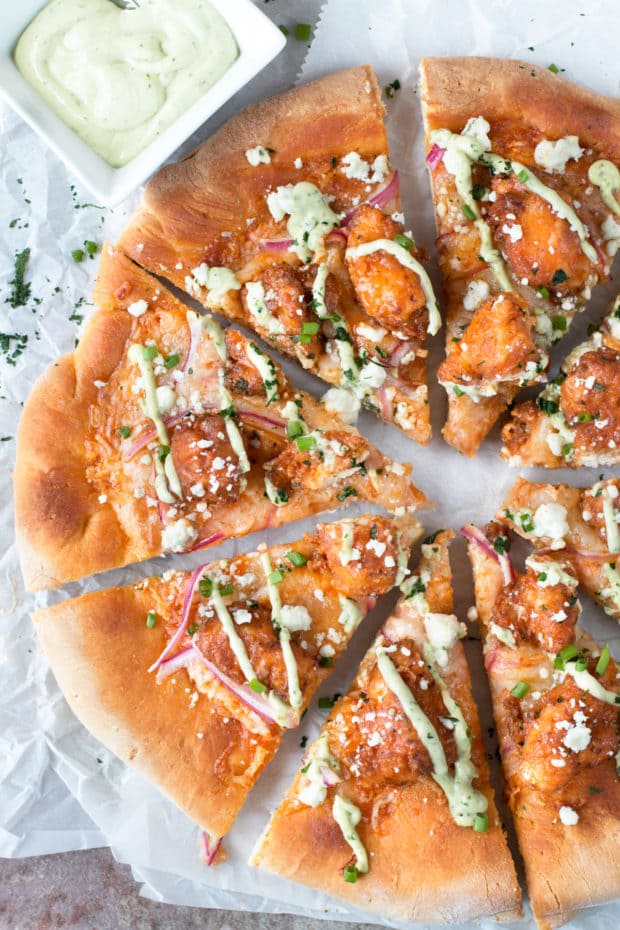 Buffalo chicken wings became a craving right up there with pizza after that moment. Honestly buffalo chicken wings and pizza nights were one of the things I looked forward to every week, with a side of pool and darts.
Instead of going out for that buffalo chicken and pizza goodness, spend a night in with your friends and family!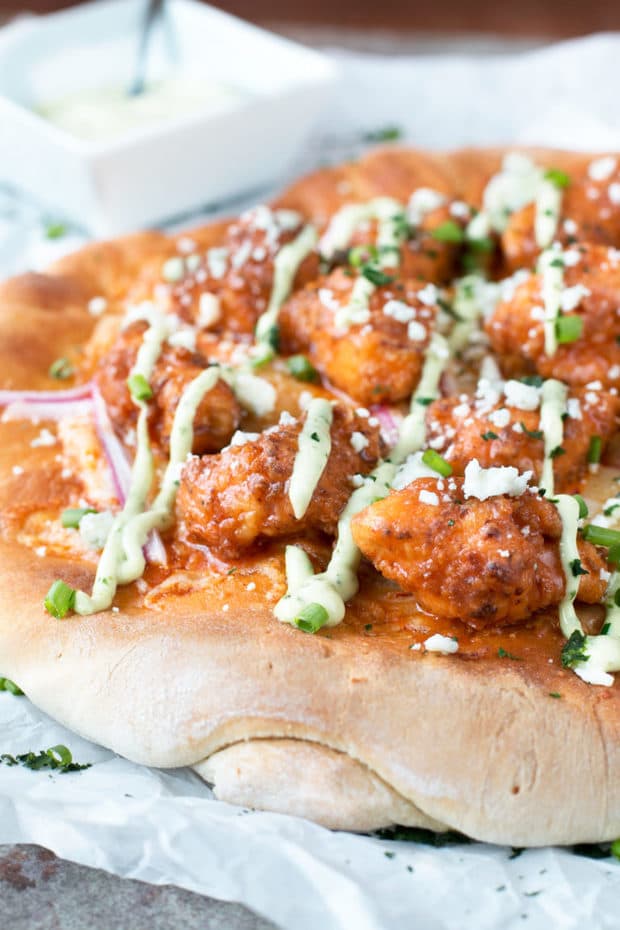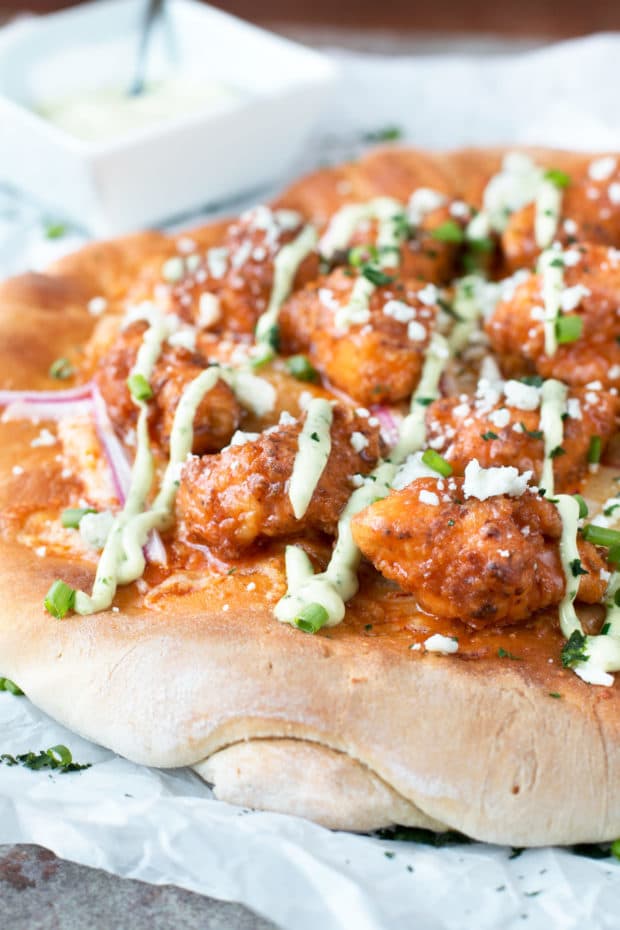 Get the best of both worlds of flavor with this killer pizza!
You get the buffalo chicken wing flavor, with an extra crunch from frying the small bites of chicken. In my mind, if you can't get the crispy wing skin on the pizza, might as well fry up those bites so you can still get the texture… am I right?
The blue cheese avocado dressing that tops it all off gives you a nice cooling element, that's creamy and even a little bit healthier (it's all about balance!) for ya. Plus the leftovers go GREAT with a salad for lunch the next day!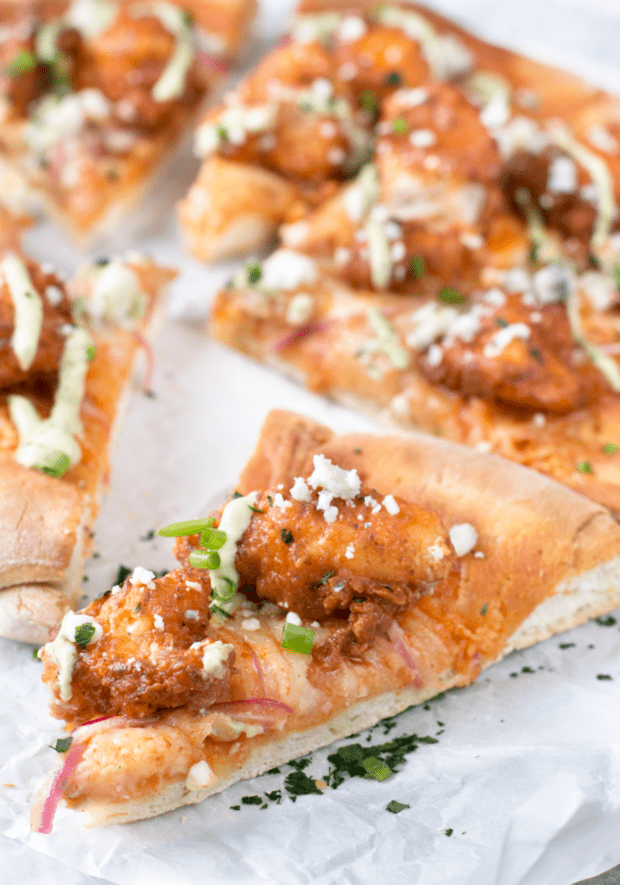 It's the best of all your favorite snack food worlds.
You're welcome. 😉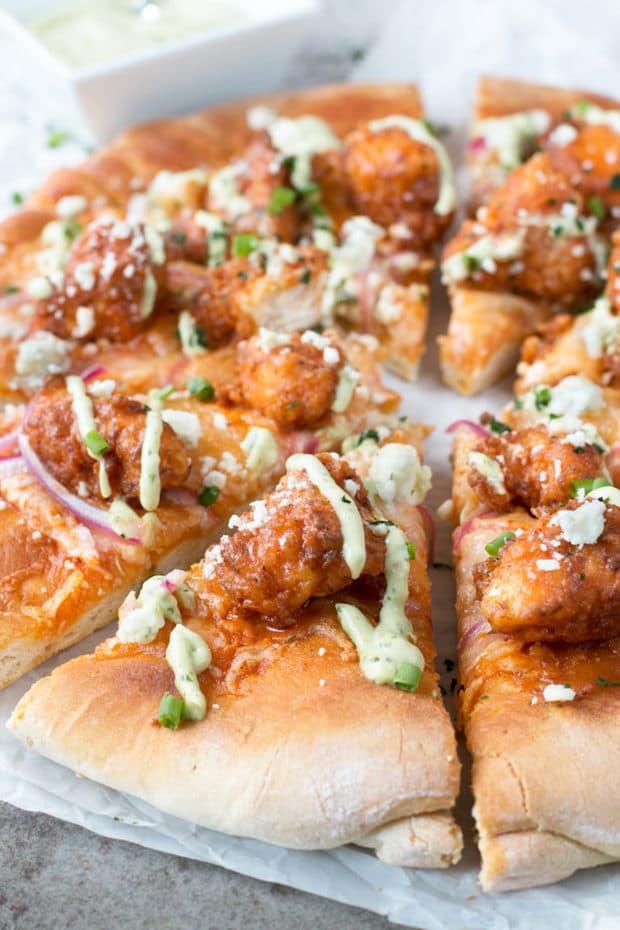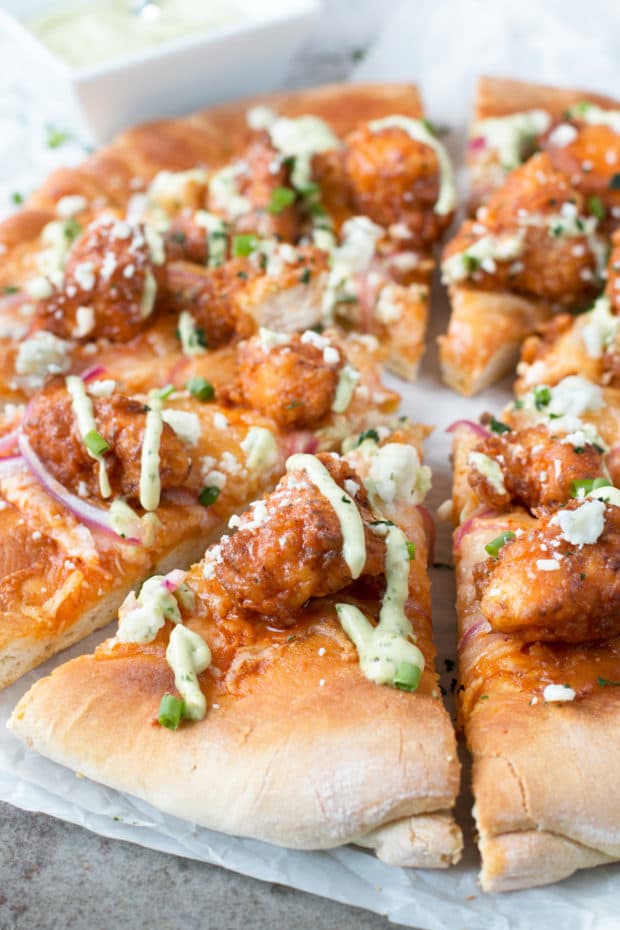 This Recipe's Must Haves
To make the buffalo chicken, I like to use a cast iron skillet.
For the sauce you'll need one of your metal mixing bowls and a whisk!
Finally, I love these pizza scissors. They are awesome for slicing pizza!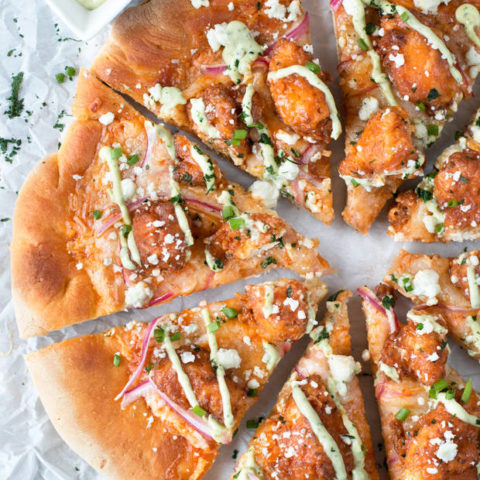 Buffalo Chicken Pizza with Blue Cheese Avocado Dressing
With fried buffalo chicken bites with homemade buffalo sauce and a creamy flavorful blue cheese avocado dressing, this pizza is perfect for a pizza night in or upcoming gathering.
Ingredients
Pizza
1 pound Pizza Dough, I love using my Perfect Garlic Agave Pizza Crust!
1 cup Shredded Mozzarella Cheese
1 Red Onion, cut into thin strips
1 cup Crumbled Blue Cheese
Fried Buffalo Chicken:
2 large Chicken Breasts, skinless, cut into 1-inch chunks
3/4 cup Buttermilk
2 teaspoons Kosher Salt
3/4 cup All-Purpose Flour
1 teaspoon Baking Powder
1 1/2 teaspoons Ground Cayenne Pepper
1/2 teaspoon Onion Powder
1/2 teaspoon Black Pepper
Canola Oil, for frying
Buffalo Sauce:
1/2 cup Melted Butter
2/3 cup Hot Sauce
1 1/2 teaspoons Worcestershire Sauce
pinch of Granulated Sugar
Blue Cheese Avocado Dressing:
1 Avocado
1/2 cup Buttermilk
1/8 cup Mayonnaise
1 tablespoon Sour Cream
1/2 teaspoon Salt
1/2 teaspoon Black Pepper
1 clove Garlic, minced
1 teaspoon Lime Juice
1/8 cup Chopped Italian Parsley, plus more for garnish
1 tablespoon Chives, chopped, plus more for garnish
Instructions
Add the chunks of chicken breast to a small bowl. Add buttermilk and 1 teaspoon of salt to the bowl and mix well with the chicken. Cover with plastic wrap and let chill in the refrigerator for at least 1 hour.
In the bowl of a food processor, blend ingredients for the blue cheese avocado dressing until smooth. Set aside in the refrigerator until ready to serve.
In a small bowl, whisk together ingredients for the buffalo sauce. Set aside.
Preheat oven to 350°F and add pizza stone to the oven to preheat. Roll out pizza dough to desired shape.
Add to hot pizza stone and pre-bake for 5 to 7 minutes until just starting to turn golden brown. Set aside.
Combine flour, baking powder, cayenne pepper, onion powder, and pepper for the fried buffalo chicken is a large sealable bag. Seal and shake the bag well to combine the dry ingredients.
Using a slotted spoon, drain the chicken pieces over the bowl and then add to the bag with the flour mixture.
Once all the chicken has been added to the bag, seal the bag and shake well until all of the chicken pieces are covered with the mixture.
In a medium heavy saucepan, heat approximately 5 inches of canola oil over medium heat until the oil reaches 350°F.
Add the chicken pieces, frying about 5 at a time, for about 4-5 minutes until the chicken is golden brown. You may want to cut a piece open to make sure there is no pink inside or you can test the chicken with a thermometer, making sure it reaches at least 165°F.
Drain on a pan lined with paper towels. Once all the chicken is fried, add to a small bowl with 1/2 the buffalo sauce. Mix until all the chicken has a good coating of sauce.
Spread the remaining 1/2 of the buffalo sauce on the pizza crust. Top with mozzarella cheese and sliced red onion.
Bake for 5 minutes, or until melty and bubbling. Remove from oven. Top with chicken, blue cheese crumbles, chopped chives and chopped parsley.
Drizzle over blue cheese avocado dressing. Serve immediately.
Recommended Products
As an Amazon Associate and member of other affiliate programs, I earn from qualifying purchases.