Please note this post contains affiliate links.
Charred Caesar Salad Avocado Chicken Tacos are the way that I make salad something I actually CRAVE! A simple caesar marinade for the chicken really brings out the classic flavors of the salad, and the char from the grill gives the tacos a nice, smoky flavor. Taco night just got a whole lot more interesting!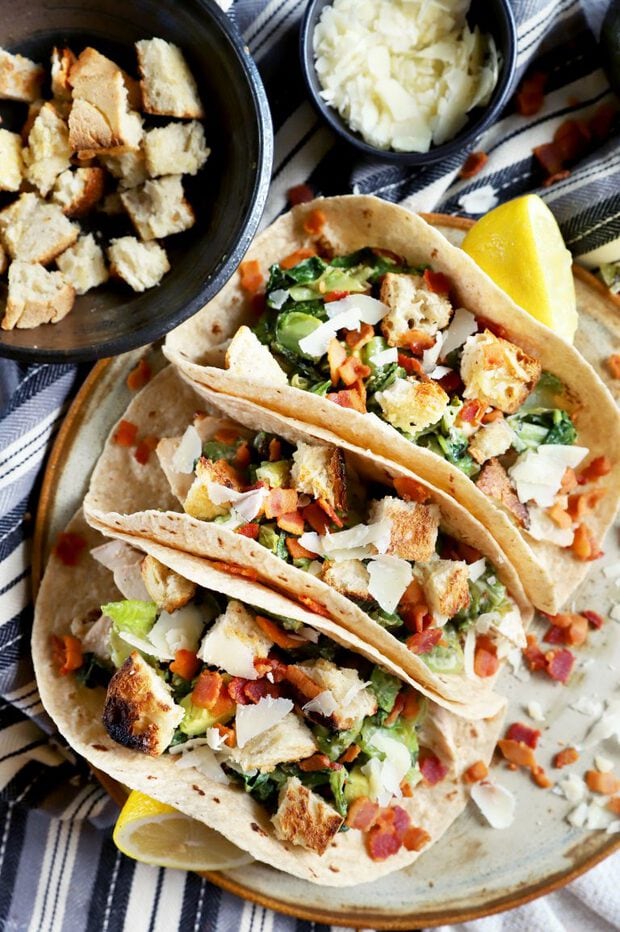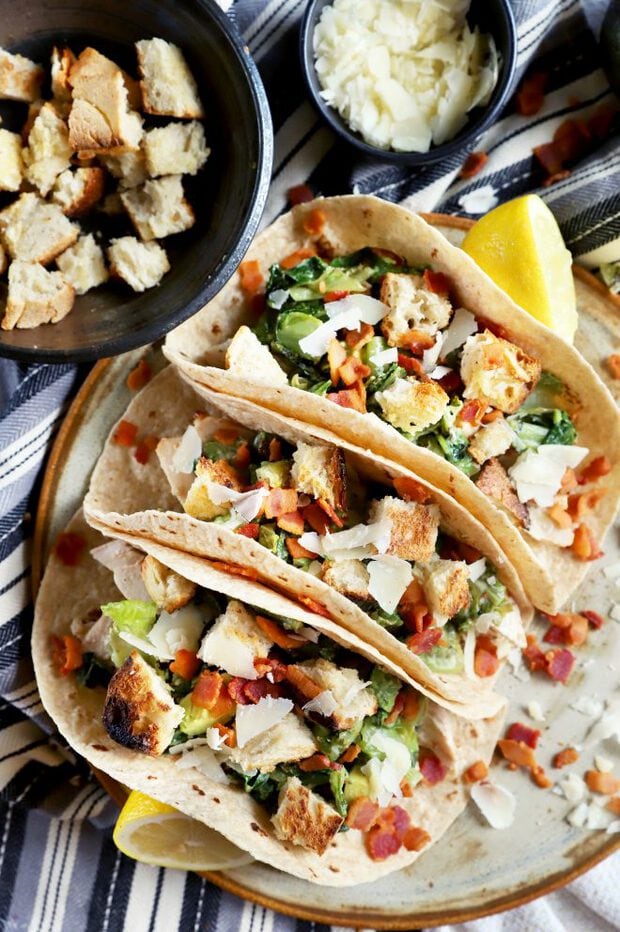 If you know me at all, you know that I am NOT a huge fan of salad. In preparation for a big upcoming trip, I have been forced to embrace the salad world…
I do this every year when I know we are going to be go on a trip for a couple of weeks. Now, I hate to limit myself on food when I travel, because half of the reasons I travel is to eat and drink. Therefore, I try to lose the weight I know I will inevitably gain on the trip. The hope is that I don't come back too bloated.
So salads are my friend, and I have to try to find new ways to enjoy them.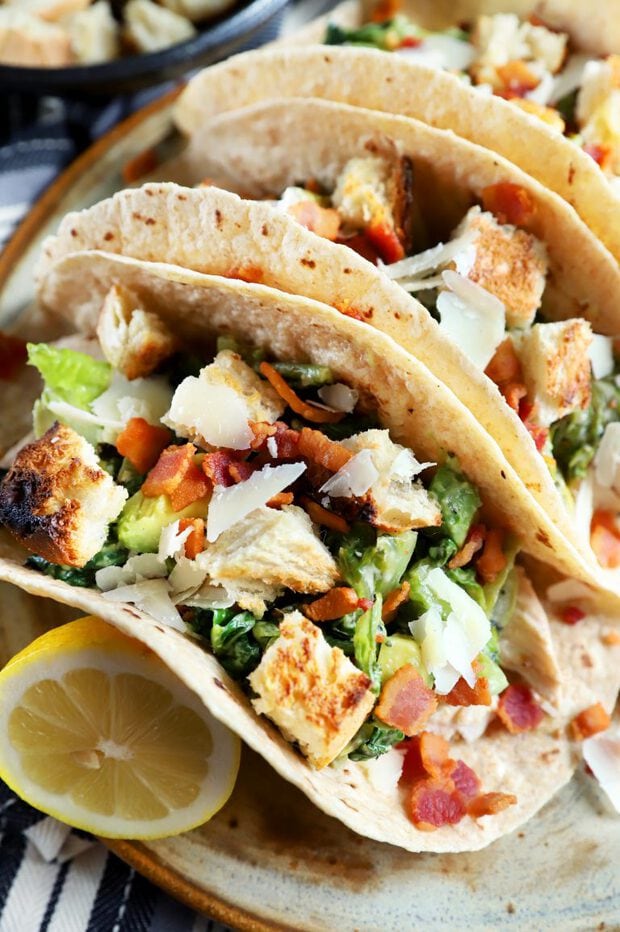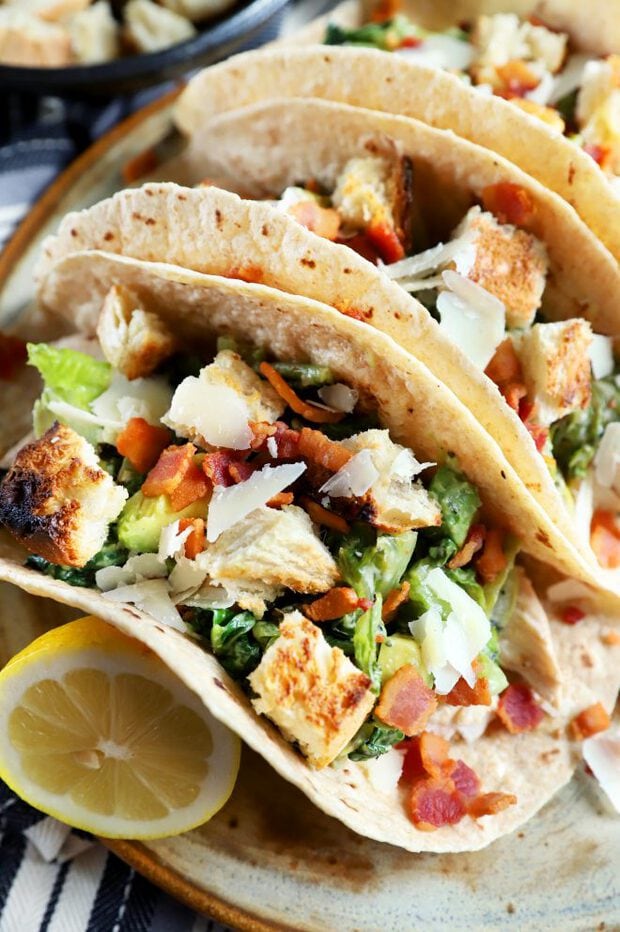 Therefore, this charred caesar salad avocado taco recipe was invented.
I actually like caesar salad, but it can get pretty boring eating it the same way time and time again.
Making the salad into tacos was a pure stroke of genius. Instead of just adding the salad to a taco shell, there's a little bit more to these bad boys.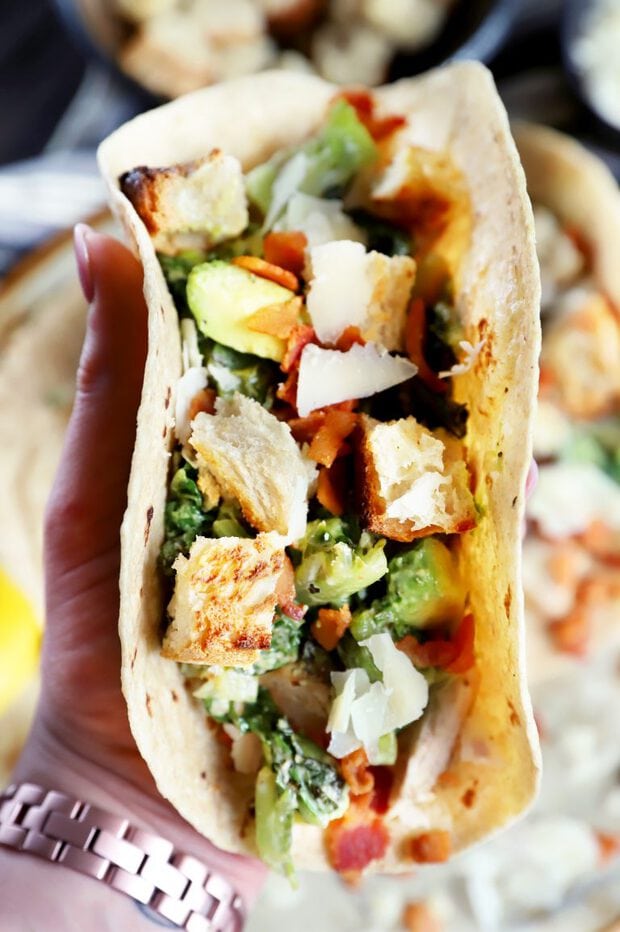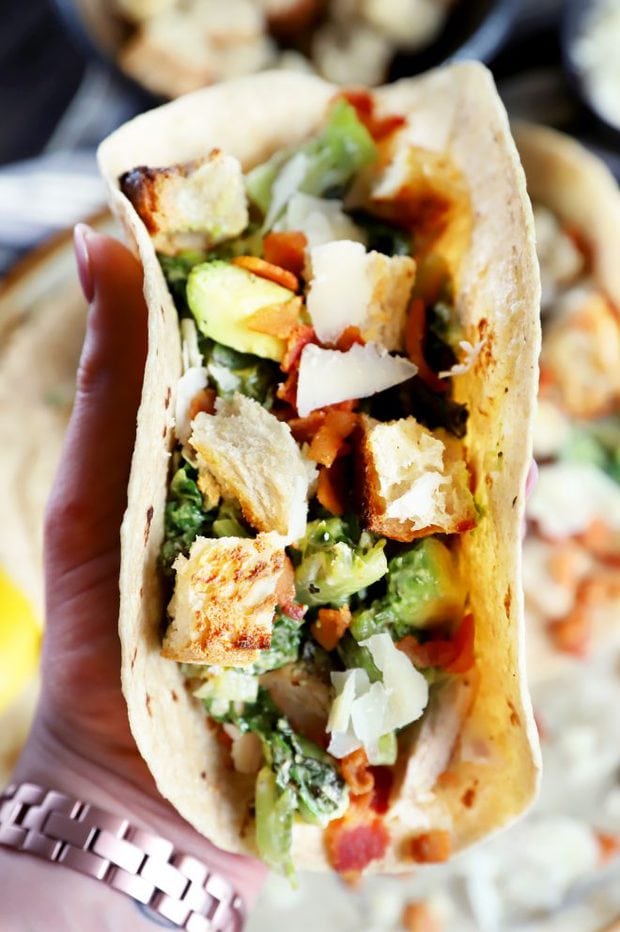 The chicken sits in a marinade in a caesar dressing marinade, then it goes on the grill along with the romaine hearts so everything gets a little smoke to it.
After that, you combine it all in a taco shell with some creamy avocado, crispy bacon, and some parmesan shavings (because who doesn't love cheese?!).
It's a crunchy, crispy, savory, smoky, and fresh explosion in your mouth. Basically it's an entire meal in a tortilla!
Seriously, if you are trying to love salad (or are weird and really love salad), this recipe is for Y-O-U.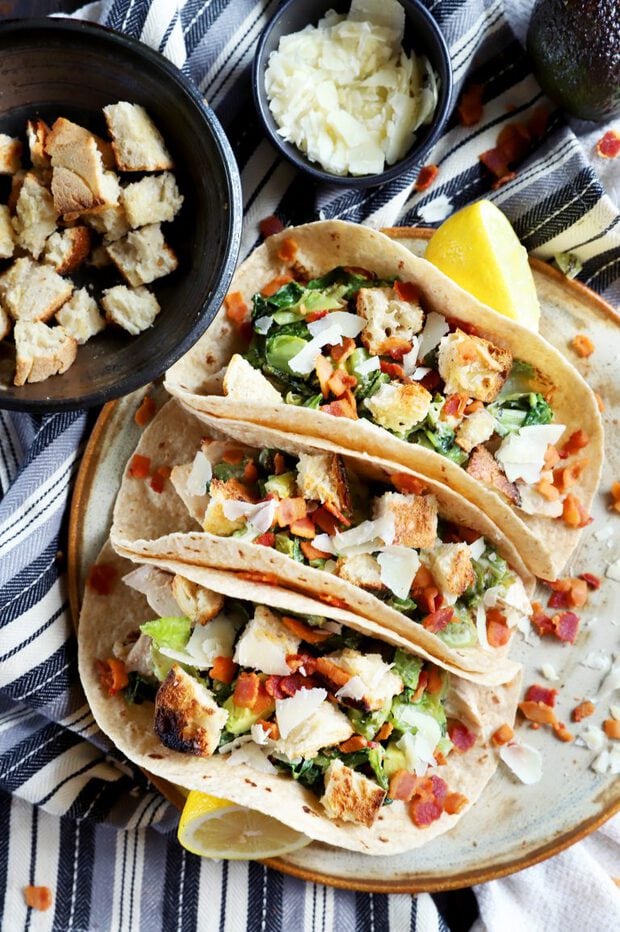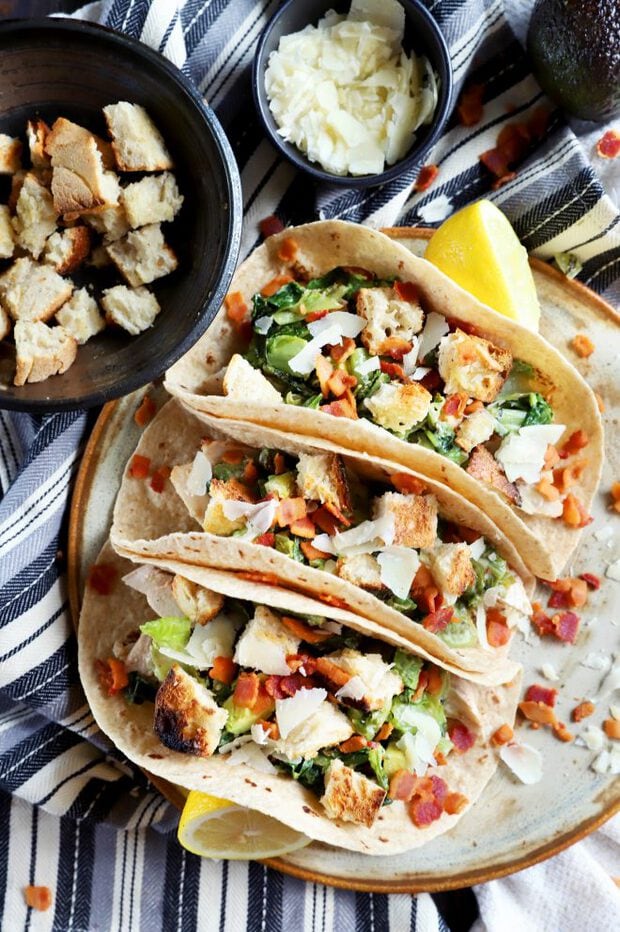 This Recipe's Must-Haves
To get everything together from slicing the chicken to chopping the charred romaine, you'll need a chef's knife and cutting board of course!
If you don't have a grill, or are looking for a grill that will last a lifetime, you need to invest in a Traeger grill. The wood pellet grill is everything, and I use it at least a handful of times a week, even into the winter season!
When you need to choose pellets I vote for Traeger grill signature pellets so that the Caesar flavor still comes through in the chicken and isn't overpowered.
Don't forget the Traeger tongs too 😉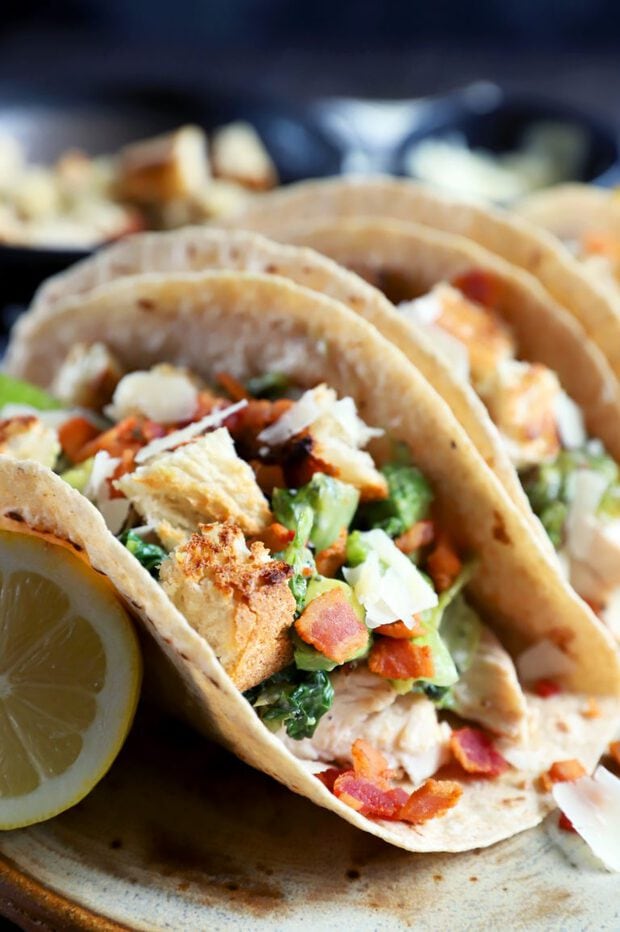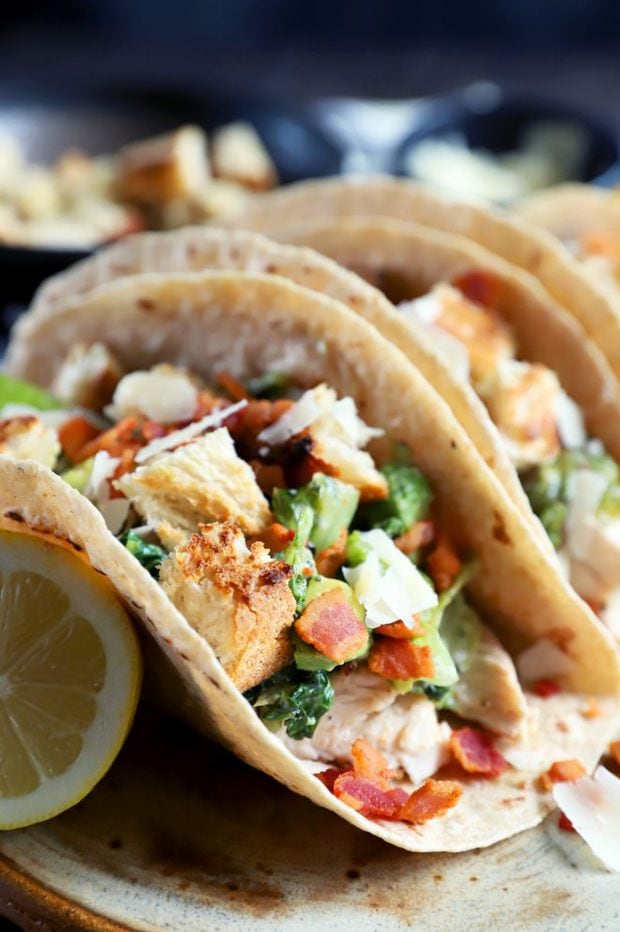 How long do I really need to marinate the chicken?
You should marinate the chicken for a MINIMUM of 4 hours to make sure that you get the flavor into the chicken. It also helps make the chicken super juicy.
I usually let my chicken soak in the marinade overnight. You can even leave it in the refrigerator for up to 36 hours if you are prepping ahead of time.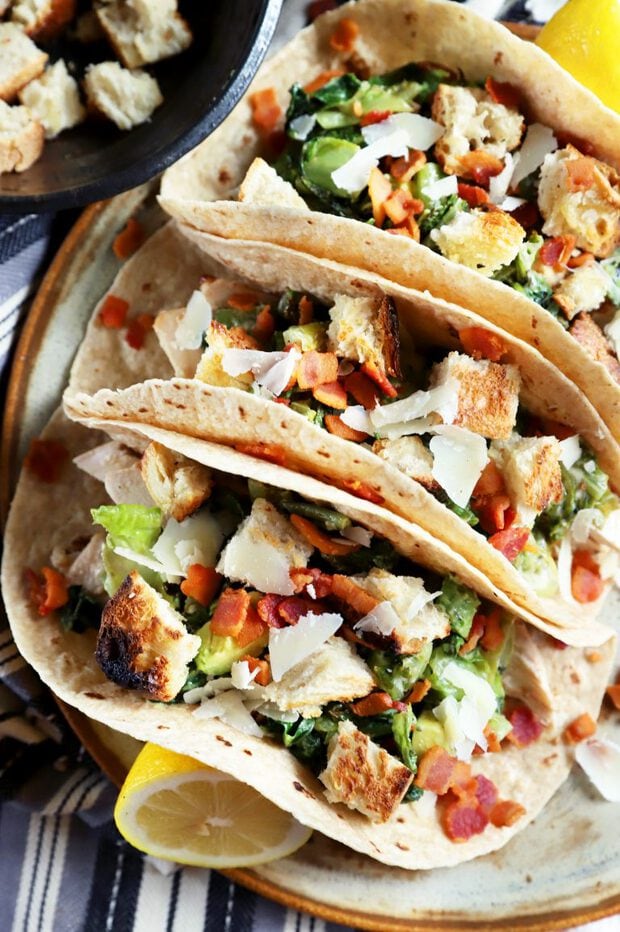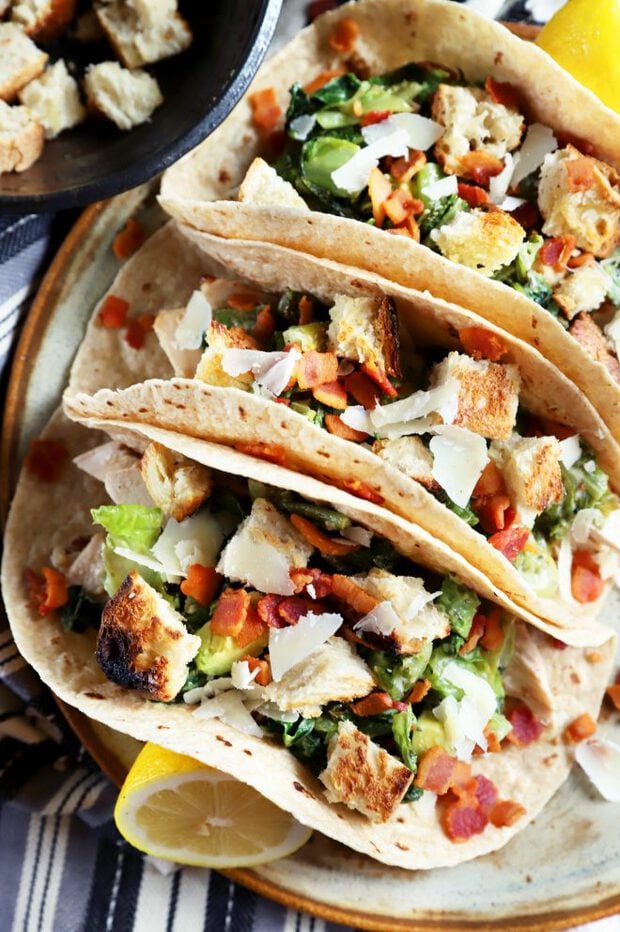 What kind of tortillas should I use?
Personally, I love how these tacos taste with whole wheat tortillas. The whole wheat is an awesome pairing for the chicken, salad, and sourdough croutons.
However you can also use traditional flour tortillas if you prefer! I recommend avoiding corn tortillas though.
What goes with these chicken tacos?
The thing I love about this recipe is that the tacos have an entire meal inside the tortilla. You get the poultry, the salad, the avocado, and even the bread! However you can also add these tacos to a plate with rice and beans.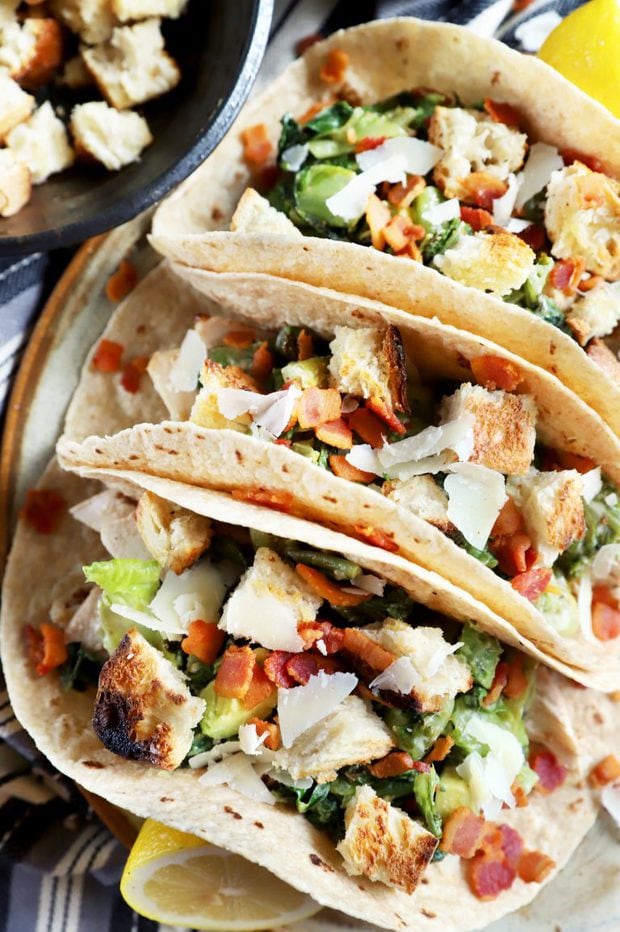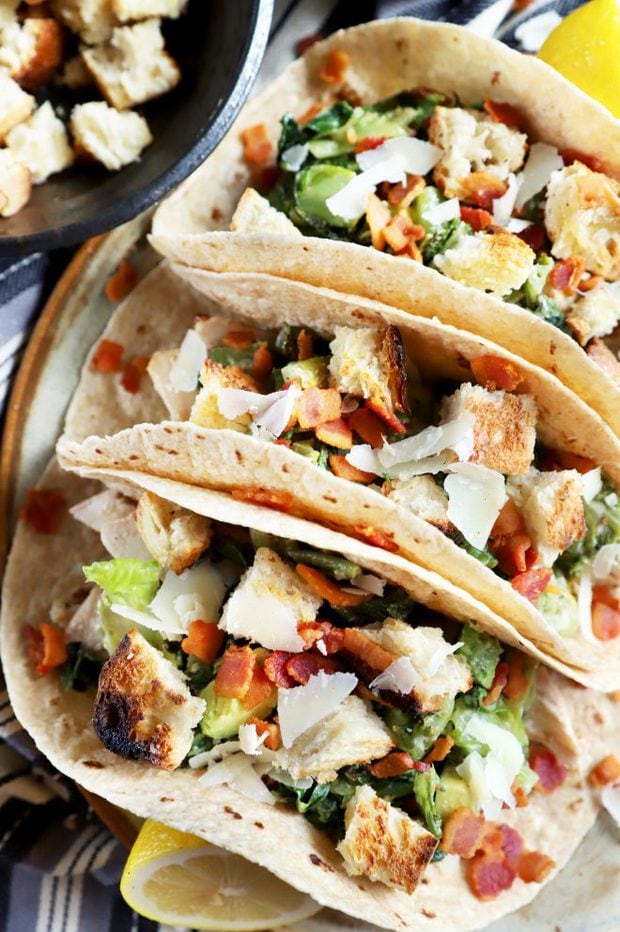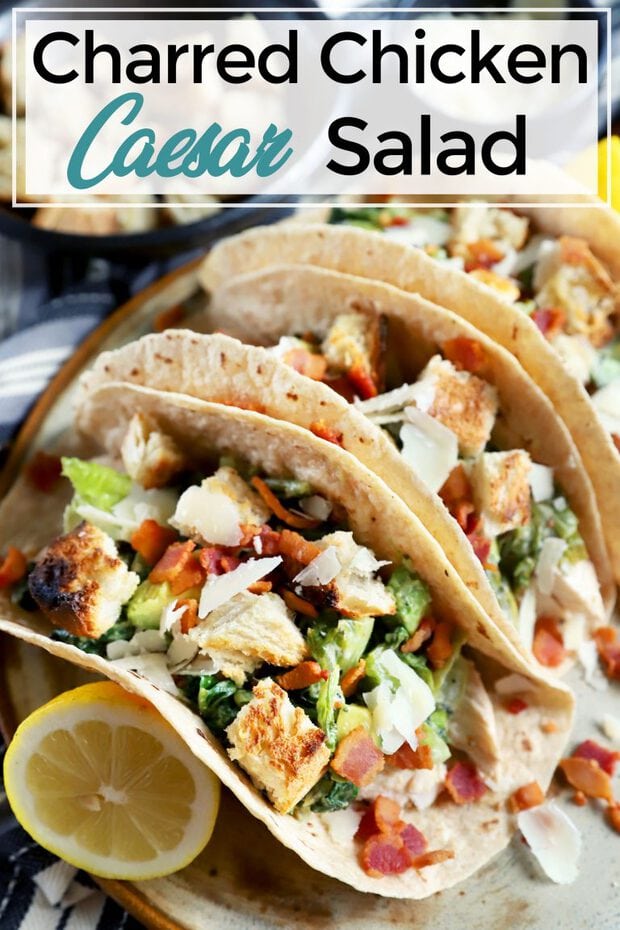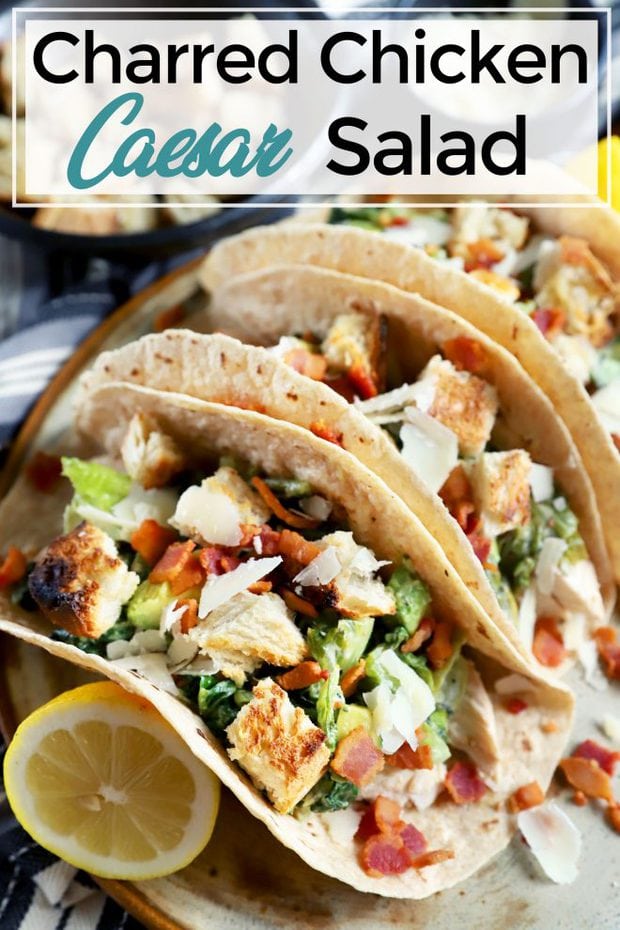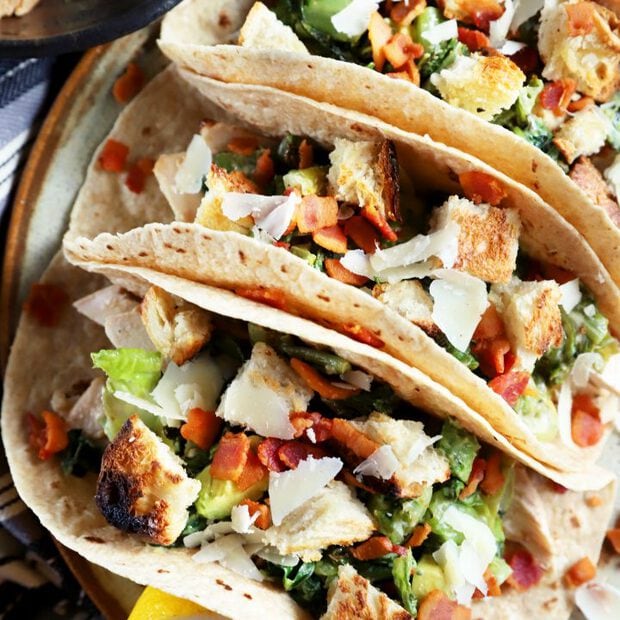 Charred Caesar Salad Avocado Chicken Tacos
Total Time:
4 hours
25 minutes
Take your Caesar salad to the next level with tacos!
Ingredients
For the Chicken
2 Chicken Breasts, halved
1/2 cup Caesar Salad Dressing
3 Tbsp Olive Oil
3 cloves Garlic, minced
For the Salad
2 heads Romaine Lettuce, cut in half lengthwise
2 tsp Olive Oil
1/2 tsp Salt
1/2 tsp Black Pepper
2-3 slices Sourdough Bread, (thick)
1/3 cup Caesar Salad Dressing
1 Avocado, diced
Juice of one Lemon
For the Tacos
8 Whole Wheat Tortillas
4 slices Bacon, cooked and chopped
2 oz Shaved Parmesan Cheese
Instructions
Whisk together Caesar salad dressing, olive oil, and garlic for the chicken together in a medium bowl. Add chicken, turning to coat. Cover and refrigerate for 4 hours.
When ready to cook, preheat grill. Grease grill grates lightly with oil.
Drizzle the cut side of romaine hearts with 1/2 teaspoon of olive oil each. Sprinkle evenly with salt and pepper for the salad.
Remove chicken from marinade. Add chicken, romaine hearts, and bread slices to the grill. Grill for about 10 minutes, turning the chicken and bread halfway through cooking. You may need to cook the chicken for more time depending on how thick your chicken is. The internal temperature of the chicken should be 165˚F when done.
Roughly chop lettuce and add to a medium bowl. Add Caesar dressing for the salad, avocado, and lemon juice. Stir to combine and set aside.
Chop grilled bread slices into small cubes.
Slice grilled chicken into strips.
To assemble, add chicken to the tortillas, dividing the meat evenly. Top with charred romaine salad, crispy bacon, and shaved parmesan cheese.
Serve immediately.
Recommended Products
As an Amazon Associate and member of other affiliate programs, I earn from qualifying purchases.