Grilled Blackberry Steak Tacos with Blackberry Salsa are a fruity, summer dinner that's perfect for Taco Tuesday! The blackberry marinade for the steak infuses it with tart, herbaceous flavor. You can amp up those flavors with a fresh blackberry salsa on top! Serves 4-6.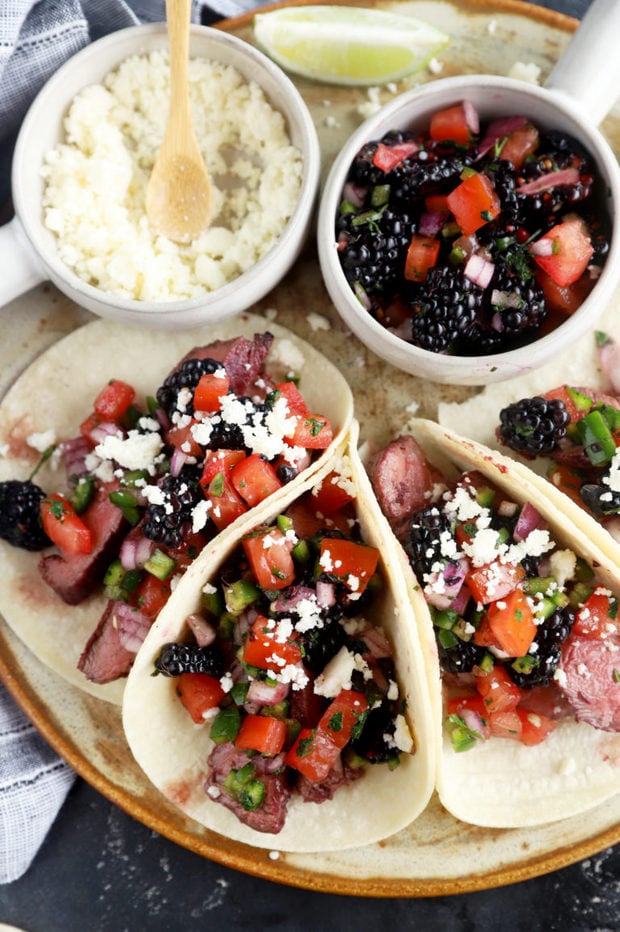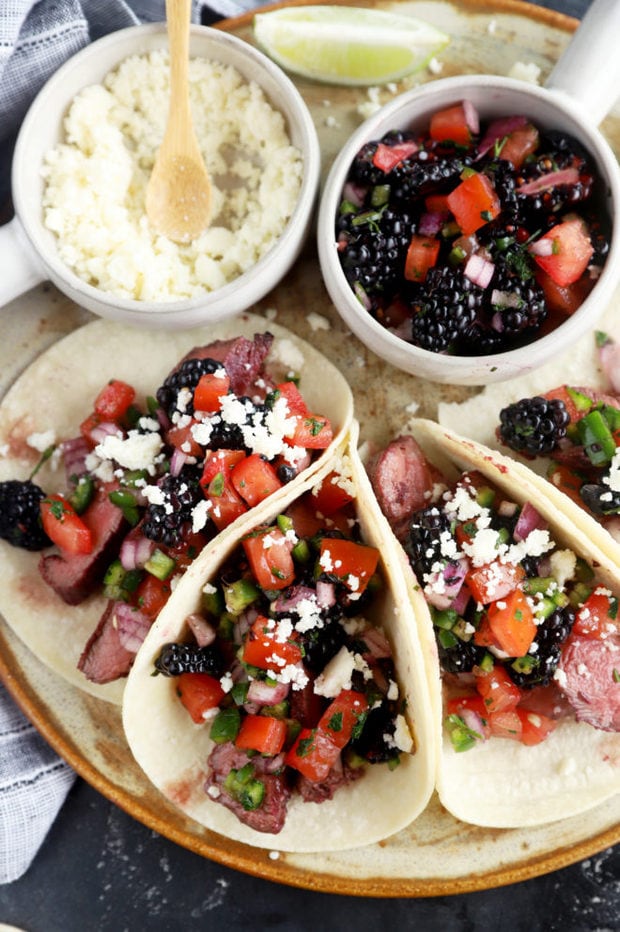 Disclosure: This post is sponsored by Oregon Berries. As always, all opinions are my own.
Blackberry steak is the next thing you absolutely have to try this summer.
I know you might be thinking that blackberries are not something that belong in savory dishes… Well, I have to say you are wrong and I am here to prove it.
A few months ago I took a class with Oregon Berries and tried out their frozen Marionberries. It was my first time using berries in a savory recipe, and it totally changed how I look at one of my favorite fruits!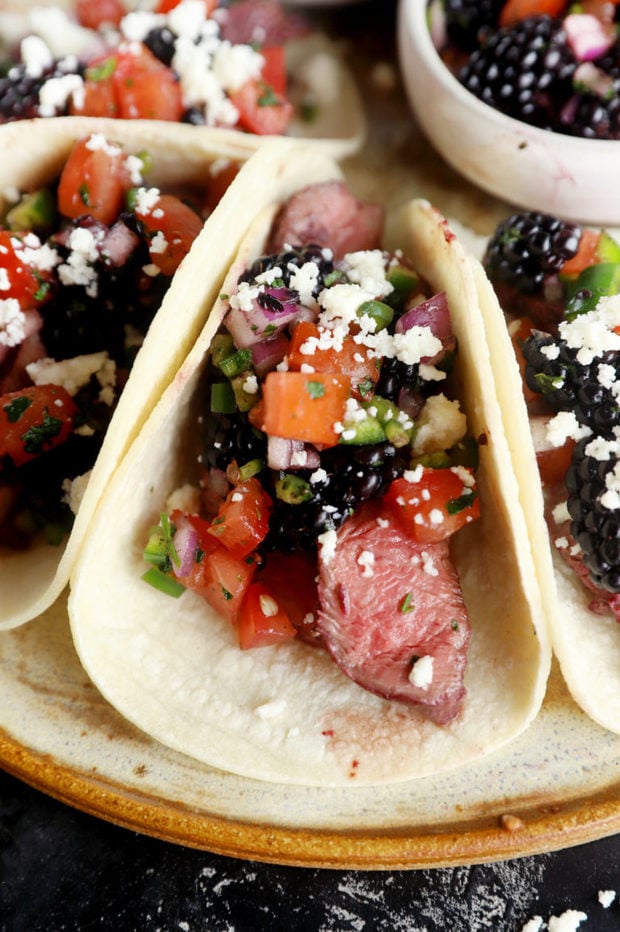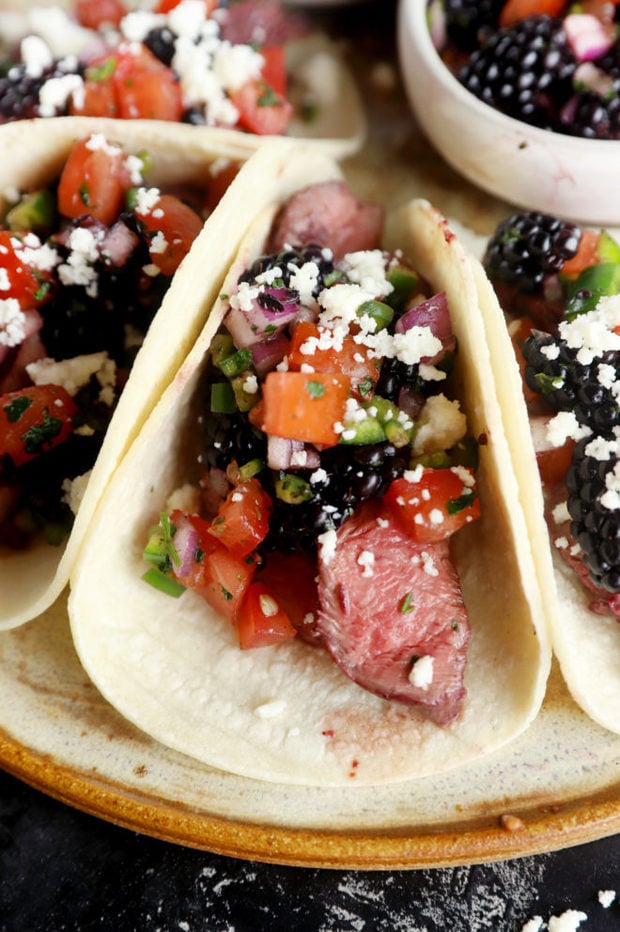 Oregon blackberries are picked at the peak of ripeness and then flash frozen within 24 hours of being picked. This is really important because it locks in the taste and the color (I mean, just look at those vibrant berries in the bag! Not to mention the color of the marinade…).
It's so exciting to discover new products that not only taste amazing, but also that are from the USA. These berries are grown by local Oregon families on multi-generational family farms. They are really passionate about what they do, as I learned in the cooking class I took where we were able to virtually meet one of the farmers.
I have to tell you, being postpartum it was hard to get me back into the kitchen. However, the excitement of trying something new, like these berries with savory dishes, is the one thing that got me back to cooking again!
These tacos are a beautiful celebration of the blackberry.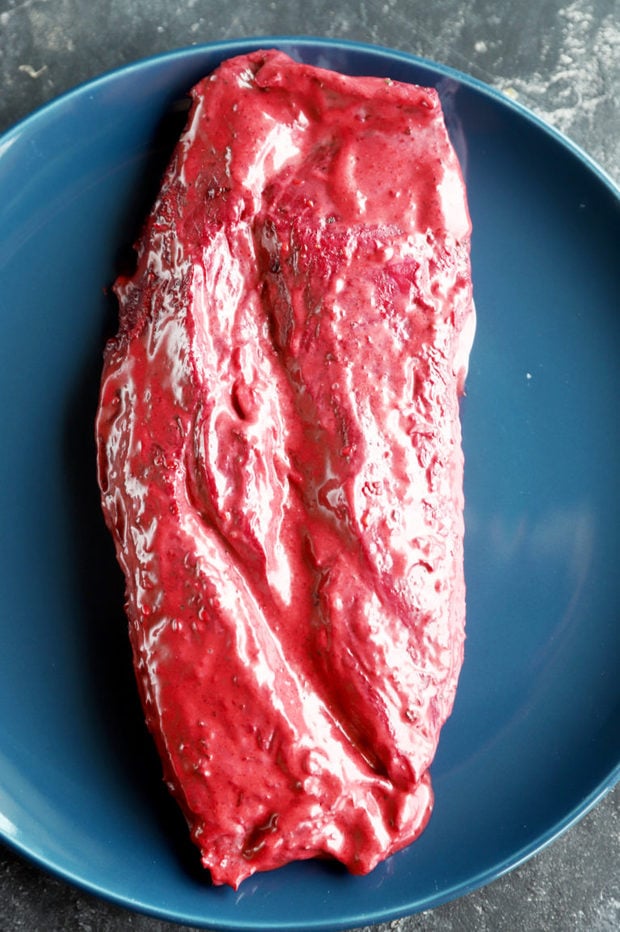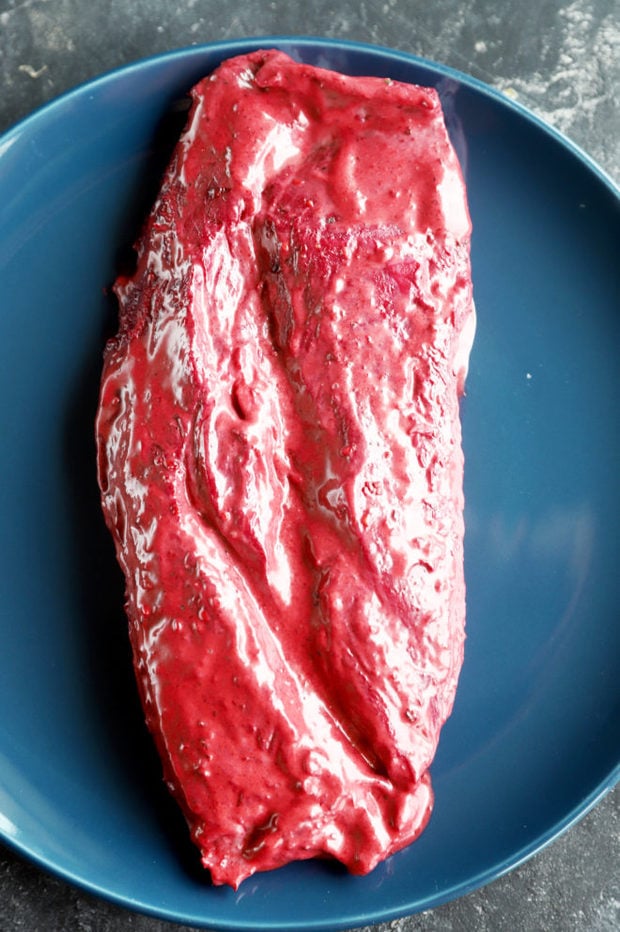 The Oregon blackberries make an excellent base for the unique marinade. As a result, the steak is flavorful and juicy, making it ideal for tacos (or even serving on its own or on top of your favorite salad!). You can top it off with your favorite toppings, or opt for a fresh blackberry salsa to embolden those flavors even more.
Since these berries are available year round, you can get the same quality anytime of year! That means you can always make the marinade for these steak tacos that really makes them shine. Frozen blackberries are a great alternative when fresh blackberries aren't in season. Did you know that over 90% of frozen blackberries are grown in the USA are from Oregon? Just look on the packaging at your grocery store for "Grown in the USA" to support Oregon berry farms!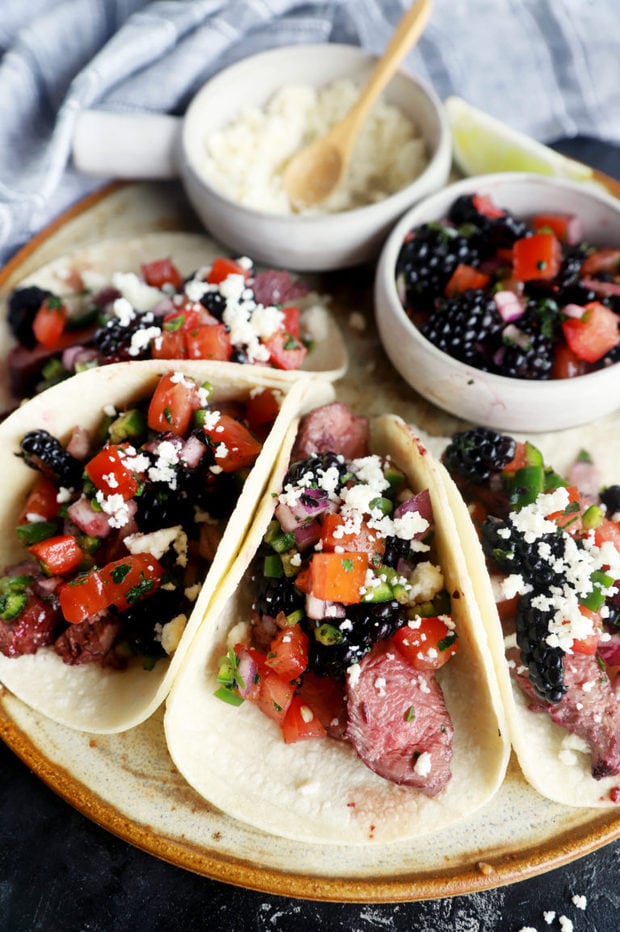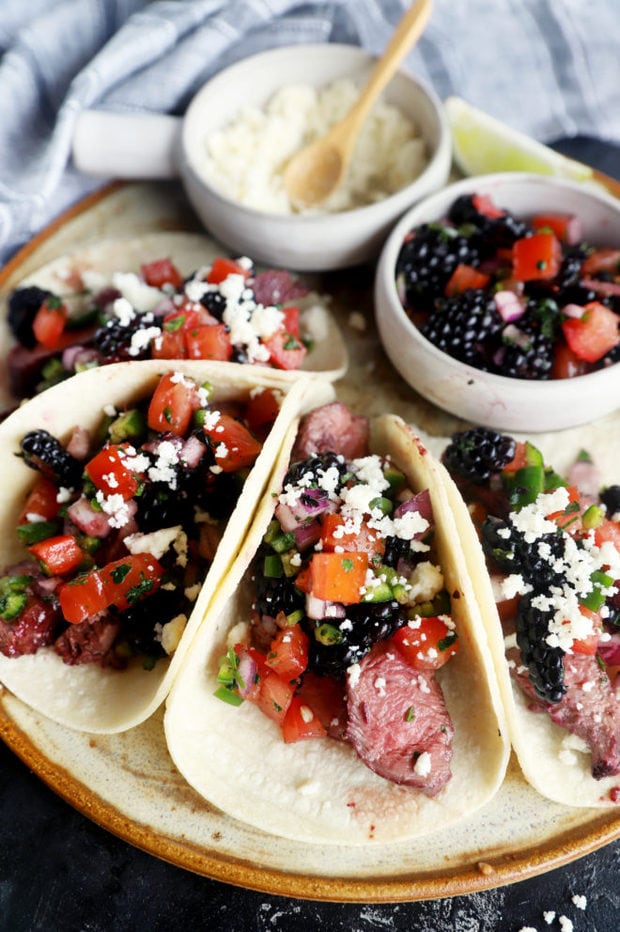 this recipe's must-haves
To make the marinade, all you need is a high-speed blender (like a Vitamix) to blend all the ingredients together.
You will also need to break out your grill for the steak, along with a cutting board and chef's knife for slicing.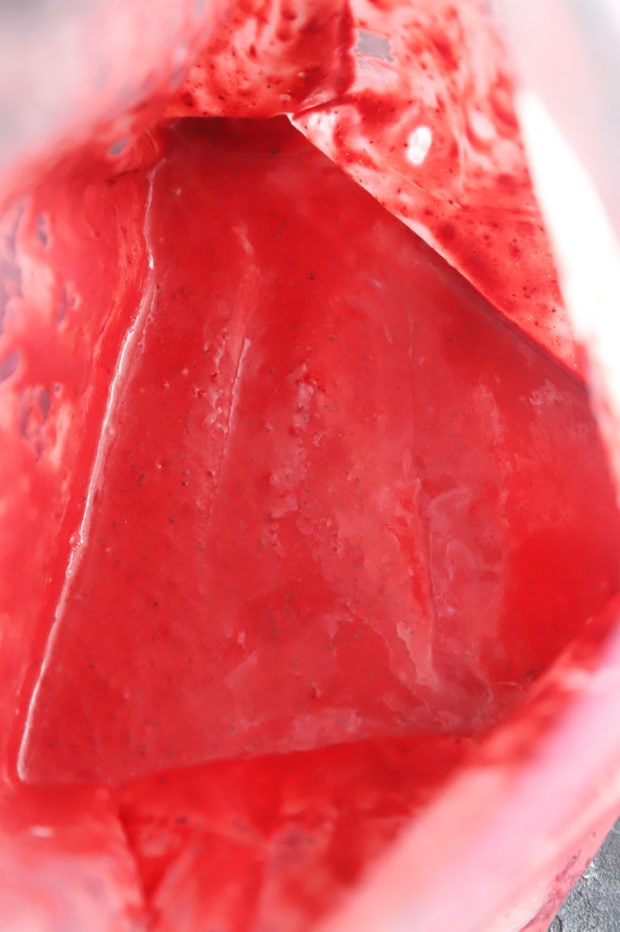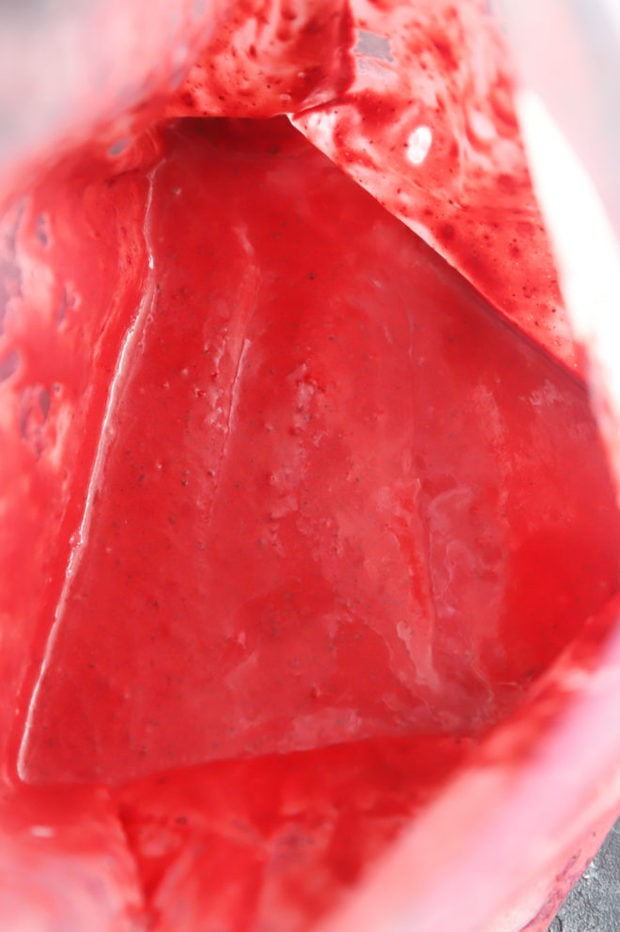 let's make tasty grilled blackberry steak tacos!
Marinade
Add all of the ingredients for the marinade to a blender and blend until smooth. Place the steak in a resealable bag and pour in the marinade. Seal the bag and move the steak around to make sure it's covered in the marinade.
Let marinate for 6 to 12 hours in the refrigerator. Remove steak from the refrigerator 30 minutes before cooking to rest at room temperature.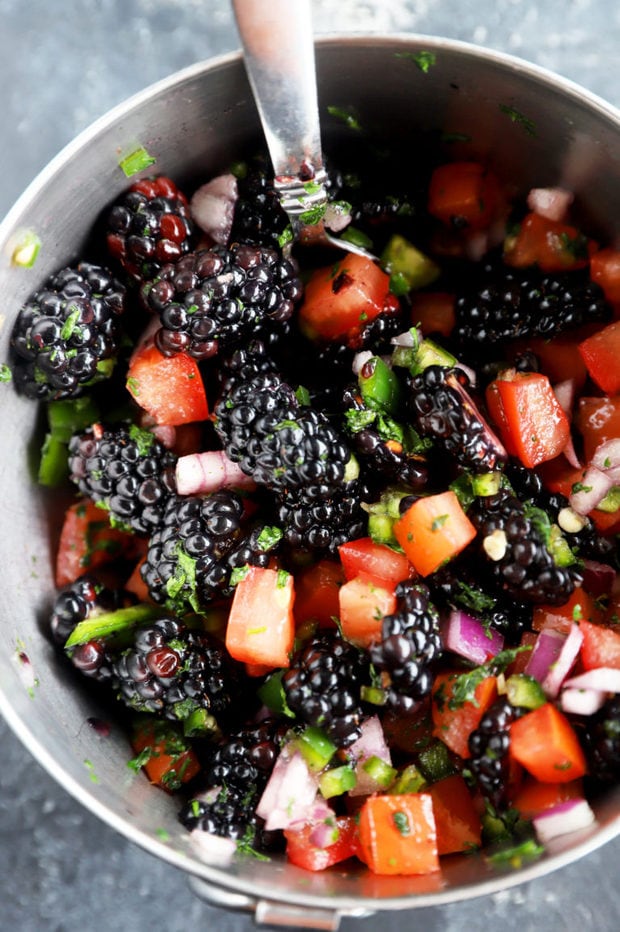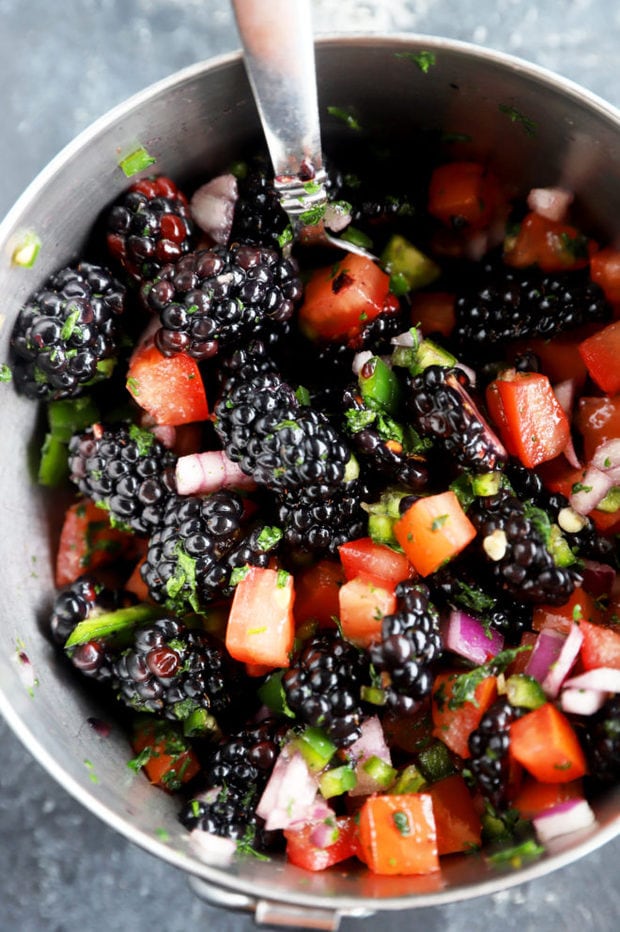 Grill
Preheat the grill to medium-high heat (350˚ to 450˚F). Grill for 6 minutes on one side, then 5 to 6 more minutes until medium-rare, or longer for your desired doneness.
Rest the steak on a cutting board for 10 minutes before slicing. Slice against the grain and set aside.
Assemble
Stir together ingredients for the salsa and start assembling the tacos! Add slices of steak to a warmed corn tortilla. Top with salsa, queso fresco and any other toppings you like.
Need some more inspiration for tacos? Check out my tacos recipe page!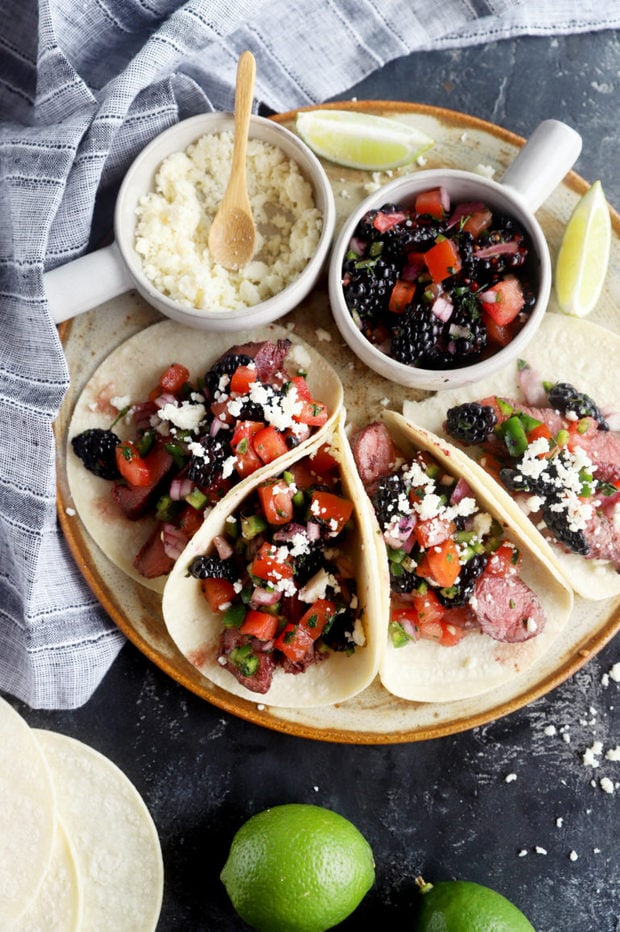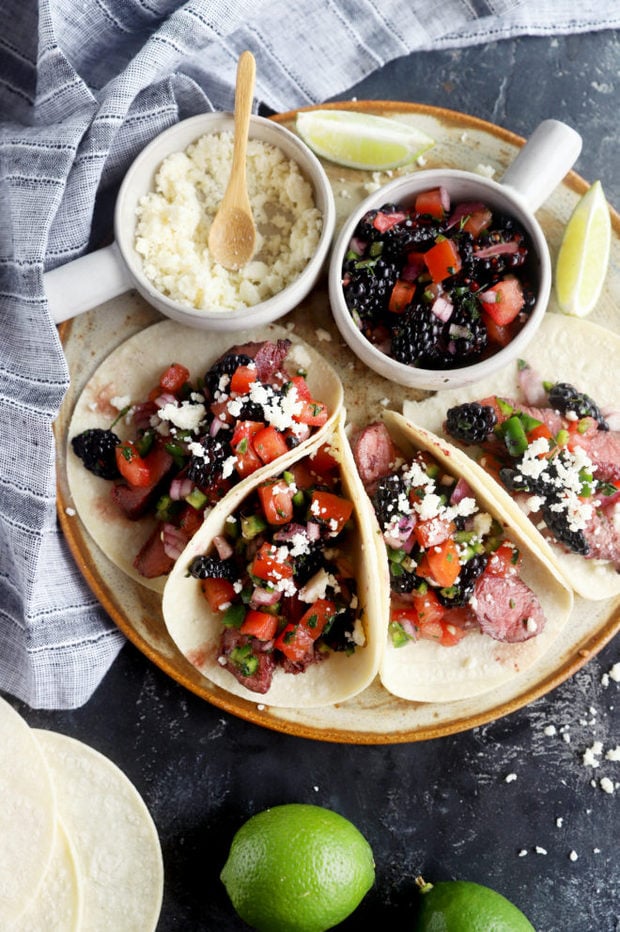 what are marionberries?
Marionberries are an Oregon-specific fruit that is a type of blackberry. However, they have a complex, rich, and earthy flavor that is both sweet and tart. They also have a bit of a firmer texture. I highly recommend you seek them out, not only for this recipe, but for just popping them in your mouth all year long!
For a tasty cocktail to pair with these tacos, check out this blackberry gin fizz!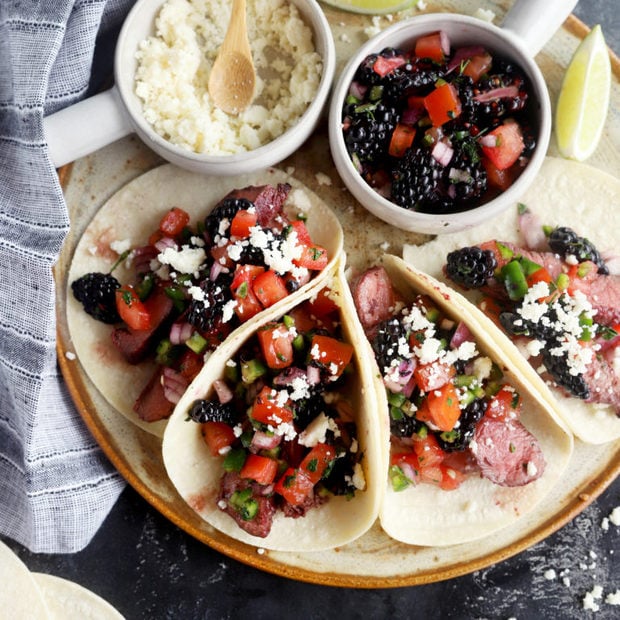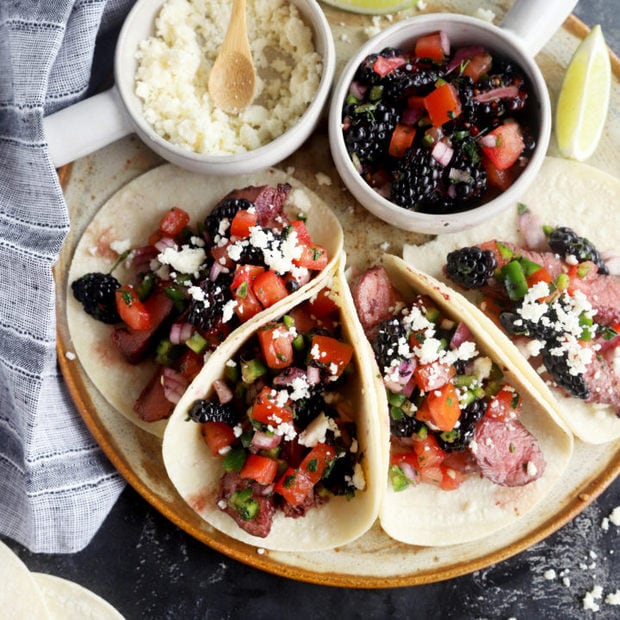 Grilled Blackberry Steak Tacos with Blackberry Salsa
Additional Time:
6 hours
10 minutes
Total Time:
6 hours
32 minutes
Steak is made tender and juicy with a blackberry marinade, then topped with a vibrant blackberry salsa!
Ingredients
Steak
2 lbs skirt steak
1 1/2 cups Oregon Berries Frozen Marionberries, thawed and drained (or fresh)
2 Tbsp soy sauce
1/4 cup honey
1 Tbsp lime juice
1/2 cup olive oil
2 cloves garlic, minced
1 tsp fresh thyme leaves
1 tsp fresh rosemary leaves
1 tsp black pepper
Tacos
12 corn tortillas, warmed
1/3 cup crumbled queso fresco
Salsa
1 cup fresh blackberries, halved
2 serrano peppers, seeded and minced
1/4 cup chopped red onion
1/2 cup chopped, seeded tomato
1 tsp freshly chopped cilantro
Instructions
Add blackberries, soy sauce, honey, lime juice, olive oil, garlic, thyme, rosemary, and black pepper to a blender. Blend until smooth.
Add marinade to a bag with steak. Seal and place in the refrigerator for 6 to 12 hours. Remove from the refrigerator for 30 minutes before cooking to rest at room temperature.
Preheat the grill to medium-high heat (350˚ to 450˚F). Remove steak from marinade and grill for 6 minutes on one side. Flip and cook for another 5 to 6 minutes, until medium-rare. Cook longer if you prefer for desired doneness.
Place cooked steak on a cutting board and let rest for 10 minutes. Slice against the grain into thin strips.
Stir together salsa ingredients in a small bowl.
To assemble tacos, add steak to tortillas. Top with salsa and queso fresco. Serve.

Recommended Products
As an Amazon Associate and member of other affiliate programs, I earn from qualifying purchases.