Please note this post contains affiliate links.
A Spicy Jalapeño Gimlet is a fun twist on the classic gimlet cocktail recipe. The jalapeño gives it a spicy kick and it pairs with pretty much anything!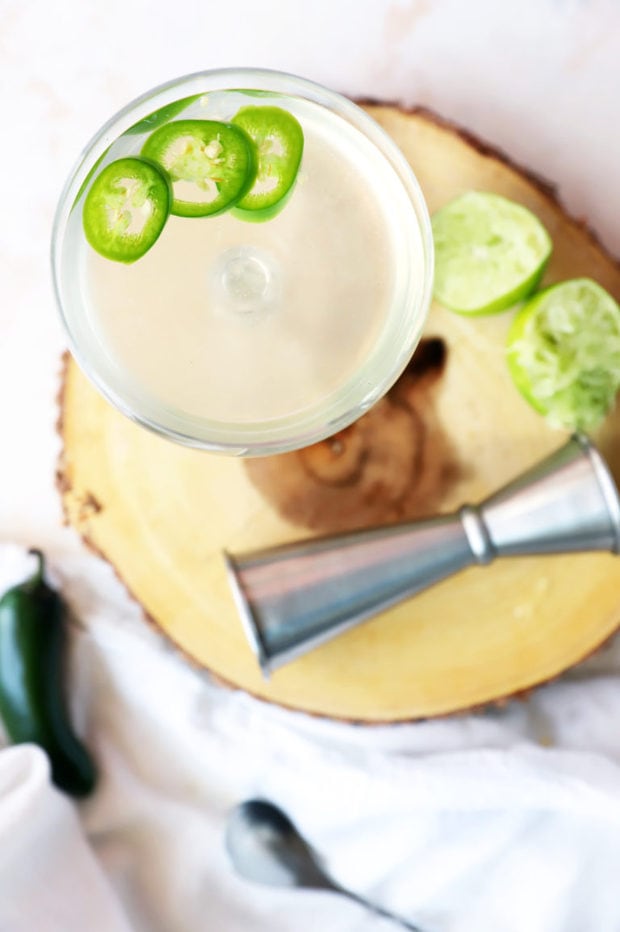 Today we are toasting to success!
Remember that time I decided to quite my corporate job and give life as a freelancer a go? Ever since I made that decision, there's been a little voice in the back of my head saying, "WOW, you just made the biggest mistake ever…"
As unnerving as it's been to scramble to figure out exactly what I wanted to do and how I wanted to do it over the past few months, I can finally say with a sigh of relief… I will not be a homeless beggar on the streets.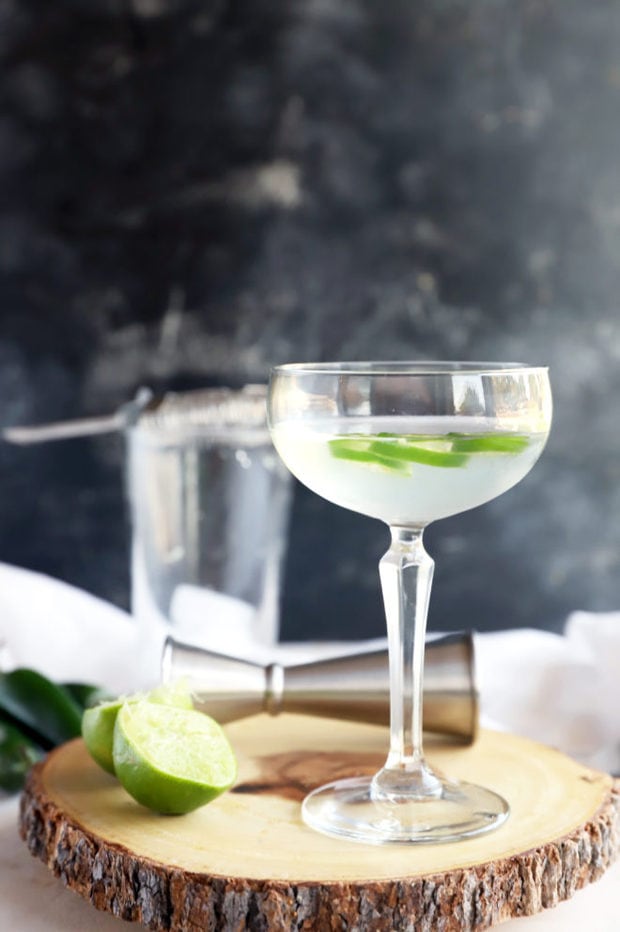 Note: this is an updated version of the original posted on September 10, 2015.
Can you say #winning?
I know I need to stop saying that.
It's been years, for god's sake.
Give up the #winning already Meghan…
I am proud to say that after freaking out on a daily hourly basis, I can breathe a small sigh of relief, buckle down and get to work. I have work! Yes, this sounds completely insane, but if you put yourself in my shoes, you'll understand.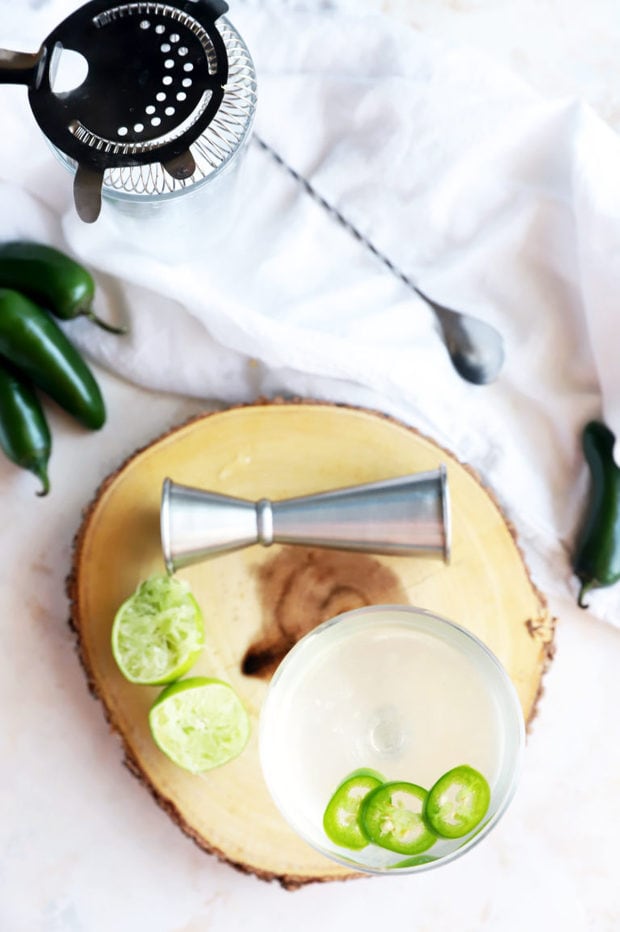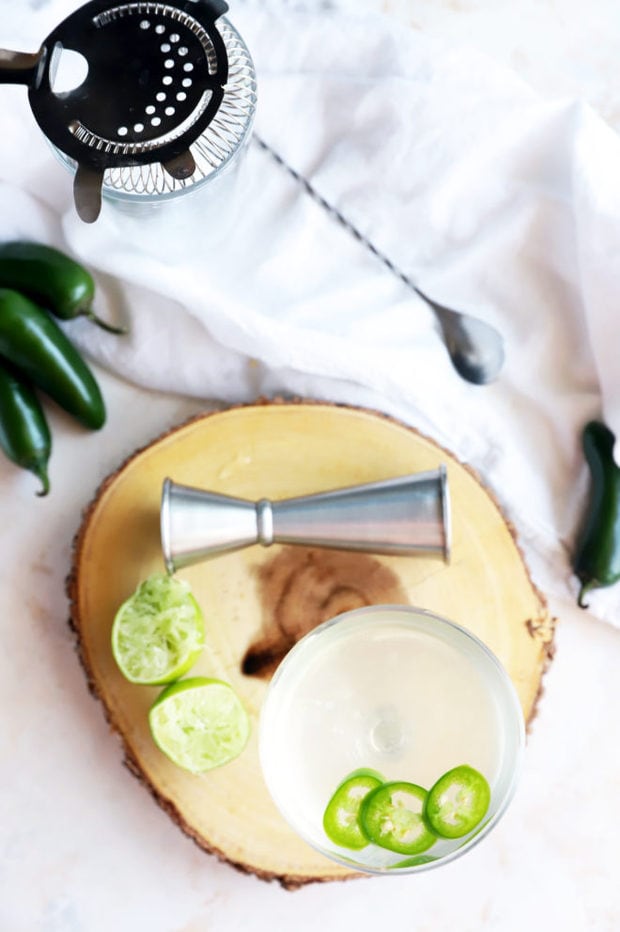 Having work is the best thing in the world after going without it for a little while.
I might be working crazy hours and pushing myself to the brink of exhaustion, but I am exceedingly happy doing it. GAH, making dreams happen is amazing. Jus' sayin'.
So today we are toasting to success (finally)! Seriously, such a freaking relief. I am so so so happy that things are actually coming together!
A spicy jalapeño gimlet seemed appropriate for the occasion.
It's just the right sweet and spicy (and stiff) drink to reward yourself with at the end of a hard day's work. I can still feel the lingering burn on my tongue and it is gooooooooood…
That's my kinda drink, the kind that lingers on your palate and makes you want to come back for more again and again.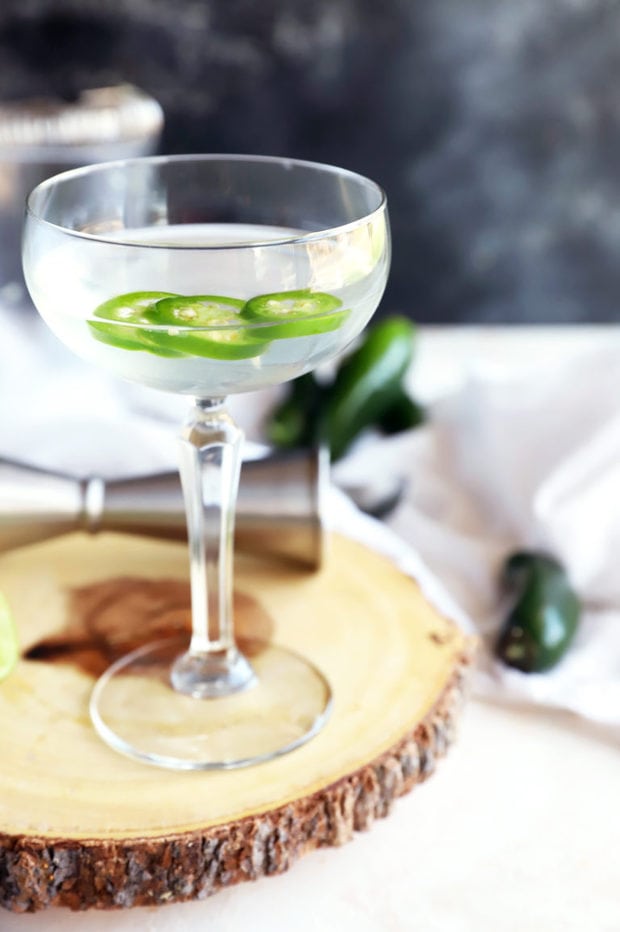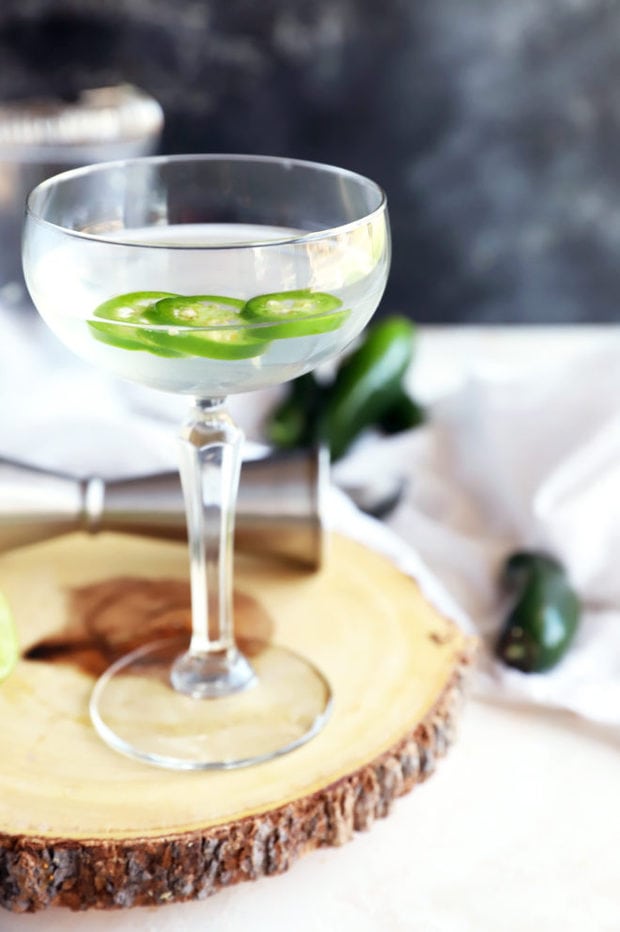 Let's make a jalapeño gimlet!
Make the jalapeno simple syrup
To make the simple syrup, add sugar, water, and sliced jalapeño to a saucepan. Boil and then remove from the heat and let the mixture steep. I like to let it steep for at least 30 minutes. That way you can really get the spicy kick!
Make the cocktail
The cocktail is SUPER simple to make. Just add all the ingredients to a glass filled with ice, stir and strain into a chilled coupe glass. You're done!
What is a gimlet?
A gimlet is a classic cocktail made with lime and gin. It actually used to be consumed by sailors to prevent scurvy lol. It's a classically tart drink, so when you add spice to it, it's fantastic!
Can I use another pepper?
You sure can! I like the flavor and heat level of jalapeño, but you can also use a serrano pepper. Another option is to use habanero if you REALLY like heat, but that is only for the bravest of spice lovers.
everyday seasonal cookbook
With seasonal produce guides, recipes, and more, this cookbook is filled with seasonal food for every occasion.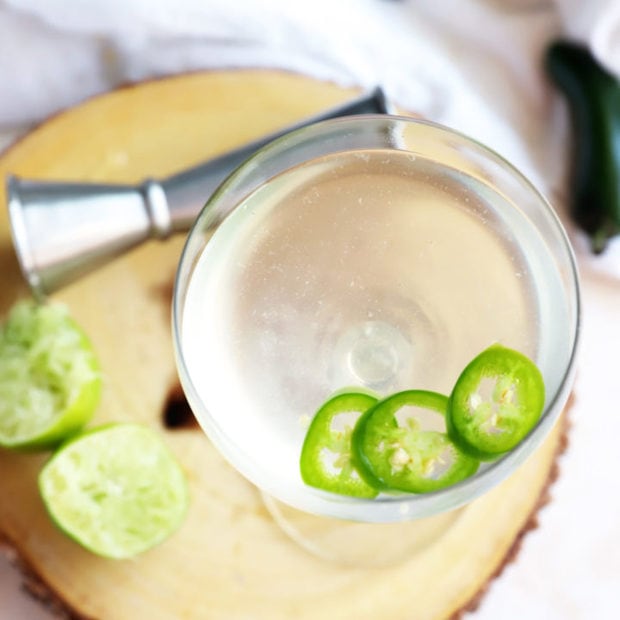 Spicy Jalapeño Gimlet
A sweet, spicy and stiff drink that will leave a lingering heat on your tongue.
Ingredients
Jalapeno Simple Syrup
1/2 jalapeno, sliced
1/2 cup sugar
1/2 cup water
Gimlet
1oz jalapeño simple syrup
2oz gin
Juice of 1 lime
Sliced jalapeno for garnish
Instructions
In a small saucepan over medium-high heat, stir together the jalapeno slices, sugar and water for the jalapeno simple syrup. Continue to stir until all the sugar has dissolved and the mixture is simmering. Remove from heat, cover and allow to steep for at least 10 minutes. Taste and let it steep longer depending on how spicy you'd like the syrup to be! Strain and cool completely in the refrigerator before using.
To make the gimlet, add all ingredients to a tall glass filled with ice and stir to combine. Strain into a chilled glass and garnish with slices of jalapeño.
Recommended Products
As an Amazon Associate and member of other affiliate programs, I earn from qualifying purchases.