Greek Hummus Mini Tostada Stacks are a fun, flavorful appetizer that'll really impress your guests. They take only 15 minutes to make and have a crazy array of flavors and textures, sure to please any palate.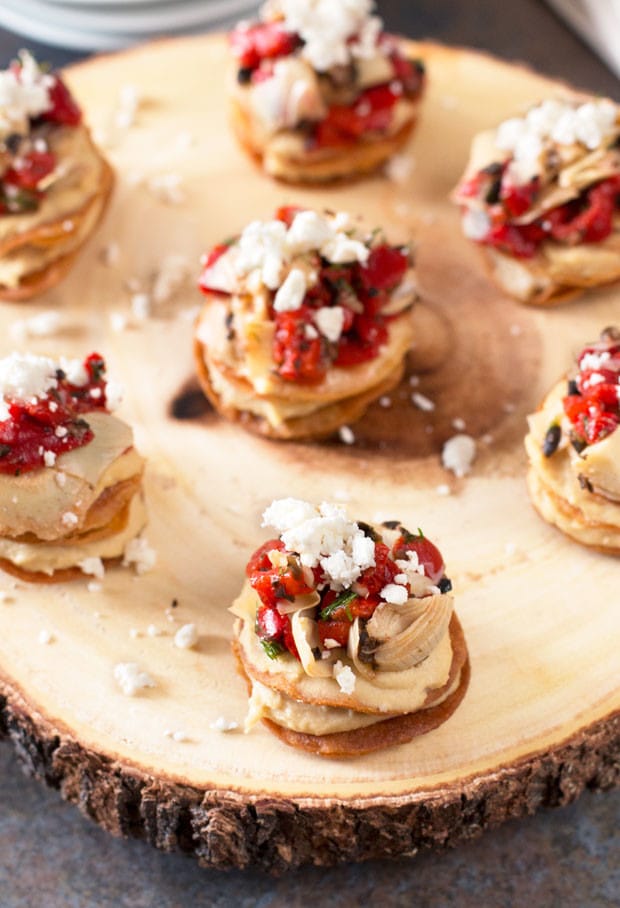 I haven't had a voice for three days. Three. Freaking. Days. To say I am frustrated is a major understatement. Thankfully I don't have a job where I need to talk all day long on the phone, but it would be nice to actually have a conversation without either a) sounding like a dying cat or b) listening in silence the entire time.
Obviously I caught whatever crud is making its way through Denver right now, and it's more than content to just linger in me for an excruciatingly long time.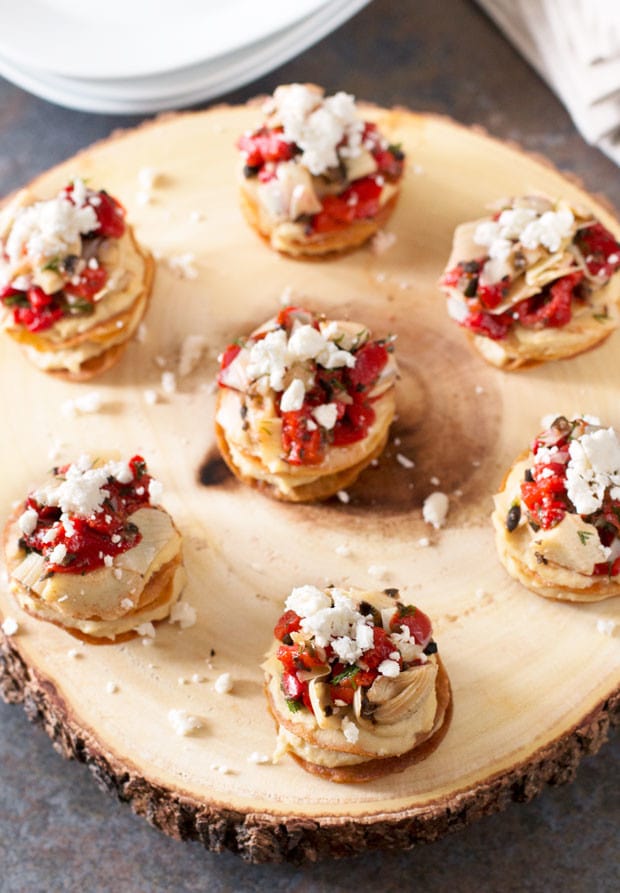 I suppose I should thank the illness for giving me a solid reason to give myself a break and relax for a few days (my version of relaxing being a few hours relaxing and a few hours moving around because I can't sit still….). Enough is enough though. I'm ready to re-enter the world and have a conversation without people thinking I'm spreading the plague.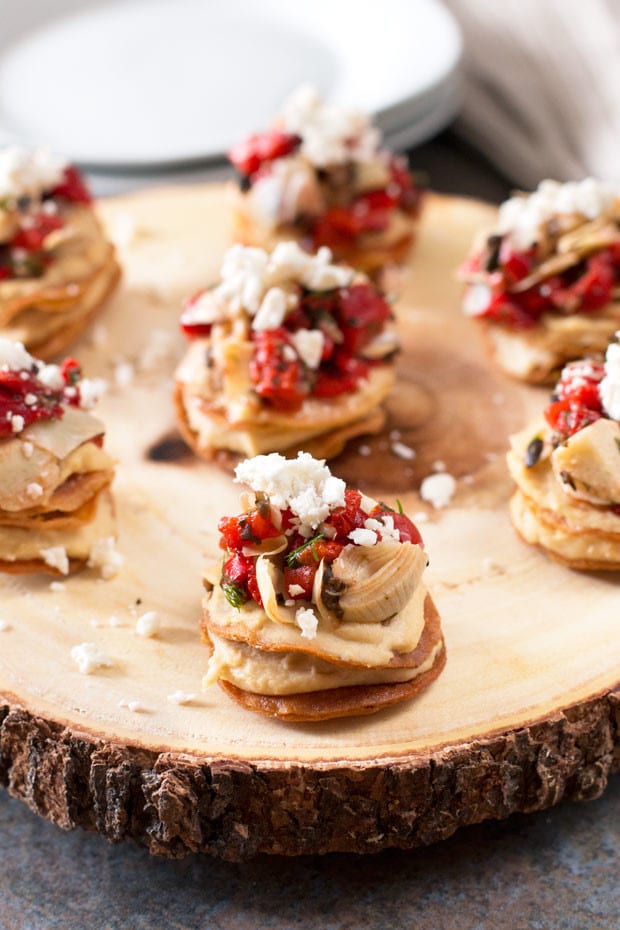 This is when good great food really comes in handy. These Greek hummus mini tostada stacks came from a random craving for, you guessed it, tostadas. However I've been inhaling Mexican food all week long because it's my go-to comfort food (until I switch to sesame chicken, which I've done for the past four nights in a row – don't judge), and I was craving something fun, poppable and different. Given my recent (slow) acceptance of olives and marinated artichokes, I decided I'd pile them on with some hummus and feta and call it a day. What began as a simple snack craving became these adorable mini tostada stacks you see in front of you now.
Stop whatever you are doing and make these. Like, now.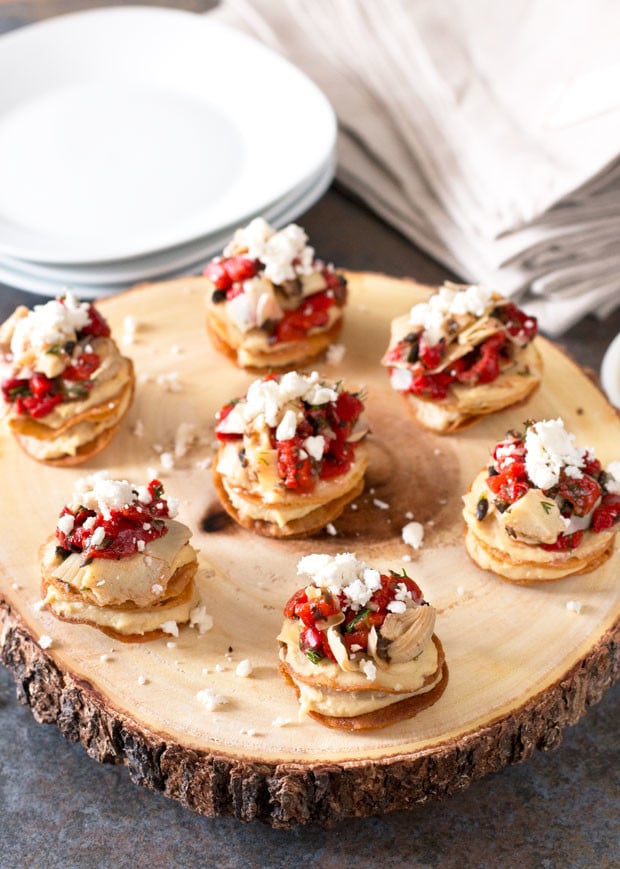 Seriously, why aren't you stopping?
The combination of Greek flavors with creamy hummus and crispy stacked tostadas make this bite-sized appetizer a chorus of textures and flavors (yes, I said chorus damnit). Trust me, whoever you serve these too will be gobbling them up in between groans of foodie pleasure.
In other news, I really never realized how much I talk to my dog, Kya (and myself….) throughout the day until now… Yikes.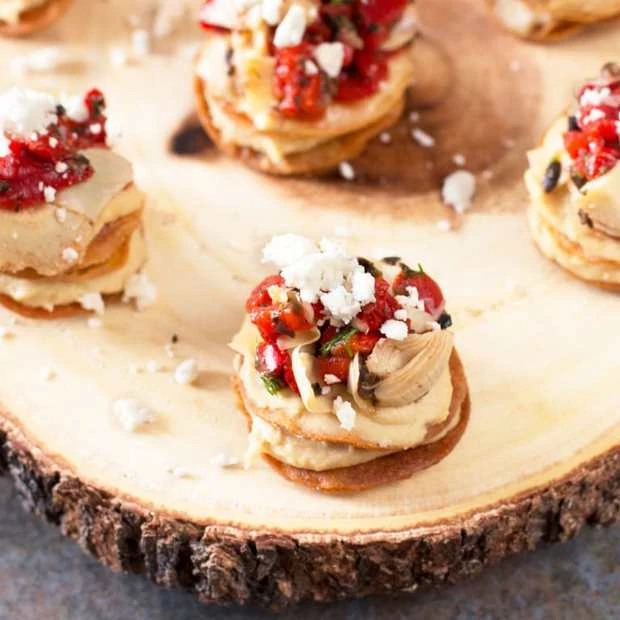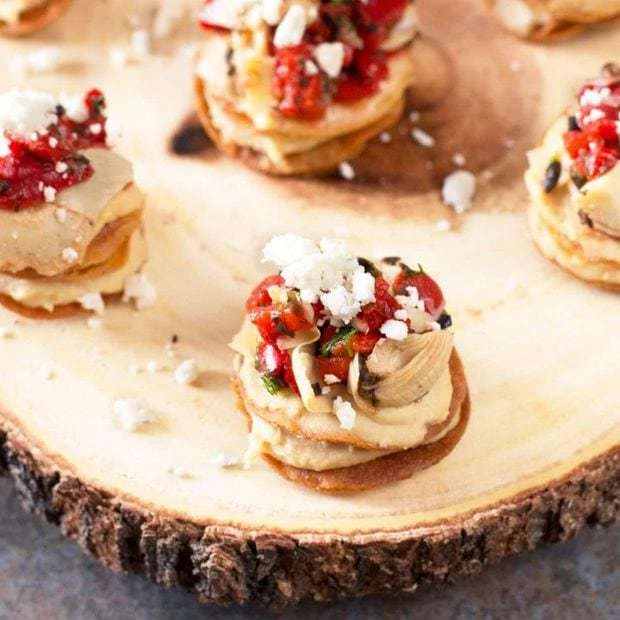 Greek Hummus Mini Tostada Stacks
The balance of Greek flavors with creamy hummus stacked between crispy fried tortillas is a flavor explosion your guests will flip over.
Ingredients
8 small corn tortillas cut into 1 1/2 to 2-inch rounds
Vegetable oil
1/3 cup hummus
1/2 cup chopped roasted red pepper
1/2 cup chopped marinated artichokes
1 tsp chopped black olive
1 tsp minced fresh dill
1/4 cup feta
Instructions
Pour enough oil in a skillet to reach approximately 1/2-inch to 1-inch deep. Heat over medium-high heat. Once the oil is hot, fry the tortilla rounds in batches of 5 or so, depending on the size of your pan. Make sure you don't overcrowd the pan. Fry the rounds for approximately 10 to 15 seconds per side, until golden. Remove to a paper towel-lined plate and season with salt. Set aside.
In a small bowl, stir together chopped red pepper, chopped artichokes, chopped black olives, and dill. Set aside.
To create the tostada stacks, spread a thin layer of hummus on half of the tostada rounds. Top each of the hummus spread tostadas with the remaining tostadas rounds. Gently spread another thin layer of hummus on top of the stacks.
Top each stack with a spoonful of the red pepper and artichoke mixture. Sprinkle with feta cheese and serve.