Please note this post contains affiliate links.
Crispy Brussels Sprouts with Balsamic and Lemon make for a killer side dish that goes with practically everything. No more going out for this tangy, spicy dish anymore when you can make it at home in less than 30 minutes!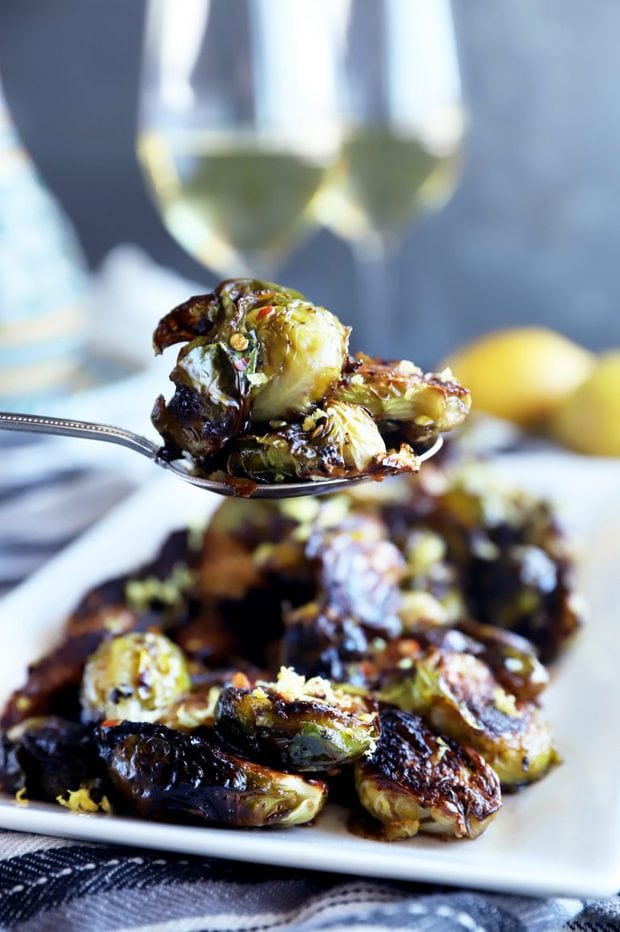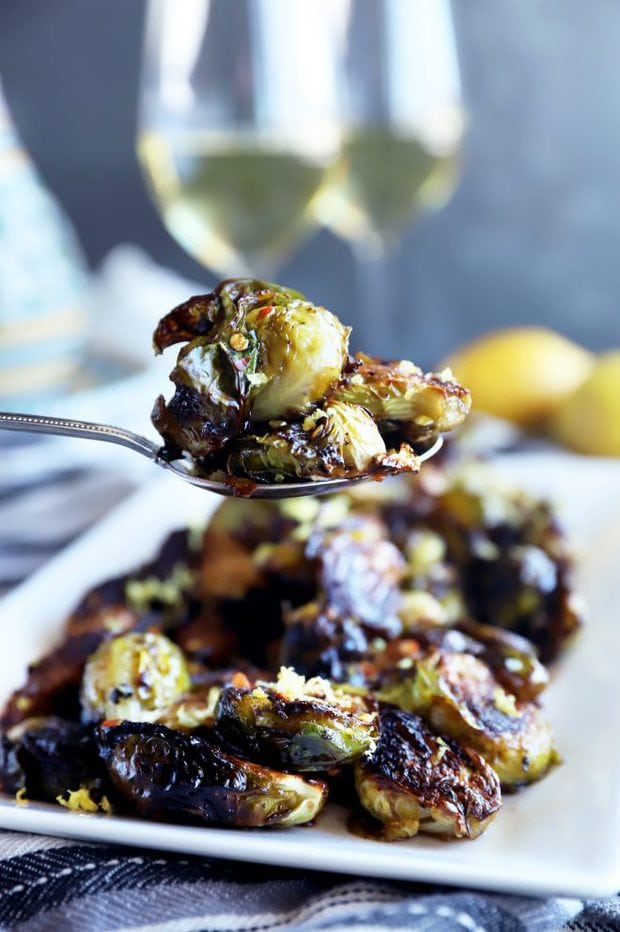 Have you noticed that basically every restaurant has a recipe for crispy brussels sprouts on their menu right now?
Everywhere I go I see them… and I order them. It's one of those dishes that I could inhale all to myself and have to restrain myself from doing so because "sharing is caring" or whatever…
Of course, the big secret is THEY ARE SO EASY TO MAKE.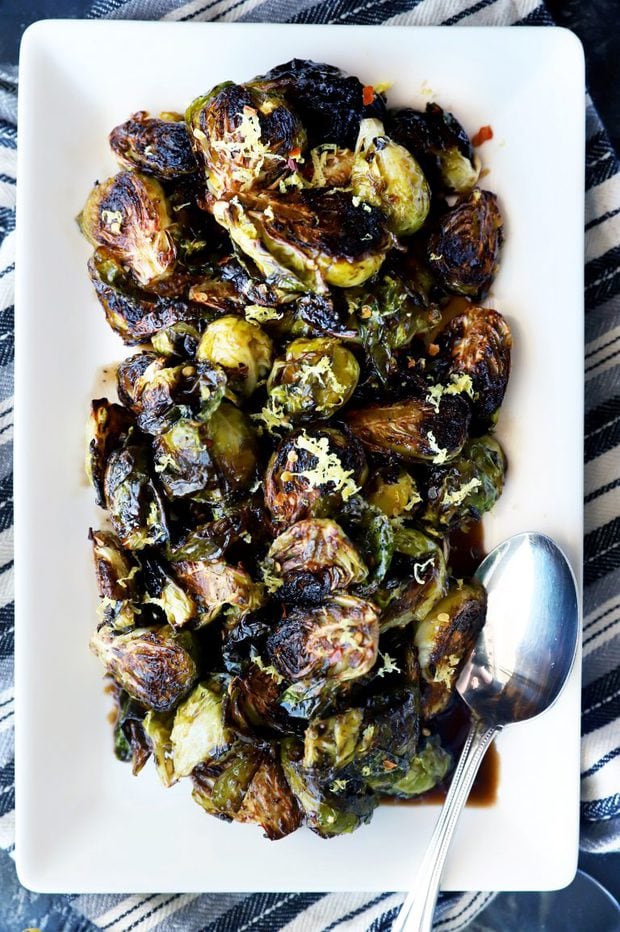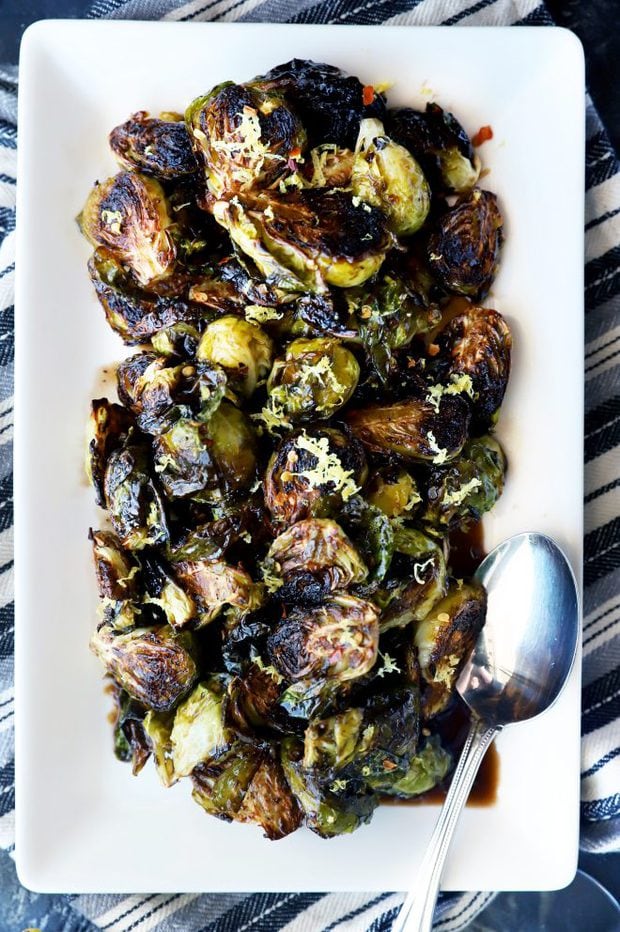 Seriously, it's the easiest side in the world and you can make them just as flavorful as the ones you order when you go out. It's a restaurant copycat recipe!
Though not from a particular restaurant, lol. I took my favorite flavor elements from a handful of dishes I've eaten recently, and made this version that is better than them all (in my oh-so humble opinion of course).
These crispy brussels sprouts have balsamic, spice from red pepper flakes, a little sweetness from brown sugar, and an acidic hit from the lemon zest. The sauce comes together quickly on the stove, and all you have to do with the sprouts is bake them until they are nice and crispy.
BOOM BABY.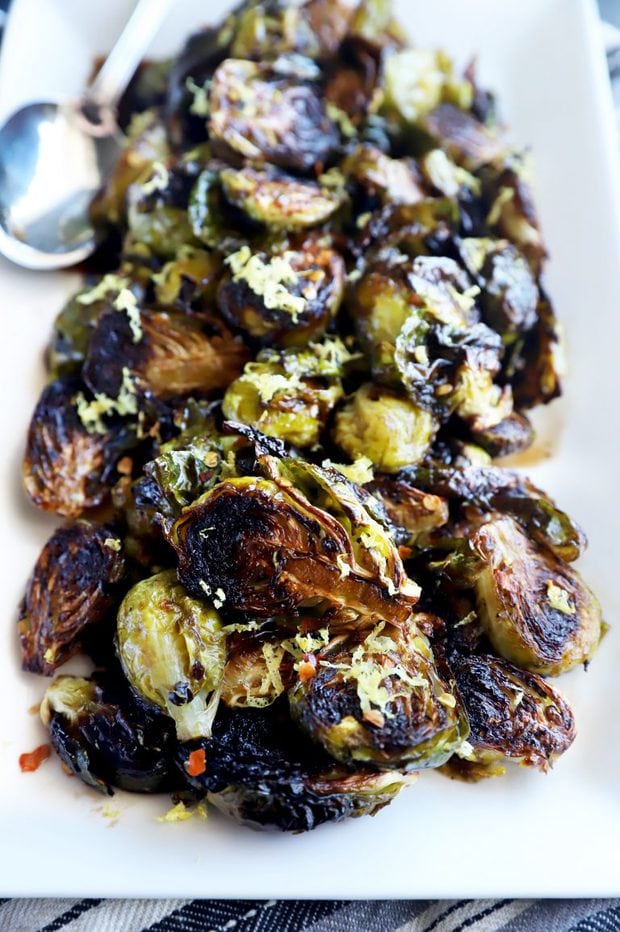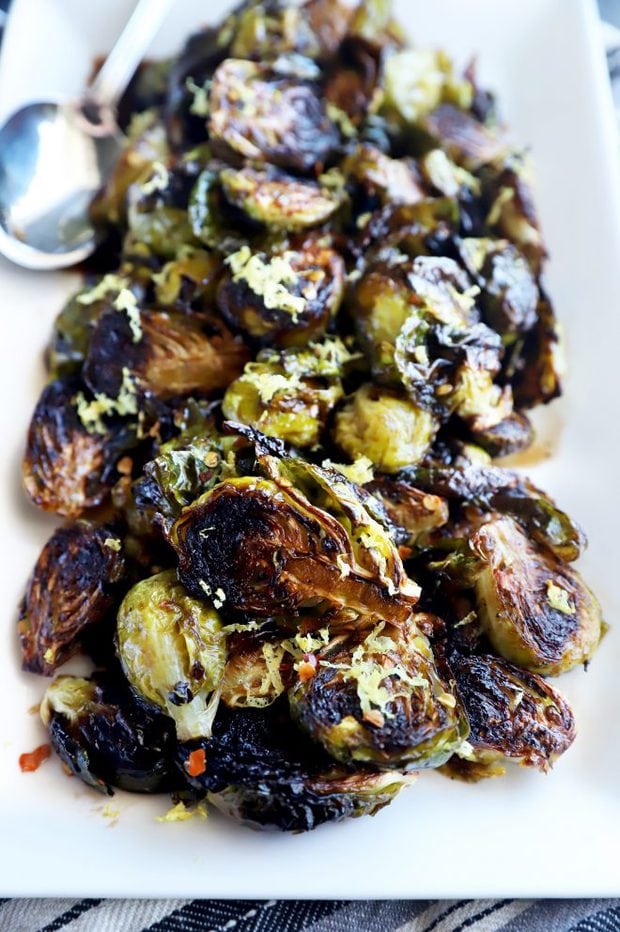 This Recipe's Must-Haves
This recipe is super straightforward so you don't need too many tools to make it!
You'll need a couple large mixing bowls to prep the brussels sprouts, as well as coating them in the balsamic honey glaze.
To make those sprouts crispy, you'll need a half sheet baking pan. You can leave it unlined, but I like to line mine with a silpat silicone mat because it's a lot less clean up!
While the sprouts bake, you'll need a saucepan and a whisk to make the glaze.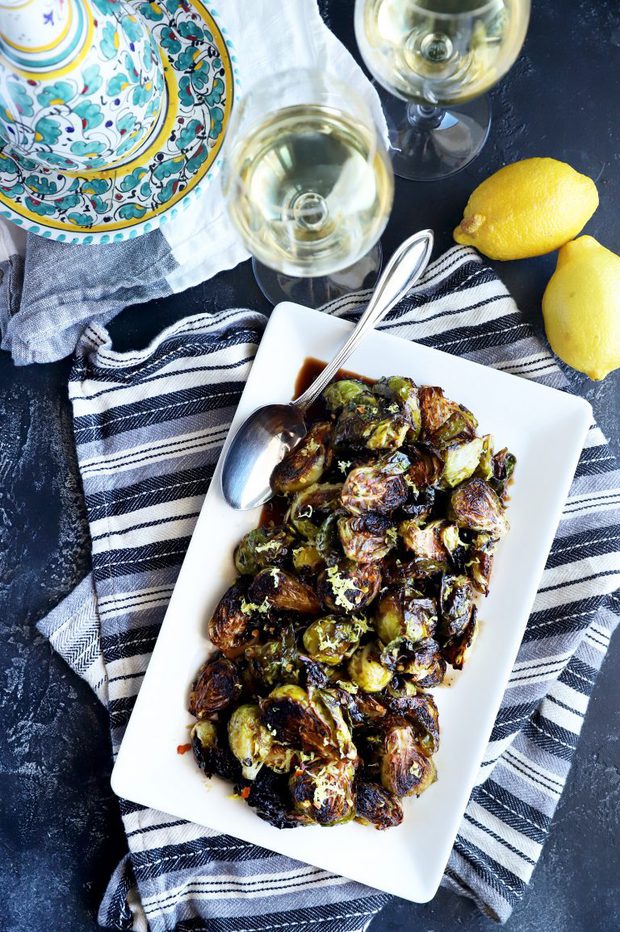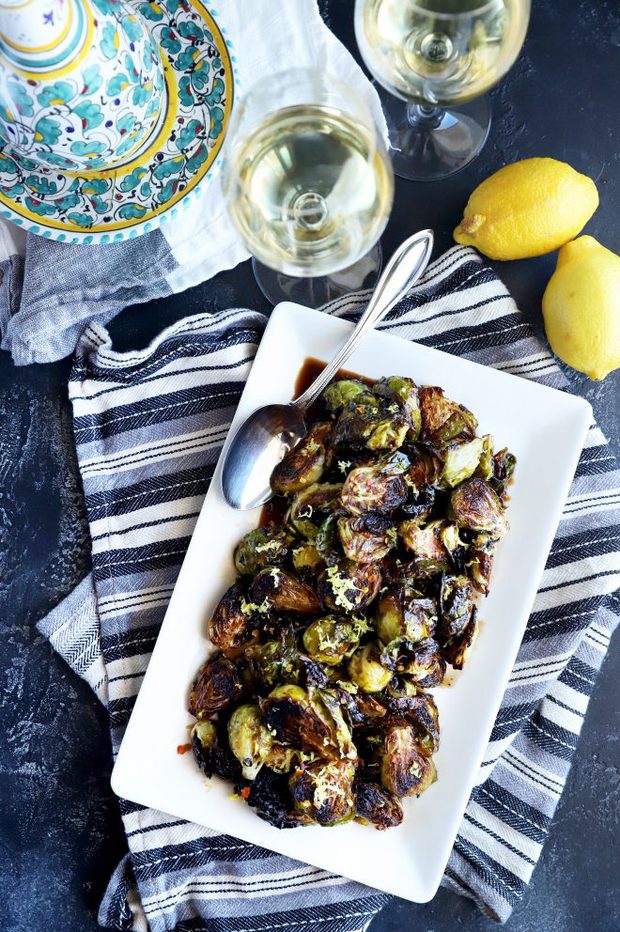 Here's How To Make Crispy Brussels Sprouts
Prep Sprouts
To prepare the brussels sprouts before you bake them, you will simply toss them with olive oil, salt, and pepper.
The key to getting them cooked properly is to place the sprouts cut side down on the hot baking sheet.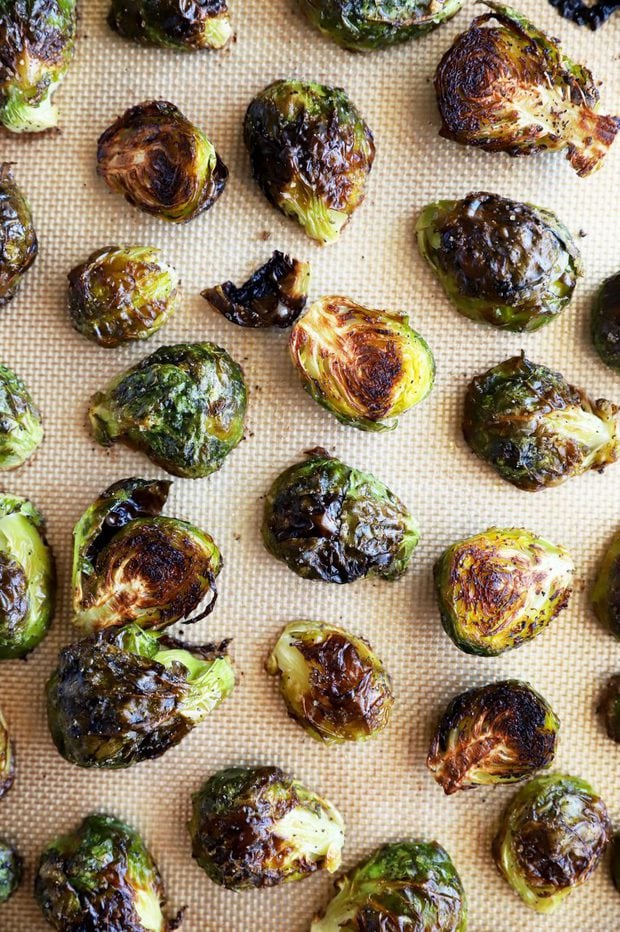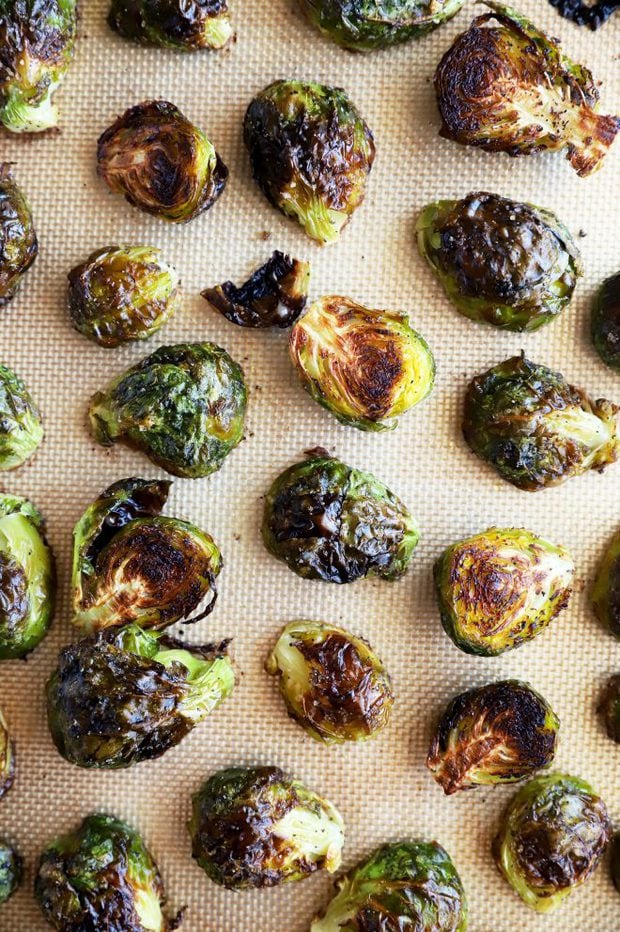 Roast Sprouts
It doesn't take long at all the roast! It takes about 20 to 25 minutes. No need to toss them as they cook – not moving them helps them crisp up even better!
Make Sauce
The glaze starts by cooking down the honey slightly in a saucepan. Then you stir in the remaining ingredients and cook while whisking until it's nice and smooth. The glaze should be thick enough to coat the back of a metal spoon, but not too thick or it won't coat the vegetables evenly.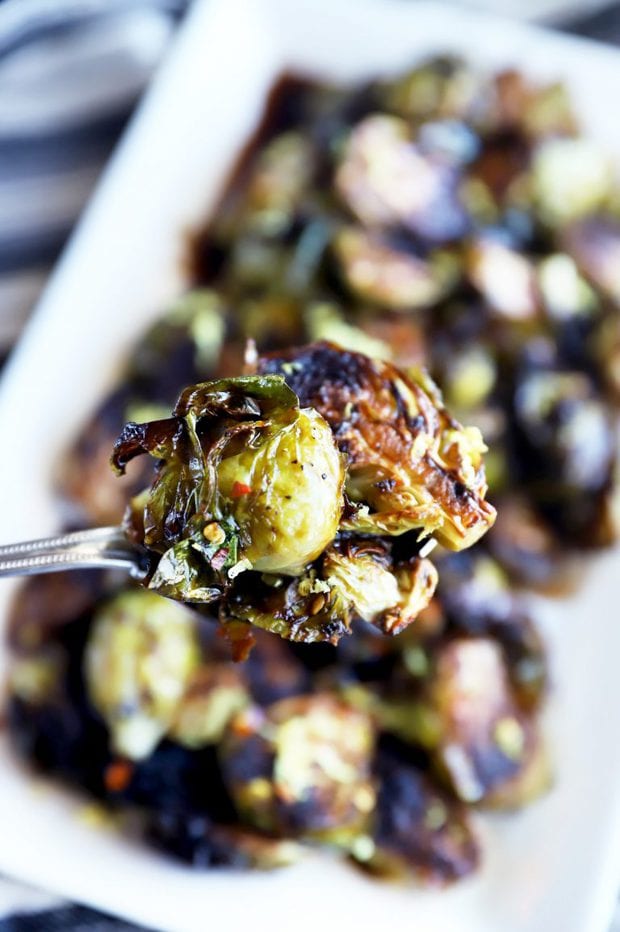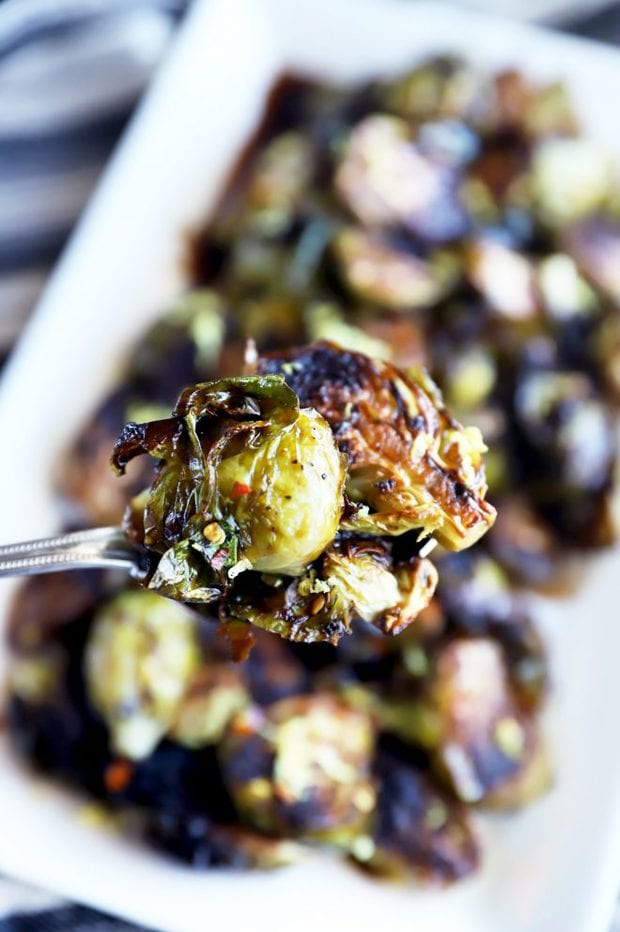 Coat Sprouts
Add those crispy brussels sprouts to a large clean bowl and toss with the glaze! The final touch is adding the lemon zest on top of the sprouts just before serving for an acidic tang.
Need inspiration for other sides for your mealtime? Check out my side dish page for some tasty ideas.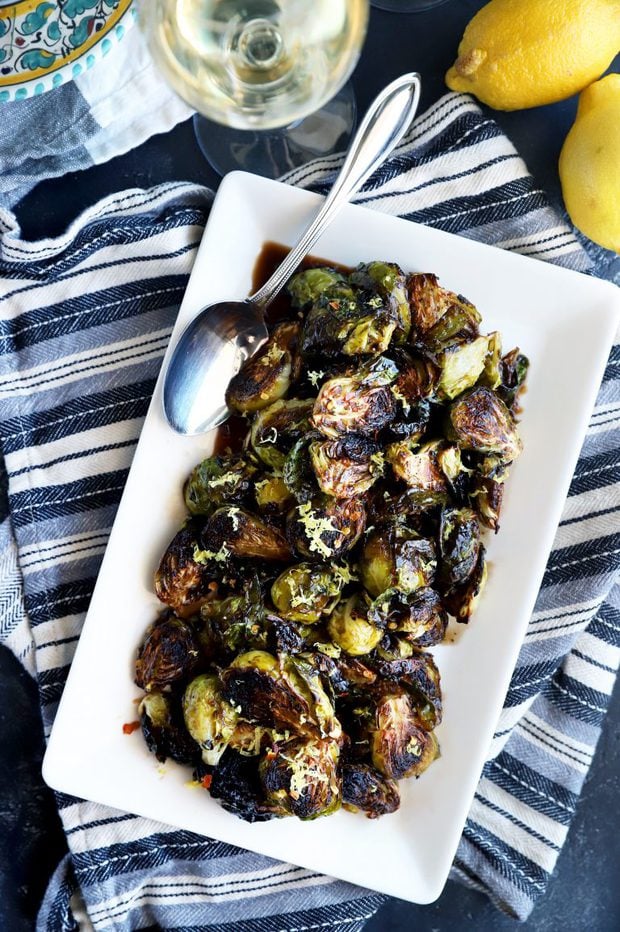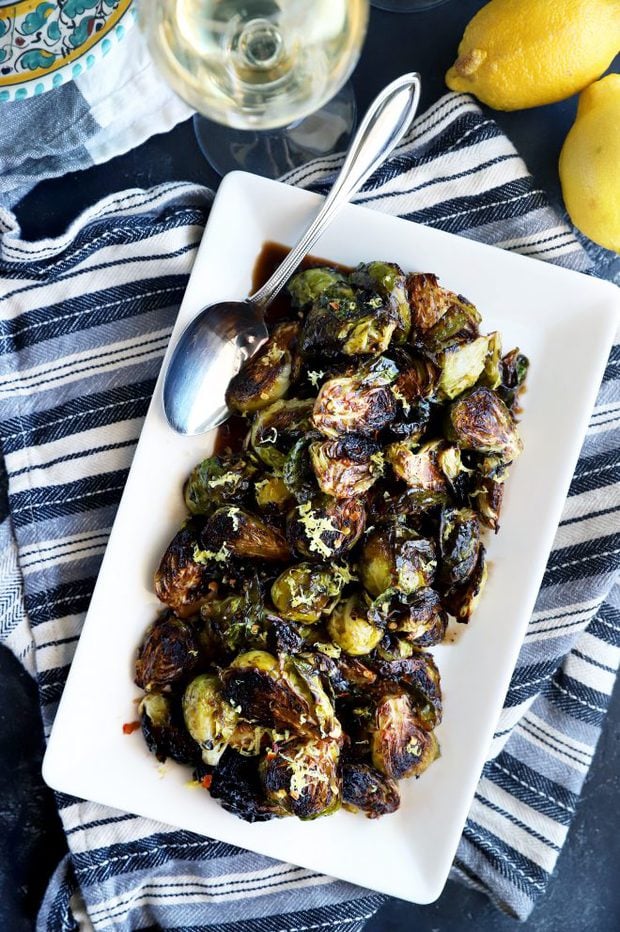 A Few Tips For Success
•The sprouts need to be cooked nice and hot, so don't skip adding the baking sheet to the oven while it preheats. This helps the cut side get crispy right away as they cook!
•Make sure that you clean and dry the brussels sprouts well before you toss them in oil.
•Space the sprouts apart well, leaving plenty of room on the pan so they get really crispy. If they are too close together, they will steam and be soft.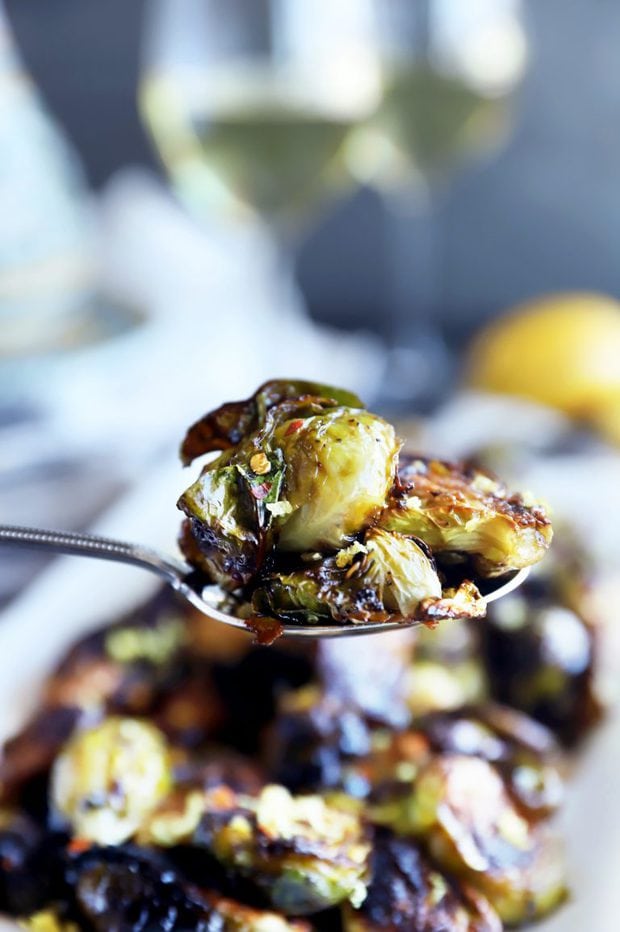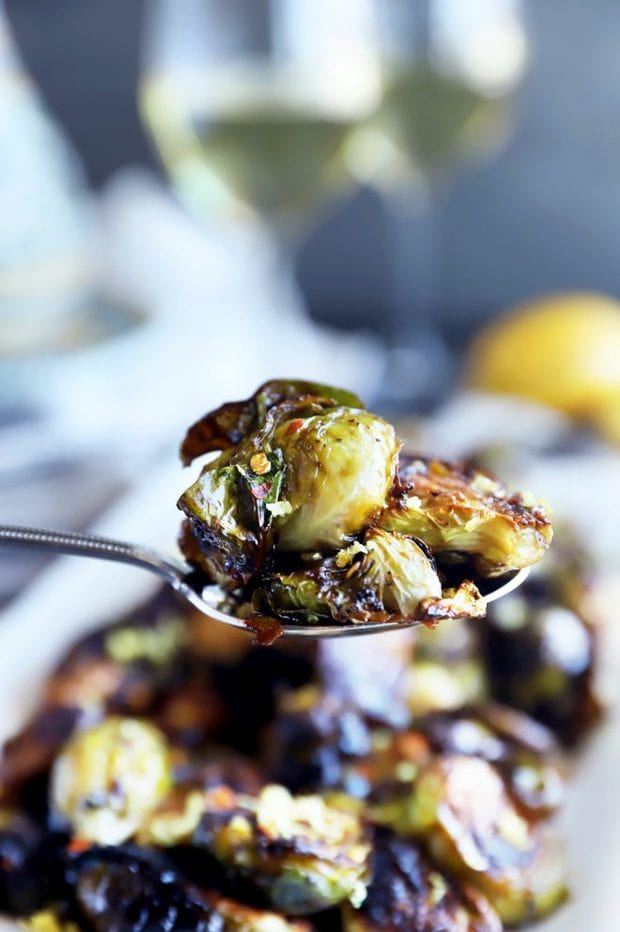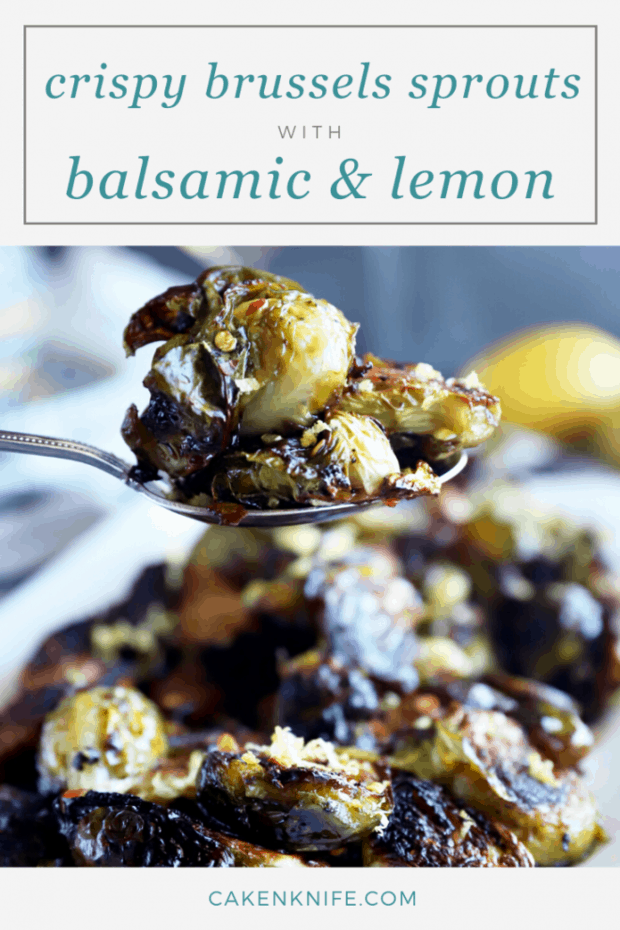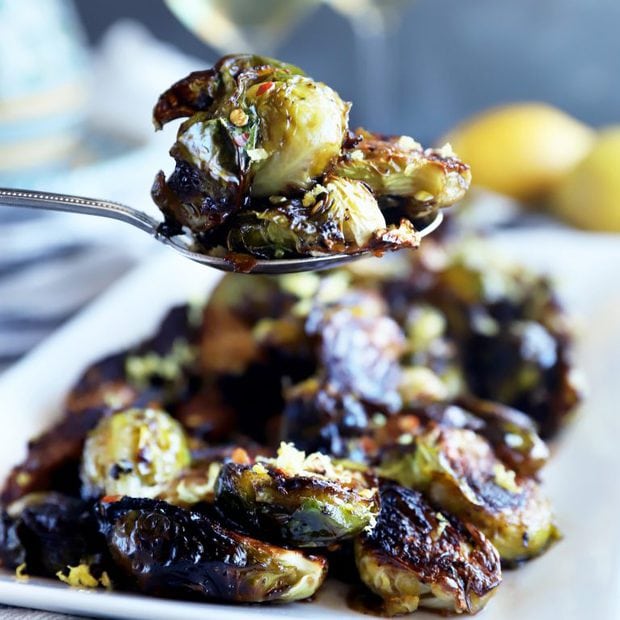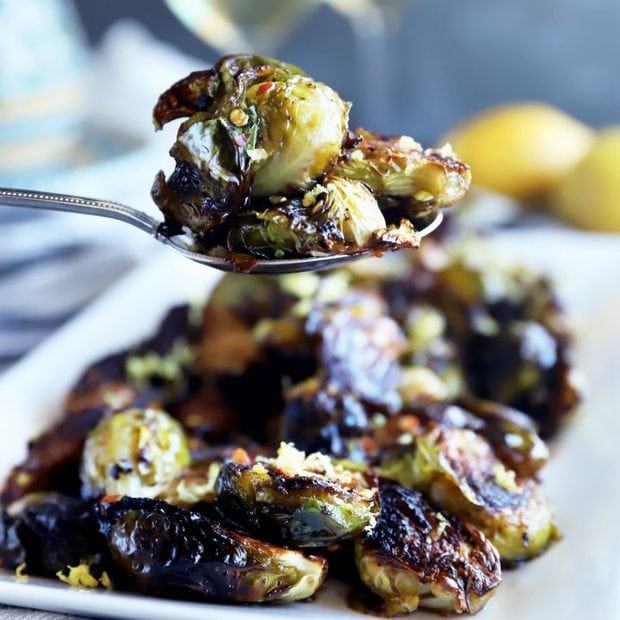 Crispy Brussels Sprouts with Balsamic and Lemon
Restaurant style brussels sprouts are packed with sweet, tangy, and spicy flavor!
Ingredients
1 1/2 lbs Brussels sprouts, trimmed, halved
1/4 cup extra-virgin olive oil
1 tsp kosher salt
1/2 tsp ground black pepper
1/4 cup honey
1/3 cup balsamic vinegar
3/4 tsp crushed red pepper flakes
3 Tbsp unsalted butter
1 tsp finely grated lemon zest
Instructions
Preheat oven to 450˚F. Line a baking sheet with a silicone mat or leave unlined. Place the baking sheet in the oven while it preheats.
Add Brussels sprouts, oil, 1/2 tsp salt, and pepper to a large bowl. Toss to coat evenly.
Remove baking sheet from the oven. Add sprouts cut side down to the baking sheet.
Roast for 20 to 25 minutes.
While the sprouts are roasting, add honey to a small saucepan over medium high heat. Once simmering, reduce heat to medium low and cook for another 3 to 4 minutes.
Stir in vinegar and red pepper flakes. Return to medium heat and stir in butter and 1/2 tsp salt. Continue to cook, whisking constantly, until the glaze is glossy and thickened, about 3 to 4 minutes.
Add cooked sprouts to a large bowl and toss with the glaze. Add to serving platter and top with zest.
Serve immediately.
Recommended Products
As an Amazon Associate and member of other affiliate programs, I earn from qualifying purchases.