I never thought I would actually be able to pull off this dish.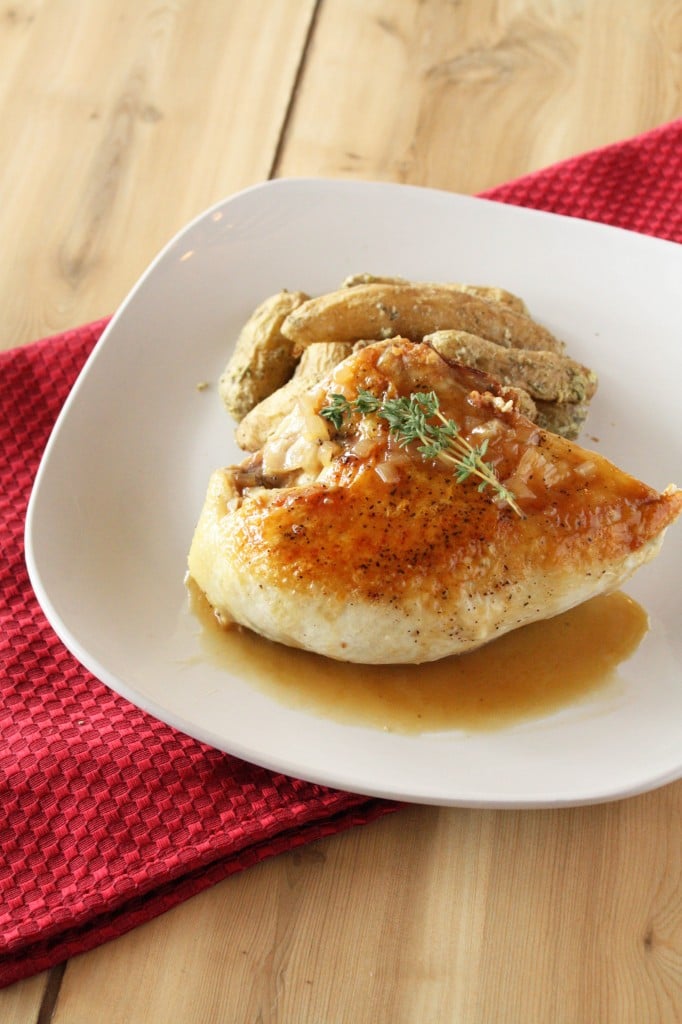 I used to work at a restaurant as a hostess in college and they had this one pan roasted chicken dish with potatoes and pan sauce that I was IN LOVE with. We all were. I remember my friend and I would get off work and would snag a booth in the back, just as the dinner crowd was dying down, and we would chow down on that chicken.
I have never found another pan roasted chicken dish that tasted THAT GOOD.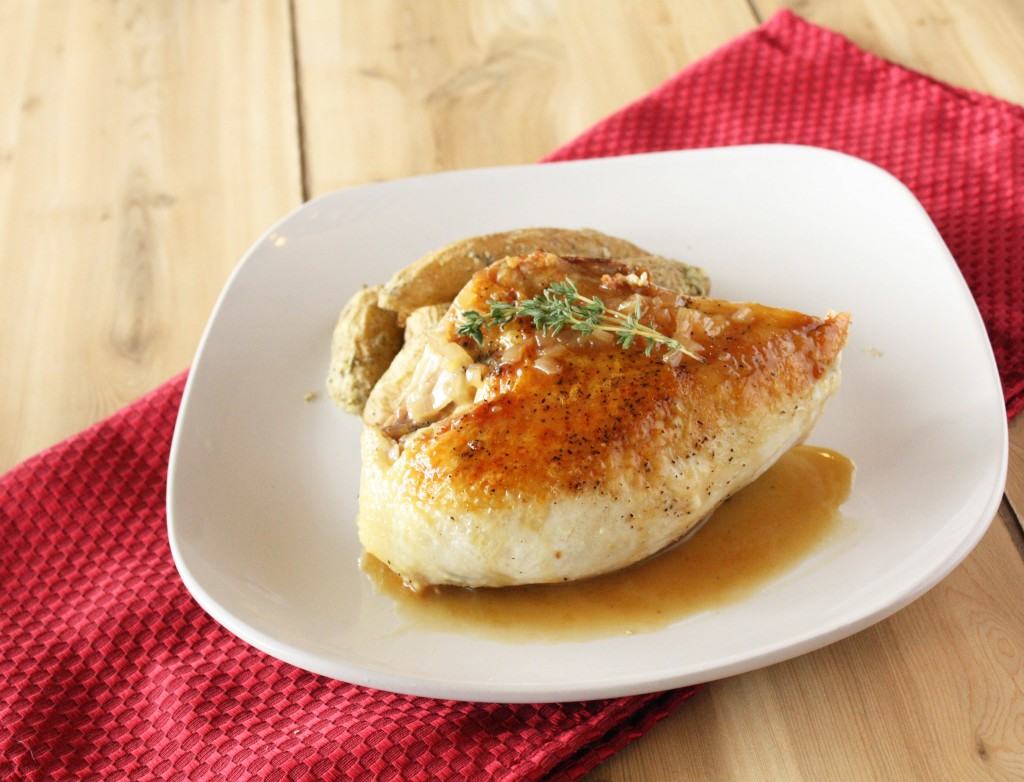 Of course I was never daring enough to try making the dish myself, but I have recently been flooded with those memories of working in that restaurant with my one of my closest friends (who is now moving and it's making me all nostalgic) and I figured I might as well try now.
I can honestly say, this chicken and those potatoes came out SO well. The skin gets golden and crispy, the sauce is rich and full of flavor, and the potatoes have the perfect amount of lemony goodness to balance out the richness of the entire dish.
Ugh, now I am STARVING.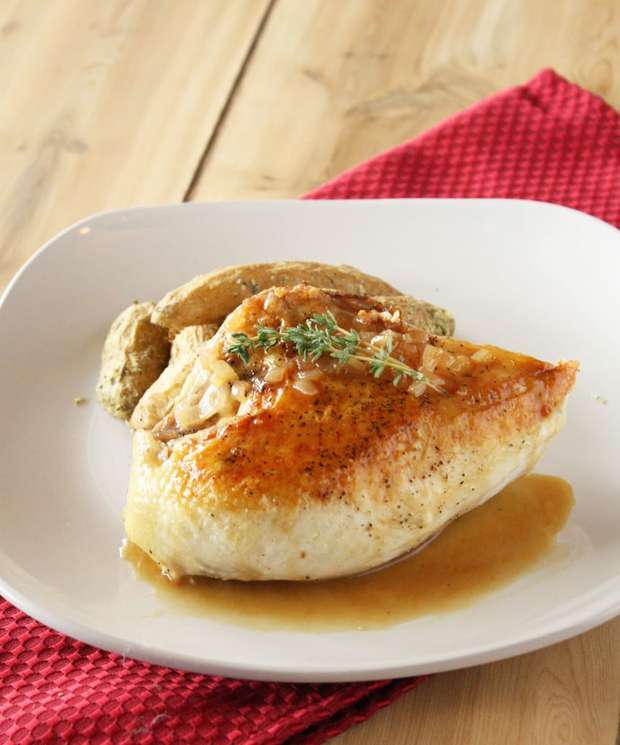 It may not be the exact same dish as the one I so fondly remember, but it is about as close to perfect as I can possibly do. Pretty sure all those great memories skewed the taste just a bit… 🙂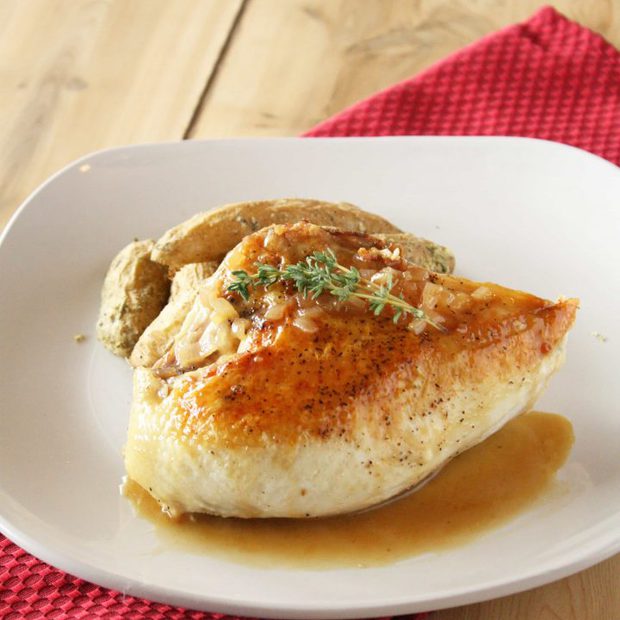 Pan Roasted Chicken with Lemon Roasted Fingerling Potatoes
Crispy skin, moist chicken, a lovely white wine pan sauce, and lemon herb salt roasted potatoes - one of my favorite comfort meals!
Ingredients
Chicken
4 boneless, skin-on chicken breasts
3 Tbsp vegetable oil
1 shallot, finely chopped
3 sprigs fresh thyme
2/3 cup dry white wine
2 cups chicken stock
1 tsp fresh lemon juice
Zest of one lemon
1 Tbsp butter
Kosher salt and fresh cracked black pepper
Potatoes
2 large sage leaves, chopped
1 tsp chopped rosemary
1 tsp thyme leaves
1 tsp finely grated lemon zest
1 Tbsp kosher salt
4 lbs fingerling potatoes, halved lengthwise
2 Tbsp extra-virgin olive oil
2 Tbsp unsalted butter, melted
Freshly ground black pepper
Instructions
Preheat oven to 425 degrees.
In a mini food processor, pulse the sage, rosemary and thyme until finely chopped. Add the lemon zest and pulse to combine. Add the salt and pulse until finely ground. Set herb salt aside.
In a large bowl, toss the potatoes with the oil and butter and season with pepper. Spread the potatoes in a single layer on 2 large rimmed baking sheets and roast for 25 minutes. Season the potatoes generously with the herb salt making sure all get coating and continue baking for 5 minutes, or until the potatoes are tender and golden. Transfer to a bowl and keep warm.
While the potatoes are roasting, in a large skillet, heat vegetable oil until very hot. Use paper towels to dry the chicken and season with salt and pepper. Place the breasts skin side down in the hot pan. Leave the breasts alone to brown well. Reduce heat to medium-low and cook for approximately 15 minutes without flipping or moving the chicken. Flip the pieces and cook for an additional 15 minutes, until cooked through.
Remove the chicken from the pan and set aside. In the same pan, discard any excess fat. Then add shallots and thyme and cook for 1 minute. Increase heat to high and pour in white wine. Reduce wine until it's almost completely reduced, approximately 5 minutes. A thick syrup will remain in the pan. Add in the chicken stock and reduce by half. Then stir in lemon juice, lemon zest, and salt and pepper to taste. Add the butter and stir until combined. Place chicken breasts back in the sauce to warm briefly. Serve sliced with potatoes and a hearty spoonful of sauce.