Please note this post contains affiliate links.
This post has been sponsored by Minute® Rice. All thoughts and opinions are my own.
Korean Ground Turkey Lettuce Wraps make for a tasty, light lunch or appetizer. The combination of Korean flavors, ground turkey, and Minute® Ready to Serve Brown Rice are a fantastic global twist on the traditional lettuce wrap recipe!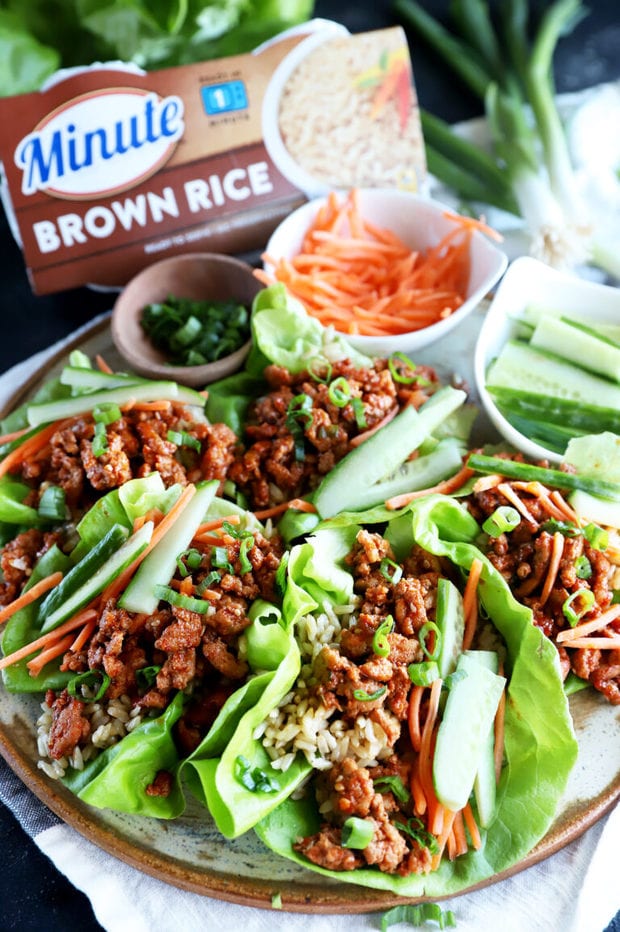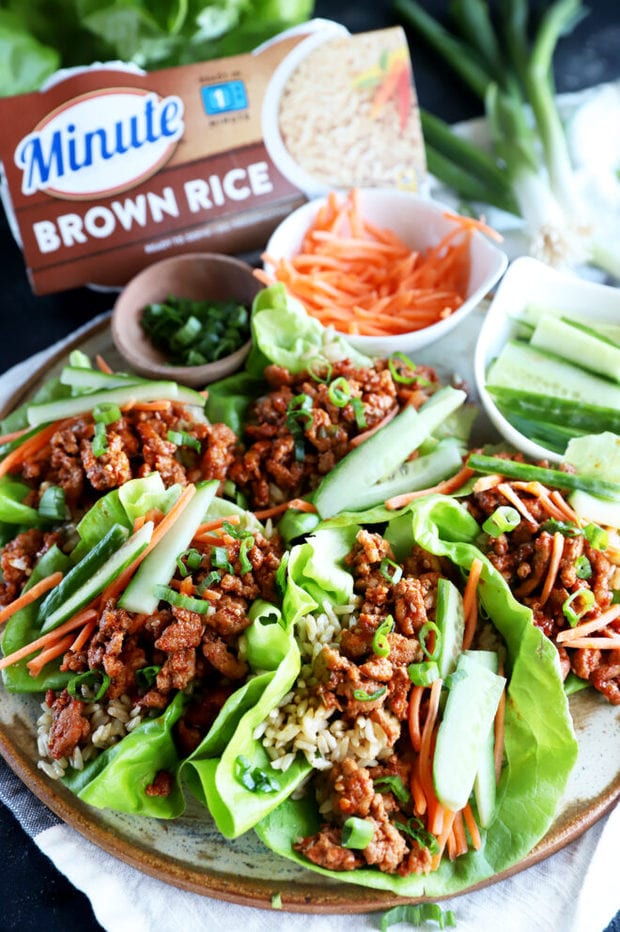 Say hello to my new favorite better-for-you lunch!
Ok, that's a lie; I also eat these for dinner. And serve them as an appetizer… They really are the most versatile little wraps!
After going through the responses on my reader survey, you have spoken and I am listening! There was a resounding request for more global flavors and some lighter options, so here I am with a recipe that meets both.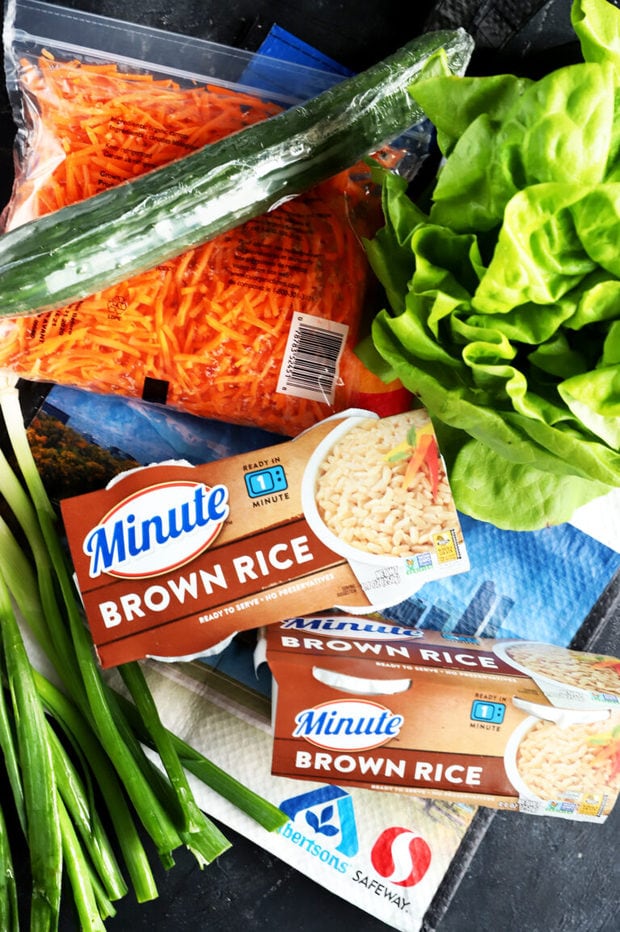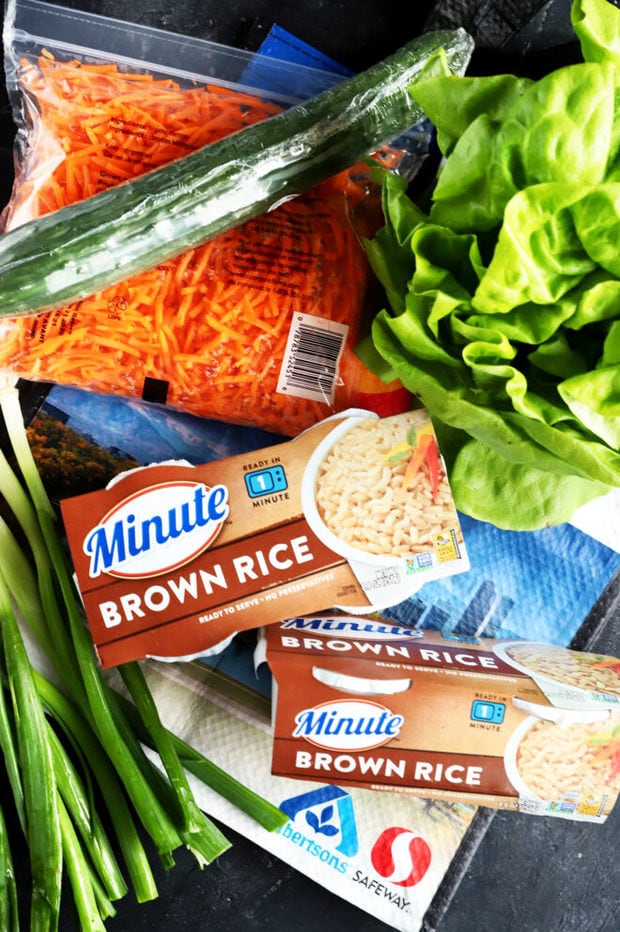 The best part? This entire recipe can be made in just 15 MINUTES.
I know that sounds insane, especially with brown rice being involved. However, that is just what Minute® Ready to Serve Brown Rice is for. I picked up my Minute® Ready to Serve Brown Rice at Safeway in the rice and beans aisle.
Want a Safeway coupon for $0.50 off any 1 Minute® Ready to Serve Brown Rice, Brown & Wild Rice, and Brown Rice & Quinoa? Check it out here! (valid 3/2/20-3/31/20)

Ready in just one minute, you can get your 100% whole grain without having to watch it on the stove or wait for an electric pressure cooker to do its thing. Even better – there are no artificial preservatives or artificial ingredients. I use these cups all the time because they are not only quick to cook, they are perfectly proportioned for single servings and are a good source of fiber.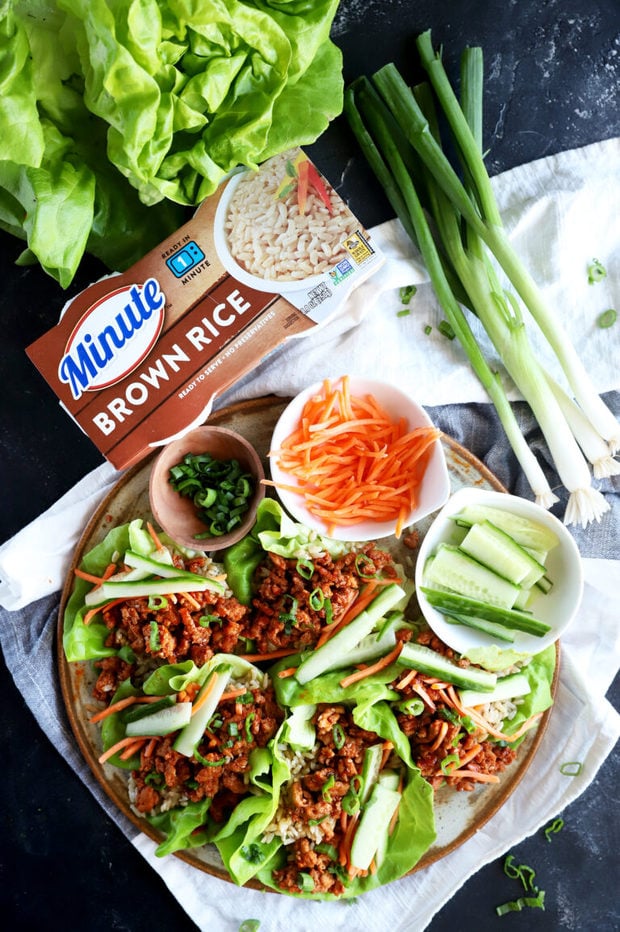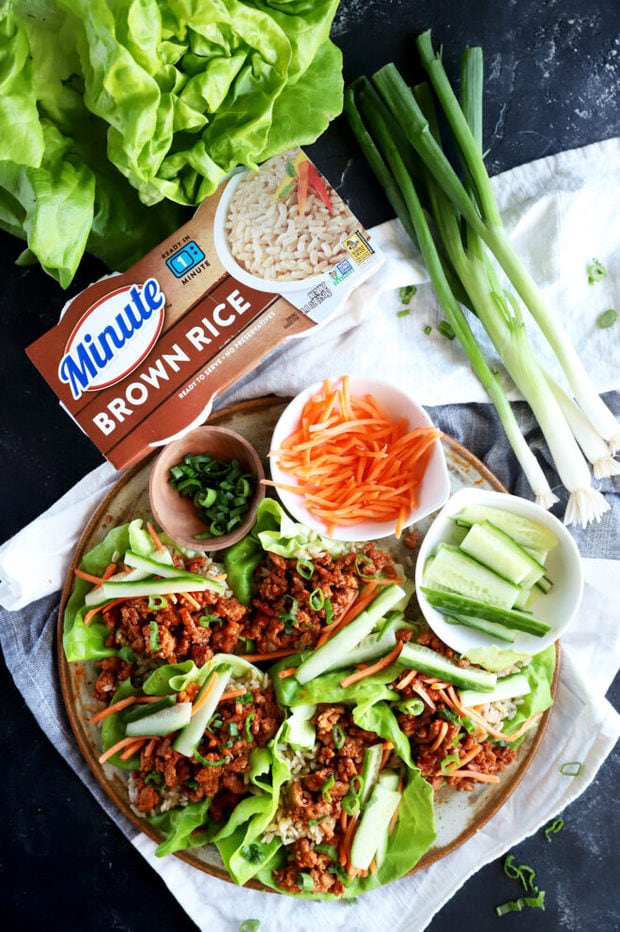 The Minute® Ready to Serve Brown Rice is a killer addition to these lettuce wraps because it offers a lot of benefits, including fiber and 53g or more of whole grains per serving, and also makes them more filling, so you can easily eat them as a meal—whether it is lunch or dinner.
Hearty brown rice is just what the flavorful Korean ground turkey needs as a base in these wraps. The flavors of soy, gochujang, and sesame make the meat pop, with a burst of green onion to brighten everything up.
Serve them as a meal, make them for your meal prep (more on that in the FAQs!), or serve them as a better-for-you appetizer option for friends and family!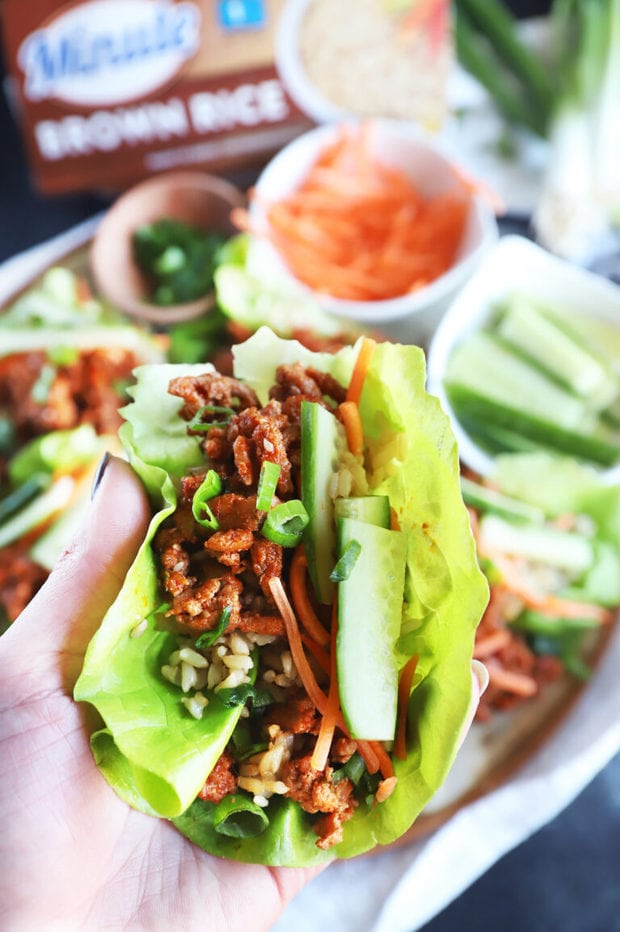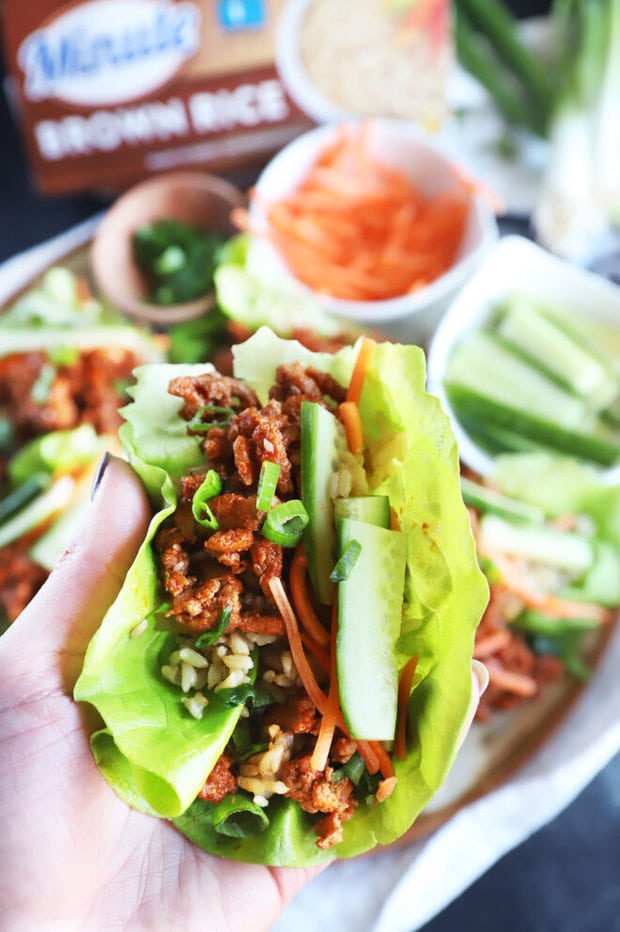 How To Make Korean Ground Turkey and Rice Lettuce Wraps
Make Sauce
Start by making the sauce. This is super simple because all you have to do is whisk the ingredients together in a bowl!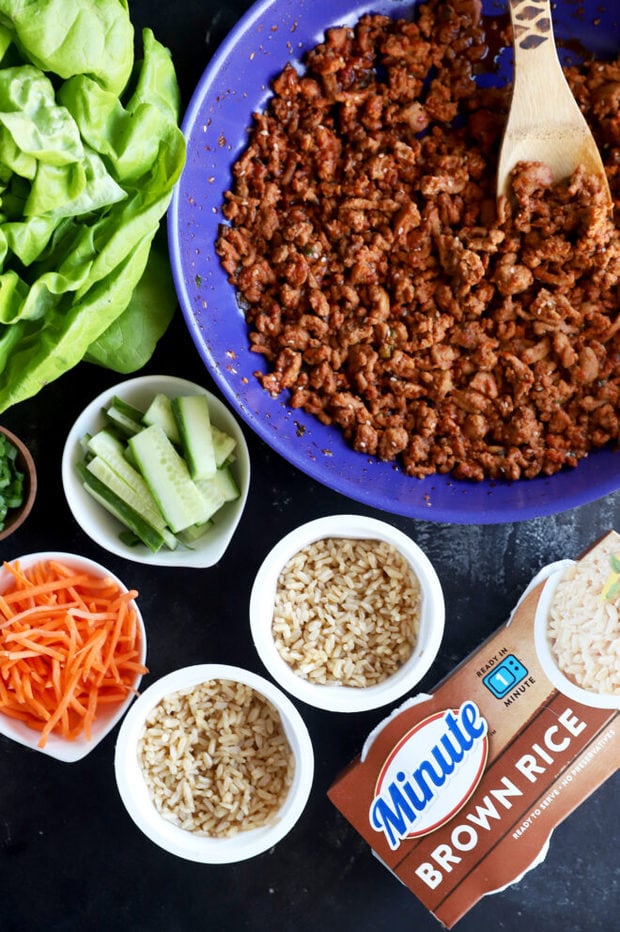 Cook Meat
Brown the ground turkey with green onion in a large skillet. Once it is browned, be sure to drain it carefully so the mixture doesn't become too wet.
You'll add in the garlic, then the sauce—cooking until everything is fragrant and warmed through completely.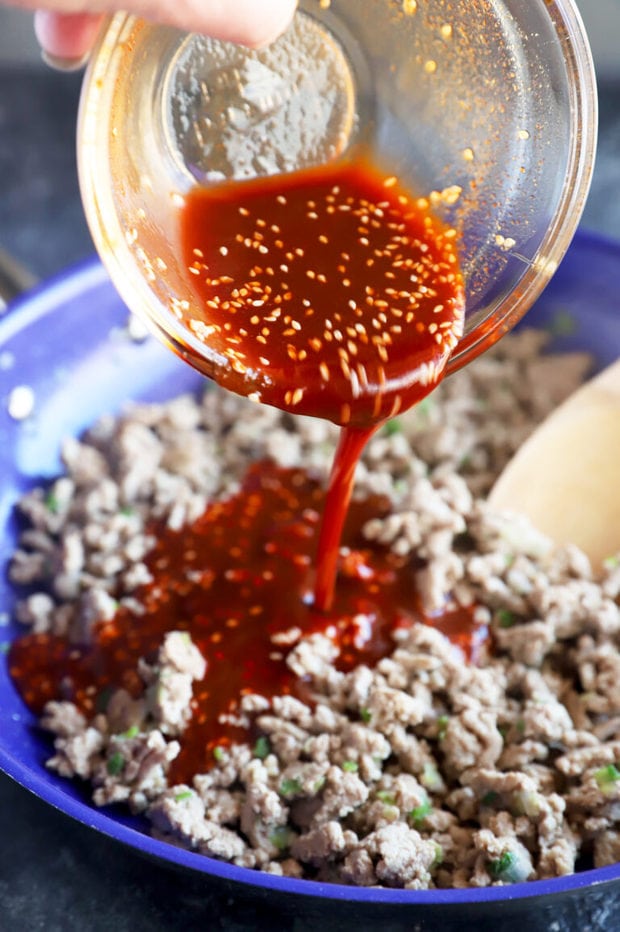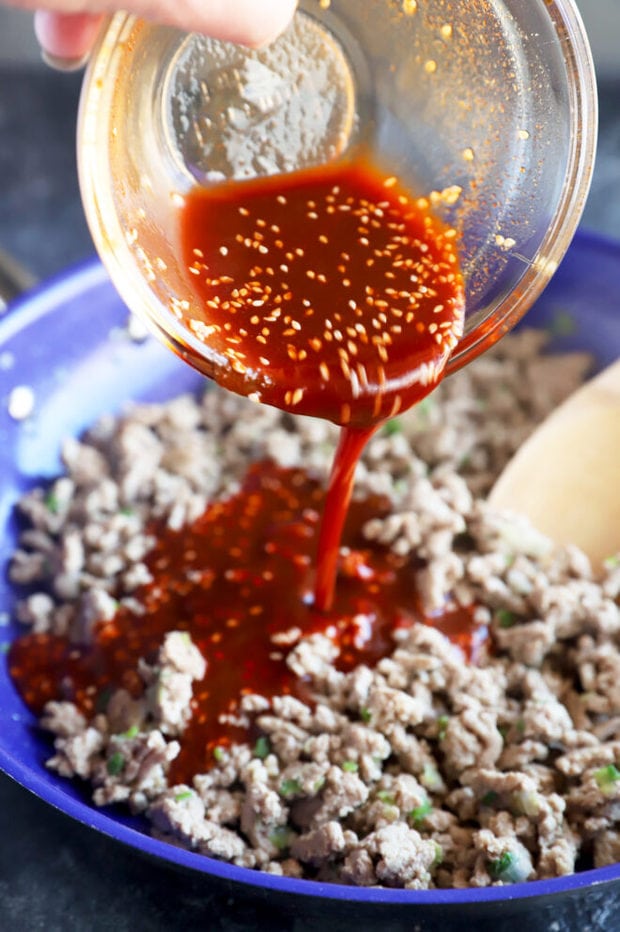 Cook Rice
Guess what? Minute® Ready to Serve Brown Rice is ready in… ONE MINUTE. Just pop the cups in the microwave and heat according to instructions on the packaging.
Assemble
To assemble, start with a lettuce leaf as the base! Top with 2 tablespoons of Minute® Ready to Serve Brown Rice, then 2 tablespoons of the Korean ground turkey. The finishing touches are a bit of sliced cucumber, shredded carrots, and a sprinkle of green onion.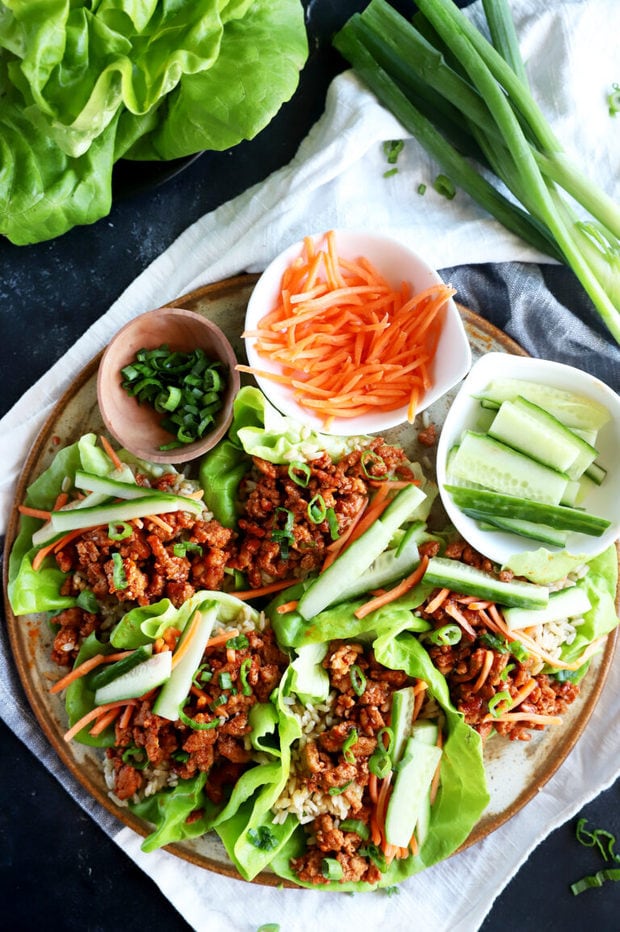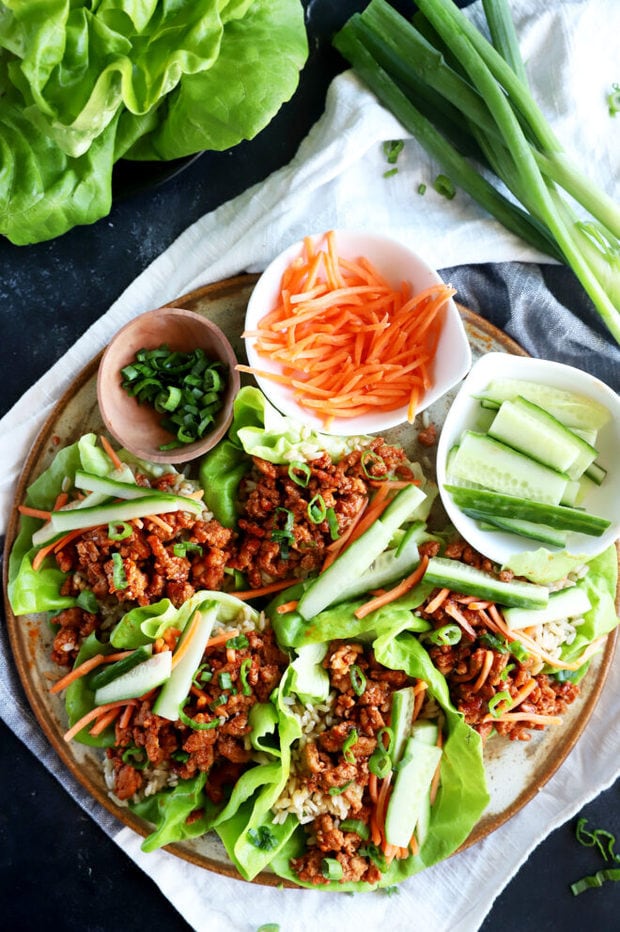 FAQs
Can I make these wraps ahead of time?
You know what these wraps are fantastic for? MEAL PREP. You can easily make the recipe ahead of time, then store it for your upcoming work week. The biggest advice I can give you when storing the ground turkey lettuce wraps is to keep the rice, turkey, and lettuce separate. I like to wash and separate the lettuce leaves, pat them dry, and store in a sealable bag. Then, store your rice and turkey in an airtight container that is microwave safe.
When you are ready to eat, heat up the rice and turkey, assemble your wraps, and devour!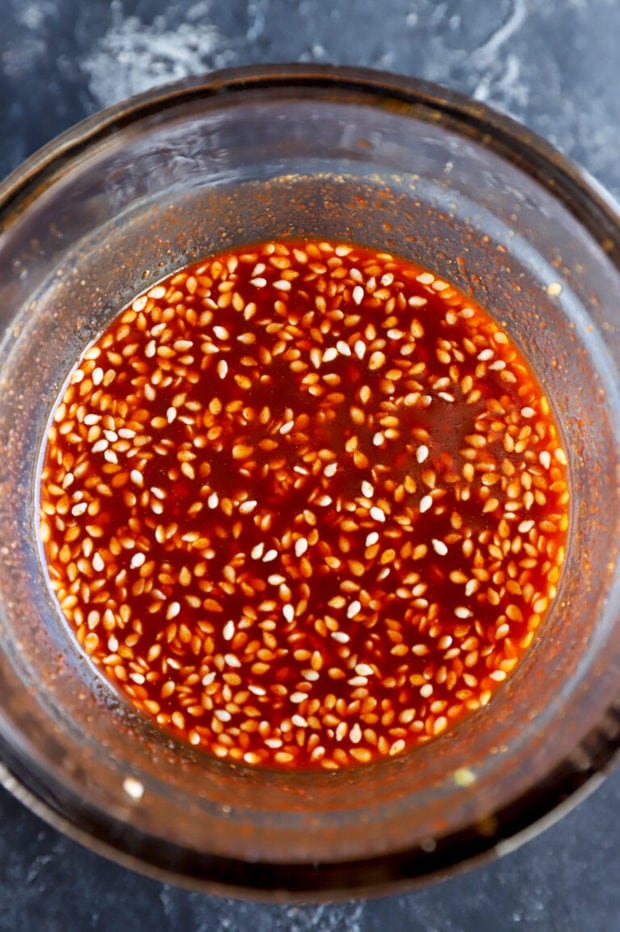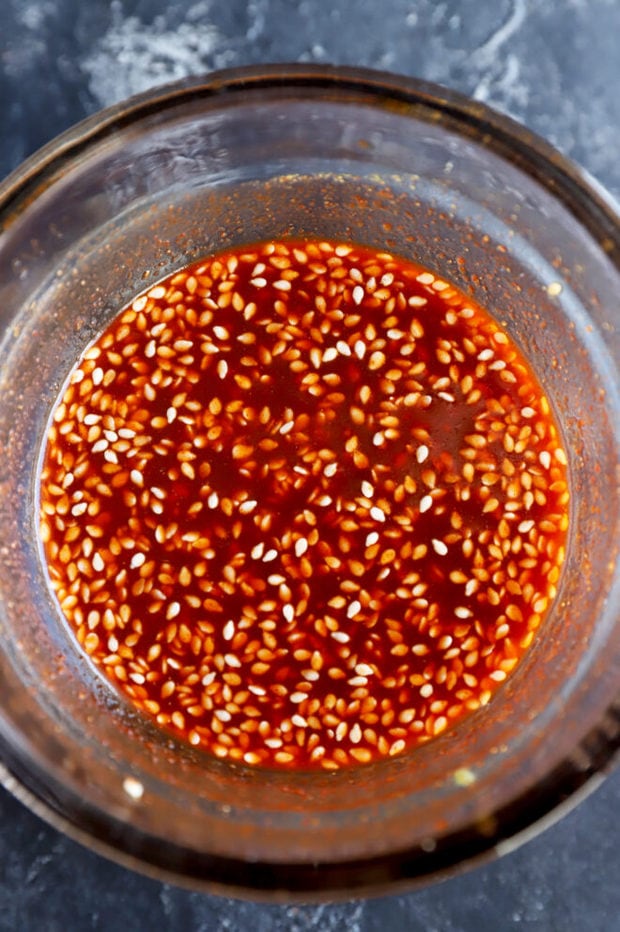 What lettuce should I use for ground turkey and rice lettuce wraps?
For this recipe, I highly recommend using butter lettuce or living lettuce because the leaves are the perfect size and they are sturdy enough to hold the mixture inside.
If you can't find either, you can turn this recipe into a salad by using mixed greens as a base, topping with the Korean ground beef and Minute® Ready to Serve Brown Rice.
Can I use ground chicken or ground beef instead?
Ground turkey is the leanest option but if you are looking for something heartier, you can totally substitute ground chicken or ground beef. No adjustments to the recipe are needed—just swap out one pound of ground turkey for your ground meat of choice!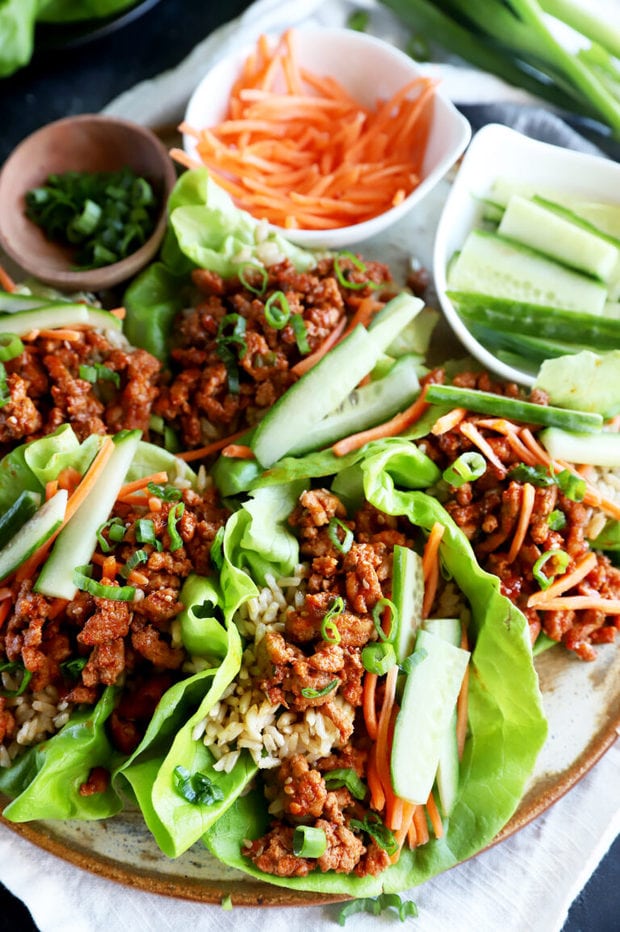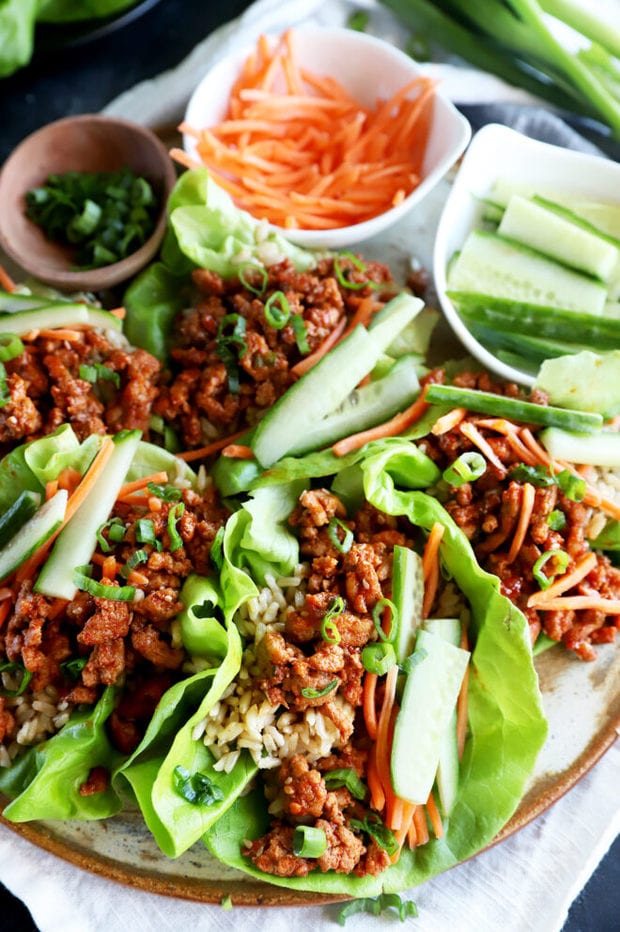 Quick tips for making Korean Ground Turkey and Rice Lettuce Wraps
• If you really like things spicy, you can add 1/4 to 1/2 teaspoon red pepper flakes to the sauce!
• To up the flavor of the vegetables, consider using picked carrots as a topping.
• For easier assembly, lay out the lettuce leaves on a serving platter before you start cooking. This recipe goes fast, so it's nice to have it out so everything can be served hot (if you are serving immediately).
• These wraps are just as delicious if you serve them cold! Just keep the lettuce, turkey, and rice stored separately until you are ready to eat.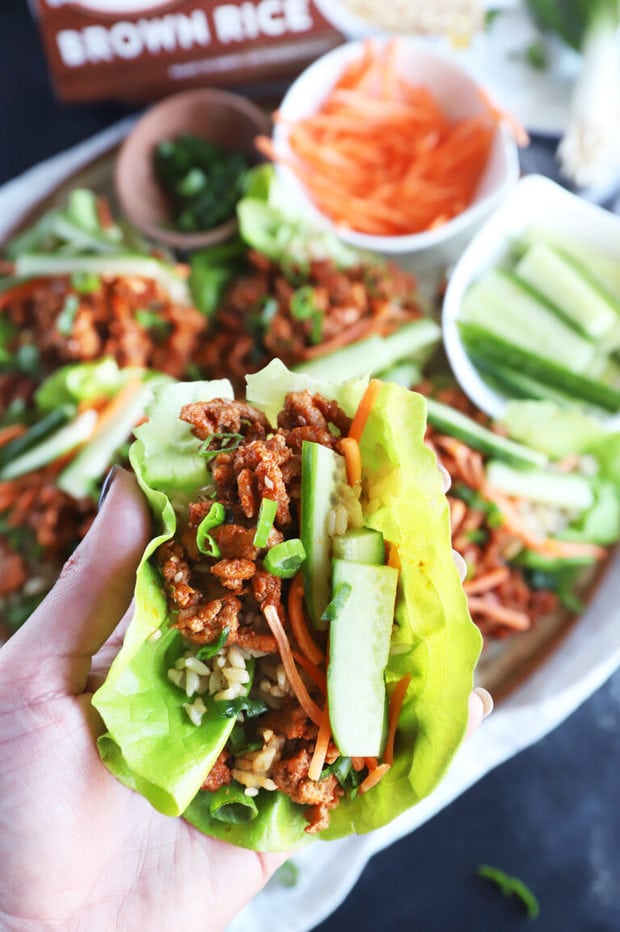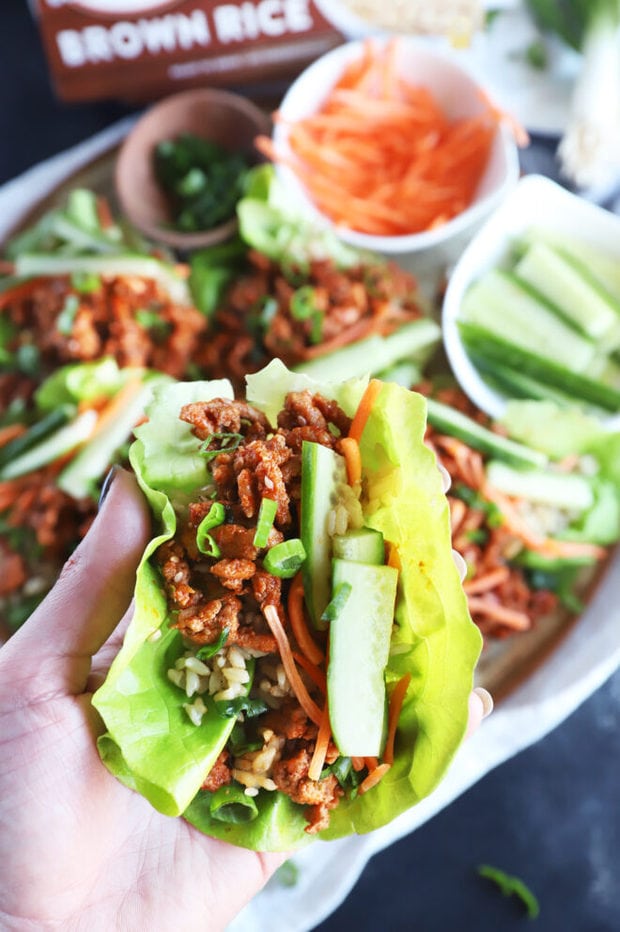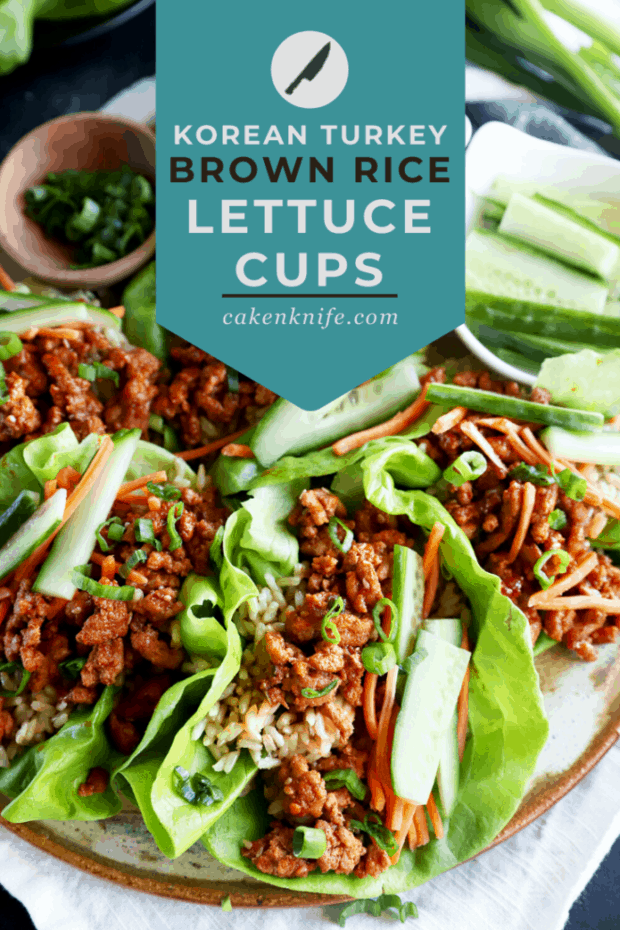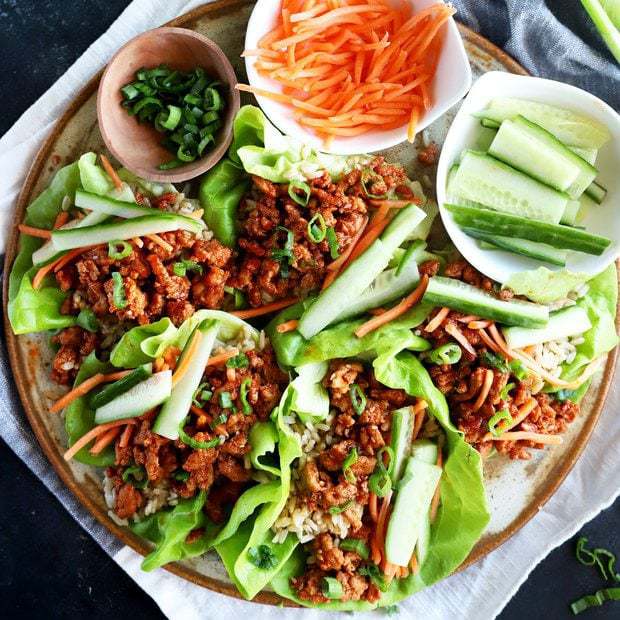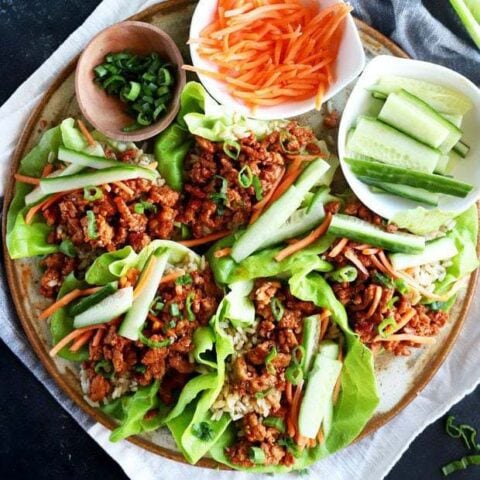 Korean Ground Turkey and Rice Lettuce Wraps
Spicy, savory, and light, these Korean wraps are the best appetizer or lunch!
Ingredients
Sauce
1/4 cup soy sauce
1 Tbsp honey
3 Tbsp gochujang paste
1/4 tsp ground ginger
1 tsp toasted sesame seeds, plus more for garnish
1/2 tsp sesame oil
1 tsp mirin
Turkey
1 tsp olive oil
2 green onions, chopped - white and light green parts, and dark parts divided
1 lb ground turkey
1/2 tsp black pepper
2 cloves of minced garlic
Wraps
2 cups Minute® Ready to Serve Brown Rice
8–10 butter lettuce leaves
1 cup thinly sliced English cucumber
1 cup shredded carrots
Optional garnish: chopped green onion (dark parts reserved from above)
Instructions
In a small bowl, whisk together ingredients for the sauce. Set aside.
Heat a large skillet over medium-high heat with olive oil for turkey. Once hot, add turkey and the white and light green parts of the green onion. Cook the meat until browned—about 5 to 7 minutes, stirring occasionally. Carefully drain out any liquid.
Return skillet to the heat and stir in garlic. Sauté for about 30 seconds until fragrant.
Pour in sauce and stir, cooking for another minute until warmed through and bubbling. Remove from heat.
Microwave Minute® Ready to Serve Brown Rice cups according to the instructions on the package.
To serve lettuce wraps, add 2 tablespoons of brown rice to each lettuce leaf. Top with the Korean ground turkey. Garnish with sliced cucumber, shredded carrots, and the dark parts of the green onion. Serve immediately.


Recommended Products
As an Amazon Associate and member of other affiliate programs, I earn from qualifying purchases.