Reuben Egg Rolls with Thousand Island Sauce
The reuben sandwich is one of my husband's favorite sandwiches. EVER.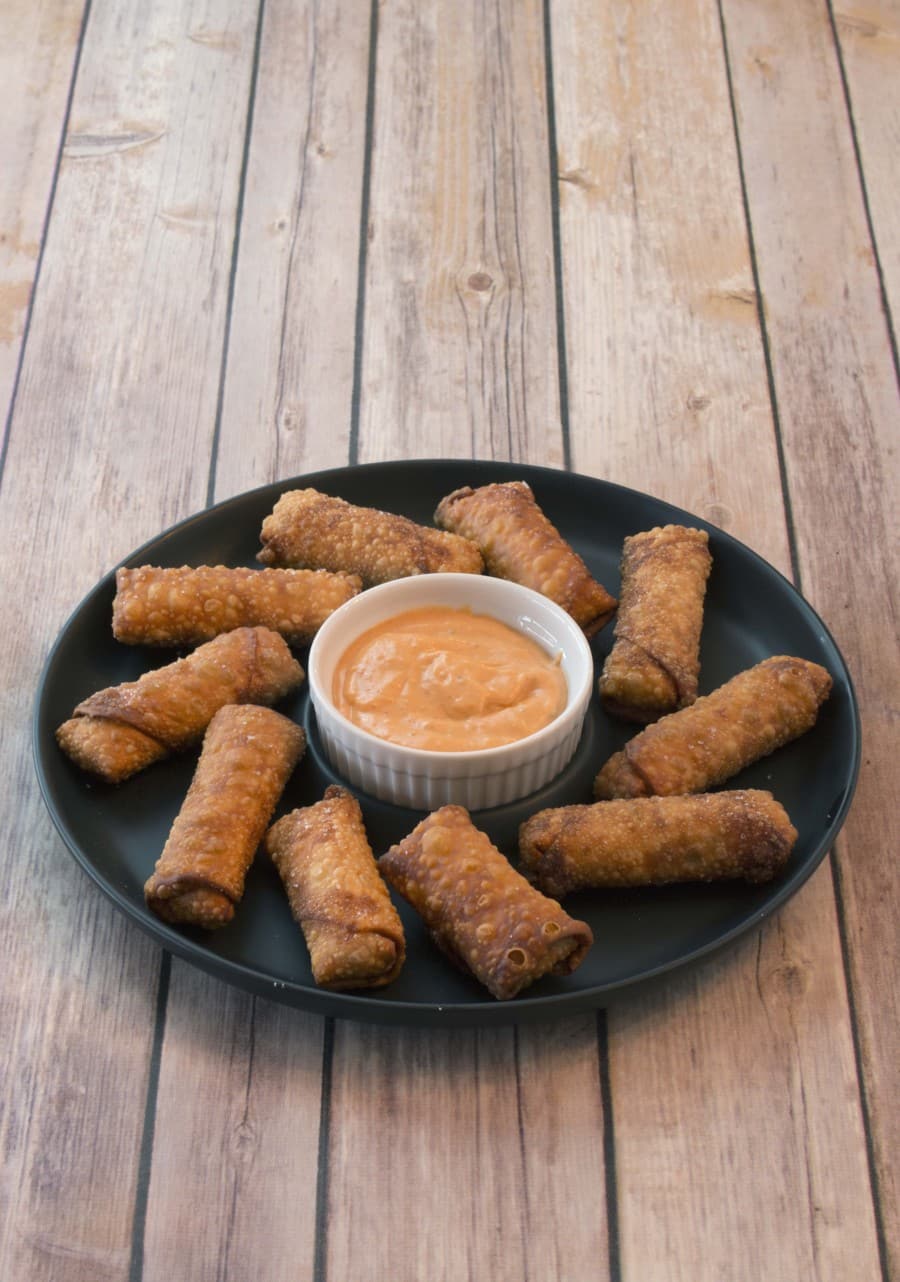 I think he has a weird obsession with sauerkraut that he failed to disclose before we got married. Not that I could fault him for it. It is pretty rad so I had to stuff it into an egg roll.
Every time you fry something, it just makes it that much better doesn't it? 
Normally I am not a huge reuben fan, but I am so obsessed with these egg rolls. They are the perfect mix of corned beef, sauerkraut, and Swiss cheese. And this dressing? OMG. It's heaven, especially because I made it a little spicier than the average Thousand Island dressing. It gives you the perfect little kick to make your mouth say "oh why hello there!"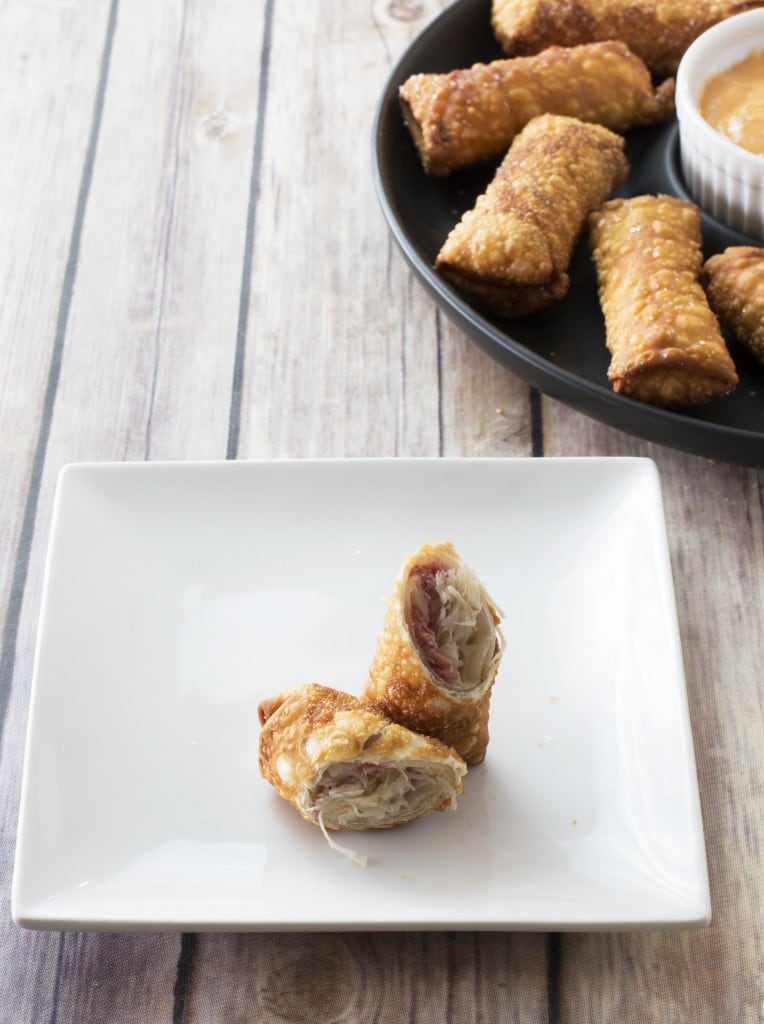 Now that I have stuffed this sandwich into an egg roll, all I can think about it what else I can turn into an egg roll… Maybe a Cuban sandwich is next? Or pizza?
Don't ask me why I am on an egg roll kick. I have no idea where this is coming from. Probably the over-stimulation from my past Vegas trip. I am all hyped up!!
Or perhaps I drank too much caffeine… Again…
Maybe another bite of this reuben egg roll will settle me down…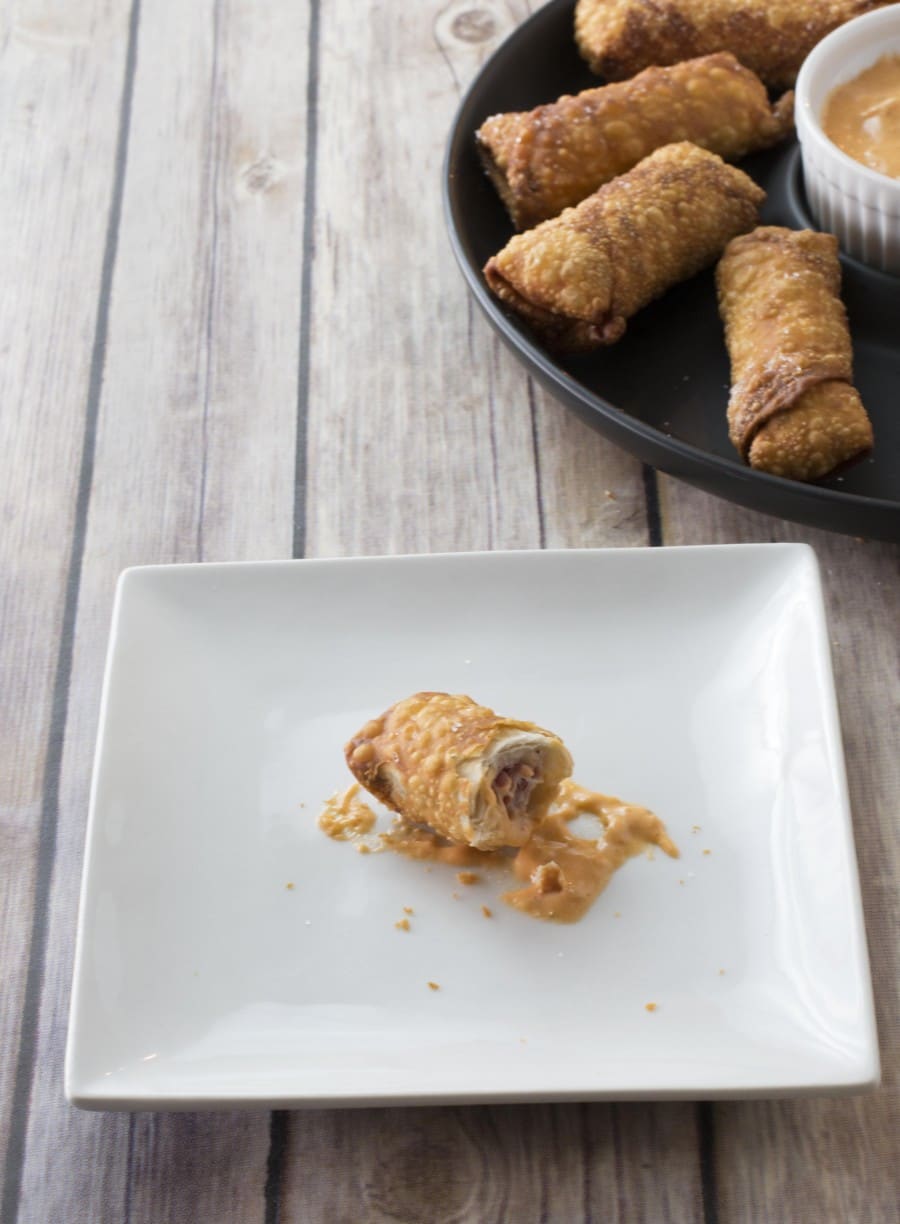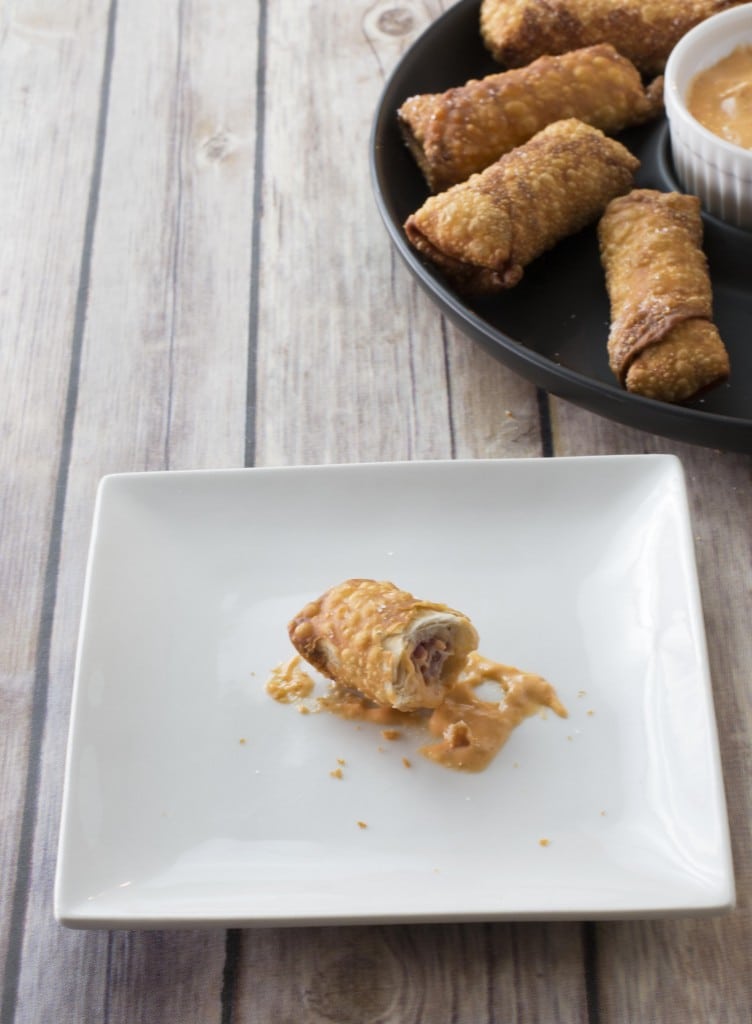 Ah yes, there we go. Back to normal. Well at least my version of "normal"… 😉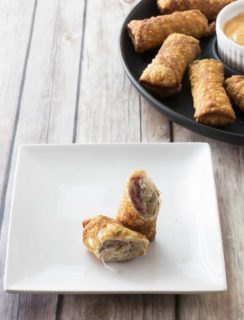 Reuben Egg Rolls with Thousand Island Sauce
Yield: Approx. 30 egg rolls
Prep Time: 15 minutes
Cook Time: 15 minutes
Total Time: 30 minutes
A classic sandwich stuffed into an egg roll! One of my favorite snacks/appetizers. It'll wow your guests every time!
Ingredients:
Egg Rolls
Egg roll wrappers
1 1/2 lb corned beef, coarsely chopped
14.5 oz canned sauerkraut
1 1/2 cups shredded swiss cheese
1/4 cup cool water
1 Tbsp cornstarch
Canola oil
Thousand Island Sauce
1 tsp minced garlic
1/4 tsp salt
1 cup light mayonnaise
1/8 cup Sriracha hot sauce
2 Tbsp ketchup
2 tsp sweet pickle relish
1/2 hard-cooked egg, finely chopped
Freshly cracked pepper
Directions:
Open the can of sauerkraut and rinse over the sink in a colander. Squeeze out all the water you can from the sauerkraut and allow to drain for a couple of minutes.
To make the thousand island sauce, combine all ingredients in the bowl of a food processor or blender. Puree the mixture until evenly combined. You can also whisk together the ingredients in a large bowl if you don't have a food processor or blender. Set aside.
Add the chopped corned beef, drained sauerkraut, and swiss cheese to a large mixing bowl. Mix everything together with your hands (or a wooden spoon if you don't want to get messy) until all ingredients are evenly incorporated. In a separate small bowl, mix together the water and cornstarch and set aside.
To wrap your egg roll, start with a clean, flat surface. Lay the wrapper so one of the corners is facing you (like a diamond). Add one Tbsp of the filling to the corner closest to you. Lift the bottom corner up and begin to roll away from you, making sure you tuck the corner under as you roll. Once you are halfway up the wrapper, fold in the left side and then the right side towards the center. Dip your fingers in the cornstarch and water mixture you made earlier and brush it over the two edges of the final corner. Finish the roll, brush a little more of the cornstarch mixture along the seam, and place seam-side down on a large plate. Make sure you roll the egg rolls VERY tightly. If they are too loose, they will fall apart when you fry them. Once all of your egg rolls are made, it's time to fry them. You can also freeze them at this point and save them to fry at a later time. Store in an airtight container and place a layer of parchment paper between each layer of egg rolls if you have to stack them.
To fry the egg rolls, fill a pot with 2-3 inches of canola oil. Heat the oil to 350 degrees. Gently add the egg rolls to the hot oil, frying no more than 4 at a time, turning occasionally. Fry until the egg rolls are golden brown, approximately 3 to 4 minutes total. Place on a plate lined with paper towels to drain and cool. Sprinkle with kosher salt to finish.
Serve with the thousand island sauce.
Note: if you are frying the egg rolls after freezing, add an additional minute or two to the frying time.