Mexico has been on my mind a lot lately. Lazy afternoons by the pool, frequent naps, room service, and tacos… So many tacos… As many as I could shove in my face in one sitting.
Have you ever been able to eat just one taco? Me neither. Obviously.
For some reason I was really craving shrimp tacos this weekend, perhaps because I miss my Mexico laziness, perhaps because there is no good reason NOT to crave tacos. Ever.
The real reason is I wanted something easy and incredibly tasty to wash away the sense of failure when I totally destroyed my first attempt at French pastry… Julia Child was rolling in her grave. I am so ashamed. That woman who cooked her way through Mastering the Art of French Cooking was a more gifted cook than she lets on in her book… Damn her.
Anyway back to the happy tacos.
The relief I found in these tacos was a freaking revelation. They saved me from throwing French pastry cream all over my kitchen. I think that says it all.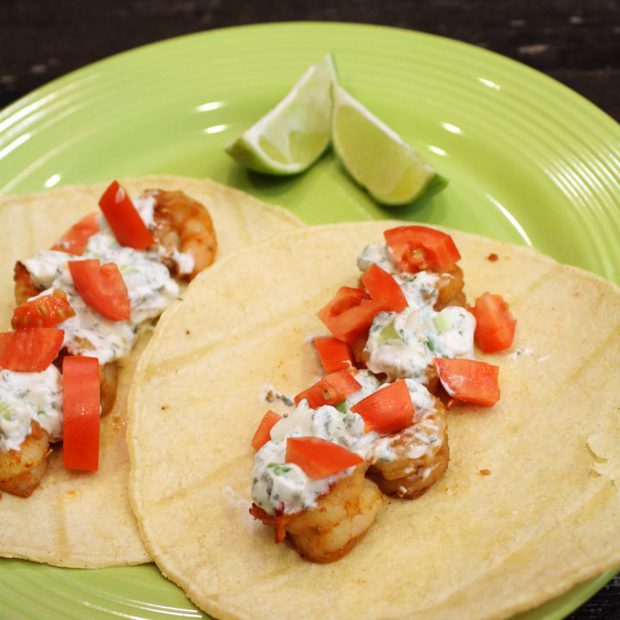 Shrimp Tacos with Lime-Cilantro Crema
Easy, flavorful tacos that will make any weeknight dinner more festive!
Ingredients
Crema
1/4 cup thinly sliced green onions
1/4 cup chopped fresh cilantro
3 Tbsp fat-free mayonnaise
3 Tbsp reduced-fat sour cream
1 tsp grated lime rind
1 1/2 tsp fresh lime juice
1/4 tsp salt
1 garlic clove, minced
Tacos
1 tsp ground cumin
1 tsp ground fennel
1/2 tsp smoked paprika
1/4 tsp ground red pepper
1/8 tsp salt
1/8 tsp garlic powder
24 raw shrimp
Olive oil
8 small corn tortillas
Instructions
Combine the crema ingredients in a small bowl; set aside.
Combine spices for the tacos in a small bowl. Sprinkle over both sides of the shrimp. Heat a small skillet with 1/4 Tbsp olive oil. Cook shrimp over medium heat until pink and cooked through.
Heat tortillas according to directions on package. Divide shrimp evenly among tortillas; top each with crema, tomato, and a sprinkle of lime juice.