Please note this post contains affiliate links.
Spicy Infused Mezcal is the ultimate smoky, fiery combination for your bar cart. The kick of fresh jalapeño peppers and serrano peppers give all your cocktails a twist that is totally unforgettable. Try it in your favorite margarita, paloma, and any other classic cocktail you can think of. Makes 1 1/2 cups.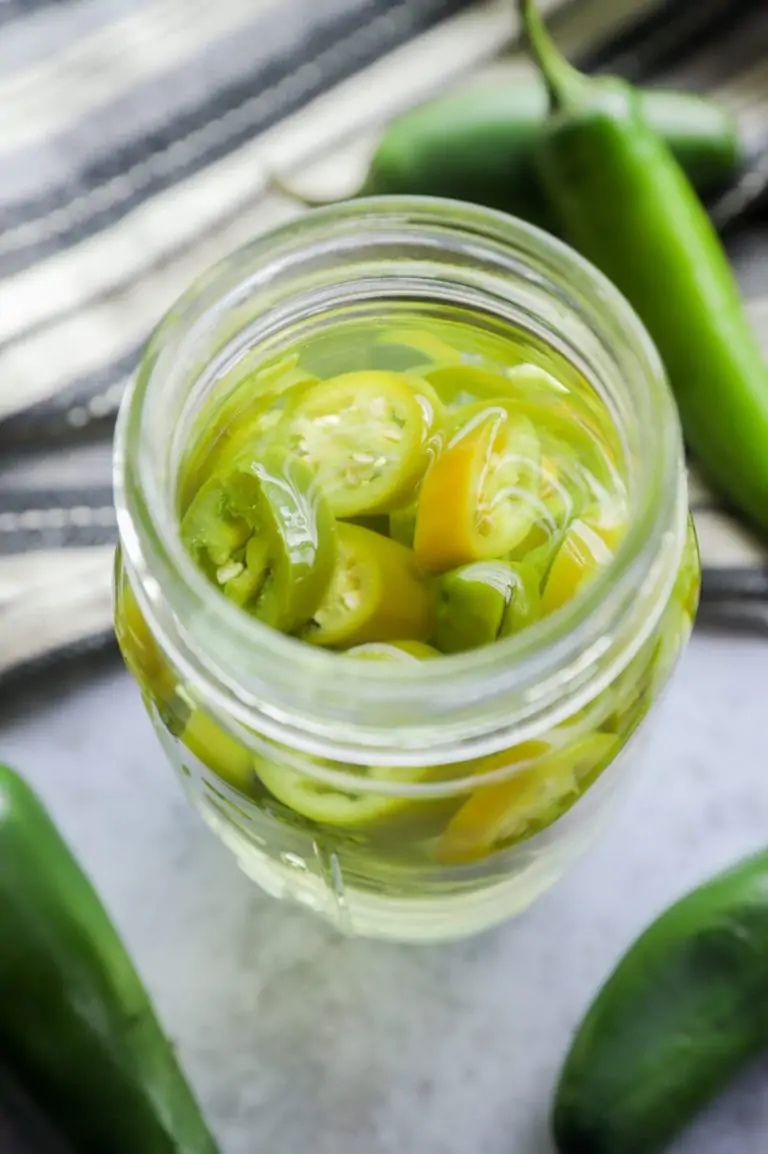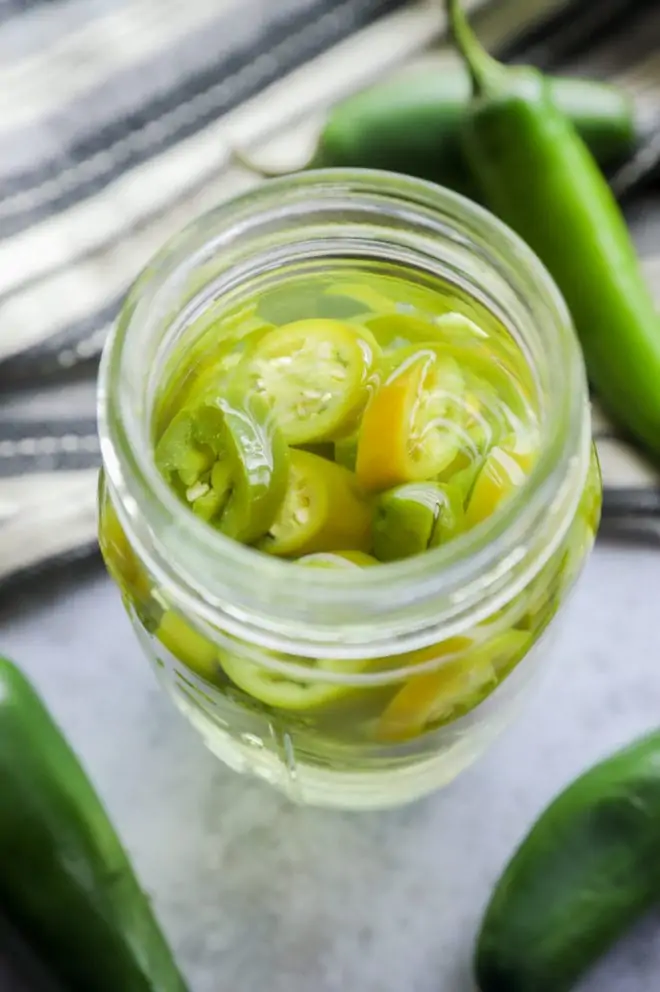 about this spicy infused mezcal
I personally love to infuse booze because it's an easy way to amp up your favorite liquor! There are so many options, from fruity to spicy to nutty.
The first time I tried infused liquor was at this quirky bar a handful of years back. They had GIANT jugs of liquor infusing all over their shelves. There were so many crazy combinations, and all of them you could try straight or in any of their classic cocktails.
I even remember them having Star Wars playing on the TVs as I sat nervously waiting for a first date (that went terribly, by the way lol).
Anyway, the big jugs of infusions still linger in my memory as goals for a true home bar. When I figured out how to make them at home, it has become a staple on our bar cart ever since. It's a great way to incorporate seasonal flavors throughout the year too!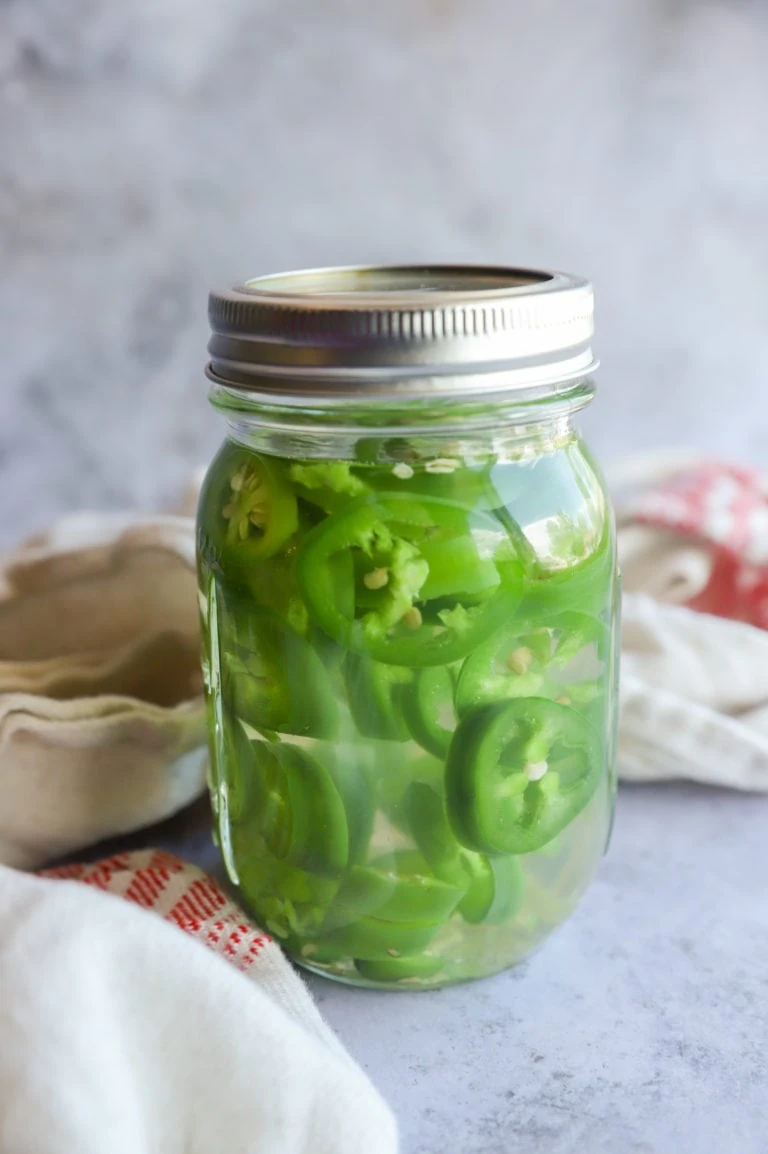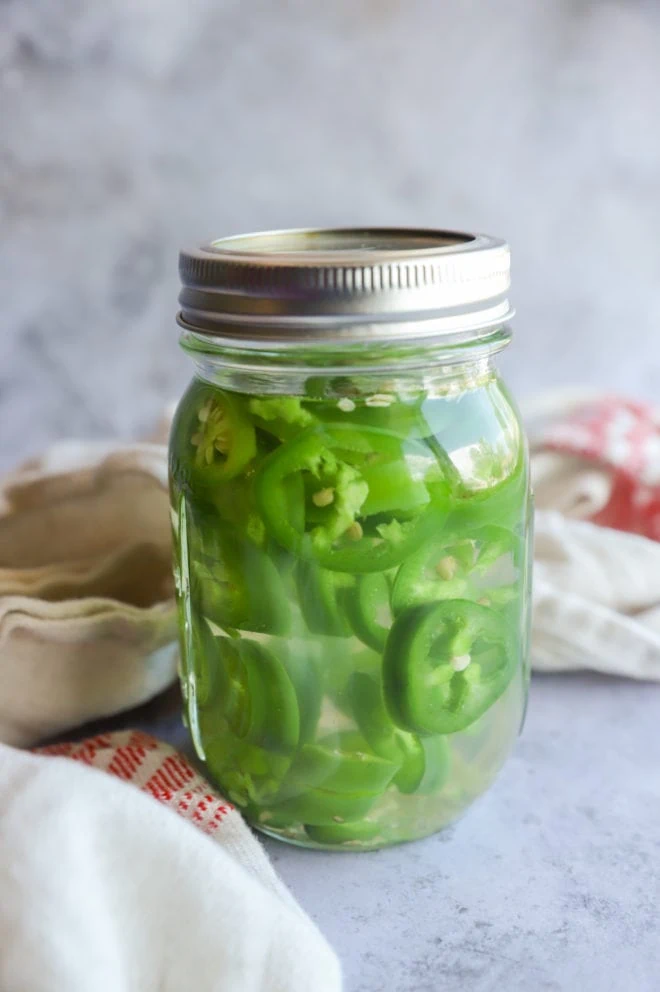 so… what is a mezcal infusion?
A mezcal infusion is when you add flavor to your mezcal (a liquor made from agave). You can go fruity, spicy, or nutty with your flavor profile! Here, I go for spicy because the fresh peppers are a natural pairing for the smoky flavors in the booze.
ingredients
jalapeño pepper – I personally like to use two but you can also use three if you prefer! I don't remove the seeds because they help bring the heat. Simply wash and slice them up.
serrano pepper – I use two for this recipe, but feel free to use one or three depending on your heat preference. Again, no need to remove the seeds. Just wash and slice.
mezcal – Use a mid-range price point option like Montelobos Espadin on the lower end and Mezcal Vago Elote on the higher end of the range. For something really nice that's sippable straight up, try Del Maguey Tobala.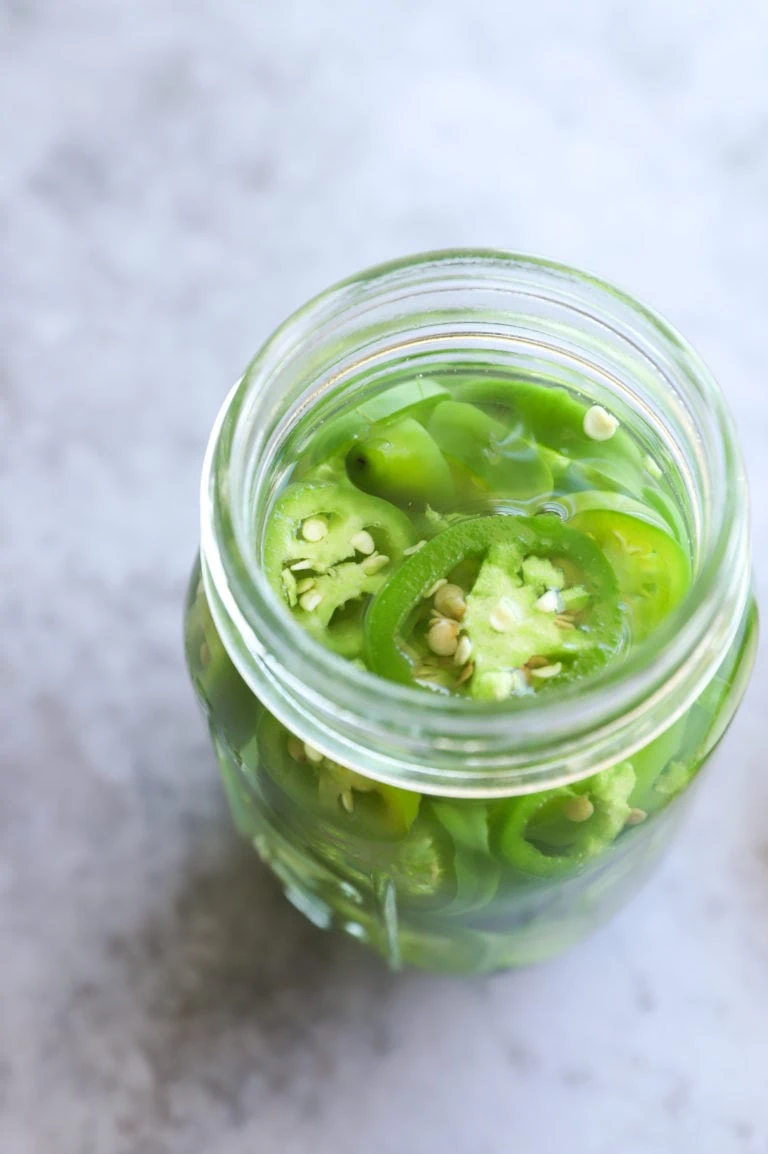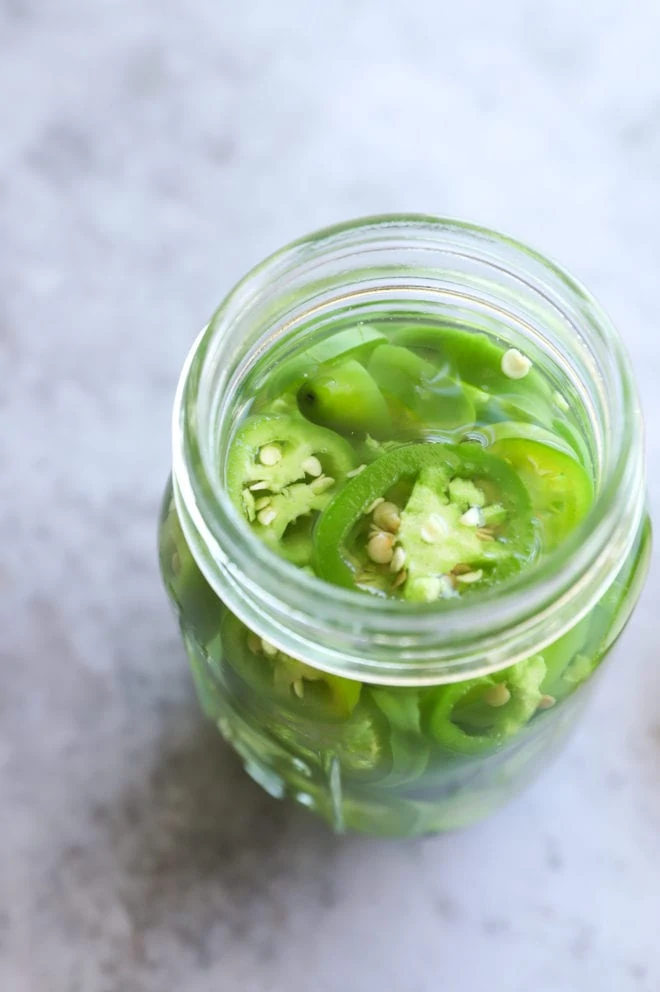 this recipe's must haves
Slice the peppers with a chef's knife and a cutting board.
For this recipe, I like to just use a mason jar to infuse the mezcal.
Finally, you'll need a fine mesh strainer to strain the mixture. I like to use fine mesh because the seeds won't get through to the liquid when you strain out the peppers!
here's how to make spicy infused mezcal
slice
Slice up all the peppers. If you like your booze extra spicy, I recommend using the higher end of the range you see noted in the recipe. For a little less spicy (but still spicy!), use the lower end of the range recommended in the recipe.
infuse
Combine the sliced peppers and mezcal in an airtight container like a mason jar. Infuse overnight and then taste. I recommend tasting every 12 hours because this mezcal gets spicy fast. Continue to infuse and check the flavor until you are happy with it!
strain
Strain out the peppers and store the infused mezcal in an airtight container (I just use the same mason jar, rinsing out any seeds that might have gotten stuck on the bottom). Store in a cool place!
Pro Tip! Experiment with different peppers for different flavors! You can swap out either the jalapeño or serrano for habanero, poblano, or any other spicy pepper you like. It's a fun way to make this infusion your own!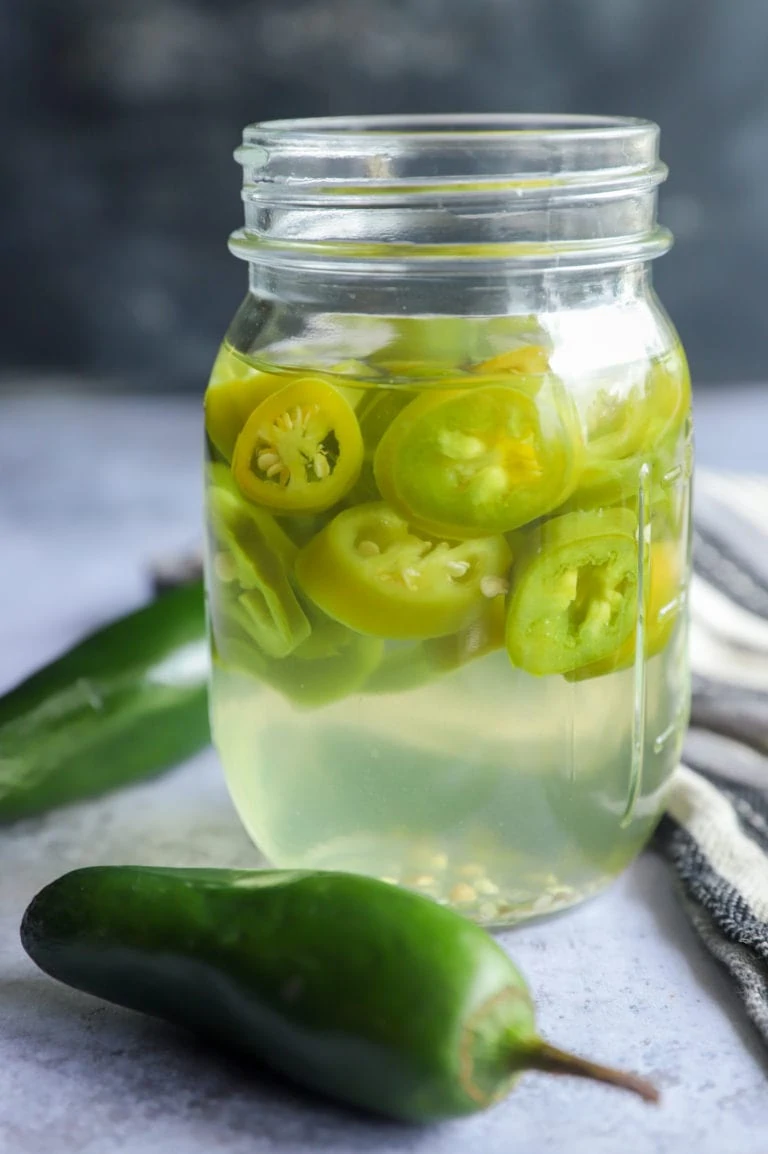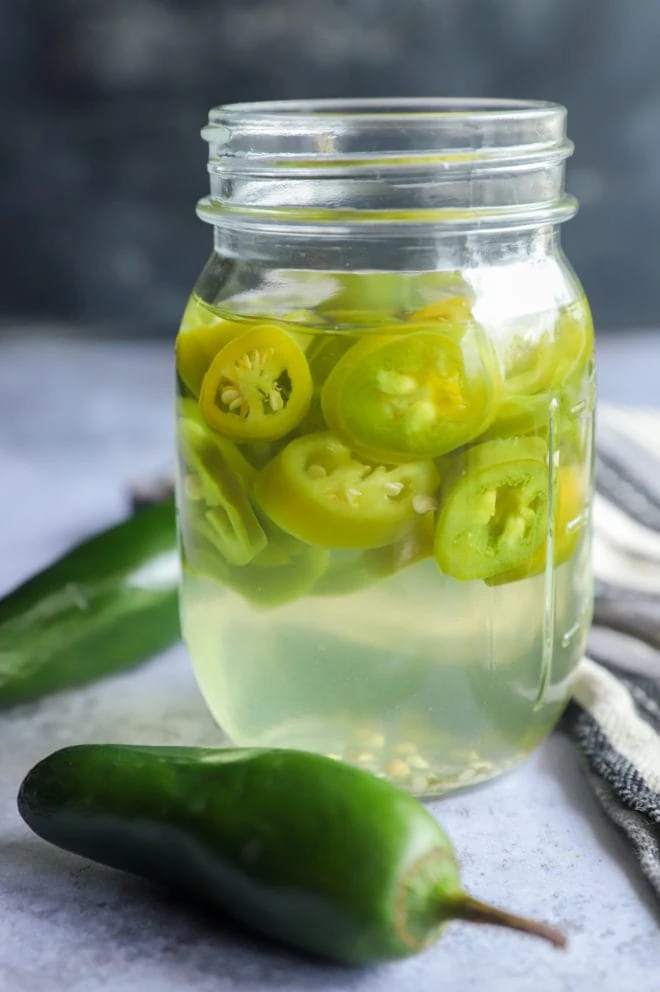 tips for success
check it often. Peppers are STRONG and they can impart their spicy flavor very quickly. I recommend checking the flavor every 12 hours to make sure you strain it out at the right time.
use fresh ingredients. Use all fresh ingredients! This is the best way to get the most flavor into your mezcal versus canned jalapeños or serranos.
More tasty mezcal cocktails to sip on: Mezcal Paloma Punch | Clementine Mezcal Margarita | Smoky Mezcal Cider Cocktail | Spicy Mezcal Mule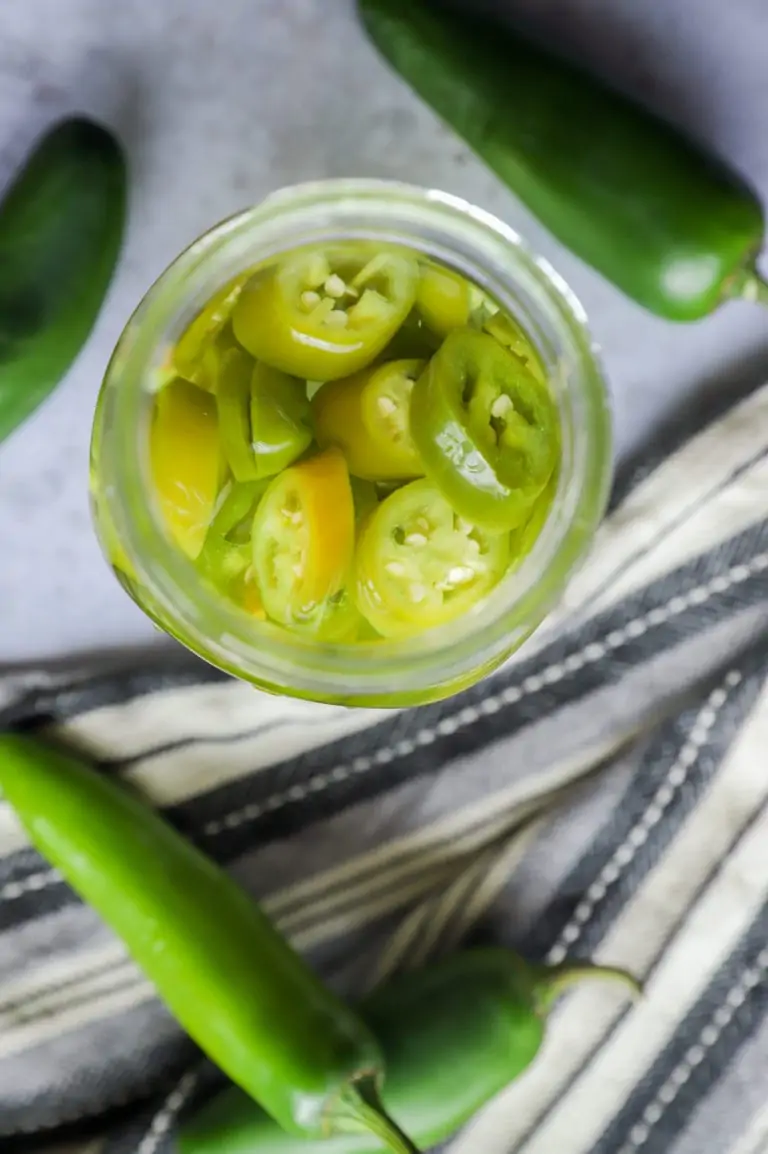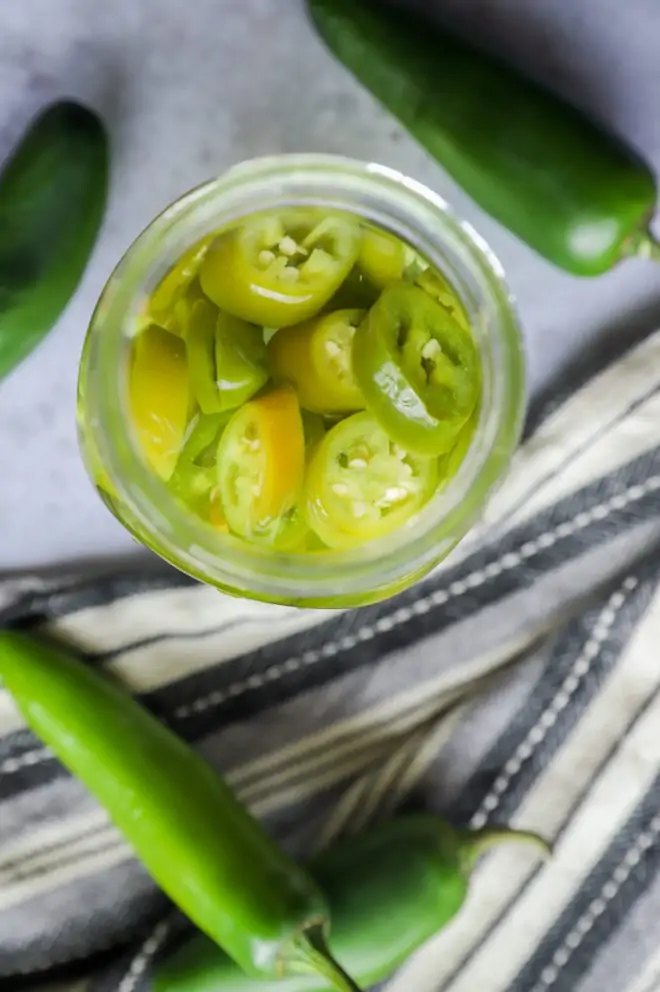 can I use tequila instead of mezcal?
Definitely! I personally like the smoky flavor of the mezcal with the spicy kick of the peppers, but tequila is a lovely pairing as well. You can also opt to use vodka if you prefer!
can I use other peppers?
Yes! You can swap out the jalapeño or serrano peppers for any other peppers you like. Habanero, poblano, hatch green chiles, and more are so fun to try!
how can I use this spicy infused mezcal?
I find mezcal to be super versatile. Not only can you use it in place of tequila in your palomas or margaritas, you can also use it in place of some classic cocktails. I love it in this spicy mezcal old fashioned!
Here are some more of my favorite classics to try this spicy infused mezcal in:
Old Fashioned
Moscow Mule
Negroni
Mojito
Mint Julep
Need some more inspiration for cocktail hour? Check out my booze recipes page!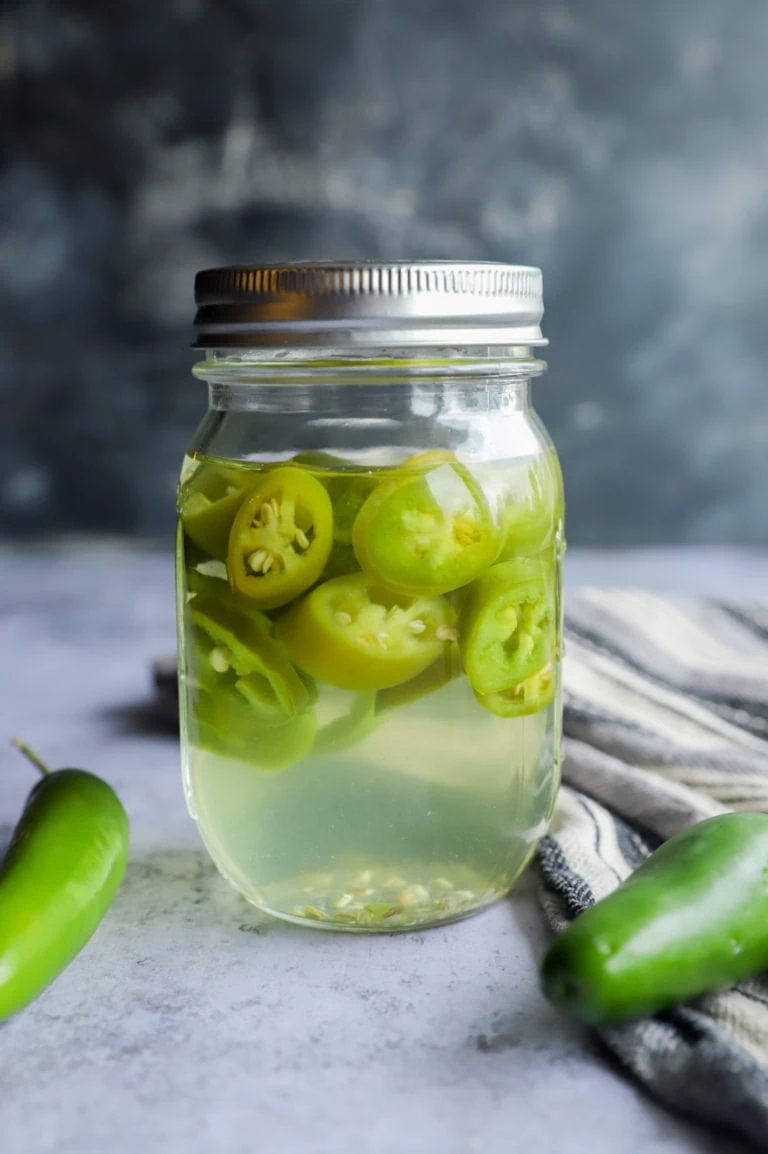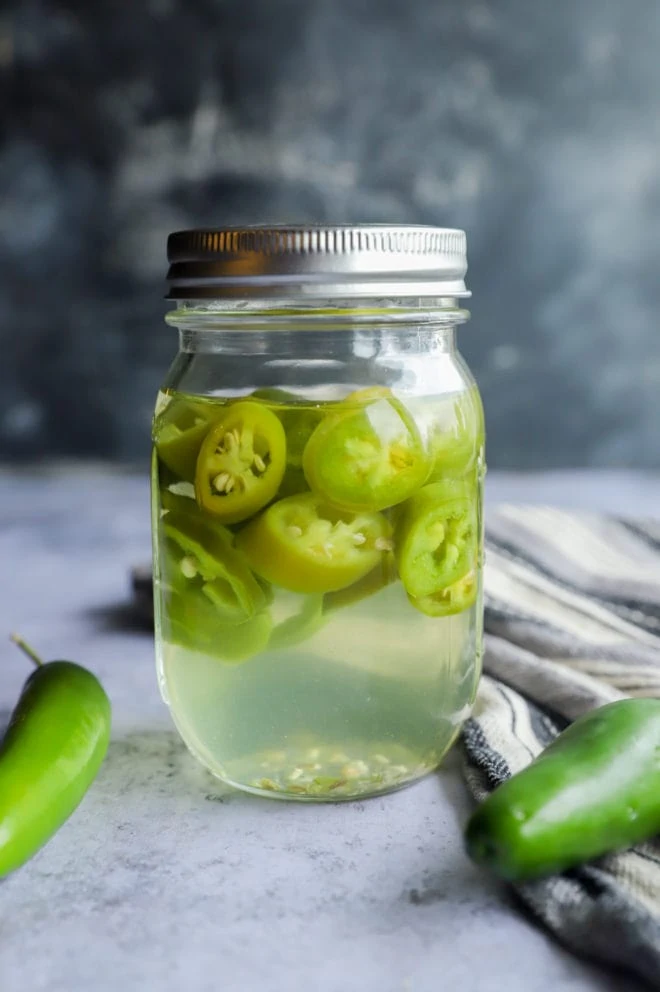 what to serve with spicy infused mezcal?
I mentioned cocktails above, but you can also sip on this infused mezcal if you use a mezcal that you enjoy to drink straight up. If you are planning to drink it straight, or to make it in a cocktail, here's some of my favorite food recipes to enjoy with it:
For a group of people, I like to serve up some easy appetizers like chunky salsa that can be made ahead of time, or avocado bruschetta that's perfect for cooling off the heat in the drinks.
When pairing this mezcal with dinner, creamy and crunchy fried avocado tacos are soooo good with a spicy cocktail. If you'd like a meaty option, grilled blackberry steak tacos are fun and vibrant with a fruity twist!
how to store
To infuse the mezcal, you'll need to store it in a cool, dark place for about 24 hours. This is how long I let mine go without getting TOO spicy. I recommend checking it every 12 hours until you get the flavor you like best. You can infuse it up to 5 days if you choose.
Once you strain the mixture, store it in a cool place for up to 1 year!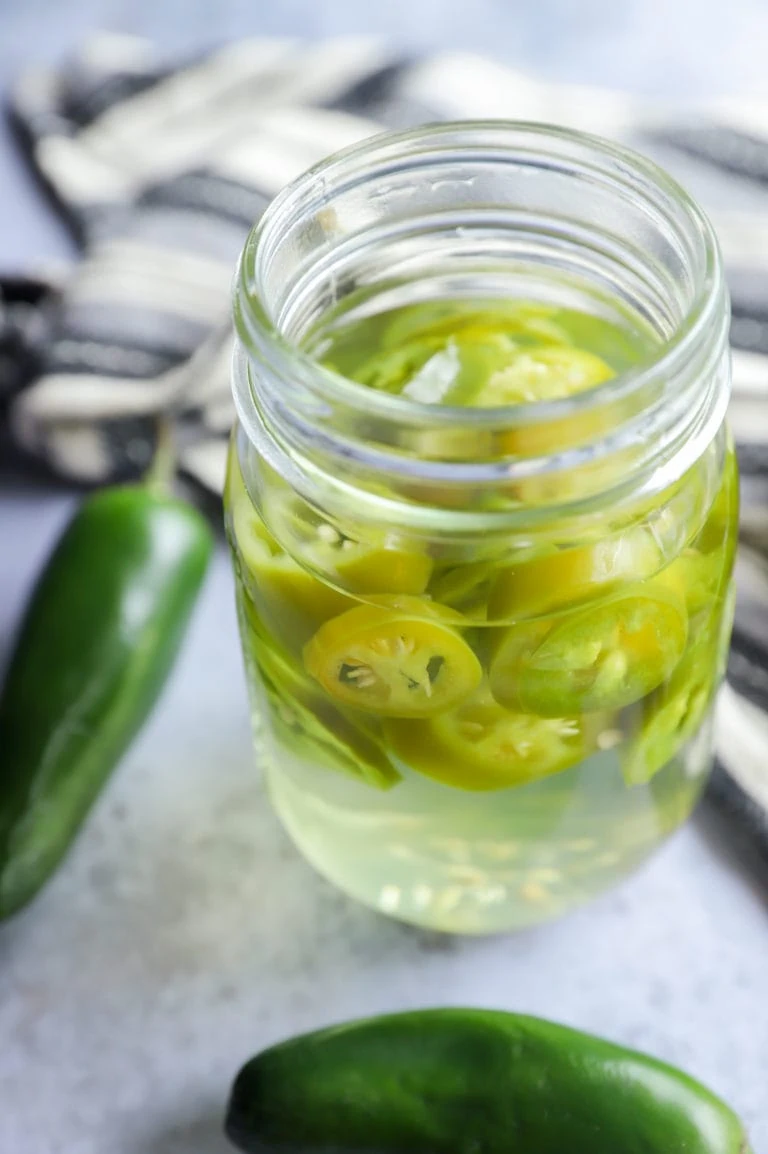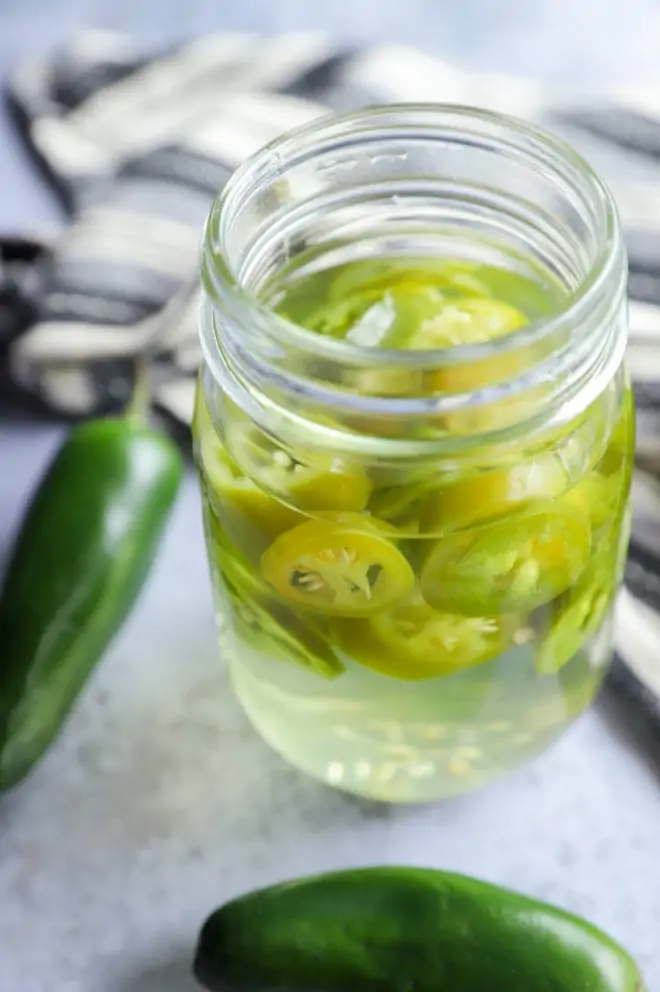 Spicy Infused Mezcal
Additional Time:
12 hours
Total Time:
12 hours
5 minutes
Fresh peppers give smoky mezcal a spicy kick!
Ingredients
2-3 jalapeño Peppers
2-3 serrano Peppers
1 1/2 cups mezcal
Instructions
Slice peppers into thin slices and add to an airtight container.
Pour in mezcal and seal. Shake and set aside in a cool, dark place.
Infuse overnight and taste. Continue to infuse, as desired, checking the taste every 12 hours or so.
When you like the flavor, strain out the pepper slices and seeds. Add infused mezcal to an airtight container and store for up to 1 year.
Recommended Products
As an Amazon Associate and member of other affiliate programs, I earn from qualifying purchases.