Please note this post contains affiliate links.
Easy Chocolate Covered Strawberry Mascarpone Stuffed French Toast is sweet, tart, and downright sultry. The stuffed French toast makes you feel like you are eating a chocolate covered strawberry… but for breakfast! Ideal for Mother's Day or a patio brunch party.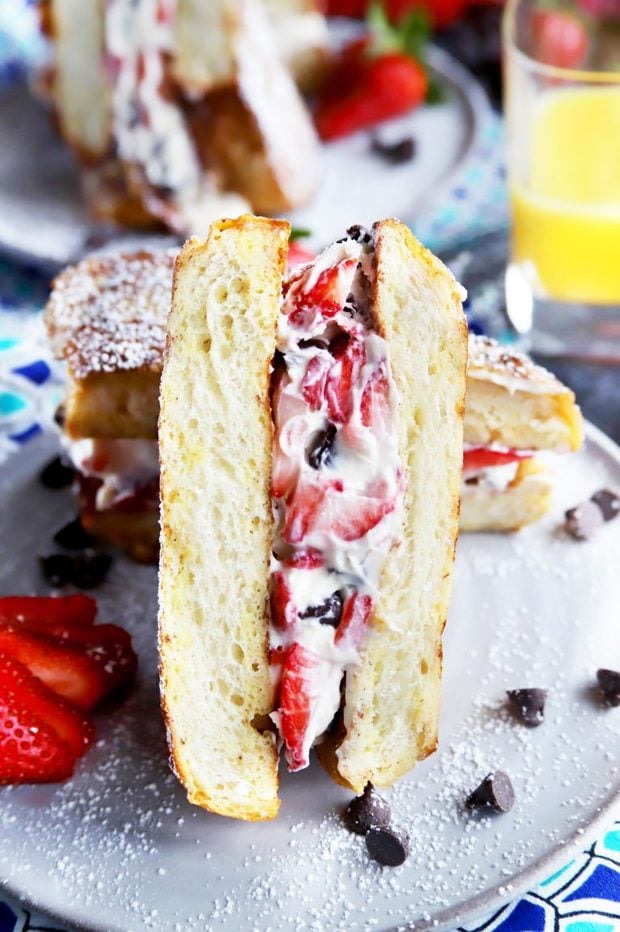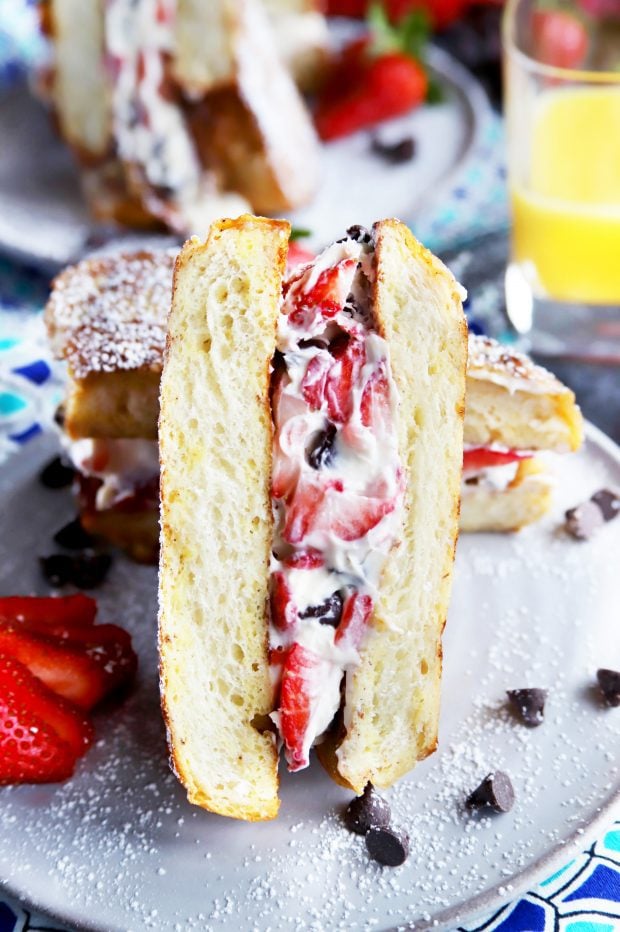 Disclosure: This post has been sponsored by Sprouts! As always, all opinions are my own. Thanks for supporting the brands that support Cake 'n Knife!
I LOVE chocolate covered strawberries. To me, there's nothing more decadent than a perfectly ripe strawberry covered in your favorite kind of chocolate (or multiple types of chocolate!).
I could eat them all day long… well except for breakfast, I should say.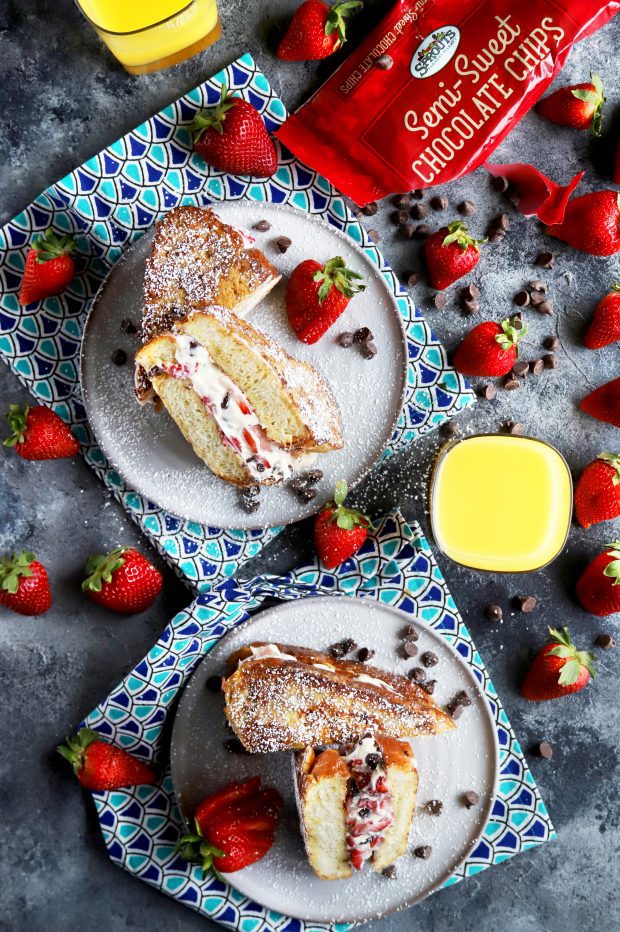 Eating chocolate covered strawberries for breakfast isn't exactly my idea of something super satisfying, but that doesn't mean we can't incorporate those flavors into something luscious, am I right?
That's why I put all that chocolate and strawberry goodness into a filling of creamy mascarpone, then stuffed it in between two slices of freshly cooked French toast.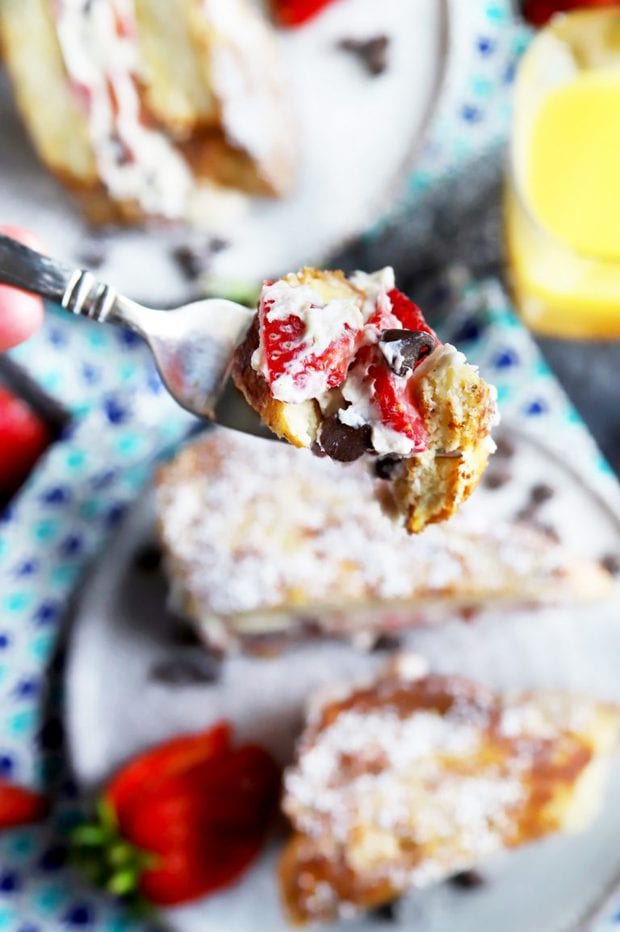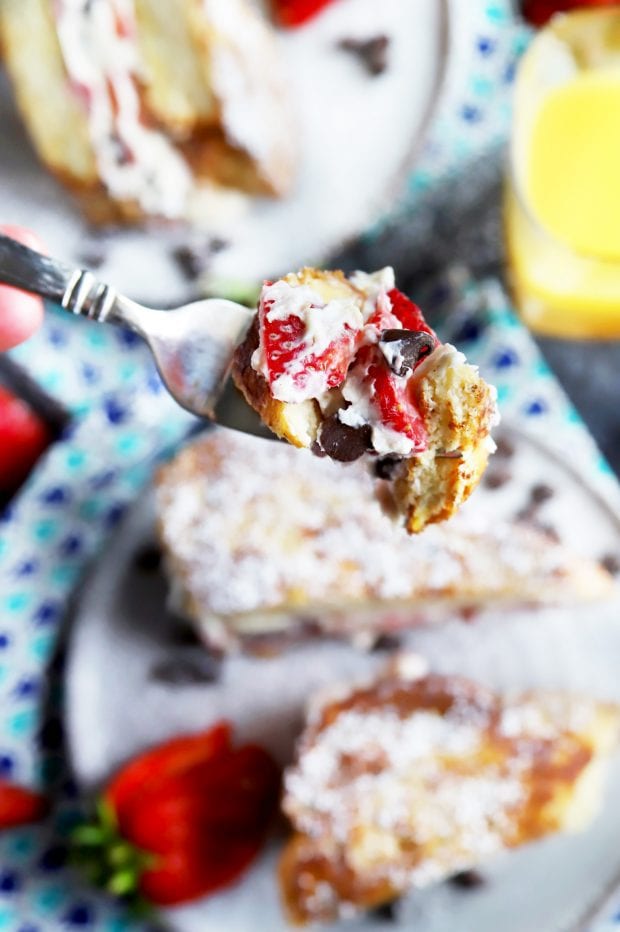 Please note that some of the links below are affiliate links. If purchases are made via these links, I will receive a small commission.
Now that organic strawberries are back in season at Sprouts Farmers market, I can find no better reason than Mother's Day to stock up on them! If you haven't gobbled up these little red ruby jewels from Sprouts yet, you don't know what you are missing.
These berries are always ripe and fresh, with the most incredibly sweet and tart flavor. They are ideal for this recipe, obviously, but they also make for a great breakfast treat for any old day. I particularly love to chow down on them in the afternoon to get me through the final hours of the workday.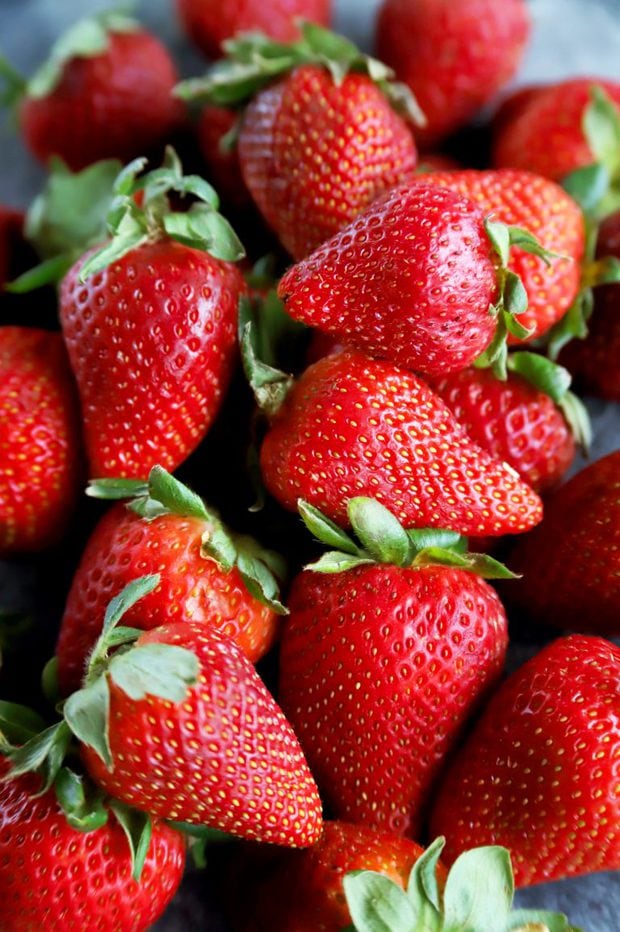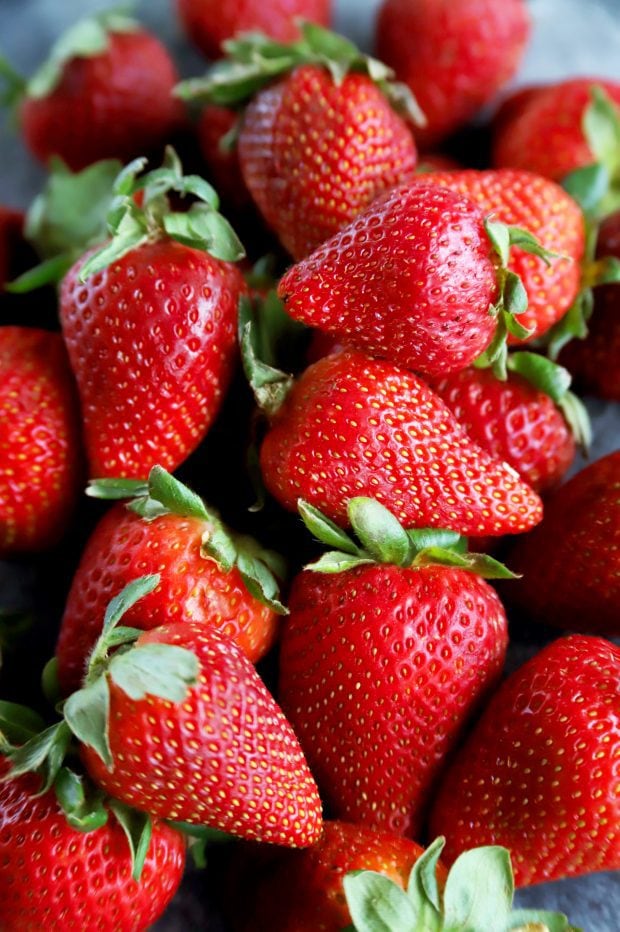 But let's get back to this recipe, shall we?
For my family, Mother's Day is all about brunch, and it's a tradition we've had ever since I was a little girl. That's why I'll always whip up something special for my loving and incredible mom for Mother's Day that'll leave her jaw on the floor.
This recipe's must-haves
Be sure to grab your organic strawberries from Sprouts Farmers Market! They are the most luscious and ripe strawberries, plus every single one looks like a beautiful ruby-colored jewel.
You can use any skillet you prefer to make the French toast, but just like my grandmother, my heart will always guide me to a cast iron skillet.
Why use tongs when you can use these fun clongs that'll keep your counters clean?
You'll definitely need a pro set of stainless steel mixing bowls so you can macerate the strawberries and make the creamy, dreamy filling.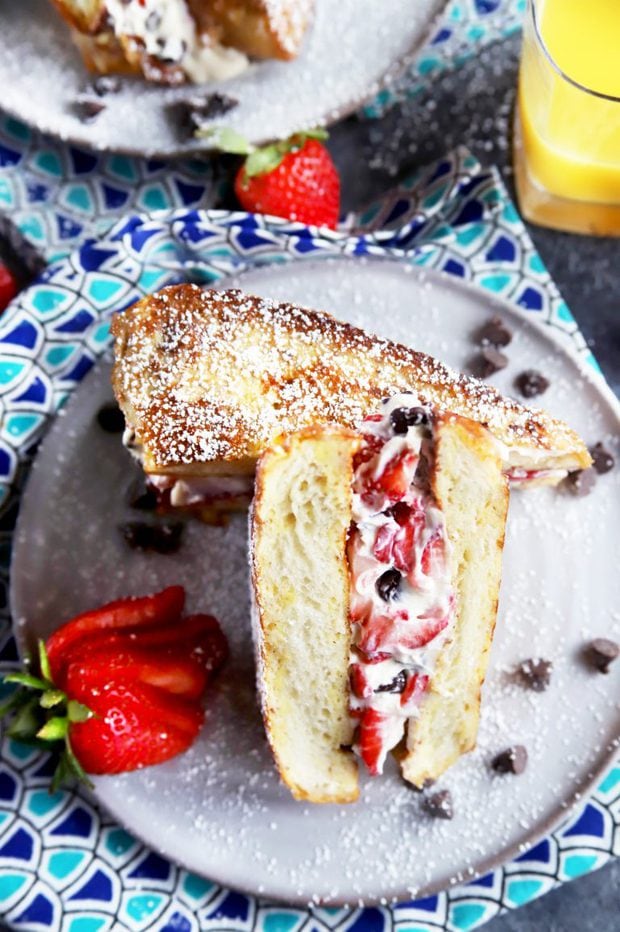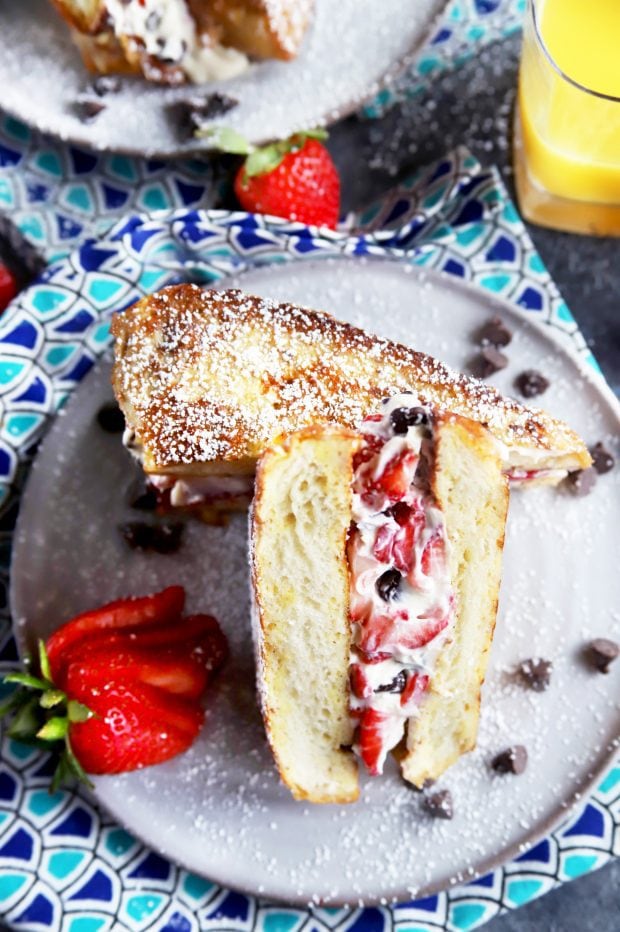 How to make this recipe
Macerate Strawberries
First, add the sliced strawberries and sugar to a bowl so the strawberries can macerate.
This will get them nice and tender, as well as bring out the sweetness of the fruit.
Batter and Cook The Challah
Make the batter to dip the slices of challah in, then cook them up in the skillet.
Cook until the challah is browned on both sides. Remove from heat and be sure to keep warm while you…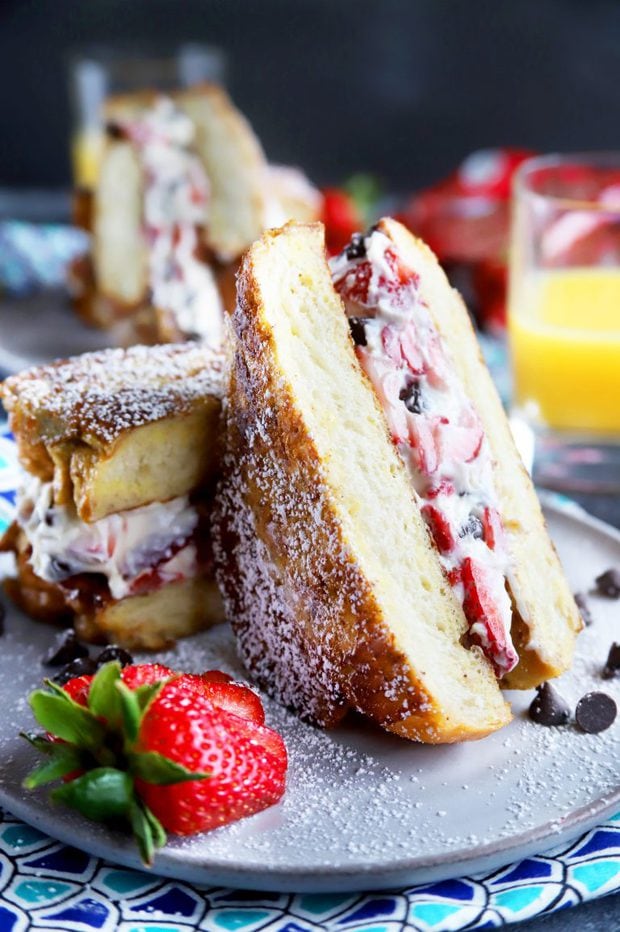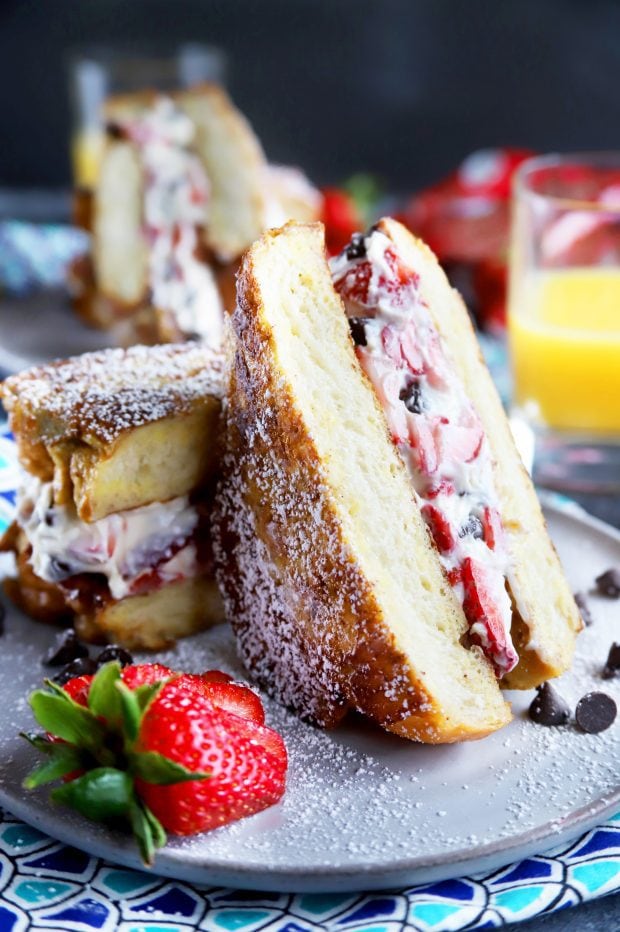 Make The Filling
After draining the strawberries, mix them up with mascarpone cheese and chocolate chips.
Stuff And Serve
Stuff ample amounts of that filling in between two slices of French toast, then serve with powdered sugar and maple syrup!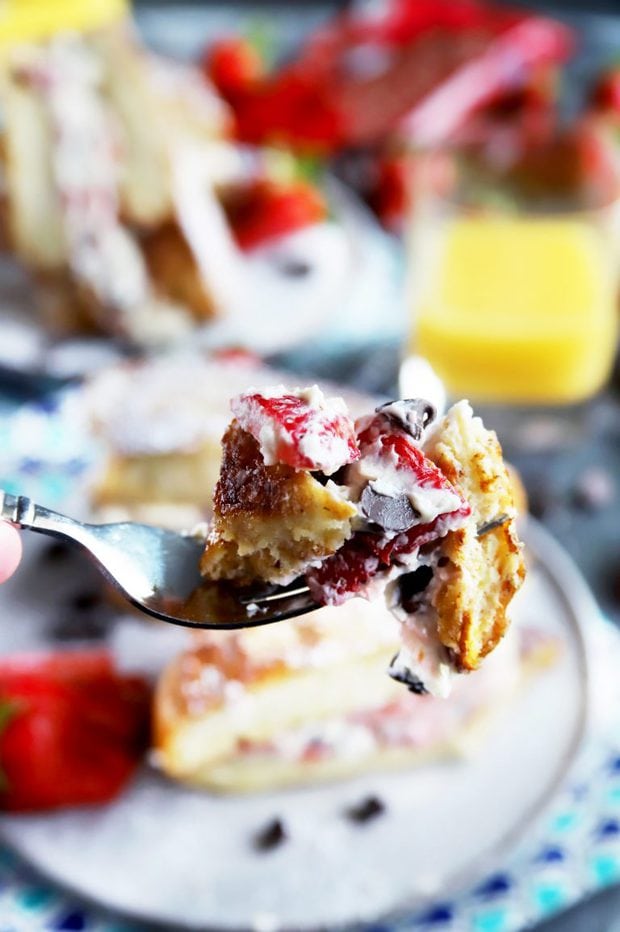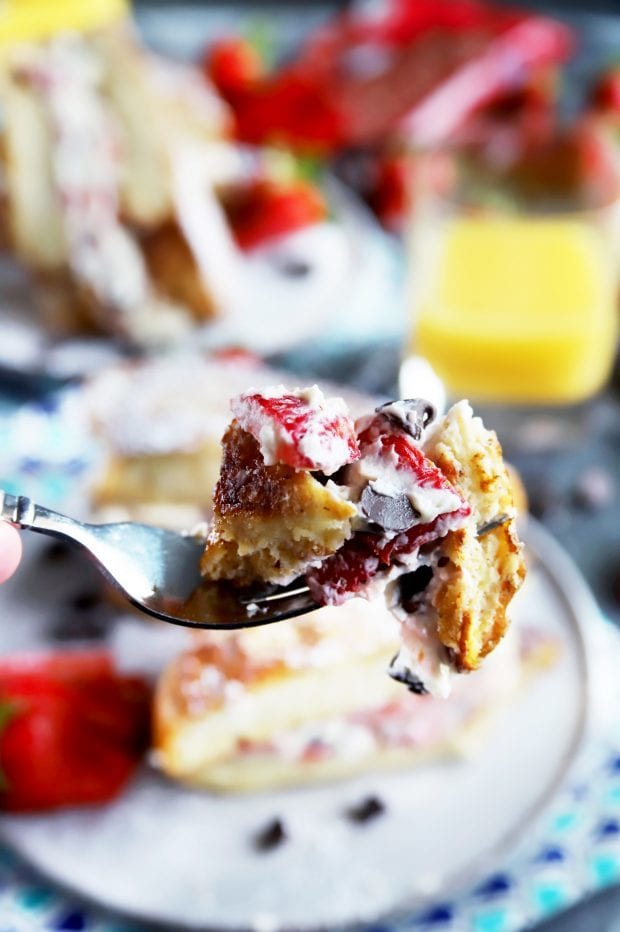 Can I Macerate The Strawberries Ahead of Time?
Yes you can certainly macerate the strawberries ahead of time! You can add them to a bowl with the sugar and let sit, covered, in the refrigerator for up to 2 days. Don't let them sit longer or they'll start to go bad!
Can I Make The Filling Ahead Of Time?
You can also make the filling up to one full day ahead of time. Just remember to drain out the liquid from the strawberries once they are done macerating!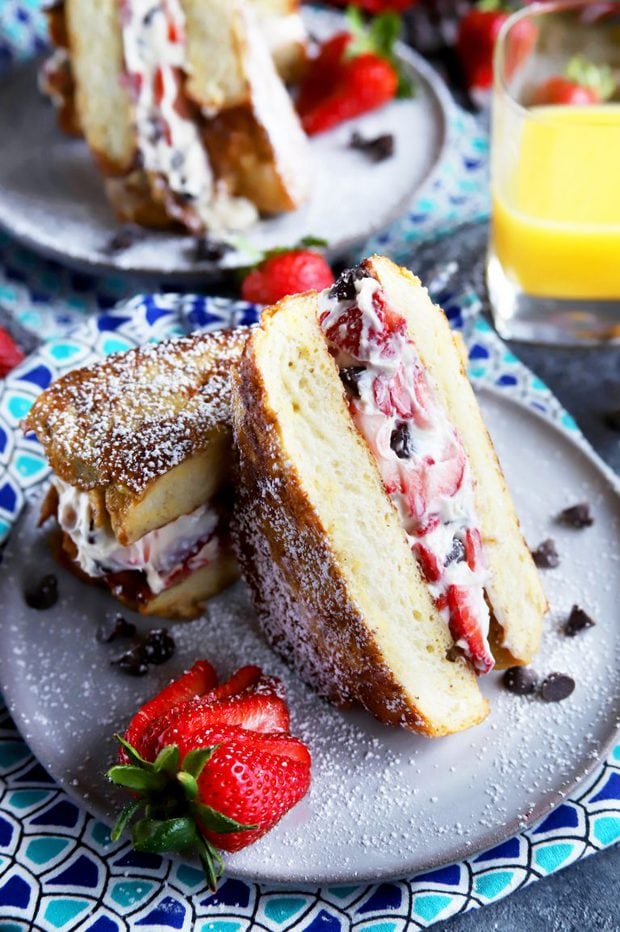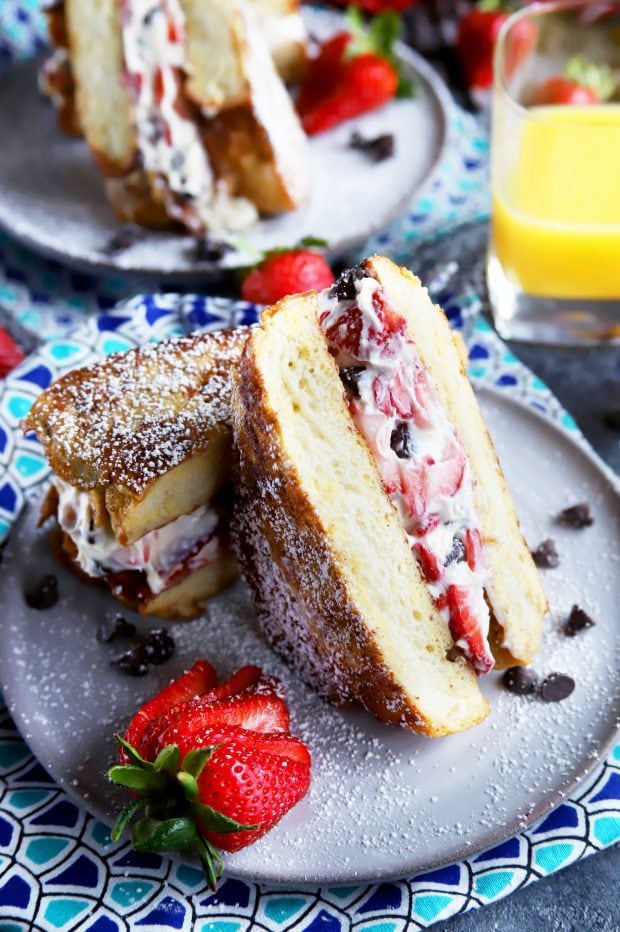 Quick Tips
If you don't like semi-sweet chocolate chips, you can use dark chocolate, or even white chocolate!
To make this French toast extra gorgeous, be sure to have powdered sugar and maple syrup ready to serve.
This is a great recipe to make with the kiddos and surprise mama with in bed! Be sure to make coffee or even treat mom to a mimosa (or three).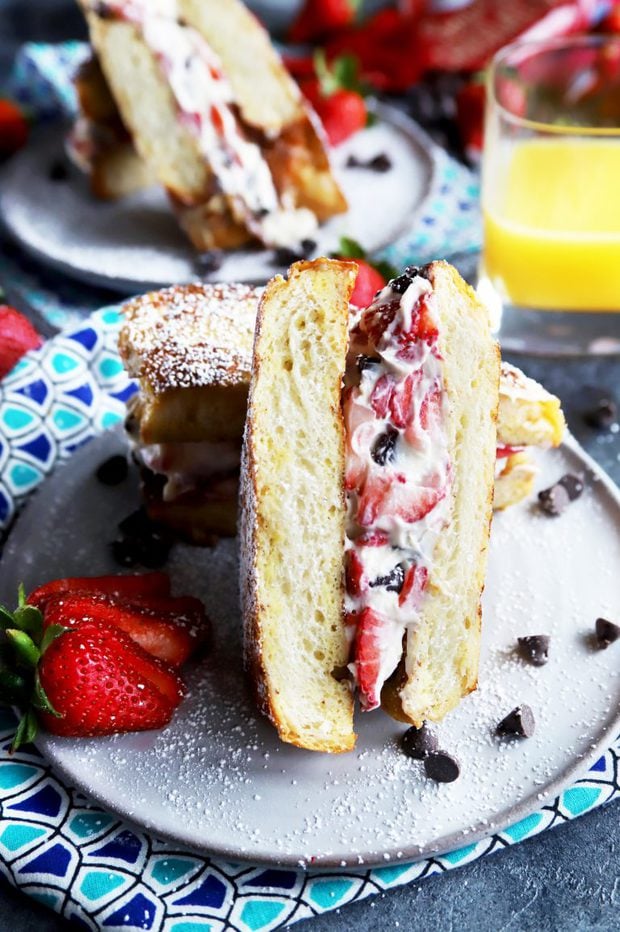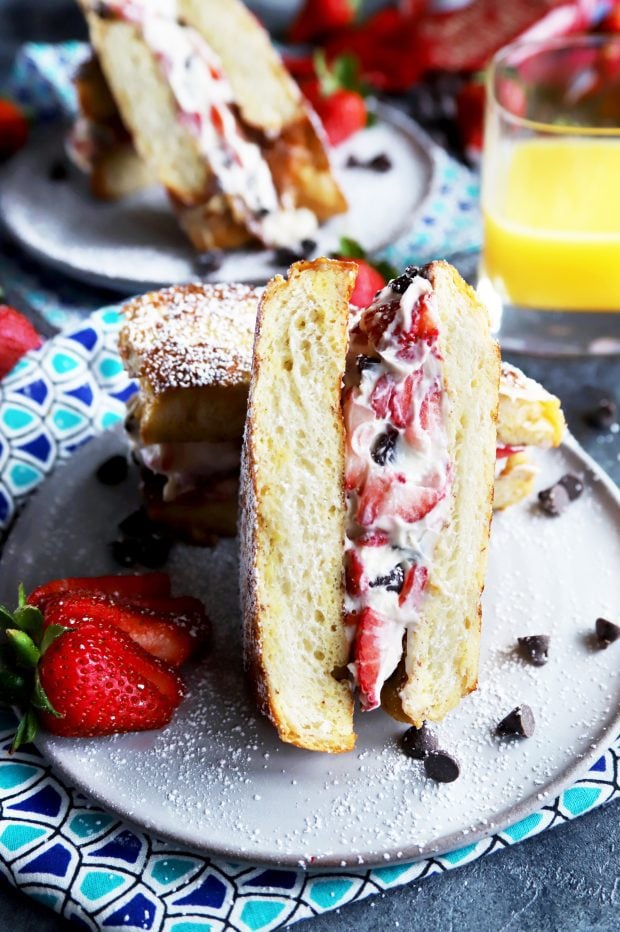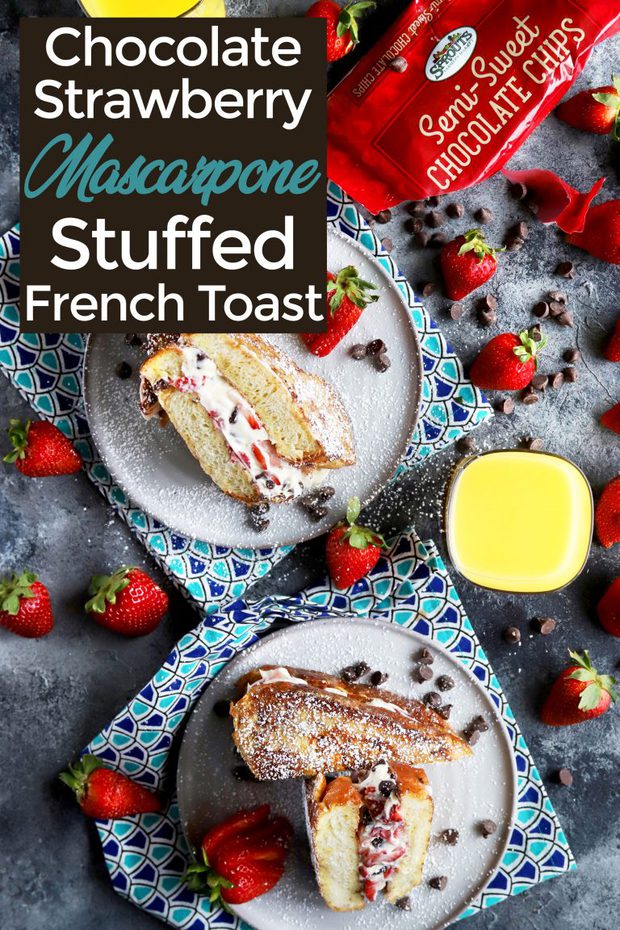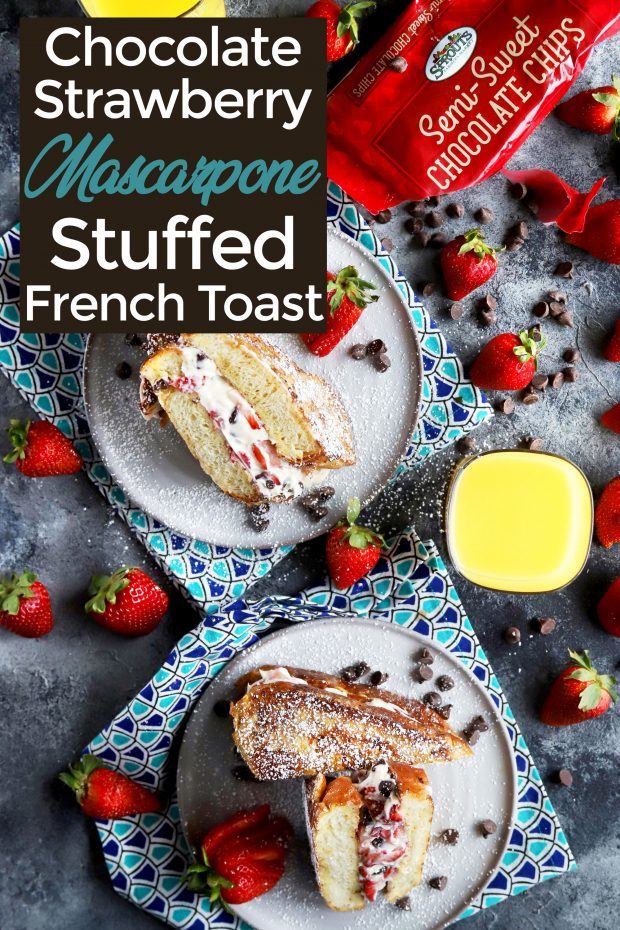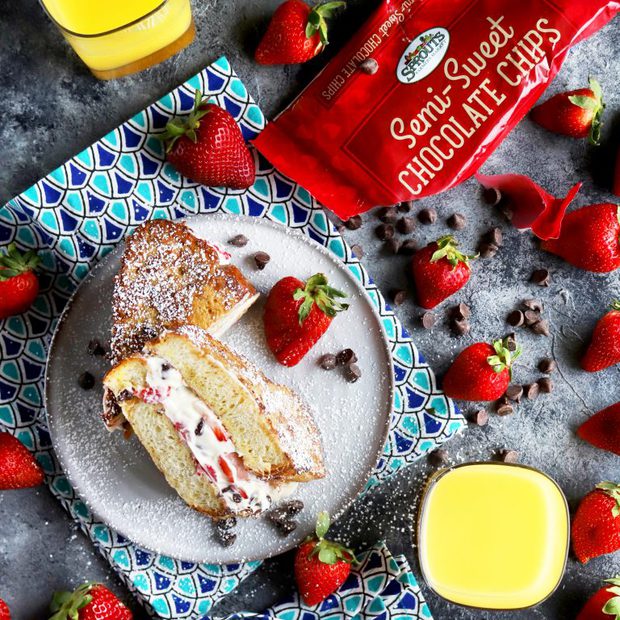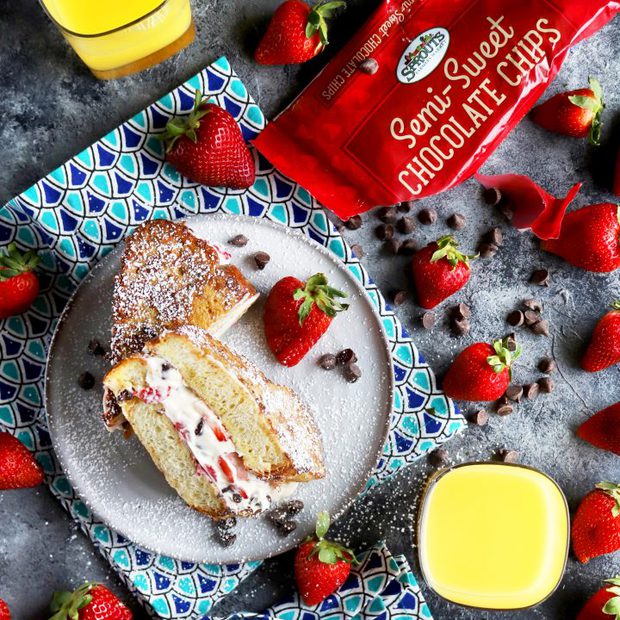 Chocolate Covered Strawberry Mascarpone Stuffed French Toast
Total Time:
1 hour
35 minutes
Sweet and tart, this sultry stuffed French toast is full of spring flavor as well as rich chocolate. It's like eating a chocolate covered strawberry for breakfast!
Ingredients
For the Filling
2 cups Sprouts strawberries, tops removed and sliced
1/8 cup Sprouts granulated sugar
1 8-oz container mascarpone cheese
1/8 cup Sprouts powdered sugar
1/2 cup Sprouts semi-sweet chocolate chips
For the French Toast
4 large eggs
1/2 tsp Sprouts cinnamon
1/2 tsp fresh lemon zest
1/8 cup buttermilk
1/2 tsp vanilla extract
8 slices Sprouts Challah bread
4 Tbsp Sprouts unsalted butter
Powdered sugar, for dusting
Extra semi-sweet chocolate chips
Instructions
Combine the strawberries with the granulated sugar in a medium bowl and stir to combine. Place in the refrigerator to chill for at least 1 hour, or overnight to allow them to macerate.

Beat the eggs well in a shallow, large baking dish. Add lemon zest, cinnamon, buttermilk, and vanilla. Beat to combine.

Coat the surface of a large frying pan and add 1 tablespoon butter. Place over medium heat and allow butter to melt, tilting the pan to coat.

Soak two slices of bread in the egg mixture, flipping once, until drenched, about 1 to 2 minutes per side. Transfer to the hot pan.

Cook until browned on one side, about 2-3 minute per side. Using a spatula, flip bread over and repeat with the other side. Add 1 Tbsp butter to the pan between each set of slices and repeat the process of soaking the bread and cooking it. Continue with the remaining bread until finished.

In a medium bowl, combine mascarpone cheese, powdered sugar, and chocolate chips stirring until well combined. Drain the chilled strawberries of any liquid and add to the bowl. Mix gently to incorporate.

Spread 1/2 cup of the strawberry filling between two slices of cooked French toast. Repeat with remaining filling and French toast slices.

Dust with powdered sugar, and serve.
Recommended Products
As an Amazon Associate and member of other affiliate programs, I earn from qualifying purchases.