Roasted Plum French Toast with Whipped Ricotta is a gorgeous, fresh dish that is perfect for any special breakfast or brunch you have coming up. The roasted fruit flavor and the whipped ricotta give this French toast a light, airy, tart and slightly sweet flavor you'll LOVE.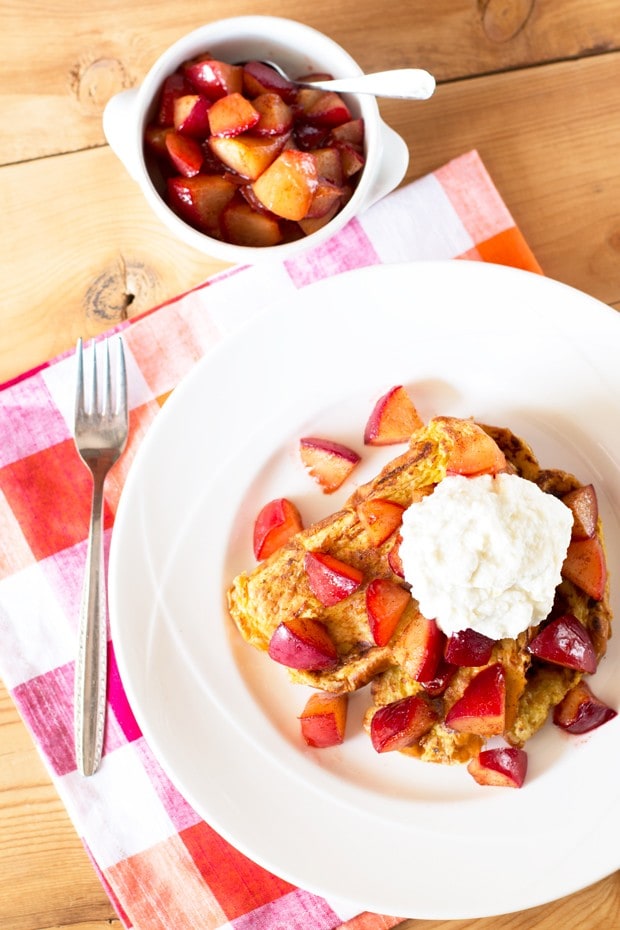 I am not a breakfast person. I am a brunch person.
I believe in late morning eating, recounting last night's epic adventures (and failures) and bottomless mimosas.
It's almost comical how much I hate eating too early in the morning. If you attempted to feed me the same breakfast dish at 8am and 11am, I guarantee you I'll reject the 8am serving and gobble up every last bite at 11am.
Let's just call this one of my charming quirks, shall we?
When I was in London last year, there was this breakfast place in Notting Hill that served French toast with whipped ricotta. It was the first time I'd had whipped ricotta with French toast and it completely blew away any other French toast I'd ever tasted. EVER.
That creamy, lightly sweetened ricotta had me floating on cloud nine…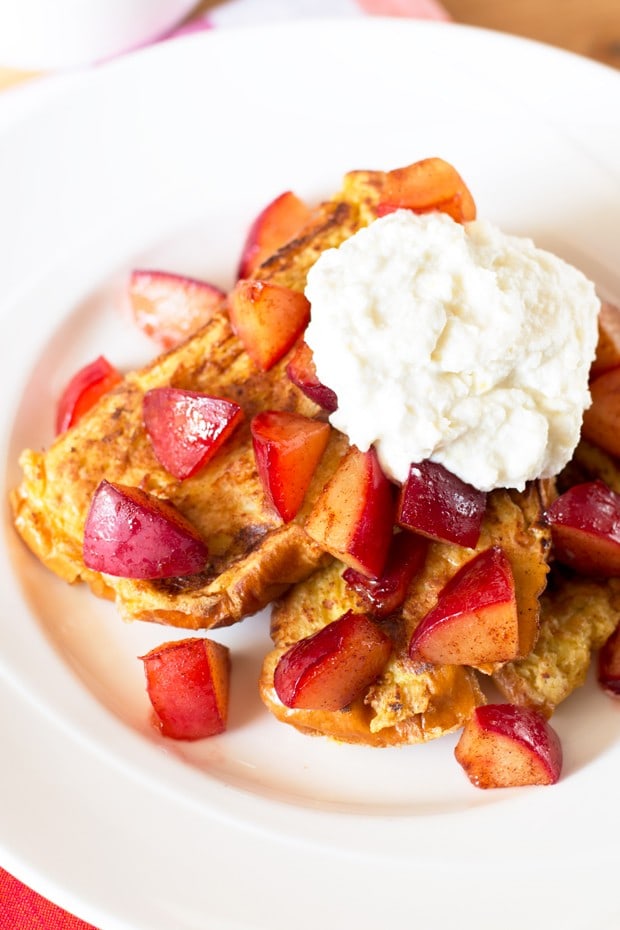 The memory of this French toast popped into my head while I was wading through endless pictures last week and it's the only thing I've been craving since.
This roasted plum French toast with whipped ricotta is one of the best breakfast/brunch dishes I've ever made. Seriously.
I had to literally talk myself out of taking a bite between every single shot I took.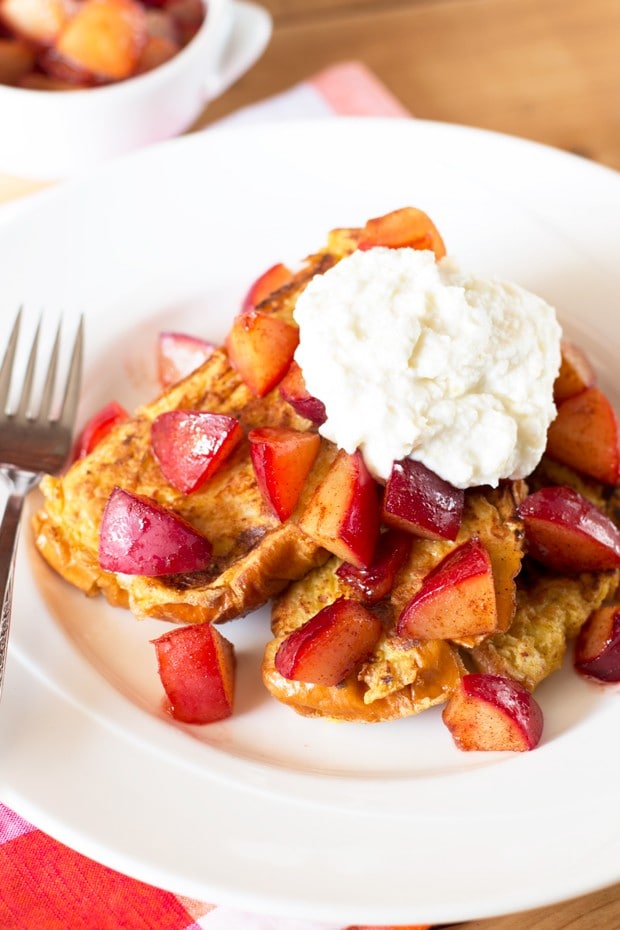 The sweet and tart roasted plums have just a touch of cinnamon and vanilla extract to really bring out their natural flavors.
This plus a rich challah French toast and a cloud of heavenly perfection (aka whipped ricotta with a touch of lemon)…
GAH. There are no words…
This Recipe's Must Haves
Pin this Roasted Plum French Toast with Whipped Ricotta recipe for later!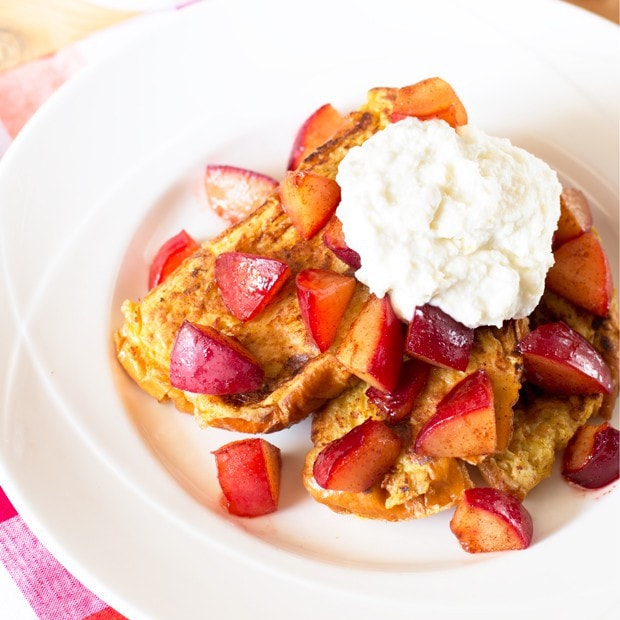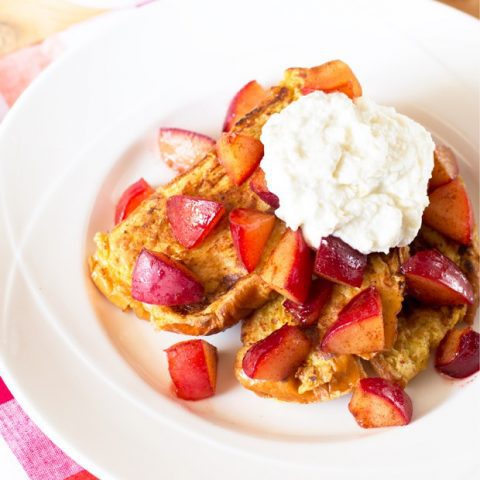 Roasted Plum French Toast with Whipped Ricotta
Plums are roasted with a touch of cinnamon and vanilla to top rich challah French toast with a dollop of lightly sweetened whipped ricotta.
Ingredients
French Toast
8 1/2-inch thick sliced of challah
6 eggs
1 cup milk
1 tsp vanilla extract
1/2 tsp cinnamon
1/4 tsp fresh grated nutmeg
4 Tbsp butter
Roasted Plums
5 plums, pits removed and cut into large 1/2" chunks
4 Tbsp sugar
1 tsp vanilla extract
1/2 tsp cinnamon
Whipped Ricotta
1 1/4 cup ricotta
1/2 cup confectioners' sugar
1 Tbsp lemon zest
2 Tbsp lemon juice
1/3 cup heavy whipping cream
Instructions
Preheat oven to 400 degrees F. Line and grease a rimmed baking sheet. Set aside.
In a small bowl, combine the ingredients for the roasted plums, tossing to coat the chunks of plum. Spread the plums in an even layer on the baking sheet. Roast for 12 to 15 minutes, until softened.
While the plums are roasting, whip the heavy cream until it reaches stiff peaks.
In a separate bowl, combine ricotta, confectioners' sugar, lemon zest and lemon juice. Whip (either by hand or with an electric mixer) until the mixture is smooth, approximately 30 seconds. Fold the whipped cream into the ricotta and chill until ready to serve.
In a shallow dish, beat together eggs, milk, 1 tsp vanilla extract, 1/2 tsp cinnamon and nutmeg.
Heat a large skillet over medium-high heat. Melt 1 Tbsp of butter in the pan. Dip two slices of bread into the egg mixture, coating both sides well and shaking off any excess before adding to the pan. Cook for approximately 1 to 2 minutes per side, until golden brown. Repeat the process, starting with melting 1 Tbsp butter, for the remaining slices. Serve with roasted plums and whipped ricotta.