A Tropical Mimosa Mocktail is the tropical twist on the classic mimosa, made non-alcoholic with the addition of the Sprouts Vitamin C Fizzy Orange Packets. It's bubbly, fruity, and full of bright flavors! You'll feel like you are sitting on tropical island beach after your first sip.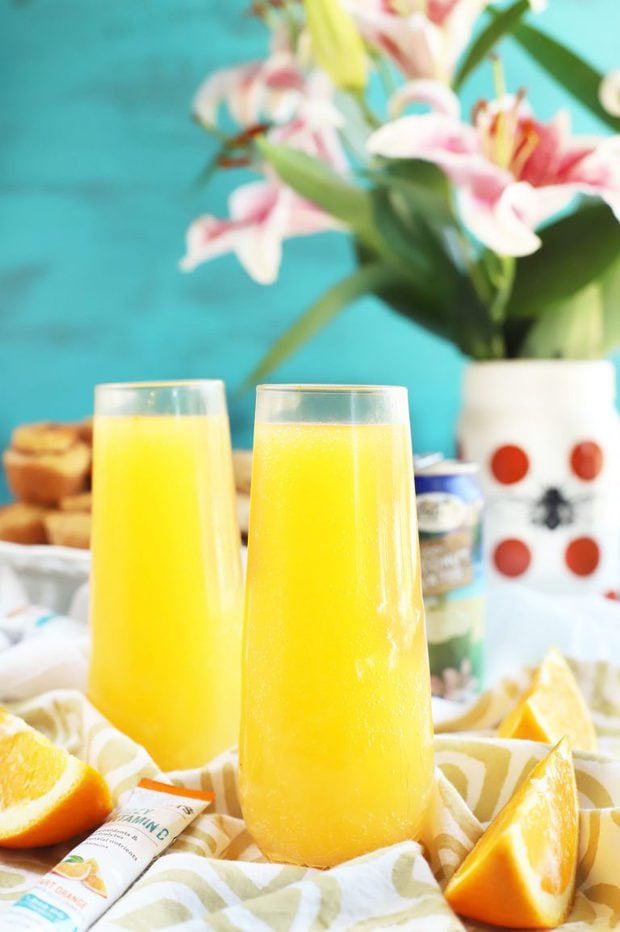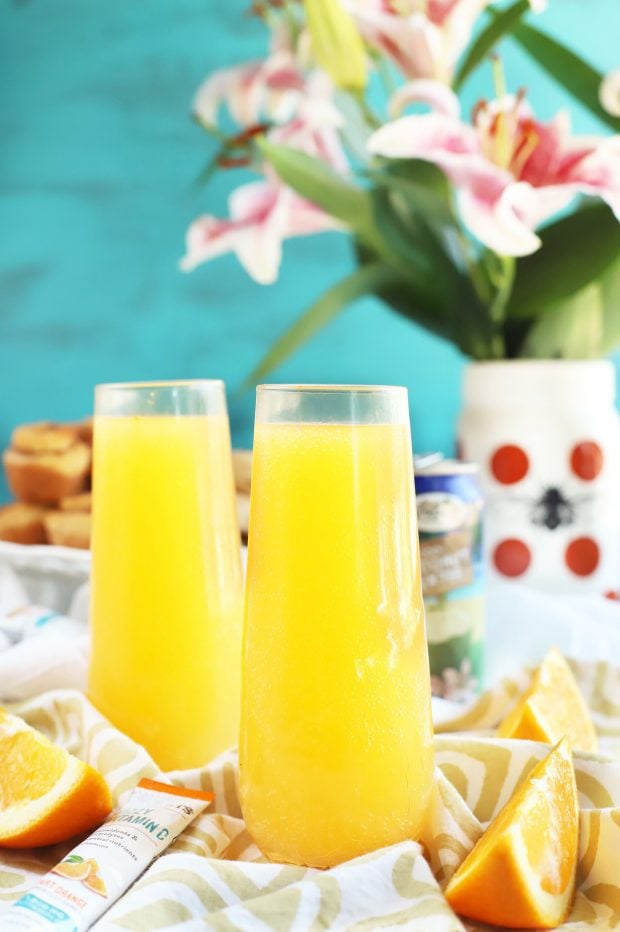 Disclosure: This post is sponsored by Sprouts! As always, all opinions and the recipe are my own. Thanks for supporting the brands that support Cake 'n Knife!
Who doesn't love a fantastic brunch paired with mimosas?
Honestly, I wish I could indulge in a mimosa every single day with breakfast, but of course I have a day job that kind of distracts from that possibility.
Whether you are looking for a mocktail because you aren't drinking right now, or you need a non-alcoholic version of your fave brunch drink, this tropical mimosa mocktail is the one for you. It's just the right drink to give you the wake up call you need to start the day off with your best foot forward.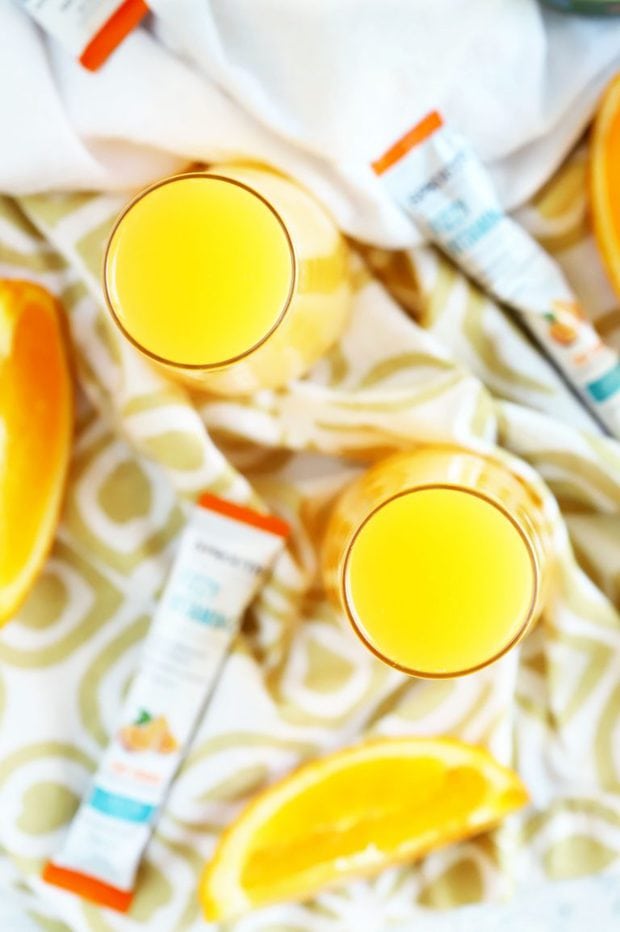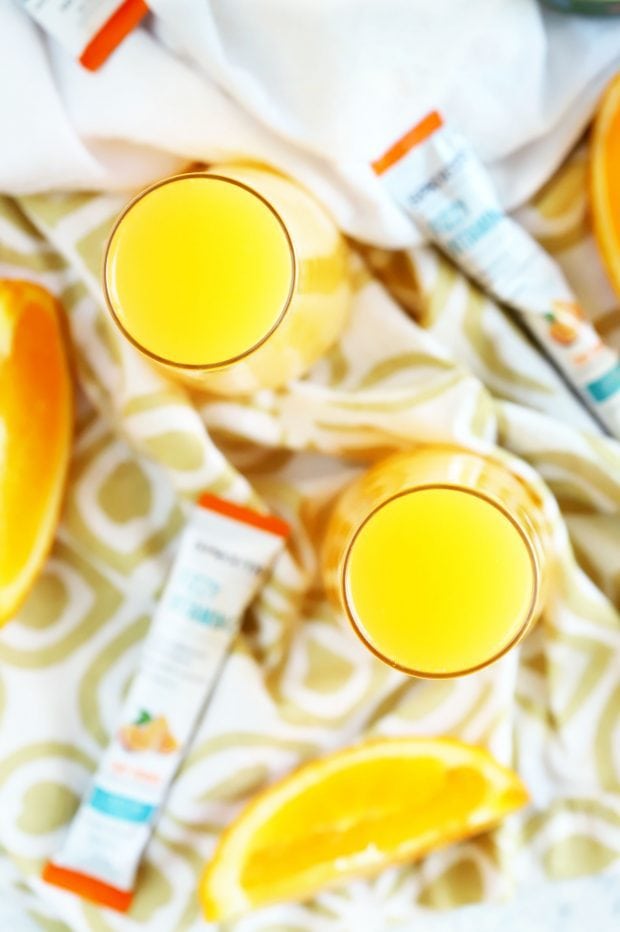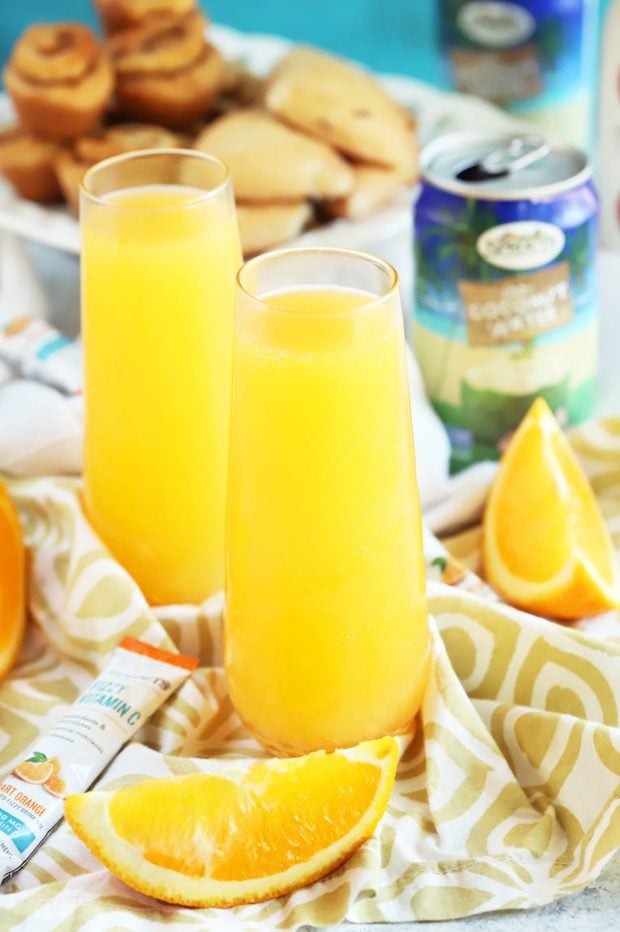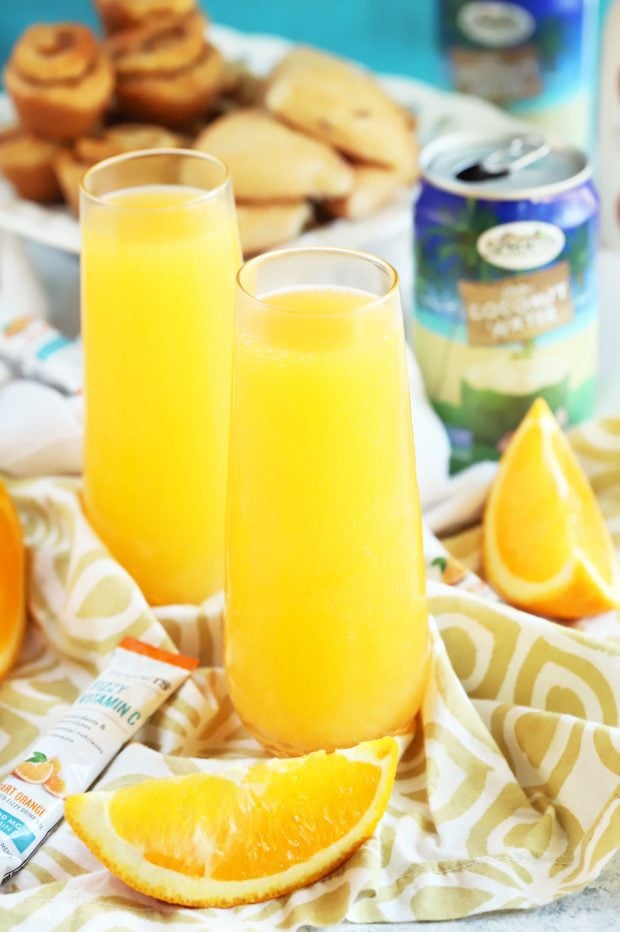 Please note that some of the links below are affiliate links. If you make a purchase through one of these links, I will receive a small commission.
Instead of using champagne to make this fizzy drink, I used a combination of club soda and Sprouts Vitamin C Fizzy Orange Packets.
I am so obsessed with Sprouts Vitamin C Fizzy Orange Packets right now. Normally I am not one to fall head-over-heels for the packets of healthy vitamins, because they usually taste pretty chalky and fake in flavor. However Sprouts' packets are full of bright flavor and they aren't ridiculously overwhelming. It's a light natural flavor that you will crave every afternoon or morning for a little pick me up.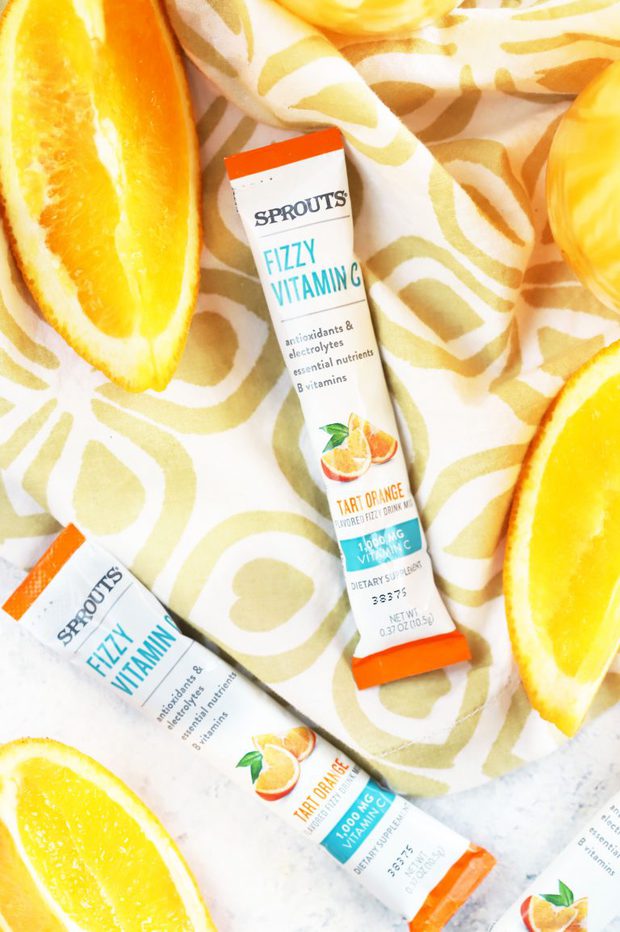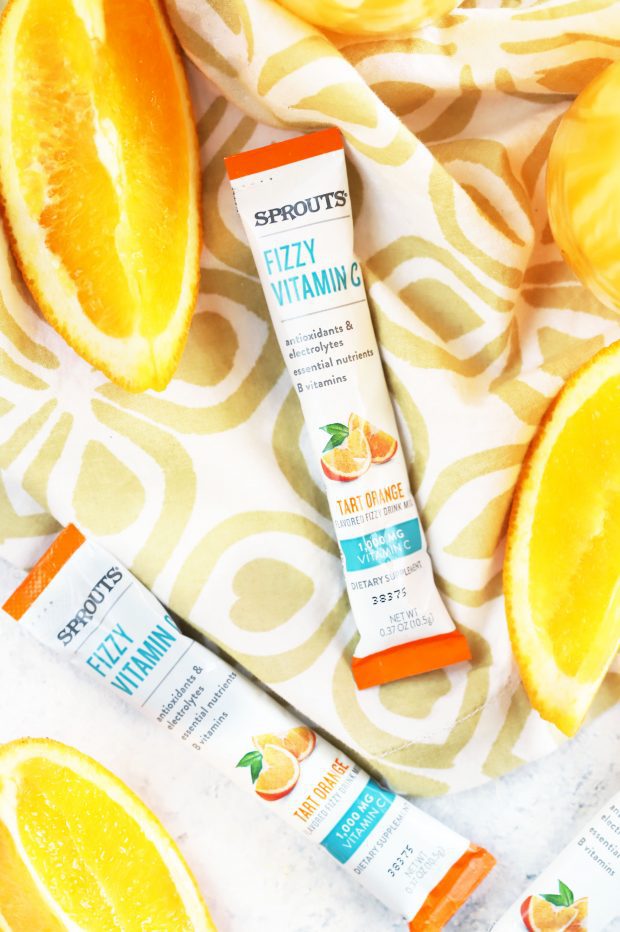 That's exactly why I made them a part of these bubbly mocktail drinks.
If you wish you could be kicking back on an island beach for brunch this week, the tropical flavors are going to take you sailing away on a boat of happiness…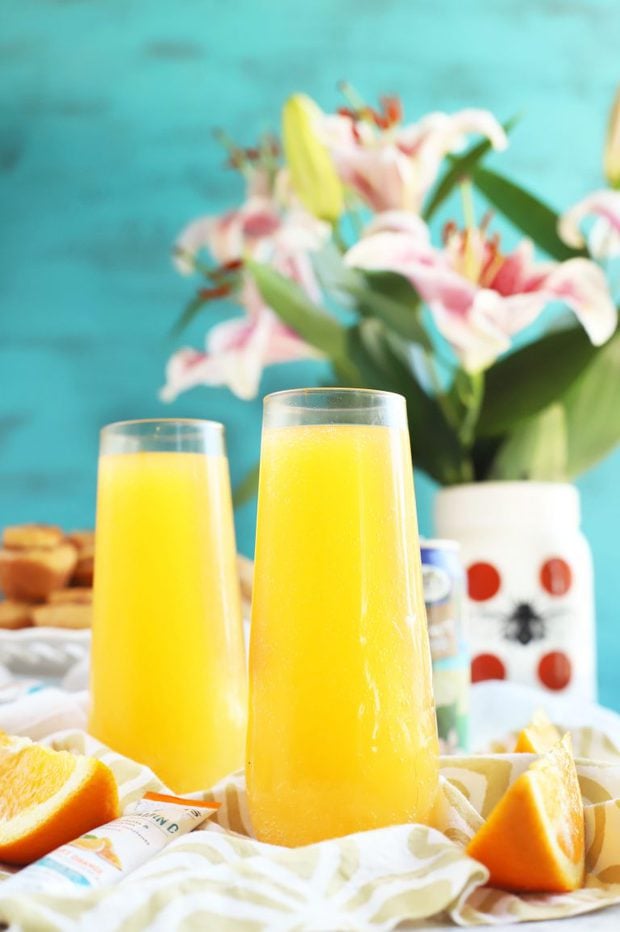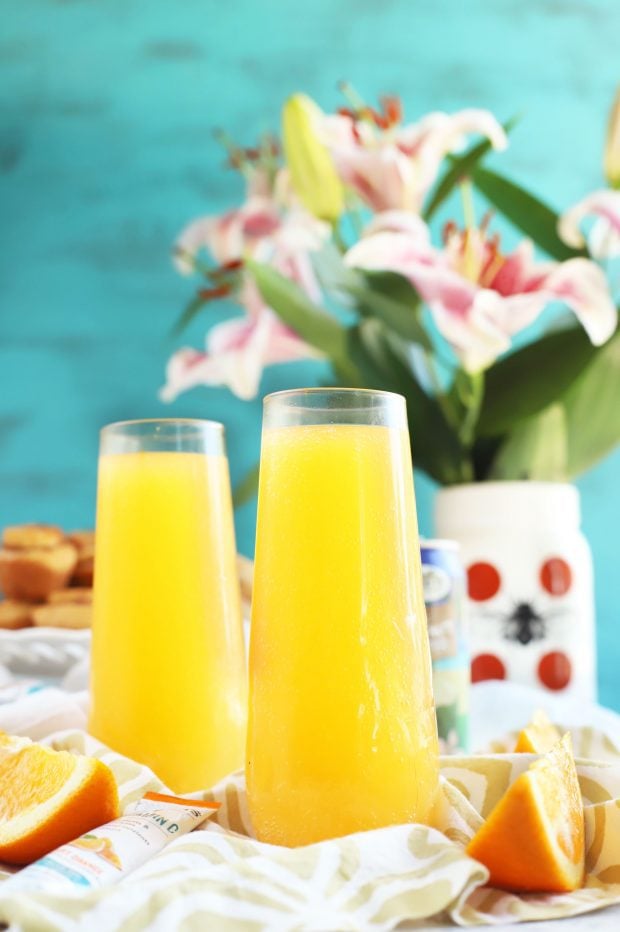 The combination of orange juice, Vitamin C fizzy orange packets, coconut water, and pineapple juice make for a flavor explosion that you will never want to stop sipping.
I personally love to serve this up for brunch or breakfast, but it's also a fantastic drink for the afternoon when you are feeling a little bit sluggish.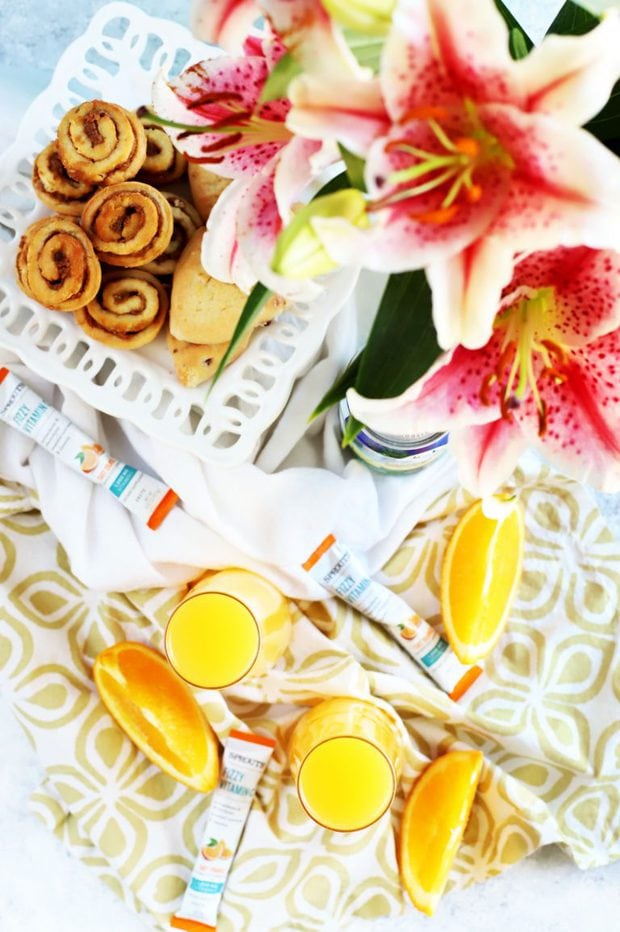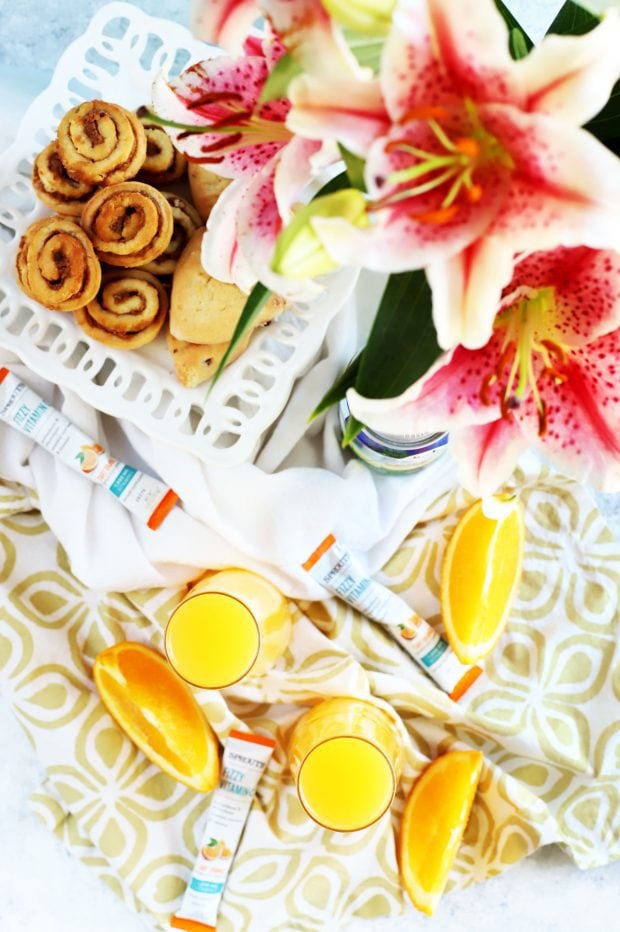 The packets pack a punch of Vitamin C to wake up your senses and get you the healthy punch that will keep you going throughout the rest of the day.
It's going to become your new daily routine to indulge in this drink, and I wouldn't blame ya one bit for it 😉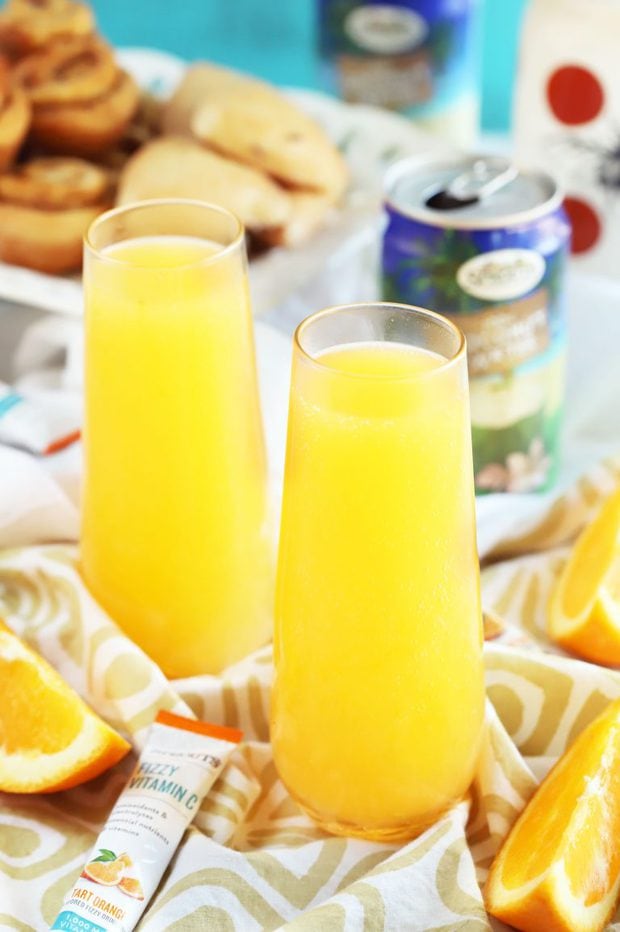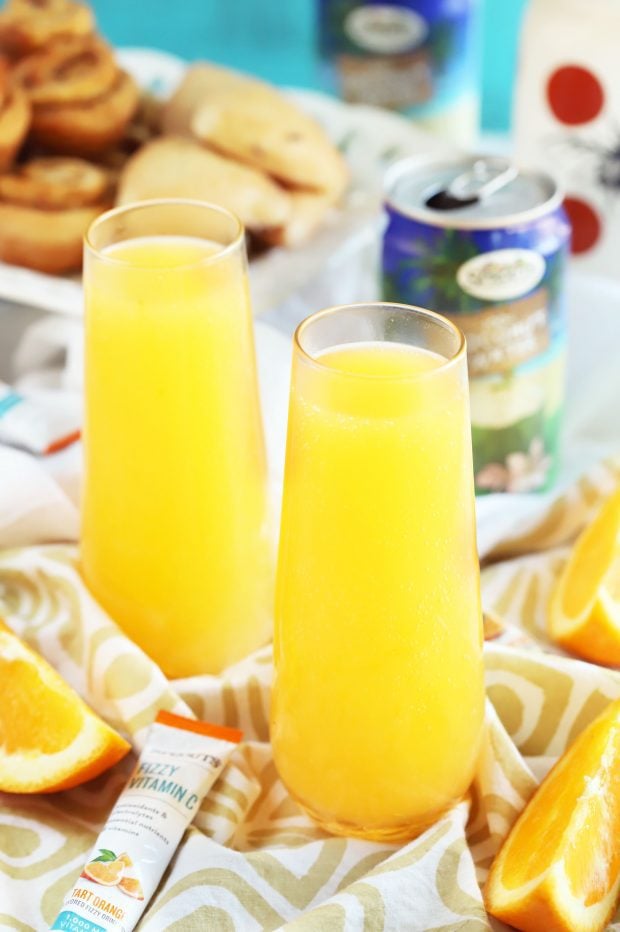 This Recipe's Must Haves
Unfortunately, I got these stemless crackle champagne flutes on sale at Pier 1 forever ago… I can't find them anywhere, but if you like the crackle look, check out these IMPULSE Crackle Flutes!
I love having this Hiware 12 Inch Stainless Steel Mixing Spoon on hand for cocktails, but it also comes in handy for this mocktail to stir all the ingredients together in a tall champagne flute.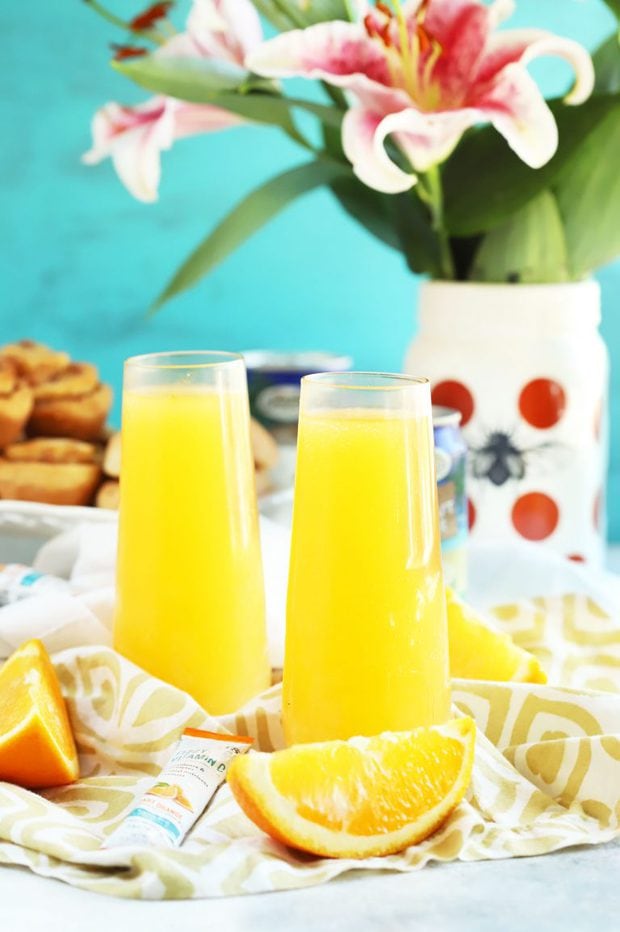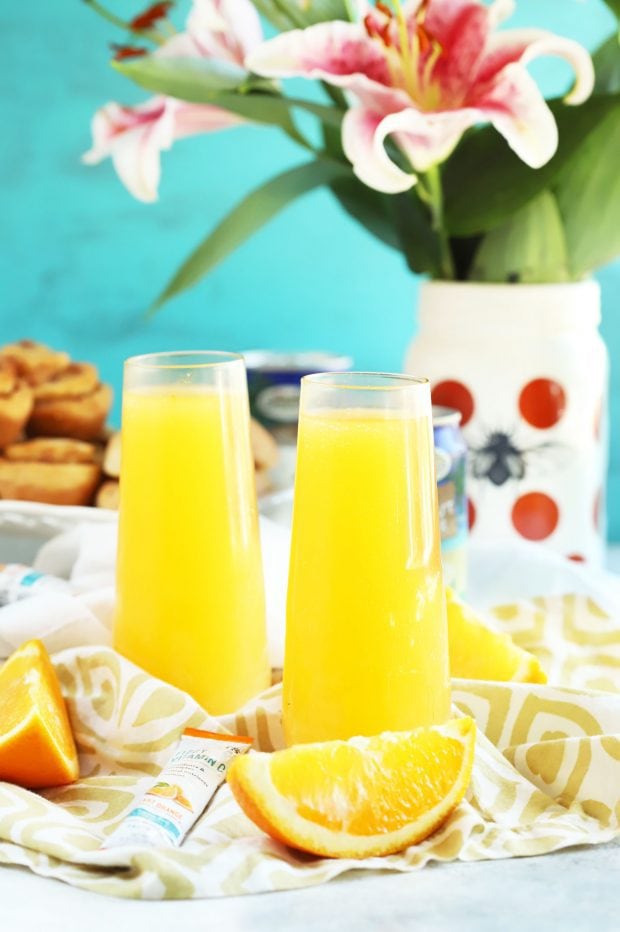 If you are looking for something that's boozy and tropical like this drink, a skinny piña colada is always a good idea (and can always easily be made without alcohol too!).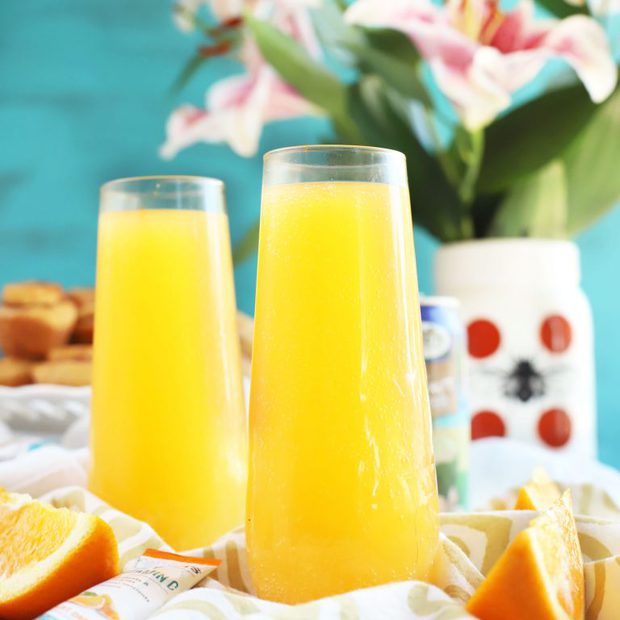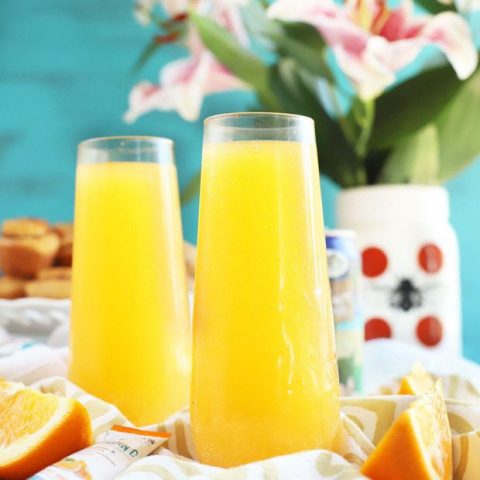 Tropical Mimosa Mocktail
A tropical twist on the classic mimosa, made non-alcoholic with the addition of the Sprouts Vitamin C Fizzy Orange Packets.
Ingredients
2 Sprouts Vitamin C Fizzy Orange Packets
1/2 cup orange juice
1/2 cup pineapple juice
1/2 cup coconut water
1 cup soda water
Instructions
Set out two champagne flutes. Add one Sprouts Vitamix C Fizzy Orange Packet to each glass.
Slowly pour in 1/4 cup orange juice into each glass, stirring to combine. Note that the mixture will fizz and bubble a lot. Be sure to let the fizz stop before moving onto the next step.
Divide the pineapple juice, coconut water, and soda water between the two glasses evenly.
Serve immediately.