Please note this post contains affiliate links.
A Spicy Mezcal Old Fashioned is a spicy and smoky take on the classic cocktail. With spicy infused mezcal, this drink tickles your tastebuds with heat and smoke in the most delightful way. You'll keep coming back for another sip! Makes 1 cocktail.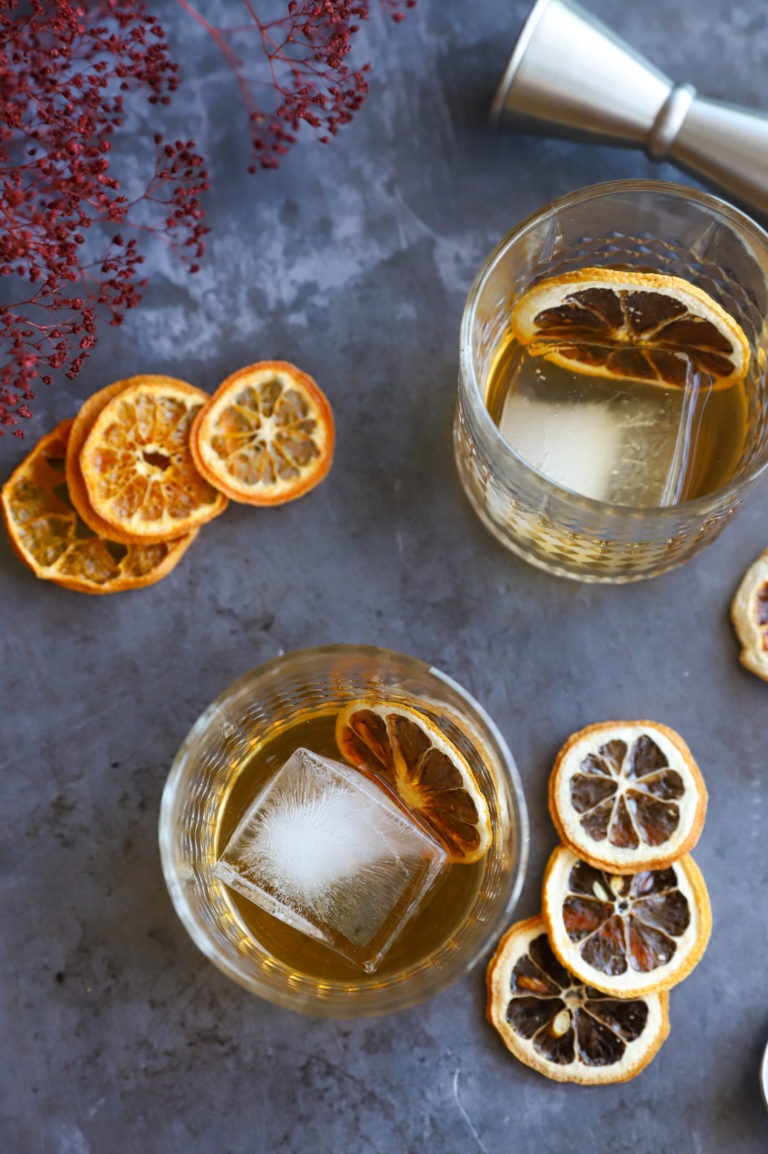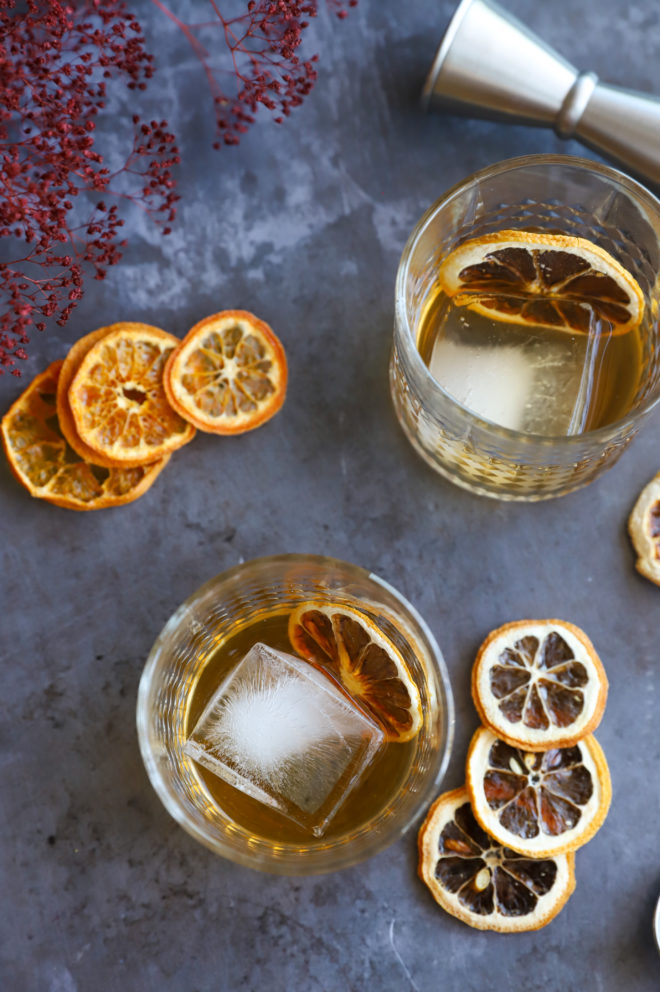 about this spicy mezcal old fashioned
A couple of weeks ago, I made a spicy infused mezcal. It's been sitting on my bar cart, slowly getting used in margaritas and palomas, but I still had a bit left to use.
So I decided to create a custom cocktail, just for the infused mezcal.
If you've been around for a bit, you know that the Old Fashioned and the Manhattan are my favorite cocktails. Or at least they were when I used to frequent all the cocktail bars here in Denver.
After pregnancy and the first year of Babycakes' life, I really stuck to only wine. The cocktails I tried were too strong after a couple years away from them.
But now I am reigniting my love affair with them… And it's even better than it was the first time.
This spicy take on an old fashioned is a new summer favorite. The fiery infused mezcal brings a bold flavor to the cocktail, with just the right touch of smokiness from liquor. With a touch of agave for sweetness and the dryness of the bitters, it's a balanced cocktail that you will not be able to stop sipping.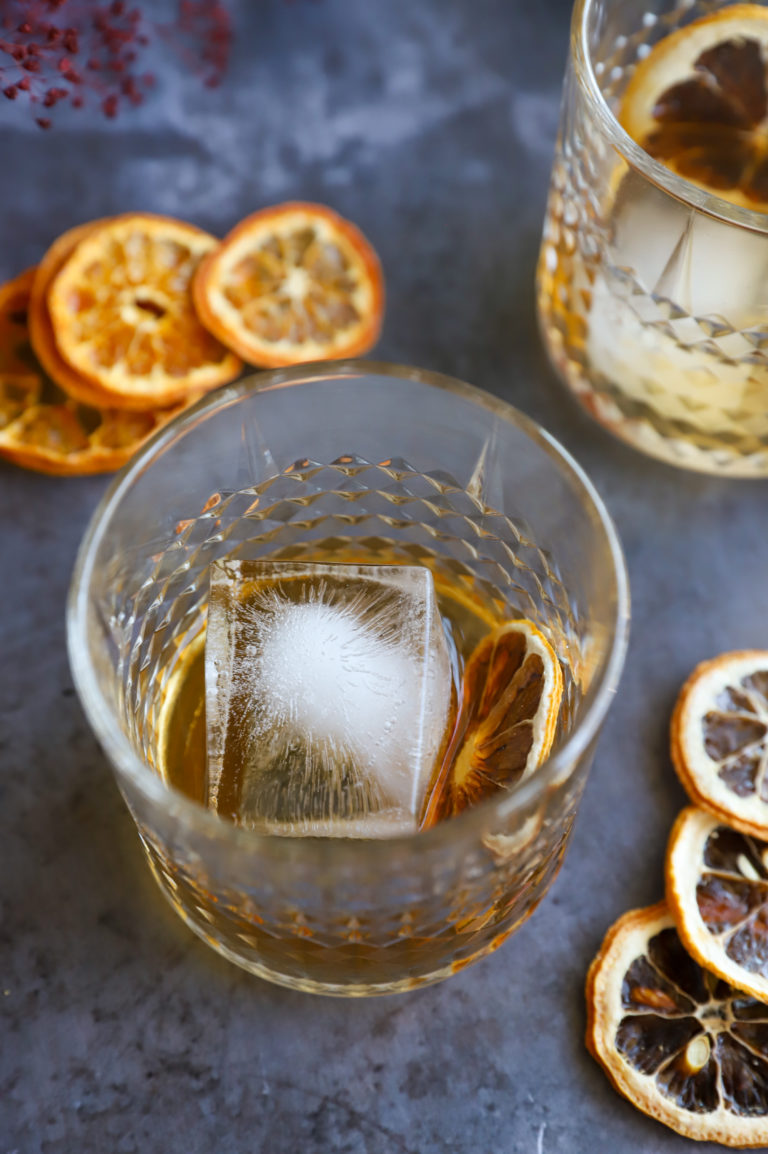 ingredients
spicy infused mezcal – this recipe is a simple one made by adding jalapeño and serrano peppers to your favorite mezcal. The infusion happens fast, so you can prepare this the day before, or even just a few hours before, depending on how spicy you like it. It's great for this cocktail, but the infusion can also be used in margaritas and palomas!
agave – I love the flavor of agave when paired with mezcal, and it's easier to dissolve than honey. However, you can also use simple syrup if that's what you have on hand!
Angostura bitters – these bitters are a must-have for any bar cart! It's essential in so many cocktails, so if you don't already have it, go get it.
dried orange rounds – while this garnish isn't necessary, I think it looks so gorgeous, especially when paired with the color of this cocktail. It's an easy garnish to keep on hand, can go with any drink that you garnish with citrus, and they last a long time when stored properly!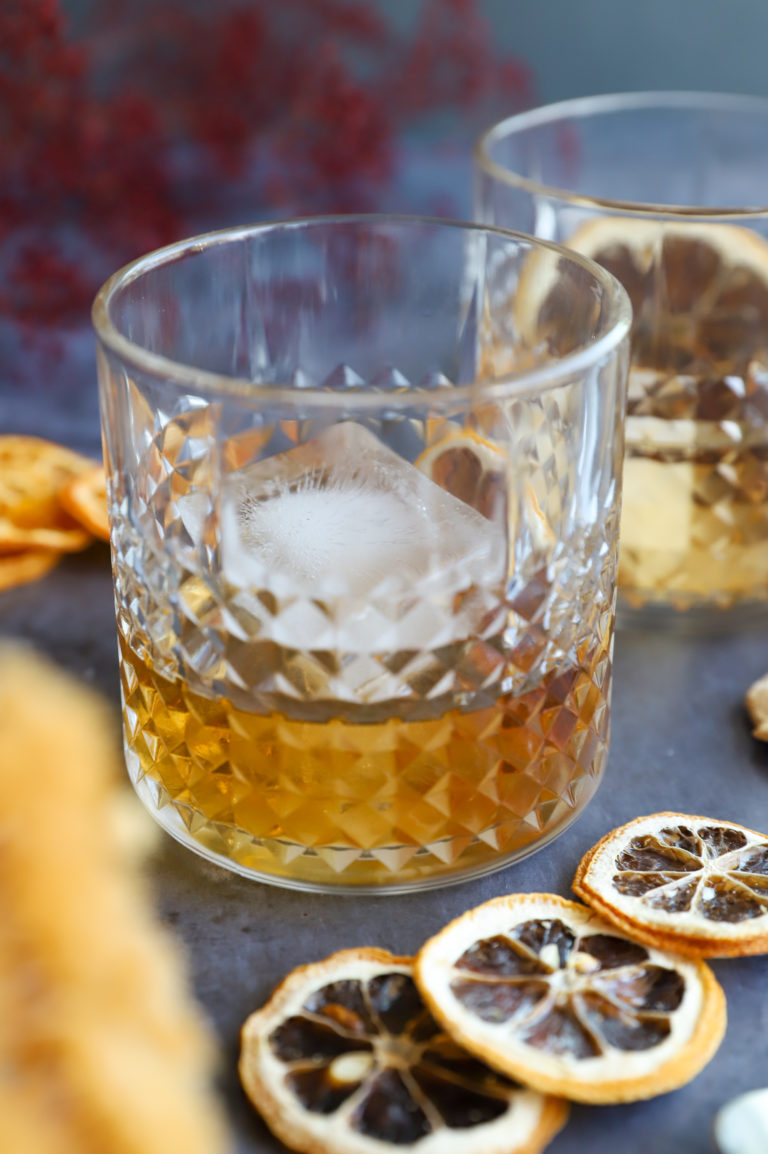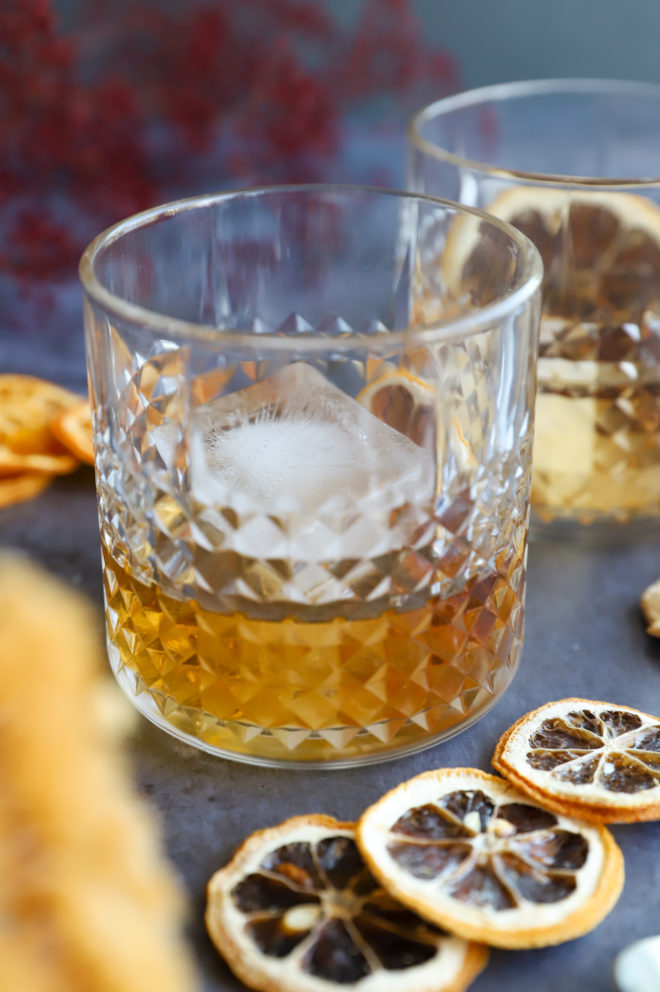 this recipe's must haves
Head to your glassware and grab your favorite old fashioned glass!
I like to use sphere ice molds (or large square ones) to make large ice cubes for my cocktails. The ice melts a lot slower so it will keep the drink chilled without diluting it.
Finally you will need a cocktail stirring spoon to stir everything together. I love that this cocktail is assembled in the glass – it makes it really easy and there's minimal barware to clean!
here's how to make a spicy mezcal old fashioned
assemble
Place a large ice cube in an old fashioned glass.
Add spicy infused mezcal, agave, and bitters to the glass.
stir and garnish
Use a cocktail spoon to stir the cocktail until it is well-chilled.
Garnish with a dried orange wheel. Serve.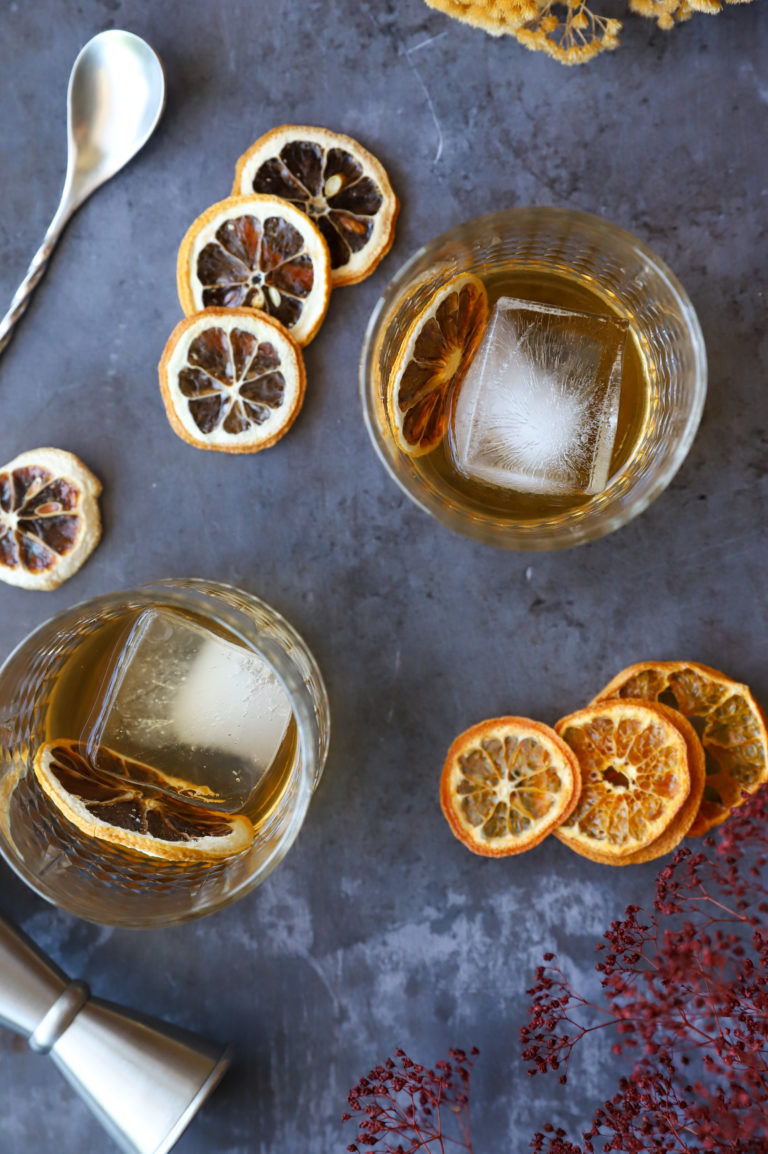 tips for success
add more bitters. If you love the taste of bitters, you can add another couple of dashes to this cocktail! I wouldn't add more than 4 dashes total (the recipe below calls for 2).
adding water. Some people like to add a splash of soda water to their old fashioned cocktails and I'm totally for that! It is an easy way to tone down the spice level if someone in the group doesn't like their cocktail too spicy.
More old fashioned cocktail recipes to try: Jameson Old Fashioned | Old Fashioned Moscow Mule | Earl Grey Old Fashioned | Smoked Orange Old Fashioned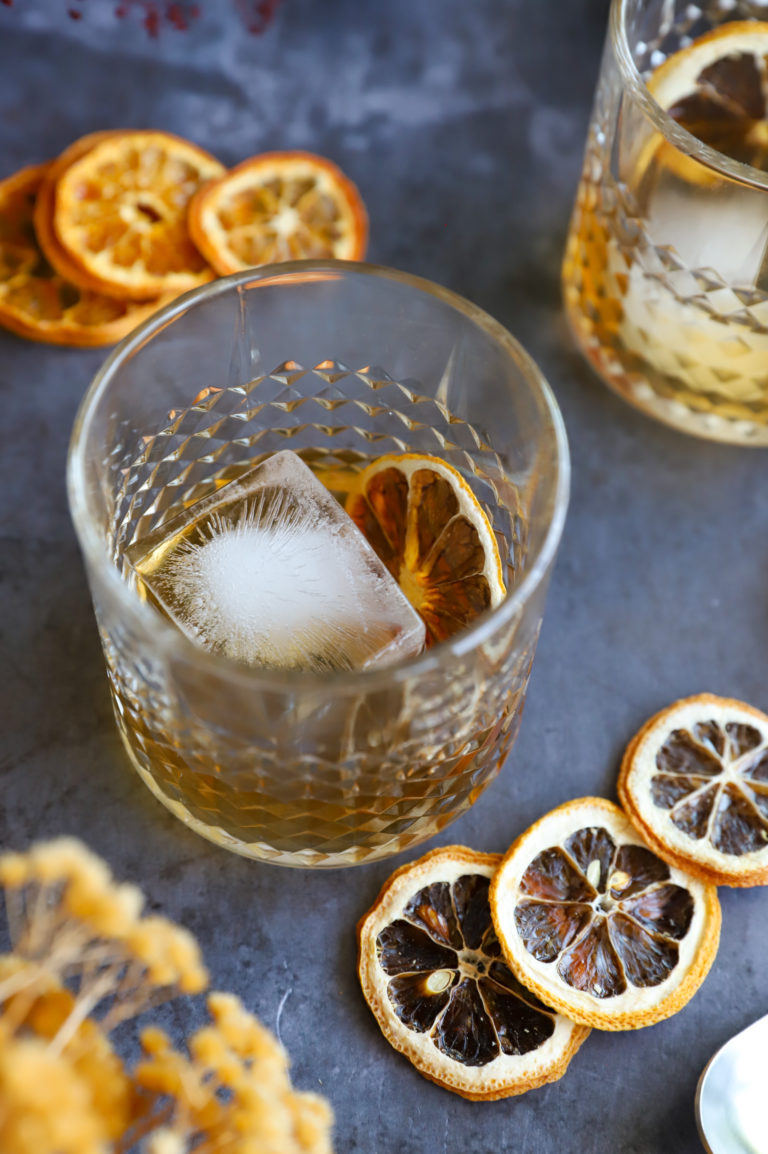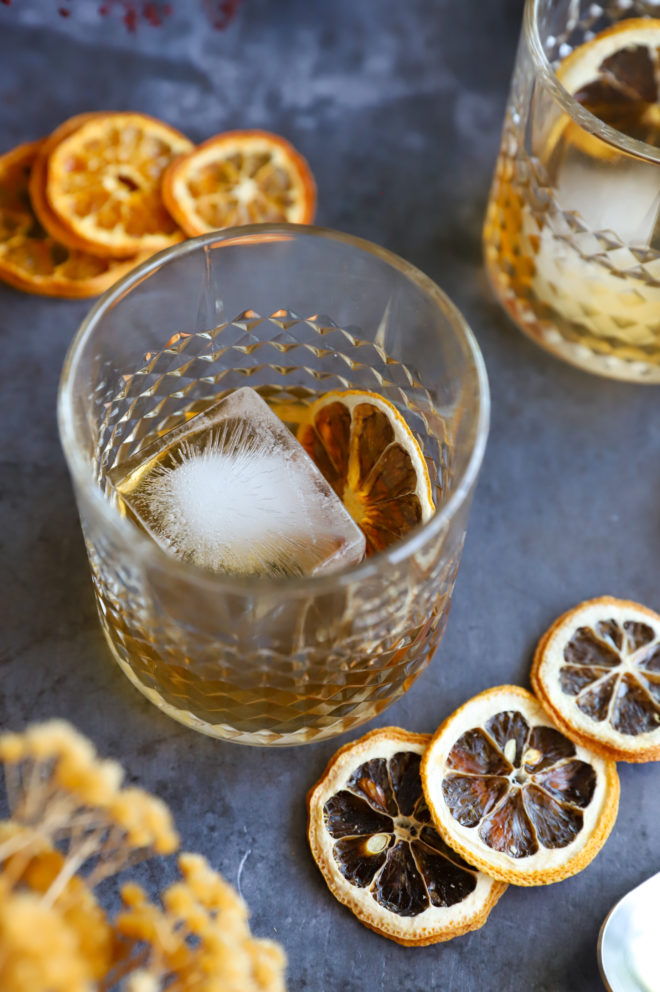 how do you traditionally drink mezcal?
Mezcal is one of those spirits that is fantastic for sipping. There's a variety of aromas and flavors in mezcal that sets it apart from other spirits!
This is actually why it works so well in this cocktail. Since an old fashioned is a strong, spirit-forward drink, it really highlights the mezcal.
do I have to infuse the mezcal?
Infusing the mezcal is what makes this cocktail spicy! Of course, if you don't have time to do so, you can simply use your favorite mezcal instead. When you use plain mezcal, the cocktail is actually called an Oaxaca Old Fashioned!
what kind of mezcal should I use?
My recommendation is to use a mid-range price point option like Montelobos Espadin on the lower end and Mezcal Vago Elote on the higher end of the range. For something really nice that's sippable straight up, try Del Maguey Tobala.
Need some more inspiration for cocktail hour? Check out my cocktail recipes page!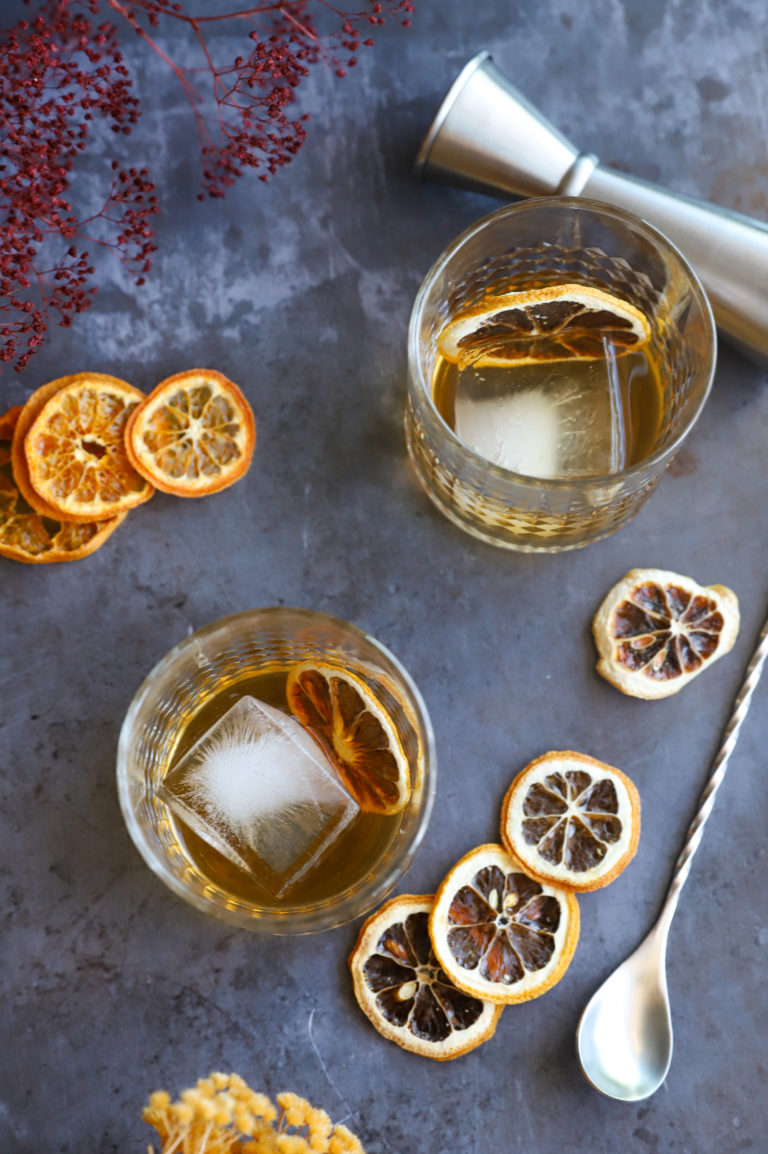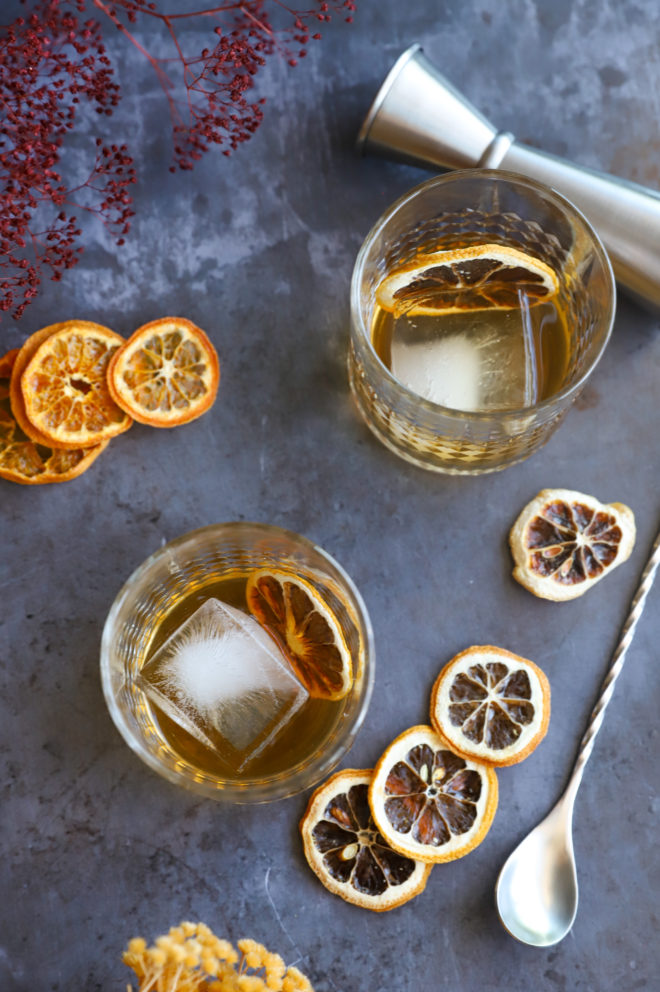 what to serve with a spicy mezcal old fashioned
This old fashioned recipe is a classic with a fun twist, making it ideal to serve at happy hour or at a dinner party! Obviously, when I am thinking spicy and mezcal, I am leaning into the Mexican flavors I love. Here's some ideas for what to serve this cocktail with:
Finally, if you make this spicy mezcal old fashioned, please be sure to give this recipe a rating or leave a comment! I love to hear when you all make recipes, and I do take the time to respond to every single comment. Feel free to drop questions below too, if you have them!
Oh and be sure to tag me on Instagram if you make the recipe! Love being able to see these recipes come to live in your homes – it's my favorite thing to look through those photos. It really means the world to me!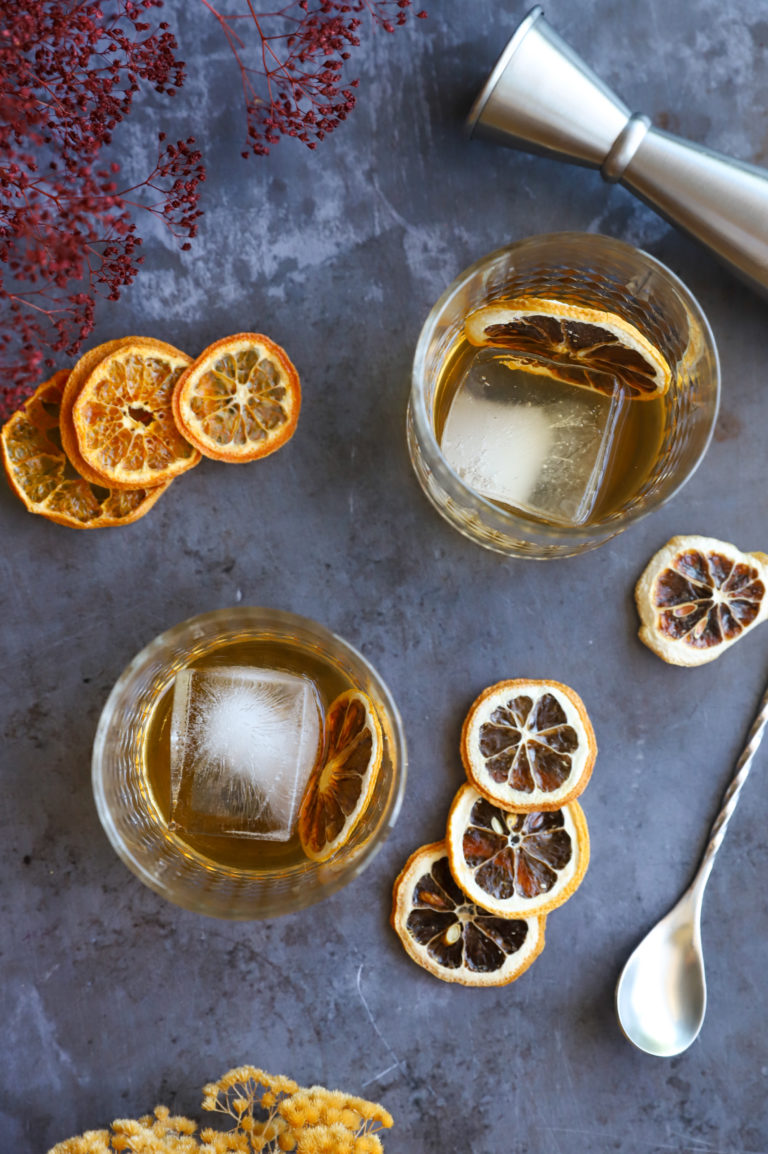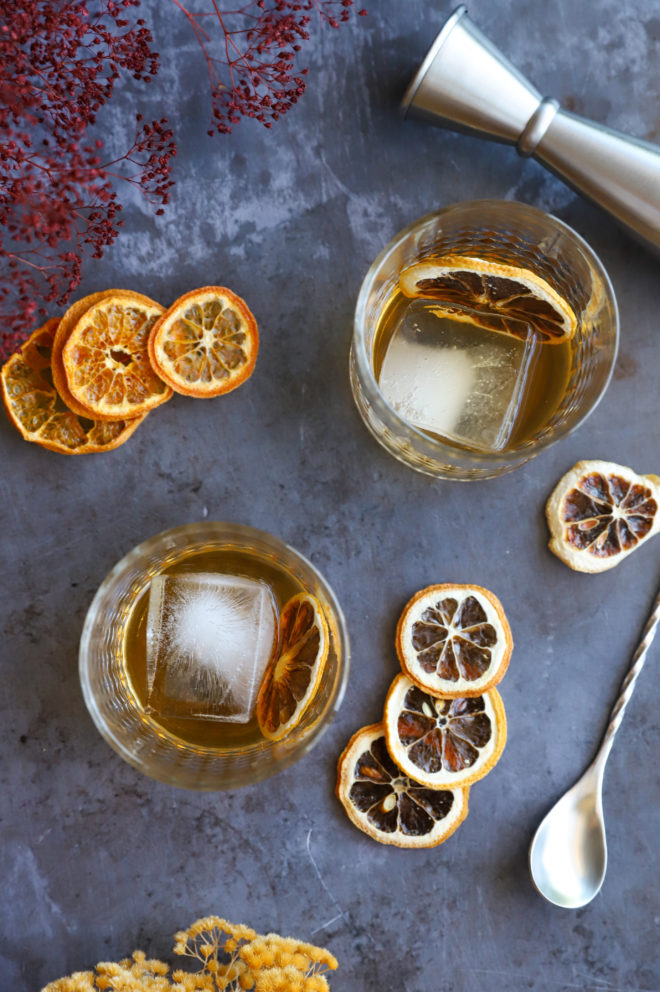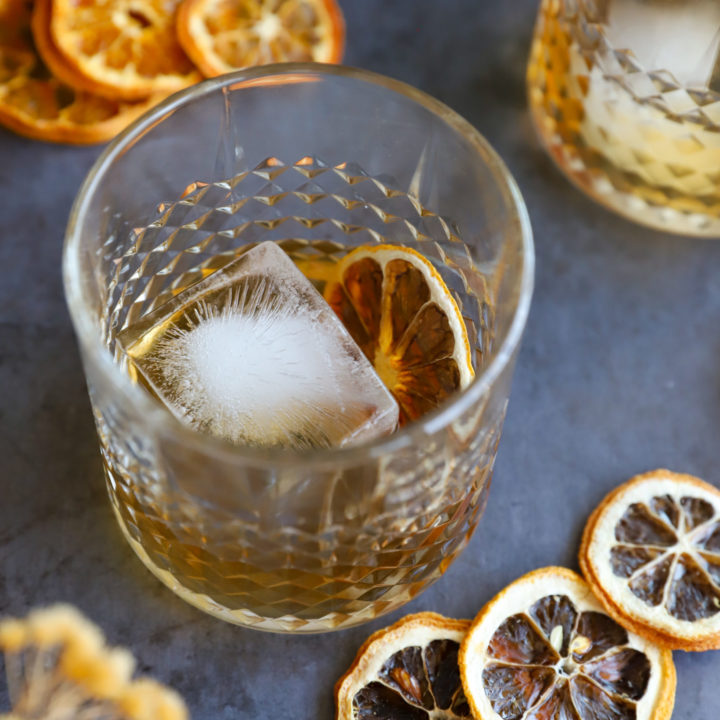 Spicy Mezcal Old Fashioned
Spicy and smoky, this is a fiery twist on the classic cocktail!
Ingredients
1/2 oz agave nectar
2 dashes Angostura bitters
Garnish: dried orange round
Instructions
Add the mezcal, agave and Angostura bitters to an old fashioned glass with one large ice cube. Stir until well-chilled.
Garnish and serve.
Recommended Products
As an Amazon Associate and member of other affiliate programs, I earn from qualifying purchases.