Grilled Nutella, Brie, Pear & Fig Sandwich is how I'm kicking off the year completely guilt-free. A mess of melted chocolate and cheese, with just the right amount of fruit so you can at least pretend to be a little healthy.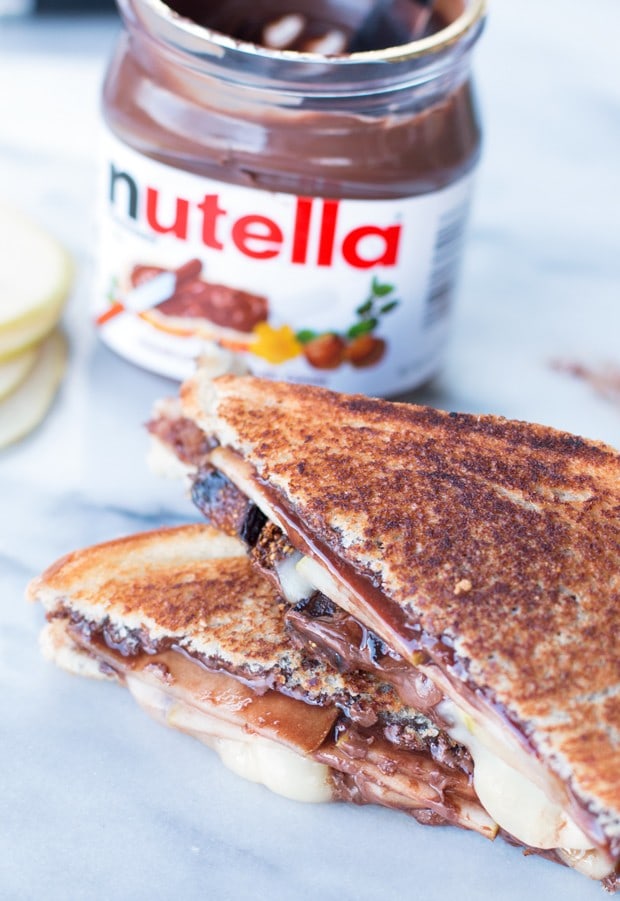 Ok you all are going to hate me for this one… Amidst the healthy recipes and cheers for sticking to New Year's resolutions of not overindulging, I shove a chocolatey, cheesy mess in your face.
SO rude, I know.
It does have fruit in it… that totally counts as "healthy" right?
I swear I have every intention of getting healthy and getting in ridiculously good shape this year (must look ridiculously good looking for the Zoolander sequel after all… oh don't roll your eyes, you know you love it). Seriously, I do. Just, you know, give me a week at the start to get back into the groove.
Is anyone else having trouble getting start with the new year, or is that just me? I know this year is going to be a great year, but getting into it hasn't been so easy. Probably because I spent the first few days in a complete and total haze, full of emotional high's and low's (I'll dish later on why, don't you worry!). I'm slowly waking up…
Slowly…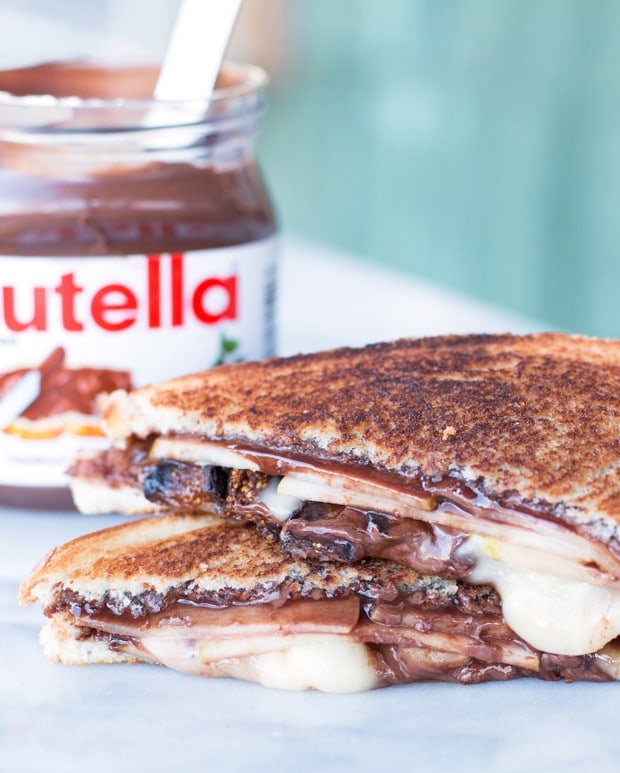 In my haze, this grilled cheese sandwich just sounded TOO good not to try and make. I practically melted with the first bite of ooey-gooey chocolatey, cheesy, fruity and oh-so-dreamy that is this sandwich. Would you just look at that melted mess of a sandwich? I don't care who you are, one look and your mouth is watering.
Thankfully Nutella has the power to snap me back to some sense of normalcy. Otherwise I might be floating away on cloud nine and indulging every whim like I have been for the past four days straight. Ok, in interest of full disclosure, there miiiiiiight have been a boy involved. More on that later though…
I'm currently doing a face palm because I know he's going to read this and it's gonna be like, hey, yea, so, welcome to blogger world. *awkward wave* There's absolutely no end to my awkwardness…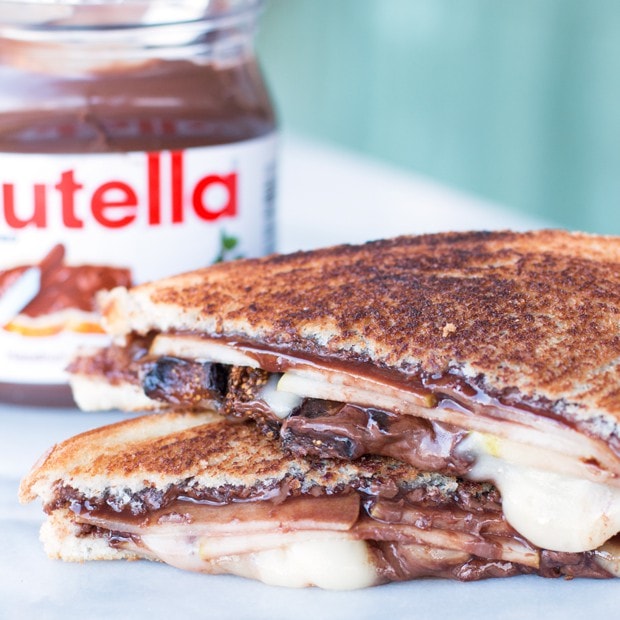 Grilled Nutella, Brie, Pear & Fig Sandwich
Chocolate, cheese and fruit, grilled together to perfection.
Ingredients
4 slices white bread
2 Tbsp butter
3 Tbsp Nutella
4 oz brie (go for the double or triple cream, because you CAN), cut into long, thin strips
1 Barlett Pear, sliced thinly
1/3 cup dried figs, sliced into flat strips
Instructions
Heat a medium skillet over medium-low heat. Spread 1/2 Tbsp of butter on each slice of bread. Once the pan is hot, add two slices of bread, butter side down, to the pan. Spread 1 1/2 Tbsps of Nutella on each slice of bread in the pan. Top with brie, evenly distributing between the two slices. Top with slices of pear and sliced dried figs. Top each slice with the remaining bread, unbuttered side down.
Brown the bottom slice of bread until golden brown and crisp. Carefully flip the sandwiches over, taking care not to let anything spill out (I used two spatulas to accomplish this). Brown the other slices of bread until golden brown and the brie is melted and gooey inside.
Remove from the pan and serve immediately.