Please note this post contains affiliate links.
Spicy Tuna Poke Wonton Cups are how I take myself back to Hawaii through food. Each bite of the spicy, fresh, delicious fish in crispy golden wonton cups is an explosion of complex flavors that only take a few minutes to pull together. If you can't fly to Hawaii, then take yourself there on a wave of these island flavors!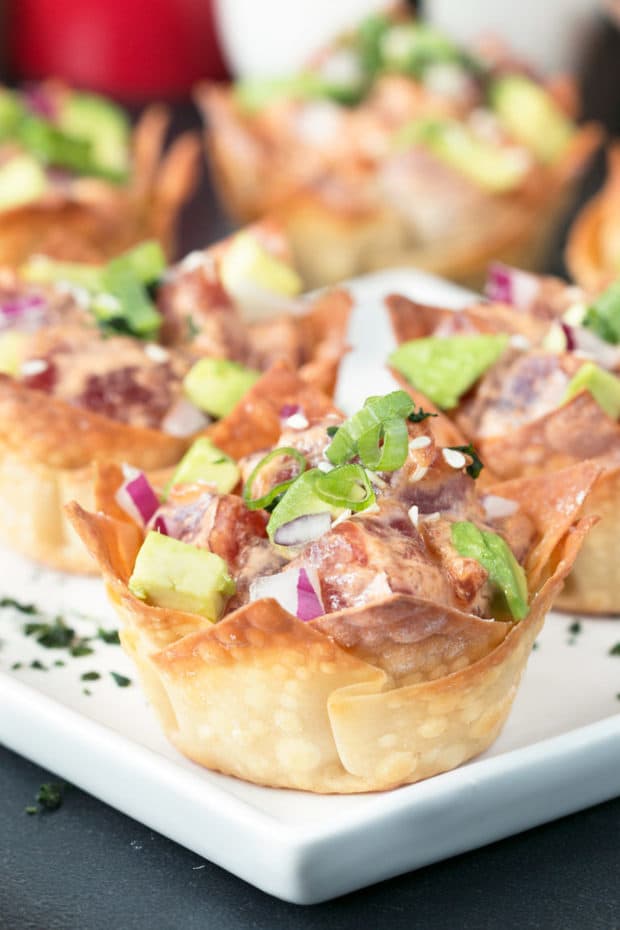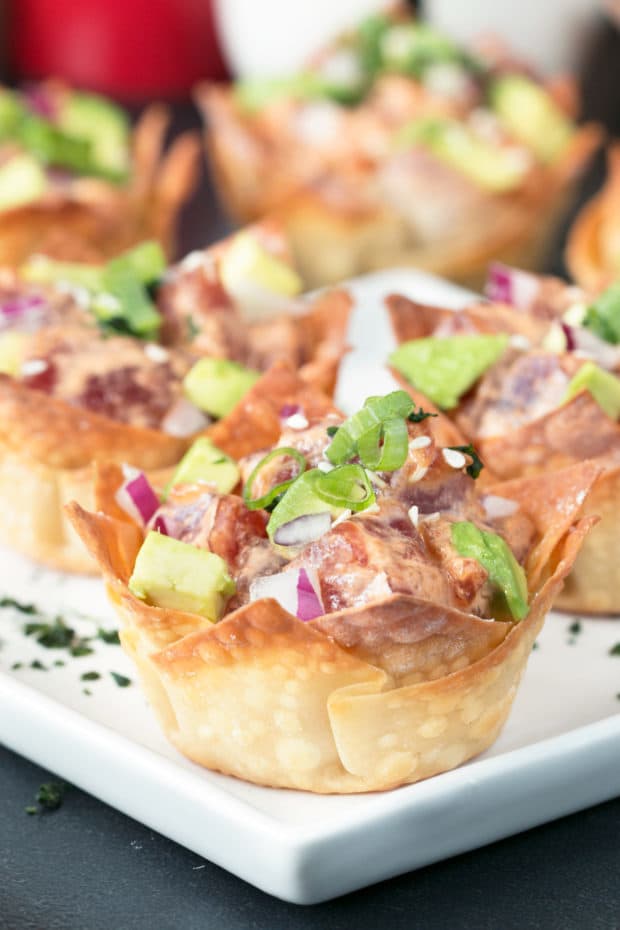 If you have been watching any food trends around the world, you know that poke is soooooo in right now.
Honestly, I don't know why it hasn't been "in" for a long time now. There is so much variety in poke, from the types of fish to the sauces to the toppings that you can choose to go with it.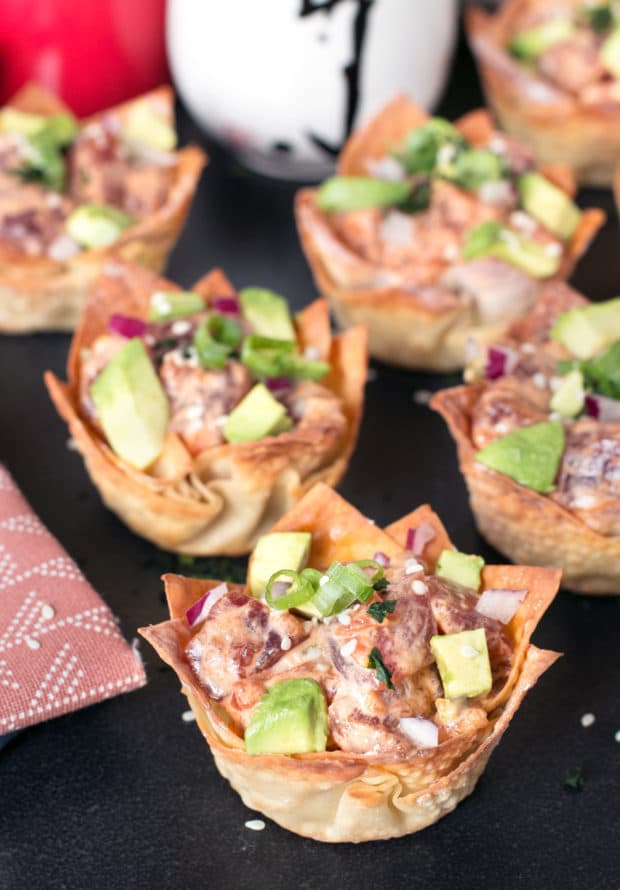 When I went to Hawaii for my 30th birthday (which seems like forever ago, even though it hasn't even been a year yet), we went to this place on Kauai called Fish Express for some seriously life-changing poke.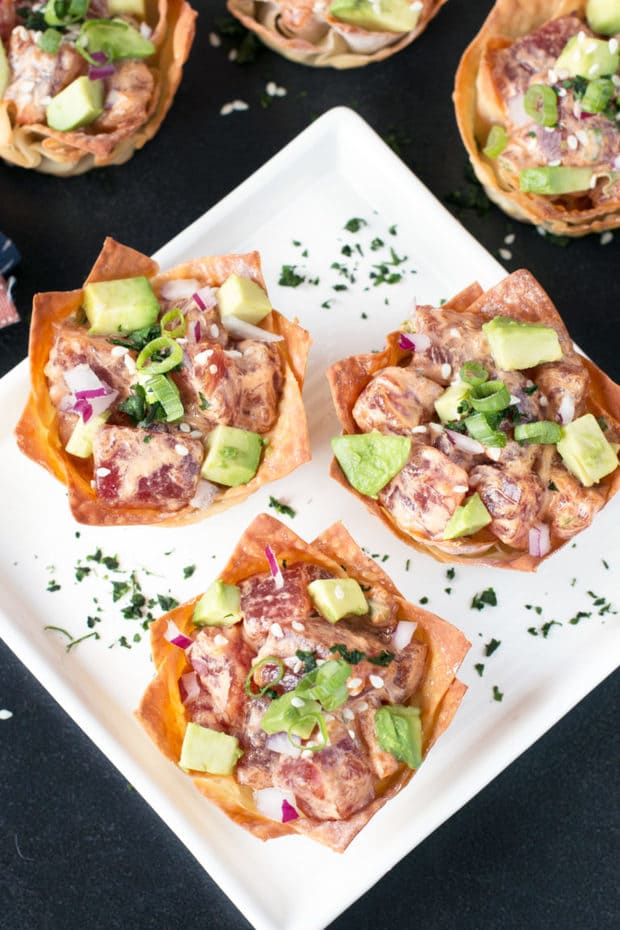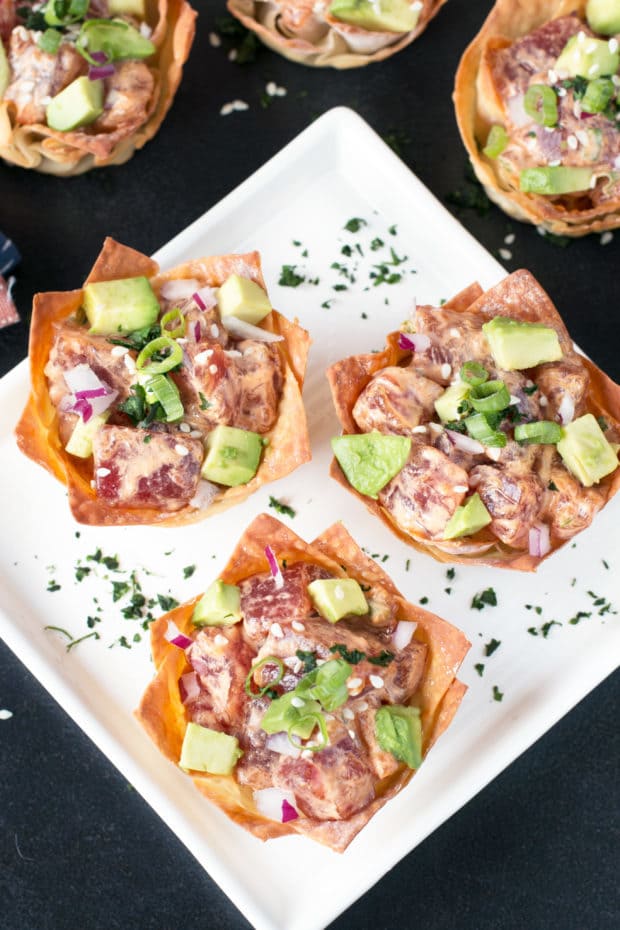 The poke was fresh, practically melted in your mouth, and was served up with so many toppings; it was like a freaking smorgasbord in your mouth.
My mouth is watering just thinking about it, so excuse me while I grab a napkin…
I think poke is a delicious meal to devour for lunch or dinner, but I really wanted to turn it into something small and handheld to make it more approachable for any end-of-summer parties you have in the works.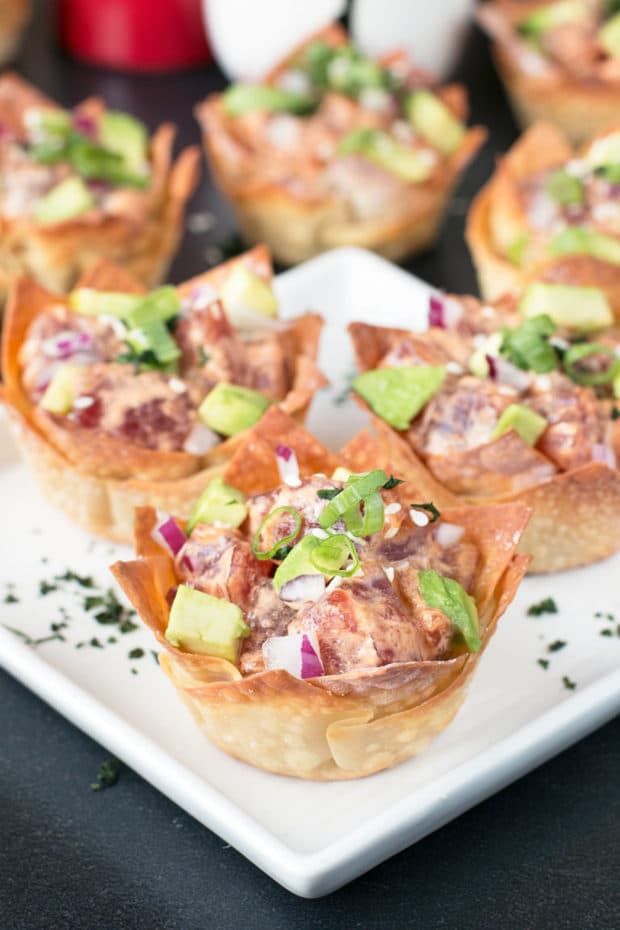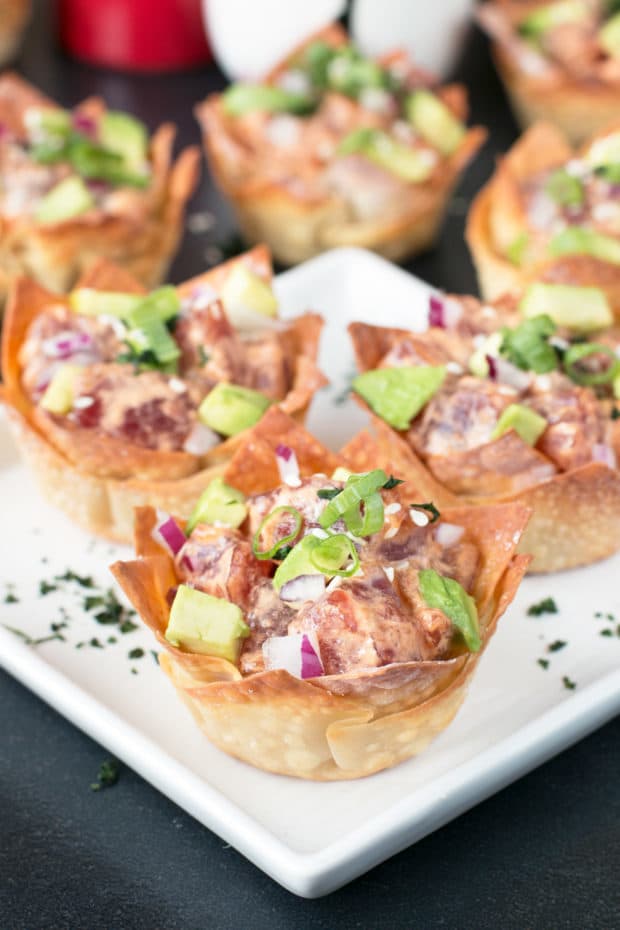 It gets so murderously hot in August, you end up dying to reach for something refreshing and light to munch on anytime of day.
For this recipe, the Ahi tuna is marinated in a simple mixture of soy sauce, scallions, jalapeno and sesame oil to enhance the already buttery rich fish.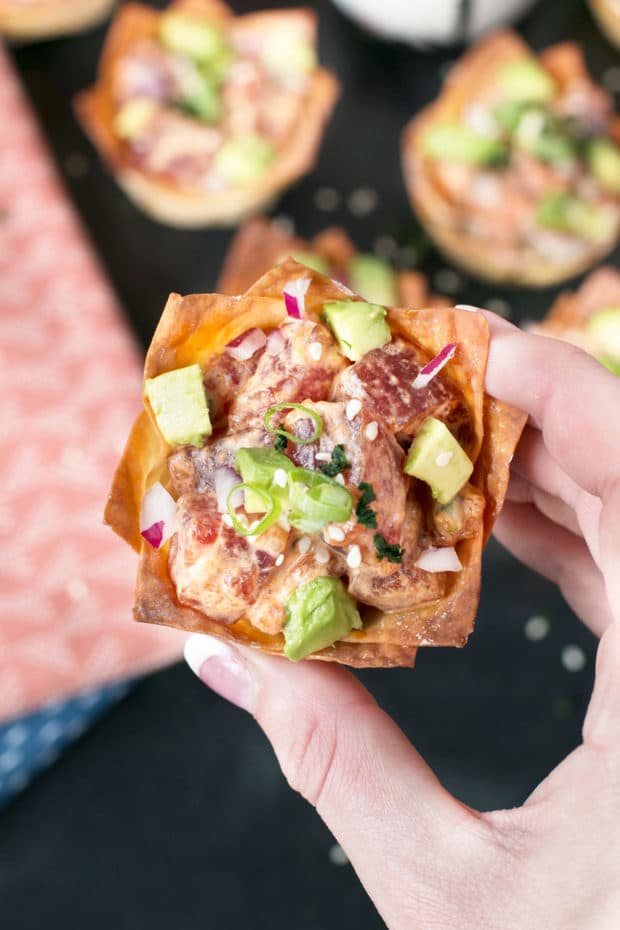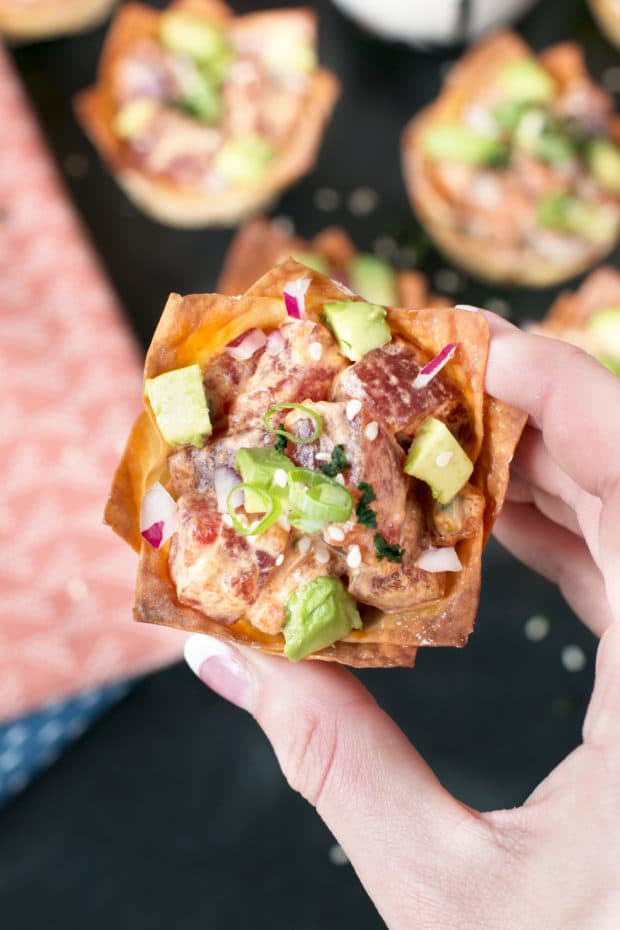 Then you stir in a simple Sriracha mayonnaise, avocado and red onion for an extra bite of brightness.
The result is a silky smooth, melt-in-your-mouth mixture of tuna that comes served in a crispy, golden wonton cup. The crunch of the wonton perfectly pairs with the soft texture of the poke, without being too heavy.
It's just the right light and refreshing seafood appetizer! You can even pack a few of these up for lunch on the go.
If you are serving these cups as an appetizer, I highly recommend pairing these cups with a refreshing lychee martini! The lychee flavor really compliments the flavors in the poke mixture. YUM.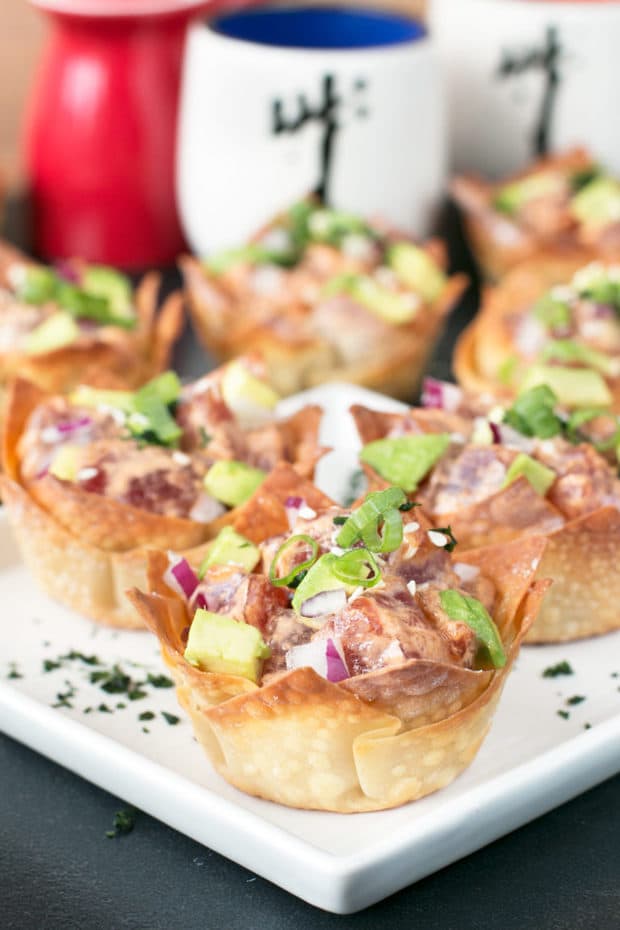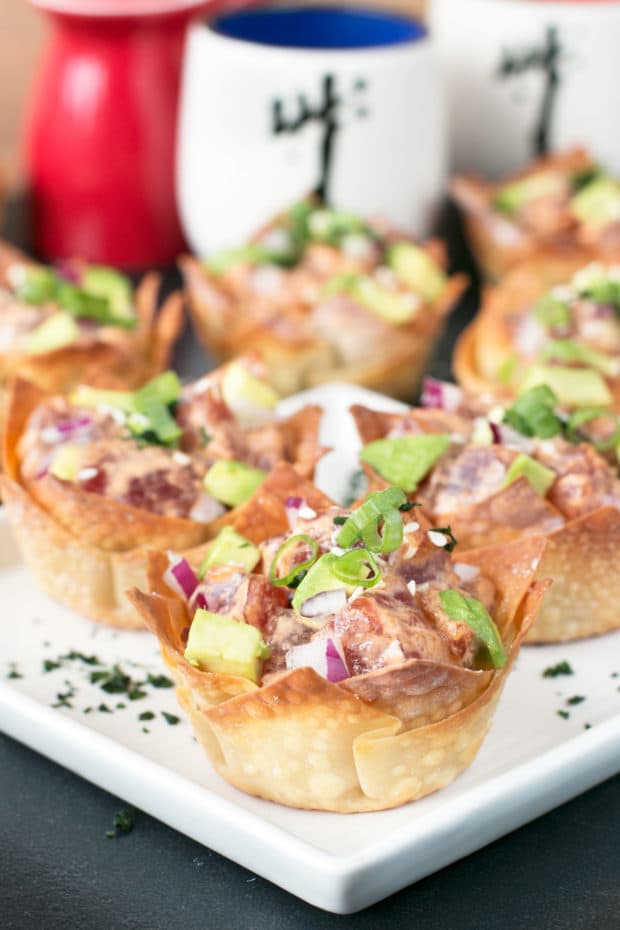 This Recipe's Must Haves
To make the wonton cups, I use my standard muffin tin.
For chopping up the ingredients for the filling, I use a chef's knife and cutting board.
You'll also need one of these metal mixing bowls to mix everything together!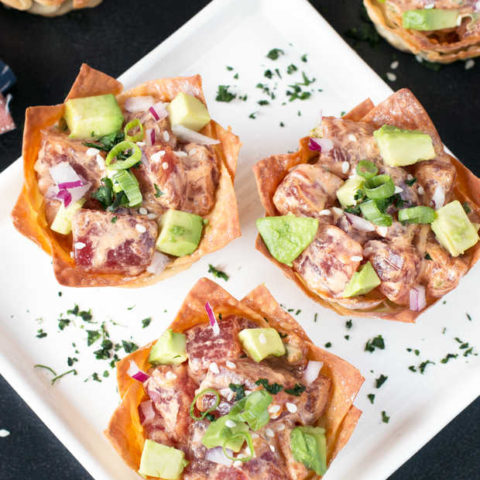 Spicy Tuna Poke and Avocado Wonton Cups
Each bite of the spicy, fresh, delicious fish in crispy golden wonton cups is an explosion of complex flavors that only take a few minutes to pull together.
Ingredients
24 Wonton Wrappers, square
Cooking Spray
1 pound Ahi Tuna Steak, sushi grade
1 tablespoon Soy Sauce
1 teaspoon Sesame Oil
2 Scallions, finely chopped
1 jalapeño, seeded and minced
2 tablespoons Mayonnaise
2 tablespoons Sriracha Chili Sauce
1/4 Red Onion, finely chopped
2 Avocados, pitted and chopped
garnish
Sesame Seeds
Chopped Cilantro
Instructions
Cut tuna into 1/2-inch cubes.
Add tuna to a large bowl with soy sauce, sesame oil, scallions and jalapeño. Add to the refrigerator and chill for 30 minutes.
While the tuna is chilling, preheat oven to 350°F. Spray each cup in a 12-cup muffin tin with cooking spray.
Press one wonton wrapper into each cup, then spray the wonton wrappers with a light spray of cooking spray.
Add another wonton wrapper on top and press into the bottom. Spray with another light spray of cooking spray.
Bake wonton wrappers 15 minutes, or until golden brown. Set aside.
In a small bowl, whisk together mayonnaise and Sriracha.
Add sauce to the fish and stir to coat. Stir in red onion. Fold in avocado.
Add tuna mixture to each wonton cup, filling them to the top.
Top with sesame seeds and chopped cilantro. Serve immediately.
Recommended Products
As an Amazon Associate and member of other affiliate programs, I earn from qualifying purchases.