Please note this post contains affiliate links.
Learn how to make risotto through this simple cooking technique. Creamy, the ideal texture, and full of flavor, you can use it with all your favorite ingredients from proteins to vegetables. Learn how to make it and then make it your own! Serves 4.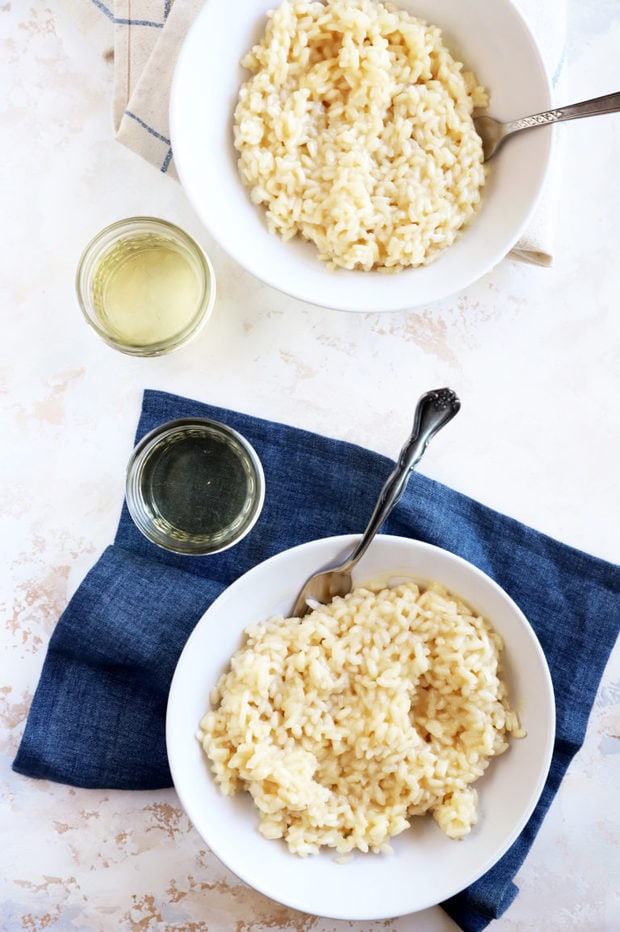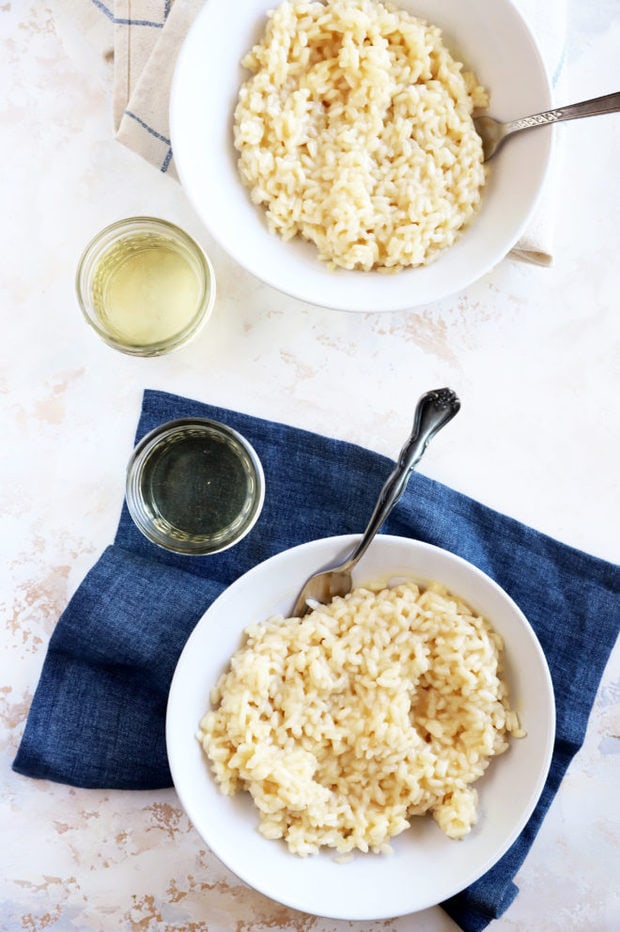 One of the first things I challenged myself to cook when I started Cake 'n Knife almost a decade ago was risotto.
I don't know why I decided that this was the recipe to master, but it became the first big hurdle for me getting back in the kitchen.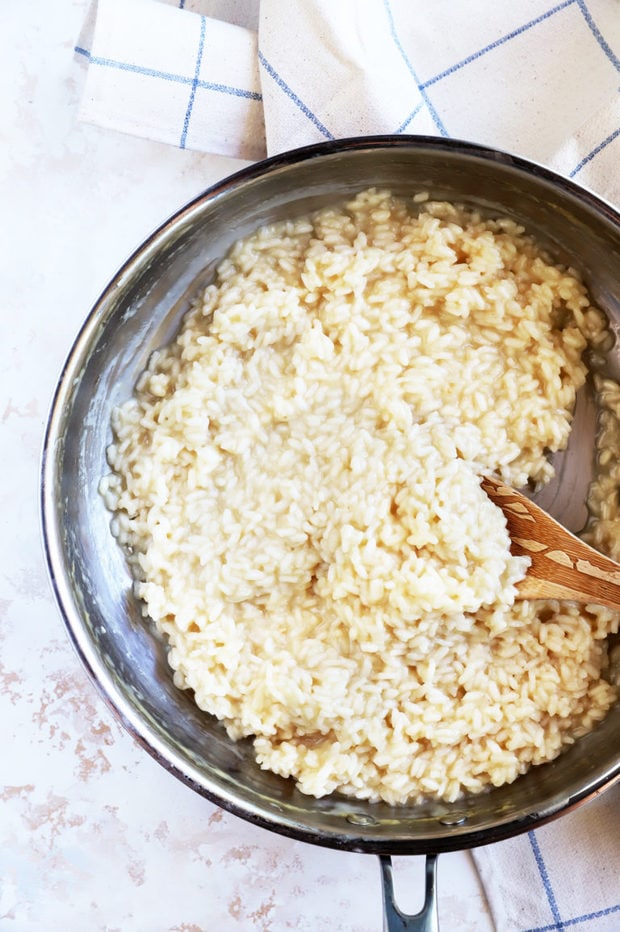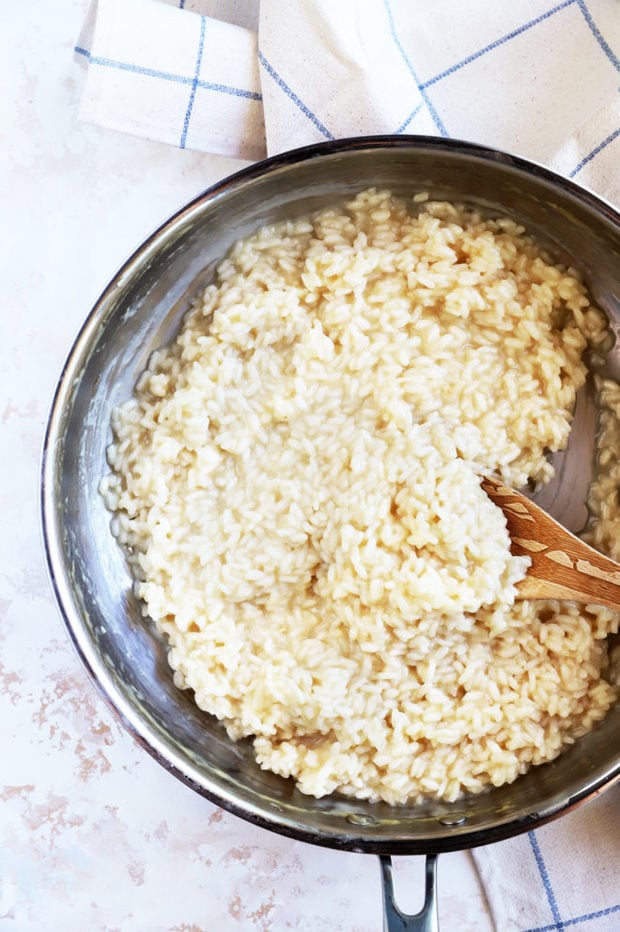 Imagine my surprise when I made it for the first time and it came out… DELICIOUS.
The creamy texture made me absolutely swoon with happiness, so much so that I continued to make risotto after risotto after risotto for the months following.
So now I am going to impart my tried-and-true cooking technique for how to make risotto. I know that it can be a little intimidating for some, but it's really not that hard to create.
The recipe does require some time and attention, so go ahead and pour yourself a glass of wine. You are going to be cooking with wine anyways!
Put some of your favorite music on or pull your partner into the kitchen for a chat.
Enjoy the process, the smell that fills your kitchen, and the love that you put into that skillet of creamy deliciousness!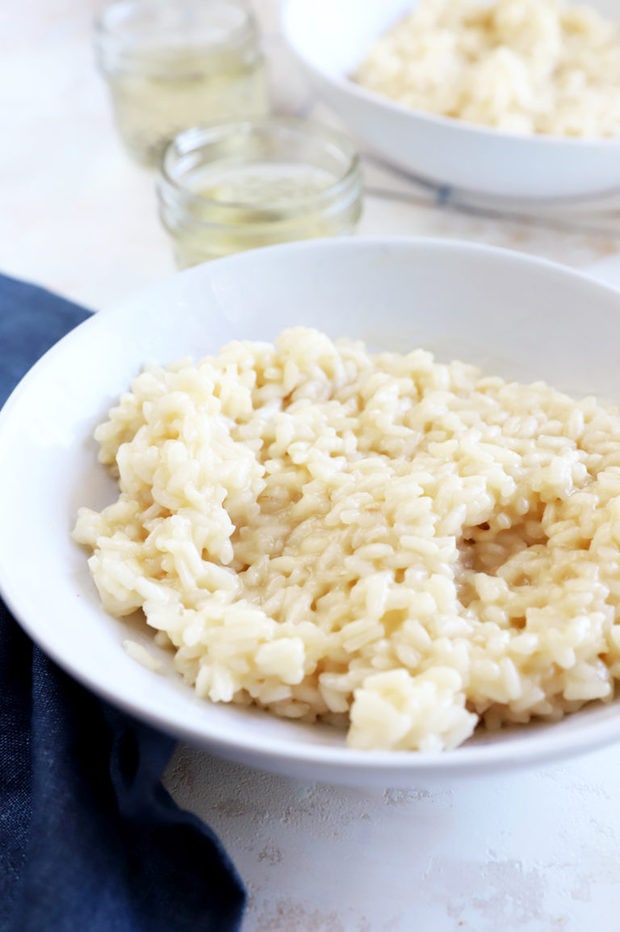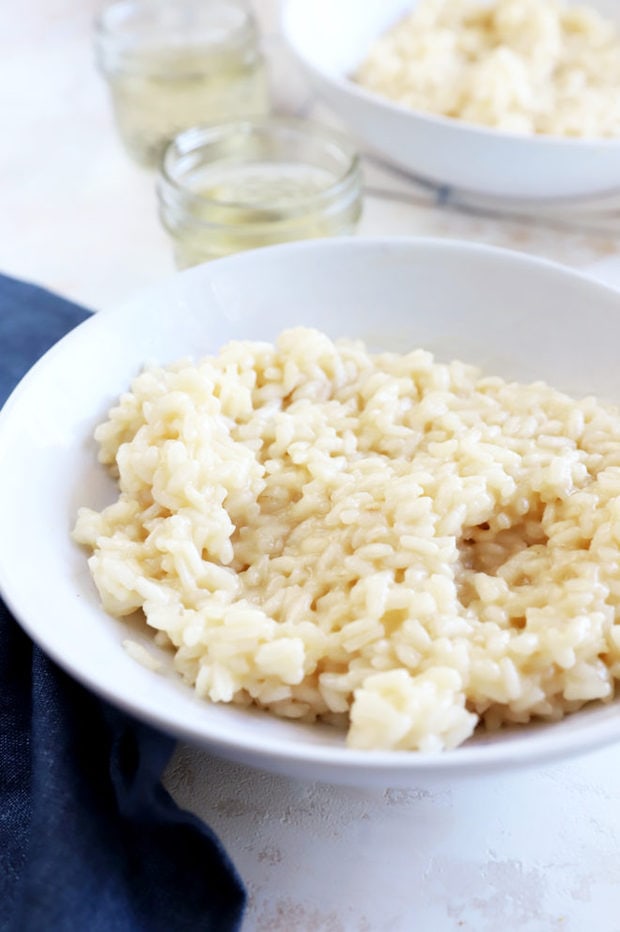 Some ways to make this simple parmesan risotto your own:
Use red wine instead of white wine for a heartier flavor.
Drizzle with a little truffle oil as a finishing touch.
Stir in crispy prosciutto or bacon.
Add in your favorite fresh herbs like basil, thyme, and/or oregano.
Chop up some vegetables and stir them in at the end.
Want some tomato flavor? Stir in a little tomato paste.
Incorporate seasonal flavors all year long!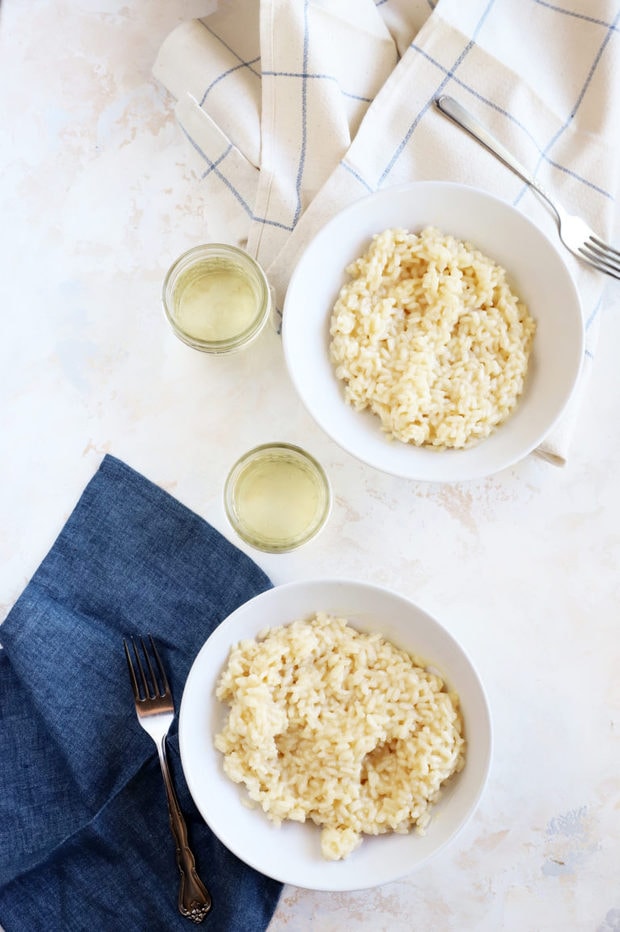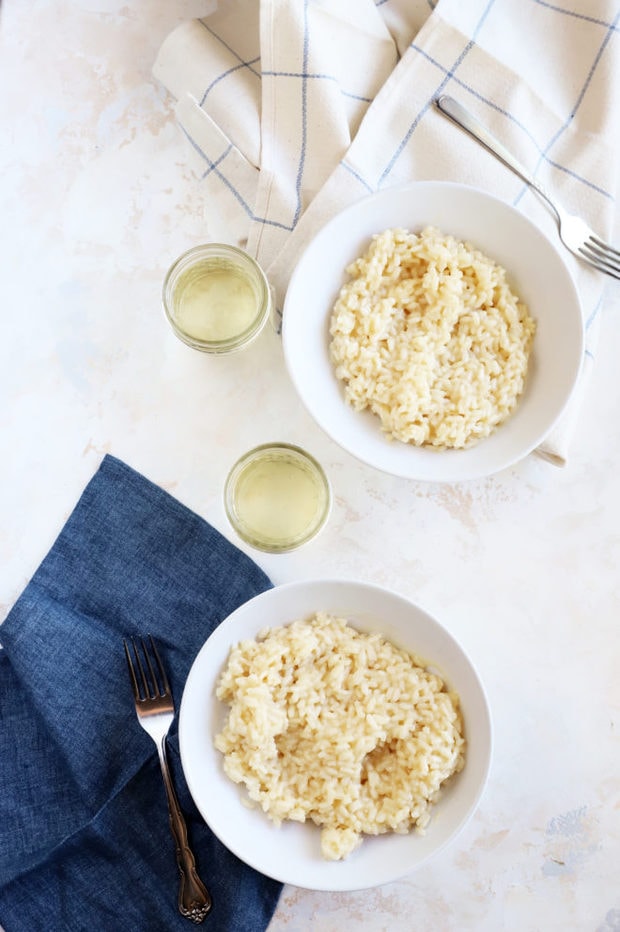 this recipe's must-haves
I love this risotto skillet because it has tall sides and is the perfect size for this particular recipe. You can even double the recipe and it will fit well!
Be sure to have a wooden spoon to stir everything together – you'll be stirring for a bit!
here's how to make risotto!
Toast Rice
Heat a large high-sided skillet over medium heat with oil. Once warm, add garlic and cook until browned, about 30 seconds to 1 minutes. Stir in the rice and toast for about 2 minutes. The rice should get a little brown during this time.
Cook & Stir
Add wine and simmer until the liquid is almost all evaporated. Pour in 1 cup of warm stock, stirring constantly. Continue to stir while the rice cooks until the stock has been absorbed. Repeat this process of adding in stock 1 cup at a time, then stirring until the rice is cooked through.
Note that you may not need to use all the stock. Be sure to taste test the rice in between each addition to check for doneness! Mine usually takes about 25 to 35 minutes total to cook.
Finish
Stir in parmesan cheese and butter until it is all melted. Season with salt and pepper to taste, then serve!
Need some more inspiration for dinner? Check out my mains recipe page!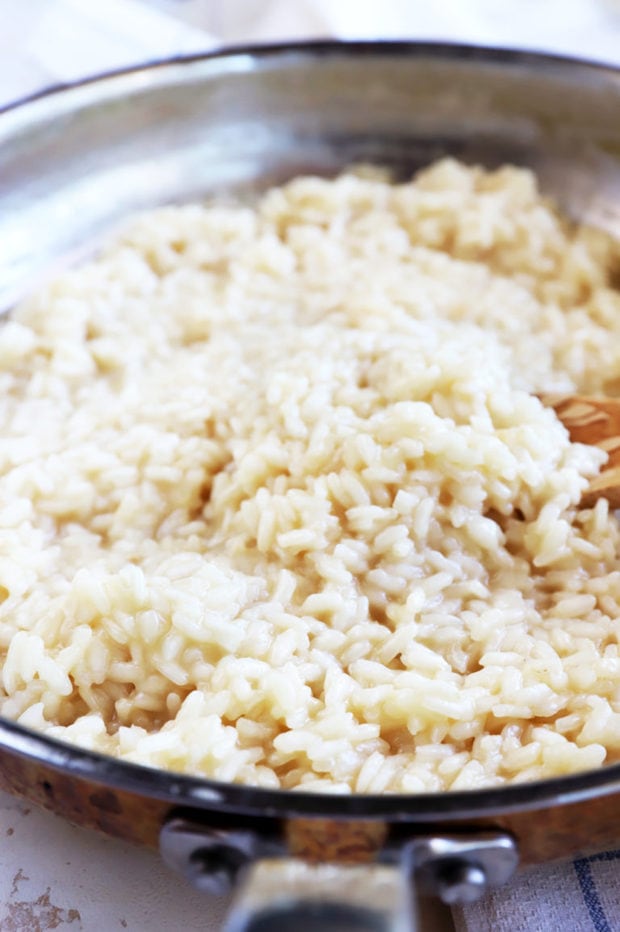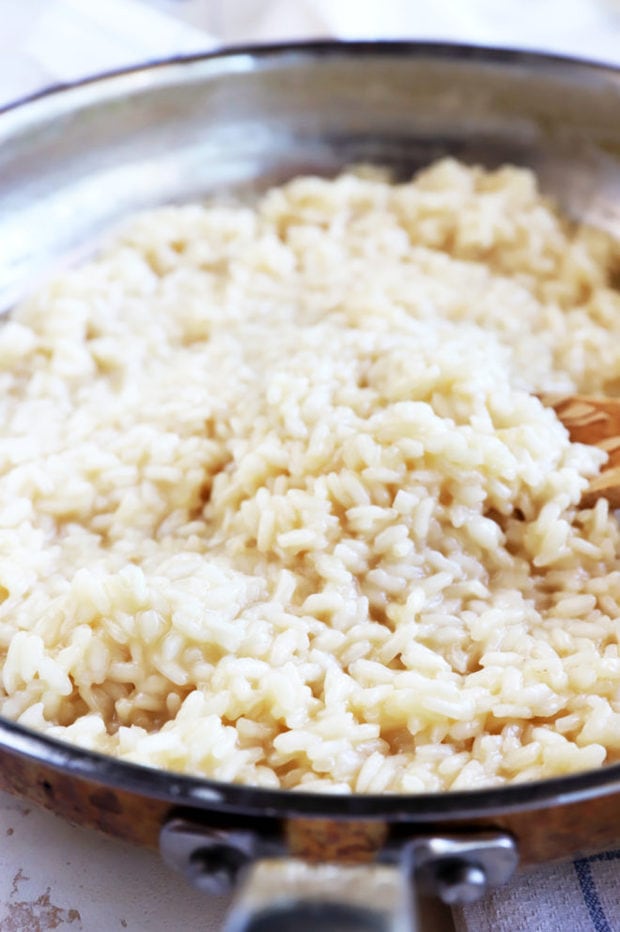 do I need to warm up the stock?
Yes, heating up the stock is one of the important steps! This helps speed up the cooking process and gives you a creamier risotto because it encourages the rice to release more starch keep it at a low simmer.
can you use regular rice for risotto?
For this recipe, you will want to use arborio rice! Long grain rice can be used for risotto, but it requires a different ratio of liquid.
If you only have long grain rice on hand, use 4 to 6 cups of broth and be sure that you are constantly stirring the rice so that starch gets properly released and you get the best creamy texture.
what protein would you pair with risotto?
Risotto is fantastic for pairing with pretty much any protein as a side. You can also incorporate crispy bacon/prosciutto, shrimp, and even sausage slices into the risotto to make it a main dish! Otherwise pair it on the side with poultry, meat, or seafood. You can also serve slices of steak or chicken right on top in the bowl.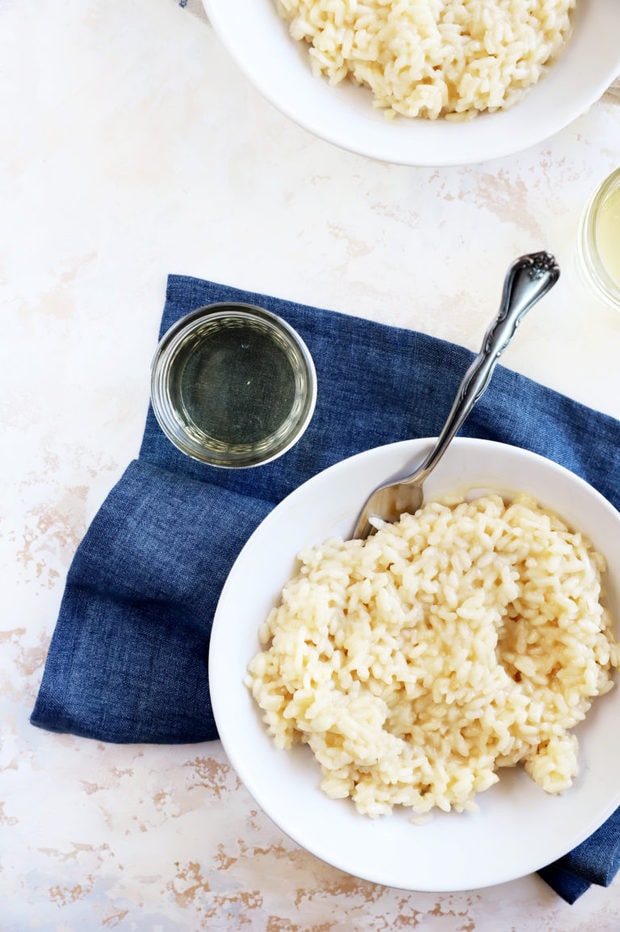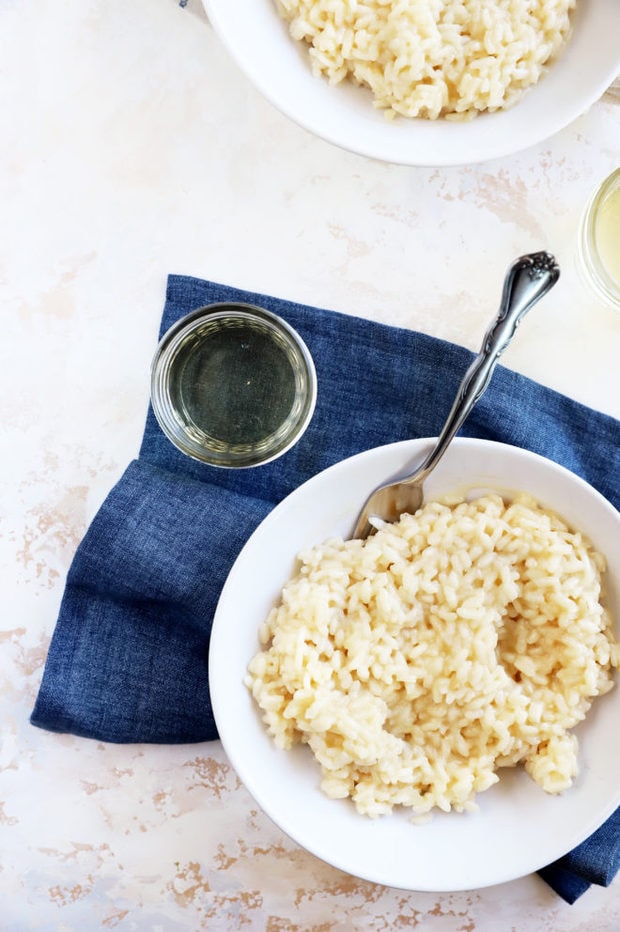 can I use vegetable broth to make it vegetarian?
Yes, you sure can!
can I use water instead of chicken stock?
You can use water (make sure it's simmering) but know that it will not be as flavorful as using stock!
can I make it ahead of time?
If you are making it ahead of time, risotto should be refrigerated in an airtight container and eaten within two days. Do not freeze it.
To reheat, add 1 Tbsp unsalted butter and a splash of white wine or chicken stock to the risotto. Microwave for 3 minutes, stir and check the temperature. Microwave longer and add more liquid if necessary.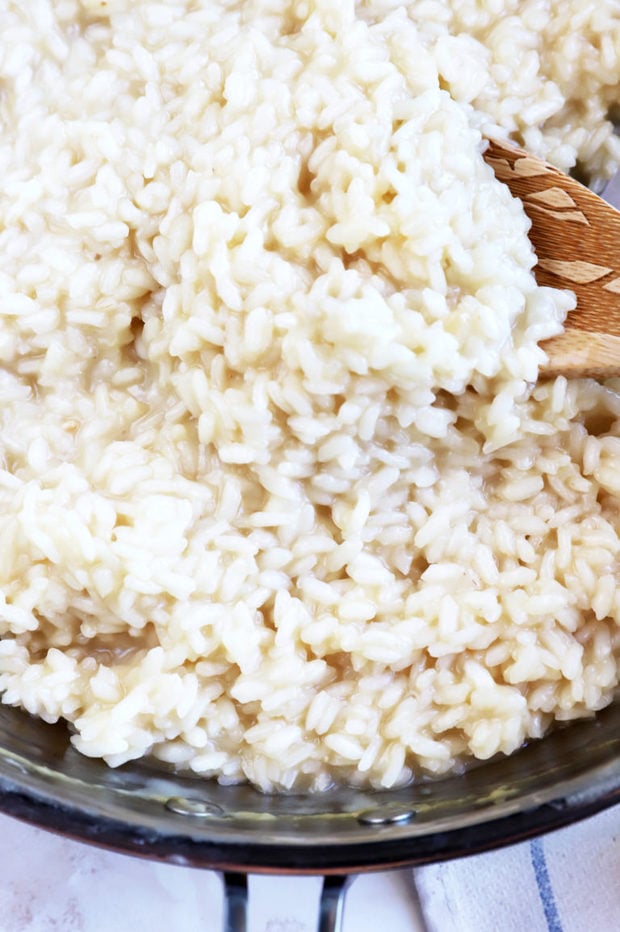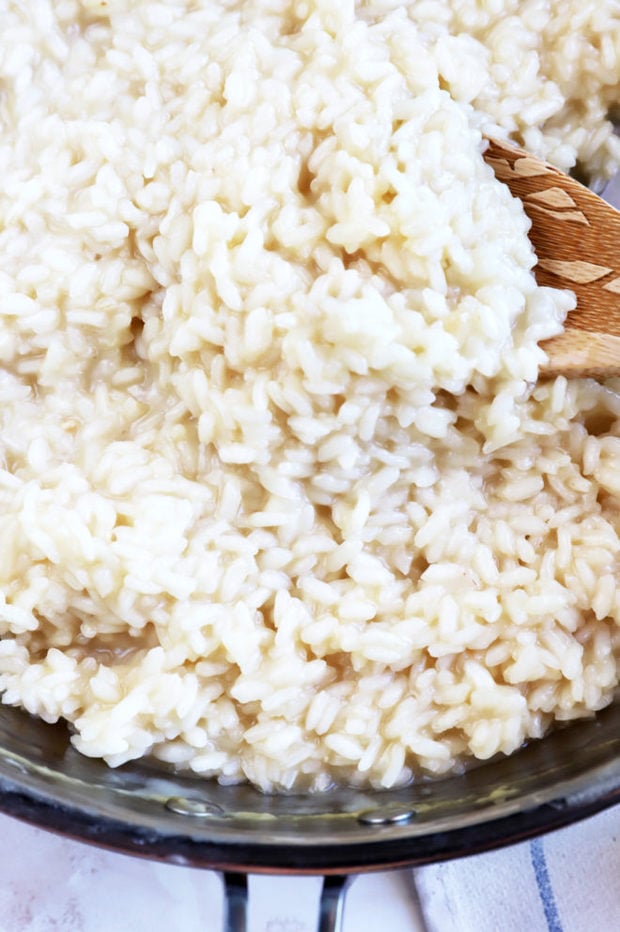 seasonal risottos
I have a risotto for each season if you are looking for something to inspire you!
For spring, a creamy risotto with asparagus and peas is light and bright.
In the summer, I'm grilling my vegetables for this summer corn tomato risotto!
Cozy up to a bowl of bacon butternut squash risotto in the fall. The fresh sage really makes this a seasonal favorite of mine.
Grab your favorite winter vegetables for this winter roasted vegetable risotto!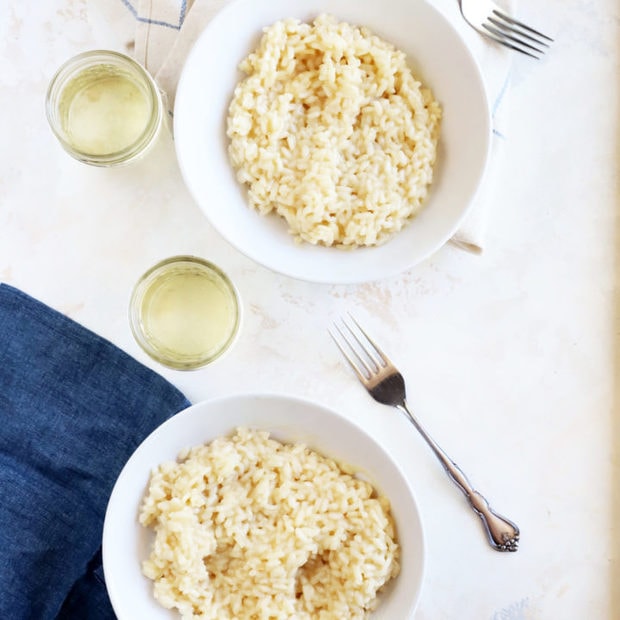 Simple Parmesan Risotto
Simple, creamy, and perfect for pairing with your favorite protein or vegetables!
Ingredients
2 to 3 cups chicken stock
1 Tbsp olive oil
2 garlic cloves, minced
1 cup arborio rice
1 cup white wine (I used a chardonnay)
1/4 cup grated parmesan cheese
1 Tbsp unsalted butter
Instructions
In a small saucepan, bring the chicken stock to a simmer; cover and keep warm over low heat.
In a large high side skillet, heat olive oil over medium heat. Add the garlic and cook until browned, about 1 minute. Stir in the rice and toast for 2 minutes. Add the wine and simmer until almost evaporated. Pour in approximately 1 cup of the hot stock. Cook, stirring constantly, until the stock has been absorbed. Repeat this process, adding 1 cup of stock at a time and stirring until the rice is tender. You may not need all the stock so test the rice between each addition. It should take approximately 25 to 35 minutes total.
Stir in parmesan cheese and butter until melted. Season with salt and pepper. Keep warm over low heat until ready to serve.
Recommended Products
As an Amazon Associate and member of other affiliate programs, I earn from qualifying purchases.