Simply tracking down a recipe for this one was one of the most difficult things I have ever had to do.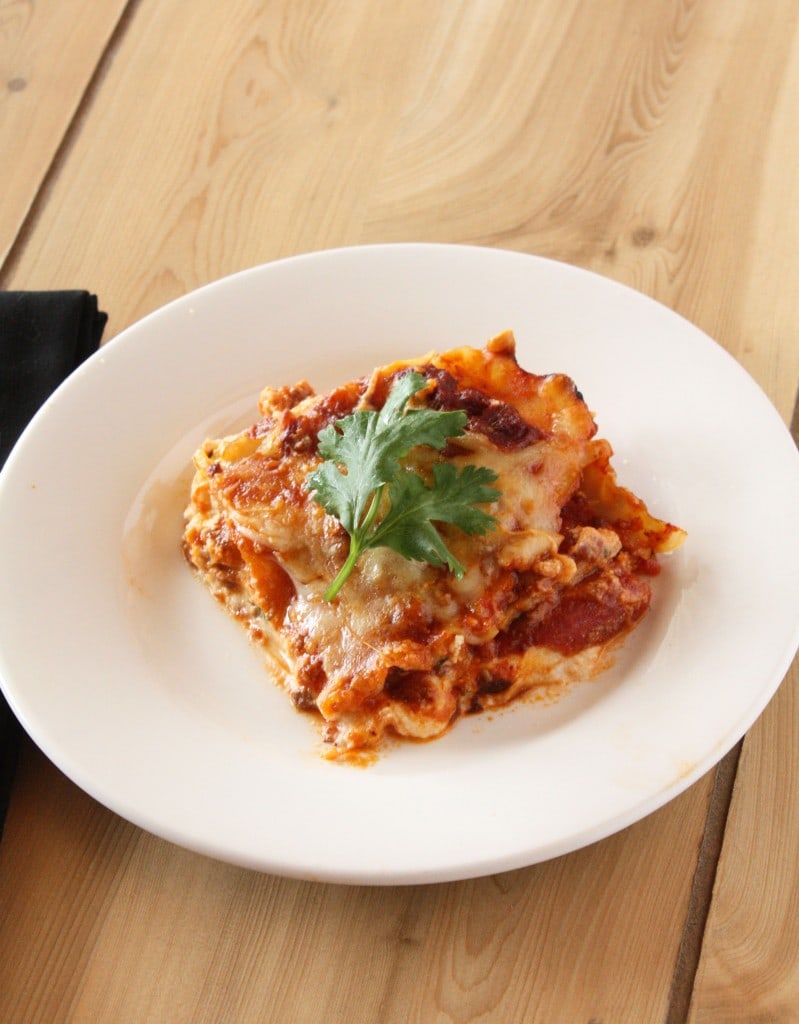 I have never made lasagna before – I know, shame on me…
Of course, my hubby's favorite meal is lasagna. So the pressure was on. Especially since his dad's lasagna is his hands down favorite lasagna of all time… Yea, I was up against pretty high expectations already.
I decided to go the very traditional, rustic route and shied away from the traditional bechamel sauce you so often see. For me, a meaty lasagna filled with big chunks of tomato, meat, and ricotta is the best you can get. I took the time to find an Italian market which had an incredible sweet sausage – if you have the time, I definitely recommend seeking one out, not only for the meat, but also the fresh pasta and marscarpone cheese… YUM.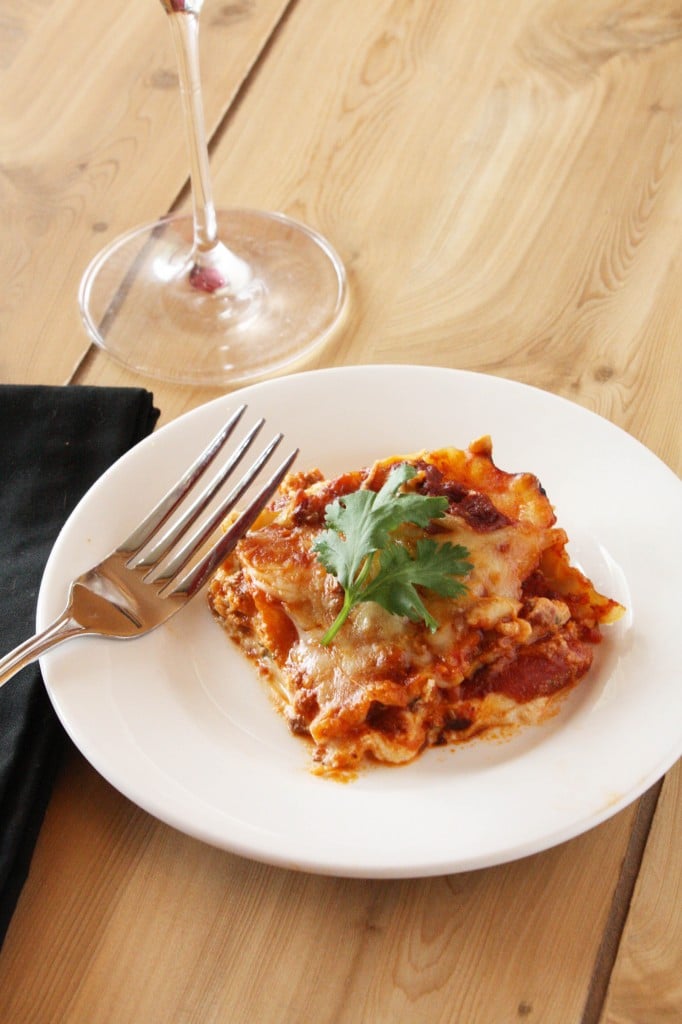 So I am sure you all dying to know… how did it go?
Though it was a bit time-consuming and I ran into a couple of bumps along the way (primarily the pan not being quite deep enough), the final product came out absolutely delicious. Meaty, mouth-watering, and full of CHEESE. My absolute favorite part of this lasagna is the tomato sauce. It's one of those meat sauces that reminds me of every amazing homemade lasagna or spaghetti I have eaten in my lifetime.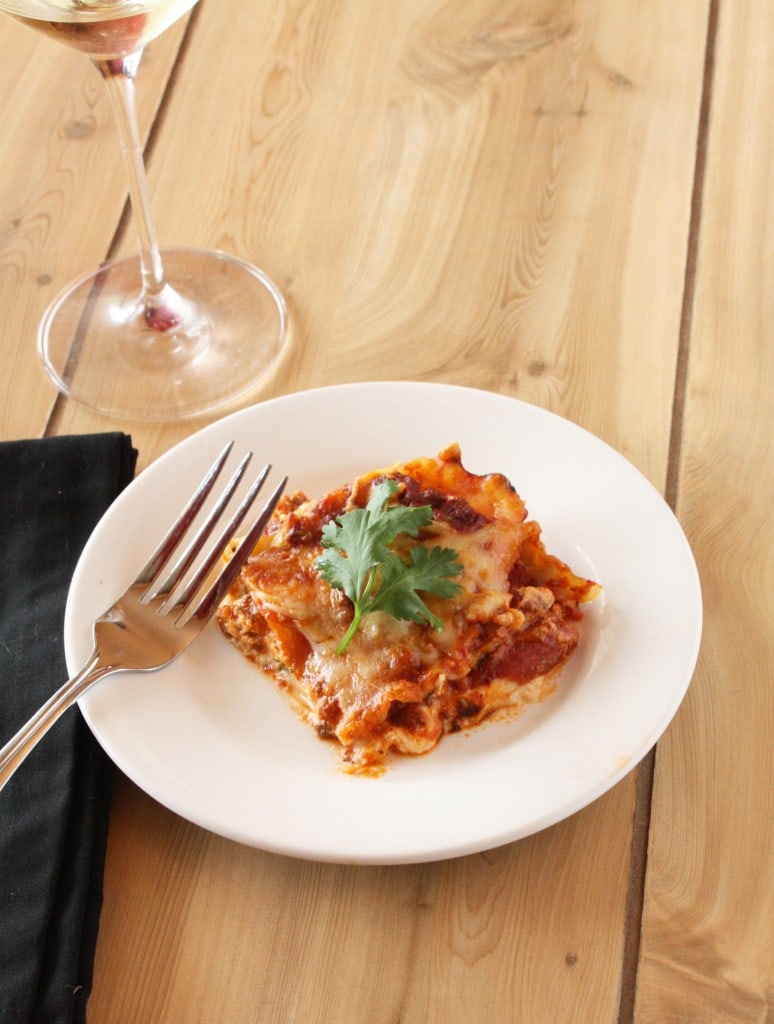 Thankfully, the hubby concurred with my glowing review of my own cooking. The fact that he even liked it and practically ate half of the entire thing in one day made my week. 🙂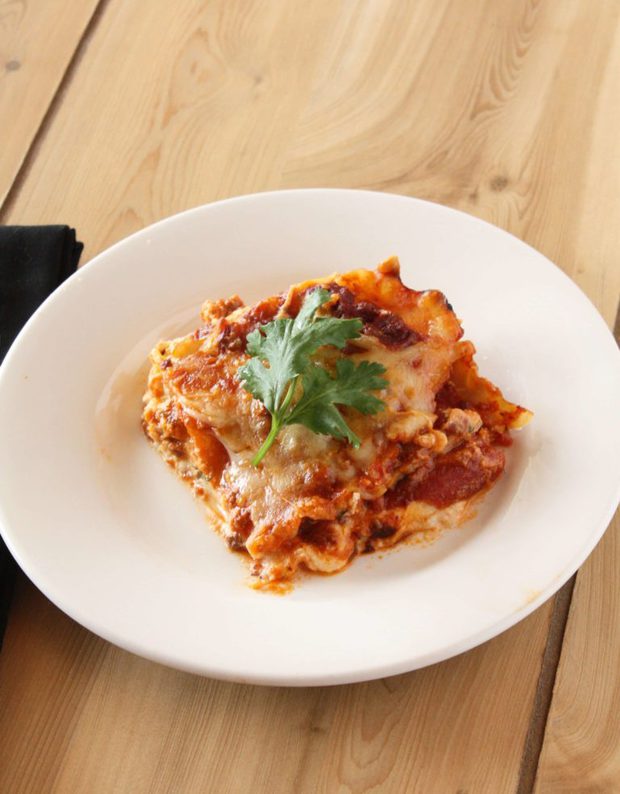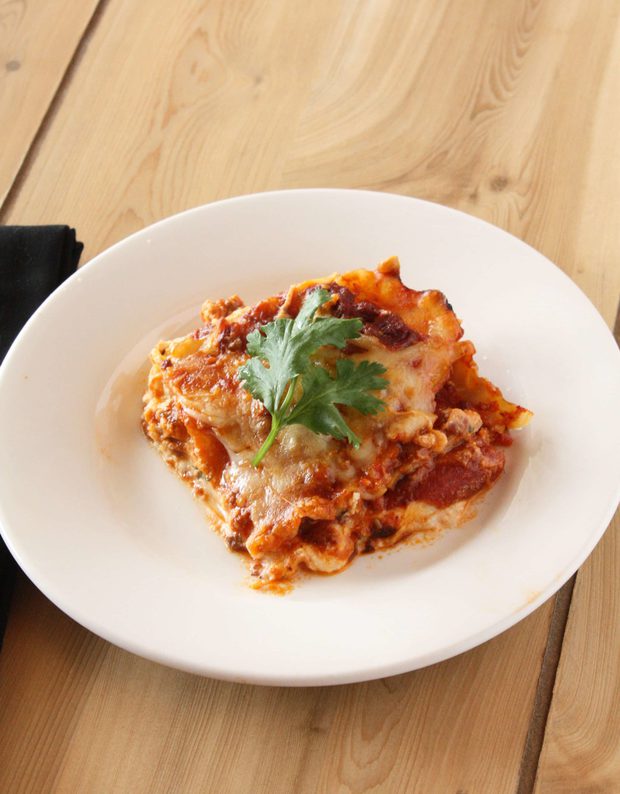 Grandma's Lasagna
Total Time:
2 hours
45 minutes
Authentic, rustic lasagna just like your grandma would make - if she was Italian of course!
Ingredients
1/4 cup extra-virgin olive oil
1/2 lb ground beef chuck
1/2 lb ground sirloin
4 tsp minced garlic
1 1/2 tsp dried oregano, crumbled
1/4 tsp crushed red pepper (I would recommend doubling this if you like a spicy lasagna)
2 tsp tomato paste
Two 28 oz cans peeled tomatoes with basil or Italian tomatoes, finely chopped, juices reserved
28 oz can tomato puree
2 cups chicken stock
2 bay leaves
6 thyme sprigs, tied together with kitchen string
Pinch of sugar
Salt and freshly ground pepper
1 1/2 lbs sweet Italian sausage, casings removed
2 lbs ricotta cheese
1/4 cup finely chopped flat-leaf parsley
2 Tbsp finely chopped basil
1/2 cup freshly grated Parmesan cheese
3 cups shredded mozzarella
1 large egg, beaten
12 lasagna noodles
Instructions
In a large dutch oven, heat the olive oil over medium-high heat until shimmering. Add in the chuck and sirloin, stirring as it cooks to break the meat into large chunks until browned. Stir in garlic, oregano and crushed red pepper, cooking for approximately 1 to 2 minutes. Stir in tomato paste until the meat is coated. Add tomatoes and their juices, tomato puree, chicken stock, bay leaves, thyme and sugar. Bring to a boil and season with salt and pepper. Reduce to a simmer and cook until thickened and reduced, approximately 1 1/2 hours, stirring occasionally. Remove bay leaves and thyme sprigs.
Heat a large skillet over medium-high heat. Add sausage meat in chunks and cook until browned, approximately 10 minutes. Drain on a paper towel lined plate and break into 1/2" pieces.
In a large bowl, stir together ricotta with parsley, basil and 1/4 cup of the Parmesan cheese. Stir in 2/3 of the shredded mozzarella, season with salt and pepper and stir in egg.
Bring a large bot of boiling salted water to a boil. Cook the lasagna noodles until al dente. Drain and rinse under cold water. Dry the noodles with paper towels.
Preheat over to 375 degrees.
Spread 1 1/2 cups of the sauce in the bottom of a 9x13" glass baking dish (the deeper the better!). Layer 4 overlapping noodles on top of the sauce. Spread half of the ricotta mixture over the noodles, then top with half of the sausage following by another 1 1/2 cups of sauce. Layer with another 4 overlapping noodles. Repeat layering the remaining ricotta, sausage and 1 1/2 cups of sauce. Top with 4 overlapping noodles and cover with as much sauce as you have remaining. Sprinkle over the remaining mozzarella and Parmesan.
Bake for approximately 45 minutes, until the top is golden and crisp around the edges. Allow the lasagna to rest at least 20 minutes prior to serving.